There are two reactions to receiving customer feedback: "yippie!" or "ouch…" And while we can't guarantee you 100% positive feedback, we do have some proven strategies and tactics to help you join that 84% of digital companies that prioritized working on customer experience and recorded an increase in revenue.
So how do you get customer feedback and accelerate growth? There are a lot of details, so let's give you a quick outline so you can navigate as you please.
Collecting customer feedback will allow you to:
know what your customers are saying, and respond directly to their needs,
manage and analyze the voice of customers in context with the right software, and
increase your product development ROI (by building the right things).
Before we dive in, listening to the VoC (voice of customers) does not mean "customers are always right." It is the source of new ideas for your product; it sheds light on customer problems that may have escaped you. But it is up to you and your team to conjure the magic by how you act on customer feedback.  
Types of customer feedback
Customer feedback comes in many types depending on the information you're trying to find out. These include:
Customer reviews
Complaints and bug reports
Requests for new features and services
Satisfaction of customer experience
Questions/inquiries
What is customer feedback?
Put simply; customer feedback is any piece of information that customers give to a business about their experience with a product or service. 
Primarily, the feedback indicates how well the product or service solves the customer's problem. This helps you to identify the areas where you still fall short and improve.
From the list of types of customer feedback above, you can start to imagine some data may come to you passively while others may require active effort.
How customer feedback helps build the best products
Understanding how you can use customer feedback to optimize your digital product, it helps to break down the product development cycle. Here are some examples of the different approaches to gathering and using customer feedback:
Measuring customer feedback for user adoption and retention
Once you have a complete product, You release it to the wild and start counting how many customers are trying it out. You may or may not be acquiring users at the rate you'd like. You might wonder why they are trickling slowly. Will they even stay?
This is when you can turn to customers for feedback. Ask them how content they are with your product/service. It can also clue you in on the likelihood of a customer to keep coming back once they opt-in. And whether they'd recommend your product to someone else, as well as what essential aspects it's missing.
Some of the most popular customer feedback methods and metrics are:
CSAT (Customer Satisfaction Score)
It is typically obtained quantitatively by a rating scale with a single question "How satisfied are you with the product/service/experience?" The customer will be able to choose from 5 rating options that represent varying levels of satisfaction, such as;
Very satisfied
Satisfied
Neutral
Unsatisfied
Very unsatisfied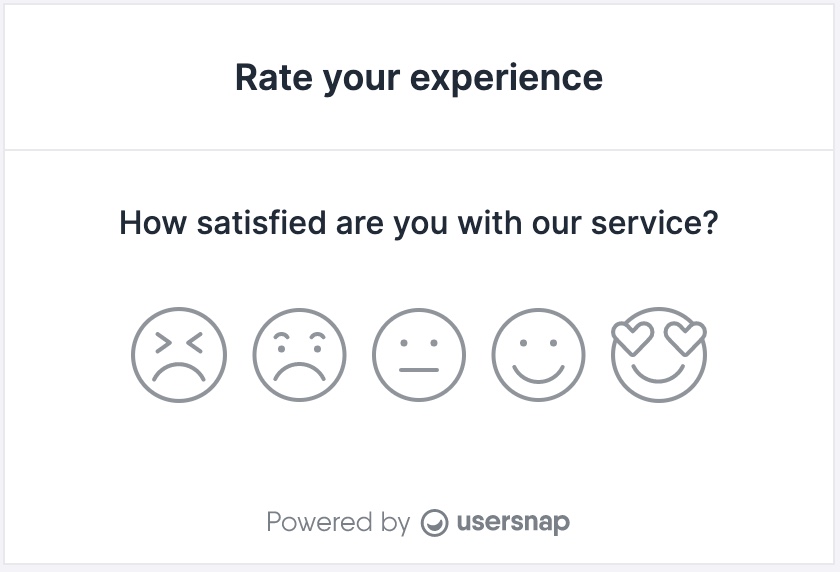 The CSAT is quite effective when tied to a specific action, with the question automatically presented at the end of a process.
NPS (The Net Promoter Score)
NPS enables a business to determine whether a customer will likely recommend their product/service to someone else. Businesses often use this score as an indication of the customer's loyalty.
To get this score, you record the number of customers who would recommend the product to others, then subtract the number of customers who wouldn't recommend it. The result is your net promoter score.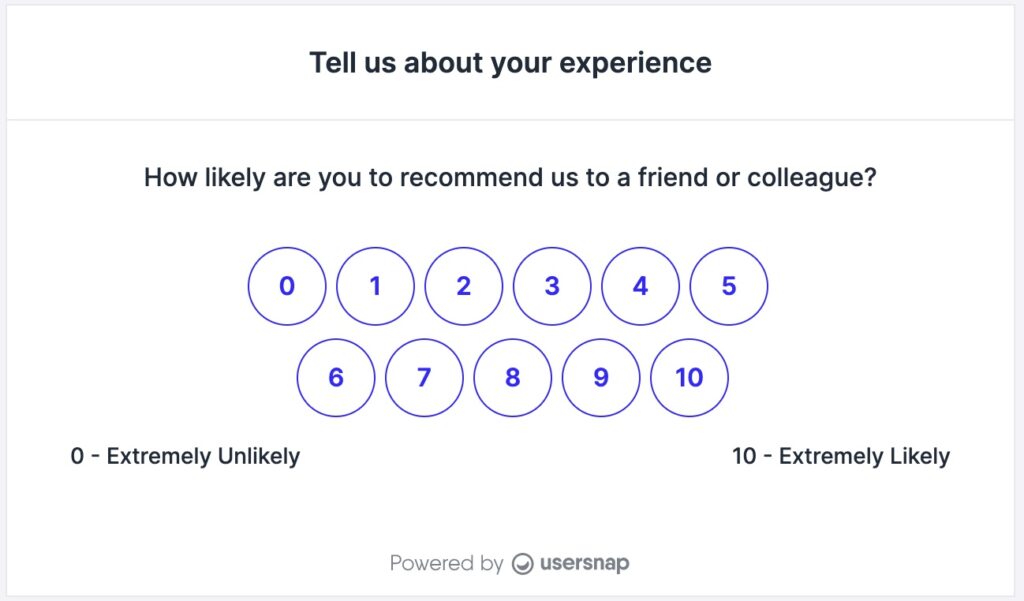 CES (Customer Effort Score)
CES indicates the ease of using a product or service. You ask customers to rate the perceived amount of effort they had to put into achieving a particular goal. This could be like finding a product and paying for it, getting an answer to a question, fixing a glitch, and many more.
To get a CES, a business can present a CES survey or scale with several options that a customer can choose from, ranging from "very easy" to "very difficult."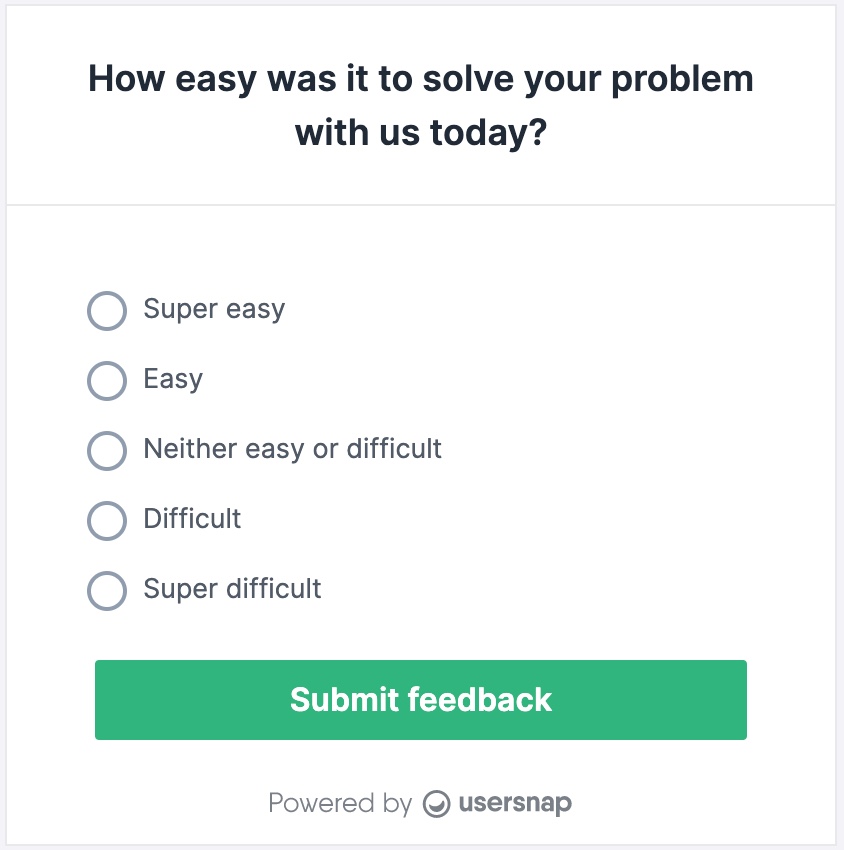 There are many ways to understand how well your customers adapt to your solution and how engaged they are to keep using your products and services. Try to follow the number of people that leave public reviews or share their opinion within forums.
You can know more than just the customer's feelings through these channels. You'll be able to know how they are thinking and why.
Streamlining customer feedback for your prototype testing
When you set out to build a new product, it may be quite usable, but will customers buy it?
Luckily, prototypes can be tested, and customer feedback can guide you on what to add next for a more comprehensive set of functions. You can also know what parts of the product are dead weight.  
Here are some user testing examples:
User Acceptance Testing (UAT)
UAT is like a rehearsal, getting key stakeholders, i.e. product managers or clients, to perform the first try-out of the product before you ship it to the market. To plan and conduct effective and efficient UAT, you can dive into our ultimate guide on user acceptance tests.
Beta testing
Beta user feedback is obtained from real customers on the digital customer experience. Specifically when they try out your product on the same devices and networks where the final version is expected to run. A product can be ready in the eyes of the developers but still feel incomplete from the user's perspective. A beta program helps you to reveal those gaps with customer feedback for a successful product launch.
Design and development with customer feedback
If you think feedback and iterations after prototyping is too costly for your product development, then consider doing user interviews.
Interviewing your focus group helps to discover which of your assumptions about customer needs and behavior were true and which ones were false. This kind of feedback usually guides the design of significant aspects of the product/service and not just minor details like fonts and button shapes.
You may also distill this customer feedback through sales pitches. For example, when trying to sell a new solution for a business service, the sales representative can ask for the customer's opinion.
Customer feedback for ideation
DHL has been doing co-creation projects for the past 5 years, and they saw their CSAT rise over 80%, and retention increased. Co-creation is all about inviting stakeholders, mainly customers, to contribute to the creation of solutions.
The goal is to have a result that benefits both the customers and the business.
A simpler method to invite your customers to share ideas for the future of your company is using feature request forms. This information can be solicited through an open-ended survey question or one with answer options. 
You use Google, Netflix, or Facebook, right? Then you should have already seen many of their cool customer feedback examples in your own interactions with them.
"The key is to set realistic customer expectations, and then not to just meet them, but to exceed them – preferably in unexpected and helpful ways."
Who should collect customer feedback?
Everyone! Yes, we believe democratizing customer feedback is the first step of a customer-centric company.
On the other hand, ownership of feedback management is essential to make feedback actionable. And we suggest Product Managers and CX or Customer Support Managers take the lead in organizations.
Let us explain.
Why do product managers and product teams need customer feedback?
Product managers steer the strategy of the products, and build roadmaps of solutions to solve customer problems. SaaS product management requires customer feedback, no doubts about it!
How would they know if they are heading in the right direction? They can validate with customer feedback in a systematic way. Before and after new features are released, PMs (and even POs) want customer feedback at their disposal to help measure success and improve for the next iteration. And certainly chief product officers (CPOs) also need it as well to justify their big picture product decisions.
In short, customer feedback helps remove "gut feeling" out of the equation for product decisions.
Best practices for customer support to collect and share feedback
If you are wondering how to get customer feedback the right way, then customer support is the answer. Customer support and success managers are at the crossroads of customers and internal teams. With every customer interaction, they can extract feedback for the right department to address it. Sounds simple, but it's a very powerful process.
Here're 4 best practices for CS teams to take charge of customer feedback loops:
Understand the job-to-be-done of each issue and if there are other related problems the customers wish the product can solve.
Keep track of who reached out about specific features and invite them to participate in surveys, interviews or prototype testing.
Notify customers when new solutions are shipped and you really care about their needs.
Direct delighted customers to product review pages when customers are successful.
Back to the idea that everyone needs customer feedback…
Living and breathing customer feedback has to become an organization-wide culture. You should then find opportunities for employees to spend time with customers.
"We actually hold everyone at the company accountable for spending time with customers. We require everyone, even my co-founder and me, to spend an hour every month with customers in "chat duty."

– Elias Torres from Drift
When you collect feedback from customers, you put yourself in a much better position to improve your product or service. Making each employee an advocate of your customers will help you solve customer problems faster. You should empower everyone to have the first-hand opportunity for experiencing real-life customer feedback.
Why is customer feedback important?
Fun fact: up to 86% of buyers will pay more for a better customer experience according to a PWC research. For many customers, the product and experience are one. They are buying more than just the tangible item or the software function.
So with that in mind, here are some of the main reasons why businesses collect customer feedback:
According to a recent Microsoft report, 89% of customers want companies to ask them for feedback. To customers, this is a sign that you're willing to listen and learn
As many as 86% of customers say that good CX will turn them from one-time clients to repeat buyers in Khoros' 2021 report.
Last year, 60% of B2B companies reported to have a customer feedback software to facilitate the process of managing suggestions and customer sentiments.
When it comes to customer satisfaction, Hubspot reported 83% of companies believe it is vital to make customers happy, and see increasing revenue because of this.
Just by getting 12% more of your customers to advocate can double your revenue
How customer feedback helps SaaS companies grow
For starters, collecting feedback from customers enables SaaS companies to know who their customer is. Additionally, customer feedback helps in identifying which customer problems to prioritize.
You may find that SaaS product and growth teams spend most of their time in finding out what's the best thing for customers. However, with customer feedback at your side, you're able to leverage feature requests to become feedback-driven, and build exactly what they're looking for. To get more info on how to leverage product feedback for new features, we got you covered as well.
In essence, customer feedback can help a SaaS company discover the more pressing issues and solve them faster. This gives any SaaS a better chance to keep customers happy, and deliver consistent value to them.
The Experience Management Institute found that companies that earned $1 billion could expect to earn as much as $700 million extra within 3 years from collecting customer feedback and responding to it. As for the Saas companies that have a customer experience strategy in place, they can expect up to $1 billion more in revenue.
How customer feedback impacts your revenue
Here's the hypothesis: if your product and service create more customer value, then your customers will buy more often and pay more because your solution provides a superior customer experience. Gathering feedback from customers gives your business a chance to grow in a sustainable manner.
And here's the proof: 80% of companies that reported positive YoY growth in 2018/19 and expect positive growth in 2020 collect customer feedback and CX data. (Source: Gartner)
"Customer value creation will drive long-term business success,"

said Jessica Ekholm, research vice president at Gartner
Effective methods to collect customer feedback
Now that you know the benefits of getting feedback from customers, you need to figure out which format of customer feedback will bring you closer to your intended goal. There are two categories of feedback collection methods, described below.
Quantitative customer feedback methods
If you are wondering how to get customer feedback, then keep in mind that there are numerous methods. Such methods often involve a scale presented to the customer in each feedback question, with various points indicating how extreme or how minimal a certain feeling is.
1. Customer surveys
When building a customer feedback survey, ask yourself: how many questions do I need to find my answer. And then ask: how many questions will a busy customer care to answer? You always want the customer survey to be easy and digestible.
What to write in regular surveys
Headers and closed-ended questions are the basic structure of a survey. You should provide answer choices that are enough to capture the customer's feelings. And keep the more personal questions at the end. Don't ask leading questions.
Survey response rates can vary depending on the strength of the connection between your brand and the customer. A typical response rate will be somewhere between 5 and 30%, with 50% being on the higher end and indicating more success in surveying.
Have you tried micro surveys?
Just like the name says, these are usually much shorter, often carrying no more than three questions. So that customers are more likely to participate in them. The questions are also likely to be related with some being follow-ups or still on the same topic even though different. In fact, you can ask different questions depending on the answer with skip logic and question branching as well.
If you're in doubt about the effectiveness of surveys, know that 80% of companies that report year-over-year growth use them for getting feedback from customers.
2. Ratings and reviews
Collecting feedback from users in the form of reviews is one of the simplest ways to build your customer experience strategy that gets many to participate.
Reviews are more or less like ratings, and they also enable a customer to shed light on why they gave you a particular score. They could say something like 4-stars for product variety and good website customer experience, but 2-stars withheld for poor packaging and multiple post-purchase emails.
Up to 88% of customers value reviews as much as personal recommendations, with 86% of customers hesitating to buy from businesses with negative online reviews. Reviews can also boost sales by 18% so it helps to know how to get them. (Source: BrightLocal, Invesp, Econsultancy)
Try to have your best reviews highlighted and make the invitation for reviews very visible on your website. Remember to Share customers' reviews on your social media pages and give them a shout-out/thank you.
3. Social media polls
You know surveys are popular when social media platforms start introducing them as native features! Twitter, LinkedIn, Reddit and more and more social platforms have the poll function embedded into their posting options so you can get feedback from users. You can quickly list a few options that customers get to choose from. and set a time limit for FOMO effect after which there will be no more voting.
These are great since they can be easily shared far and wide, and will likely ignite heated debates on why some options are doing better. They also have a quick and easy setup process.
4. User behavior analytics
Another great way to collect customer feedback is to see what your users actually do. There are loads of user behavior analytics to consider when collecting feedback, and a lot of benefits as well. Notably, you can get a better sense if you're targeting the right audience to begin with. Also, you can save quite a bit on R&D efforts with this targeting.
Qualitative customer feedback methods
The methods used here for collecting feedback from users and customers are more about getting a detailed description rather than a measure. The goal is to find out why they feel how they feel.
Some methods that can give you a better understanding of what's in the customer's mind and how they are making decisions include:
5. User interviews
A user interview is an exercise in which the researcher asks people from a targeted audience a number of questions on a topic. It is better done with a certain goal in mind.
In such an interview, it is good to start off with the easier questions. Try to build a rapport with some small talk or conversation outside the purpose of the interview. The interview should try not to rush or interrupt the user.
User interviews help you get a more honest take on your product. And could even help you strengthen the bond with a customer when they realize that you put that much effort into getting their opinion.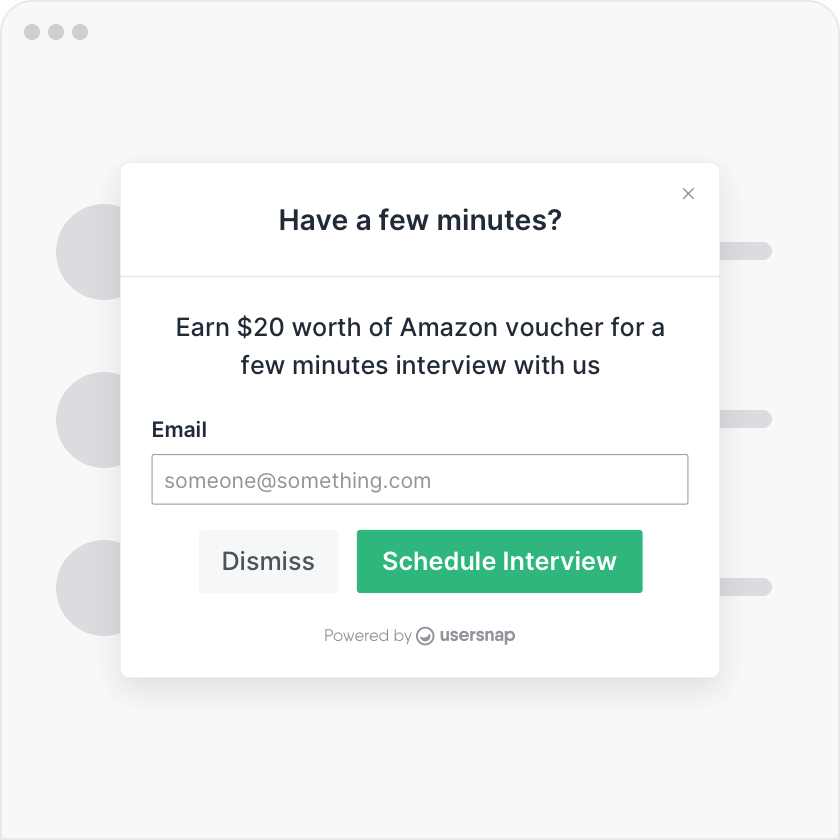 6. Feedback forms with open questions
Open-ended product survey questions go something like "Tell us about your experience using the product." They aren't leading questions like "what don't you like about the interface?"
The thinking behind collecting feedback from customers in this way is that the customer won't just give you skewed answers because the question has forced them to think about a specific topic or because you led them to acquiesce to your statement. They will simply talk about the product more naturally and you might get a detailed paragraph plus suggestions.
Feedback forms, both digitally or paper, usually take a passive approach to collect customer feedback. The most important advice is to raise awareness to the form. And allow your customers to share opinions when they have one.

When to collect customer feedback
Even no feedback can be interpreted as feedback in a way, but in the fast-paced, dynamic, and vibrant world we live in, your customers want you to understand how they feel about your product, and they do not want to wait to share their opinions.
"You want to be customer-obsessed, not competitor obsessed. Forget the competition, think customer first."

– Ted Schadler, Forrester VP
So, when do I ask for feedback?
An ideal time to ask for product feedback is always in the moment, almost at the same time when a service is being performed. It also allows you to plan how to use customer feedback in a productive way.
Just think about it, in-moment feedback is so effective that with a simple push of one of those emoji buttons at airports, the cleaning staff instantly knows whether you were happy with the sanitation in their restrooms or whether they need to step up their game. Would it matter if you sent your feedback a day later from the comfort of your home? Maybe for other people who would be at the airport, but not you.
In-moment feedback is particularly useful for e-commerce, especially retailers that are faced with having to quickly resolve issues. It is quite powerful during hectic times like holiday shopping when website bugging can get your customers quite frustrated.
Another example is post-purchase customer satisfaction surveys. The in-moment, quick feedback can assist you to find out whether the shopping experience was frictionless for your customers. The same applies to your SaaS products, the updates always benefit from feedback, like rating the new user experience or collecting ideas to make a feature-complete.
Plus, the response time and rate of in-moment feedback is always faster and higher. Customer feedback tends to be 40% more accurate in real-time than feedback that is given later. It also sends a powerful message to your customers that you care.
How do I do this?
One of the most effective ways to gather in-moment feedback is through event triggers and page targeting. These are amazing ways to follow customer feedback throughout the entire customer's journey and improve your and their satisfaction. Make sure that you have a strategy that outlines how to use customer feedback in a constructive manner.
Most customer feedback tools allow you to pinpoint survey pop-ups at the exact moment and URL that you wish to measure. For example, Usersnap allows easy set up of display rules to automate the frequency of NPS and API events triggers of CSAT.
Do the old strategies work?
Yes, they do, if you have a time machine that is. Rest assured that a fair portion of your customers will never bother to open any sort of a link or take the time to fill out a comprehensive survey form. The world simply doesn't run that way. This also does not mean that you cannot get feedback.
Instead of sending an obnoxious Middle Ages era feedback form to your customers, why don't you opt for a microsurvey? This could be an embedded thumbs up/down rater at the bottom of your landing page.
you are targeting them at the peak of their interest and tomorrow they've moved on. They might not care to think about your product.
it's about time to make feedback from customers frictionless don't you think?
How to manage customer feedback
Great, you have collected feedback, now it is time to do something about it. Customer feedback management isn't just about collecting information and insights but making a robust strategy that highlights how to use customer feedback for product or service improvement.
Feedback Management
Feedback management is a comprehensive process where businesses collect, categorise, prioritise, and evaluate insights and information provided by their target audiences such as visitors, users, potential clients, and customers. Managing customer feedback is a complex task since it may arrive in a variety of forms, over a variety of channels, from a variety of sources.
Although it may seem unattainable, handling feedback from customers in an organised and efficient manner is one of the most critical things you can do for your business. Unhappy consumers, high customer turnover, subpar product development and poor decision-making may all come from a company's inability to handle customer feedback effectively. First, let's understand different types of feedback management.
Customer Feedback Management
In order to improve your product or service, customer feedback management is a process that is implemented. It integrates and leverages input collected from many sources. This process is designed to simplify your overall feedback handling, allowing you to focus on what matters most. Remember that customer is a subset of your target audience that is willing to pay for the value your business creates for them. That's why this type of feedback management is entirely customer-oriented to maintain the revenue streams.
User Feedback Management
The information and input are collected the same way as in customer feedback management, however, the goals are somewhat different. The idea here is to keep the user engaged with what your business is offering while maximising your opportunity to monetise their engagement. For instance, feedback management of Facebook users will be considerably different from customer feedback management of Apple which directly sells smartphones and other physical products.
Product Feedback Management
Product feedback management is not just about obtaining feedback on your prototypes or beta versions to keep track of your progress. It's all about listening to the customer's needs and wants at every stage of the product lifecycle so that the correct solution can be built to meet those needs.
Customer Experience Feedback
This type of feedback differs in the way that it reflects how your customers and users perceive your business. That's why customer experience feedback doesn't only involve what they feel about your product or service but the whole ecosystem built around it. It involves the organisation's digital presence, customer support, user-friendliness across different domains, delivery times, resolution handling, and more.
"You've got to start with the customer experience and work back toward the technology – not the other way around."
Managing feedback is not always easy, especially when you and your team are struggling to figure out which ticket is the priority. Should you prioritize a returning customer over acquiring new ones? Is refining UX flows more important than shining innovations?
How to prioritize customer feedback
1. Let your customers speak for themselves
You can let your customers give a tag to their feedback tickets that determines how urgent their issue is. Understandably, your organization has its own way to label something as being a priority or not. However, what your customers label as urgent or requiring immediate attention is a test that establishes your relationship down the road.
You can consider adding options to scale requests from those that are least concerned to those that are requiring immediate attention.
2. Categorize customer feedback by themes
Every piece of feedback is important. But not every piece of feedback is equally important. Ha!
Grouping and categorizing requests, issues and inquiries can help you get a better overview of what is high priority and high impact. Additionally, you can easily forward these sorted tickets to the team or colleague who oversees a specific nature of the customer feedback.
3. Segment your customers
Segmenting your customers into cohorts, value and preferences can bring you interesting perspectives. Those who are returning customers or frequent buyers may share very sophisticated suggestions that even outsmart you!
Keep in mind you can and should also segment your customers before you ask for feedback. You should use different approaches and send specific surveys to increase the chances of them opening up and sharing useful insights.
4. Offer a feedback menu
A feedback menu, in Usersnap terms at least, is a floating action button widget that presents multiple feedback and support options.
The menu helps to navigate customers to the right channel of support and the appropriate category or method of feedback. For example, they can choose to send a screenshot of a bug, submit a demo call request or fill out a suggestion form.
This instantly sorts out the tickets and makes life much easier for you. Win-win.
How to create a closed feedback loop
There is nothing worse than feedback that gets unnoticed or if this creates a domino effect from unhappy customers. Let's see what you can do to set the receipts straight with your customers.
What is a customer feedback loop?
The customer feedback loop is a way for you to make your services and products work better based on the input given by your loyal customers.
You can use this to add the changes and improve the efficiency and quality of your output.
The close customer feedback loop is when the customer issue has been resolved and you take the feedback to internal stakeholders to address the core problem. And once you have a solution for the problem, you make that extra effort to follow up on your customers and tell them that their opinion positively impacted your business.
In the coming paragraphs, we will show you how an average feedback loop looks like and how you can measure customer feedback from it.
Dealing with positive and negative customer feedback
There is a saying, "customer is king." This is true in any industry. Customers are the backbone and blood of every business. As a result, businesses should strive to provide the best to their customers.
Customers' preferences, needs, and opinions are ever-changing, so asking for their feedback is important.
In customer feedback, you can expect to receive positive or negative feedback. The question is, how will you deal with it?
How to deal with positive customer feedback
Positive feedback lets you know that your clients are happy with your products and services. A positive review can turn a single customer review into a way to build and increase customer loyalty.
Here are ways to deal with positive customer feedback
1. Address the customer by name and thank them
It is a good idea to include the customer's name in your response when thanking them. This shows them how much their feedback means to you and the value they hold.
2. Respond quickly
If you let a positive review go unattended for months before responding, it will give the impression that you don't care. Respond quickly to show how appreciative you are and that you care about their opinion.
3. Keep it brief and concise
Keeping your replies short and clear ensure the review reads your responses. This help build rapport with your customers. Short, clear, simple, and to the point wins every time.
4. Ask for further feedback
Ask them about a different part of their experience to get the bigger picture.
5. Encourage action
Encourage your customers to do some things, such as recommending you.
6. Introduce them to other products and services
If they are pleased with one product or service, which prompted them to give you positive feedback, build on that, and offer more of your products and services.
7. Promote positive reviews
Positive feedback is a powerful marketing tool. Sharing and promoting positive reviews is a great way to tell the world about your business. This can help build credibility and let people who follow you who don't do business with you look more into your products or services.
How to deal with negative customer feedback
Receiving negative feedback can be uncomfortable and painful, but it is good for you because it helps you source out problems and helps your business improve.
Here are ways to deal with negative customer feedback
1. Listen carefully
The best way to deal with negative customer feedback is to listen carefully and understand what is being said. Don't rush. Listen to get and identify the root of their complaint before you engage in a conversation.
2. Address the customer personally
You may think there's no need for this, but saying their name and referring to their feedback and complaint makes them feel they are being heard and not receiving an automated scripted response.
3. Apologize and show concern
An apology will go a long way to ease the concern or anger of the customer. This shows that you care about them and are concerned about their needs.
4. Summarize the feedback
Summarizing puts you in the position of being an effective communicator. Summarizing ensures both parties are on the same page.
5. Take responsibility
Recognizing and accepting that the customer had a bad experience with your product or service that brought about the negative feedback is important. Putting yourself in the shoes of a customer conveys that you are taking responsibility for how the customer feels.
6. Take action
Awareness without action is useless. Let the customer know how you are going to address the issue. If it's not possible, explain why so the customer knows you are not giving them a turnaround. You can follow up with instructions on what to do next in the meantime.
7. Put up with the negative reviews
Don't get upset or angry over the reviews. Receive negative feedback with a growth mindset. Negative reviews can help improve the way you will communicate with clients in the future.
Remember: When responding, respond calmly.
How to measure customer feedback
Not to be Captain Obvious here but the first thing to do is to collect customer feedback. Next, you want to learn.
Getting a quantitative measure of how happy your customers are lets you put yourself in their shoes and see your business from outside of your brilliant mind. Here're three common ways to analyze and quantify your customer feedback.
1. Measuring level of satisfaction and defining customer health
We've talked about the top 3 methods of measuring customer experience, CSAT, CES and NPS.
The scores allow you to divide your customers into different satisfaction groups. With NPS it will be the promoters, the passives, and detractors (unhappy customers).
Based on their level of satisfaction, you can prioritize which customers need a prompt message and which ones are fine with a simple thank you. Try to embrace the unhappy customers like they are your best friends. If your mindset is set to see a Karen instead of a potential future promoter of your business, then you lost this game before you even started to play it.
2. Track the number of bug reports
Bug reports tell you that your customers encountered issues when using your product. If you are in SaaS you probably know by now that tackling bug reports either makes you or breaks you. It can be a small issue with user interface or an entire site crashing down like a stack of cards.
Tracking the number of bug reports helps you deal with them before your customers leave for good. These reports give you an insight into how many users face these issues, is it only one or everyone? This is why investing in a decent notification service for bug reports is an absolute must.
3. Measure UX with feedback and data
While experiences are always objective. You can still use very scientific ways to understand them.
Rating feedback can be collected via pop-ups, embedded elements and emails. Remember, you should strike the iron while it's hot, so ask about their UX experience at the exact moment when an experience is complete.
Then what you can do next, is map the ratings with the product usage data and sales performance. A holistic understanding of the customer experience reveals opportunities for you to enhance it.
How to calculate the ROI of customer feedback
Yes, it is possible to calculate the Return of Investment on customer feedback and digital customer experience. The reason why so many business owners overlook and struggle to grasp this metric is that they did not or could not properly quantify the value of improvements made with customer feedback.
ROI = revenue earned from customer insights – costs for managing customer feedback
A report last year showed Up to 74% of customer experience leaders planned to increase their CX budgets. Regardless of how the Pandemic impacted this, you can see that companies are getting vigilant.
ROI is a formula that can be broken down into many attributes. We have three for you to get started: upgrades, retention, and referral.
1. Upgrades
When you build your product based on how the customers want it, customers will use more features and spend more money with you.
2. Retention
If your customers are consistently getting value out of your product, they will use you more frequently and stay with you for longer.
3. Referral
Referral is a metric that tells you how much love your customers have for you. When customers advocate your brand that means you're definitely doing things right. And the positive sentiments will draw in new customers and/or enhance conversion rates.
Another piece of advice on ROI is that you need to use it regularly. It is a metric to track over time and you will find it most valuable when used to compare changes.
What are some other customer feedback metrics?
Measuring your performance and conducting customer sentiment analysis is fundamental and paramount for the survival of your business. Let's dig into some popular customer experience metrics and see how you can use them for your customer feedback analysis:
CSAT of product functionality
CSAT of customer service
NPS
CES
Customer lifetime value
Word of mouth
Churn rate
Resolution rate of customer requests
Goal completion rate
Most recommended customer feedback software
Now, there are many listicles out there to compare customer feedback software, we also wrote one! Here is just a short teaser of some of them we have picked out the ultimate recommendation for your business model. But if you need a more thorough explanation of how to choose customer feedback software, we've got the ultimate guide tee'ed up for you too.
Usersnap – best for agile SaaS companies
Usersnap really steps up the game of customer feedback with a plethora of different feedback collection options. You have visual feedback tools for customers to submit annotated screenshots of issues or capture video from websites (screen recordings), and various rating templates (CSAT, NPS, you name it) as well as the feedback menu widget to direct customers to different feedback and support channels.
With all these advanced features, Usersnap is still very intuitive for non-techy customers.
"If you're asking customers to go out of their way to give you feedback, it needs to be bloody easy."

says James Rose, Founder of Content Snare
The browser and device information, console log, and other user data are automatically attached for SaaS companies to analyze and troubleshoot each feedback quickly and accurately. Pretty neat, right?
Oh, and did we mention that it's quite affordable? starting at $9 per month, This is especially appealing for start-ups that are trying to control costs while scaling up.
Companies like Canva, Freepik to enterprises like Microsoft love Usersnap's streamlined and actionable customer feedback software.
GetFeedback – best for digital services
This software is a comprehensive customer feedback platform that allows you to manage CX feedback on your service websites, different apps and emails. GetFeedback has an analytics dashboard that allows you to follow the trends of your user feedback and share the statistics.
To help you react timely to negative feedback, you can set email notifications and even use AI to automatically create different tasks. You can easily open up new support cases, whenever customers need extra help. Their integration with Salesforce is pretty handy for generic sales representatives to get in touch with customers for closing the feedback loop.,
Another use case for e-commerces is to measure the CX of your checkout process via GetFeedback's feedback widgets. Carrefour, KLM and Headspace are using GetFeedback to manage their website and app's customer feedback.
Qualtrics – best for multi-products enterprises
They do a great job when it comes to creating and distributing web-based services and it is a cloud-based platform that can be easily used on any Internet-connected device. They offer on-site and off-site feedback collectors and are known for their extensive data analytics.
Qualtrics dashboard considers many different aspects of customer feedback, and their mission is to attract and retain customers, increase engagement, and improve business productivity.
The main drawback to Qualtrics is the pricing that starts at around $1500 per year although you can check out a free trial. Qualtrics offers tailor-made plans that can even go up to $5000 per year. The price varies based on what features your company needs and the size of your CX team.
It is fairly good for omnichannel engagement and measuring desktop versus app experience which is where Qualtrics truly excels. One of its most famous customers is Spotify.
Unstructured versus Structured Customer Feedback
Customer feedback falls into two categories: Structured and unstructured feedback.
· Unstructured Feedback
Unstructured feedback is free in form and customer-driven. This means this feedback method is impromptu and unplanned regarding content and timing. This feedback type is gotten by allowing an open-text response on a survey or social media or by conducting interviews with your customers.
Unstructured feedback comes in many forms, including online forums and communities, reviews, social media posts, contact us pages, and emails to the company.
· Structured Feedback
Structured feedback is uniformly formatted, allowing for easy storage, and is represented in your business operational data. This feedback includes the systematic communication mandated between you and your customers.
Examples of structured feedback include performance reviews, team meetings, rating scales, evaluations, NPS (Net Promoter Score), CSAT (Customer Satisfaction), CES (Customer Effort Score), and employee surveys.
Unsolicited versus Solicited Customer Feedback
· Unsolicited Customer Feedback
Unsolicited customer feedback is the raw opinions, thoughts, and feelings your customers share without being asked. The feedback customers provide is about the business but not delivered to the business. Unsolicited feedback can be found in product reviews, blogs, social media posts, customer support chats, online forums and communities, and customer service conversations.
Although unsolicited feedback provides honest thoughts about the customer's perspective, the feedback is unstructured. Therefore, companies require using effective tools to analyze it.
· Solicited Customer Feedback
Solicited customer feedback is the thoughts or opinions a business actively obtains from a customer by asking for or trying to through surveys to understand the level of customer experience better. Solicited customer feedback methods of obtaining customer feedback are through NPS review surveys, client feedback surveys, customer interviews, comment cards, and focus groups.
Because the business reaches out to customers to get feedback, with the information gotten through surveys, the feedback is structured.
What is the customer feedback loop?
A customer feedback loop is referred to as a circular process or repetitive practice of gathering customers' feedback and using them to improve your product and business. It is a customer experience and enhancement strategy that is based on customers' reviews, opinions, and suggestions.
Because the process is circular/repetitive, it is a never-ending and continuous process that results in continuous improvements. For example, once you have gathered the feedback and acted upon it, you can ask for the user feedback again and repeat the same process.
The feedback loop is based on the naturally recurring pattern and concept of "mutual causal interaction." This is where both entities, i.e., the business and its customers, mutually impact each other.
The main components of the feedback loop include:
· Gather
The first step to customer feedback is gathering customers' opinions. This can be done by asking your customers to record their feedback. This can be done using live chats, customer interviews, surveys, emails, social media, and more. However, the most effective way is through surveys.
With surveys, your customers have a dedicated way to leave their feedback. Moreover, surveys can be targeted to specific use cases to allow you to gather more detailed feedback. The most common surveys are CAST, NPS, and CES.
· Segment
Segmentation is important in customer feedback strategy. This allows you to know your new customers and make out your long-time buyers or subscribers. Therefore, segmenting your feedback into groups tells a story that will help you understand your customers.
· Analyze
Once the data has been gathered and segmented, it is time to analyze it and make sense of it. What is the feedback telling you about the customers' view of your business and products? Are they happy? Were they disappointed? What left them disappointed or happy?
Using this user feedback, find the recurring patterns and issues your customers regularly face, what product or service they request for upgrade and betterment, and list them down according to the level of popularity and importance. Once done, act on it.
· Act
This is the most important part of the customer feedback loop. When you have your conclusions, apply the changes to your products or services. Begin by segmenting and categorizing the feedback and ensuring they reach the right team members.
Your goal at this stage is to ensure your customers feel listened to by acting on and making the changes they pointed out.
Why the customer feedback loop is important
Your customers are the best people to give you feedback on your products and services. As a result, implementing a customer feedback loop is one of the best ways to bring positive changes to your business operations and processes.
Here are reasons why the feedback loop is important
· It brings about positive improvements
The feedback loop takes customer feedback and turns it into improvements and enhancements for your business, products, and services.
· Identifies hidden issues or mistakes
Customers are the only ones with an unbiased and objective eye on the product or service, so they will be in the best position to point out problems that you and your team members overlooked. Feedback can help you see those problems and work on them.
· Reduces customer churn
Listening to your customers by fixing and continuously upgrading your products and services can stop them from leaving. Customer churn is influenced by how satisfied your customers are with the product and service, as well as the experience they get.
Therefore, a customer feedback loop helps you avoid this by helping you know what your customers want and need.
Make better product decisions with customer feedback
Developing customer-centric products and experiences around customer feedback loops is an exhilarating and promising strategy.
We have gathered industry experts and a community that never runs out of new ideas at our Feedback Tribe. Join us in our Slack group for conversations and examples of case studies, open webinars, and resources you need to start thinking and developing a better customer-centric experience.
Getting feedback has never been easier and we hope you've realized that after reading this article. Let us know what you think, your feedback is important.
And if you're ready to try out a customer feedback software, Usersnap offers a free trial. Sign up today or book a demo with our feedback specialists.
Capture feedback easily. Get more insights and confidence.
Getting feedback has never been easier and we hope you've realized that after reading this article. Let us know what you think, your feedback is important.
And if you're ready to try out a customer feedback software, Usersnap offers a free trial. Sign up today or book a demo with our feedback specialists.