You've just launched your new product or you just finished building a new website, and now you wonder what your customers think about those changes.
In this article, I'm going to show you how to collect customer feedback in the best way possible.
Let's get started.

Like this article? Give it some sharing ❤️
Collecting feedback more effectively
Recently someone raised the question on Quora on how to effectively collect user feedback.
As I've heard this question from various people in all kinds of industries in the past few months, I decided to do some research and look into best practices of collecting customer feedback.
No feedback or too much feedback.
While researching, talking with other people, and analyzing various software products, I've always stumbled upon the same patterns. Overall, there are two different initial situations when it comes to collecting customer feedback.
Scenario 1: You don't get a lot of feedback from your customer base
Scenario 2: You get a lot of feedback from your customer base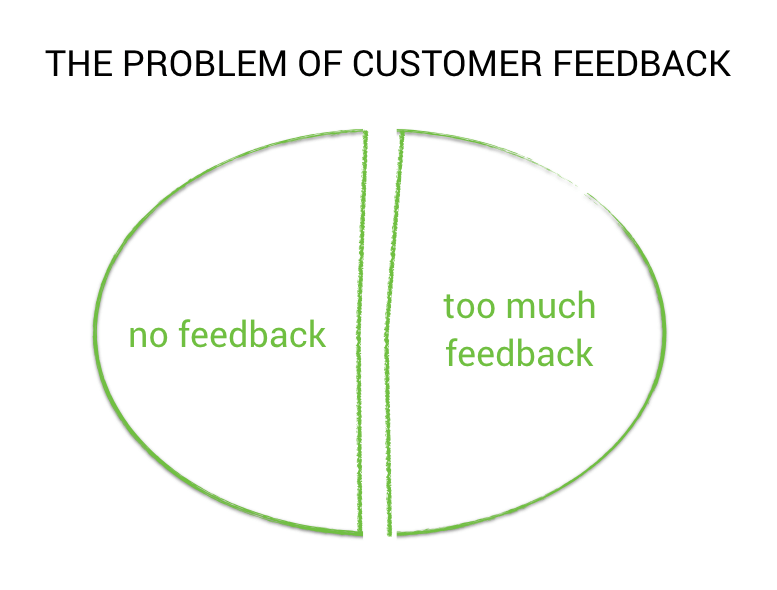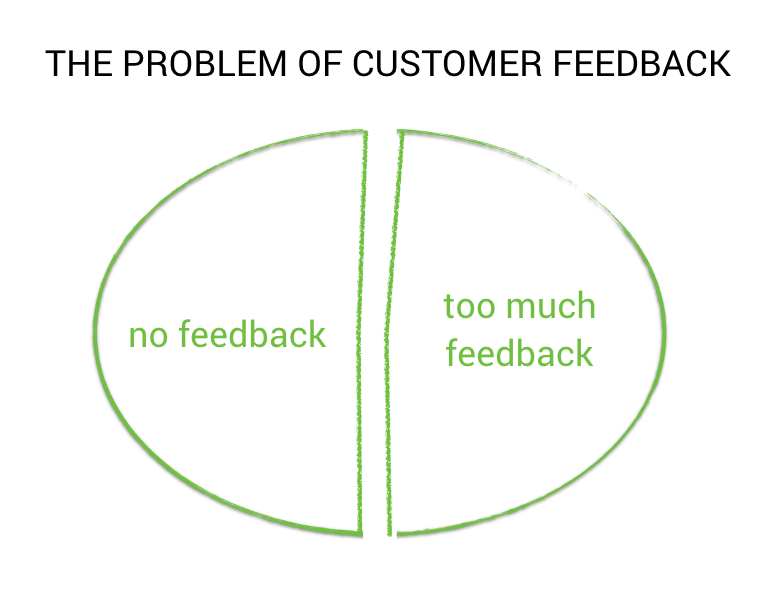 Depending on your situation – scenario 1 (no feedback) or scenario 2 (too much feedback) – you'll have different goals and challenges reaching that goal.
1. Attracting customers, the agile way
Getting feedback for a newly launched (or even a product in closed alpha/beta) isn't that easy, as there will still be bugs and failures of your product.
But having no finished product, and no customers you can ask for feedback isn't as bad as it may sound.
On the contrary, this is the time which offers you a chance to build some strong and sustainable relationships. The earlier you include potential users into your product development, the less likely it will be that your software fails.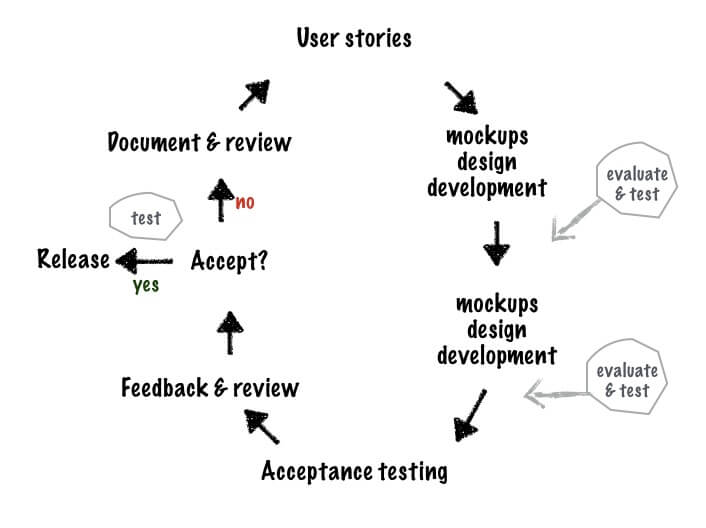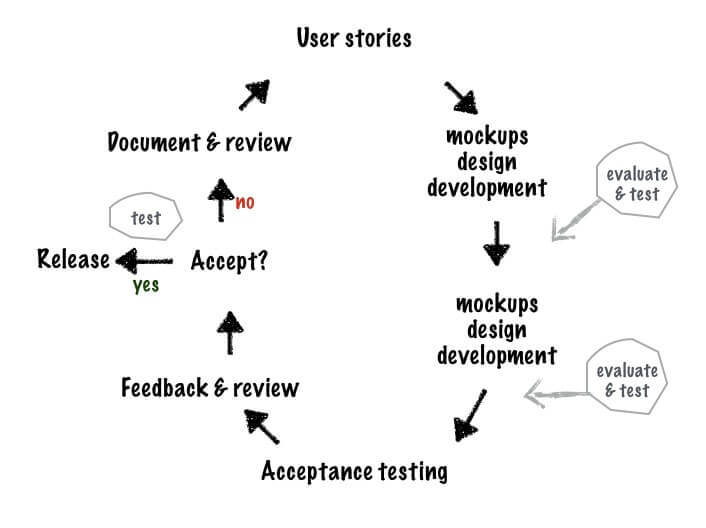 Evaluating, testing, and collecting customer feedback is relevant in every development step. So, it can be helpful to build relationships early.
Of course, you might ask: OK, and where can I get those first customers?
There are various ways to reach out to potential customers and users. I found the following ones particularly helpful:
Get listed on beta list and get early adopters on board
Launch on ProductHunt and get feedback from the tech community
Join local meetups in your industry and ask for product demos
Reach out to potential customers & users asking for help
Reach out to influencers and experts in your industry
2. Attracting the right customers
When thinking about whom of your customers to ask, you'll think about the following funnel.
The more customers you have, the better the chances that you'll find the customers who are willing to give feedback, and then you actually give feedback.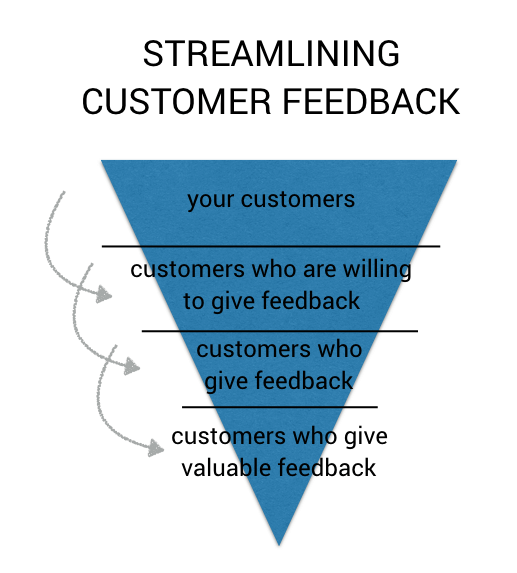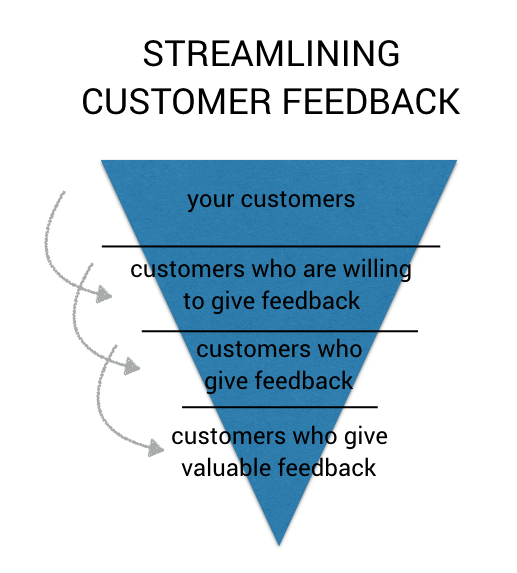 If you don't get a lot of feedback, you can either find ways to bring more customers into this funnel, or you can increase conversion rates through this funnel (e.g. you make it easier for customers who are willing to give feedback to actually give feedback).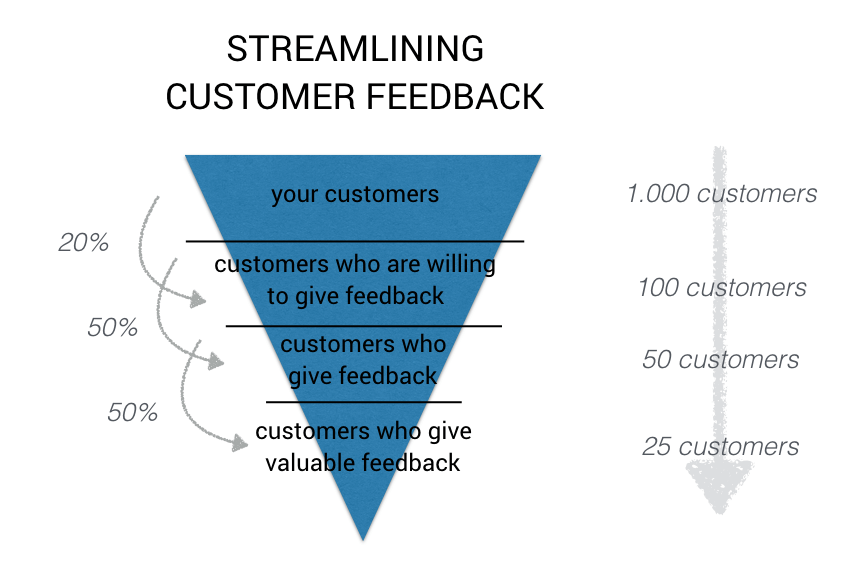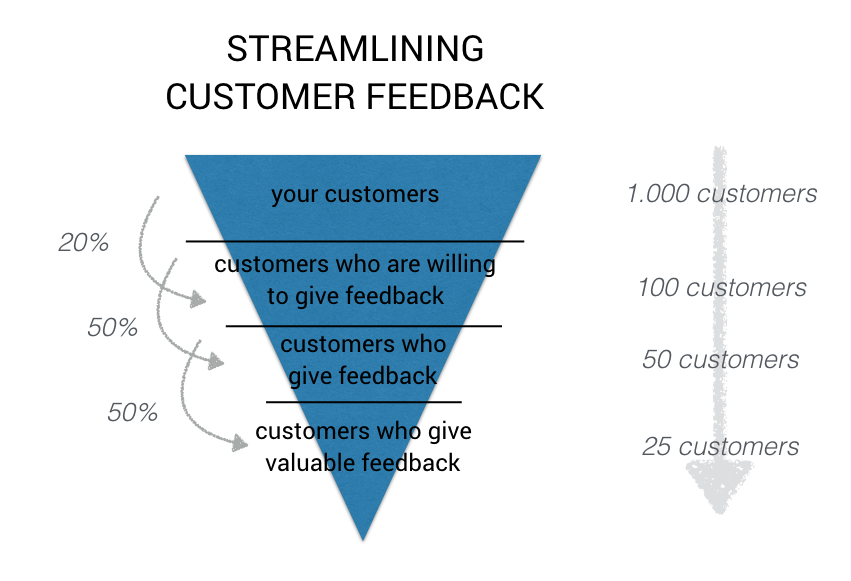 As we now have a clear understanding of how to attract the right customers (not everyone would be a good fit for feedback), we need to think about ways on how to engage with them.
3. On-site / in-app feedback
I guess you're already making use of an analytics tool, analyzing all kind of quantitative data on your users' behavior. Great!
Sometimes the best feedback is found at the time your customers are using your product.
Analytics tools (like Google Analytics or Kissmetrics) do a great job when it comes to quantitative user data.
This feedback and information get even more powerful when you actually get qualitative feedback as well.
I'd recommend not to only implement an analytics tool, but also a customer feedback solution inside your product, enabling your users to easily leave feedback at the time the encounter problems or troubles.
Usersnap is a real-time user feedback tool for web applications, websites and other software products.
You can simply embed the Usersnap feedback button inside your application which allows your users to leave feedback in form of annotated screenshots.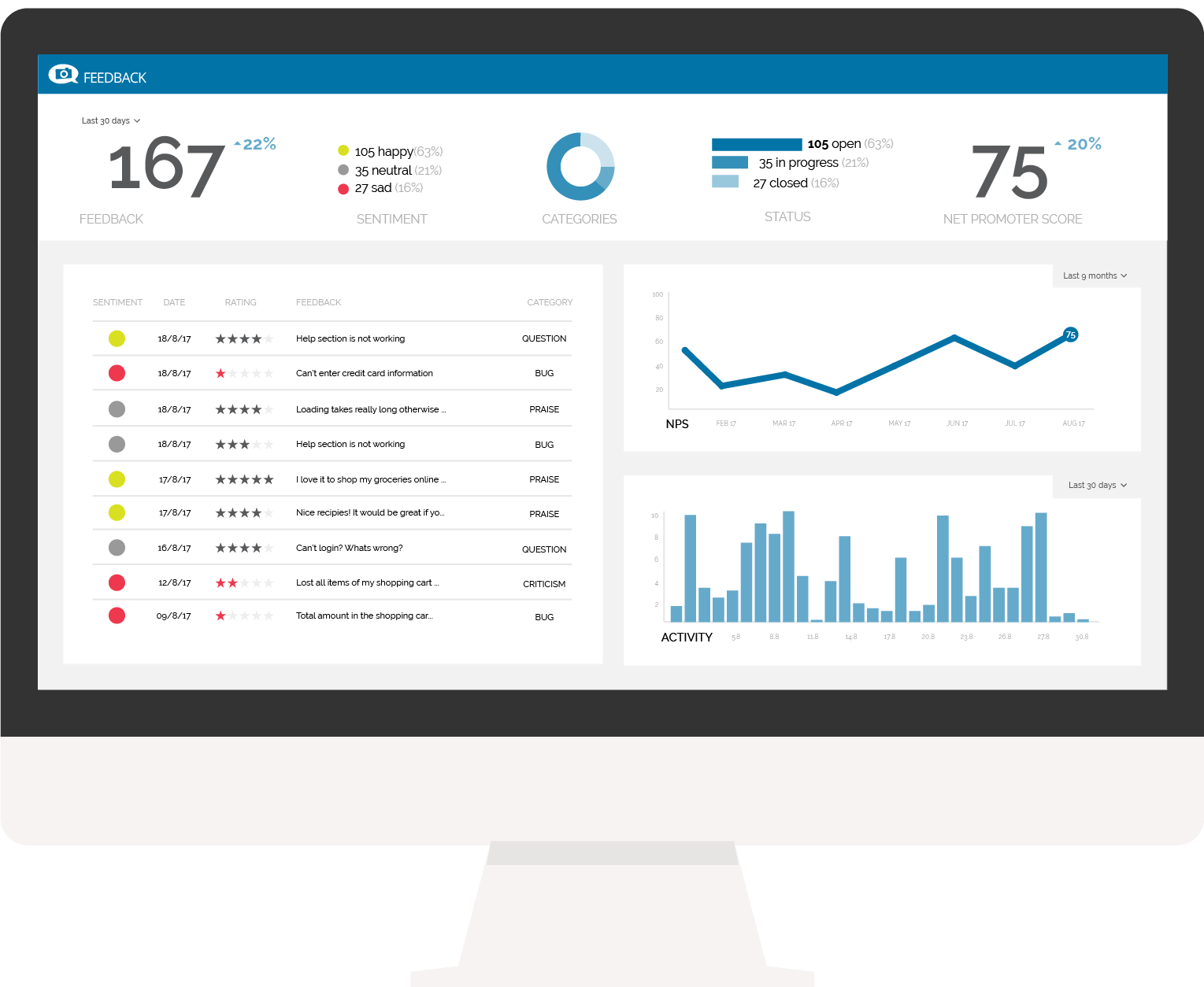 Why should you give such a feedback tool a try?
Because it allows your users to easily leave qualitative feedback
Because you can see your product through your users' eyes
Because it provides you with qualitative feedback in real-time
To learn more about collecting customer feedback on-site, please visit this page here, You can also talk to one of our customer feedback experts here.
4. 1-on-1 feedback via emails & calls
One of the best ways to get good customer feedback in an efficient way is to simply ask them via email or phone.
When you have a customer's email address, you have the opportunity to send out a personal email asking a single question.



Keep your email short and simple.
You can ask about challenges and problems, or about features, your customer might like to see.
Make sure to keep the email personal and try to avoid marketing speech. Try to start a conversation instead. And better make sure you're replying to emails on time.
5. Customer surveys
Customer surveys are a great way to gather feedback and insights into the life of your customers. Those customer surveys might pop up in your software product, or you might send out emails asking for participation.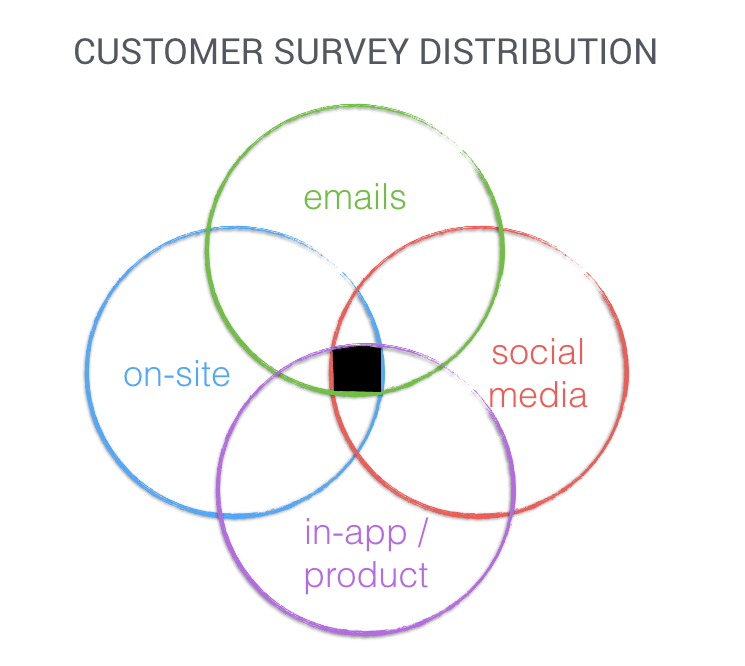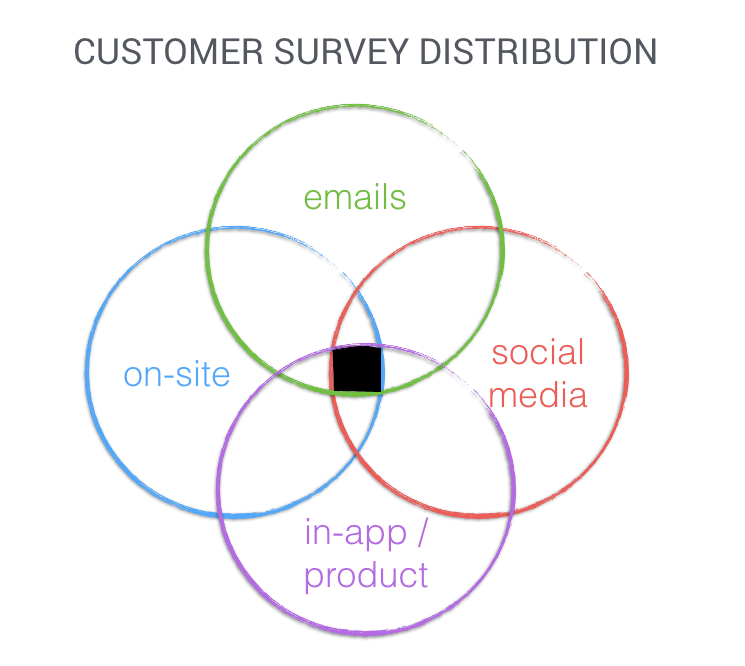 With SurveyMonkey, Google Forms, and other customer survey tools, you have many options for getting your survey up and running.
Before adding too many questions to your survey, consider the following thoughts:
Only ask questions that fulfil your aim
Ask one question at a time
Avoid complete, irritating or loaded questions
Make sure all questions are consistent
6. Usability tests
Usability tests are the costliest form to ask for customer feedback. However, they deliver by far the best and most comprehensive feedback you can get.
Usability tests can be run during every single project stage. You test first ideas, mockups, prototypes or finished products via usability tests.
Usually, these tests are done with a very small and well-selected user group, preferably in an observable environment.
If you want to learn more about Usability Testing, I'd recommend reading this article on "How to get started with Usability Testing".
Wrapping it up.
Streamlining your customer feedback isn't easy. There are a lot of questions you need to answer in advance (What's your goal? What's the best person to ask?) and a lot of feedback channels to consider.
| | Personal? | Easy to set up? | for quantitative feedback? | for qualitative feedback? |
| --- | --- | --- | --- | --- |
| Emails | yes | yes | no | yes |
| Phone calls | yes | yes | no | yes |
| Surveys | no | yes | yes | depends |
| On-site/in-app feedback | no | yes | yes | yes |
| Usability tests | yes | no | no | yes |
Feedback is the breakfast of champions
Most companies lack an in-depth understanding of their customers. That's why product decisions are often based on lucky guesses or gut feelings. Only your users have the answers. We help you to start listening.
Want to schedule a session with one of our customer feedback experts?
Bonus: How to find the most influential customers?
If you're looking for a smart solution to find customers who are influencers and want to turn them into brand ambassadors, why not try a solution like inbassador. It's a smart referral solution powered by your most influential customers to drive sales.
Get experts insights & cutting edge ideas for digital product development.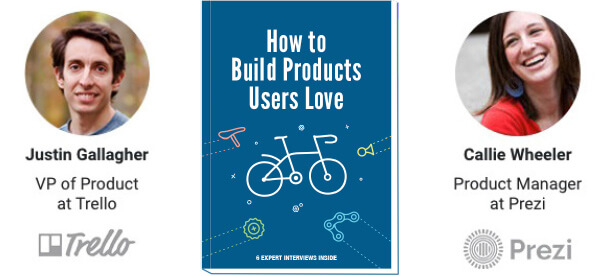 We have asked six experts to bring you lessons learned about user testing and product development.