There's no doubt: today, news spreads faster with more virality than the time I took to write this! That is why measuring customer experience has become very important.
The advancement of technology is why most leaders emphasize website customer experience as the backbone of business success.
For any business, small or large, every customer is an asset, without which companies would have no business at all.
Reputations are at stake, the marketing paradigm evolves fast, and businesses are already improving customer experience, leaping ahead of the competition.
Hence businesses need to leverage their customer experience irrespective of the product or service they sell. Along with this, focusing on measuring customer experience is very crucial. Putting a focus on customer needs helps businesses in several ways, such as creating a reliable customer base.
Since the buyers today have so many purchasing options and substitutes, SaaS businesses in no way can afford to ignore the importance of providing additional values to their buyers.
Here are the 7 reasons explaining why customer experience matters:
🚘 pump the brakes, partner. maybe you're in need of an ultimate customer feedback guide. if so, click the link. that's all 🛫
1. Customers respond better to relationships than promotions and advertisement
It's human to value a relationship more than a marketing tool like an advertisement. When a business values the consumer experience, they start valuing everything they feel, hear, smell, see, and touch while interacting with your business.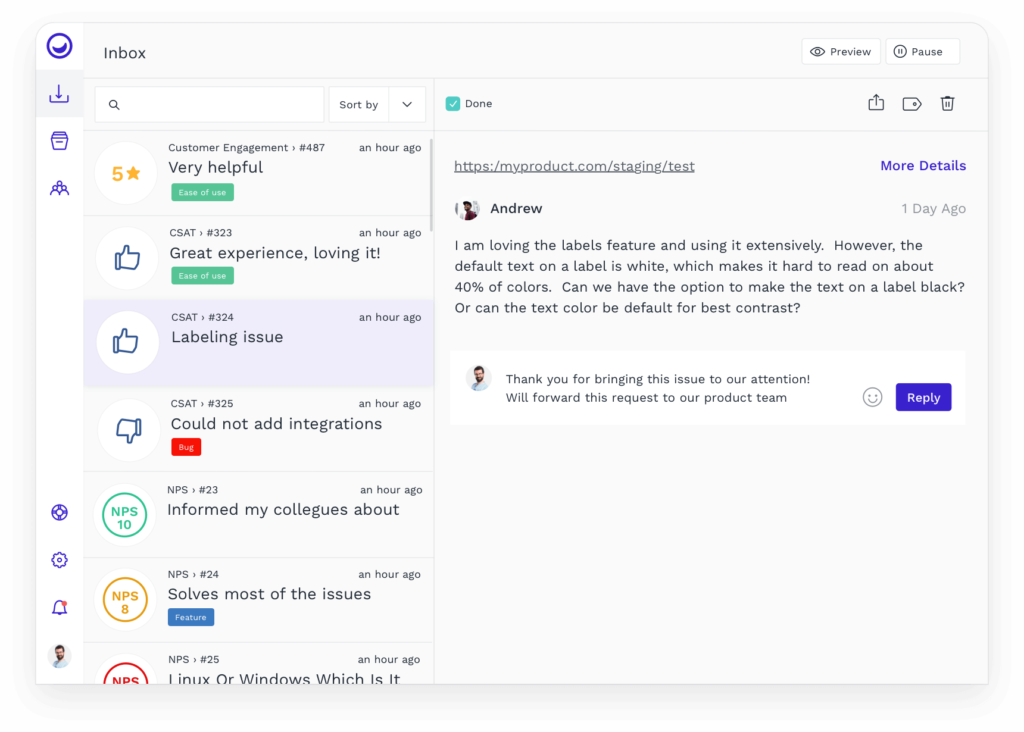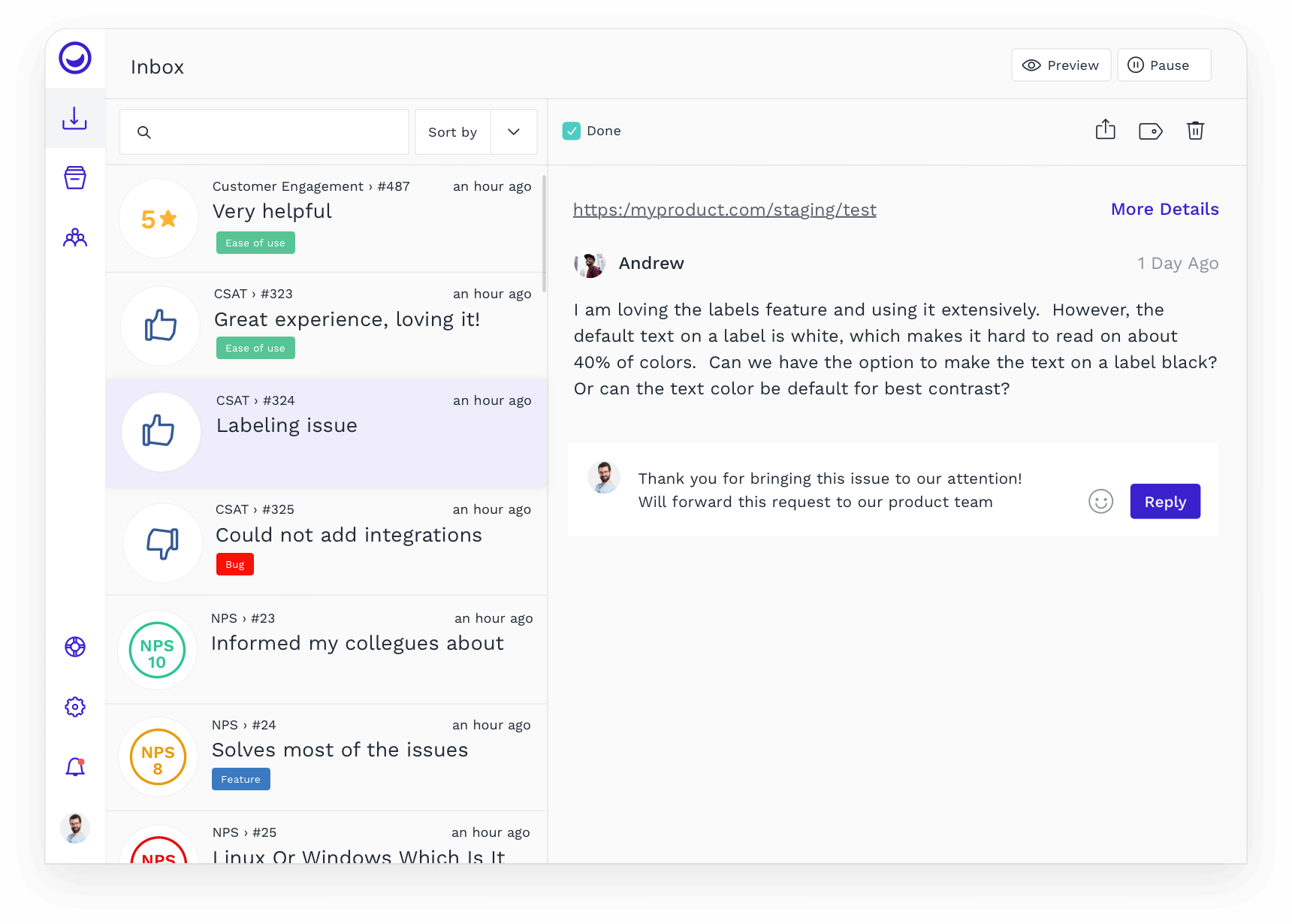 This way, they build a relationship with them. These customers will become a part of your loyalty club and start responding to every initiative the business takes to strengthen the relationship.
For example, if you are purchasing an office collaboration software subscription from the same company, it's mainly because you have a relationship with them. You know what quality to expect, where to navigate to find a product, and which discount coupon to avail.
2. Consistent good customer experience assures greater return on investment
A recent study conducted on brand management and marketing states that in the coming years, nearly 89% of the businesses will compete in their respective industry on the basis of customer experience.
Consistency is the key here. You cannot assume that being nice to your customers on the first few days and then stay loyal to your brand forever. If you want more, you have to give more.
Hence, a consistently executed customer experience is one of the best strategies for increasing ROI, improving loyalty, and enhancing retention as well. These customer experience metrics will help you in measuring customer experience and understanding how it is helping your business.
3. Customer experience is directly proportional to customer satisfaction
One of the surveys conducted by McKinsey concluded that enhancing customer/user experience has the potential to enhance user experience as well. It results in revenue increase by 15% while lowering 20% expense of branding messages or promotions.
With that being said, businesses cannot ignore the importance of regular interaction with the customer, and it should be both in terms of user experience and support mechanism.
4. Enhanced customer experience means a competitive advantage
Customer experience is the marketing tool that can offer a sustainable competitive edge to companies. This is indeed the best way of standing ahead of the competitors.
While a business can adopt several marketing tactics to attract new customers, a business cannot sustain retention merely by offering lower prices.
Slack and Skype are some of the best examples to consider. Both companies started selling their services at a cheaper rate in the beginning and earned consumer trust by offering a superior user experience.
They went out of their way to meet the user demands for office collaboration. Both these companies have received a competitive advantage over their rivals because their prime focus has always been CX.
5. Good customer experience reduces customer churn
It's a known fact that the cost of acquiring a new client is twice the money spent on retaining the existing customers. Hence, for businesses, one of the most important strategies is to take measures that can help the company create a platform where customer retention is not a problem.
A customer who is satisfied with the service quality, user experience, and brand preferences will stay with the company. This customer is also unlikely to leave the brand for factors like high product pricing.
Hence, great customer experience is a tool many small and large companies have been using to reduce customer churn through feedback. By assuring an enhanced customer experience, these brands promise everything that a customer demands from the service provider.
The brand also saves on recurring customer service programs meant for acquiring new clients.
And when you get customer feedback from the tool, you can use that to measuring customer experience. This measurement will then help you to work on making it better.
6. Word-of-Mouth (WOM) Publicity Beats Everything
Delighted customers are the best brand promoters. Customers who are satisfied with the customer experience always add to the revenue through positive word-of-mouth referrals and incremental sales. Both of these things help the brand add more value to their services or products in terms of sales.
This sort of publicity from buyers or current consumers paves a way for new customers, who may also become brand advocates for the company.
7. Customer experience reinforces brand preference
It's always easy for consumers to switch brands once they realize they are not delighted with the services/product provider at present. This makes the customer experience a crucial component for the brands. A poor experience will ultimately impact the bottom line and cost a brand
Hence, more and more companies are investing in this and taking initiatives to improve CX. This is just because all of them want to reap all the above-mentioned benefits of customer experience.
How to increase the quality when measuring customer experience
Since customer experience holds such a crucial place in the competitive business environment of today, a large group of companies has started using analytics techniques and tools to understand and enhance the customer's experience.
Check out how Google, Facebook, and other 8 leading companies collect user feedback to improve their UX and algorithm.
Arguably, performance statistics are helpful to conduct a systematic, efficient, and comprehensive analysis of CX. But you can't find gold without obtaining real customer insights. I'm talking about real customer inputs like their ratings and written feedback.
Funny enough, the process of asking customers for feedback is another CX altogether. And the quality of this experience will impact the results of the overall score when measuring the customer experience.
So, we want to offer some tips on making the experience of obtaining customer experience-related feedback (starting to sound like a tongue twister huh!) as easy and as smooth for you and your audience.
1. Employ the right CX metric at the right point of the customer journey
The two widely popular customer experience metrics are Customer Satisfaction (CSAT) and Net Promoter Score (NPS).
CSAT is a performance indicator for customer satisfaction. It is typically rated on a 5 point scale ranging from 'Highly satisfied' to 'Least Satisfied'.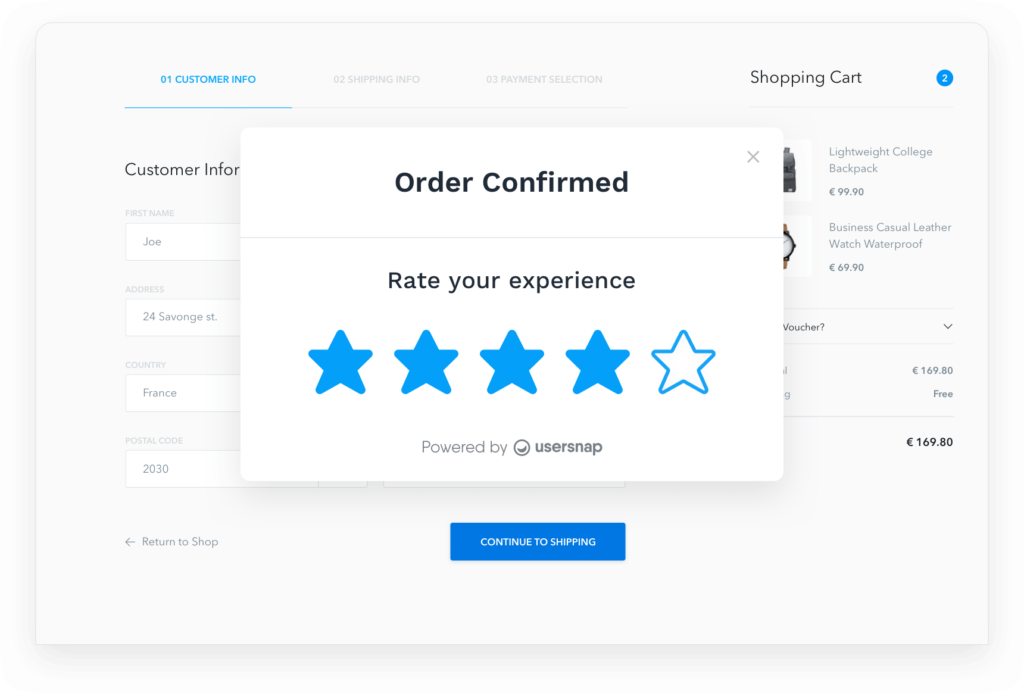 NPS is a customer loyalty metric used to show the percentage of buyers who'd recommend a product or service to their family, friends, and colleagues.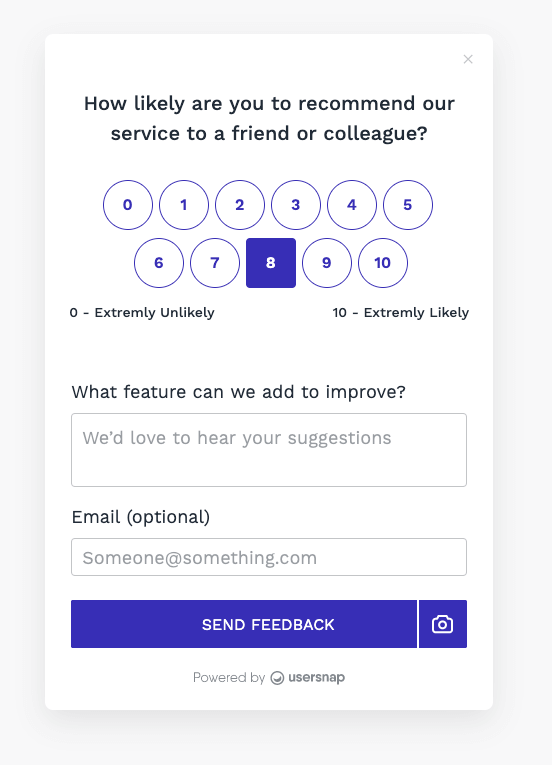 The rate of the score ranges from 0 to 10. While, the respondents are grouped into Promoters (Score 9-10), Passives (score 7-8), and Detractors (Score 0-6).
But most of the companies use either CSAT or NPS. And this is where they go wrong.
You can, and should, be measuring customer experience via both customer satisfaction AND net promoter score. For feature usage feedback, CSAT is very direct for customers to respond to. And therefore, easily helps you identify the level of usability.
NPS is great to evaluate the level of engagement at different stages of the customer's lifetime. A common example is to compare a customer's NPS after first time purchase versus second time purchase.
Ergo, to get accurate and actionable results, you need to use the suitable CX metric for each purpose and at different customer journeys to leveraging customer experience.
2. Ask for Feedback at the optimal time to understand the customer experience metrics
Don't think for a second that your customers would spend time on a process that will benefit your company. If they are asked for feedback, they will do it in a minimal time. Or not do it at all.
That's why most of the companies only survey for feedback once a product is sold.
Asking for feedback at the right time increases the response rate as well as the accuracy of the feedback. When customers carry out an action, such as putting an item in their basket or create a new post, that indicates a certain engagement and understanding of your service and product. And that is also when an experience is complete.
At Troop Messenger, we follow a similar approach for enhancing our CX. We've been working extensively to exceed our clients' expectations and meet their office communication and collaboration requirements through Troop Messenger. We constantly analyze what our customers need by seeking feedback at the optimal time.
The customers have to ends-up using Troop Messenger as the 30-day free-trial package. Once they do this, our analysts encourage them to take their time for a two-minute survey. The analysts then use these surveys to assess their CX through NPS. For us, the optimal time is 'post the free trial period'. Since by this time, our users have used the product thoroughly and they know the features and functionalities all around. They can be the best judge.
Reaching out at this time gets us more meaningful feedback. The customer at this stage has higher motivation since they just experienced a value of our product.
3. Monitor CX metrics over time for obtaining the customer experience analysis
The process of enhancing your customer experience and product usability would most likely be longer than one sprint. It may even take a few quarters to implement the necessary changes. And then after that, more time for customers to see a significant improvement.
That's why it is important to establish specific metrics that can measure and make sense of the outcome. And continuously monitor the customer journey to find refinement points.
Qualitative customer feedback, the comments from your customers, or survey answers from user research, can be great guidance for ideas to implement as well as progress reports.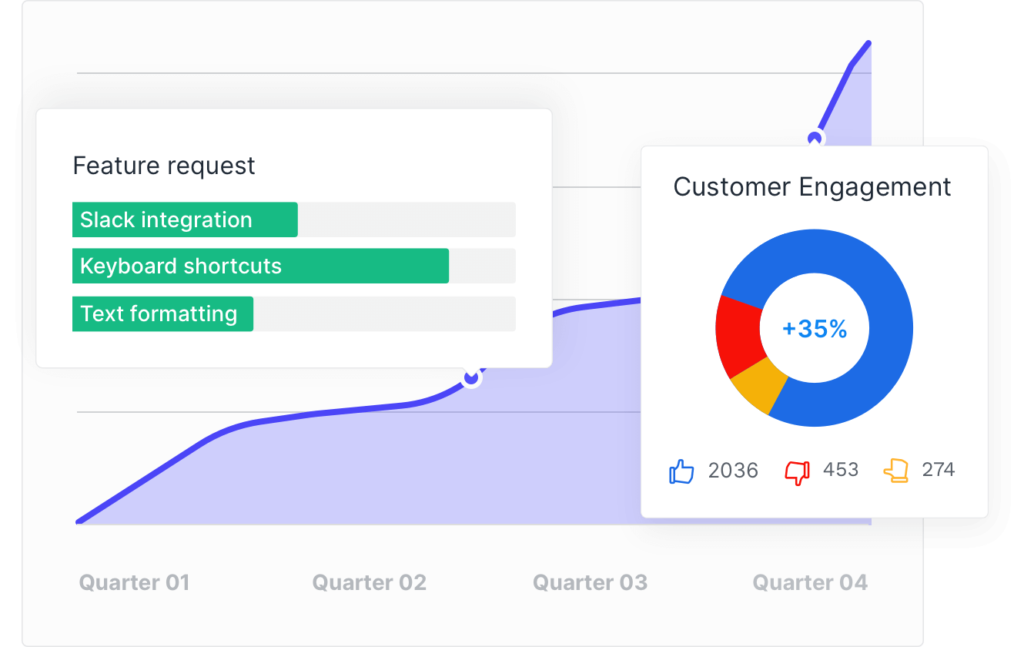 To be able to gather a large quantity of customer feedback and provide an easy and intuitive process, you should look for specialized tools. Usersnap offers a lightweight widget that can be added to your website and application just via a shortcode or API.
And you can connect the feedback tickets to be sent to customer care tools, Zendesk, Intercom, etc. Or to project management tools, Jira, Trello, etc.
Having a smooth and effortless process is key to make monitoring CX feasible and sustainable. Such tools allow access to analysis dashboards for you to view real-time statistics and journey-driving metrics in order to identify high-impact areas.
It's no longer about you. It's about your customers.
Regardless of your business niches, the customer experience is the most important factor that will distinguish you from the competitors. Achieving superior CX needs a strong strategy, it starts by being proactive in building customer relationships and creating a plan where customers are the king.
Irrespective of how exceptional your brand or product is, the customers will not return if they had a poor experience. You need to turn over all the stones on the customer journey to build a truly exceptional customer experience and to turn them into happy, loyal, and advocate customers.
Get started today with one of our customer engagement and experience management experts on a personalized demo.
Or play around with Usersnap's customer rating and feedback collecting tool yourself, free for 15 days.
Md Mohsin Ansari is a Marketing Manager at Troop Messenger – a business messenger that comes with all the requisite features. It is a viable Slack Alternative that is spreading its wings across all industries by bringing all the internal communication in one place. Mohsin is accountable for analyzing the market trends, demographics, and dealing with all promotional and media channels.
If you need more info about Usersnap – a customer feedback tool, don't dally!
Capture feedback easily. Get more insights and confidence.
Getting feedback has never been easier and we hope you've realized that after reading this article. Let us know what you think, your feedback is important.
And if you're ready to try out a customer feedback software, Usersnap offers a free trial. Sign up today or book a demo with our feedback specialists.