If you're searching for a tool to capture video from website to improve your support process, then most likely this is how your users typically send a question/complaint:
They find your "support@email" and write something vague, like: "My page loads funny and slow."
You ask for more details; they reply back a few days. After 3 or 4 back-and-forths, the culprit turns out to be nothing more than the customer's buggy add-on.
Next you create an issue on Jira for a developer. And finally, you record a Loom video to demonstrate the solution for the customer.
Gosh, there's got to be a better way to simplify customer feedback and support … and there is! Usersnap allows your customers to capture videos as bug reports or feedback directly on your website or web application. Show tech issues by screen recording and voice feedback, instead of writing inaccurate explanations.
Video capture can transform the customer support experience – saving time, energy, and frustration for both you and your customer. Let's find out how exactly you can satisfy your customers' feedback faster using video capture, plus some tools to help you do it.
And if you're still a newbie in SaaS and the feedback-driven approach to growing your product – first check out our comprehensive guide to the ABCs of customer feedback!
Why Use Video Capture For Feedback?
Goodbye bottomless support tickets. Visual and voice feedback capturing is a much more efficient way for a customer to clearly communicate their issue.
First off, a video recording makes giving feedback quick and easy. While typing is time-consuming, video feedback takes just a few clicks. Plus technical terminologies can be a huge pain, using the right words is almost impossible, even for tech-savvy power users.
Visual feedback allows your customers to just click, record, and send!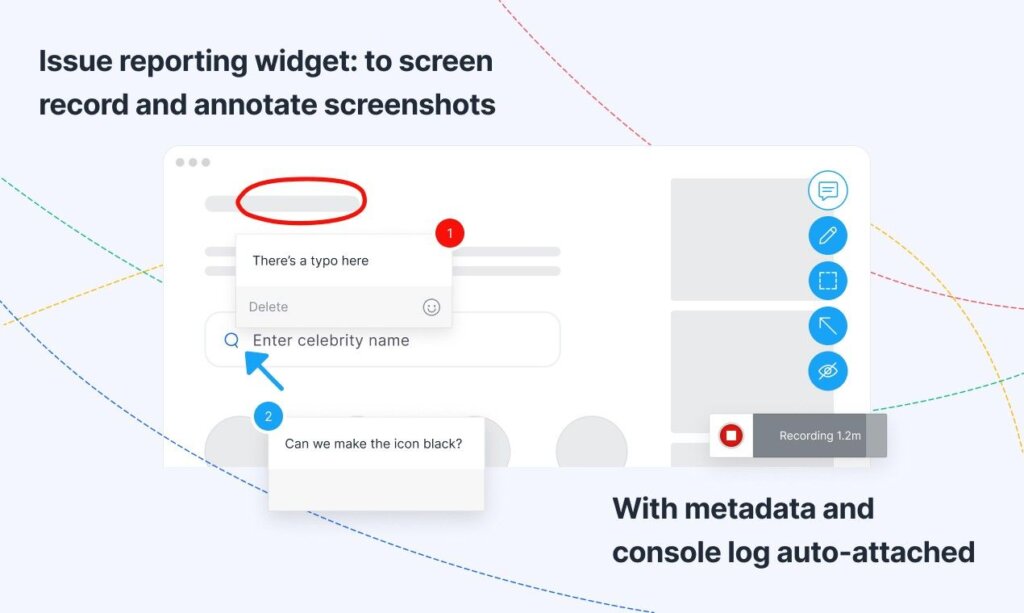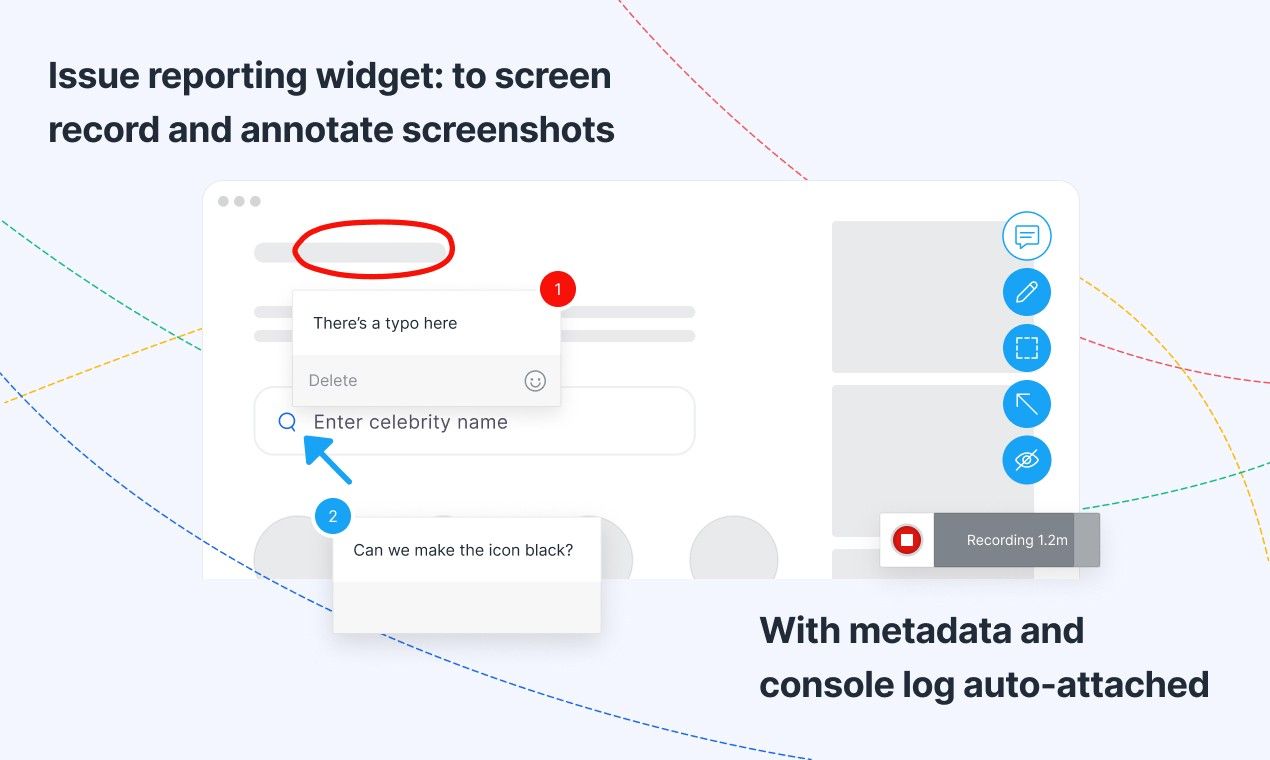 Getting to see exactly what the customer is seeing is a light-bulb moment for your support agents and developers. It's especially handy for complex screen flows that are tricky to describe in a static screenshot. Furthermore, when the problem is only happening in a specific environment, ie your customer is using a buggy add-on, it will be easy for your devs to have the context to replicate the issue ASAP. No tedious follow-up emails are needed.
The thing is: a lot just doesn't translate over an email. But by recording audio and video feedback, you can pick up on the customer's tone, behavior, or urgency of their dilemma. It's also more personal and fun, which can go a long way in building customer relationships and customer loyalty!
When customers capture video from your website directly, it reduces work for you and you get better feedback faster. So you'll slash your turn-around time for support items!
What's the Difference Between Video Capturing and Recording Video from a Website?
While both of these terms are often used interchangeably, there is a key difference between the two. When you record video from website, it means that you are recording what's happening on the screen live. On the other hand, a video capture from website requires you to use a camera to manually record a video. That being said, website video capture is normally meant to be website recording using a tool.
Is Usersnap a Video Capturing or Website Recording Tool?
Usersnap is a comprehensive and user-friendly feedback collection tool that can act as a handy website video recording software. This website video capture feature enables users to record a 3-minute video of the issue they are facing so they can clearly communicate what they mean in one go instead of going back and forth.
How to Capture Video from a Website Using Usersnap?
If you are wondering how to record videos from websites using Usersnap, then it should be noted that the web video capture tool makes it quite easy for your website visitors to capture video from URL. Here's what you need to do:
Click on the 'Feedback' button to open the pop-up toolbar.
Now click the camera icon to capture video from webpage and select what you are looking to share.
Start to record video from website.
If you want to enable audio as well, click on the microphone icon.
Once you are done, click the 'stop' button to finish the video recording.
How to Capture a Video From a Website
Now just how can your customers record web videos? Luckily, there are many tools for the job – some superior than others.
Here's a walk-though on how it's done with a free third-party screen share tool, compare with Usersnap, a customer feedback software loaded on your website or app to capture in-moment feedback.
With Third-Party Screen Share Tools
Anyone can learn how to record a web cam video. But typically, you'll have to download some kind of screen recorder software or browser extension first:
1. Launch your capture app
Navigate to the website you want recorded, then launch the screen video recorder app of your choice. You'll find plenty of tools online, from OBS to Screencastify to Loom. If you're a Mac user, you have an in-built screen recorder function.
2. Select and test your microphone and camera
Next, you'll get the option to pick which microphone and camera you want to be recorded. Most of the time, you'll also be able to test that they're working. Bear in mind that new apps will need you to give permission before you use them for the first time.
3. Pick what you want to be captured
Usually, you'll get 3 options to be recorded: your entire screen, an application window (like your Chrome browser), or a single tab. That's up to you, but remember that recording your entire screen means any notifications will be recorded too! Record browser screen is usually the best option.
4. Record your video
This part is self-explanatory. Go ahead with recording from the web however you so wish.
5. Process and save your video
Lastly, you'll save your video. Different apps save to different places. Screencastify links to Google Drive, for example, while Loom saves directly to their website. Ultimately, you'll get a link that you can share via email with others.
After that, polishing up your video takes a few steps in video editing, whether that's trimming it down to size, or adding in effects.
Regardless of your software, your customer can follow these steps to share video captures from your website. But while it's not difficult, it's a lot of work to ask of a casual customer! That's where Usernap comes in.
Embedded website video capture tools
Usersnap offers a built-in widget for customers or visitors to easily capture video from a website to report bugs and share suggestions. Because it is launched directly on your website, your customers don't have to download and switch to another app or window to share their feedback video.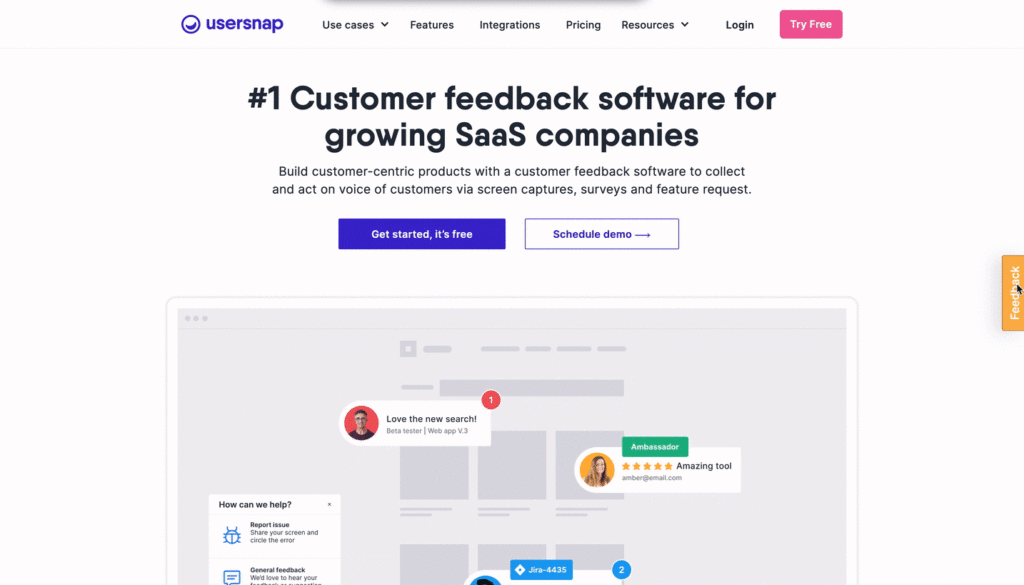 Here's the feedback experience breakdown for your customer:
Click 'Feedback' button.
Click the camera icon to record their screen, then select what they want to share.
Start recording.
Enable audio recording by clicking on the microphone icon.
End by clicking the 'Stop' button.
This video is sent to Usersnap's feedback management dashboard where you can assign the feedback item to a developer and add internal notes. Or follow-up and close the feedback loop with customers.
Usersnap captures everything the user does, whether that's scrolling up and down or pointing out specific text or elements with their cursor. It also follows any links as they open to new tabs.
Also, take note of the progress bar while recording. This is the elapsed timer for the video. The user has a maximum of 3 minutes to record, which spares you from long-winded videos.
In Steve Krug's seminal book, he gives essential CX advice:
"Don't make me think."
Usable, intuitive sites get their users to perform intended actions by making the flow as easy as possible.
And that's just what the Usersnap feedback widget, just like many others, does. Because the web video capture is all integrated with your widget, the user doesn't have to figure out a new app. Easy!
What to Do With Video Feedback
Collecting customer feedback is only half the battle. The second half is: how do you manage incoming video recordings?

Here we will share how Usersnap's feedback list and inbox are used by customer support teams and the product development teams e to quickly solve any problems as they pop up.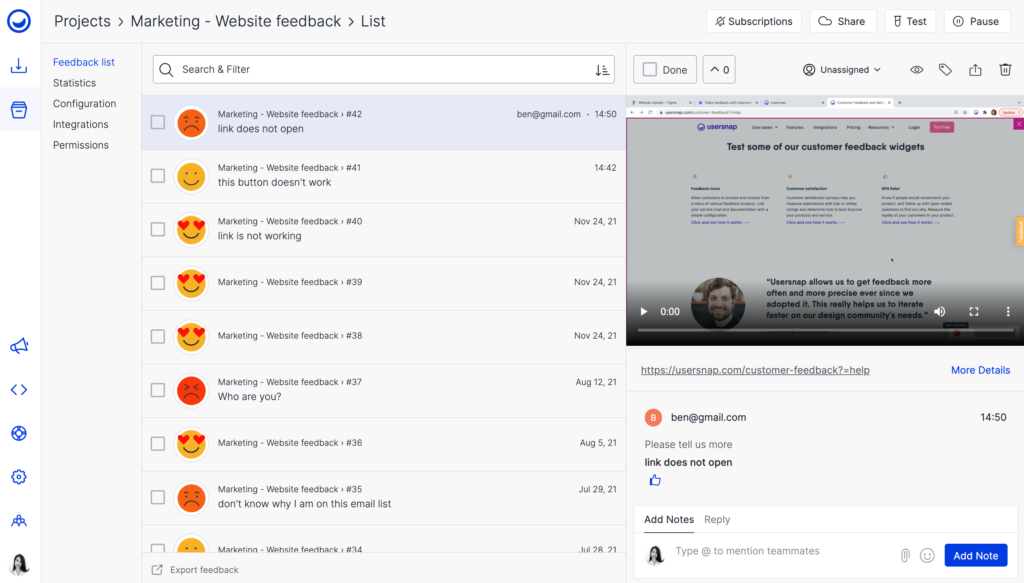 Like other types of feedback, the video recording pops up instantly as an item in your feedback list.
Review the video. Play it quickly in the list split-view to get the gist of the item. Or, open it up in a new tab or download it.
By clicking 'More details', you're also able to see key meta-data from the customer like their URL, screen size, device, and browser. That information gives you everything you need to fully understand the issue, and pass it on to the right person.
Next, assign that feedback item to your relevant team member. Or add a label to group similar feedback requests for analysis and bulk actions.
Once that issue is solved, you can even respond to the customer with a video yourself. Attach a quick video or a screenshot to let them know you've fixed the bug they reported.
Like this, video and feedback eliminates ambiguity and miscommunication. Clear, accurate communication is the cornerstone of great customer service. As Frank Eliason says: "Truly listening is hearing the needs of the customer, understanding those needs, and making sure the company recognizes the opportunity they present."
If that's not clear enough and you'd like to watch a video, here's how to get video captures from a website with a Usersnap customer satisfaction feedback template: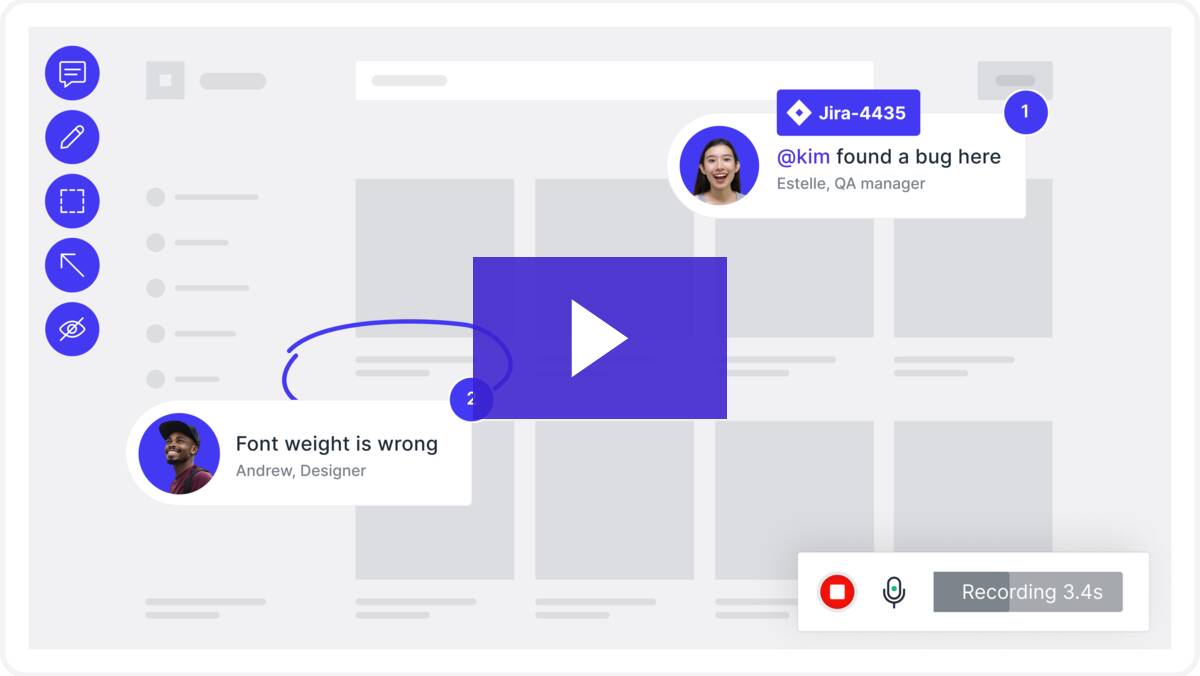 To activate this video screen recording feature in Usersnap, simply select the project. Then, under Configuration > Form, scroll down to find "Video capture button" and activate it.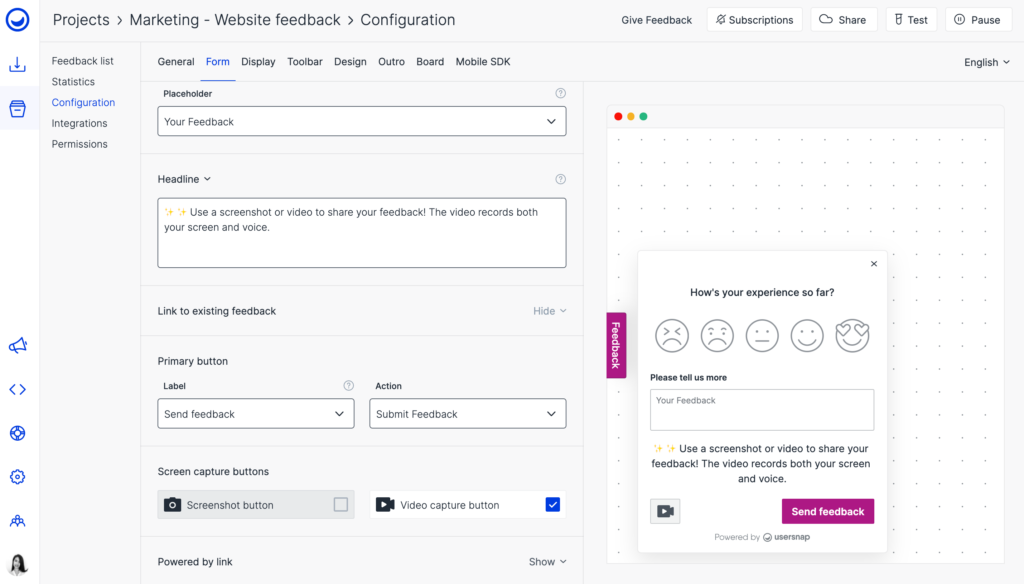 Best Tools to Capture Video From Website
Want to give video recording a shot? Below we've rounded up our top picks for tools that can capture video feedback from your website:
1. Usersnap for Native Website Capture in SaaS Companies
The OG! If your focus is on video and voice feedback, nobody does it better than Usersnap. The Usersnap widget slots seamlessly into the rest of your website – no browser extensions, no downloads. All it takes to track a bug is a few clicks, making feedback painless for the user. Plus it automatically adds incoming videos to the rest of your feedback dashboard, so you've got all tickets in one place.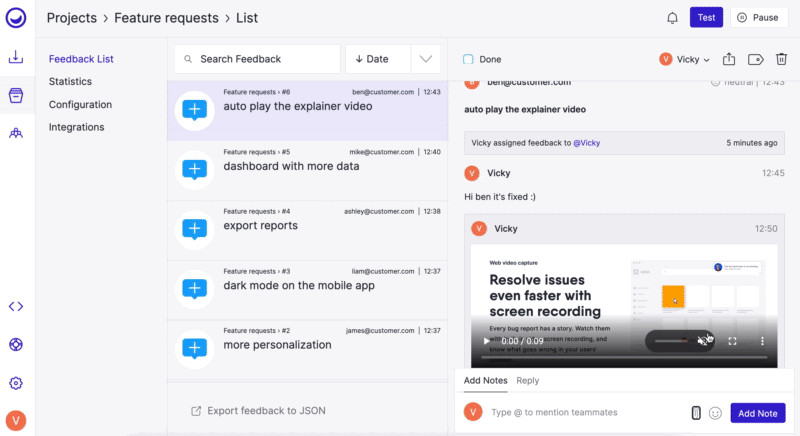 And Usersnap offers tons of other innovative ways to collect customer feedback. For example, try using screenshots to improve customer experience.
2. Loom for Sharing Screen Recordings with External Stakeholders
Loom screen recorder is a free downloadable app or Chrome extension for video recording. It makes a great pick for instantly shareable, basic videos to share with colleagues or students. It's quick to record, and gives you in-app editing options so you can reply back with time-stamped questions or emojis.
3. Screencastify for Quick Video Capturing and Editing
Another front runner in video recording is Screencastify. It's available as a Chrome extension, and syncs saved recordings with Google Drive. What's great about this tool is that it works without an internet connection, plus it gives you mouse, drawing, and highlighting features. Once you've shared your video, you can also track viewers and add interactive questions throughout.
4. CloudApp to Capture GIFs and Record Video from Website
Lesser known – but a great choice – is CloudApp, a downloadable recorder. Apart from the regular screen recording option, CloudApp also gives you the option of adding gifs and annotating images with an in-built tool.
Give Your Customers a Voice With Video Feedback
We're big fans of Ann Handley's marketing advice: "Make the customer the hero of your story". One of the best ways to do that is with video and voice feedback.
Video capture is innovative. It lets the customer speak in their own voice, speeds up the customer service pipeline, and – at no added cost with Usersnap – is a big money-saver!
Curious about how video capture can transform your workspace? Check it out for yourself, no strings attached, with Usersnap's free 15-day trial.
Capture feedback easily. Get more insights and confidence.
Getting feedback has never been easier and we hope you've realized that after reading this article. Let us know what you think, your feedback is important.
And if you're ready to try out a customer feedback software, Usersnap offers a free trial. Sign up today or book a demo with our feedback specialists.