Working on new design drafts and website prototypes takes a lot of patience and knowledge. When you consider the feedback part of the process it takes even longer. This is why you need a website feedback tool at your side to get you across the finish line.
Email threads, Slack chats, phone calls, and meetings – that's how the feedback is collected and managed. Well, managed? I guess managing feedback through all these channels is barely possible. But here's the good news.
We are going to show you how to set up your design & feedback workflow for making feedback from colleagues and customers actionable and manageable again.
Drop Your Existing Feedback Tool. Here's Why.
Yes. I recommend dropping your existing website feedback tool. (And if you don't even know what I'm talking about, you're probably only using a notebook, emails, Skype, and Google spreadsheets…)
Because chances are few that it will fit into the workflow of your designers, developers, and customers. Also, chances are small that it will help you become a product-led growth SaaS company.
Why is Website Feedback so Important Anyway?
Getting feedback for your website is at the core of the success of your business. Feedback gives both startups and established businesses an idea about what they are doing right and where they need to improve. There is a multitude of reasons why businesses should invest in a feedback tool for websites so they can leverage the information to their advantage.
Enhance Business Growth
Seeking direct feedback from your customers is one of the most effective ways to learn about their preferences. When you have that information in your possession, you can make informed decisions about what improvements you need to make and what features you should introduce. And when you incorporate that feedback into your business, it helps you build brand loyalty propelling business growth.
Improve UI and UX for Better Conversion
With design feedback tools, businesses can acquire precise data about how visitors are interacting with the website. If there are any letdowns, you will learn about them and can make necessary changes to deliver a seamless experience to your visitors. This can subsequently lead to enhanced conversion and more warm leads.
Make Informed Decisions
When you don't have access to customer feedback, you are basically making decisions based on assumptions and educated guesses. Having feedback about your website puts you in a better position to make informed decisions relying on meaningful insights and accurate data-backed evidence.
Types of Website Feedback Tools
Web-based feedback systems can be deployed using different types of website feedback tools. By and large, there are three types of website feedback software tools that you can rely on:
On-Site Website Feedback Tools
These are the type of tools that enable you to learn about your visitors' persona and what's bringing them to your site. You can use on-site feedback or survey tools to acquire opinions and feedback from potential customers so you can find any gaps in user experience. These tools are ideal for:
Acquiring quick feedback from visitors
Acquiring feedback from visitors about specific web pages
Using NPS or other types of surveys to determine customer experience score
Customer Feedback Surveys
These are specifically designed to ask specific questions to obtain detailed and meaningful insight from customers. These usually contain a series of questions and require the customer or visitor to answer thoughtfully. Since they can take a bit more time to fill, it is a good idea to incentivize customers in some way. These are ideal for:
Asking targeted customer audiences about their unique experience
Determining customer satisfaction using an NPS survey
Learning about your customers' preferences and impressions of your products
Website Feedback Widgets
A website feedback widget is a plug-in that provides an easy way to collect feedback. They are displayed on the website as an interactive button that can be used by visitors to rate their experience. These widgets are best for:
Acquiring quick targeted visual feedback
Finding out user experience issues with visual elements
Comparing trends across different products and pages
Difference between Website Feedback Software and Website Feedback Tool
Website feedback software is a comprehensive program that allows businesses to collect, process, categorize, and respond to customer and user feedback. It can be built into a CRM or could be a standalone service. It enables a business to track the performance of its product or service in the context of reviews and feedback and make informed decisions.
On the other hand, a website feedback tool is simply an add-on or a plug-in that's integrated into the web code to collect feedback from users and visitors. It gives a quick and easy way for businesses to prompt their target audience to provide their feedback without going through any complicated process.
Collecting Feedback is (kinda) Easy. Managing Feedback Isn't.
Basically, collecting customer feedback on new design drafts or website prototypes is easy. At least it looks like an easy process. After designing your first draft or developing the first prototype, you start gathering any incoming feedback.
Whether it involves customer satisfaction surveys or customer feedback surveys, your colleagues, customers, and clients may have a lot to say.
So with the feedback you've collected, you begin re-working your prototype until everybody's happy.
Sounds easy, huh?

Most people begin to struggle when the collaboration part takes place. Especially when more than two people are involved in the design feedback workflow, streamlining the feedback to a centralized location is a must.
Otherwise, your colleagues and clients will report (more like throw) feedback the way they feel most comfortable. This means Amy will email you, Tom Slack messages you, Jenny asks you to her desk, and Brian schedules a 1:1 meeting for next Tuesday. Not ideal for productivity.
How to Set Up Your Feedback Workflow? 8 Tips On Managing Feedback
To avoid unstructured feedback, but at the same time keep your workflow as simple as possible, here are 8 easy to comply ways to collect feedback both internally and externally.
1. The Basics: Keep Your Feedback Workflow Transparent
Whether you're a one-man web design show or a global digital agency, keeping your tasks transparent is a clear win. Not keeping your colleagues and clients in the feedback loop about ongoing tasks can end up in a lot of misunderstandings and troubles.
Try to keep every project member involved.
Make sure the visual feedback tool you are using can be easily accessed by others. If it has a shareable link that's great. If you are on a system that needs a paying account to log in, try to see if you can generate a guest view for the intermediate stakeholders.
2. Set Up a Browser-Based User Feedback Tool
The key benefits of a browser-based user feedback tool are that you don't need to download any files and you can collect feedback on the go without device or location limitations.
With Usersnap you get a website feedback tool that creates customized easy-to-use feedback widgets to add to your website or application. Or use the browser extension to create feedback tickets on any website! Take screenshots and make annotations, such as drawings, drag and drop text boxes, and arrows, for visual communication and get comments across quicker.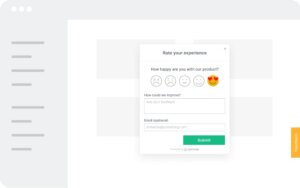 By making use of a browser-based feedback tool, installation and setup costs can be reduced to a minimum. No installation is needed on any device which makes it super easy for clients and colleagues to actually start giving feedback.
The website feedback solution from Usersnap offers you a great way to collect user feedback. Sign up now and start with your feedback workflow for free.
3. Embed a Feedback Button On Your Website – Avoid Installation for Clients & Colleagues
If your developers are already working on a web app prototype or website, I'd definitely recommend making use of the feedback widget. Here's an example of how effortless it is to add a code to install Usersnap's widget.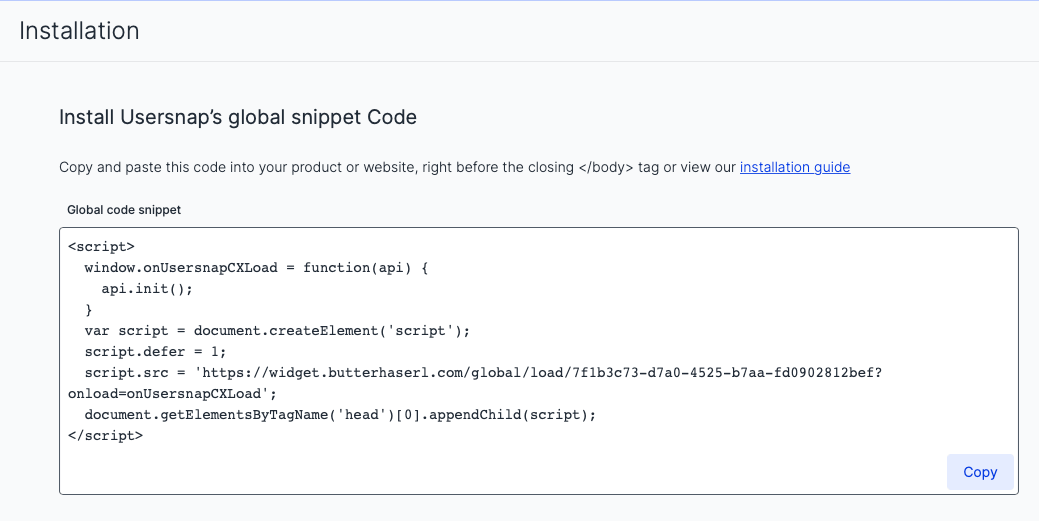 After embedding a little JavaScript snippet (similar to the Google Analytics code) on your website or web app, a feedback button will appear on your web pages.
4. Keep Everybody in the Loop and Invite Clients to Your Feedback Tool
When working on a web project, chances are high that you already have a project management tool set up for managing project tasks and deliverables. In most cases, you're probably using this project management tool internally.
When managing & collecting incoming feedback, I'd recommend not only using it internally (to share feedback between designers, developers, and project managers) but also with your external clients and website users.
Opening up your list of feedback can help those that are submitting a new issue to view and check if the problem has already been reported. If you are using Usersnap, there's the option to allow guest access, this provides an easily accessible view of the ticket status for your clients. Anyone can comment and view the discussion of each ticket to keep track of the progress.
Creating a vivid place where designers, developers, and clients discuss and collaborate on feedback is definitely a big win here.
Utilizing notifications for new updates or changes is another way to make sure people are on the same page. No matter if you're the one reporting a new idea, change request or simply leaving feedback on your website, or if you're the one responsible for fixing that problem. You're automatically subscribed to new feedback updates for your relevant tasks.
Besides that, you can subscribe to any other feedback created in your project dashboard. By making use of these subscription features, you'll get notified of new comments, changes, or statuses via email and browser notifications.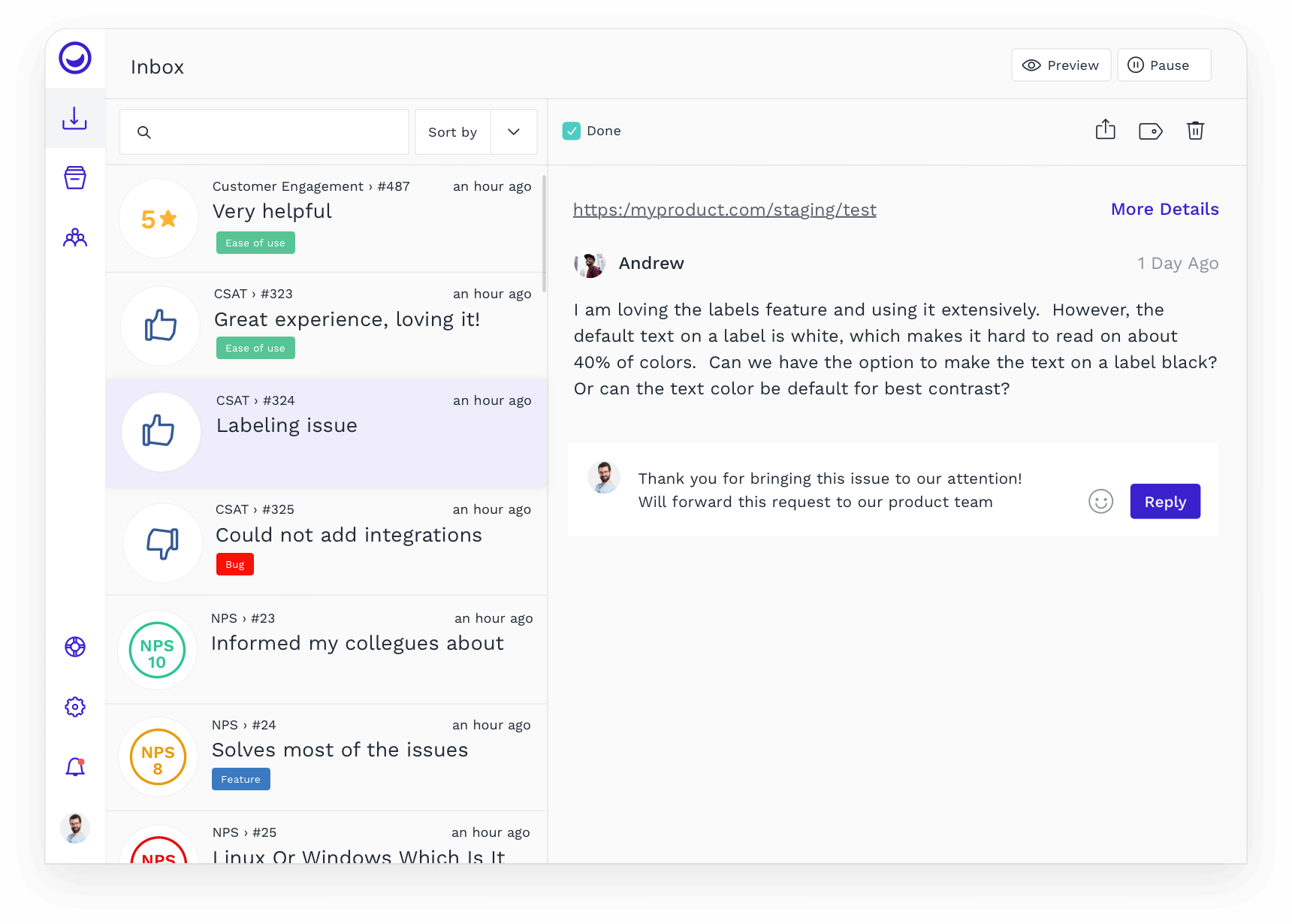 Ensuring open communication throughout your development and testing workflow will greatly increase the satisfaction of the final outcome.
5. Make Your Feedback Tool As Intuitive As It Can Be
Different testing stages and different websites would not require the same info. The feedback important to you would therefore differ. You can set up your feedback tool to fit the various use cases with Usersnap.
User Acceptance Test Widget
When testing your new website or proofing your design with clients, knowing who is the issue reporter and sorting out the types of problems are essential to make the process efficient.
The example shown below has the most useful features of the Usersnap widget, the screenshot and annotation functions, and the 3 relevant fields that users can simply fill in to send feedback.
Visual Bug Tracking Widget
If you are in the QA stage of your website development, assigning the issue to the right person to ensure tickets get resolved asap by the responsible individual is the priority. Save the extra step of going into the dashboard to do the assigning by selecting a different design layout. Track bugs visually, and debug easily with Usersnap.
User Feedback and Idea Collection Widget
You may want to consider more text fields when gathering user feedback for the product design ideation phase. As users can describe their creative ideas and suggestions, or point out usability pain points, in more detail. This will allow you to understand more about the precise problem and need.
User Experience Feedback Widget
When a project is testing and collecting user experience-related items and feedback, you don't over-clutter your widget. If the experience makes the user feel good, the feedback should be very straightforward.
Use your preferred rater (thumbs, stars, or emojis) to let users express their impressions and opinions. When your feedback tool is intuitive and effortless to use, you will be able to unlock more feedback and get the best results.

[otw_is sidebar=otw-sidebar-3]
"It takes humility to seek feedback. It takes wisdom to understand it, analyze it and appropriately act on it."
6. Pro Tip: Limit Access for Team Members
Having a feedback tool in place is just half the win.
If you have various projects set up within Usersnap, you might want to limit access for various projects.
For example, if you're inviting external clients to your Usersnap feedback tool, you can limit their access to certain projects.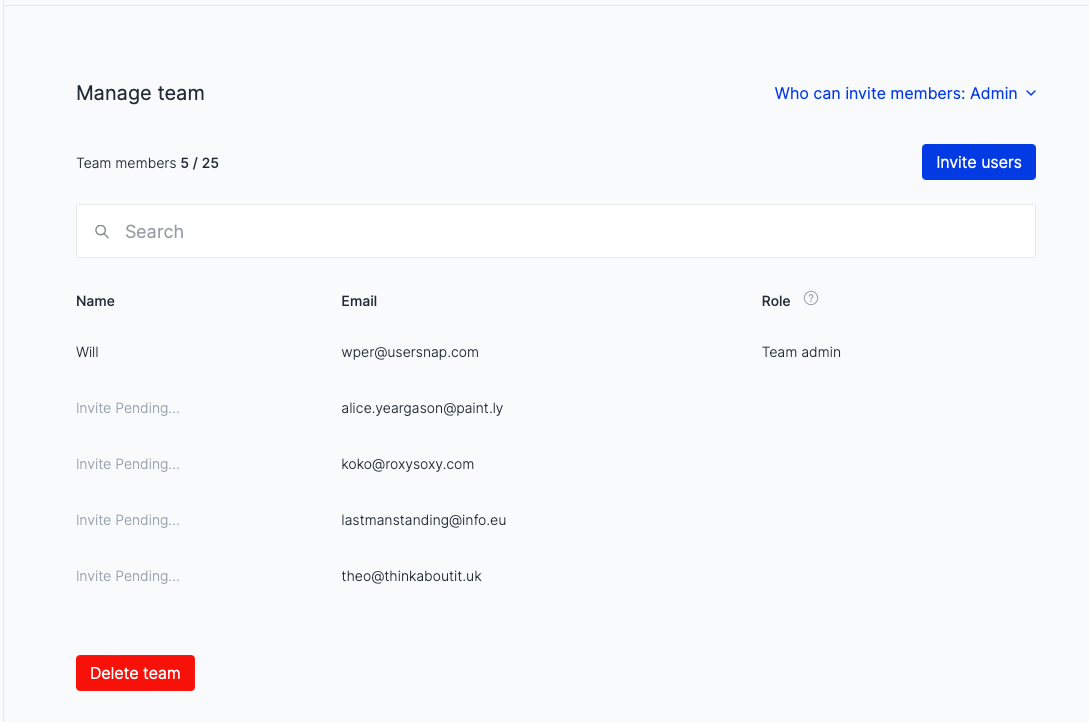 7. Pro Tip: Enable Customer Care Features for External Beta Tests
Besides incoming feedback from colleagues and clients, you might want to start doing external beta tests for your new web app or website.
By activating the customer care feature inside Usersnap, there's no necessity to invite all beta testers to your feedback tool.
Beta testers can simply leave feedback on your website or web app with the embedded feedback widget. All comments (left by your developers or project managers in charge) can now be sent to your beta testers' inbox which makes communication between testers and internal teams super easy.
Learn more how to set up Usersnap for beta testing and customer support.
Even after you launch your website or e-commerce shop, you can still continue to collect customer feedback. The voice of your customers will guide you on what needs to be improved so you can make your website/store 100% awesome.
8. Pro Tip: Send Feedback to Your Project Management Tool
When integrating your website feedback tools with other tools your team members are already using you can definitely boost productivity.
Especially when you have already a project management tool in place, it absolutely makes sense to connect Usersnap with your tool. (Here's a list of supported tools for your feedback workflow.)
Depending on your team size, you might want to send the created feedback automatically or manually to your project management tool.
I'd recommend sending feedback automatically to your project management tool:
if you're a small team,
if you do not want to collaborate with external users or clients on provided feedback
if you track all the information in your project management tool and don't need an extra dashboard
I'd recommend sending feedback manually to your external tool:
If you're a medium-sized (to larger) team collecting a lot of feedback
If you've invited external users or clients to your feedback tool
if you collecting feedback from beta testers

That was a lot. Do not over-engineer.
Wow. This was quite a lot of information on how to set up your feedback workflow. There are a lot of things to bear in mind when managing feedback.
And there's one important lesson that you should not forget: You can set up a clear and easy-to-understand feedback workflow with a lean, browser-based feedback tool like Usersnap. But do not over-engineer. Never.
Depending on your team size, do not micro-managing feedback and the way how to collect it. Though it's important to have clear guidelines and workflows in place when collecting feedback from colleagues and clients.
Free Website Feedback Tools
If you are searching for a free website feedback tool to integrate into your website experience, there are a number of options available including the following:
Marker.io
This is a website feedback tool that has been specially designed to report bugs and errors present on a website. This provides an easy and quick way for the visitors to inform the development team about the issues they are facing so they can get on top of it in time.
GetFeedback
When you are searching for a feedback tool that can be integrated into your CRM such as Salesforce and allows you to gather feedback in a streamlined manner, GetFeedback is a great option. It simplifies the overall procedure of collecting and processing reviews and is suitable for all types of businesses.
Alchemer
This is an innovative survey and feedback tool that allows customer-oriented businesses to collect valuable feedback through different types of surveys. You can also track progress and collect data analytics to make informed decisions.
Typeform
Featuring native integration with over 500 apps, Typeform enables businesses to facilitate their customers by allowing them to provide quick feedback without jumping through any hoops. The tool includes mobile surveys, question branching, data analysis, skip logic, and other useful features.
Hotjar
If you are looking for quick visual feedback without getting into the entire feedback collection process, this is the tool that might be a perfect fit for your business. Hotjar can help you learn what your users and potential customers are searching for along with their likes and preferences.
Wrapping Up
Using a feedback form at strategic places throughout your sales funnel will help you make continuous conversion improvements.
Using website feedback surveys on product pages, information pages, sales pages, thank you pages, and anywhere else user data will help make website improvements.
Your next step is simple. You need to get started turning your site into a feedback-driven website! As you know from our above examples, several tools exist to help you put these strategies in place. We encourage you to look at our website feedback tool. It gives you a simple, automated solution for collecting customer feedback on your website.
Make Feedback Matter
Most companies lack an in-depth understanding of their customers. That's why product decisions are often based on lucky guesses or gut feelings. Only your users have the answers. Usersnap helps you to start listening.
Want to schedule a session to talk about customer feedback tools with one of our experts?
[otw_is sidebar=otw-sidebar-4]
Capture feedback easily. Get more insights and confidence.
Getting feedback has never been easier and we hope you've realized that after reading this article. Let us know what you think, your feedback is important.
And if you're ready to try out a customer feedback software, Usersnap offers a free trial. Sign up today or book a demo with our feedback specialists.