Building, designing, and improving a SaaS product is a beautiful, never-ending journey. Don't you agree? What we've witnessed among our customer base is this: companies that continue to optimize their SaaS product tend to grow faster, and sustain their customer base long-term. Sounds sweet, right? Well, collecting in-app feedback, whether mobile or web, is key to knowing what to build, design and improve upon.
At times, some of this may sound daunting, but do you know the silver lining? You've got a wide array of tactics out there to help you! In this article, we walk you through the ultimate in-app feedback strategy, including the 5 best ways to engage with mobile customers and collect it (if you're lost in the haze).
The Ultimate In-App Feedback Strategy 🎉
Engaging customers can mean everything and nothing (depends who's saying it 😂), but getting feedback is one of the most difficult tasks in SaaS. Product managers know they need feedback, but email surveys have very low reply rates, and online reviews aren't always fully reliable. No matter where we turn, there are challenges to overcome when we're talking about user feedback. Being practical as well as conscious of time and company strategy all play into one's ability to collect feedback.
Choosing to request feedback directly in-app could make the process of receiving and processing feedback even more time-efficient and practical.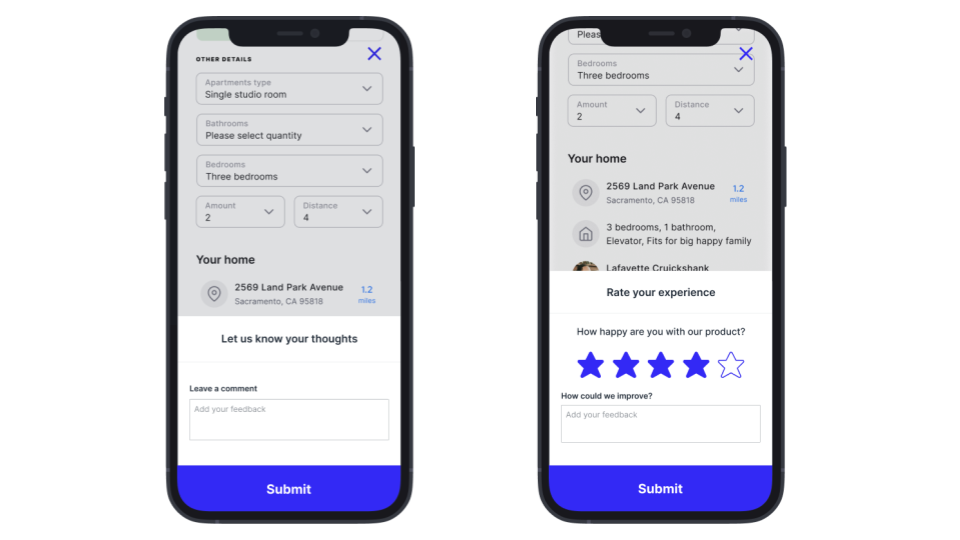 Who Is In-App Feedback For? 🤔
Businesses benefit from snatching customer feedback at the exact right moment, no doubt. Customer feedback could be a review, questions about features, or bringing a bug to your dev colleague's attention.
SaaS companies need to have products that put the customer front and center. Why? Exceeding expectations and succeeding beyond company goals in such a fast-paced and ever-changing environment is tough!!
Listening to customer feedback surveys means addressing pain points in a timely and practical manner, and the focus for marketing can be on improving the product instead of putting out fires.
On top of all that, we all know that customers don't want you to market to them. They want products that appeal to them and solve their problems with as little fuss and muss as possible.
"The best marketing doesn't feel like marketing." – Tom Fishburne, Founder, and CEO of Marketoonist.
Top 5 Ways to Gather Actionable In-App Feedback
Gathering actionable user feedback requires more than just a link to a user survey or survey app. Every app is different, and it's important to tailor the mechanism to capture in-app feedback, so it's specific to what your business needs.
There are a variety of ways to gather effective feedback, so don't feel pressured to use a specific survey feedback form or widget if it doesn't benefit you.
For starters, choose the best feedback collection techniques to get meaningful feedback and integrate it as part of the omnichannel experience to not overwhelm the customer. Feedback form questions should be simple and open-ended unless a specific direction is required.
Additionally, go meta and think about it: while in-app feedback is important, it should be one part of a suite of methods for learning about your customer. Successfully using pop-ups to gather feedback will separate those who do and don't receive feedback from customers.
Also, follow up with customers who leave feedback when bugs are squashed. In the same vein, don't give up on those who begin the feedback process and stop for whatever reason. However, don't overwhelm them with requests for more information.
Lastly, give the customer time to form an opinion before asking for feedback by waiting until a few features have been explored and then asking them to rate your app or leave their opinion.
This will ensure the feedback you receive is worth everyone's time.
In-App Surveys
Surveys by email used to be the only way, but they can have low response and open rates because they require a customer to go out of their way to interact. In a time when everyone is asking them for their opinion and their attention, surveys should be short and sweet. That's exactly what in-app surveys provide.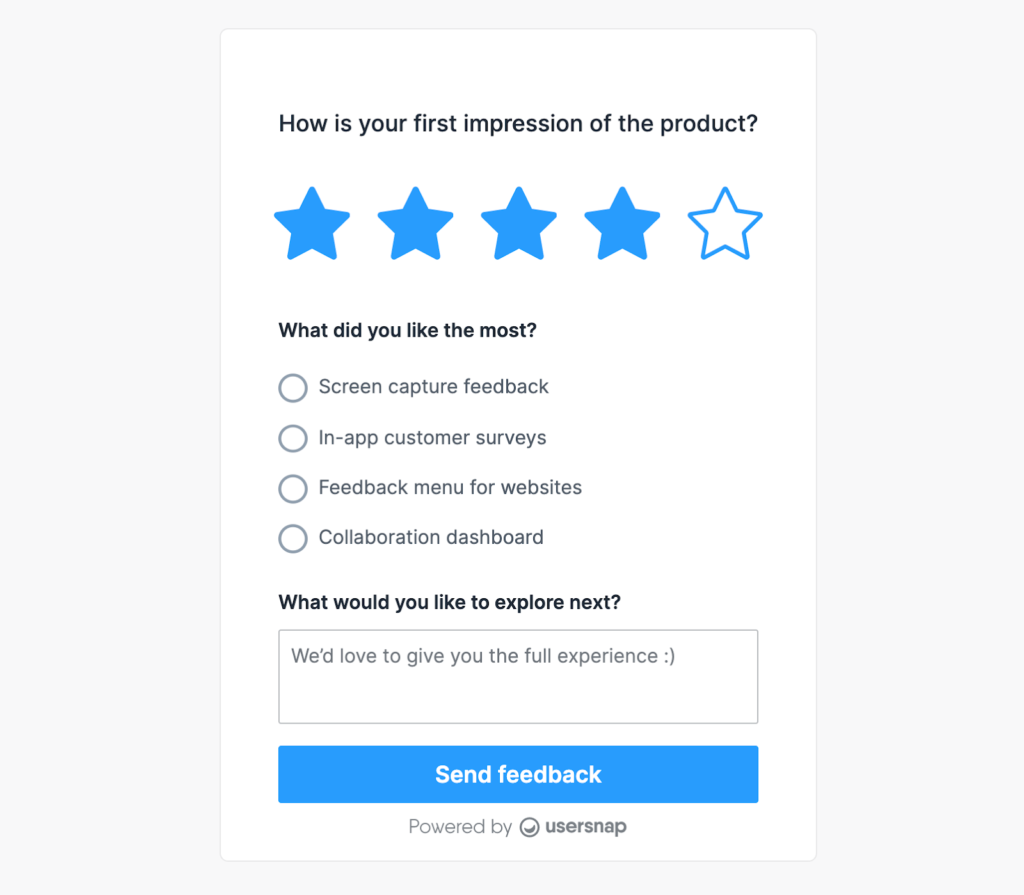 In-app surveys allow the customer to answer one or two questions and then leave general feedback if they wish to do so. That's it. There's no pressure to finish a survey, and not having to leave the app to give the feedback means high response rates that can be easily scaled.
These short surveys require tailoring to the customer base. Make sure to vary the question type, graphics, and simplicity of questions depending on the requested feedback. Paired with an easily discoverable survey link either through a widget or static link, customers won't feel pressured to part with their to tell you what they think.
Types of In-App Feedback Surveys
Feedback forms: Provide open-ended questions and opportunities for customers to leave their opinion in their own words. This may be as simple as two or three fields that include a text field. If ever in doubt, we've got an ultimate guide to feedback forms as well!
Surveys: May include a few questions that are often multiple-choice or a request for a star rating. Tailor the design to match your brand and keep it as unobtrusive as possible.
Questionnaires: A collection of closed and open-ended questions to ask a customer about a particular aspect of the app. By mixing different types of questions, it's possible to request specific information without appearing to focus on any one kind of response.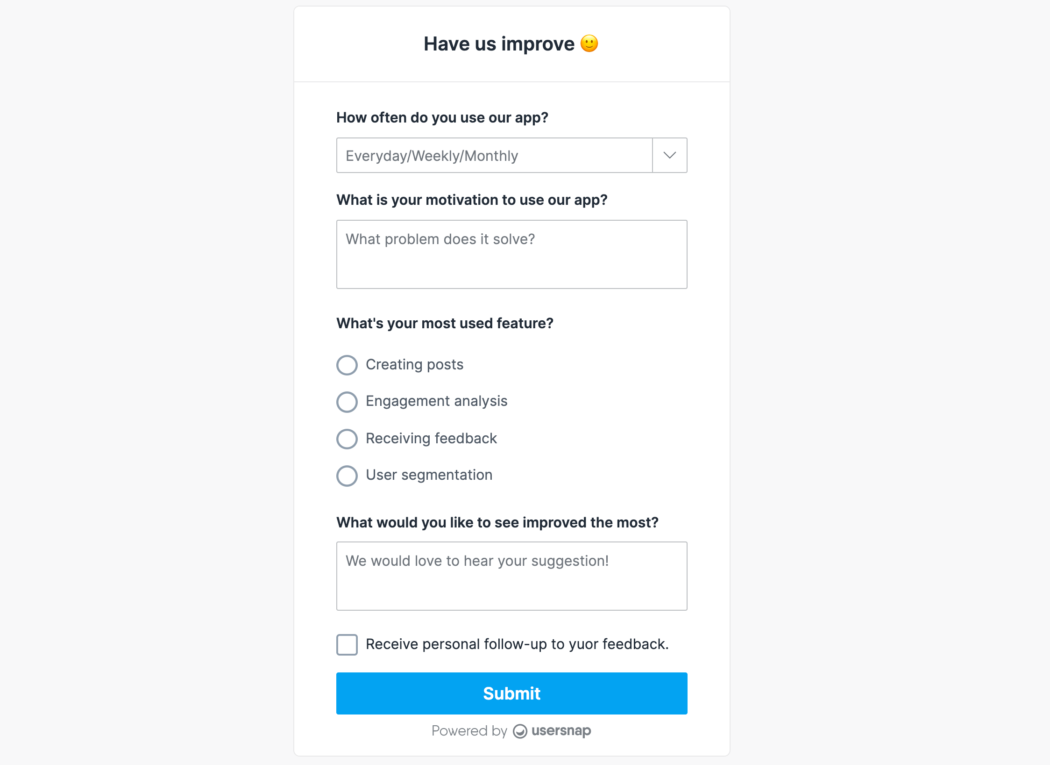 Pros & Cons of In-App Surveys
| Pros | Cons |
| --- | --- |
| High response rates that are easily scalable | You won't receive all the information you need with one survey |
| You can tailor it to a design that blends in with the rest of your interface. | Feedback can be very general |
| Uses a combination of open-ended and closed-ended questions to get the feedback you need | Specific bugs or issues may require visual feedback or drill-downs |
Tips for In-App Surveys
If your in-app survey or questionnaire is going to take any more than a minute or two, tell the customer upfront so they can determine whether or not they want to take it and include a progress indicator along the way.
They are doing you a favor, and it's important to respect their time.
Avoid mandatory fields, especially with questions where there could be grey areas. If the customer believes you're trying to lead them, they may be less likely to continue with the survey.
In-App NPS Surveys
Ted Rubin, former CMO of Photofy Inc., speaks highly of NPS surveys, "NPS can be a key to understanding how Return on Relationship will enhance ROI."
While general in-app surveys ask a variety of questions, NPS surveys are only interested in customer satisfaction. Generally, the NPS question wording is along the lines of 'how likely are you to recommend this mobile app to your friends and colleagues?' 
The key to NPS surveys is in their simplicity. They provide a snapshot of how the customer felt at that moment while using your app without requiring them to leave the app and come back or visit another rating portal. While it won't address potential bugs, it can give an overall impression that marketing can then use to determine other feedback streams.
These surveys are highly customizable and should feature images and text to expedite the process of leaving a rating that is usually out of ten. To encourage explanation of the rating, NPS surveys can also include a link to leave open-ended feedback if the customer wishes.
Pros & Cons of Rate NPS Surveys
| Pros | Cons |
| --- | --- |
| Simple interface | Only gives a broad overview of the customer's opinion at the time |
| Quick for customers to leave feedback and stay within the app | Customers may say they'd recommend you, but a smaller percentage of them actually do |
| It doesn't require writing in-depth survey questions | Only a targeted customer base is eligible (e.g. you don't want to send it to a customer who signed up 2 weeks ago) |
Tips for NPS surveys
When leaving a link for customers to add feedback to an NPS survey, add a note stating that someone will review this feedback. If a customer is going through the trouble of rating how much they're willing to recommend your product and why, the least that can be done is tell them that you're listening..
Customize your in-app NPS survey to include checkboxes for things such as if the customer wishes to provide follow-up feedback.
Customer Feedback Widgets
A customer feedback widget embedded in an app is a standard method for directing users to a feedback app. The icon or link brings your survey or an invitation to leave open-ended feedback directly to the user.
The widget is highly flexible and customizable and can be programmed to appear on a specific screen or after a certain period has elapsed. Relating the widget to a trigger such as when a page is visited can also prompt the feedback link reminding the customer to give feedback.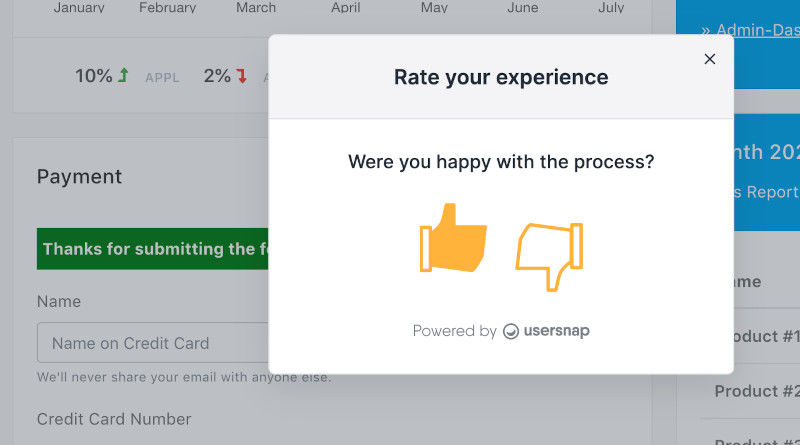 Feedback widgets make giving feedback more manageable for the customer. As the customer isn't required to remember their experience after time has passed, the feedback is often more reliable.
Pros and Cons of Customer Feedback Widgets
| Pros | Cons |
| --- | --- |
| Highly flexible | Pop-ups can interfere with customer experience |
| Allows the customer to stay in-app while giving feedback | Distracting links and icons can cause a customer to abandon the app |
| Designers can tailor it to the customer base | Easy to lose track of how many widgets are running at once |
Tips for Customer Feedback Widgets
Passive triggers for widgets rather than pop-ups will allow customers to control when they provide feedback instead of a pop-up demanding it. Consider the customer and tailor the experience to what you deem is the least invasive method. This is usually done when a customer signs up to test and give feedback on a specific part of your app. They actively give you in-app feedback based on when they're ready to do so, instead of when you think or feel it is important.
Rate My App
When you place your app on either Apple or Google's app store, an integrated way to measure and collect feedback from your customer using Rate My App in the app store is provided to you. Plugins are also available to prompt customers to leave a rating without leaving the app.
The Rate My App portal is easily accessible for all customers and viewable by potential customers. This can give you insight into why customers love your app and why they may have stopped using it, like bugs or poor UI choices that you can then integrate into updates.
Customers are often brutally honest on Rate My App thanks to its hosting on a third-party website. While the feedback you receive may not always be positive, it's an excellent way to solicit open-ended feedback from customers who have used your product outside of product feedback or evaluation survey questions.
Pros & Cons of Rate My App
| Pros | Cons |
| --- | --- |
| A familiar system as all apps include a rating system | Overused by the industry and customers may not appreciate more pop-ups |
| Attracts new customers | Too many requests for feedback can decrease user satisfaction |
| Another tool to gather feedback that mobile users can connect in-app | "Pop-up blindness" can create low response rates |
Tips for Rate My App
While every app has access to Rate My App, use it sparingly to avoid overwhelming customers with multiple pop-ups. If the app already has pop-ups implemented, developers can strategically place a Rate My App link to remind customers without overwhelming them.
Embedded Behavioral Analytics Tools
Unlike the other methods for collecting mobile in-app feedback listed above, embedded behavioral analytics tools aren't visible to the customer and don't require their direct input. Instead, the tools are embedded within the app and measure specific statistics.
This type of user action feedback primarily produces quantitative data that needs to be actioned and reviewed.
The use of these analytics is up to the business. It may include examining customer behavior while the app is in use, such as developing heatmaps of touchpoints within the app to later identify places that aren't being used or incurring traffic.
They are also tools that help better understand the users of the app. The data from their results can be used for A/B testing, predicting user behavior, behavior/conversion funnels, and helping identify bugs hopefully before they become a problem. 
This is primarily an analytical tool, but it works well when combined with other user-generated feedback options such as in-app surveys. For example, if customers complain about crashes, you can log all the crashes within the app and then start to work out the bugs.
Pros and Cons of Embedded Behavior Analytics Tools
| Pros | Cons |
| --- | --- |
| Invisible to the customer | Only gathers information about customer actions and not their opinions on the product |
| Runs continually capturing data from users | Must be used in combination with other products |
| It can be used for a wide variety of research and marketing | May or may not be legal in your country of jurisdiction |
Tips for Embedded Analytics
Data is an integral part of research and marketing, but it can only tell part of the story. Data helps you be better armed to make decisions and can be used to decide which type of in-app feedback is required to understand the whole picture.
In-App Feedback: How to Make it The Gamechanger
Besides having a really cool app and all the tactics in place to get feedback, it is important to also look at the overall picture. Zooming out to zoom in is crucial here, as it can help frame how you approach collecting and making sense of in-app feedback.
Initiate Onboarding, Avoid Abandonment, Lift Off 🚀🚀🚀
Onboarding is the first prolonged exposure to your app and the best way to make a good impression on the user. It's usually an exciting time for the customer, and unless they have read a lot about the application, they may know little about the company beforehand.
The onboarding experience for users is too early for a survey app link. Still, it is an excellent time to get to know customers' preferences by allowing them to customize their experience within the app. Offer options like changing time zones, light vs. dark mode, or ask them questions related to the application, such as writing styles for a notes app.
Introduce the crucial features now to help customers get better acquainted with the app and then use preferences to introduce additional features slowly. Make sure to emphasize to the customers that you're only a click away to help.
Future Planning
How often do you update your app, and how often do you send customers notifications about updates? Developers sometimes send too many updates all at once or send a steady stream of updates that seem like a big batch. Large batches of minor updates or constantly requiring the app to be updated can get old quickly for your customers.
Take a moment to look ahead and see if this constant updating may be annoying customers or even causing them to stop updating. Space out updates and inject a little mystery to keep things interesting for the customer in the future.
Plan updates in advance, and like pre-scheduled social media posts, stick to a set schedule of updating with plenty of time in between to give customers time to appreciate your hard work.
Customer Engagement Is Key
People connect with stories we tell them and listen to them many times a day, and our brains are built for stories. For content marketing purposes, storytelling connects to the customer and gives them a reason to relate to anything else you're trying to tell them.
"Trustworthy content has a balanced point of view. It asks and answers the right questions. It doesn't love itself. It tries to inform and educate." – Steve Farnsworth
Knowing your customer's preferences for stories can be a significant advantage, and it's something you can uncover through in-app feedback. 
Effective Utilization Of Time And Money
Developing apps and keeping them running smoothly is expensive financially and takes time out of your schedule. Both are precious assets, but thankfully in-app feedback can allow you to analyze what is needed and provide it on time without added costs.
User experience survey questions or feedback forms can help identify pain points early on so you can develop a solution without the trial and error often associated with improving applications.
Developing unnecessary options are avoidable cost factors that you can eliminate with a good in-app feedback system.
Constant Monitoring Of In-App Performance
While developers would like to know about crashes before they happen and constantly examine their app for possible faults, it's just not realistic, even with a whole team.
However, embedded analytics and other in-app processes can constantly monitor and test your app's performance in a variety of situations.
You can then use that information to improve the overall customer experience and reduce friction in people's daily actions in the app.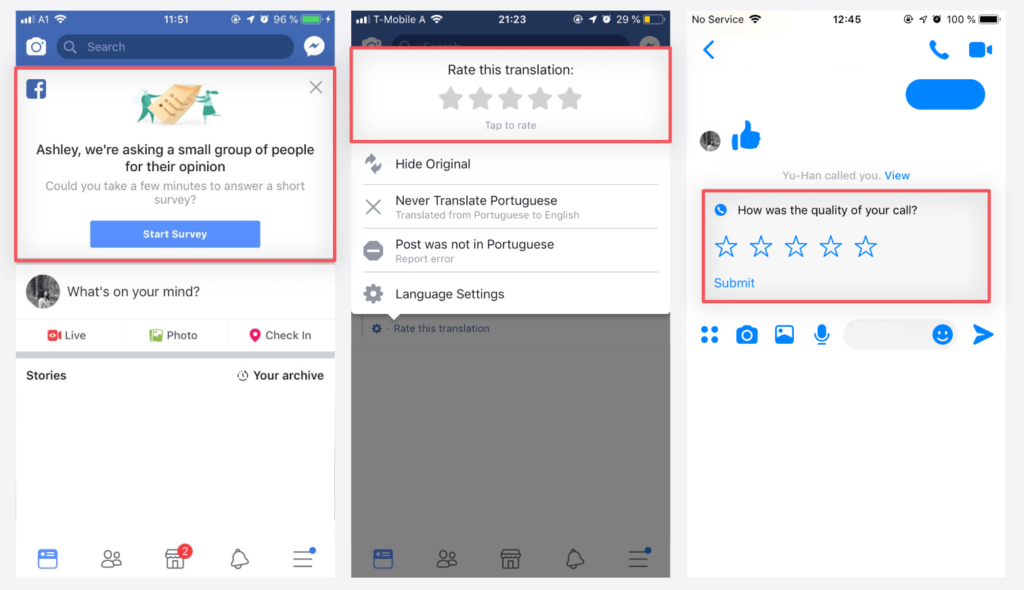 The Best In-App Feedback Questions For Mobile Apps
The following in-app feedback questions for mobile apps are a compilation, based on what we've heard from our customers and what they use. Additionally, you'll find some of the questions we use frequently when trying to drill down and understand our customers. Enjoy!
Market Research In-App Survey Questions
What price would you be willing to pay for our product? (hint: try multiple choice)
How clear do you find our pricing? (hint: use a scale)
How would you rate the product's value for money? (hint: use a scale)
If the pricing were to change, would you be happy to pay more? Why or why not?
Welcome Screen Survey Questions
Can you tell us about your role in your company?
Which team in your company are you part of?
How will you be using the product mainly?
What is your job-to-be-done (JTBD) for this product?
What are you looking to achieve with our app?
Have you used a similar product before? Is it the first time you're using our tool?
Are you moving from another tool? Which one?
Will you use this product alone, or with a team?
Product/UX In-App Survey Questions
This list makes up part of the top 15 product survey questions.
What do you like/dislike about our product?
Is there anything you feel our product could do better?
Which features are we missing?
How satisfied are you with the performance/stability of our product? (hint: use a scale)
We are looking to solve [problem z] – how would solving this problem with our product be helpful for you?
How would you rate the usefulness of our product? (hint: use a scale)
How straightforward is our product?
How does this design make you feel? (hint: try multiple choice + a text field)
How easy was it to complete task x? (hint: use a scale)
How does this feature solve your problem/help accomplish your goals? Why or why not?
How likely are you to recommend this product?
Were you able to reach the desired outcome with our product/feature? Why or why not?
What do you value most in our product?
Support In-App Survey Questions
Did you find what you were looking for today?
How satisfied were you with our service? (hint: use a scale)
How would you rate our service? (hint: use a scale)
What is your preferred type of communication method? (hint: try multiple choice)
Customer Success In-App Survey Questions
How has your experience with our product been in the last x months? (hint: use a scale)
If you had the option to renew your contract, would you? Why or why not?
Since you purchased, what has been the biggest benefit you've seen?
What are you working on this week, and how can we help make this a success?
Wrapping Up: What Are the Benefits of In-App Feedback?
In-app feedback provides a wealth of benefits that benefit both the customer and the business. Here are just a few:
Feedback from customers can identify problems early before they become big problems
You'll know which features are being used or not used, and you can customize a product roadmap based on this information
Helps to boost retention rates by responding organically to customers
Higher response rates to specific, targeted surveys request for feedback
Gain responses from the customers who use the app and have a vested interest in it
Use the information for pre-launch market research.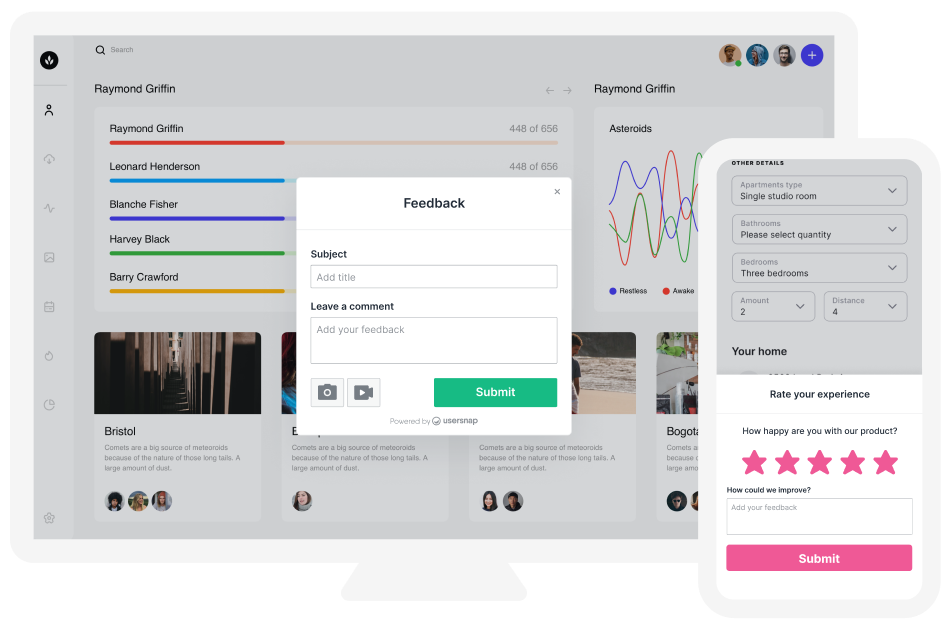 Additionally, Usersnap has a mobile SDK in beta, available for free to anyone who would request it. Come check it out now!
Capture feedback easily. Get more insights and confidence.
Getting feedback has never been easier and we hope you've realized that after reading this article. Let us know what you think, your feedback is important.
And if you're ready to try out a customer feedback software, Usersnap offers a free trial. Sign up today or book a demo with our feedback specialists.