We're glad to see more and more big companies putting customer feedback as a high priority, so today we want to share the top 10 customer feedback examples with you to help you get started in your own feedback process.
🎙️ 🎙️ Short PSA: if you need the ultimate guide on customer feedback, we're here for you 💗💗 ok, back to your regularly scheduled blog ☺️
What are the different types of feedback?
All the input, insights, and information provided by your customers and target audience in relation to their experience with your services, business, or product is referred to as customer feedback. You may learn a lot about your customers by listening to their comments. Even in the face of unfavourable criticism, this kind of information can be used to enhance the client experience and inspire constructive alterations in any organisation.
In order to understand the importance of customer input, it is imperative to look at some good customer feedback examples.
Product Feedback Examples
Any insight or review provided by a customer about your product or service is referred to as product feedback. It can be anything from a detailed passionate review written online to a simple thumbs up. Product feedback enables businesses to understand customer needs, resolve their issues, and deliver better experiences.
When a customer writes a review about something they bought on Amazon, what they are usually providing is product feedback. Similarly, the reviews usually available on reputation management websites are also examples of product feedback.
User Feedback Examples
User feedback refers to all the quantitative as well as qualitative information gathered from customers that highlights their experience. It includes what they like and don't like, how they think about a product, and what they want. It's very important for businesses that want to make changes based on what their customers want to get user feedback from them. It should be kept in mind that user feedback may differ from customer to customer so a business needs to be able to identify trends and patterns to make informed decisions.
This type of feedback is usually collected by the businesses as they ask specific questions related to particular aspects, features, and functionalities. For instance, when Google or Microsoft send you a form in e-mail asking about their software services, they are attempting to collect user feedback.
"Your brand is what other people say about you when you are not in the room."
In-App Feedback Examples
As the name suggests, this type of feedback is usually collected within an application or software. The developer of the app wants to understand the users' pain points and how they can improve their application. This type of feedback is usually collected in the form of star-based reviews and written feedback.
You can see app feedback examples in many of the apps that you use on a daily basis. For instance, a game like Candy Crush or a photo editing app such as Fotor asking you to tell what you think about their software are basically app feedback examples.
Software Feedback Examples
This type of feedback is generally feature-specific and highly targeted. Software applications and programmes are developed for solving specific business problems which requires the collected feedback to be relevant so the business can improve upon its product or service. This is usually gathered through surveys and interview forms to ensure the user's issues and concerns are clearly highlighted.
The examples of software feedback can be seen when Microsoft or Adobe Photoshop ask about specifics from their customers through feedback forms.
Client Feedback Examples
This particular type of feedback differs from user feedback in the sense that it is usually provided by paying customers. Client feedback needs to be highly prioritized to ensure you not only retain your customers but give them a reason to come back. Client feedback is usually collected directly by a dedicated personnel such as customer care rep or the client's account manager.
Website Feedback Examples
All the feedback collected from visitors and potential customers about the website experience can be regarded as website feedback. It is usually collected through customer feedback plugins, widgets, and add-ons. If you go to the Usersnap website, you will see a Feedback widget on the right of the screen. That's a good example of how you can collect feedback on website.
What is a Good Customer Feedback Sample?
You can find many feedback from customer examples online, particularly on retail shopping websites, review collection platforms and reputation management services. Reviewing different types of feedback from customer examples can help you identify the questions that you might want to ask from your customers and the way you need to collect feedback.
"Find a way to be personal with your customers and connect with them on a human level."
You want to be careful when asking customers for feedback, or you may end up wasting their time. (And your own!) The feedback questions asked, how they are asked and where they fit into the customer journey are things you need to think through in advance and plan out.
What to take note on these customer feedback examples?
Looking at these good customer feedback examples, you need to ask yourself:
Why is customer feedback needed?
What is a good question to ask?
When and where should the feedback question be inserted?
How will the customers perceive this feedback format?
How will the feedback process be managed?
Keep in mind your purpose of getting customer feedback and how that will play a part in your future product development plans, let's jump into the examples!
1. YouTube
This should be one you have seen and even used before. YouTube randomly asks users what they think of the videos they've finished watching to gain a better understanding of the videos' quality, their algorithm, and the user's preference.
It is natively inserted into the user's dashboard of a list of videos. And it starts out just by asking "What did you think of this video?" with the video displayed below and a 5-star rater. Once the rating is provided, the feedback section expands to a mini multi-choice survey asking why such a rating is given.
This is a very easy yet personal way to ask for customer feedback. It doesn't require much action nor time for customers to share their feedback. And it's also a very scalable way to collect feedback for your product.

2. Google
Google is also consistently asking for customer feedback to improve its features. Here's one that you will definitely have seen. Whenever you search for a topic and your search results come out, you will see a subtle feedback button near their "People also ask" feature where they display relevant answers to your search term.
Although the feedback form that opens up is quite simple and traditional, it does cover both quantitative and qualitative feedback. First, it asks the user to rate the feature with a radio point system, then there's an optional text area to leave comments and suggestions.
It is interesting to see how Google plays the game of proactive customer feedback. What do I mean by this? In the digital world of product performance analysis, we often tend to track usage and look at customer behavior through data. Which are all passive observations.
It's awesome and powerful for analytics, but quite frankly, that's merely enough. Getting customers to verbalize their opinions offers deeper and more actionable insights for improvements.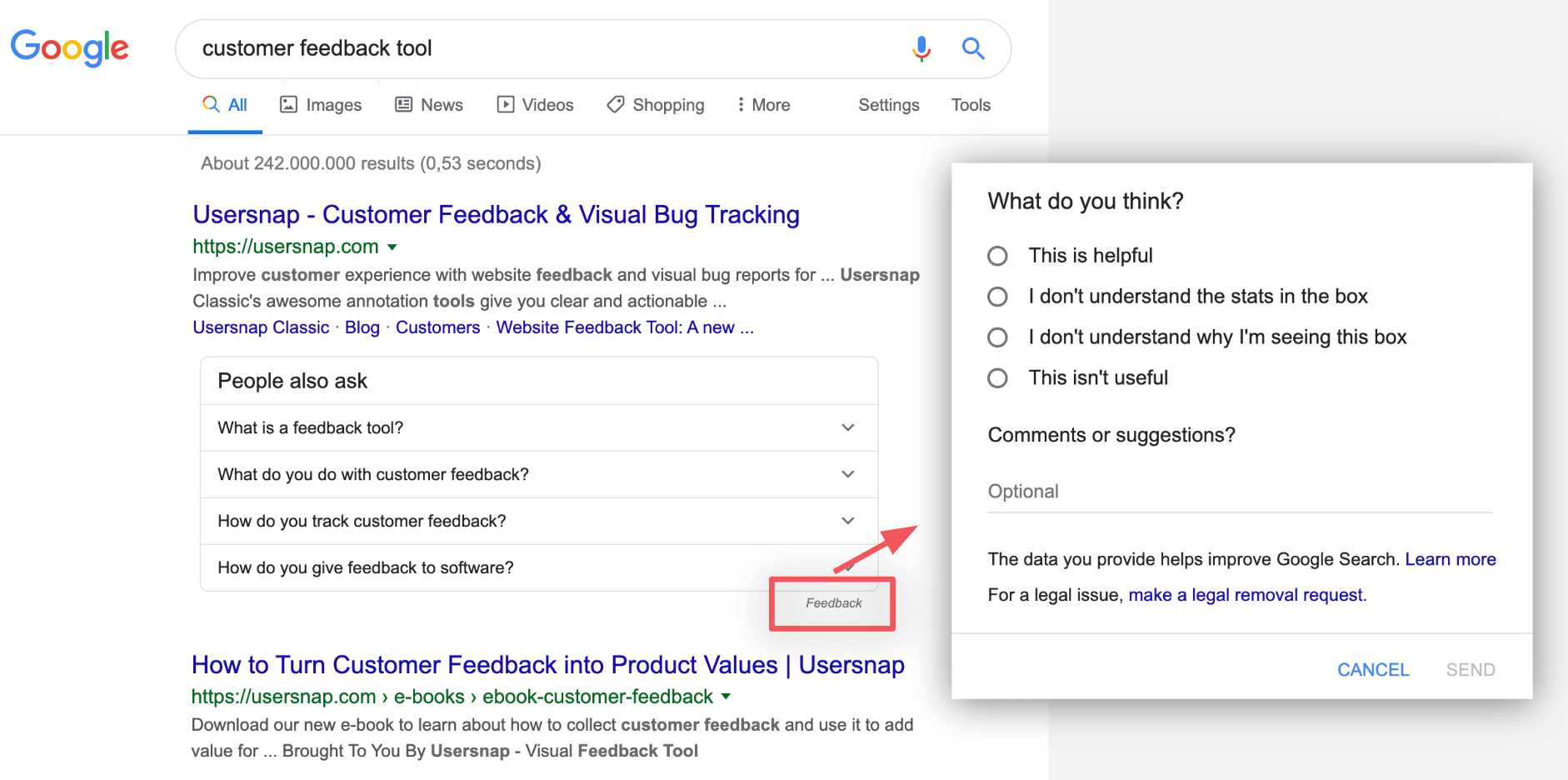 3. Facebook
Facebook is collecting customer feedback in multiple touchpoints and via different formats. They have in-app surveys for market research and 5-star rating systems for specific features.
Especially for their newer features, Facebook makes sure users can easily give feedback or report an issue. When you launch a new feature, it is important to provide an easy feedback option so that bugs can be raised and resolved asap. In addition, you can validate if the customers are liking and using your product as you expected.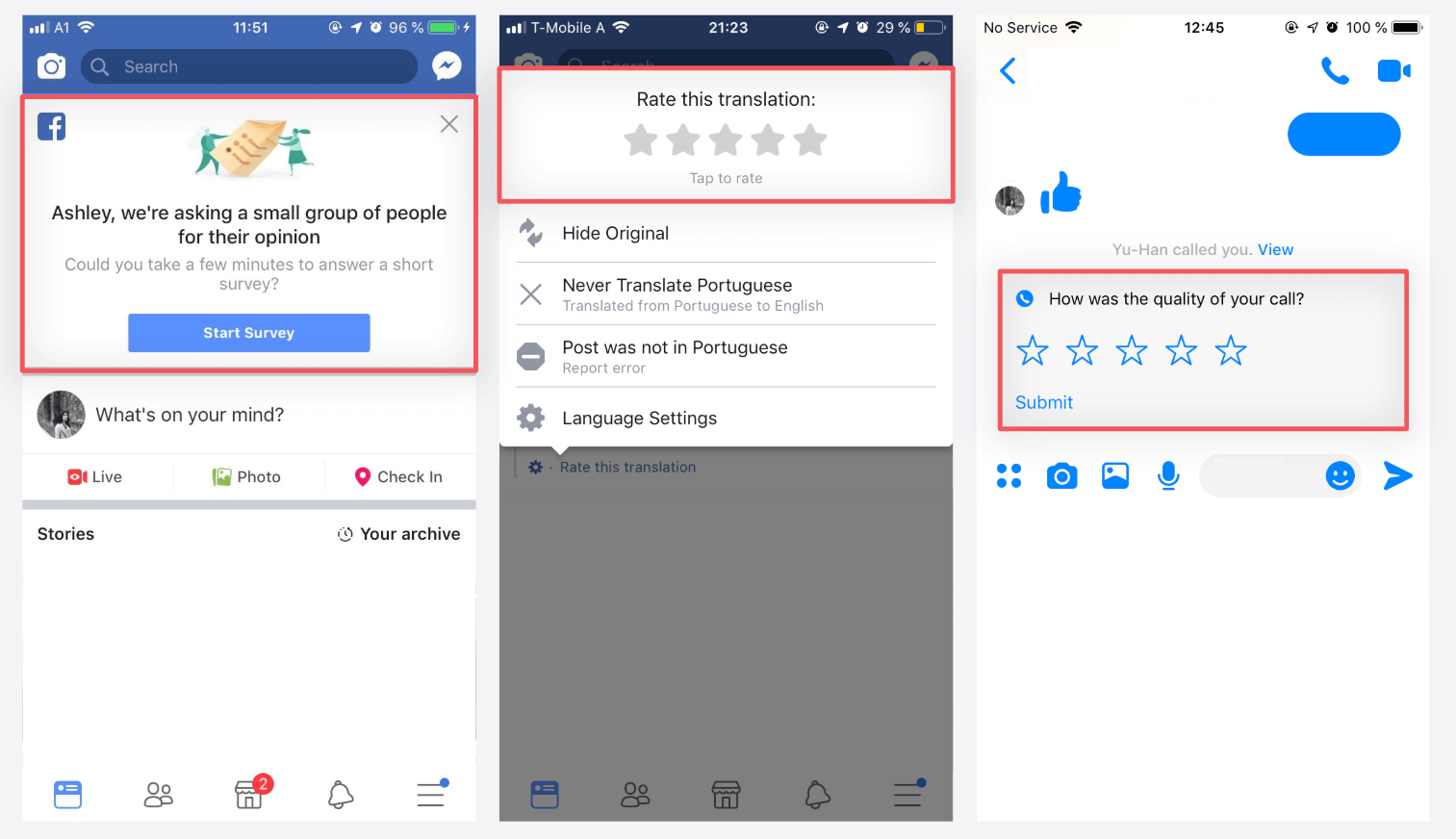 4. Amazon Web Service
Amazon has an in-product feedback system where a rating pop-up banner would be shown first. Once you've clicked on the 5-star rater, a feedback window opens up in the center to get you to categorize your feedback, enter a message and ask another satisfaction type of question.
Using a simple rater feedback option to trigger more follow-up feedback is a smart and highly engaging approach to get the most out of customers. Once they have clicked the rater, they will feel more devoted to sharing further thoughts on the topic with you.

5. Confluence
Atlassian's team collaboration tool Confluence recently started a new way of collecting customer feedback: notification triggered feedback. As most software already sends notifications for feature usage and task completion, a feedback option embedded within the notification will be easily perceived as natural and not at all intrusive. It will also increase the likelihood of users to respond.
If you like this approach but don't have the resources to develop it, you can consider implementing a 3rd party tool like Usersnap to help you with the feedback collection and analysis. Another bonus you can enjoy with sophisticated feedback tools like Usersnap is screenshots and annotations. Your customers can illustrate which part they liked or felt uneasy about.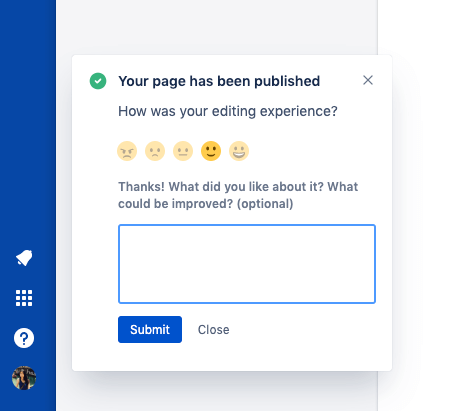 Try out Usersnap free for 15-days. Or get a personalized demo for your specific use case, and check out our features here.
6. Netflix
Netflix has come a long way in using customer feedback for product usability. Their journey started out with the 5-star rating system, they asked the customers to rate their experience on viewing the movie/series. But then they switched to the thumbs up/down rater, why?
Cameron Johnson, Director of Product Innovation, said they discovered that users were confused with the star raters since it is more commonly used to rate product satisfaction rather than "personal experience". As they want to find out the individual's preference for the film, it was better to change the rater to thumbs up/down.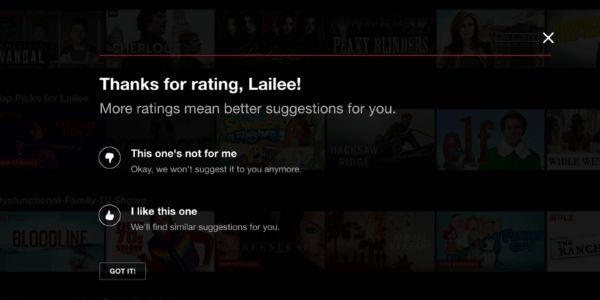 This simple switch increase engagement by a wild 200%. What you can learn from Netflix's case is the importance of using the right rating system to feedback responses.
We help our users to select the correct rating system by explaining the use cases first and automatically matching the rater for the project.
Getting customer engagement and simple interaction type of feedback, the most intuitive thumbs up/down rater is best
Measuring customers' loyalty you should use NPS and always include a text field
Understanding customer satisfaction a 5-star rating system or emoji faces (angry to happy) would allow you to receive the most appropriate scale of feedback that is then digestible and actionable.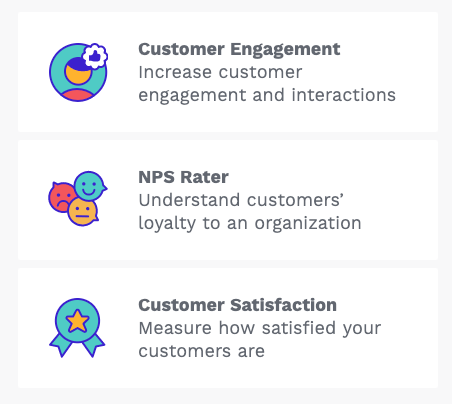 7. Mailchimp
In Mailchimp, users can conveniently submit feedback via their subtle feedback button. There are 3 formats where the users can decide how they want to convey their opinions.
The pros of having various feedback tools are that the users can use the most suitable way depending on the feedback situation. For example, when talking about specific feature usability, a tool to point to elements or annotate on the page is helpful.
The cons of showing the users a list of feedback tools is that it may confuse the users even more. Which becomes the friction in them actually going through with the feedback.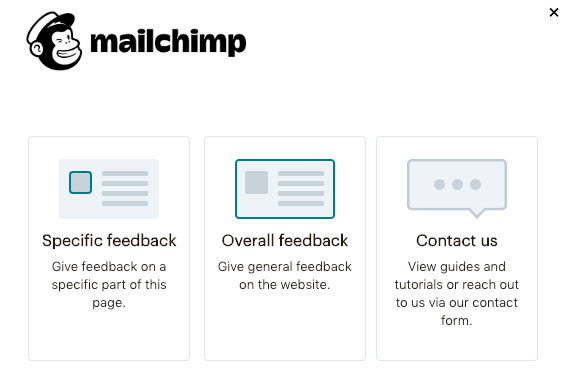 8. Intercom
Intercom, the customer communication tool, also is collecting feedback in multiple places within their application and on their website. Here you can see the new feature announcement page, each article has rating feedback for the readers to reach on to.
Although one may argue that the best way to tell if a new feature is successful or not is to look at usage performance. If many people use it, it's a victory for you. But that's unfortunately not the case. You need direct customer feedback to inform you whether they think the feature is a pain-reliever or making things worse!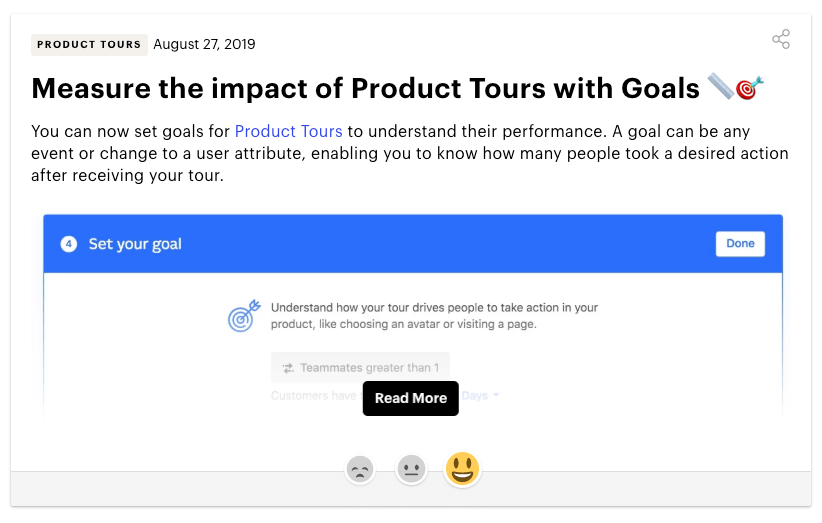 9. Canva
Canva, the graphic design tool with over 15 million users, have a visual feedback widget to match the need of their customers. Communicating graphic issues and ideas can be a challenge especially if you are not a technical person that knows all the exact terms.
Canva once opted for Usersnap as their CX and in-app visual feedback tool, leveraging screenshots and annotations to make the feedback process easier and more accurate for their customers. By connecting Usersnap with customer care tools, they streamlined feedback into one platform and improved the customer experience greatly.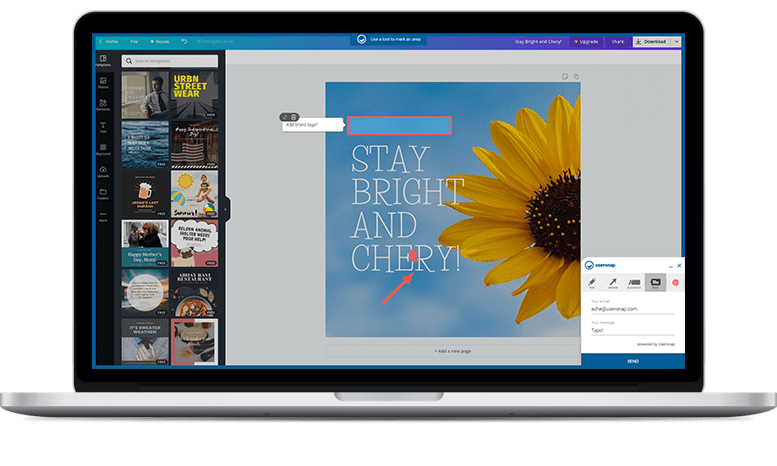 "Usersnap allows us to get feedback more often and this really helps us to iterate faster on our design community's needs."

Joscha Feth, Engineer at Canva
10. Mention
Mention, a social media and web monitoring tool, built NPS feedback seamlessly into their product. As the users open the tool, one of the first thing they see is the feedback form. A perfectly integrated feedback question (or even questionnaire) helps to make customers feel more comfortable and at ease with sharing feedback.
We have found brands that take the effort to fully customize their feedback tools gain more customers who open up. It is about creating a sincere and welcoming channel and environment. You can customize your Usersnap widget to fit your branding as you wish. Feel free to contact us for a demo and see it for yourself.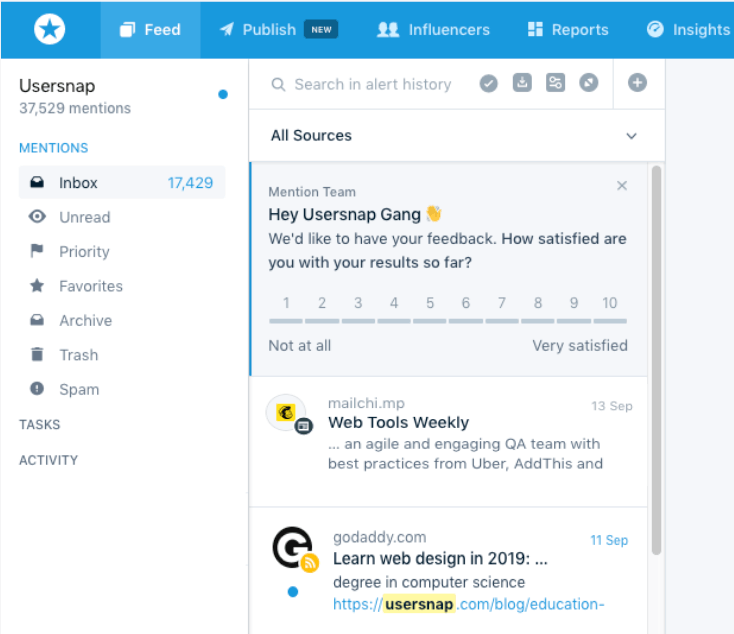 Takeaways from these customer feedback examples
Online customer feedback is not easy to acquire, but from Google, Facebook, and all the big major brands mentioned above, you can notice a trend of proactive listening. They are eager to obtain direct feedback, both quantitative and qualitative, from their users. Feedback is key to understanding customer needs and building a customer-centric business.
Today we shared with you some great customer feedback examples, hope it has inspired you to step up your feedback game.
Feeling ready to take the next step? Try out Usersnap for free today.
In other posts, we will also talk about the 6 steps for SMEs to follow in setting up a proper customer experience strategy.
Capture feedback easily. Get more insights and confidence.
Getting feedback has never been easier and we hope you've realized that after reading this article. Let us know what you think, your feedback is important.
And if you're ready to try out a customer feedback software, Usersnap offers a free trial. Sign up today or book a demo with our feedback specialists.