Teaming up with customers to accelerate product feedback management has become a common practice in many industries. An additional effect is that by consulting consumers in the product development phase, companies are able to meet their expectations. By doing so, companies save the time and resources that would otherwise be spent on developing rarely or never used features.
Such mutually beneficial partnerships can help companies stay competitive in a global market that's more challenging with each passing day. This is our approach at Usersnap: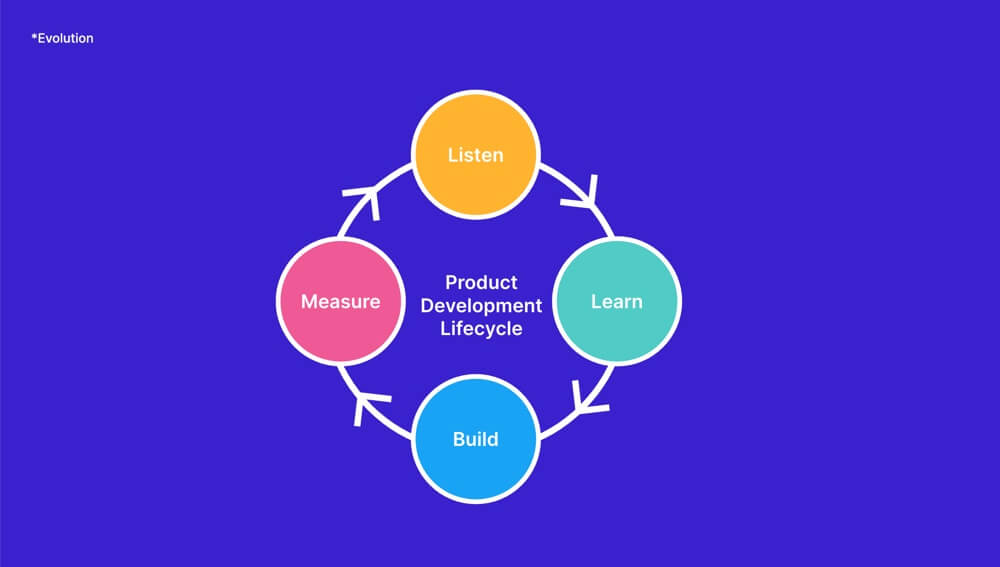 Innovating by using product feedback management
Is feedback important to develop a product?
Integrating customer knowledge in the research and development phase refines products both before and after launch. The incorporate feedback collected on various channels can be easily filtered and integrated into product feedback management. Thus, the customer transcends the buyer role and is actually transformed into a focus group member who could come up with the next breakthrough.
Being responsive to customer feedback also brings companies closer to their target audience. A few of the possible consequence of this fact are customer retention, stronger brand loyalty, and better engagement. Considering how difficult and costly it is nowadays to retain buyers, these benefits are not to be neglected.
In turn, customers become participants in the product feedback management process. As a consequence, the resulting product or service matches their needs more closely. If until now product manufacturers and service providers could have a unilateral vision, today's highly-competitive market no longer allows that.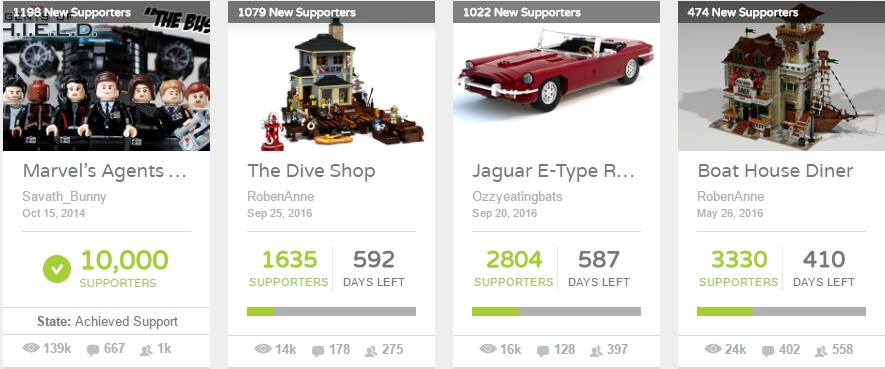 LEGO Ideas is quite possibly one of the best examples of how customer insight can be used for development. On this mini-site, enthusiasts can easily submit their own designs. The projects gathering more than 10,000 votes from the community undergo LEGO review and are turned into new sets if the review is favorable.
As the world's largest mail and logistics services provider, DHL has to innovate permanently, in order to stay ahead. Workshops taking place both in Germany and Singapore are among the paths taken.
Among the numerous inventions that came out this way is the Parcelcopter, a delivery drone that performs loading and unloading cycles automatically. Soon after integrating this solution into the delivery chain, CSAT (customer satisfaction) scores exceeded 80%, while the on-time delivery performance reached 97% or more across the globe.
It's also possible to disrupt an old, established industry through co-creation.
Phononic has done so with cooling and heating equipment by introducing thermoelectric semiconductor tech into its products. Dr. Tony Atti, the company's founder & CEO, is convinced that "companies should understand their customers' desired experience and use that knowledge to work backward to define company processes and culture.[…] Co-creation is about helping the customer imagine a different future." Many of Phononic's products were created by taking customer feedback into account, and the benefits are reflected on home-users, but also in the pharmaceutical and medical research industries.
There are many ways to gather customer feedback in order to turn users into an essential part of the product development process and product roadmapping.
[otw_is sidebar=otw-sidebar-2]
Collecting Customer Feedback for product feedback management
Voice of the Customer (VOC) is an in-depth process of collecting data about the users' expectations, preferences, and aversions. Recently, it's traction forced companies such as the ones mentioned above do customer-led development. Gathering the data from the customers can be done in several different ways. Companies should opt for one over another depending on their resources and the type of product that they are offering.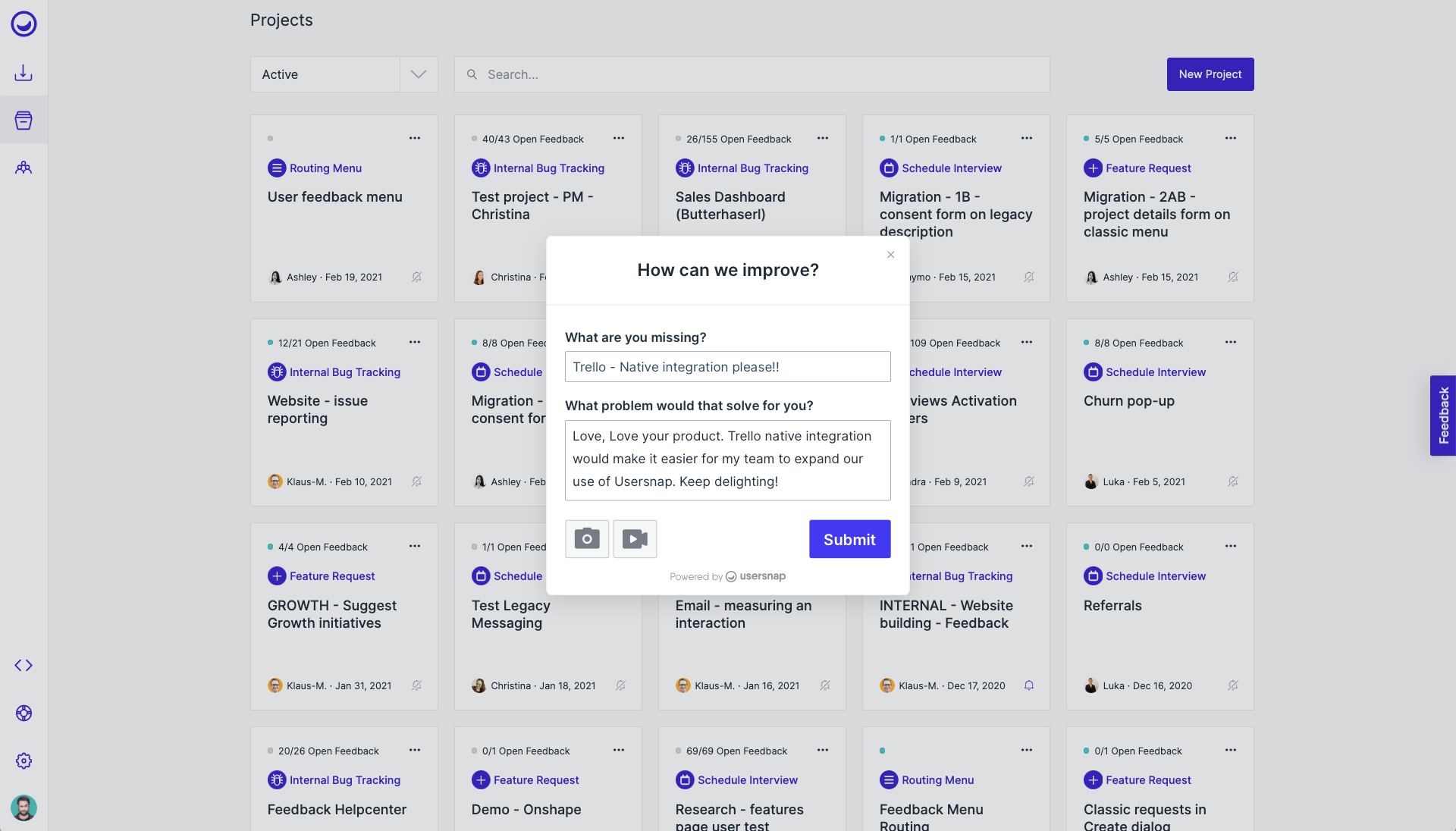 How can customers help out in product feedback management?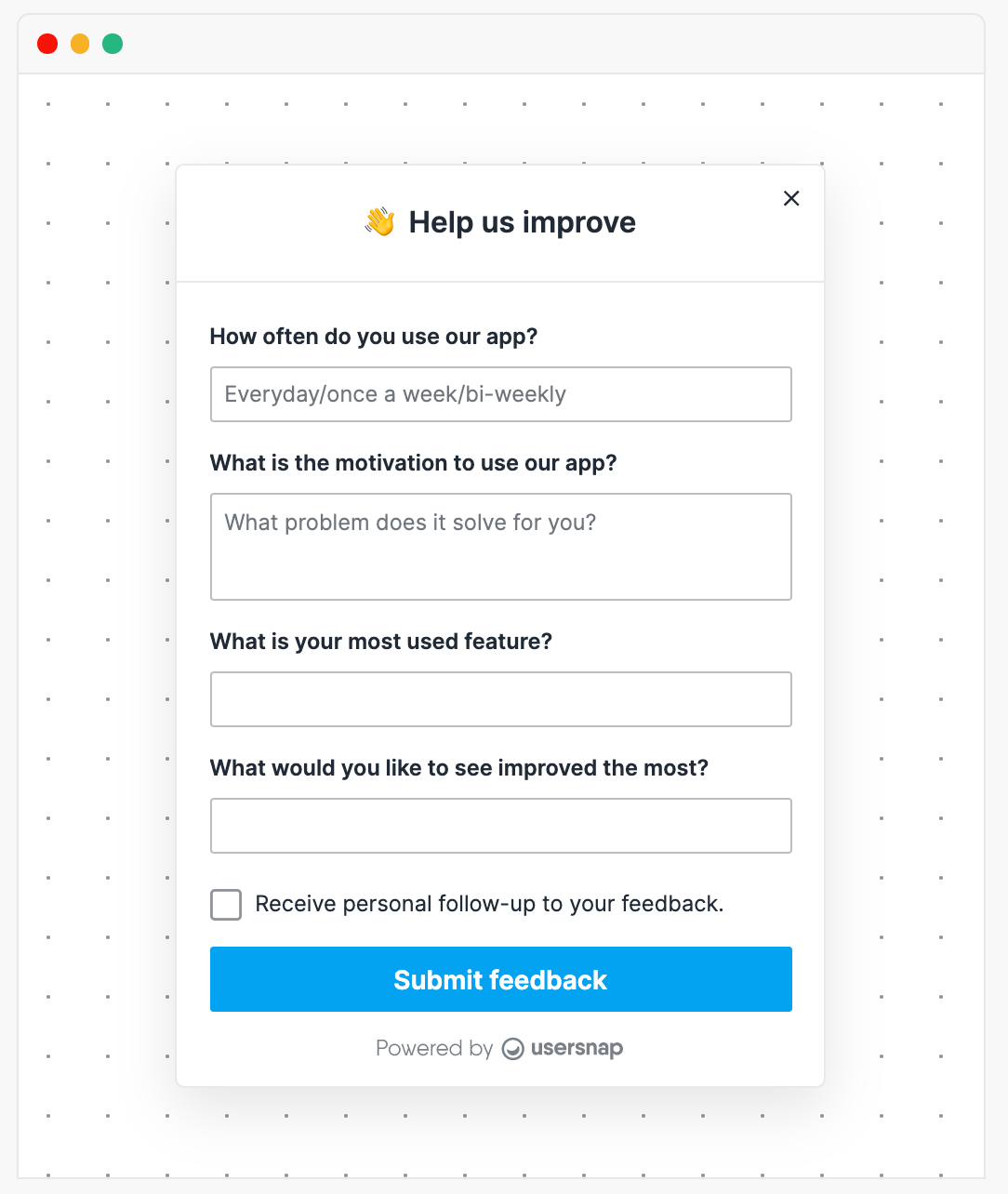 Product feedback designs or surveys represent a quick way of gathering user feedback. Tools like Usersnap can collect in-product rating and user recordings or annotated screenshots.
Ideally, when asking for feedback you should allow customers to provide open-end answers. Depending on the format, companies could go for traditional customer survey tools such as SurveyMonkey or set up microsurveys with Usersnap.

Customer reviews are often dispersed across a variety of channels and platforms. That shouldn't discourage businesses from looking for them. Companies should identify where reviews are posted and extract the ideas that could lead to innovation. Possible starting points for B2C companies include TrustPilot, TestFreaks, and Amazon. On the other hand, B2B companies can look for customer reviews on Salesforce AppExchange, G2 Crowd, and TrustRadius. Reviews offer a comprehensive idea about how users perceive the product, especially if they've used it for a longer period of time.
"Customer feedback product development is very essential"
Amazon is a great example of how some customer reviews model others' purchasing behavior. Paying attention to the feedback received by competitors on their products can also influence a brand's innovation. One thing to keep in mind is that the goal is to gather objective feedback, which may not always be positive.
"Your most unhappy customers are your greatest source of learning."

– Bill Gates, 1999
Interactive workshops, such as the ones conducted by DHL, promote the generation of potentially disruptive ideas. Workshops have the added benefit of helping brands establish themselves as thought leaders.
Social media is a readily-available means of providing feedback. Not only can different social networks be used around the clock, but since the profiles are under the direct control of companies, feedback is acknowledged immediately. Not only that, but brands can also respond to feedback in a timely fashion. This is yet another case where Google Alerts or mention.com identifies all the websites where the product is mentioned.
Usability testing comes into play with a well-shaped product that could use a few final touches. This practice typically takes place shortly before launching the product onto the market. Despite being one of the most expensive ways of collecting customer feedback, it can prevent the launch of unusable or unwanted products.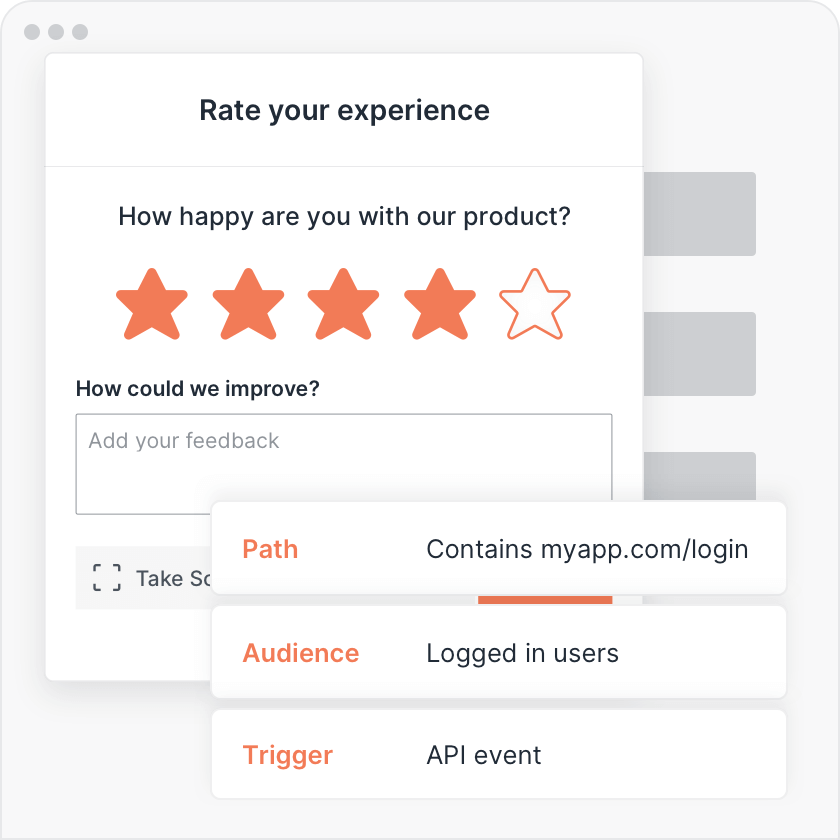 A mix of the above methods will ensure a complete approach to getting the right feedback from people who are adequate for doing that.
[otw_is sidebar=otw-sidebar-3]
Are there any Downsides to Customer-Driven Development?
Customers who only care about a single company and its products might neglect the competitors' products. Their feedback doesn't help the company on top. This usually happens when product developers and designers want to integrate all of the feedback they receive, despite some of it being inappropriate.
Secondly, democratizing innovation might slow down the process. Gathering feedback is already a time-consuming task, and the more customers are involved, the longer it will take. Since time to market is essential to maintain relevancy, brands need to find a balance between getting adequate feedback and launching on time.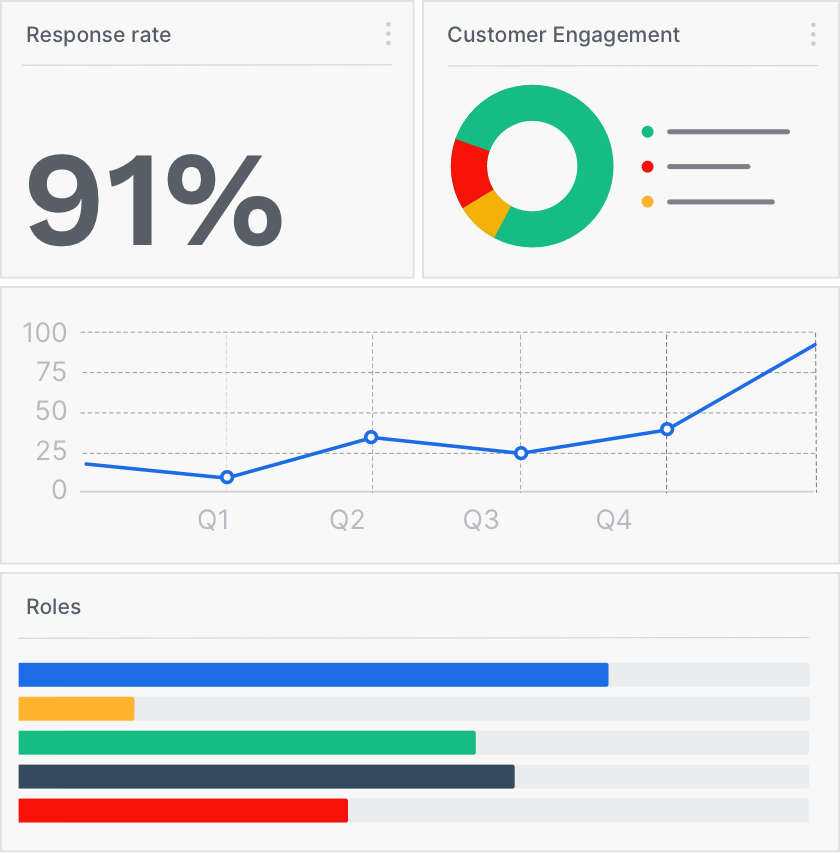 "You can't just ask customers what they want and then try to give that to the. By the time you get it built, they'll want something new."

– Steve Jobs, 1989
Steve Jobs' conviction that people don't always know what they want could also be regarded as a downside. This is particularly difficult when launching a revolutionary product, as people wouldn't see a need for a new product if there's no problem they could refer to. An additional reason to take this approach is that implementing feedback takes time, which in turn takes a toll on innovation and relevancy.
Conclusions
As communication technology evolved, the number of ways to collect feedback increased, and so did the speed of the entire process. In time, mobile devices will be adopted by more and more people, which in turn will lead to the development of more advanced analytical tools for collecting customer information.
To create closer relationships with their customers, companies often have to focus on customizing their products. In this context, customer co-creation will surely play an essential role in innovation. If personalization can be done at a market level, global customer-led R&D could lead to a product that fits the needs and taste of customers from specific areas. Eventually, it all comes down to the customers' taste. If users notice that their feedback flies by the company's ears, they won't delay looking for alternatives.
Knowing how to handle and interpret big data will enable companies to filter the clutter and get exactly to the information that's needed for innovation. One of the questions that remain unanswered is "What will happen to traditional R&D departments, now that customers are at the helm of many companies?"
We're happy to hear from you!
If that article was helpful to you and your company, feel free to give Usersnap a free try. We offer free trials and demos. Simply contact us and we'll make sure that your enterprise stays one step ahead of your competition.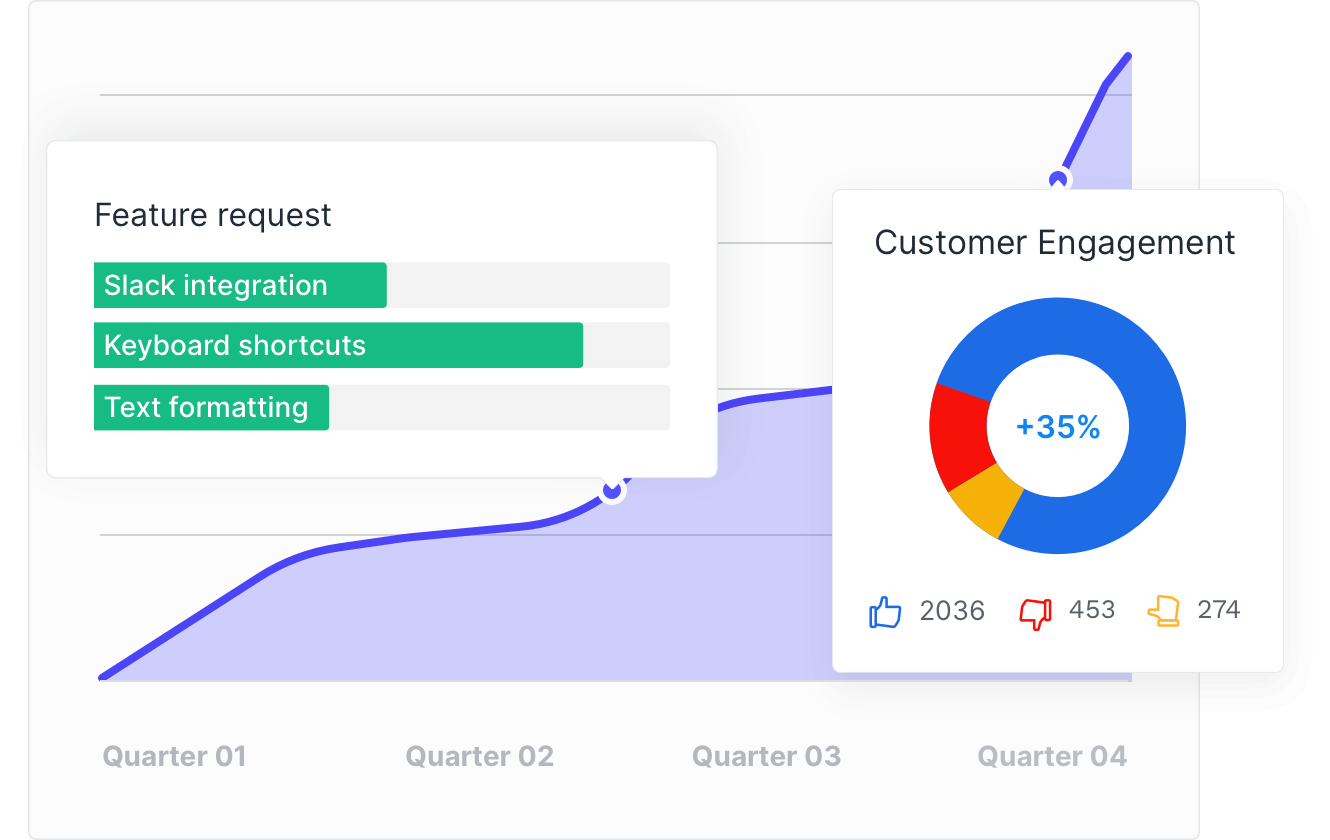 Talk to our customer feedback experts for a free demo of Usersnap.
[otw_is sidebar=otw-sidebar-4]
Want to start getting customer feedback in your web app or website today? Try Usersnap for free for 15 days now.
Capture feedback easily. Get more insights and confidence.
Getting feedback has never been easier and we hope you've realized that after reading this article. Let us know what you think, your feedback is important.
And if you're ready to try out a customer feedback software, Usersnap offers a free trial. Sign up today or book a demo with our feedback specialists.