If you're a product manager or anyone collecting customer feedback for your company, maybe you never realized how backbreaking it actually is. With the right tool stack and workflow, you can get to the customer problem quicker. By doing so, you can focus your time on actually fulfilling their needs. As a small SaaS with a big punch, Usersnap knows the drill.
🏎️ What we'll start with 🏁
Besides planning our team's strategy for the coming quarter, working across teams to steer the ship in the right direction, and having a vision for the product in the mid-to-long-term, things come up. Specifically, there are little tiny bugs that can make some of your big, important customers temporarily squeamish about you. UX issues, copywriting misunderstandings, feature inquiries and requests are normal, no doubt. Every SaaS and software company has them, and they shouldn't be a reason for unfortunate churns.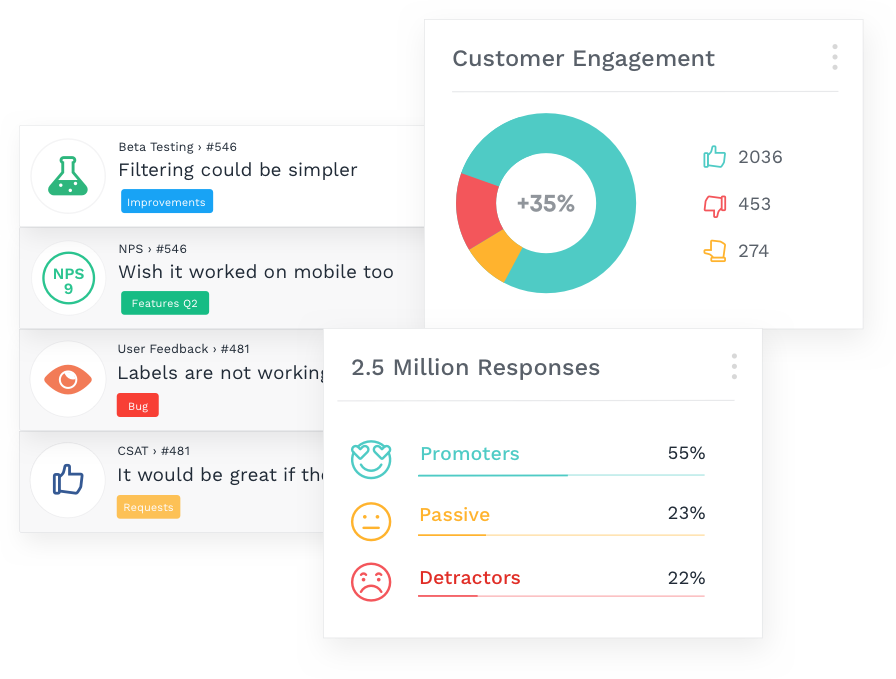 The best companies aren't those with zero bugs; the best companies are those who know how to handle customer feedback quickly, and make customers (both big and small) happy. Companies that dedicate themselves to a CX vision reported year-over-year revenue growth 3x higher than companies that didn't. Every piece of customer feedback is an opportunity to show customer empathy, and get back to them with pride when you truly listened and made their day.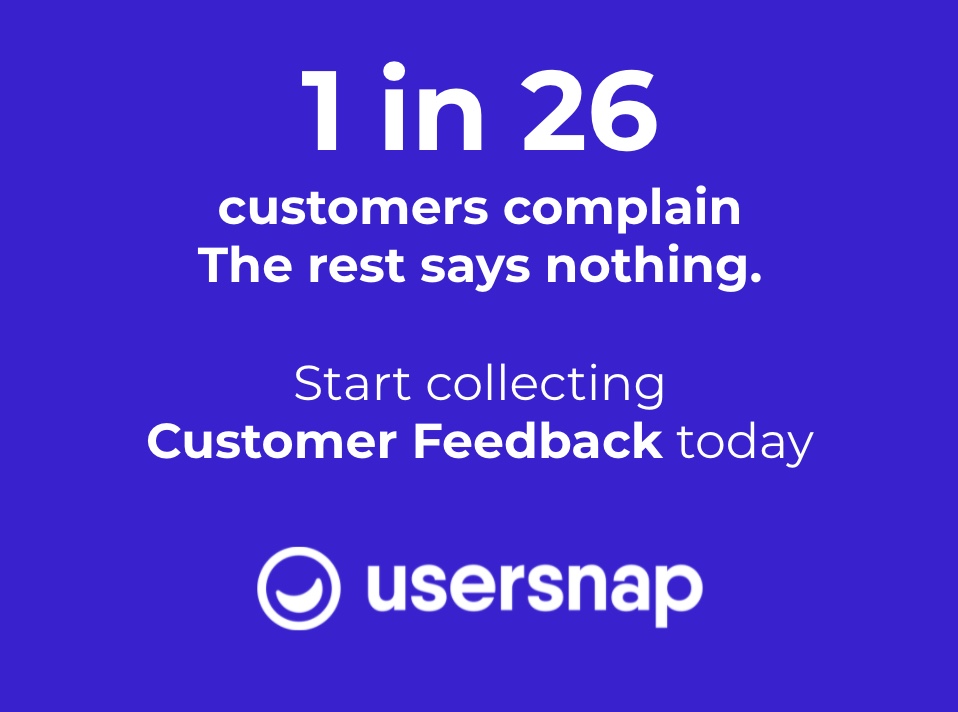 In this article, first we'll walk you through a case study for how to collect customer feedback, and save time resolving bugs, putting out the tiny fires before they become too big. The time savings will make you and your team more agile so that you can focus on making confident product decisions based on customer facts.
In part two of this article, we'll give you the ultimate skinny on the most effective ways to collect customer feedback when it isn't a bug.
Our two big takeaways for you in this article should be:
You can literally half the time you need to collect, prioritize, and handle customer feedback with a streamlined toolstack (BOOM!).
There are many customer feedback collection methods, and we'll show you the full spectrum.
Ready for flight? 🚀🚀🚀
After the case study, what you can expect 👀 ⤵️
How to collect customer feedback and save time in the process: a real case study with results
Step 1: Just Start Collecting 🤪
Imagine you're a customer-interfacing team member, and you get this piece of customer feedback: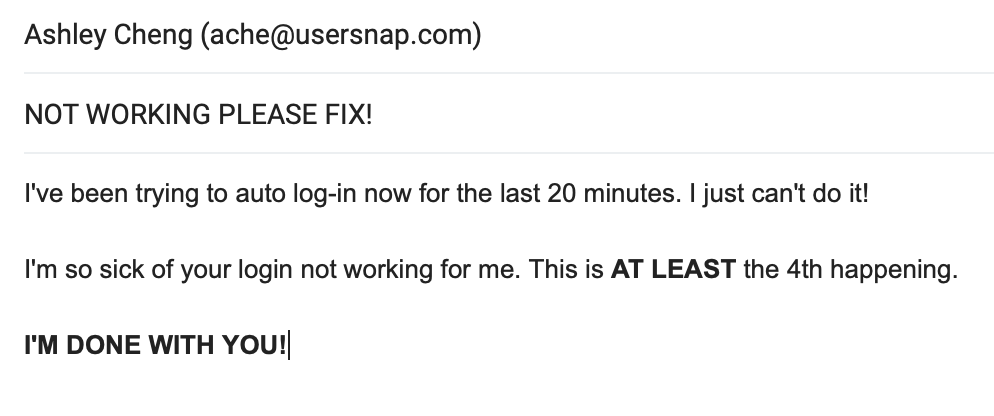 How would you even attempt to fix this issue and help your customer out? The issue here is that the customer isn't able to specify:
What browser they're using
What is actually happening
Who is specifically impacted by this issue (generic emails for the win)
Now you have to go back and forth to obtain this information. Most importantly: when the customer responds isn't in your control. They could churn, and your login could be broken for everyone; they could respond, but a week later, only delaying the problem for another week. This isn't an approach for how to collect customer feedback.
Now imagine you're collecting customer feedback, and get one of these two instead: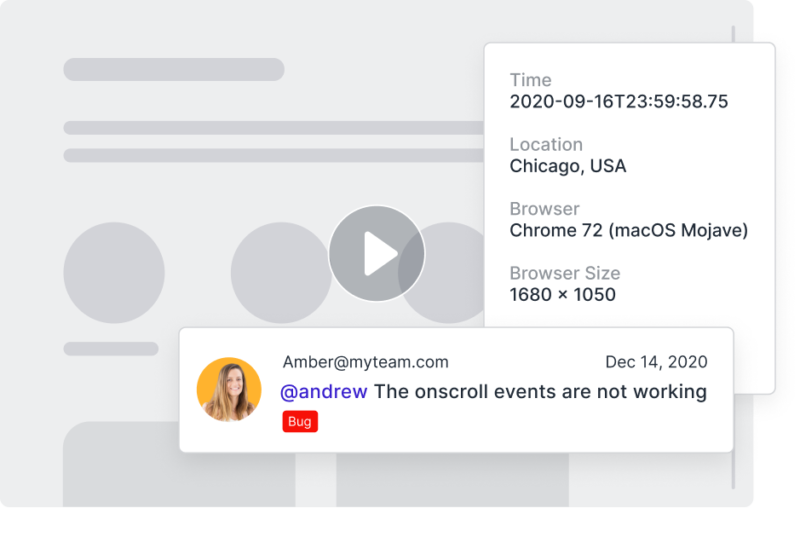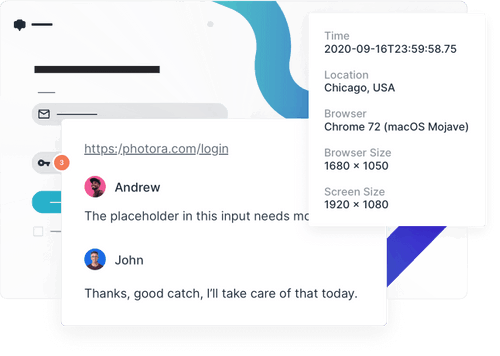 Pretty clear right? You have a pretty good idea of what the issue is, who is responsible on your team for that issue, who is impacted by that issue, and approximately how long it will take to fix it.
Much less back-and-forth to get to the same result: happy customers using your product seamlessly. Something like this should be available to you, no matter which customer feedback tool you choose.
Step 2: From Feedback Collection to Team Collaboration
Let's take the same email again: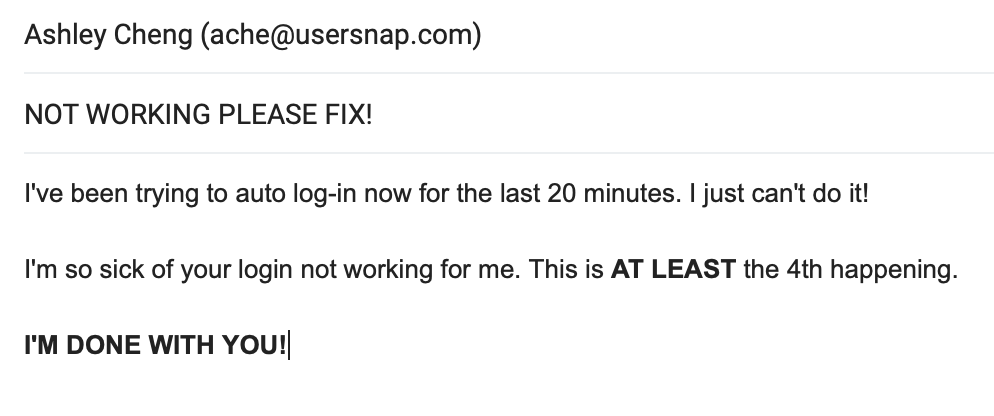 Say you forward it to your team. Here are some of the issues that may arise:
Did your email get lost in the shuffle of hundreds coming in that day?
How do you know who is handling this customer feedback, and taking the lead on it?
Instead of letting that important information get lost in the nebulous space of "we'll handle it next quarter" or "the information is gone!", you can keep track of the information. How? For example, you can send your standardized customer feedback to team collaboration spaces like Slack or Teams. Here's an example of feature requests sent to Slack: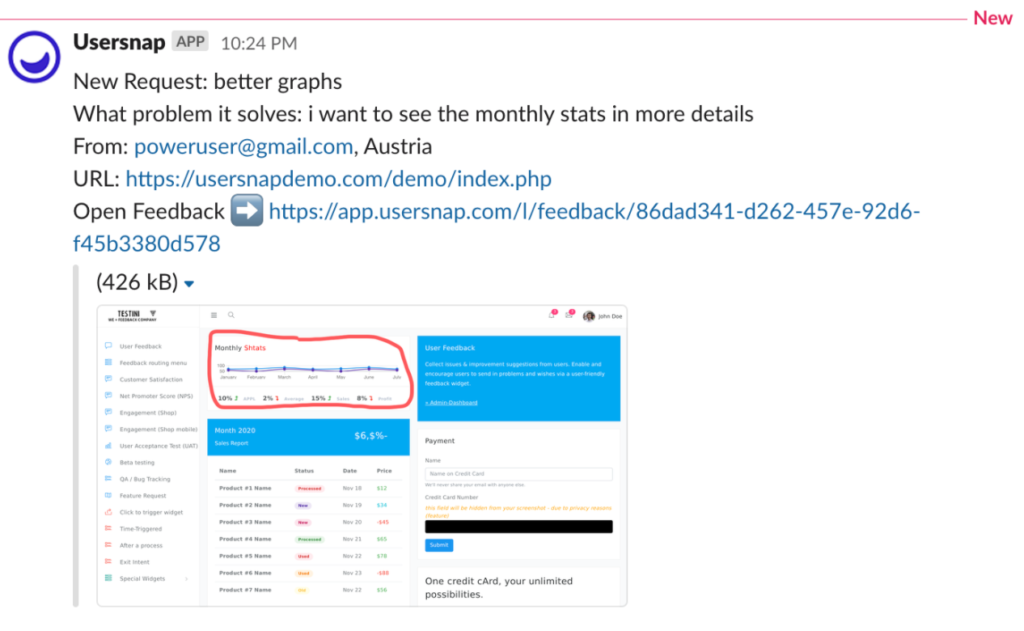 There, you can tag colleagues, keep the thread organized (say goodbye to getting lost in the shuffle), and clarify expectations to get the job done. You don't have to wait around for someone to do something, even though no one has made it clear they'll do anything.
Step 3: Managing customer feedback
Save your spreadsheets for only tough calculations and equation error readouts, because they have one too many parentheses (ya, we've all been there). Let's say you finally get some decent information out of that angry customer above. Now you're saddled with a spreadsheet that looks like this: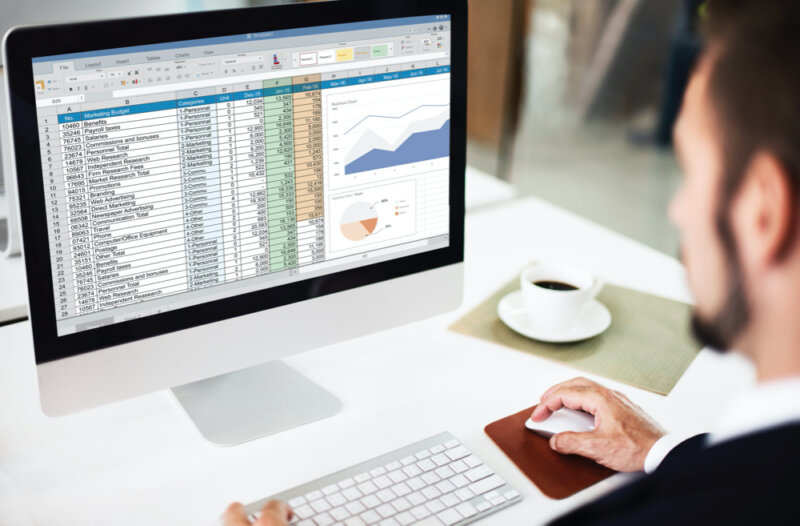 Obviously, this is a pretty simple one, and I could envisage some ICE/RICE scores along the way for knowing what to do next. But in general: what happens when you continue the discussion with the customer, and they give you more valuable insights? Do you manually update this excel sheet? If you have 20 columns, and it takes 30 seconds per column, that's 10 minutes updating something that can be updated automatically.
Also, let's say a colleague changes the spreadsheet, but with faulty information. Now you have to dig to find out who did what and why in order to figure out how to proceed.
If any of this is familiar to you, say no more (I mean, you probably weren't talking anyway, but ok). Most customer feedback solutions will save you some trouble on that front. Here's an example from Usersnap: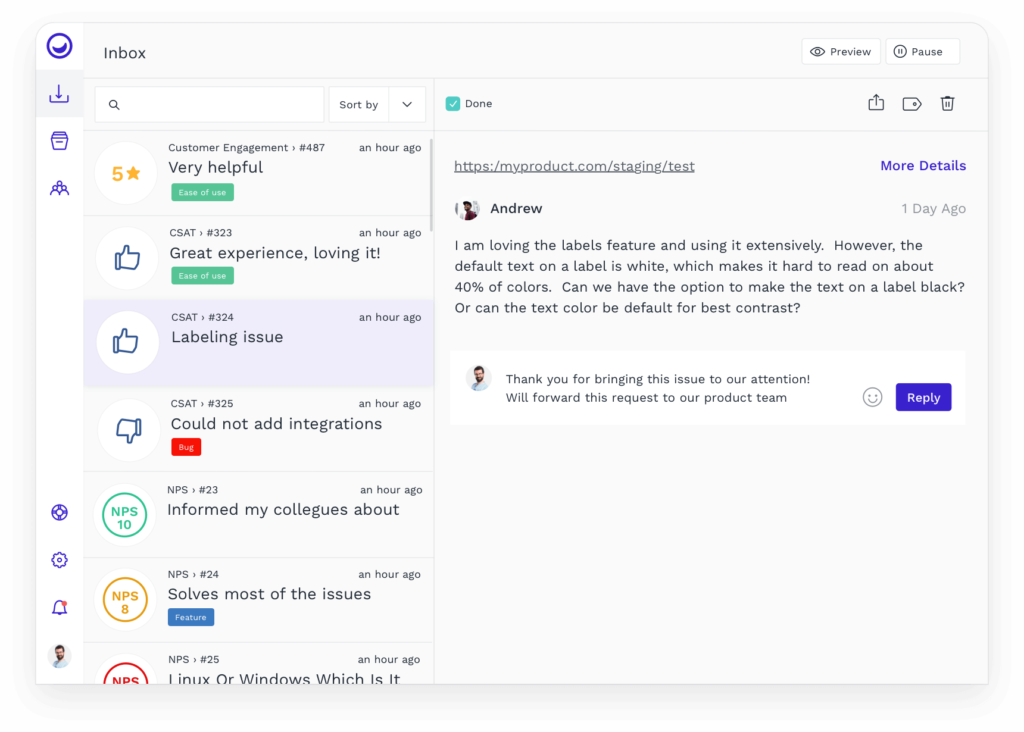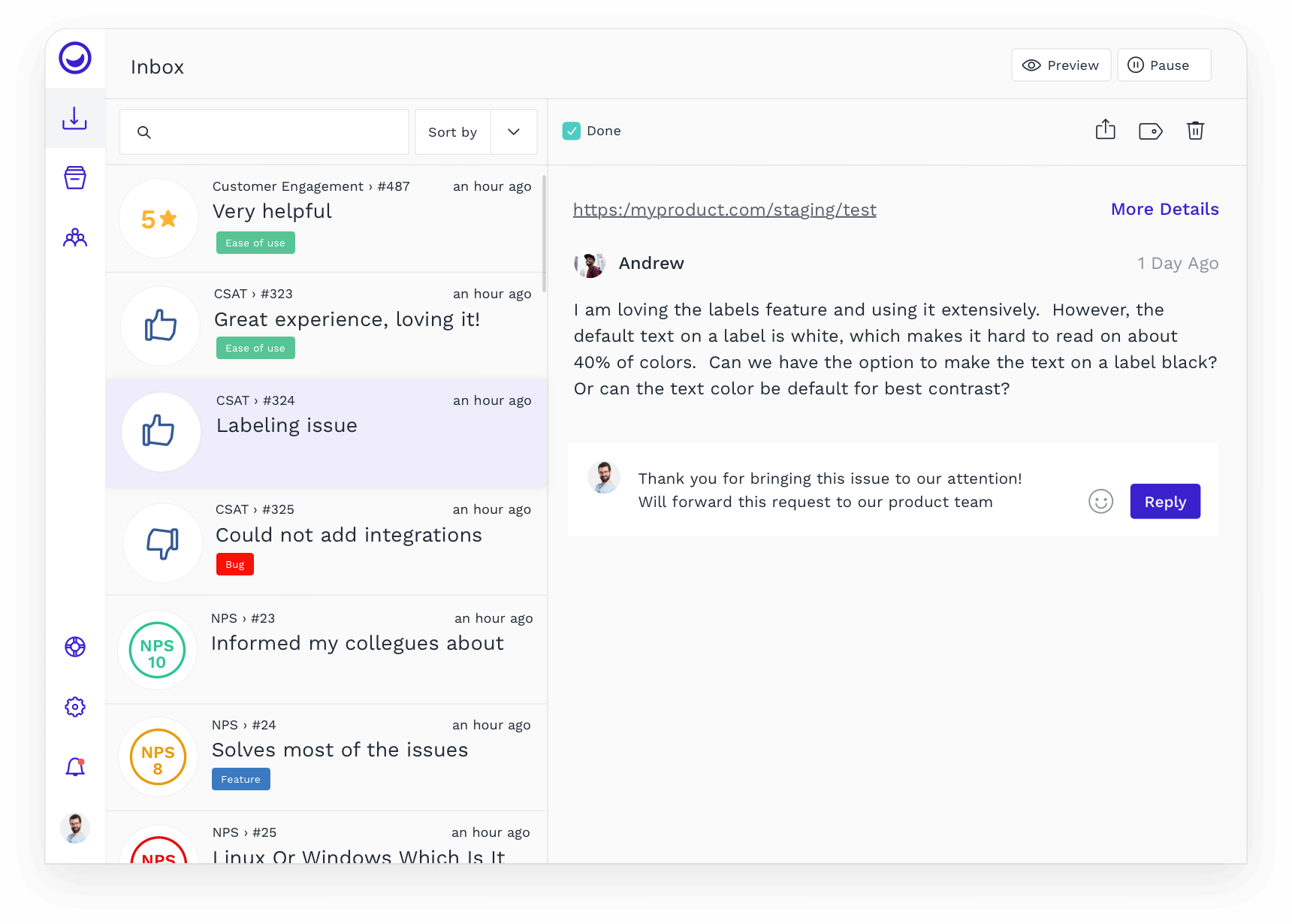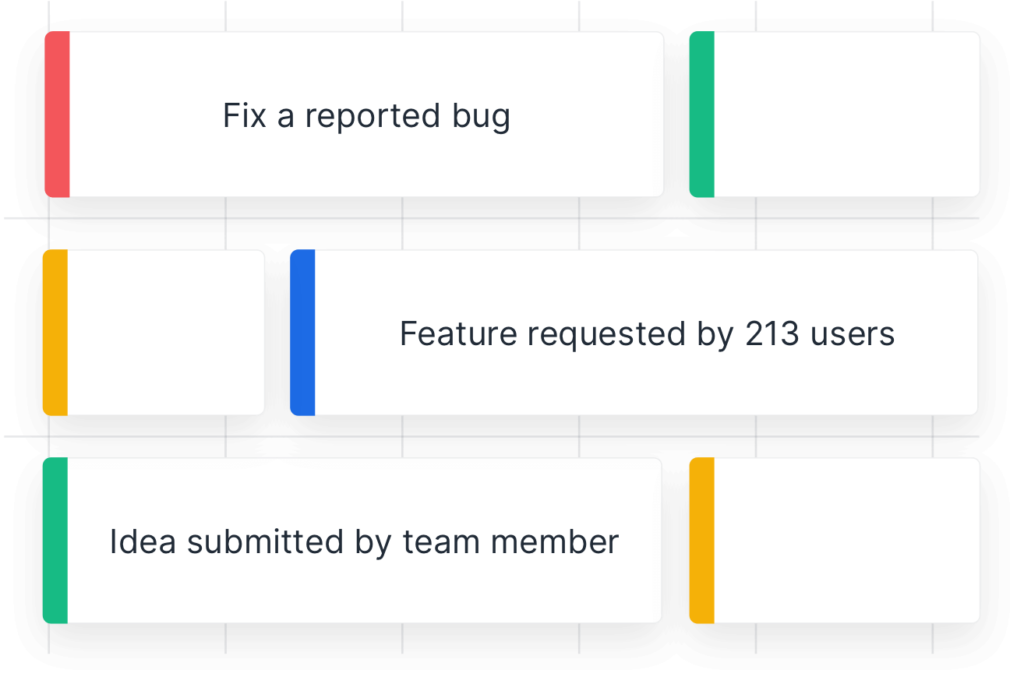 With a proper dashboard and labels, you can keep all the information in one place automatically. No wasted time on manual errors, and you can know with certainty what you're dealing with when it comes to collected customer feedback.
Step 4: Send gathered feedback to devs, project managers, and CS managers and let them cook 🍳
When it's time for a teammate to step up and be the hero, nothing is more sour than fumbling the handoff and making it more complicated than necessary. Your colleagues may use a wide array of tools, such as Jira, Asana, Zendesk, or Azure DevOps as a few examples.
If you manually input the feedback into a ticketing system, again it takes time and you might make a mistake. How about integrating your customer feedback tool directly into these titans of devops, project management, and customer success? Here's an example of Usersnap in Jira: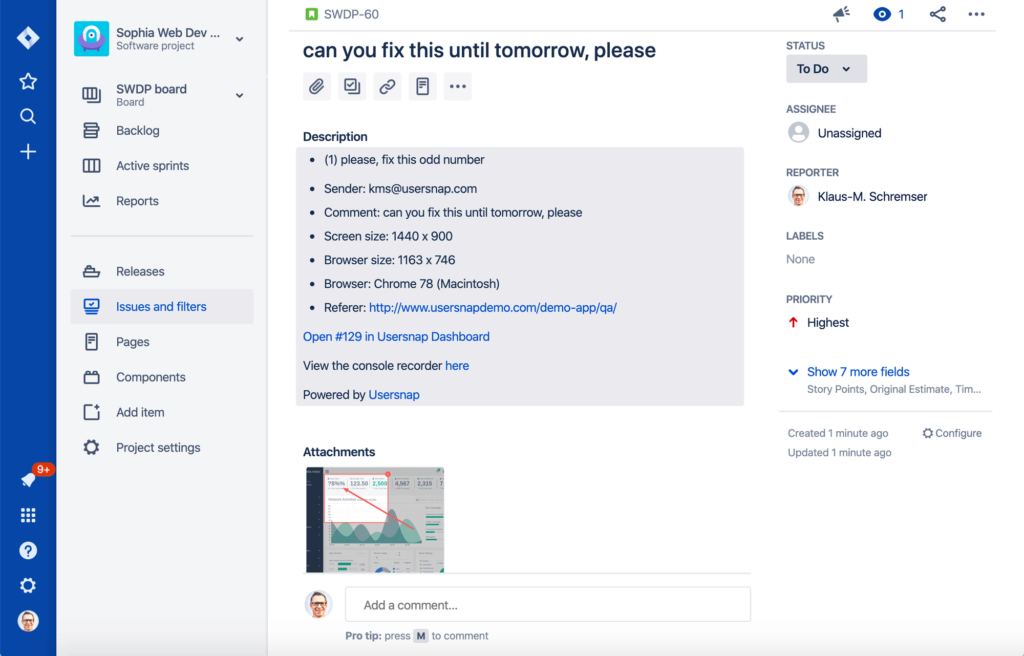 Now, you've got the customer feedback not only in your customer feedback tool, but directly linked to your ticketing system to track when it will get done. We polled some of our customers and 93% of them said they optimized their feedback process with this integration method.
This way, you can keep your customers informed about their request, issue, or general feedback so when something changes, you can tell them right away. Mark their feedback as done, they'll get notified, and even send an email telling to show them you really listened.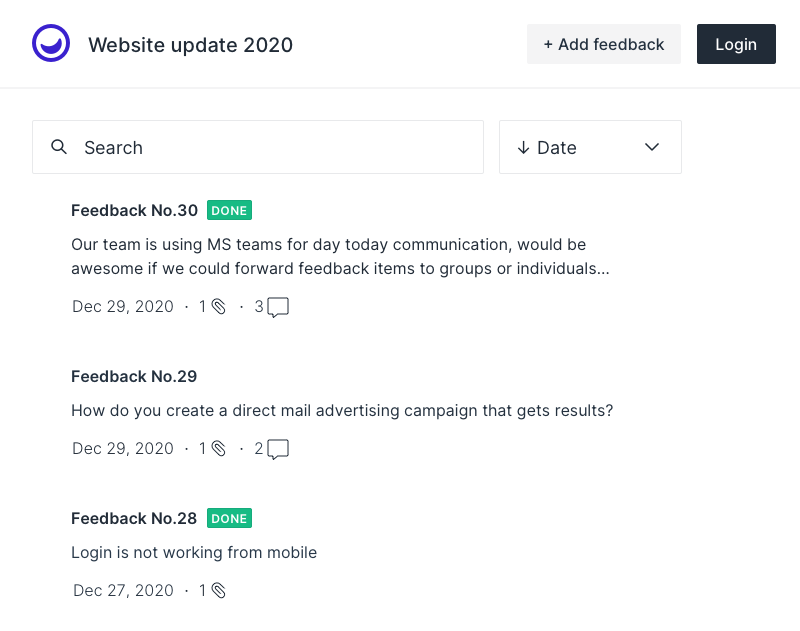 How much time is saved with this customer feedback collection method?
All this is great, but can you quantify it? Actually two of our customers already have. Content Snare reported a 50% reduction in time and effort by getting clear feedback from users. This has made their SaaS product that much more attractive, because they can cover customer needs quicker than before. Question: ~ how many hours does it take you and your colleagues to fix an issue for a customer? Half it with a full customer feedback tool.
Also, Pocket Prep told us when users are reporting feedback, they estimate that it now takes less than 10% of the time with Usersnap than it did before. Imagine how happy your customers are by saving them 90% of their time to tell you clearly what the issue is. Not only do they have a standardized format to give customer feedback, but now you have a standardized method when collecting customer feedback too.
The ABCs of collecting customer feedback to save time
Before moving on to the other ways to collect feedback, let's quickly recap what how to gather feedback from customers and save time doing it.
Use a customer feedback software that gives your end users the chance to submit standardized feedback with the data you need up front.
Once you have important customer feedback to attend to, send it around to team members on your favorite tools (Slack, Teams, etc.) so the information is never lost.
Save time and reduce manual errors by managing feedback from the same place. Say goodbye to spreadsheets and non-UI-friendly tools.
Triage the customer feedback so that action can be taken on it, so you can get back to your customers proudly with solutions to their problems.
Last but not least, try it out for yourself and see if we missed something along the way.
10 Proven Ways to Collect Customer Feedback
So we all know that collecting customer feedback is important. Buuut customers have short attention spans.
So, how do you overcome this hurdle and get this extremely valuable customer feedback?
By creating an easy and seamless experience.
There are many options for you to choose in collecting customer feedback. The list below provides short yet comprehensive descriptions for each one.
Why is collecting customer feedback essential?
Today everything is quick, sleek and convenient. This is especially true for websites and other digital services. All this convenience is now taken for granted and many people won't bother if they have to put more than the minimum amount of effort required.
As service and product providers, we need to adhere to one maxim: 'The customer is always right'.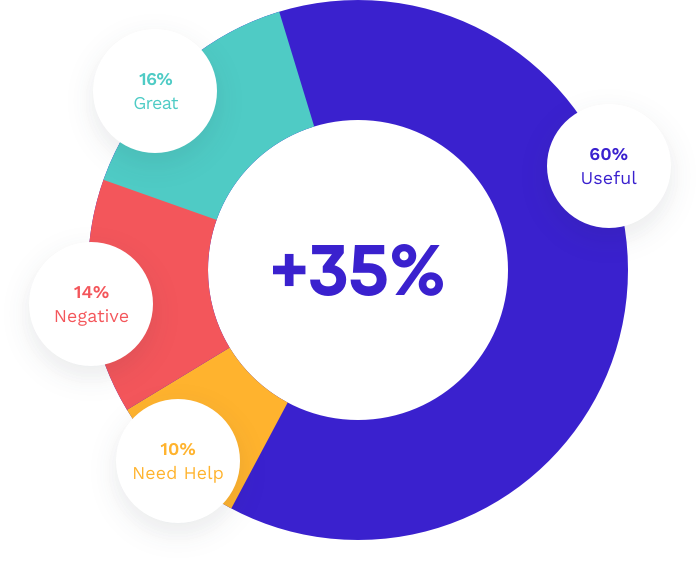 Because convenience and ease-of-use are expected, business managers and board members need to gather customer feedback in order to deliver on those aspects.
Because convenience and ease-of-use are expected, you need to gather feedback from your customers in order to deliver on those aspects.
What is funny is that the process of gathering customer responses needs to be easy and convenient as well.
There are many instances where the process of asking for feedback has actually deterred customers or prompted them to submit bad reviews out of annoyance.
Take a look at the list below and compare it with your requirements. You will surely be able to identify which way of collecting customer feedback will suit your needs best.
1. Live Chat
This option is great as it puts the customer and the specialist directly in touch.
Feedback is instantaneous and the specialists can ask for more details. Rather than having a few hours or days turnaround through emails.
A live chat-box is easy and quick to use. Most people are accustomed to chat boxes so there is no risk of intimidating the customers.
This approach is informal and renders quick results, both for the customer and support team.
Live chat is a promising service that seems to offer enhanced customer satisfaction. ICMI has compiled a list of results outlining the success of live chat.
Some of the highlights are:
53% of customers would prefer to use online chat before calling a company for support. (Source: Harris Research)
Chat has become the leading contact source within the online environment, with 42% of customers using chat versus email (23%) or other social media forum (16%). (Source: J.D. Power)
Live chat has the highest satisfaction levels for any customer service channel, at 73%, compared with 61% for email and 44% for phone. (Source: Econsultancy)
As outlined above, live chat seems to be the leading choice for customers who want to get in touch with a company.
It has the highest level of success and one of the factors that might contribute to this is the quickness with which queries can be solved.
Opposed to other ways of collecting feedback where the customers are prompted by the website that they're visiting, live chat fully depends on the initiative of the visitor.
At no point, the availability of live chat will be deemed annoying or distracting.
| | |
| --- | --- |
| PROS ? | CONS ? |
| Instantly connect a customer to a developer or technician | Time-consuming |
| Discuss feedback in-depth and offer customer support | Text only |
| Customers are accustomed to chat boxes | |
2. Pop-ups
If your website visitors are not actively looking to provide feedback, you can prompt them through a pop-up.
When they are navigating, a quick and short message asking them to rate their experience will most likely encourage feedback, and boost your survey response rates.
Following their response, you can kindly ask them to provide more detailed feedback if they wish to. It's all about making it convenient for them without forcing them to do it.
However, this method should be implemented cautiously. Brian Clifton has made a good point on his blog saying that poor deployment of pop-ups has negative repercussions. A good way around this is URL path targeting and time-on-page triggering, which allows you to display pop-ups at the right time and place.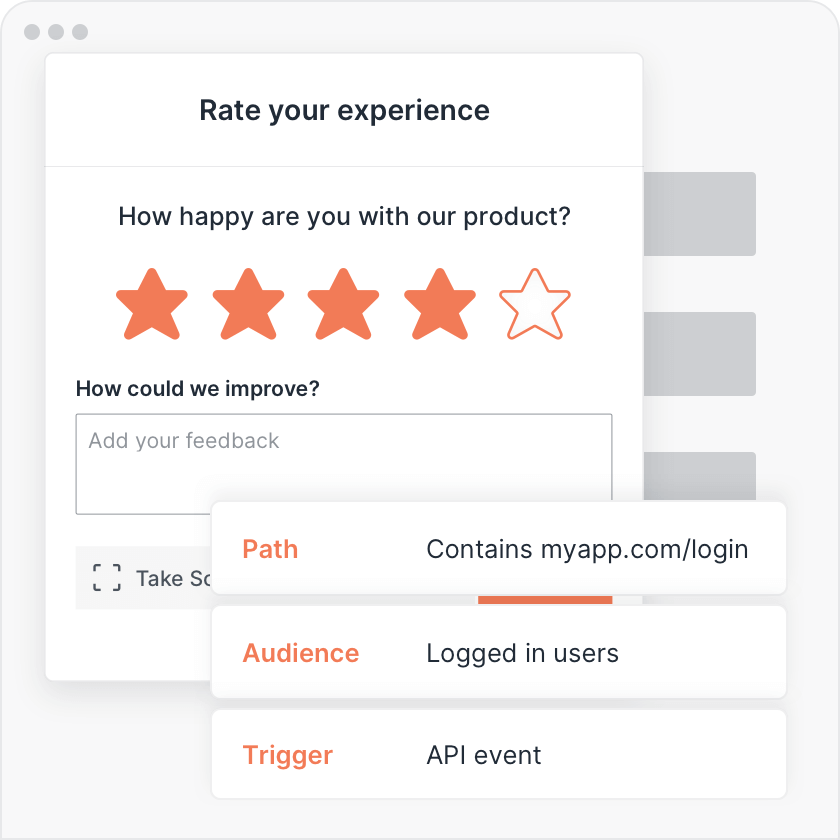 He says that customers might even submit negative feedback out of annoyance.
So how can you implement pop-ups without annoying your customers? Here are a few suggestions:
Show the pop-up on customer's intention of leaving your website
Display the pop-up after navigating between pages so that the experience is not interrupted
Make the Close button of the pop-up very obvious
Use pop-ups after a certain scroll depth
Now there's a variety of "pop-ups" formats for websites, the alternatives include slide-ins, floating bars, countdown timer offers.. etc. Learn more about how to use pop-ups as a way to improve customer communication with the expert of the field OptinMonster.
| | |
| --- | --- |
| PROS ? | CONS ? |
| Very easy for customers to submit feedback | Annoying if implemented poorly |
| Might prompt visitors who did not intend to leave feedback | Disturb customer's experience |
3. Purchase Confirmation Pages and Emails
Is your website an online store?
You can use this to your advantage and ask your customers to provide their insights after they finish a purchase. If they were interested enough in buying a product from you, chances are that they will have the disposition to provide feedback in return.
According to Chamaileon, up to 70% of customers open order confirmation emails. This means that this is an excellent time for collecting customer feedback as well.
For something as small as adding an additional link at the bottom of the email, you can gain valuable insights of your customers' experience.
As an additional note, you can combine this way of asking for feedback with the pop-up approach which we've discussed above.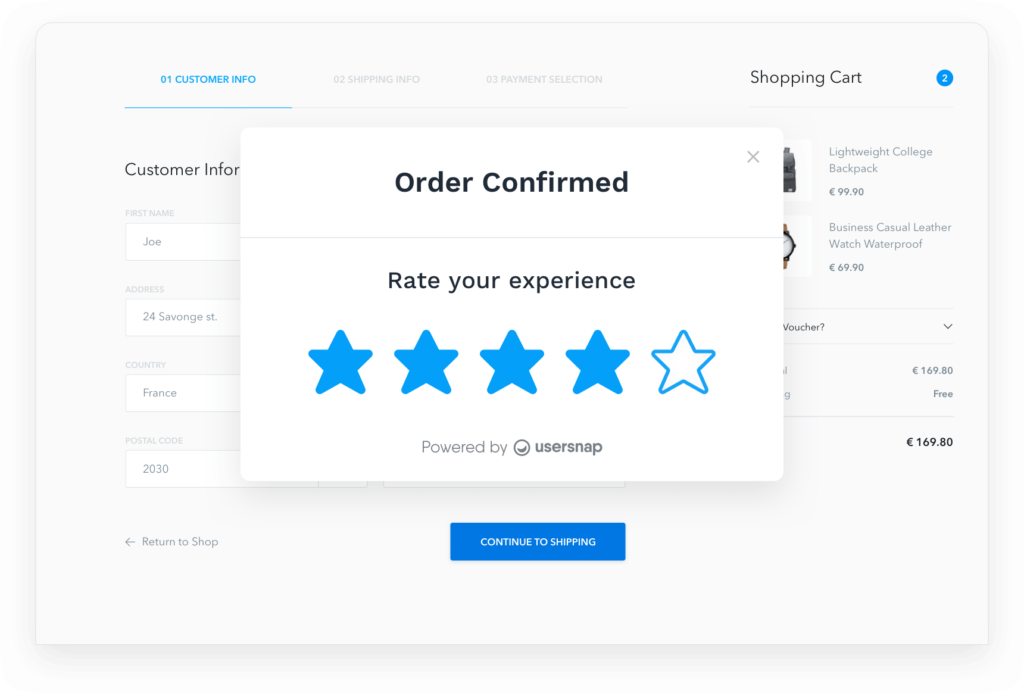 There is a recurring issue for online retailers where customers leave the website in the checkout section, abandoning their shopping cart. This is a prime time for collecting customer feedback.
For example, whenever the customer has the intention of closing their tab or browser during the check-out process, you can use a pop-up asking them to explain what is their reasoning behind it.
Whether they were simply browsing and were not interested in buying or the total cost was too much, having this information can help you tailor your services accordingly.
| | |
| --- | --- |
| PROS ? | CONS ? |
| A high percentage of customers will be exposed to the feedback option | The feedback request might be ignored as customers have completed their task |
| Customers will have a tangible experience to refer to | |
4. Automated Email
If you have an email list of people who are definitely interested in your services, you are sitting on a feedback gold mine. When talking about one of the feedback collection methods (without urgency), this is great!
They have intentionally given you their contact information to keep updated with any changes and news.
This means that if they have the option of throwing in their two cents on how to improve your website, they most likely will.
Again, as most points we've discussed so far, the customer feedback experience needs to be as quick and easy as possible.
Contacting them through their email lightens their workload even further. One good practice to keep in mind is to address the customer by name in the beginning of the email. It's an easily programmable feature and adds that extra degree of personalization which can enrich the customers' experience.
This is an easily implementable feature and will definitely give you bonus points considering that your customer has given you their contact details.
According to FluidSurveys, the average Response Rate for Email Surveys is 24.8%. This means that one in four people will take their time to complete a survey. This article gives you a good overview of the 12 Best Online Survey Tools in 2020.
Taking into consideration that you have gathered your emails directly from your customers, that percentage might be even higher.
| | |
| --- | --- |
| PROS ? | CONS ? |
| Direct interaction with customers | Might be regarded as spam and ignored |
| You have the ability to send the feedback request alongside other information, such as newsletters or offers | The customer might not feel valued if it's simply an automated email |
5. Feedback Side Button
Discreet, omnipresent and fully customizable.
You can get this button to do anything; open up a new page, call out a pop-up widget or expand into a feedback form.
All those features can be hidden within one small button located on the side of your page.
Customer feedback tools, like Usersnap, offers your customers the option to access a feedback form at all touch-points of the website and app.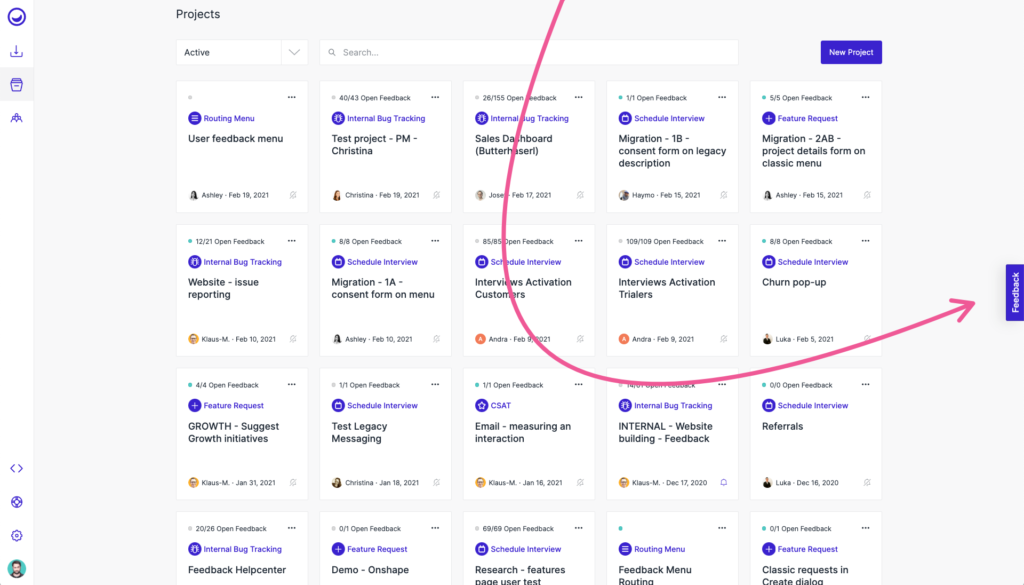 This would enable them to report something as soon as they notice it. Let's say a feature is not working properly, it would be very easy for customers to click and submit feedback rather than leaving your app instantly.
This method implements user-solicited feedback in a very convenient way. It can be customized to either be something simple as a comment box appearing for a short text-based message, or a complex form with ratings displayed on a pop-up page that disables interaction with the rest of the site.
Read about how Drift, Typeform and MyTaxi (FreeNow) design their feedback loops in our free eBook.
| | |
| --- | --- |
| PROS ? | CONS ? |
| Seamlessly integrates with the website | You are only passively waiting for customers to feedback |
| Easy to access and use when feedback is necessary | |
6. Social Media
This is arguably the most powerful tool nowadays.
Here are a few options available on those channels:
Set up polls
Chat to customers directly
Gather reactions to your posts
Encourage customers to comment on your posts
Another great part of using social media is that people don't have to take time to go to your website!
They can simply submit their feedback as part of their normal social media experience. They don't even need to follow your page. Using advertisements, they can interact directly with you without ever having that intent before.
And with all the clever algorithms used by social media platforms nowadays, customers will have a search history that has included your website or related websites.
This means that even targeting people that do not follow you is not like shooting in the dark.
Those people have had a genuine interest in searching for your services or related ones.
Facebook has a page outlining ways of targeting your audience. They have identified three options of choosing an audience on Facebook:
Core audiences – Based on traditional demographics such as age and location
Custom audiences – Uploading your existing contact list in order to connect with them on Facebook
Lookalike audiences – Using existing customers' information to find people of similar demographics or with similar interests
So, besides funny cat videos and old high school friends bragging how much they got their life together, social media can be the most powerful tool in gathering customer feedback.
| | |
| --- | --- |
| PROS ? | CONS ? |
| Very easy to reach out to customers in a non-intrusive way | Might get lost in the noise |
| Widely used by all age and social groups | Requires recurring payments to reach your audience |
| | Adverts might reach the audience and would be ignored |
7. Comment Box
Similar to the feedback side button, a comment box would allow quick and easy submission of in-moment customer experience measurement, straight to the developers.
This system really checks all the boxes in terms of convenience and quickness. Access the website. Type in the comment. Press Enter. It's really simple and really effective to remove any sort of inconvenience from the feedback process. Even though it's limited in terms of the format of the feedback message.

Customers may find it difficult to verbally describe their problems, especially if it is a display error on the website. This would lead to confusion for the support and technical teams, and they would then have to go back to the customers to ask for more details.
| | |
| --- | --- |
| PROS ? | CONS ? |
| Quickest and easiest mode of submitting feedback | Limited only to simple text |
| Always available | Might be difficult for customers to outline a problem in good enough detail |
| Non-intrusive and takes up little space on the webpage | |
8. After Completing Contact Forms
Customers who actively engage with your websites are more likely to provide feedback. So you can prompt them to leave feedback after completing a Contact Form. Their experience will be fresh and will be able to identify straight away any problems that they've noticed.
This method is also non-intrusive as opposed to pop-ups. The visitors would be free to leave the page without being interrupted by your request for feedback. These are so many advantages! It's at a right time in their experience, it's not annoying, and they have something to talk about!
The customer feedback request form can also be as complex as you want since the page can be repurposed following a successful contact form. You can gather more information and you can have any kind of style associated to your feedback forms. Comment boxes, stars, drop-down menus, the page is your oyster.
| | |
| --- | --- |
| PROS ? | CONS ? |
| Prompts the user to submit feedback at a good time during their visit | Customers might shut the page promptly after completing the form |
| Fully customizable page once contact form has been completed | Customers would not want to put in extra effort to complete the feedback |
9. Signing up on the Website
Whether you have a subscriber list or your website requires account creation, you can definitely use the visitors' interest in to gather feedback. When somebody is keen on signing up for your services, they will be way more likely to respond to your feedback request as they have an active interest in receiving a good experience.
Any time visitors engage with your content or take their time to interact with the website, not only do they have more to talk about, but they will take their previous interest in consideration into writing.
| | |
| --- | --- |
| PROS ? | CONS ? |
| Customers are definitely interested in your products or services | Customers need to choose whether they opt in or out the feedback scheme |
| You can request feedback at any time after you get the customers' contact details | If they opt in by accident, they might be unhappy with the feedback requests |
| You can request feedback either via your website or send a form via email | |
10. Direct Reach Out
Customers want to feel valued. And what better way to show customers how important they are than reaching out to them directly? There is often this faceless, cold interaction when navigating through a website. It's easy to break through that by having a real person interacting with the customer.
'Hi Felix, Thank you so much for your recent order. I wanted to make sure that you had a great experience and did not have any inconveniences. If you have the time, let me know what you thought of the process and I will make sure that your feedback will be heard and incorporated as soon as we can. Have a wonderful day, Ashley'
Sounds a bit more engaging than:
'Thank you for your purchase. We are always trying to improve our services. Please leave any feedback in the box below.'
Of course, there are other ways to contact customers besides emails. You can, for example, call them directly on their phone. Talking directly to the customer will allow the conversation to flow naturally. You can either have a free conversation to talk about the experience, or you can use a form to ask specific questions.
An article from CallCentreHelper.com outlines a few key points for efficient phone feedback.
These points were suggested by industry experts.
Keep Surveys Short: questionnaires should have no more than 5 questions or last more than 3 minutes
Maintain a happy attitude on the phone
Rotate questions between customers: if you need answers to more than 5 questions, ask each customer a different set of questions in order to cover them all
Maintain the scales of measurement: If you ask one customer to rate their experience on a scale from 1 to 10, keep that scale for the others
Keep all questions relevant: only ask questions that your customers have experience in order to answer
Use clear language: explain everything in layman's terms and stray away from industry jargon
If you're looking for online survey tools, here's a nice list made by SurveySparrow.
11. Usersnap
Usersnap is a one-of-a-kind way of collecting customer feedback. It incorporates many of the functions that we've mentioned above.
Firstly, Usersnap allows you to gather both qualitative and quantities feedback. The application offers the best of both worlds, where customers have the option of submitting quick feedback by giving a rating without submitting any comments.
If they want, customers also have the option of adding comments and screenshots alongside their rating.
And a couple of additional unique features of Usersnap are the functions of taking screenshots and annotating those easily. Simply clicking the 'take a screenshot' button will create an image ready to be sent off to the business managers.
Drawings can easily be done on the screen using the mouse and annotations can be added with a couple of clicks. Learn more about the Usersnap visual feedback tool.
If you want to use Usersnap as a technical support channel for your website along with collecting customer feedback in general, Usersnap also records the users' console logs, it adds full XHR logs and JavaScript errors to every bug report.
This information enables developers to understand the problem faster and more accurately. Learn more about the console recorder feature as well.
| | |
| --- | --- |
| PROS ? | CONS ? |
| Has many features including screenshots, drawing, and annotations | Might be unfamiliar to new customers |
| Can be used for both qualitative and quantitative data gathering | Users might be unaware of all the features available |
| Easy to implement without any significant changes to the website design | |
Collecting customer feedback is not that hard
As business managers and service providers, your primary goal is to deliver excellent customer experience.
Therefore, you need to find out how your customers are interacting with your website and what they think should be improved.
In this article you've read about 11 ways in which customers can be engaged to provide feedback. Some of the options outlined here may work better than others for your website.
If you have just released a new website, you wouldn't have much of a customer database or email list to directly contact your visitors. In this scenario, it's better to focus on gathering responses from new visitors and do your best not to annoy or inconvenience them with badly-implemented pop-ups.
It's all a balancing game and you need to keep in mind that you want to deliver a good experience, and it would be a shame to ruin their experience with the feedback request itself.
Remember the law of diminishing returns and try implementing only the methods of gathering feedback that align best with your intentions.
Want to know more about collecting customer feedback and how to take action?
Start a conversation with us today, Usersnap feedback experts will enlighten you with new strategies and tool kits. Get a free demo of Usersnap's customer experience improvement tool here.
Or sign up for a 15-day free trial.


Begin streamlining your customer feedback with Usersnap today!
Capture feedback easily. Get more insights and confidence.
Getting feedback has never been easier and we hope you've realized that after reading this article. Let us know what you think, your feedback is important.
And if you're ready to try out a customer feedback software, Usersnap offers a free trial. Sign up today or book a demo with our feedback specialists.