Which feedback form works best when collecting feedback and opinions from customers?
We've long asked this question without good answers. When starting, we realized ~3% of our customers responded to our long survey forms. Sound familiar?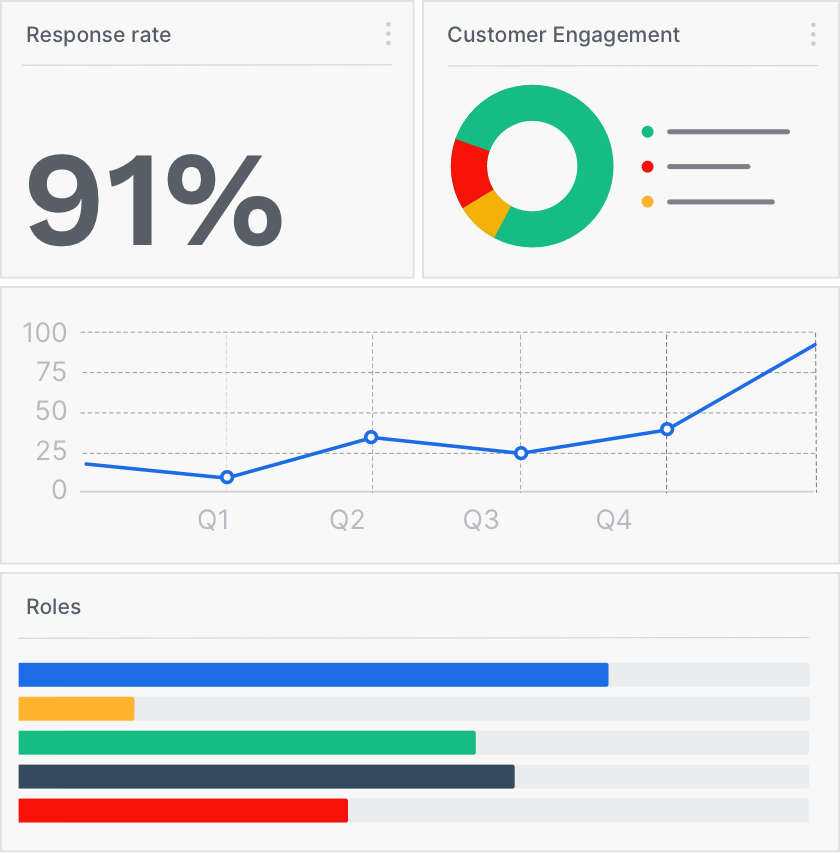 We switched our approach, and even parts of our product. The result? Response rates exploded to ~20%. Not bad huh? Also, the insights we received were more valuable than ever.
🎯🎯🎯 feedback forms are important, and so is the entire customer feedback topic. that's why we created this big guide to customer feedback, just for you 🎯🎯🎯
If you collect feedback and learn where pain points exist for customers, then you can make your product more useful, valuable, and pleasurable for people to use.
You likely know that you want this useful feedback. The trouble is understanding which feedback forms to use. Should you use a survey, product feedback form, live chat, or email form?
How do you gather the data into one channel and streamline it for use?
Let's discuss how you can use a feedback form to improve your product.
The Many Forms of Feedback: What Makes a Feedback Form Work?
A good feedback form brings back helpful information, such as insights for how to improve your website, product, or customer experience. Anything less than that means you're wasting your time and the time of anyone you ask to complete a client feedback form.
Ask quality questions that elicit quality answers. Don't just simply ask, "what do you think?", because it isn't narrow enough to give you actionable results.
Ask open-ended questions to let customers provide complete and beneficial feedback.
How to Design a Feedback Form?
Keep each feedback form short, simple, and to the point. Don't include too many questions that make customers feel intimidated by the work involved.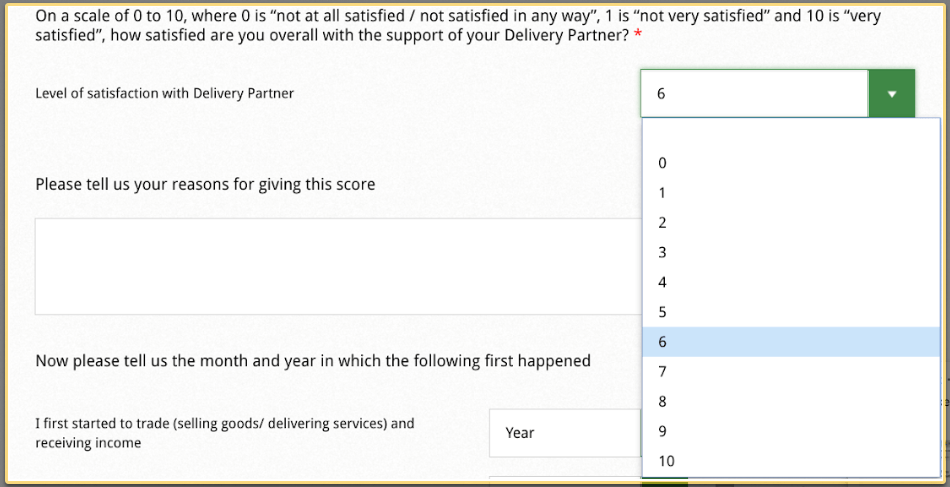 Source: Zuku Form Analytics
Better example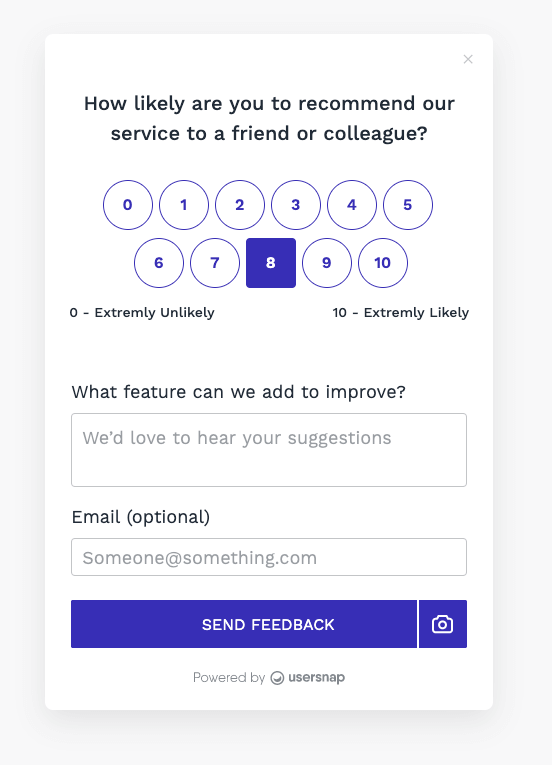 Make the design straightforward so that customers can focus. When asking for ratings, stay consistent. Avoid using a scale from 1-10 on one question and 1-5 on another.
Ensure that there's enough white space to make the user feedback form appear clean and minimalistic.
Find an ideal label for every form field to ensure you communicate exactly what you are looking for.
Make as many fields optional as possible so the choice resides with your users and customers.
Have a coherent flow of questions and fields that keeps your users engaged.
Make your user feedback form responsive so the user has the ability to complete it on any device.
Maintain a logical flow to the questions and set the fields to optional so customers can select which questions pertain to them. It's OK to let customers avoid questions that they can't or don't want to answer. It's better to get several responses back than frustrating customers to the point where you don't get any feedback.
Give Customers a Voice
Give feedback to customers, too. Validate the voice of the customer. Don't ask for their take on how well you serve customers and then fail to make the necessary changes.
Add Intentional Questions to Your Feedback Format
While you may have seen many feedback form examples, there's no point in having a feedback form template that doesn't get right to the point. Instead of asking for opinions from your customers or visitors, ask specific questions related to potential bugs, issues, and shortcomings. Make sure that you collect information that will help you to improve the experience for your users.
Act on Every User Feedback Form
It doesn't mean that you should start doing everything that every single customer or user tells you to do. It just means that you, as a business, should have a strategy in place to review and analyze feedback forms, extract meaningful insights, and make decisions based on them. Don't just collect feedback to give your customers the illusion of the fact that you care. This will help you to cut down churn rate and enhance brand loyalty.
Send Out a Simple Feedback Form at the Right Time
Check out a variety of feedback form examples and choose the one that's simple and to-the-point. When it comes to feedback templates, you will find hundreds of questions in some feedback forms examples. That's just a recipe for turning your users away from voicing their concerns. Create a targeted strategy that allows you to collect the right information at the right time. For instance, if a user has just interacted with your customer care department, sending out a survey to ask for their opinion is right after the experience.
How to Create a Feedback Form?
Use the following tips to design a feedback form that encourages customers to take action with it.
Make intentional questions: Think carefully about what information you need from customers to help you make meaningful product changes.
Example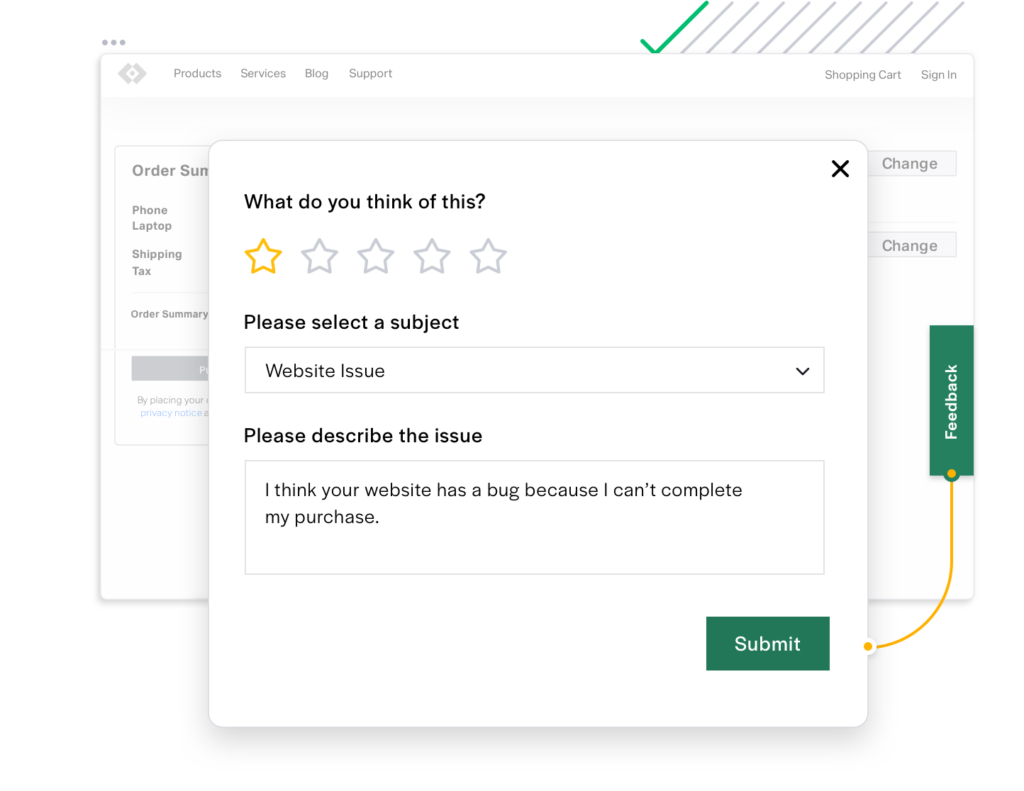 Source: GetFeedback
Better example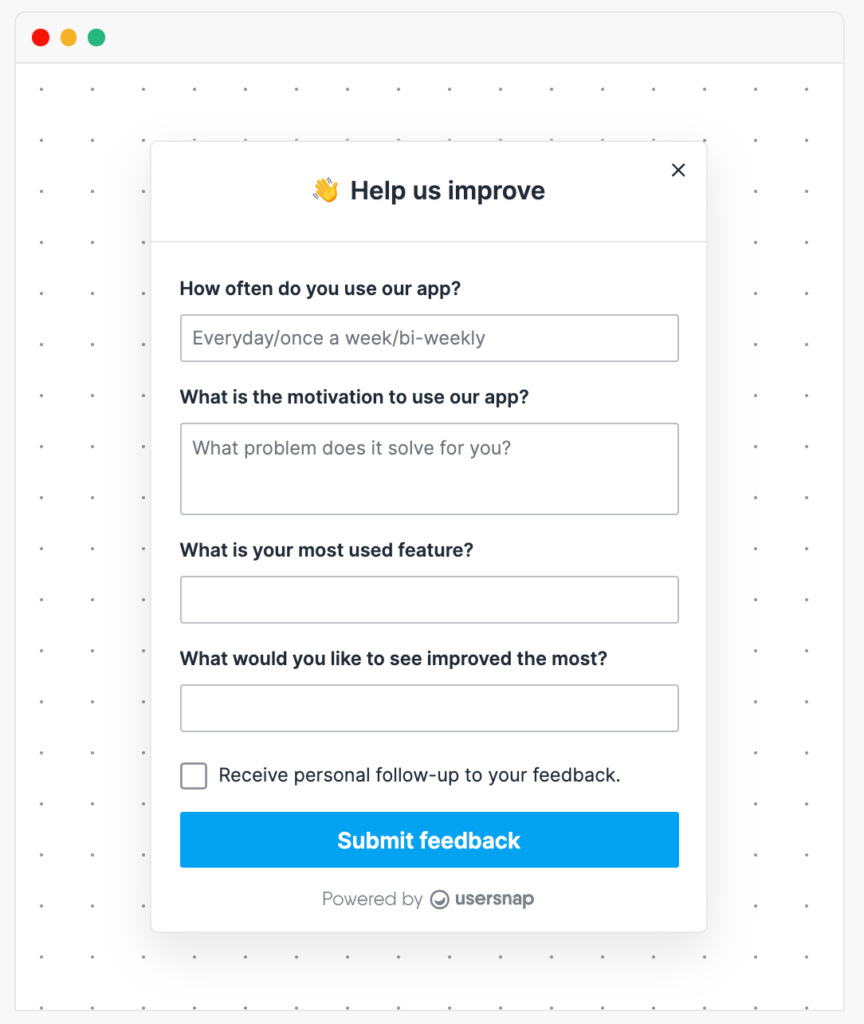 Timing matters: Get feedback at the correct time, such as immediately after placing an order or chatting with customer service reps.
Give customers a voice: As we mentioned above, help your customers understand that their feedback holds water and that you care about their feelings.
Use the forms as if they were one of your products: Customize your forms with the company's brand logo and colors.
Good feedback forms have good design: Label form fields clearly, use a logical flow, leave plenty of white space, ensure forms work on all devices, and make all questions optional to answer.
We really listened to what our users wanted, both qualitatively listening to the words they say, and quantitatively looking at the behaviour they take.
Feedback Form Questions
Asking the right feedback questions makes all the difference. Here are a few to get you started:
What is your concern about [product/company]?
Have you used a similar product before?
How can we make this web page better?
Is anything stopping you from taking action today?
What almost stopped you from buying?
How was your shopping experience on the site?
What new features would you like to see in our app?
Have you considered any alternative products prior to buying our product?
Which product/service feature doesn't deliver on the promise?
Which product/service feature you like the most?
How do you think our product/service is priced compared to the competition?
For how long have you been using our product/service?
Were you happy with our customer service representative?
Was your issue resolved when you contacted customer service?
How long did it take you to connect to a customer representative?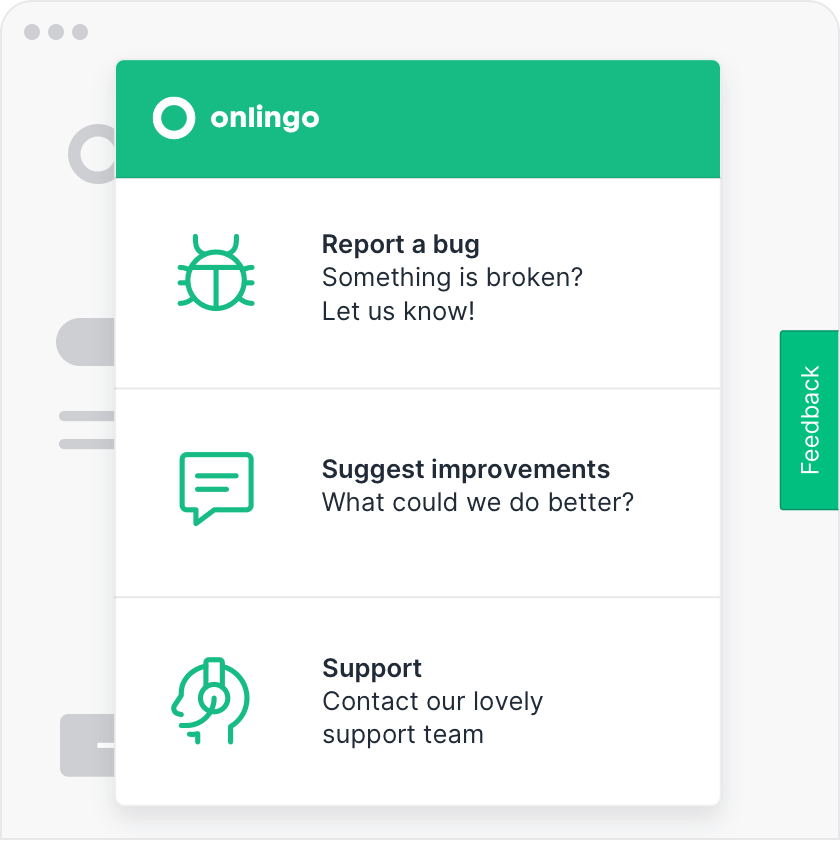 Different Ways to use Feedback Forms
Think through the type of data you want to gather. Then, make sure that how you ask for the information matches the kind of response you're looking for.
For instance, an after-chat feedback form isn't as forceful to present as a popup form is. Ask a quick question in a popup so customers can answer and get on with their browsing.
Survey and Feedback Popups
You can offer a customer feedback survey in the form of a popup. Target popups based on content to certain website content with a feedback widget.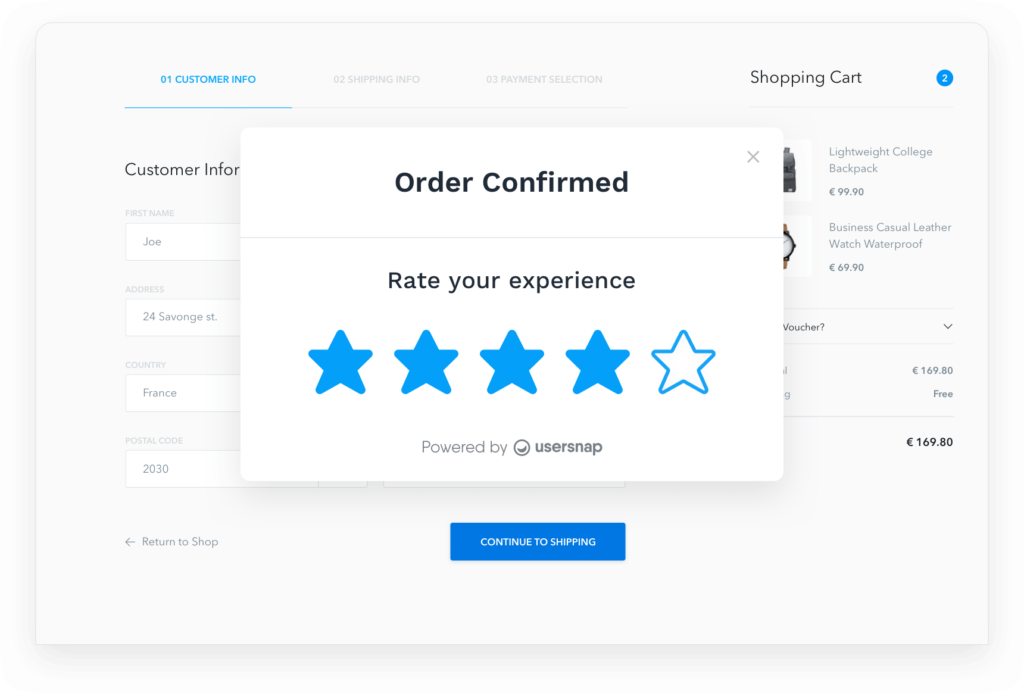 Use proper timing with an exit-intent popup or one that appears after visitors spend the amount of time you know is their critical juncture. What does this mean? When you know your visitors will leave (based on analytics), give them the pop-up right before that moment happens.
Inline/Embedded Forms
Use an embedded form that appears directly inside your content, similar to a contact form. This feedback tool is less "in your face" than a popup.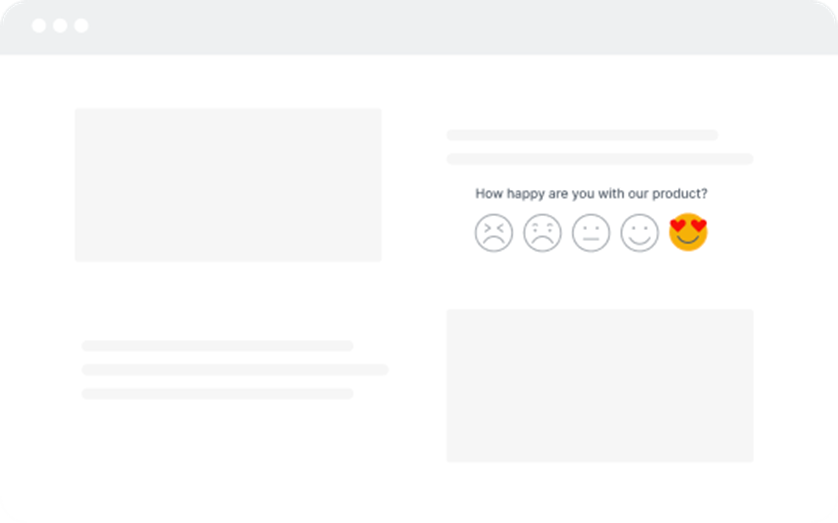 Email Messages
Survey subscribers by sending a feedback form via email.
You can ask your entire audience or only specific segments for feedback.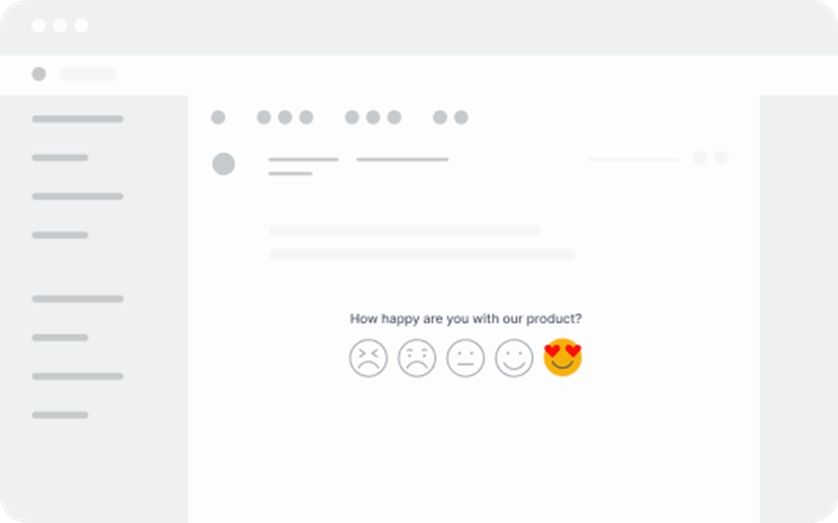 Live Chat Embedded Feedback Forms
One live chat use case for gathering feedback is presenting an "after chat" survey.
Proactively gathering feedback before sending visitors to a live representative also works well.
Side Button
A side button sits at some edge of the page, waiting for a customer to click on it, open up the feedback survey, and take action.
However, it's more of a challenge to create engagement because it's off to the side without being highly visible.
Social Media
Don't forget to send social followers to a feedback survey.
Polls, for example, work well on social media.
Pros and Cons of Different Ways of Using The Feedback Form
Popups generally receive more feedback because visitors can't avoid them. Unfortunately, they also frustrate visitors who don't want to engage yet. An inline or side website feedback form doesn't annoy anyone but they're easier to miss.
Getting customer feedback on social media or inside emails works for engaged customers. However, they'll miss people who may otherwise have filled out a website popup.
Website Feedback Form
A website feedback form is used by businesses to gather feedback and reviews about their website, overall experience, and potential bugs and errors. It allows a business to find out any issues present in the site and address them in a timely manner. Adding a website feedback form can help the development team to provide a better experience.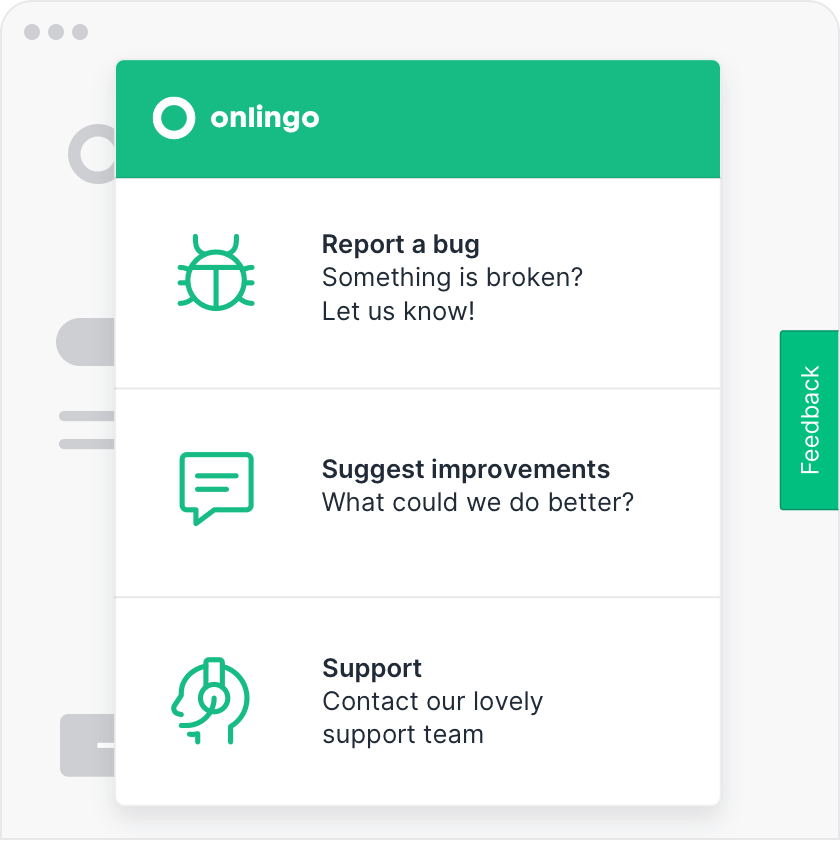 Customer Feedback Form
The customer feedback form is used to collect all of the input, insights, and information that your customers give you about how they like your services, business, or product. If you pay attention to what your customers say, you can learn a lot about them and their habits. Using customer feedback forms, information can be accumulated and used to improve the customer experience and make changes in any business.


User Feedback Form
User feedback form is often used to collect statistical and subjective information that customers give about how they like or dislike the products. This information includes what they like and don't like, how they think about a product, and what they want. Getting feedback from users is very important for businesses that want to make changes based on their users' requirements and expectations. When businesses ask specific questions about certain aspects, features, and functions, they usually get this kind of feedback from their customers and clients.
Product Feedback Form
Whenever a customer gives feedback about a product or service, it is usually collected through a product feedback form. The form can collect different types of feedback ranging from a long, passionate review written on the internet to a simple thumbs-up. Product feedback helps businesses understand what customers want, fix problems, and make their experiences better.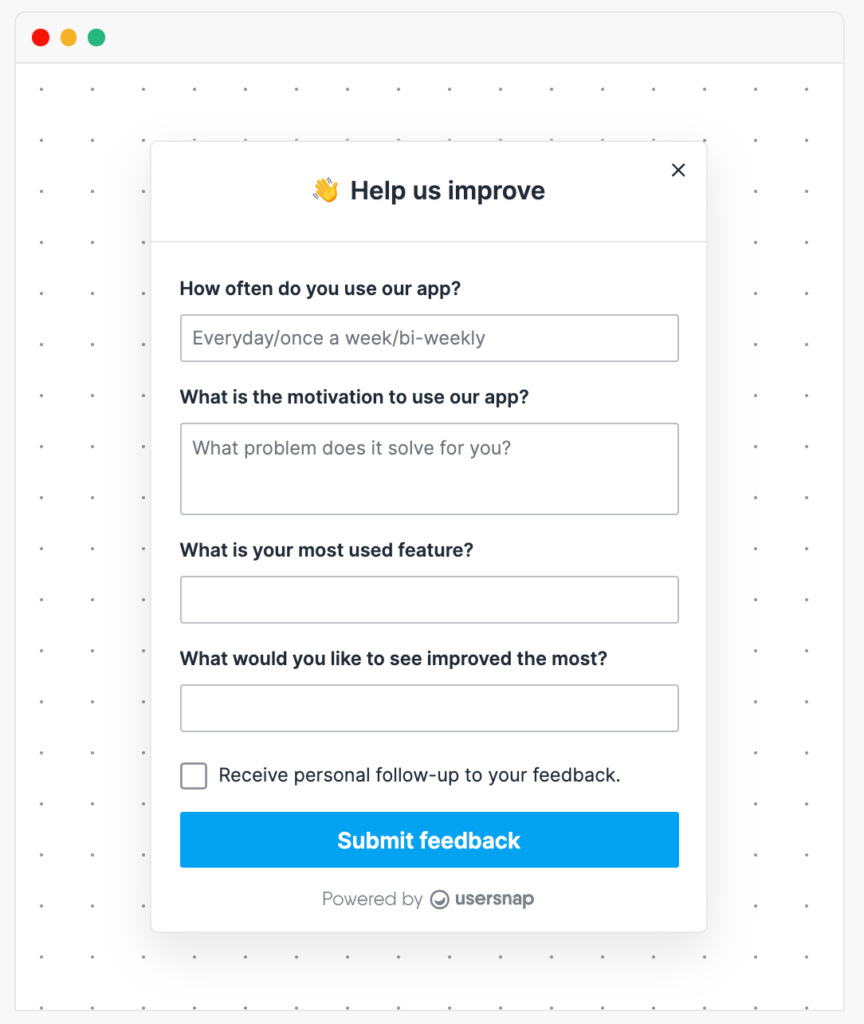 Going above and beyond involves making customers "feel special" and helping them out even when it may not make sense.
Templates & Examples of a Good Feedback Form
Have you heard of feedback form templates? Did you know that using a customer feedback template can make your job easier?
Feedback Form Template
A feedback form is a way to get people's thoughts on how well your company is doing its job. The goal is to get a better sense of the overall customer experience so you can figure out where things could be better. How do you find out what your customers think? There are a lot of ways. Examples of feedback forms could be the pop-ups on your site, chatbots, and emails.
Because of this, they can range in length from a single question to an even more in-depth one. Most businesses use a few basic types of feedback forms, but there are many different ways these forms are shown.
In a customer service form, there is a method and template called a CSAT (customer satisfaction) feedback form, you might ask for a rating of 1-5 with one to three questions such as:
Speed of service
Experience with colleagues
Quality of product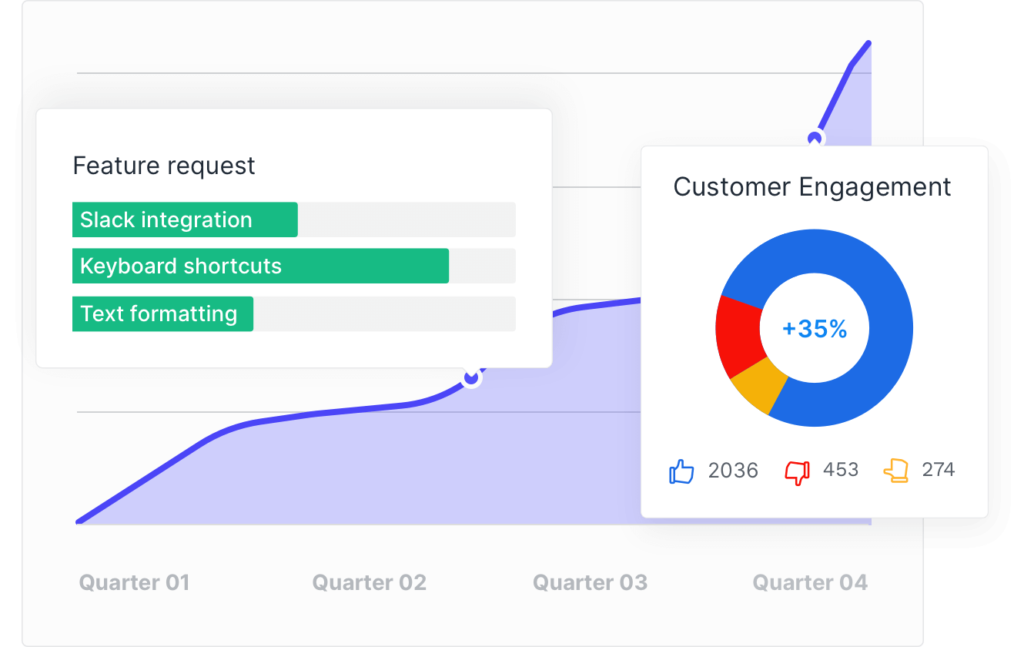 A second feedback survey template is NPS (Net Promoter Score). With a 1-10 rating, it might ask: How likely is it that you'd recommend our product?
A third sample customer feedback form is one that helps learn about customers. These are longer and ask a series of questions such as, "how would you describe your buying experience?"
Lastly, use a software feedback form when you need answers about how customers view your app.
Sample Feedback Forms in Practice
A feedback form sample is a template that allows you to determine the layout, questions, and style of your overall feedback format and template. Here are some of the most result-driven feedback form examples for your business.
Usersnap
Being one of the leading customer feedback tools, Usersnap gives businesses across different industries the ability to create a custom feedback form that takes their unique requirements and goals into consideration.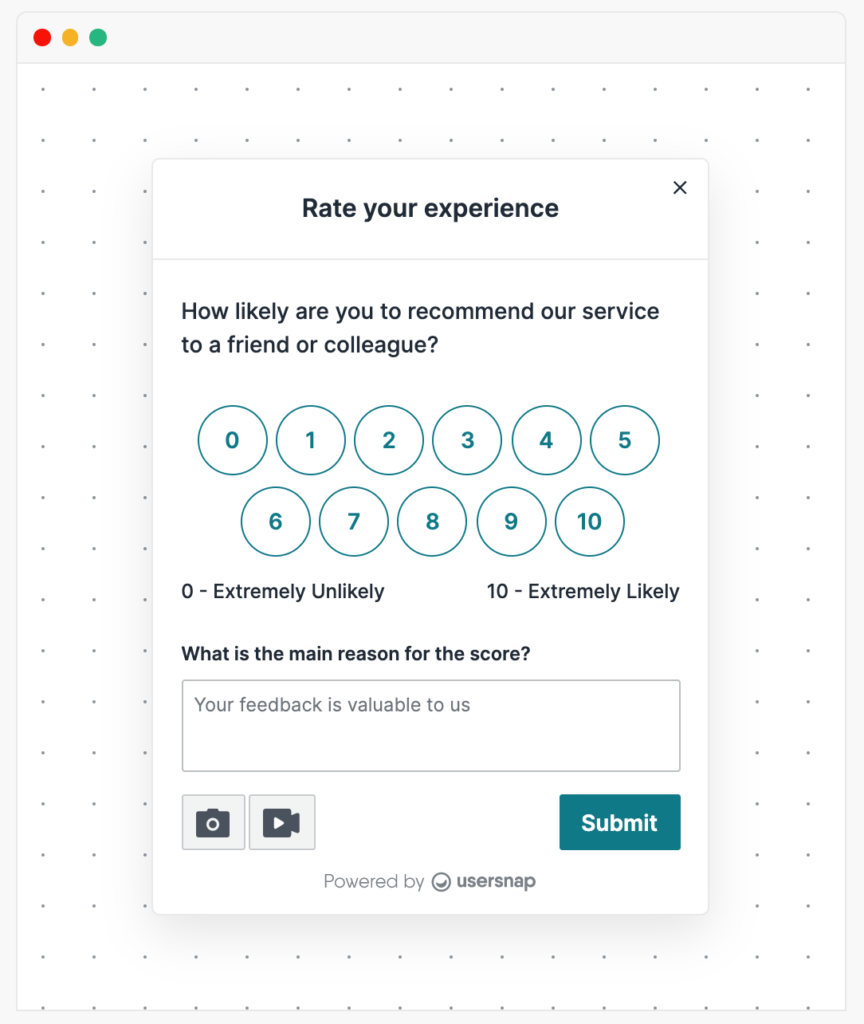 JotForm
The tool offers a wide range of feedback form templates that can be downloaded anytime. You have the option to download five forms without paying anything.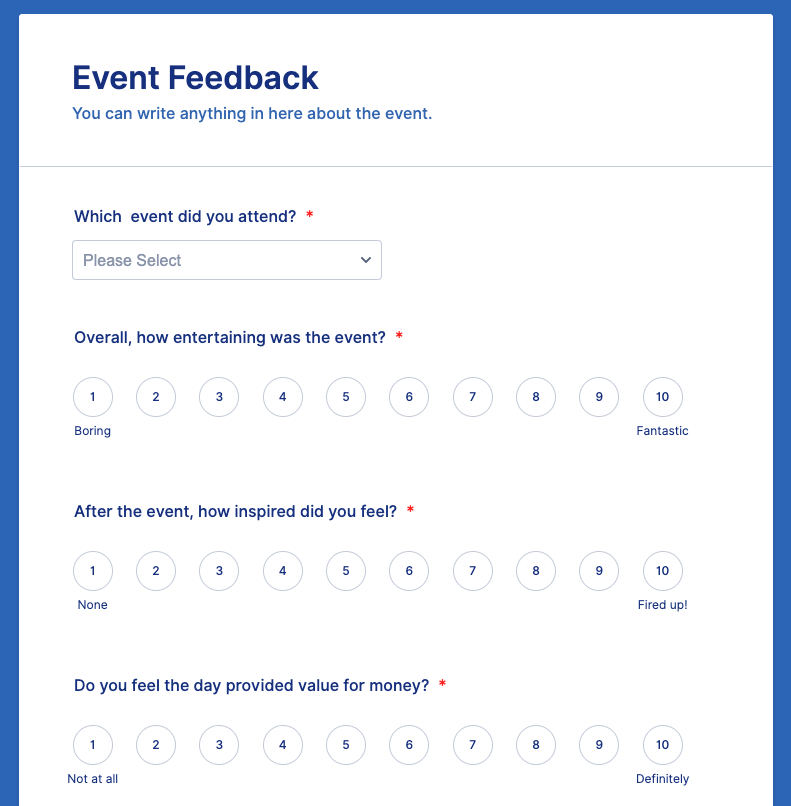 FormCrafts
If you are looking for something with a visual appeal, then FormCrafts has got a variety of options with different types of icons and illustrations.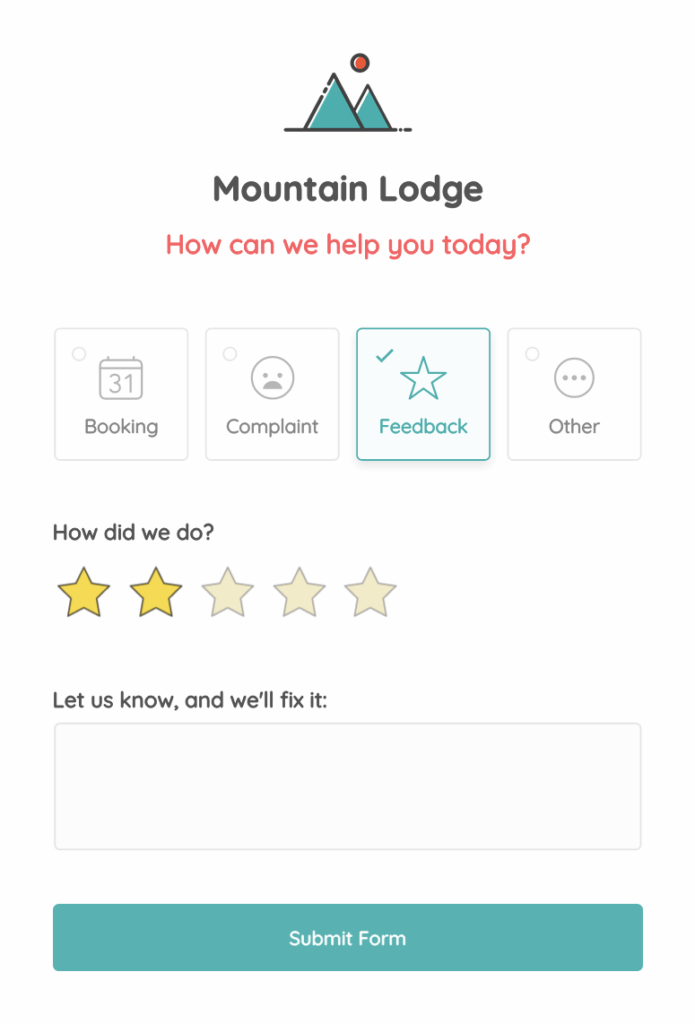 Typeform
This service also gives you designs and layouts that are visually ramped up with illustrations and background photos.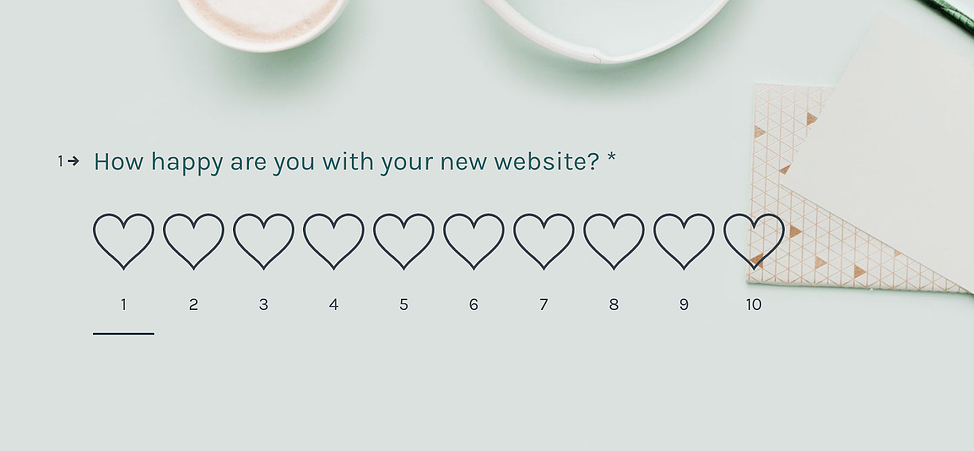 Conclusion
So now you see the types of feedback forms, the questions you can ask, and what you can reasonably expect from doing so. However, maybe you still haven't found the right tool to meet all of your needs.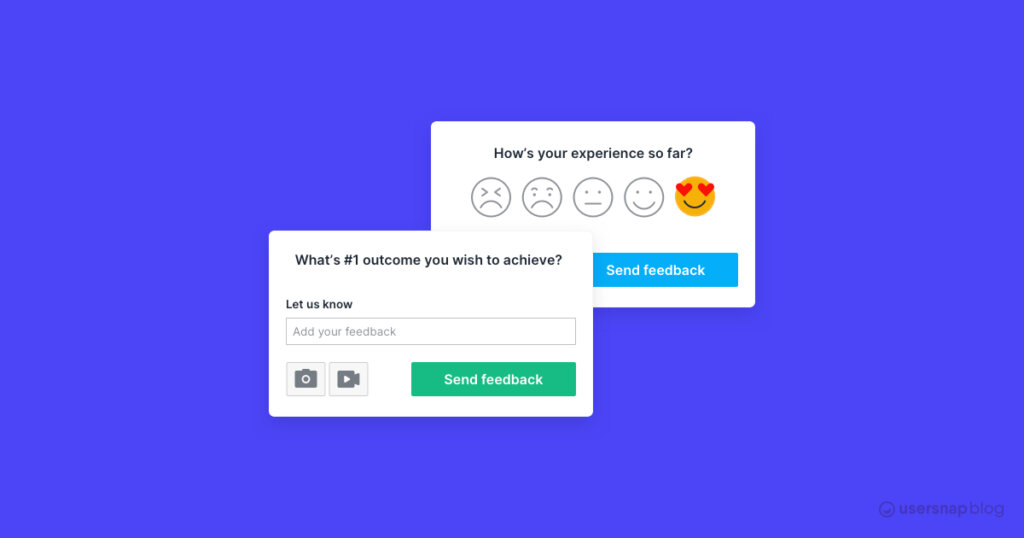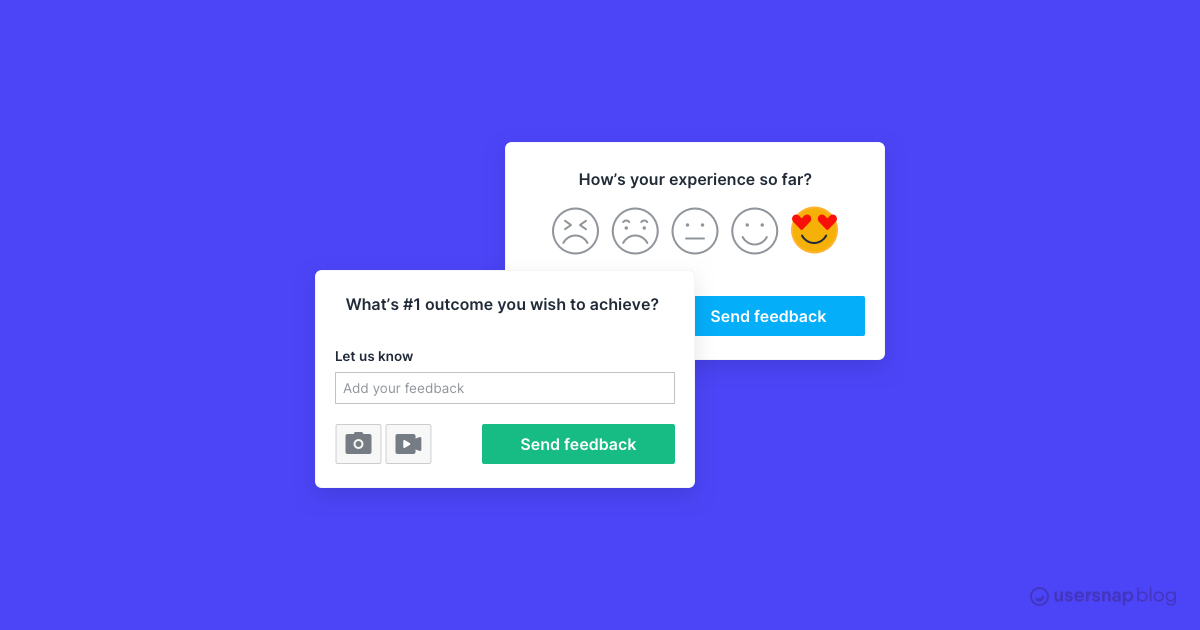 Our mini feedback surveys are used by thousands of customers. Hint hint, wink wink: come check out Usersnap 😉.
The first 15 days are a free trial, so you can see the value up-front. At Usersnap, we're powering the growth engine of our customers with customer feedback. Do you want to jump onboard?
Capture feedback easily. Get more insights and confidence.
Getting feedback has never been easier and we hope you've realized that after reading this article. Let us know what you think, your feedback is important.
And if you're ready to try out a customer feedback software, Usersnap offers a free trial. Sign up today or book a demo with our feedback specialists.