It's easy to get lost when understanding the features and steps involved in setting up a product roadmap. As a product manager, these are queries that you might get from anyone in your company, from sales and engineering to customer success and marketing. These questions sometimes can cause a lot of anxiety.
Companies frequently go about creating a product roadmap wrongly. They'll prioritize meeting deadlines over all else, which might be stressful for the team. Companies will sometimes create a roadmap once and then never look at it again or update it.
This could be a dangerous approach!
This article will give you all the necessary information you need to set up a product roadmap using the Usernap product roadmap strategy in detail.
Why You Need Prioritization in the First Place?
Feature prioritization remains one of the critical aspects of product management as project managers along with their teams ponder what features should make the cut and what should be deferred. It is important to identify the key features that will add the optimum value because:
Businesses don't have infinite resources to fund and spend countless hours on building every feature
It speaks to the brand's reputation as feature improvements and additions can tell your customers whether you listen to them or not
Improves the competitiveness of the product in a cut-throat SaaS industry where everyone is looking to gain an edge
This means that it is not an option but a necessity to find the right features from that long list of great ideas. It can serve you well to develop a process so you can identify what's most important, financially viable, realistic, and urgent. It's not going to be easy but needs to be done. It's a race against your resources and you need to decide which features best deserve your team's attention and company's resources.
What Is A Product Roadmap?
A product roadmap is a high-level visual overview of your product vision and direction over time. A product roadmap explains why and how you're building something. We can also refer to the roadmap as a strategic document that also serves as a plan for carrying out the product strategy.

Creating a product roadmap that conveys the product plan and organizes your entire organization around it is a tested and trusted technique to move ahead. Product roadmaps take time to develop, but they provide various team stakeholders' information, boosting your product leadership confidence.
Why Is Product Roadmap Planning Process Important?
Now, we understand that roadmaps describe how a product strategy comes to fruition. They take many competing priorities and compare them down to what's most important, eradicating irrelevant points by the wayside in favor of what the market and the stakeholders care about.
They're also a source of inspiration and encouragement. Individuals' effort frequently makes sense only in the context of the product roadmap and letting sceptics know about the plan and what the company believes it will provide can help them get on board.
Product development roadmap also helps organizations avoid chaos, domestic projects sliding down the deployment queue, and wasting resources on less important tasks. They are the beacon, the focal point, and the guideline for all those who bring the product to market.
✋✋ Wait! All this can be a lot, we know. Maybe take a step back and catch the ultimate guide to customer feedback first. 💖💖
Who is responsible for creating a product roadmap?
Typically, it is the product manager who is responsible for creating a product roadmap. They assemble it based on the vision and strategy of the company and then listen to the other teams involved in the production. It is an adjustable piece, so the inlet can be used as needed.
Key Things To Include On A Product Roadmap
Since the product roadmap and product plan must cover a long timeline, many key factors must be included. Product characteristics should be highlighted along with vision and strategy.
1. The product vision
This is critical as it sets your business on the path to creating a specific product strategy. It is the vision of what you want and the potential it has. This explains what you want your product to be at the end of the project.
2. Product roadmap strategy
This is the case you build for your product. You want internal and external stakeholders to know the overall business objective of the project. You are expected to explain how this product will benefit the company and integrate with the vision already defined.
3. The Requirements needed for the product development roadmap
You need the information to describe your needs. Talk to your sales team and customer service group. They know how end-users feel about current products, you need to understand customer feedback on your product and feature requests. This helps you determine which features should be prioritized with future product releases. Here's an example of the research we did to determine our basic segments when creating a product roadmap: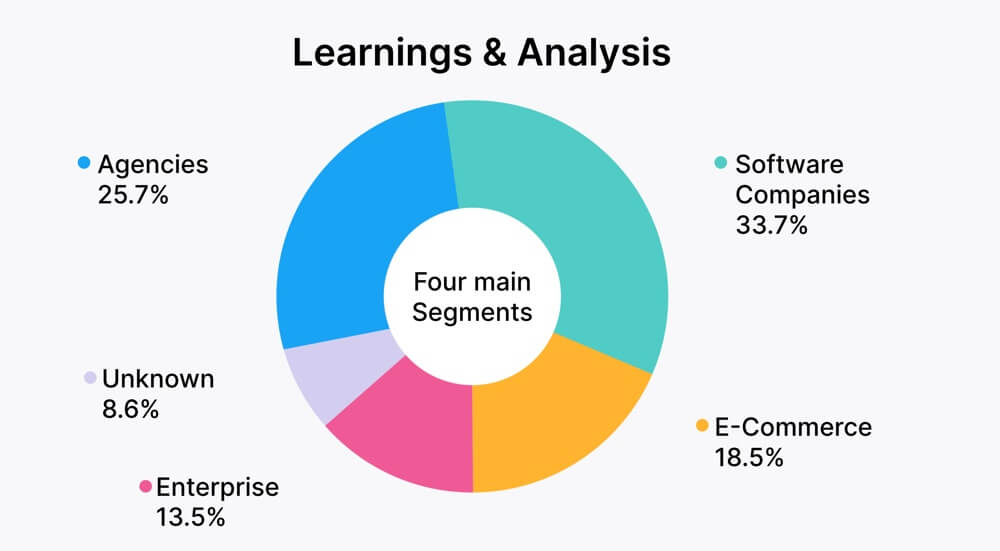 4. Product plan
This is the strategy that describes how your company will ensure that the product vision is met. This is how the plan will be executed as the project progresses. Prioritize and set specific goals on this timeline.
5. Markers for the product roadmap planning process
These are important when it comes to keeping everyone informed about the time set. While you may not have exact dates, knowing where the indicators are to track work progress is essential to moving forward.
6. Metrics
Make sure all teams know what the metrics are and that they all measure things the same way. Everyone must speak the same language, so there is no confusion about what is being measured.
Invest in a Great Feedback Tool
When it comes to scaling your operations in a successful manner, you'll need to invest in solutions that make it easier to be more efficient and better understand your customers. This means it becomes important to invest in an effective and feature-rich feedback tool that can help you collect and evaluate the feedback that can guide your future development. Here's why you need to invest in feedback software for proper feature prioritization as well as product roadmap prioritization.
Make it easy for your consumers to get in touch with you about your product roadmap, additional features, and positive developments by providing them with a direct, contextual route to do so.
Take client feedback into account while developing your product roadmap so that you can guarantee that everything you release has maximum effect.
Spend your product and development efforts with a thorough grasp of the features and functions your consumers are most enthusiastic about, and which work will provide the best ROI.
As a medium of communication, utilise your roadmap to showcase product progress, increase customer happiness, drive revenue growth, and turn users into dedicated fans.
Tango Early Adoption Success with Usersnap
Tango invested in Usersnap which enabled them to acquire insights related to the brand's users' key pain points, feature requests, and expectations. It also allowed them to prioritize feature development and enhance product design to deliver better value for their users. That's exactly why Tango was able to gain over 10,000 early adopters and was voted the top product of the week on Product Hunt.
Pocket Prep Delivers Better Value with Usersnap
One of the leading exam preparation services, Pocket Prep, trusted Usersnap to improve its feedback management. With Usersnap, the brand was able to cut down support time, deliver contextual support within 60 seconds, and build an effective two-way communication channel that empowered users to provide valuable feedback making them more involved stakeholders in product development.
Feature Prioritization Starts with a Shared Vision & Purpose
Deciding which features deserve your company's resources and the development team's time and effort is easier said than done. You need to build and foster a collaborative work environment where ideas and opinions are shared freely through informational visibility and business process transparency. Without a culture of coordination and horizontal as well as vertical communication, feature prioritization turns into a wasteful endeavor.
Make sure that you have deployed an effective and uniform process to identify high-priority features and your team along with the customers share your vision and purpose.
How Not to Conduct Feature Prioritization
Product roadmap prioritization can only work if you have implemented the correct ways to evaluate user feedback and insights. This means that for the right product roadmap prioritization, you also need to ensure the right feature prioritization. If one fails, the other will too. Here are some of the ways to avoid when identifying which features to prioritize:
Don't build a new feature just because you have the technical capability to do so. Always prioritize what users want over what you can do.
Don't let the vocal minority of power or niche users dictate your feature prioritization process. The focus should be on features that address the concerns of a large user base.
Don't try to build everything at once as that totally defeats the purpose of prioritizing features.
Don't just build a feature because it is easy to do so. If it's not required, it will still eat up resources.
Don't focus too much on what your competition is doing. Only add that feature if your users are demanding it and it will make your product more competitive.
How To Build A Product Roadmap using Labels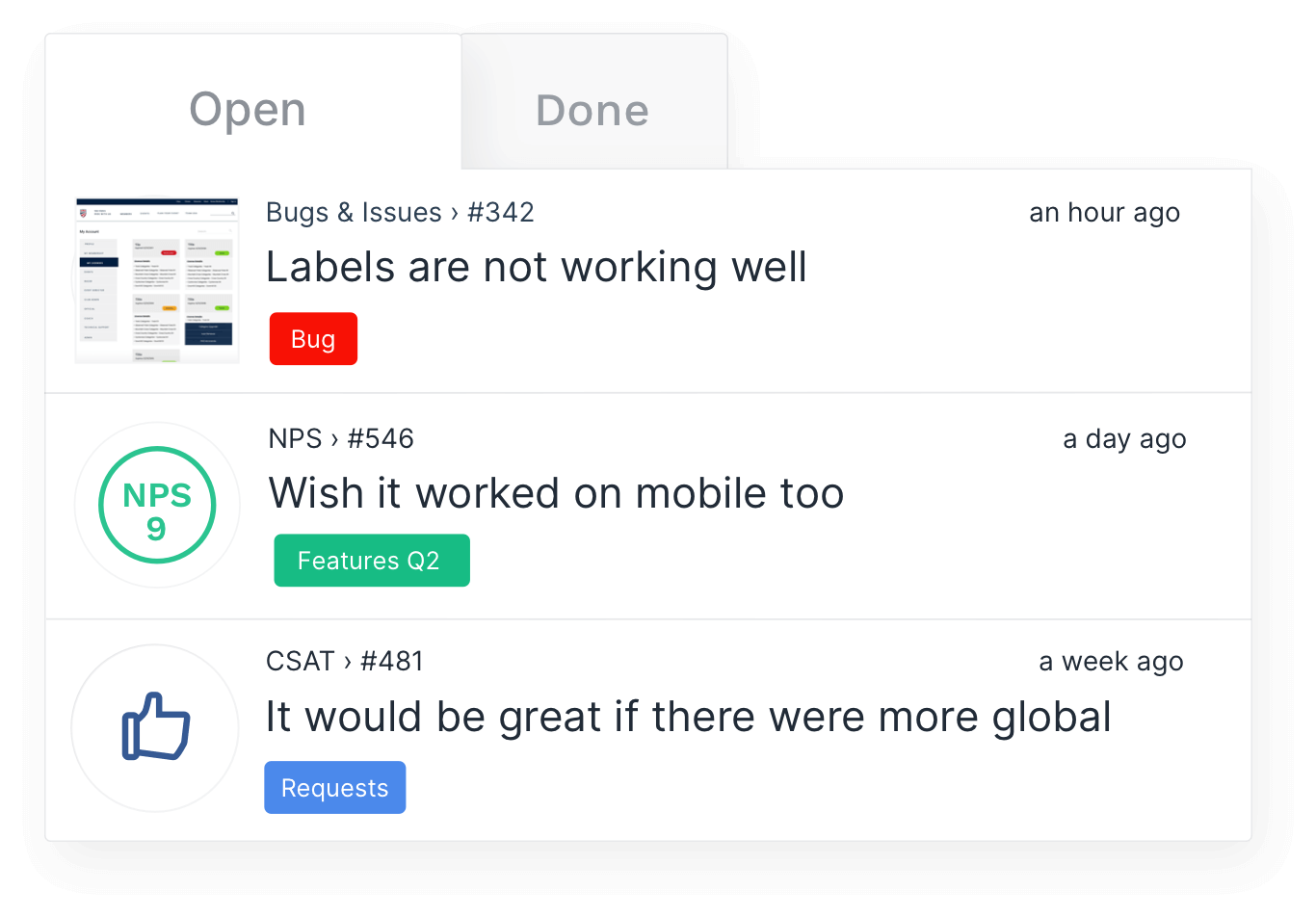 What are labels?
As the name implies, labels empower engineers, testers, or project managers to categorize the tickets and easily find relevant tasks.
This way, you can easily understand what the ticket is about just by skimming over it. No need to decipher more descriptions or open up the task to see all details. The relevant information is right in front of you.
Choose a Prioritization Model that Fits You
There are numerous ways for a SaaS business to prioritize its features as well as to conduct roadmap prioritization. It is essential to understand your customers along with the primary purpose of the product or service you are offering. Depending on your product management style and priorities, you can use the following methods:
Build feature themes to prevent selection challenge
Categorize features by urgency and time and budget viability
Evaluate effort to impact ratio
Create a priority scorecard to calculate scores by custom parameters
Divide features in terms of basic, performance, and nice-to-have functionalities
Add and Manage Labels to Prioritize Feedback with Usersnap
Usersnap offers a "label" feature that enables you to categorize and sort different types of feedback based on a wide range of criteria. Each feedback item that shows up in the Usersnap dashboard can have its own label allowing you to ensure effective feedback management across different departments. Some of the key features include:
Adding and removing existing labels and creating new ones when required
The label can be modified by clicking on the "Edit" button
To create a new label, type the name and click on the "Create" button
Labels can be configured so they show up on the widget for your users
Qualitative Prioritization
As the name implies, qualitative feedback prioritization entails those instances where you cannot quantify the importance or scope of a comment or an insight with precision. That's why you take other aspects of feedback into consideration such as customer's heated response or the sheer frustration of multiple users.
You can use custom labels to tag such instances and make that type of feedback a part of your product management strategy.
Let's see the different kind of labels you can use:
Priority levels – low / medium / high

Type of ticket – question / bug / issue / improvement / test / suggestion

Type of bug – GUI / functionality / typo

People – assignee / reporter

Time limits – sprint number / deadline  

Device types – mobile / tablet / laptop

Status – open / closed / sent to integration / progress

Integration – Jira, Trello, Asana, Zendesk..
These labels make navigation much easier and drastically simplify your ticket searching process. You can create any sort of label to add to your tickets. With this increased visibility, tackling urgent tickets became easier. You would only need to filter for the right labels.
"A good product roadmap is one of the most important and influential documents an organization can develop, publish, and continuously update."
C. Todd Lombardo, Author of Product Roadmapping
How to Use Filtering Labels
Filtering is the main method of using labels to surface your desired tickets in a list form. This could then be used as a development roadmap.
To filter labels, you first need to create a list and type in the labels of the tickets you are interested in.
For example, filtering for:
High priority

Bug

Assignee: self (Ashley)

Status: Open
is going to display all open status bug tickets with a high priority for oneself.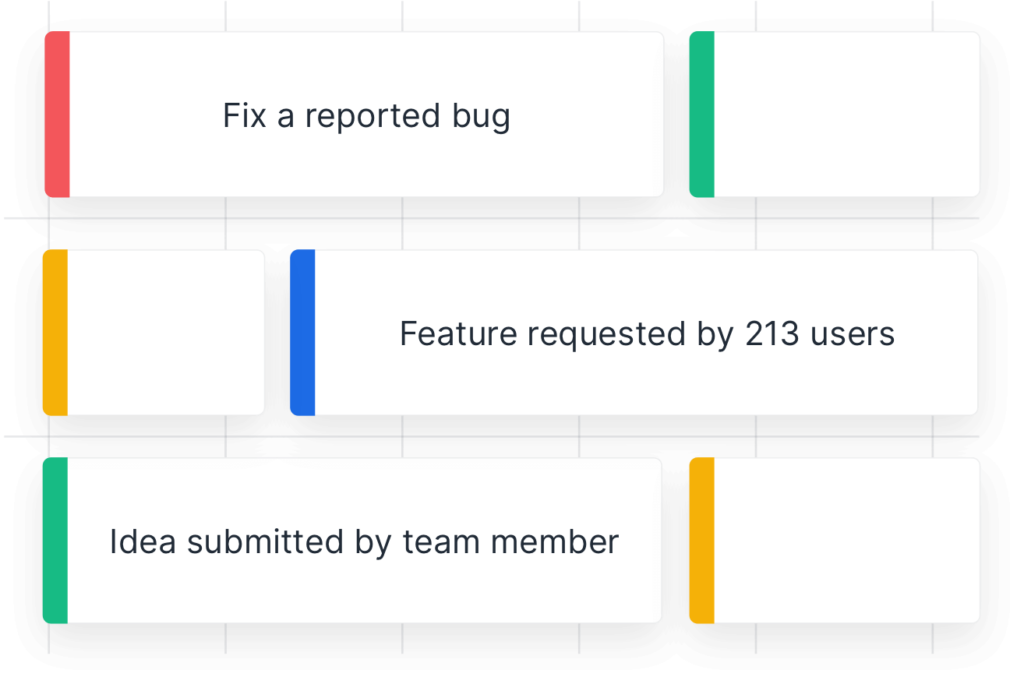 After filtering, when you have created the list of tickets needed, you can name and personalize each list. You can have as many lists as you want. They are all going to be displayed in your Project dashboard. This way, you can have a neat and organized list of lists that can offer you the visibility you need for managing your tasks.
The best thing about labels and lists is that you can create your dashboard view exactly how you want to. But because we, at Usersnap, always go the extra mile, we have provided you below with filtering suggestions for setting up lists for Developers and Project Managers.
How Product Managers can make Developer's life easier
Developers need to set up lists with specific criteria so they can easily identify the most important projects and have a good view of what is to come.
Creating lists in order of importance:
Developer's time is extremely valuable and needs to be directed to tasks in order of importance. Here is how such a list would look like
List: Urgent
Labels:

prio high, sprint, open, dev name (assignee)
List: Other bugs to fix
Labels:

bugs, improvements, test, open
Creating lists by the project:
List: Project X
Labels:

project X, open, critical, feature, typo, question, suggestion
List: Project Y
Labels

: project Y, open, critical, feature, typo, question, suggestion
Creating lists according to the product roadmap:
List: Started
Labels:

started, open, dev name (assignee)
List: Outstanding
Labels

: not started, open
Those kinds of lists will give developers the right tools to track their projects in alignment with the business needs. They will be able to capitalize their time wisely and reduce the time needed for those dreaded administration tasks.
How labels can make Project Manager's life easier 
PMs carry a heavyweight on their shoulders. They are responsible for ensuring that projects get delivered on time with minimal setbacks.
To do their job successfully, project managers need to manage not only projects but also people. Therefore, we can set the following lists:
Project list:
Project X

Project Y

Project Z

Urgent

Current sprint
Subject Matter Experts' tasks:
Dev A's tasks

Dev B's tasks

Tester C's tasks

Tester D's tasks
All projects and tasks neatly organized on one screen is every Project Manager's dream. It cuts out so much time invested in switching between spreadsheets and emails.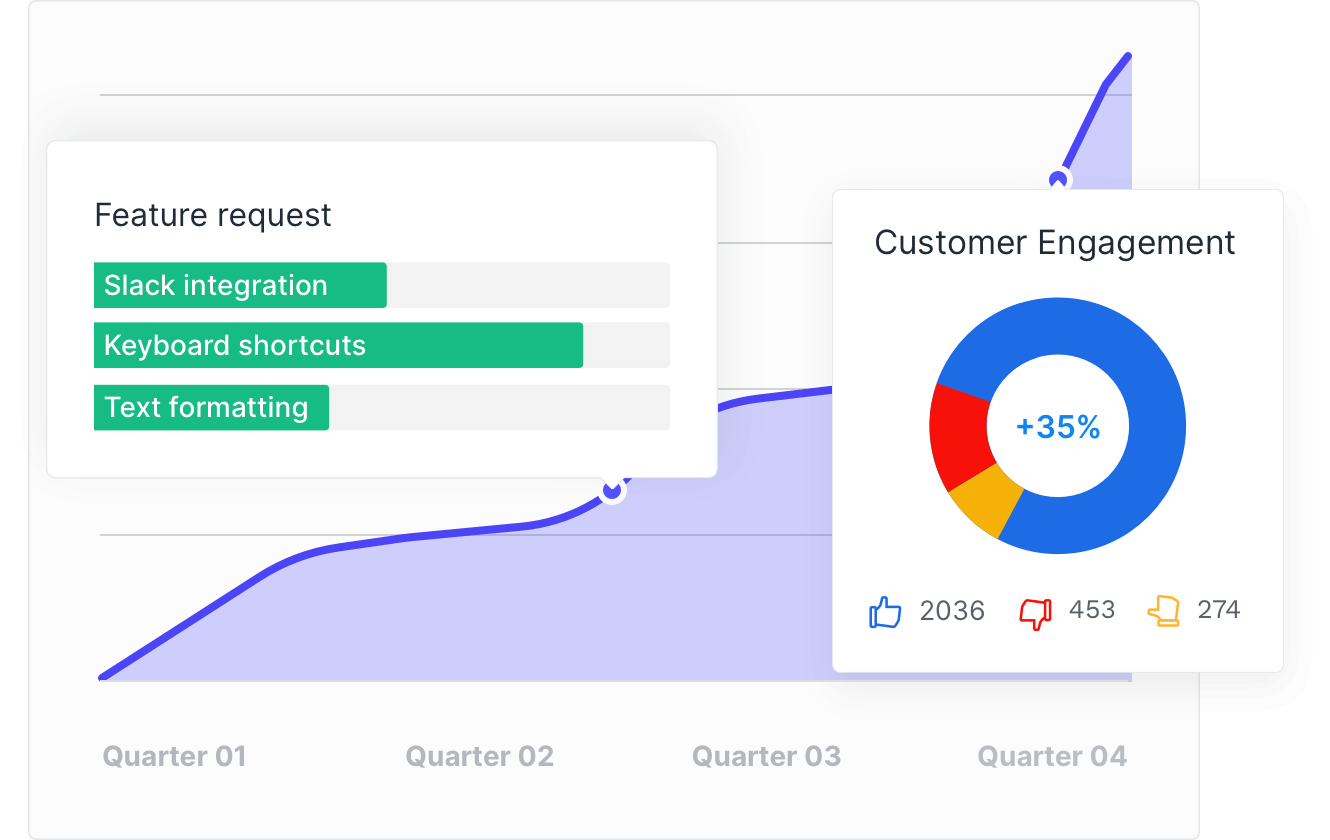 You can manage bug and feature tickets as well as development and testing tasks easily all in Usersnap. You can directly use this as your product roadmap or send the tagged tickets to other platforms with Usersnap integrations.
Product managers can consolidate comments, recommendations, and problems to organise their development sprints with labels. It also serves as a kind of identifier for businesses. Labels make it a breeze to locate a prior ticket dealing with a similar subject matter if you ever need to refer to one.
Identifying the importance of feature requests is much simpler when you actually know the count and volume of sales that you will influence. With Usersnap, project managers can create labels that describe characteristics, specific products or topics. They also have the option to tag their feedback and each feedback may be marked with numerous labels.
Moreover, they can view analytics by going to the statistics page and checking the bar chart. They can also adjust the date option to compare labels of various time periods. Labels give project managers substantial control over how different types of feedback are managed and prioritized.
In order to efficiently manage and carry out development activities as teams incrementally create each project layer by layer, project prioritization is essential. Whether tackling bugs, features, or user stories, the development team's capacity to execute major projects depends on the innate ability of each Project Manager on the staff to efficiently prioritize and arrange the development process.
With Usersnap labels, the job of the project manager becomes more convenient as they can define the criteria and characteristics of each label. When the project is handed over to the development team, they can use the labels to identify which features, bug fixes, and recommendations are critical and high priority. This also allows businesses to cut down the number of meetings and conventional communication which saves time and company resources.
Integrate with other project management tools
While Usersnap is a great stand-alone bug tracking system, we know that your processes may involve additional project management and bug tracking tools and solutions.
And that's why we've made integration extra easy, with more than 20 tools, including Jira, Trello, Asana and Pivotal Tracker.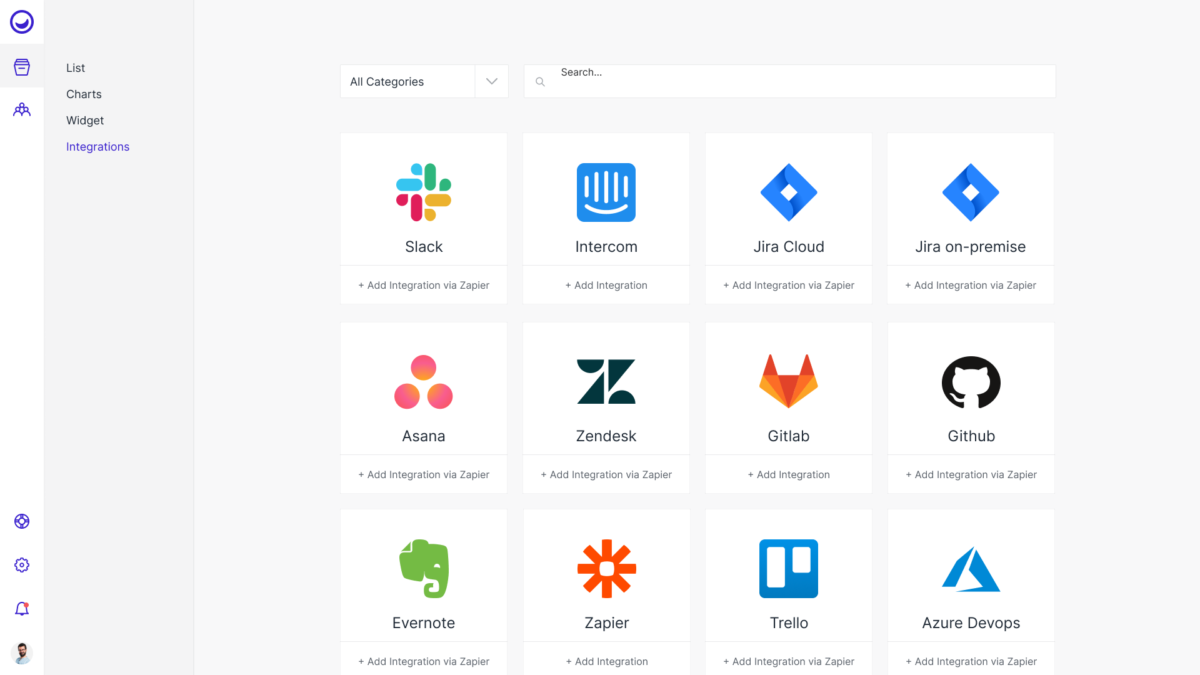 For example with Jira, all you need to do is connect Jira from Usersnap Project settings and let tickets get automatically sent to over. Enabling developers and project managers to follow up in Jira.
If desired, you can first manage and categorize the tickets within Usersnap. Just label those relevant for developers who work with Jira and bulk send them all at once afterwards.
Conclusions for Your Product Roadmap
Productivity is key in software development and quality assurance. There's always room for improvement. So go ahead and start labeling your tickets. Make better use of your resources and time.
You can also You can sign up for free to learn more about Usernap.
The more tools you have, the better your product roadmap will be.
Not using Usersnap yet? You can sign up for free here!
Capture feedback easily. Get more insights and confidence.
Getting feedback has never been easier and we hope you've realized that after reading this article. Let us know what you think, your feedback is important.
And if you're ready to try out a customer feedback software, Usersnap offers a free trial. Sign up today or book a demo with our feedback specialists.