It's easy to get lost when understanding the features and steps involved in setting up a product roadmap. As a product manager, these are queries that you might get from anyone in your company, from sales and engineering to customer success and marketing. These questions sometimes can cause a lot of anxiety.
Companies frequently go about creating a product roadmap wrongly. They'll prioritize meeting deadlines over all else, which might be stressful for the team. Companies will sometimes create a roadmap once and then never look at it again or update it.
This could be a dangerous approach!
This article will give you all the necessary information you need to set up a product roadmap using Usernap product roadmap strategy in details.
What Is A Product Roadmap?
A product roadmap is a high-level visual overview of your product vision and dirrection over time. A product roadmap explains why and how you're building something. We can also refer to roadmap as a strategic document that also serves as a plan for carrying out the product strategy.

Creating a product roadmap that conveys the product plan and organizes your entire organization around it is a tested and trusted technique to move ahead. Product roadmaps take time to develop, but they provide various team stakeholders' information, boosting your product leadership confidence.
Why Is Product Roadmap Planning Process Important?
Now, we understand that roadmaps describe how a product strategy comes to fruition. They take many competing priorities and compare them down to what's most important, eradicating irrelevant points by the wayside in favor of what the market and the stakeholders care about.
They're also a source of inspiration and encouragement. Individuals' effort frequently makes sense only in the context of the product roadmap, and letting skeptics know about the plan and what the company believes it will provide can help them get on board.
Product development roadmap also helps organizations avoid chaos, domestic projects sliding down the deployment queue, and wasting resources on less important tasks. They are the beacon, the focal point, and the guideline for all those who bring the product to market.
✋✋ Wait! All this can be a lot, we know. Maybe take a step back and catch the ultimate guide to customer feedback first. 💖💖
Who is responsible for creating a product roadmap?
Typically, it is the product manager who is responsible for creating a product roadmap. They assemble it based on the vision and strategy of the company and then listen to the other teams involved in the production. It is an adjustable piece, so the inlet can be used as needed.
Key Things To Include On A Product Roadmap
Since the product roadmap and product plan must cover a long timeline, many key factors must be included. Product characteristics should be highlighted along with vision and strategy.
1. The product vision
This is critical as it sets your business on the path to creating a specific product strategy. It is the vision of what you want and the potential it has. This explains what you want your product to be at the end of the project.
2. Product roadmap strategy
This is the case you build for your product. You want internal and external stakeholders to know the overall business objective of the project. You are expected to explain how this product will benefit the company and integrate with the vision already defined.
3. The Requirements needed for the product development roadmap
You need the information to describe your needs. Talk to your sales team and customer service group. They know how end-users feel about current products, you need to understand customer feedback on your product and feature requests. This helps you determine which features should be prioritized with future product releases. Here's an example of the research we did to determine our basic segments when creating a product roadmap: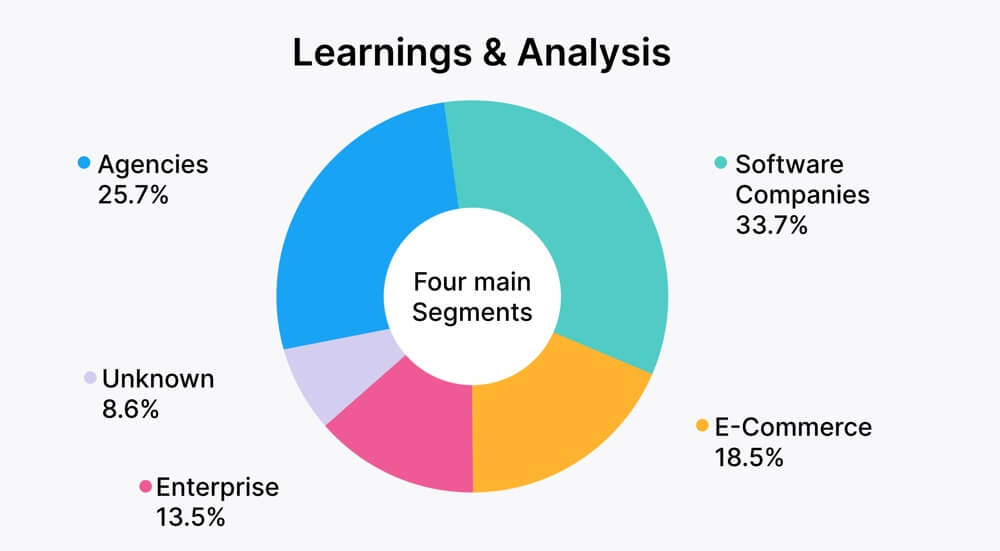 4. Product plan
This is the strategy that describes how your company will ensure that the product vision is met. This is how the plan will be executed as the project progresses. Prioritize and set specific goals on this timeline.
5. Markers for the product roadmap planning process
These are important when it comes to keeping everyone informed about the time set. While you may not have exact dates, knowing where the indicators are to track work progress is essential to moving forward.
6. Metrics
Make sure all teams know what the metrics are and that they all measure things the same way. Everyone must speak the same language, so there is no confusion of what is being measured.
How To Build A Product Roadmap using Labels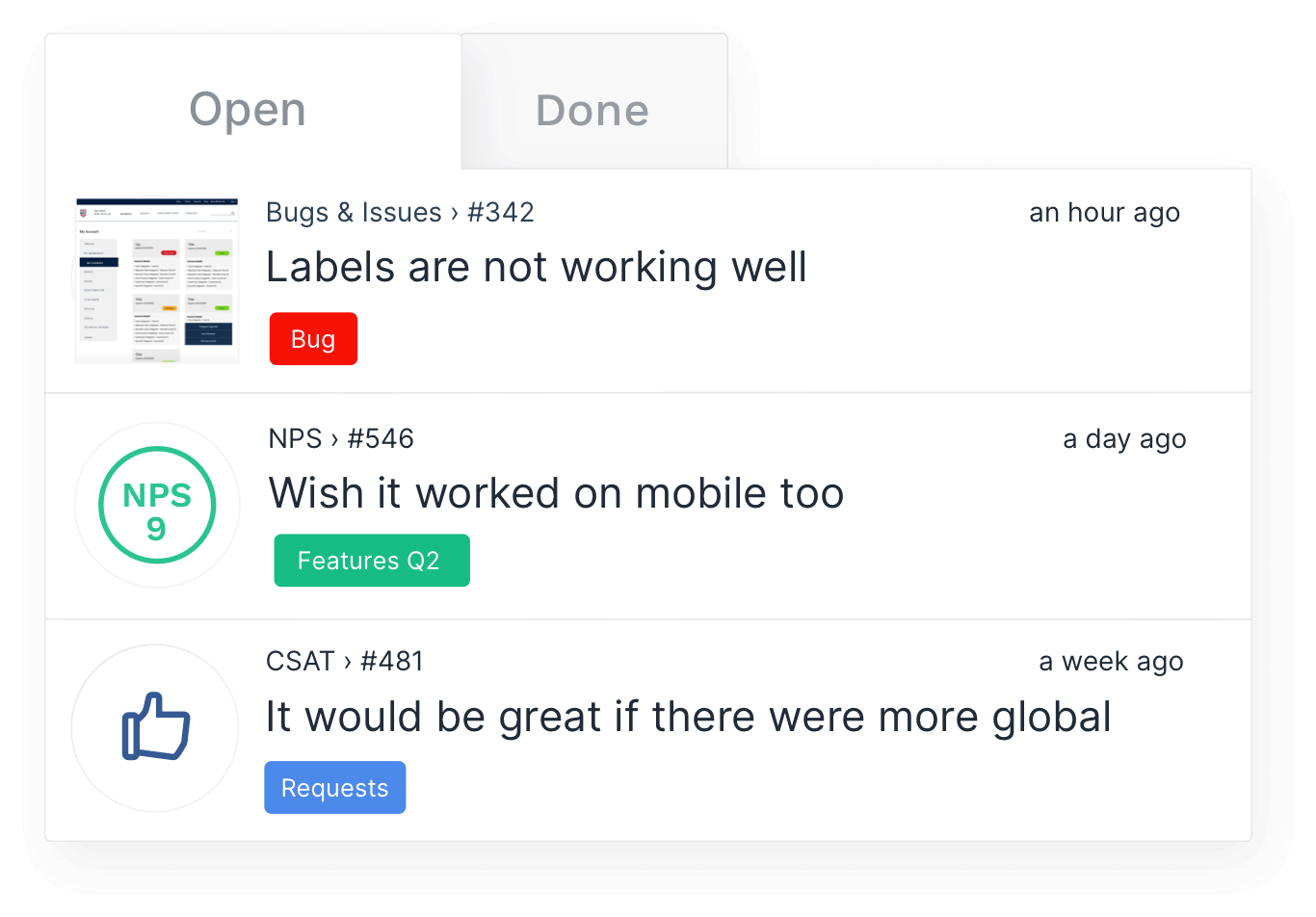 What are labels?
As the name implies, labels empower engineers, testers, or project managers to categorize the tickets and easily find relevant tasks.
This way, you can easily understand what the ticket is about just by skimming over it. No need to decipher more descriptions or open up the task to see all details. The relevant information is right in front of you.
Let's see the different kind of labels you can use:
Priority levels – low / medium / high

Type of ticket – question / bug / issue / improvement / test / suggestion

Type of bug – GUI / functionality / typo

People – assignee / reporter

Time limits – sprint number / deadline  

Device types – mobile / tablet / laptop

Status – open / closed / sent to integration / progress

Integration – Jira, Trello, Asana, Zendesk..
These labels make navigation much easier and drastically simplify your ticket searching process. You can create any sort of label to add to your tickets. With this increased visibility, tackling urgent tickets became easier. You would only need to filter for the right labels.
"A good product roadmap is one of the most important and influential documents an organization can develop, publish, and continuously update."
C. Todd Lombardo, Author of Product Roadmapping
How to Use Filtering Labels
Filtering is the main method of using labels to surface your desired tickets in a list form. This could then be used as a development roadmap.
To filter labels, you first need to create a list and type in the labels of the tickets you are interested in.
For example, filtering for:
High priority

Bug

Assignee: self (Ashley)

Status: Open
is going to display all open status bug tickets with a high priority for oneself.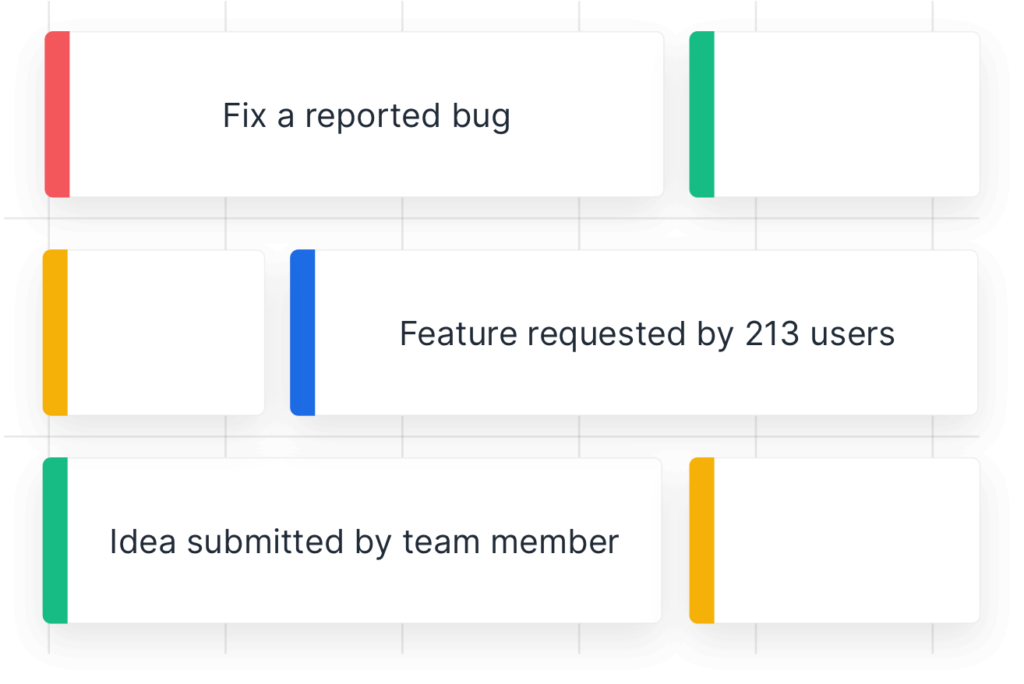 After filtering, when you have created the list of tickets needed, you can name and personalize each list. You can have as many lists as you want. They are all going to be displayed in your Project dashboard. This way, you can have a neat and organized list of lists that can offer you the visibility you need for managing your tasks.
The best thing about labels and lists is that you can create your dashboard view exactly how you want to. But because we, at Usersnap, always go the extra mile, we have provided you below with filtering suggestions for setting up lists for Developers and Project Managers.
Developer's view
Developers need to set up lists with specific criteria so they can easily identify the most important projects and have a good view of what is to come.
Creating lists in order of importance:
Developer's time is extremely valuable and needs to be directed to tasks in order of importance. Here is how such a list would look like
List: Urgent
Labels:

prio high, sprint, open, dev name (assignee)
List: Other bugs to fix
Labels:

bugs, improvements, test, open
Creating lists by the project:
List: Project X
Labels:

project X, open, critical, feature, typo, question, suggestion
List: Project Y
Labels

: project Y, open, critical, feature, typo, question, suggestion
Creating lists according to the product roadmap:
List: Started
Labels:

started, open, dev name (assignee)
List: Outstanding
Labels

: not started, open
Those kinds of lists will give developers the right tools to track their projects in alignment with the business needs. They will be able to capitalize their time wisely and reduce the time needed for those dreaded administration tasks.
Project Manager's View
PMs carry a heavy weight on their shoulders. They are responsible for ensuring that projects get delivered on time with minimal setbacks.
To do their job successfully, project managers need to manage not only projects, but also people. Therefore, we can set the following lists:
Project list:
Project X

Project Y

Project Z

Urgent

Current sprint
Subject Matter Experts' tasks:
Dev A's tasks

Dev B's tasks

Tester C's tasks

Tester D's tasks
All projects and tasks neatly organized on one screen is every Project Manager's dream. It cuts out so much time invested in switching between spreadsheets and emails.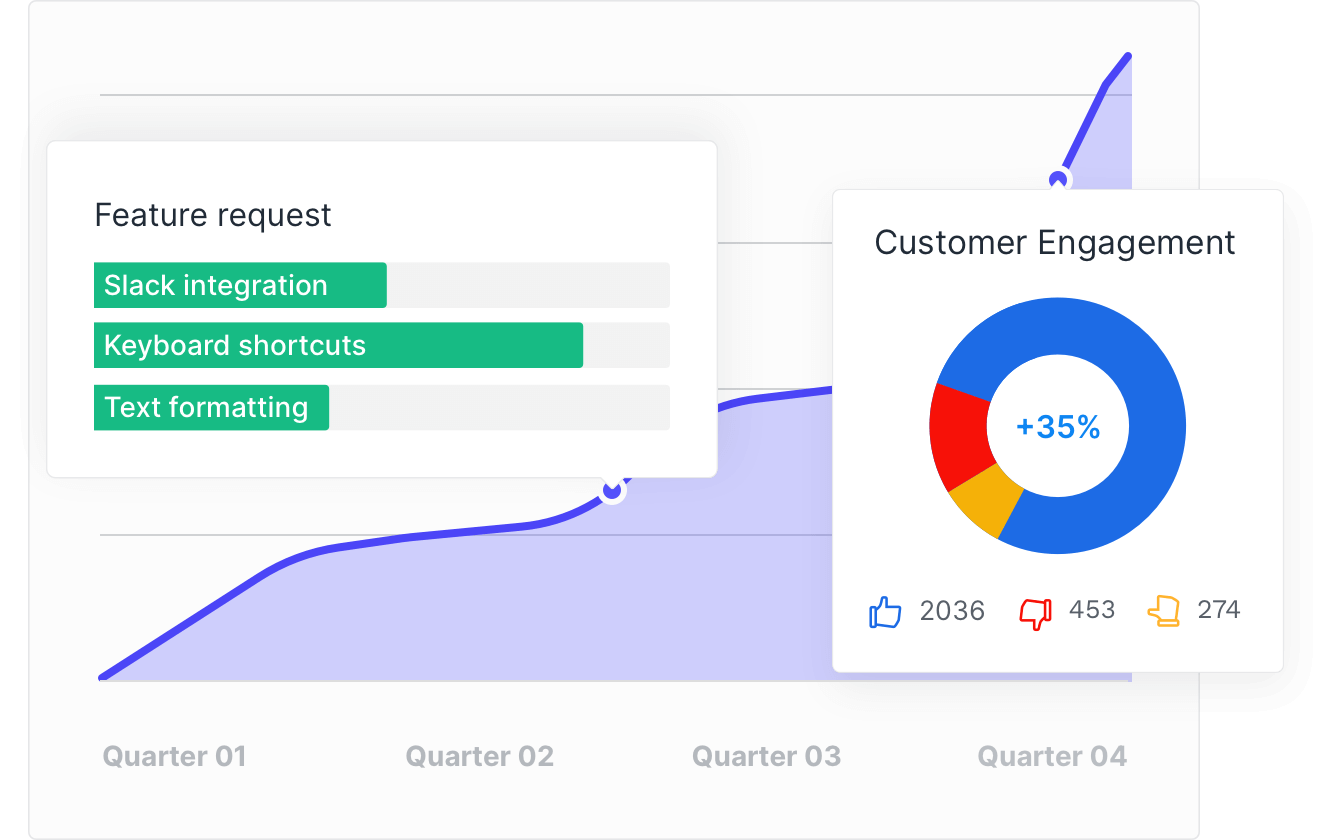 You can manage bug and feature tickets as well as development and testing tasks easily all in Usersnap. You can directly use this as your product roadmap or send the tagged tickets to other platforms with Usersnap integrations.
Integrate with other project management tools
While Usersnap is a great stand-alone bug tracking system, we know that your processes may involve additional project management and bug tracking tools and solutions.
And that's why we've made integration extra easy, with more than 20 tools, including Jira, Trello, Asana and Pivotal Tracker.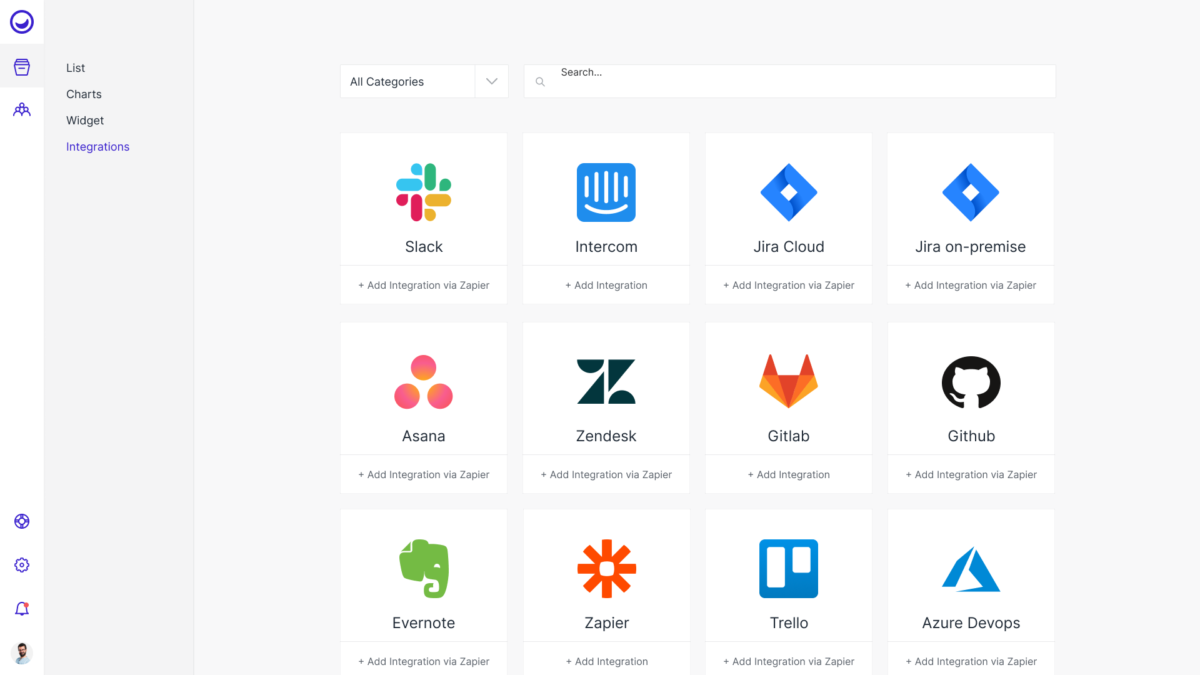 For example with Jira, all you need to do is connect Jira from Usersnap Project settings and let tickets get automatically sent to over. Enabling developers and project managers to follow up in Jira.
If desired, you can first manage and categorize the tickets within Usersnap. Just label those relevant for developers who work with Jira and bulk send them all at once afterwards.
Conclusions for Your Product Roadmap
Productivity is key in software development and quality assurance. There's always room for improvement. So go ahead and start labeling your tickets. Make better use of your resources and time.
You can also You can sign up for free to learn more about Usernap.
The more tools you have, the better your product roadmap will be.
Not using Usersnap yet? You can sign up for free here!