Positive review response examples provide proof to the entire audience that your business is reliable. It's vital customer feedback you need to validate that what your business is doing is on the right track! If you only reply to negative reviews, that's all prospective customers will see and it will give them a bad first impression of your company. There's been some anecdotal evidence to suggest that 4 out of 5 consumers will not purchase a product if they see an influx of negative reviews.
Just as we've seen with the user feedback we get from our customers, there's a tendency for users to review a negative experience rather than a positive one. For this reason, businesses have an obligation to reply more to negative reviews. This leads to the positive reviewers feeling a bit neglected. This is why we're addressing this topic here, so you can give your customers their 💐💐💐 (flowers) when they deserve them.
This article will uncover how to respond to reviews using real-world examples, templates, and best practices.
But first things first, you should understand a few things.
What Makes a Positive Review?
Building a positive brand reputation is important for every business. Customers used to transfer information through word of mouth. Reviews are the digital-age equivalent of this.
Reviews let your prospective customers know the quality of your service, which helps you gain new customers. In particular, review response rates in Google search lift your SEO ranking, which leads to more eyeballs and higher customer conversion rates over time.
It's true that 97% of consumers that read reviews also read a brand's responses. Your positive review response also shows how you treat your customers. If you're rude, aloof, cold, or dismissive, it will leave a bad impression on anyone researching your business. Good reviews are a great tool for improving your business, such as the below.
Gives you details on their customer experience
A customer that details their journey (in words, ratings, or visual contextual feedback) means they had a memorable experience (good or bad). At Usersnap, we believe that it is every business's goal to understand experiences and help your users have better ones over time.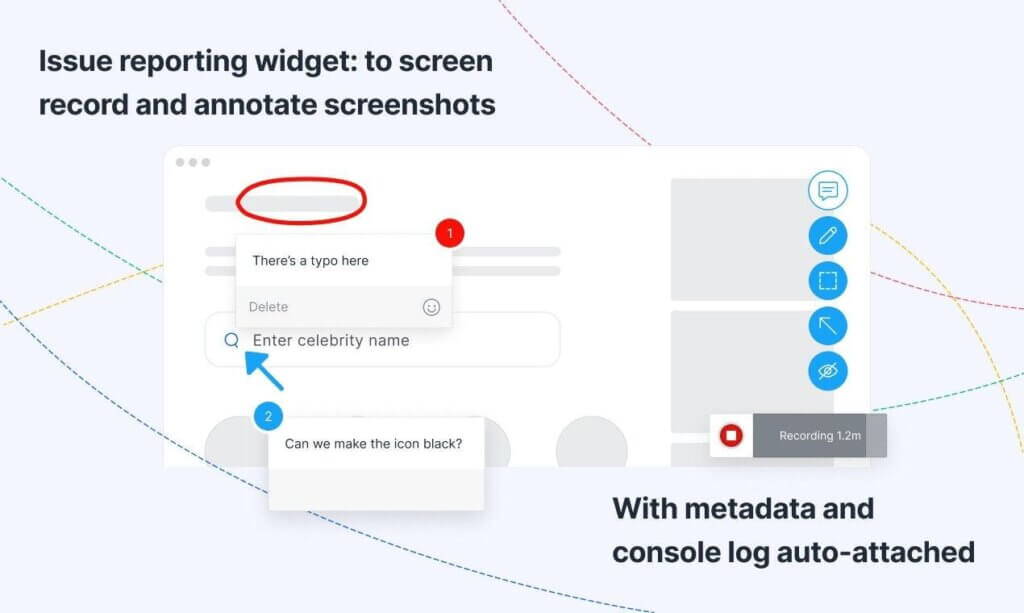 A good customer review acts as a digital scrapbook. It showcases what your customers find memorable about your business and lets you experience your company from a customer's perspective.
Detailed reviews are helpful to you and your customers. They show prospective customers a clear outline of what to expect from your business. Seeing someone gush about their experience with your business is guaranteed to hype anyone up.

Detailed reviews also show you where your business needs improvement. If your customer didn't mention an aspect of your business that you'd like to be remembered for, then you know that this aspect of your product may need to be tested and potentially improved.
Gives specific & constructive feedback
A good review constructively highlights the issues the customer had. Accept constructive criticism with open arms. It can be upsetting, no one likes criticism, but constructive criticism is a good thing. You can't grow if you don't know where you're growing wrong.
How you respond to constructive criticism shows your prospective customers how willing your company is to learn from your mistakes. If you respond poorly, customers will naturally assume that you're unwilling to grow and will lose interest in your company.
The best customers lift you up with great reviews
Nothing compares to the exhilaration of receiving a review where a customer details how your business improved their lives. Responding to positive reviews increases a customer's brand loyalty.
Tools like CSAT surveys and product survey questions are great ways to get good reviews. You should also strive to have a good website feedback tool. Features like capture video from websites are incredibly useful for getting good reviews.
Importantly, what you'll want to do is capture all the feedback, and particularly when there is a positive review, you'll want to respond to it with a follow-up to rate or review the product publicly (e.g. Google, G2, Capterra, etc.).
Why Should Respond To Positive Reviews
Responding to reviews is a surefire way to improve your ranking on sites such as Google My Business, which pushes your business further up in the search results.
Additionally, having a large number of responses shows your potential customers that you care and don't settle for doing damage control. Social proof is fundamental to your business's success.
How To Respond To Positive Reviews?
Since responding to positive reviews shows you're grateful to your customers, and their reviews make a real impact, you need to know how to do it. Responding with the right positive response example will close the feedback loop between you and your customers.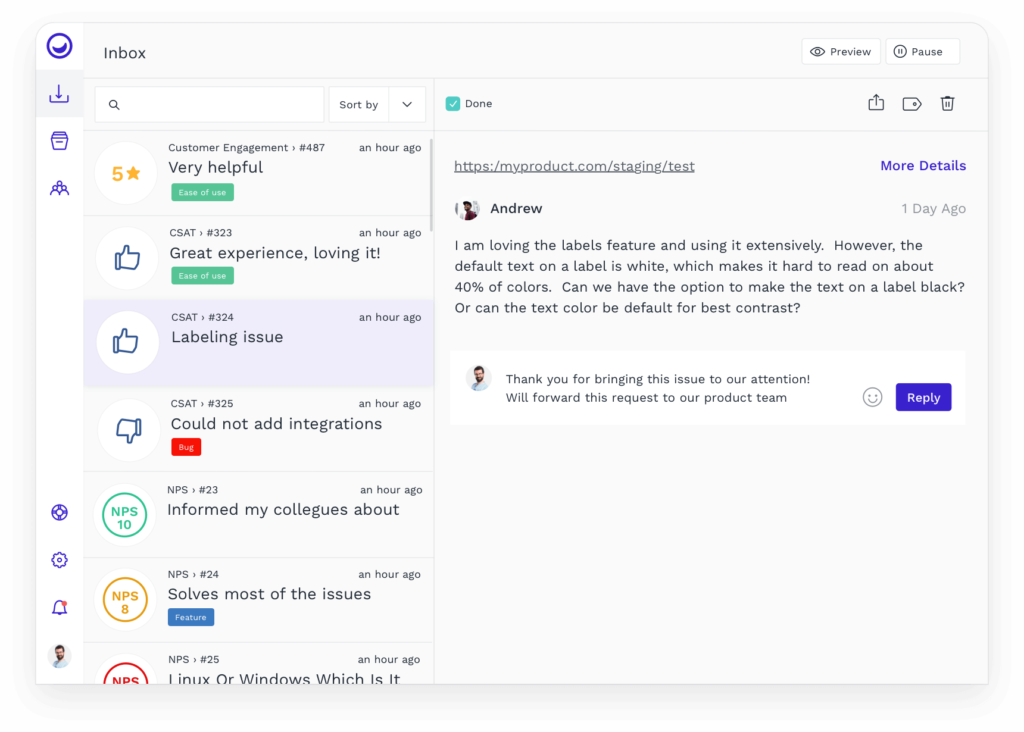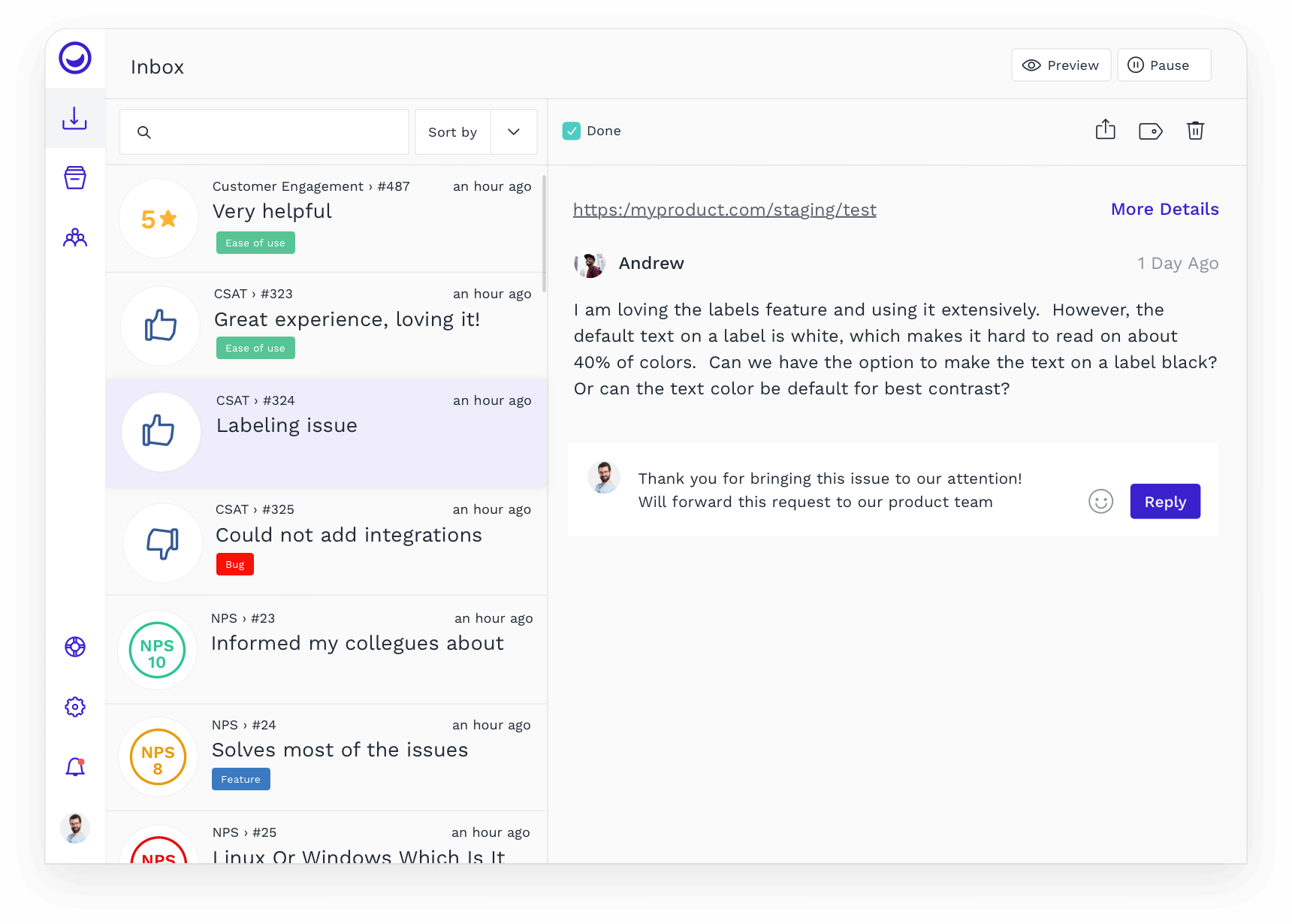 We've extensively researched the best practices for positive review response to ensure that we give you and your business the best advice.
Showing your appreciation for their feedback is simple if you follow the below positive review response examples and tips,
Personalize your positive reviews
Doing a straight copy and paste from positive review response examples can feel automated and cold, which comes across as insincere to your customers. You don't want your customers to think that you aren't genuinely interested in what they have to say.
The way to avoid coming across is by personalizing your reviews. The easiest way to personalize your review is by mentioning the customer's name in your review. It makes your customer feel acknowledged and shows that you genuinely care about them.
If a customer points out something specific, be sure to also point it out. If their review is mostly positive but includes a critique, apologize for the lackluster and express how happy you are that they had a good time despite it.
Don't dally in responding!
Quick responses show that you care enough to pay attention to their concerns. If you take too long to reply, you'll miss your chance to make a strong impression in your customer's minds. Simply put, it's best to strike while the iron is hot.
Vibe with the reviewer
It's all energy dude. A guaranteed way to make your customers feel appreciated is by matching their energy. Instead of saying a dry thank you, you should make your positive review response dynamic. Replying with only a thank you makes your customer feel that you didn't see anything noteworthy in their review.
Always aim to make your customers know that you value their feedback in your positive review responses. A positive review response that is caring will help to grow your business.
How To Respond To Positive, Negative, and Neutral Reviews?
As a business owner, you will need to respond to a wide range of customer reviews, and not all of them will be positive.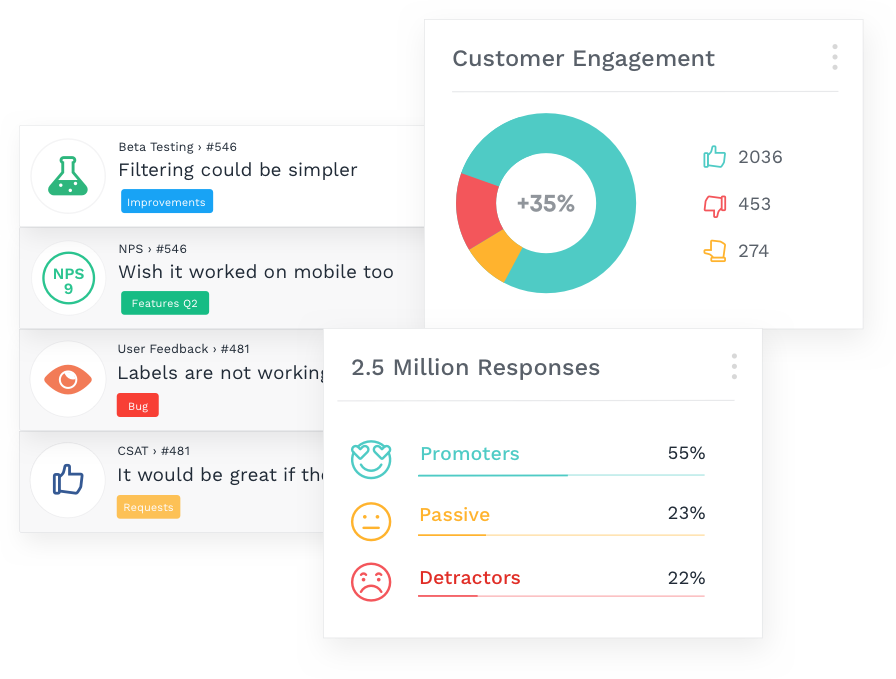 Always let your customers know that their feedback is appreciated, address their concerns, and then let them know you're taking action to solve their concerns. It helps you retain customers and shows potential customers that you're trustworthy.
Remember to personalize these templates and switch them up. You don't want to give everyone the same response because that comes across as uncaring. In Usersnap, you can not only build your own positive review response templates, but you can then add the personal touch atop them.
Generic positive review response examples
A generic positive review expresses satisfaction with your product or service without giving you specific feedback. An example of a generally positive review is "I had a great time at [Business Name]."
Some positive review response examples that your business can use:
"Thanks so much for sharing your experience with us."
"Thank you so much for taking the time to leave us feedback."
"Is there anything we can do to improve?"
"We hope to see you again soon!"
"We're really grateful and appreciate you taking the time to share your rating with us."
"We're glad that you enjoyed your [product/service]!"
Generic 5-star positive review response examples
A 5-star rating is always a good thing, even if it's unaccompanied by an actual review. Replying to 5-star reviews shows that you care.
Samples of how to reply to customer positive feedback:
"Thanks for sharing your rating with us and the community."
"Many thanks for the 5-star rating. If there's anything we can do to improve our offering, please let us know!"
"Thanks so much for taking the time to leave us a 5-star rating – it's much appreciated!"
"Thank you so much for taking the time to leave us a 5-star review."
Generic 4-star review response examples
A 4-star review means that your service was positive overall, but you have room for improvement. Ideally, your customer will share what those areas are, but a 4-star review is good, regardless.
Try these positive review examples.
"We will share this with the store team to let them know how we are doing."
"We are grateful that you took the time out to leave us a review.
Adding custom location name variables
As aforementioned, personalize your review responses. Add a custom name location variable if your tool provides it. It acknowledges your customer and acts as free advertising for that location.
Examples of how to give feedback on positive reviews and give your customers a solid response:
"Thank you so much for your positive rating for your recent visit to [LocationName]."
"We're happy to see that you had a 5-Star experience at [LocationNam]}".
Custom GEO name variables
Adding custom GEO name variables is another effective personalization method, especially for larger businesses with locations scattered across multiple areas. It promotes your business while showing your customers that you care.
Here are some ways you can include custom GEO name variables in your positive review responses.
"We really appreciate your business and helping to share the word about [LocationName] in [GeoLocationName]."
"Thank you for your review."
Reviewer first name
There's nothing more personal than a name. Replying with a customer's name adds warmth and familiarity to your response.
Some examples:
Thanks for sharing, [ReviewerName], the team at [LocationName] is thrilled to receive such a great rating, thank you."
Hi, [ReviewerName], thank you so much for taking the time to provide feedback!"
The Template For a Positive Review Response Example
Your business should develop a series of solid positive review response templates in your Intelligent Auto Responses database. The ideal response tells your customer that you put their satisfaction first and are committed to providing them with a quality experience. Let's see how it is done in Usersnap with automatic reply templates.
First, step 1: get feedback

Then, step 2, create positive review response example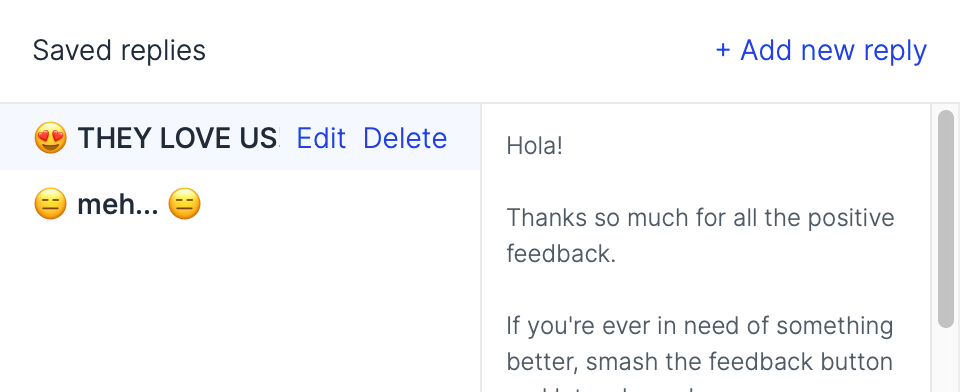 Finally, step 3: get ready to send 🚀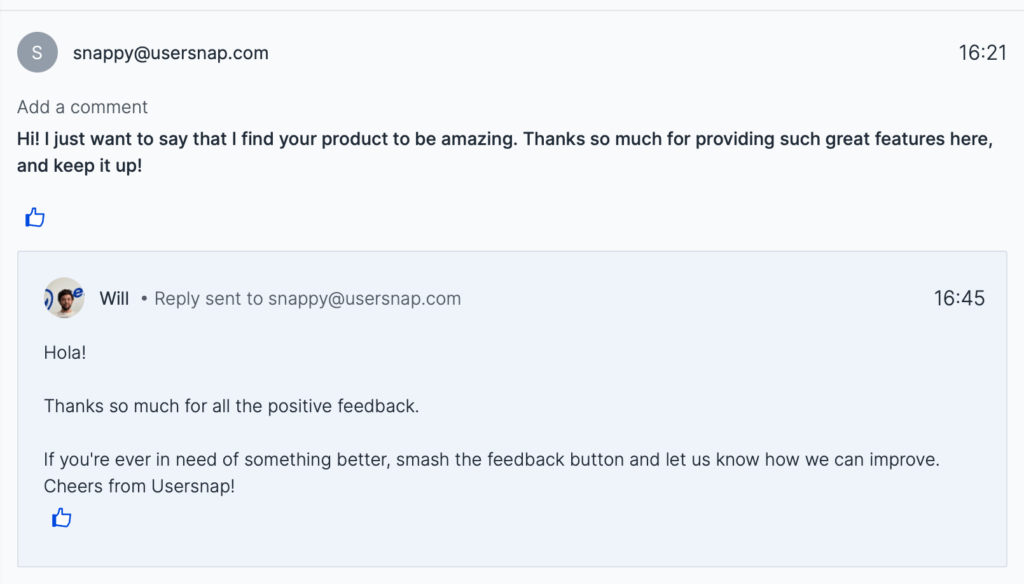 But don't just take our word for it, see how Pocket Prep leverages the Usersnap customer feedback platform to get feedback and reply to users in a jiffy.
Say thank you
You should thank your customers for their reviews, whether good or bad. It shows that you care about receiving feedback. Here are some things you can say.
"This review made our day!"
"Thank you so much for taking the time to review us."
"We are so grateful for your kind words."
Reinforce the positive
Positive reinforcement is always good. Let's say a customer writes a review gushing about your apple pie. You can tell them that it was your grandma's recipe in your reply.
Remember that sharing anecdotes builds customer loyalty.
Pass along the compliment
If the customer praises a specific employee in their review, let them know you'll pass on their praises. It shows that you're attentive to customers while boosting your team's morale.
Tell customers you'd love to see them again
Inviting your customers to visit your business again is a core part of customer retention. It makes your customers feel valued and welcomed. Showing your gratitude will gain you lifelong customers.
Ask your customers to go public!
If you only received a positive review internally, ask them to post it on social media, a ratings platform, or Google even. If they do, you only build your credentials on the aforementioned marketing platforms! And you should do it too. You can simply take a screenshot (if it is already publicly available information), and post it on your social channels or even as a testimonial on your blog. Sharing reviews is an excellent way to get your word out about your business. And who knows, sharing can create a ripple effect; your clients can repost it, creating engagement with other potential clients. The circle goes on and on 🔄🔄🔄.
Mention other products or services
If your customer already had a positive experience with your business, they're more likely to try your other products and services, which makes mentioning them worthwhile.
Mentioning your other products or services in your reply doesn't only drive sales. It invites your customer back to your business. Also, if it isn't your product or service, that isn't a problem. Why? Because you can build partnership and affiliate relationships with other businesses who have a clear opportunity to benefit from having you mention them. Isn't that awesome?
Share the positive review with your team
Everyone loves confirmation that their hard work is appreciated. If you find a review that makes you smile, spread the joy. Your employees will be just as excited as you are about the raving review.
Share the positive review with the world (yourself!)
Social proof is key to driving conversions. Consider adding reviews that highlight your business's strengths to your website. You can use widgets like Amplify to embed and syndicate reviews on your website.
Adding reviews to your website also improves your website's SEO ranking.
Leveraging Usersnap's Reply Templates Feature
Usersnap is your go-to for SaaS product management tools. We have several feedback templates that you can use to help your business get better in-app feedback.
If you want insight into your customer's thoughts, use our Research Surveys. Our Satisfaction Raters let you know your areas of improvement.
It doesn't end there. We also have templates for Emails, Feature Requests, and Issue Tracking.
We also have a customer support solution to help your business flourish. Better feedback forms are only one of our benefits.
Using Positive Review Response Examples To Your Advantage
Addressing negative feedback is important, but addressing the people who had a positive experience with your business is just as important. You should try to balance interacting with the positive and negative.
Once you strike that balance, your business will flourish.
Final Thoughts
Having top-notch positive review responses can significantly aid your business's development. We hope this article gave you the information you needed about positive review examples and their importance.
People Also Ask These Questions:
Below are the answers to some common questions.
What do you say in response to a positive review?
There is a four-step response to positive reviews:
Thank your customers
Use Keywords in your response, along with the name of your business
Market one of your products, services, or deals
Add a call to action that encourages the customer to come back
How do you respond to a positive review example?
You respond to positive reviews by sharing short, genuine expressions of gratitude that gently encourage your customers to keep choosing your business.
What should I write in a good review?
A good review shares specific details about areas a business excels at and areas it can improve.
How do you reply to good comments?
You should reply to good comments by expressing gratitude and offering positive reinforcement.
Capture feedback easily. Get more insights and confidence.
Getting feedback has never been easier and we hope you've realized that after reading this article. Let us know what you think, your feedback is important.
And if you're ready to try out a customer feedback software, Usersnap offers a free trial. Sign up today or book a demo with our feedback specialists.