Brands are always looking for effective ways to gain a larger market share. One approach regularly discussed is the importance of crafting personalized customer experiences. One of the best ways to drive better customer experience than using sentiment analysis tools.
Below, we describe what an online sentiment analysis tool is and how businesses can benefit from using them. Our team here at Usersnap has also relied on customer feedback to help compile a list of what we believe are the best sentiment analysis software tools available on the market.
An approach that brands are increasingly using to gain a better understanding of their customers and their preferences or perceptions is to use sentiment analysis tools. Tools like this can also help if you struggle to find how to respond to positive reviews effectively.
We'll discuss each one individually, including its ease of use and cost-effectiveness.
What Is a Sentiment Analysis Tool?
Online sentiment analysis tools are a type of software. It can analyze different aspects of a text message conversation, including its content, intent, tone, and emotions.
The wide variety of analytics tools on the market allows businesses to keep tabs on customer sentiment across forums, news sources, social media, and other resources. Tools like these have been previously used to track sentiment about Pepsi and Coke.
Data that emerges from these analyses can then be studied for trends.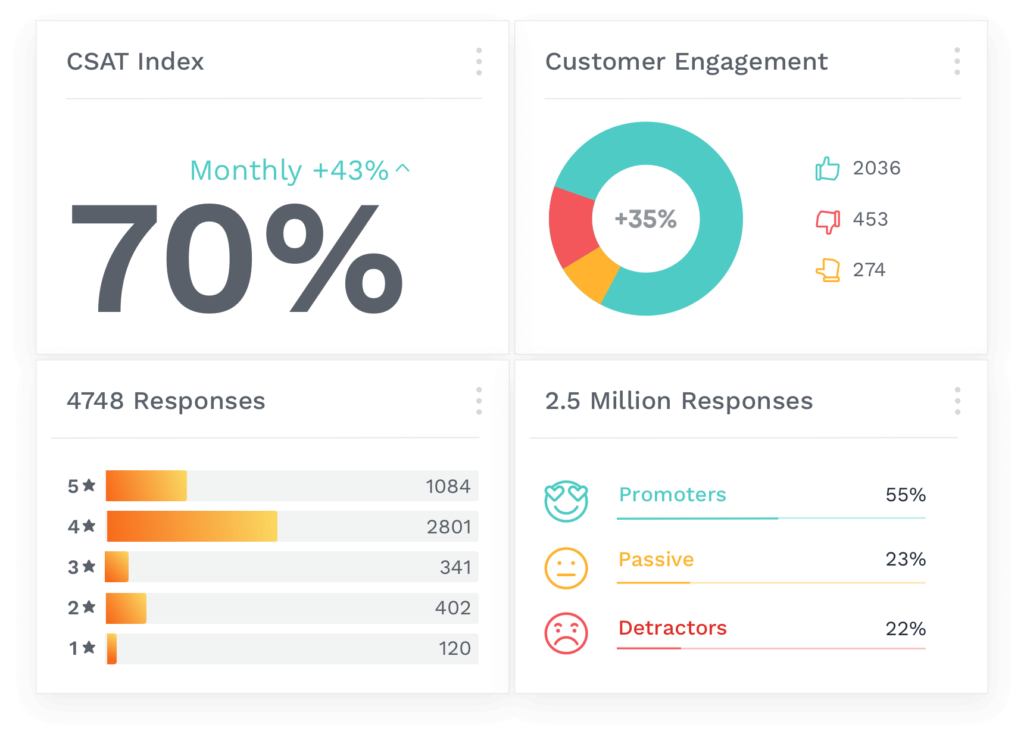 That insight can be used to forecast demand or sales and for areas where brand perception is good or could be improved.
Why Should You Use Sentiment Analysis?
Many consumers let their emotions drive their purchasing decisions. For example, tools for sentiment mining aim to help businesses gain improved insight into the feelings behind customer interactions.
The thought is better data leads to improved feedback forms to send to users after the fact. The more brands know about customers' interests and perceptions, the more effective they can be in digging deeper into the research and curating personalized experiences that appeal to them. Brand sentiment analysis tools can, in turn, help any business increase conversions in their funnels.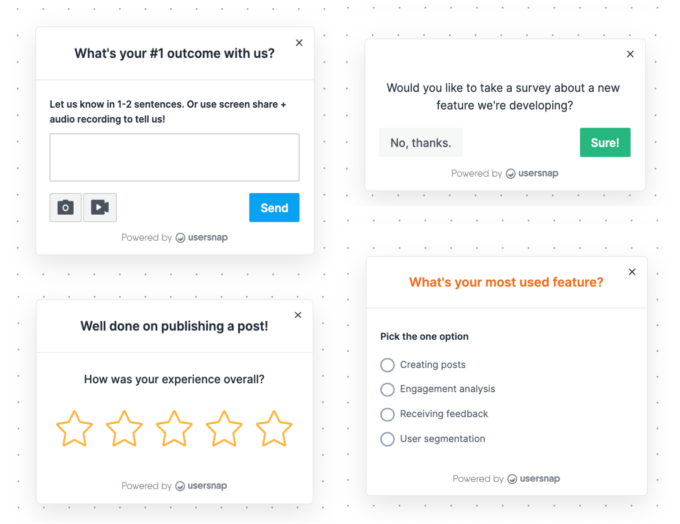 A sentiment analytics app like Usersnap also allows brands to maintain oversight over the pulse of their brand. This is what makes our company one of the best feedback widgets today. It's almost like social listening directly inside the product; it allows them to identify customer perceptions or trends in real-time and more efficiently respond to them.
Usersnap serves the role of enhancing the performance of sentiment analysis tools. We accomplish this through Usersnap integrations with Zapier and HubSpot integrations.
What Are Sentiment Analysis Tools For?
Businesses rely on big data analysis when determining whether customers have a positive or negative opinion of them. These statistics also help brands detect and respond to spikes in engagement in real-time.
The combination of the aforementioned data aids brands in keeping a close eye on what's really going on with the customer. From a long-term perspective, these tools serve as a touchpoint, or a way for businesses to improve upon their interactions with customers, whether that means reassessing how they exchange information with them, handle transactions, or provide services.
Pros & Cons Of Sentiment Analysis
While sentiment analysis tools were devised with good intentions, as previously mentioned, there is still a new type of technology whereby developers are working out the kinks.
Some preliminary pros and cons surrounding them include:
Pros of Sentiment Analysis Tools
There are many advantages associated with using sentiment analysis tools, including how they provide:
Enhanced insights
An ability to consistently track sentiment across time
Accurate and unbiased results
Another added benefit associated with using sentiment analysis tools is that they free up time and energy so your staff can take care of higher-level tasks that haven't yet been automated and thus need their personal attention.
Cons of Sentiment Analysis Tools
There are some downsides associated with sentiment analysis tools, including:
This field is relatively new, so some nuances are still being worked out. Results can sometimes be unreliable, making it necessary to double-check results and make manual corrections.
Sentiment analysis is most appropriate for companies regularly performing data analysis that also work with larger data sets.
Influencer Pat Geisinger recently stated, "Data is the new science. Big data holds the answers." If your company isn't currently using sentiment analysis tools, then it should. It might just be what stands between where your company currently is and where it longs to be.
Best Collection Tools for Sentiment Analysis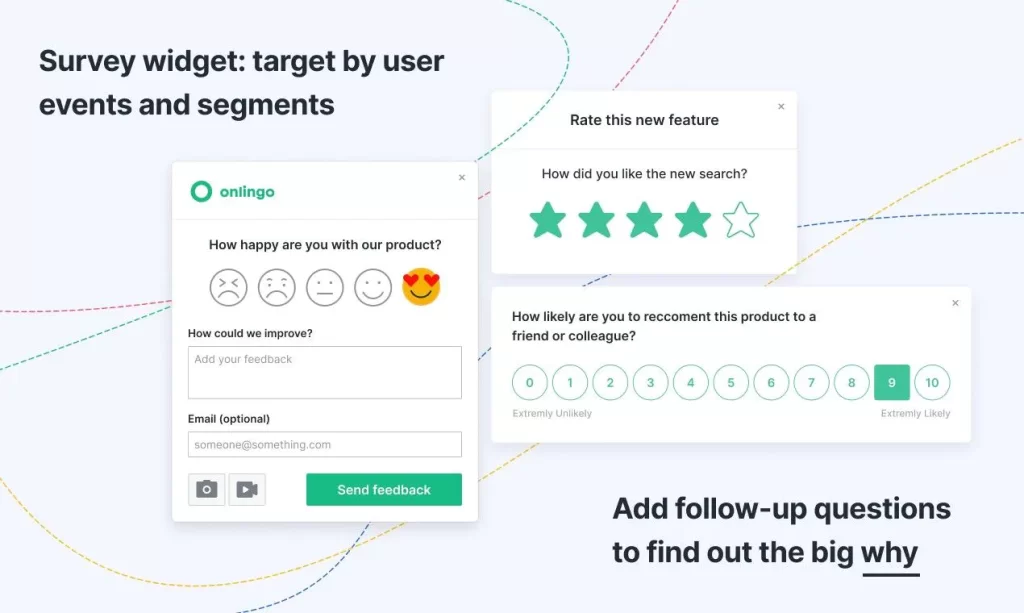 No surprise here. Usersnap is perfect when it comes to collecting customer feedback. Whereas other tools aggregate sentiment data in the wider world, Usersnap allows you to ask users who are directly inside your product or on your website to give feedback, suggestions, ratings, and bug reports. This type of feedback is essential when it comes to building better products, experiences, and journeys for users.
With ready-built templates, fast and low-code setup, as well as best-in-class customer support, Usersnap is the perfect solution for SaaS companies looking to better understand their user base.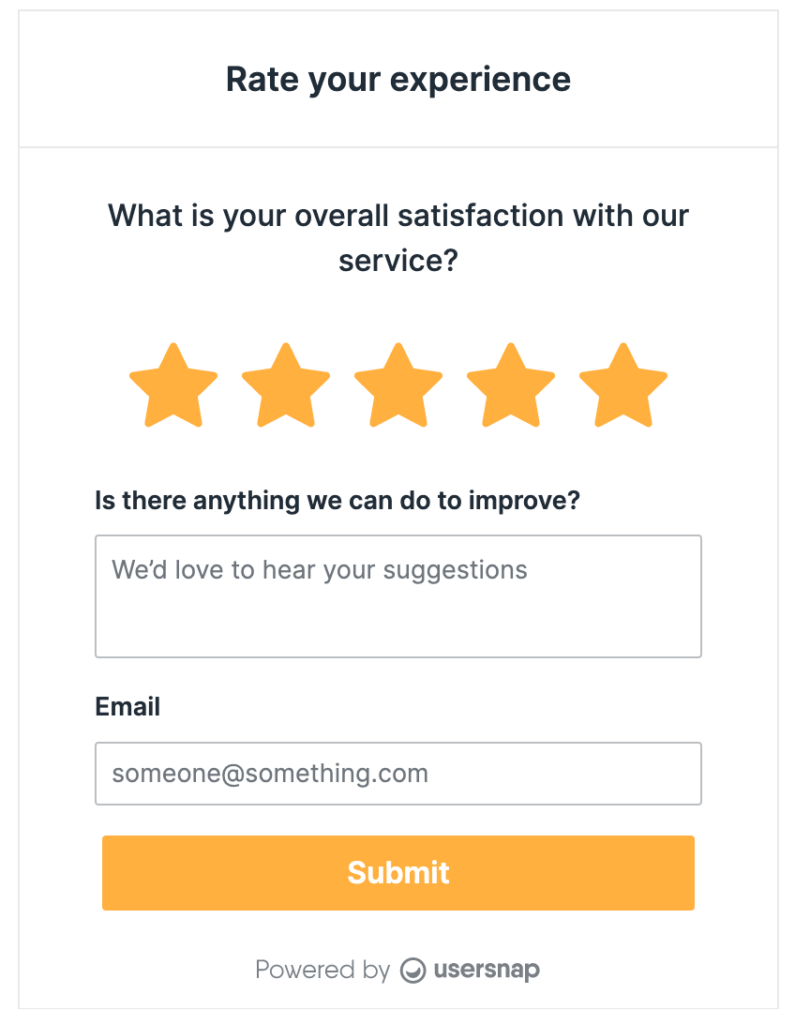 Pricing
After the first 15-day trial, you can get your customer feedback system off the ground across teams at a price of $69/month.
HubSpot's Service Hub breaks down qualitative customer feedback survey examples responses and allows users to evaluate whether the feedback shows positive or negative intent as part of customer feedback analysis.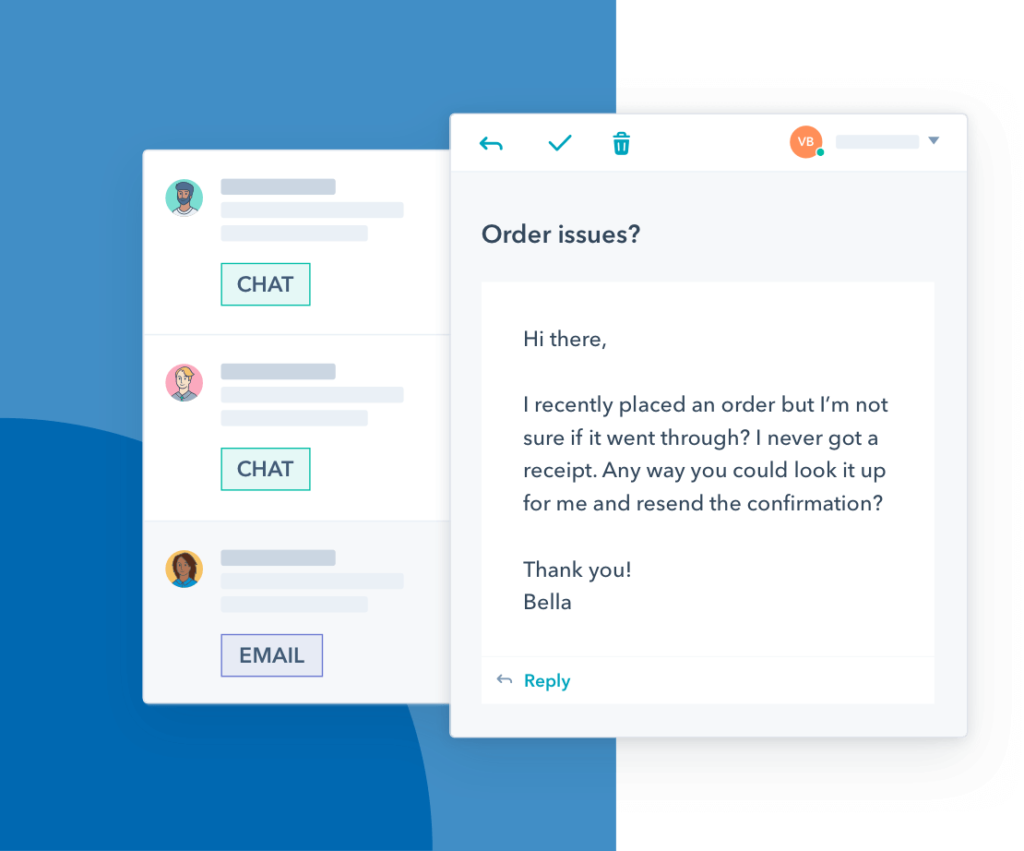 With Usersnap's native HubSpot integration, you can create HubSpot tickets out of Usersnap customer feedback, and use it to help improve your CSM operations.
Pricing
HubSpot's Service Hub costs $45 monthly if you select a starter plan. It's $360 per month if you're on a professional plan. Enterprise plans cost $1,200 per month.
Unlike the other sentiment analysis tool providers described above, this tool analyzes customer intent and sentiments. Critical Mention allows businesses to analyze news and select other publications to analyze for references to their brands.
Pricing
Critical Mention doesn't readily list pricing for its sentiment analysis tool on its website but recommends that interested individuals reach out to the company for details on costs instead.
If you're looking for a sentiment analysis tool that can provide interesting insight behind images, then Brandwatch is the tool that can help you do that. The data tool tracks aggregate followers, mention volume, and the latest activity.
Pricing
Brandwatch's pricing isn't readily available on the company's website. You must reach out to the company with your interest, and they'll provide cost information.
If you're looking for a free sentiment analysis tool, it may be worthwhile to try Social Mention. Social Mention is an analysis tool that allows users to more easily comb social media profiles for valuable insight into what they're saying about brands.
Pricing
As mentioned above, one of the great things about Social Mention is that this social media analysis tool is completely free to use.
Pricing
Sentiment Analyzer is yet another tool you can't go wrong with in terms of pricing since it's free.
If your business is looking to monitor social media for mentions and, more specifically, customer sentiment toward your company, then Social Searcher can help you do that.
Social Searcher allows you to plug in a username, keyword, or hashtag, and it will perform a search and report back on whether there's good or bad information circulating about it.
Pricing
Social Searcher is a European company, so pricing is listed in Euros. They offer prospective customers an opportunity to try the sentiment analysis tool for free initially. Once that trial period ends, it costs €3.49 per month for a basic plan, €8.49 per month for a standard plan, and €19.49 for a professional plan.
If you're looking for a web-based social listening tool, then that's only one of the many appealing features Awario offers. This characteristic allows you to access this sentiment analysis tool once you log into its website.
Awario sources its data from social media platforms, including, for example, Reddit threads and Tweets. This sentiment analysis tool also pulls information from websites, blogs, and forums.
Pricing
Awario has a free initial trial period for the first seven days, after which you must pay a nominal monthly fee to use the sentiment analysis tool.
If you're looking to gain some insight into what's being said about your business on Twitter, then the NCSU Tweet Sentiment Visualization App can help you do that. It combs brand mentions and sentiments across various industries, including media, politics, and tech.
This sentiment analysis tool differs from others mentioned on this list thus far in that the app features two opposite spectrum axes on which it arranges emotional sentiment data. Those opposing categories include subdued and active or pleasant and unpleasant.
Pricing
NCSU Tweet Sentiment Visualization App is free to use.
This sentiment analyzer is a bit more robust than previously referenced analysis tools on this list. It's necessary for the user to input data to be analyzed for it to derive some insight into customer sentiments about a brand. This stands in stark contrast to some of the other tools on the list that collect information for you.
Influencer Daniel Keys Morgan recently shared his perception on why brands should value data. He said, "You can have data without information, but you cannot have information without data." MonkeyLearn offers an opportunity to source data so you can analyze it for actionable insight.
Pricing
Pricing for the MonkeyLearn tool is $299 per month.
Companies looking for an API option may find MeaningCloud to be a good choice for them. This platform provides researchers and businesses with the text analysis necessary to derive meaning from those large data sets.
Pricing
MeaningCloud offers premium plans that cost $100 per month.
Best AI Tools For Sentiment Analysis
If you run a multinational corporation or your target audience is multilingual, then Rosette may be the best sentiment analysis tool for you as this tool can review text-based data across 30 languages. This feature minimizes the time you would otherwise spend translating customer communication before uploading it, making the sentiment analysis process more accurate and quicker to visualize and respond to.
Pricing
Rosette has a 3-tier pricing plan. It's $100 per month if you're on the starter plan. The medium and large plans are $400 and $1,000 per month, respectively.
If you're a HubSpot customer relation management (CRM) user, then MAXG is a sentiment analysis tool you can integrate into that platform. MAXG analyzes customer data by comparing information your company has amassed with your industry's competitors. What stems from this is valuable insight into how your company stacks up compared to others.
Pricing
MAXG offers a multi-tier pricing plan. Its basic plan is free. It's then $29 per month for its pro plan and $99 monthly for its agency plan.
When it comes to popular social sentiment tools, Brand24 is top on the list. It's well-known for its media monitoring features, including its sentiment text analysis tool.
Pricing
Pricing for Brand 24 starts at $49 per month if you have one user. It's $99 per month for a team.
This program is best known for its text mining capabilities, a data science tool that facilitates sentiment analysis. This tool analyzes multi-source content, takes what it learns, and turns it into valuable qualitative insights.
Pricing
Pricing for Rapidminer isn't readily disclosed on the company's website. Information on the site refers potential customers to reach and request such information.
Repustate relies on the use of a sophisticated text-analysis application programming interface (API) to assess sentiments behind customer responses. This software is capable of picking up on short-form texting and slang, including "LOL," "ROFL," and "SMH."
Pricing
Repustate offers a flat-fee standard plan which costs $299 per month.
If you would like to delve a bit deeper into why a customer responds to your business a certain way, then Lexalytics is a text-analysis tool that provides explanations for why they do. Lexalytics relies on natural language processing (NLP) to first parse the text before running sentiment analysis applications to try and hone in on what a customer's intent was when posting a message.
As Matt Charney, executive editor at Recruiting Daily recently said the following regarding the convergence of NLP and machine learning, "The more time and data NLP-based machine learning instance has to work with, the better its results are going to be, so in this case, early adopters actually have an advantage over laggards." This social media influencer was right in highlighting how brands need to adapt these new technologies early or otherwise be left behind by those who do.
Pricing
Like other sentiment analysis providers, Lexalytics doesn't post its pricing on its website but instead asks prospective customers to reach out for pricing.
Another social media data analysis tool is Talkwalker. It relies on artificial intelligence (AI) to determine the tone of customer brand mentions on forums, blogs, and major social media platforms.
Pricing
While Talkwalker offers a free demo to businesses interested in learning more about its sentiment analysis tool, you'll have to pay $9,600 per year if you want to use it.
Companies looking for a tool that helps them analyze exchanges with customers, whether it's through product survey questions to ask, chat conversations, or email, may find Clarabridge an ideal sentiment analysis tool for them.
Clarabridge uses both lexical and grammatical principles and machine learning in analyzing texts sentence-by-sentence across various languages. It reports on the sentiments of those interactions.
Pricing
Pricing isn't readily available on Clarabridge's site. Potential customers must instead contact the company for cost details.
If you're looking for a platform that's AI-powered and wholly focused on sentiment analysis, then Realeyes may be what you're looking for. It not only tracks mentions but is also referred to as an "emotion AI platform."
If you're looking for a tool capable of capturing video from websites, then Realeyes can help you do that. This tool can capture facial expressions through computer webcams and phone cameras. It can take that emotion data and analyze it, resulting in a report of actionable business predictions.
Pricing
Realeyes offers an initial free trial to companies wanting to use its tools. However, its website doesn't show pricing once the trial offer runs out. You would have to contact customer support to learn Realeyes' pricing approach.
Conclusion
No matter your company's industry, if you have customers, then it's more important than ever to track their feelings about your brand, both good and bad. This data lets you know what you can do better and what you already thrive at. It also allows you to meet customers' increased demand for more personalized brand experiences.
There are a variety of sentiment analysis tools for digital products. Just like the plethora of customer feedback tools available, we've listed 19 of them above. It's best if you start by honing in on the digital mediums your customers use, whether it's a blog, social media, or elsewhere. You will then want to identify the sentiment analysis tools that work best within those mediums and have the capacity to capture the feedback you're looking for.
Capture feedback easily. Get more insights and confidence.
Getting feedback has never been easier and we hope you've realized that after reading this article. Let us know what you think, your feedback is important.
And if you're ready to try out a customer feedback software, Usersnap offers a free trial. Sign up today or book a demo with our feedback specialists.