Even if you don't have your customer feedback software yet, you're still doing everything possible to satisfy your customers. We get it.
You and the customer support team are literally treating each customer like royalty, providing super service that matches their needs and wants at every step. But, do you really know how happy they are?
What if there's a way to measure the success of your customer service strategies and know if customers are happy with their experiences? Would you like to understand what customers like and dislike about your products and how you can keep up with their changing requirements?
Well, your answers lie in customer feedback (👈 btw, great guide if you need it 🥰). Customer feedback is a critical business concept that helps you understand your customers, and can help with building a loyal customer base, doing proper product development, and driving innovation.
However, you need the best customer feedback widgets for collecting the information from your customers. Then, taking the data and analyzing it using customer feedback software gives you a full picture of how customers perceive your brand. This is what we're going to pick apart in this article. Hope you're ready!
Customer Feedback Software: A Fast-Track to Knowing Your Customers
No doubt, customer feedback is critical when determining customer pain points and needs, certainly when you are about to introduce new solutions. Whether it be customer phone surveys, in-person research, or focus groups, this can determine the product styles, flavors, or features customers want.
These customer pain points and the jobs they're trying to accomplish are their root challenges for you. They can drive your customers crazy, but the issues can be as diverse as the customers themselves. Customer feedback software puts you in your customers' shoes, so could you offer them a solution to an actual problem.
Customer pain points are not necessarily based on your product alone. They can be as varied as those who want to understand the importance of manufacturing in the U.S. to those looking for the best Software as a Service (SaaS).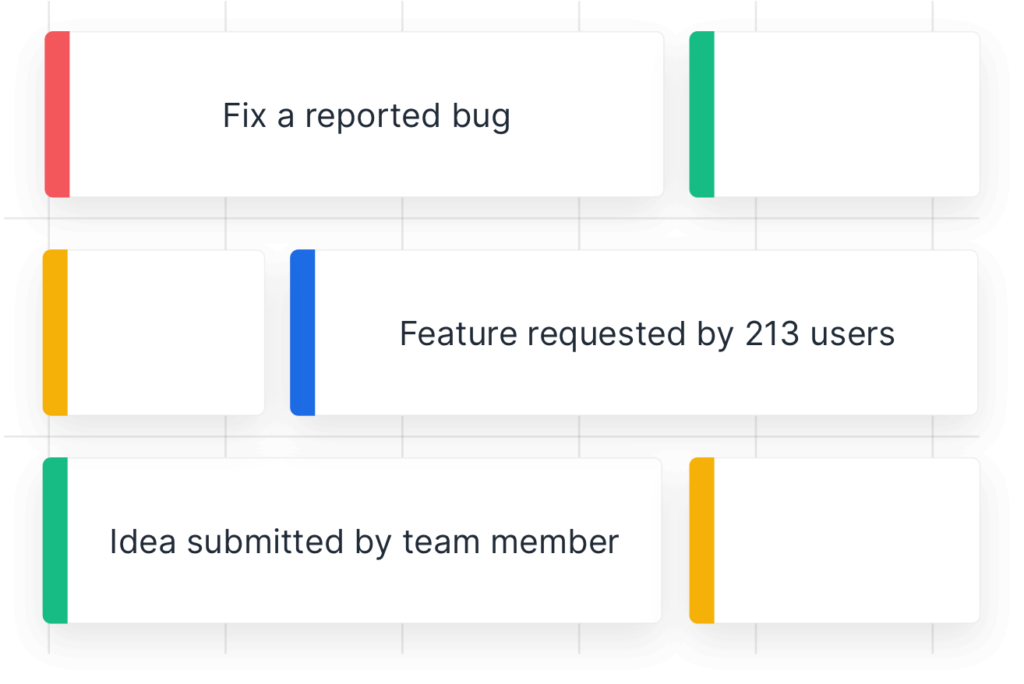 Customer service software also helps you segment customers into different categories. Segmenting them in a single group only leads to generic marketing campaigns that can do more harm than good. Also, if you tag them into multiple groups, the spamming can get out of control. So, how does customer feedback help differentiate your customers and solve their challenges?
Customer Categorization & Segmentation
Feedback is critical in identifying customer groups or segments that are similar in terms of one or more characteristics or factors. This categorization is key to optimizing your marketing efforts to each group through the most relevant and appropriate communications. The difference is an emphasis on segmentation based on topic or cluster of feedback. This result maximizes the value of each business customer by handling a cluster of feedback at once when making product decisions.
Customer-Centric Strategy Formulation & Testing
Listening to customer feedback helps you and your team understand your customers' needs and how they are changing. Doing this helps create a customer-centric strategy that prioritizes the customer experience. The best strategy will also review the required steps before, during, and after the customer has purchased your product, so changes are permanent.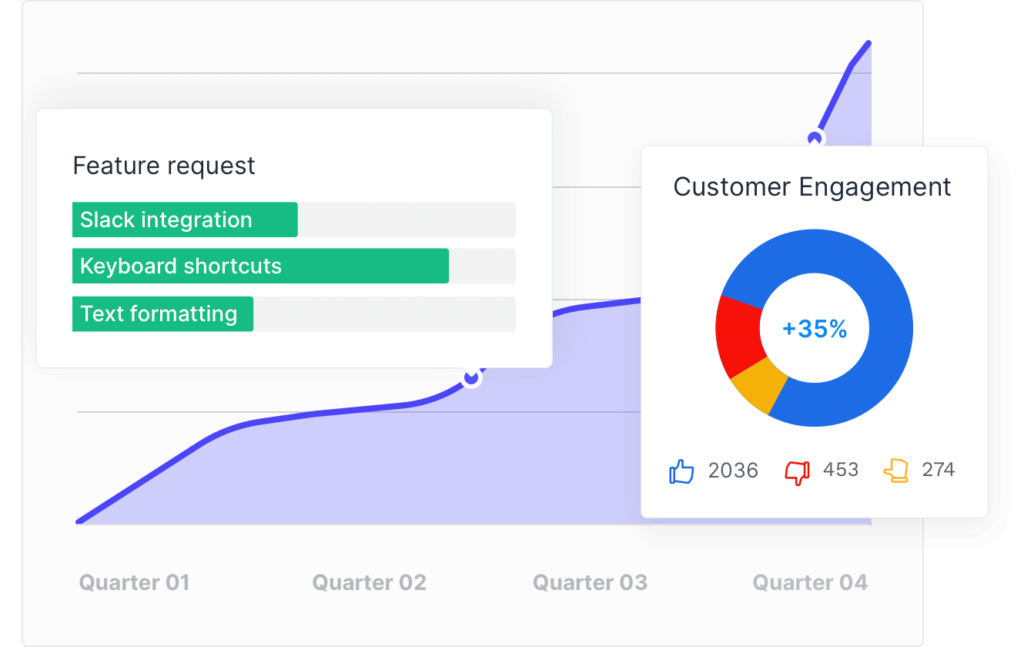 Understand Customer Needs
There's no better way to learn about your customer requirements than through the product feedback they opt-in to provide. Gathering positive and negative feed is a bonus you should never take lightly.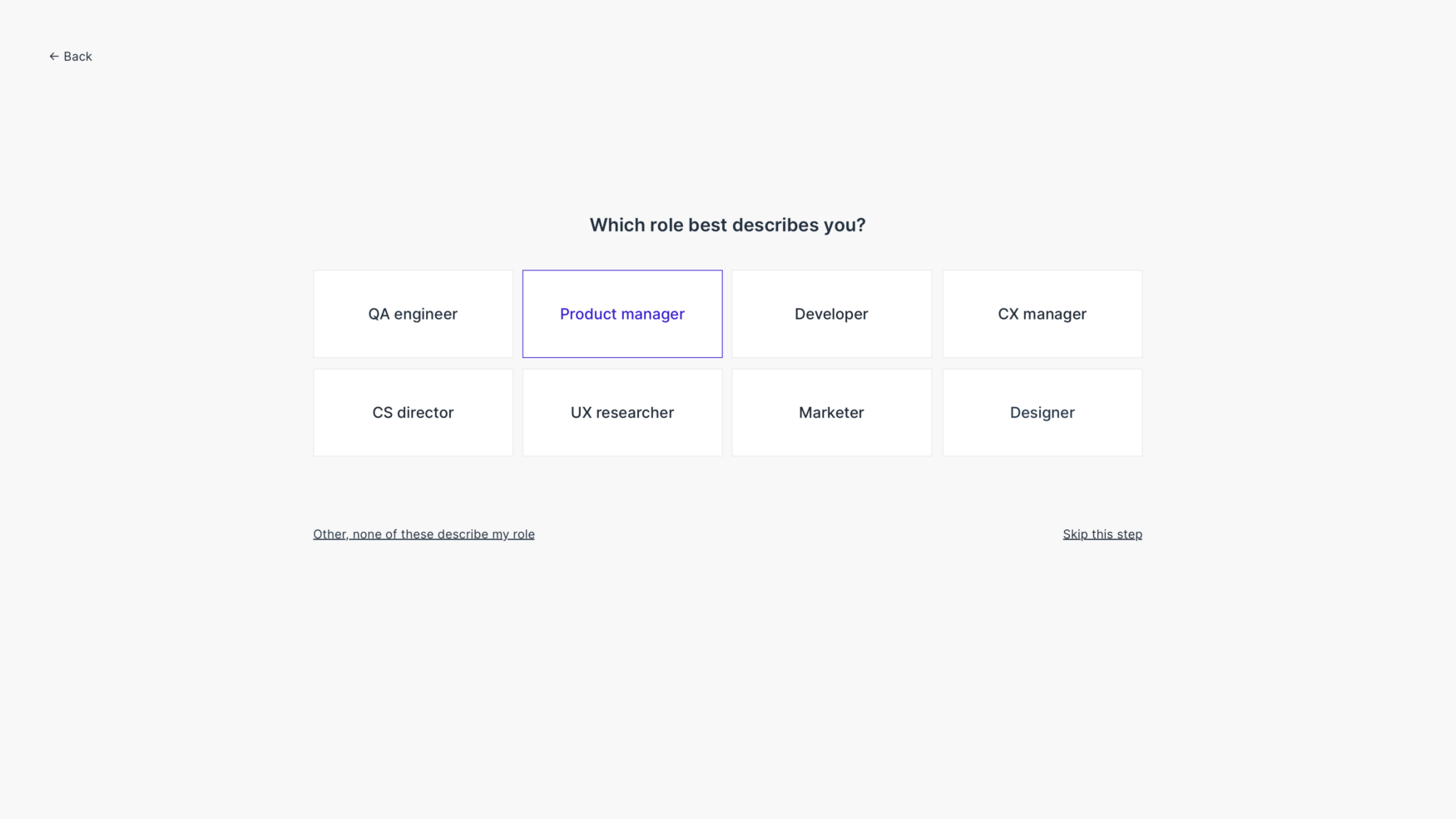 Meet Customers' Needs Appropriately
When customers leave feedback, it becomes easy to interrogate data and improve customer satisfaction. Facts don't lie: the data shows what is working and what doesn't. You can adjust your approach without fear that things will worsen. Plus, appropriately responding with excellent customer support translates to high customer satisfaction, which translates into repeat purchases for your business.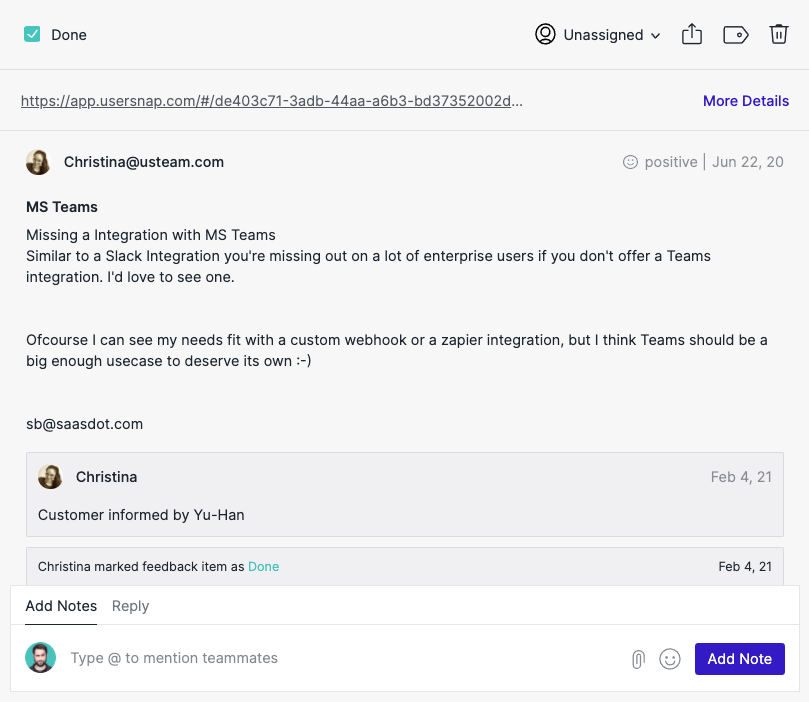 Ongoing Testing for Customer Satisfaction
Tracking customer satisfaction ensures you achieve a high level of quality. Customer feedback software captures feedback throughout the customer's lifecycle. Doing this helps identify what needs to be done and in what order to have the biggest impact on customer experience.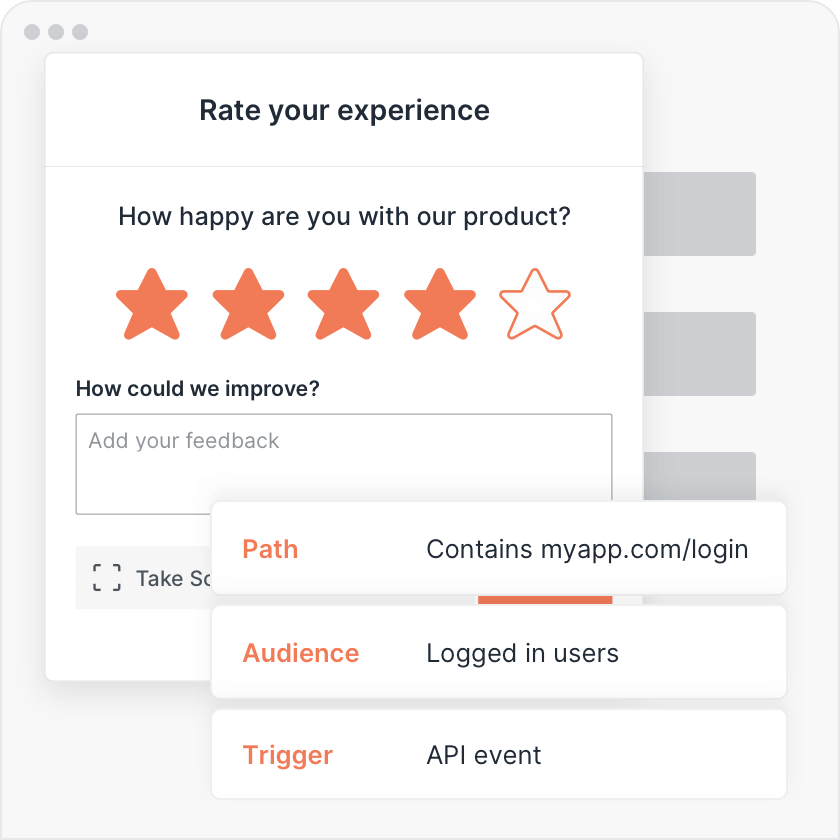 Why Do You Need Customer Feedback Software?
Customer feedback is a critical guide that informs your decision-making process and influences innovations and product or service changes. It's also essential for continuously measuring the success of your customer satisfaction strategy among current customers.
No matter what industry you're in, you need to decide fast and act in the business's best interests at all times. Using software helps you gather, manage, and interpret customer feedback that can help you make informed decisions. The information you gather makes it possible to adjust your product offerings quickly.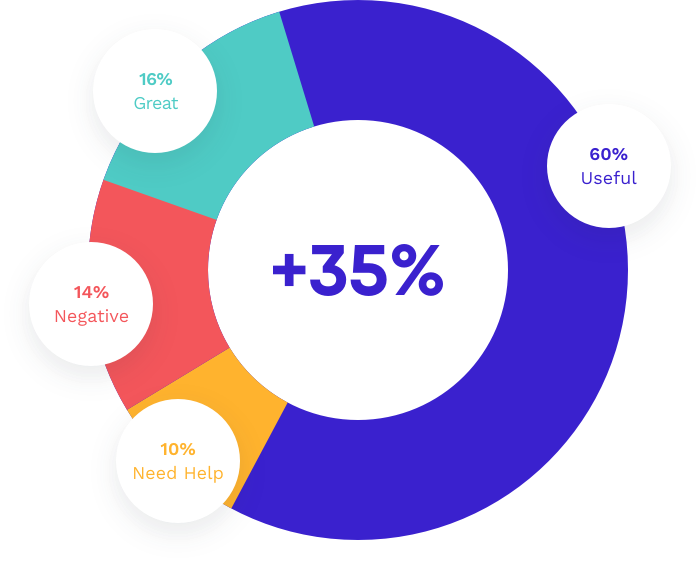 Check out Usersnap to find out how this can help your business when collecting customer feedback.
The software also helps identify long-term trends, so you're in a better position to solve new customer issues. Longer-term trends help find out if you have a genuine trend that must be addressed by changing your product or coming up with a new solution.
How to Choose the Right Software to Get Good Customer Feedback
Customer Feedback Software is an excellent way to follow-up with your customer base. The software plays a critical role in identifying changing trends and demand while giving you a better way of overcoming issues in a way that helps keep and bring in new customers.
To realize the full benefits of a customer feedback tracker, here are ways to choose the right one.
1. Follow-up With Tool Reviews
Research is the easiest and first step in determining the best software for your business. Welcome to the information highway: let the internet guide you, so you can read and listen to what other businesses say about the software.
Tool reviews that relay first-hand experiences provide an idea of what to expect when you choose to install a tool. Check out review sites to find the best feedback and reviews management software. Weigh the pros and cons and think of the tools that are more compatible with your business requirements.
Here's an example from G2 about Usersnap: see how we stack up against tools in our industry when it comes to ease of use, quality of support, and ease of setup.
Enterprise Feedback Management Software
Because this is where Usersnap is placed in G2, it's a good opportunity to also mention that categories vary across platforms. Certainly, both G2 and Usersnap consider the tool to be placed in the Enterprise Feedback Management Software category. However, such a category may not even exist on other platforms. It could be just "feedback management software" or "user feedback management software". The point here: read carefully the category on the review site, and what it entails. This way, there's zero ambiguity about the tool you're considering, and whether it fits into the customer feedback software category (for you!).
2. Ensure the Operational Effectiveness of the Customer Feedback Software Across All Platforms
A customer feedback platform must be accessible and flexible enough to reach out to your customers across various platforms and channels for communication. Consider investing in your online reputation and select an application that caters to that audience as well.
3. Assess Tools in the Feedback Management Software
Different software solutions come with unique customer feedback tools for different business needs. However, a larger number of tools doesn't mean the software is better. This can make using the application confusing, unintuitive, and can jack the price up for things you may never use. Think about your business requirements, industry, audience, size, and niche.
Some features you should look for include the ability to run surveys such as Customer Satisfaction (CSAT), Customer Effort Score (CES), and Net Promoter Score (NPS). These surveys help track customer experience and impressions of your business services. Qualitative data derived from the surveys helps drive better results that foster relationships.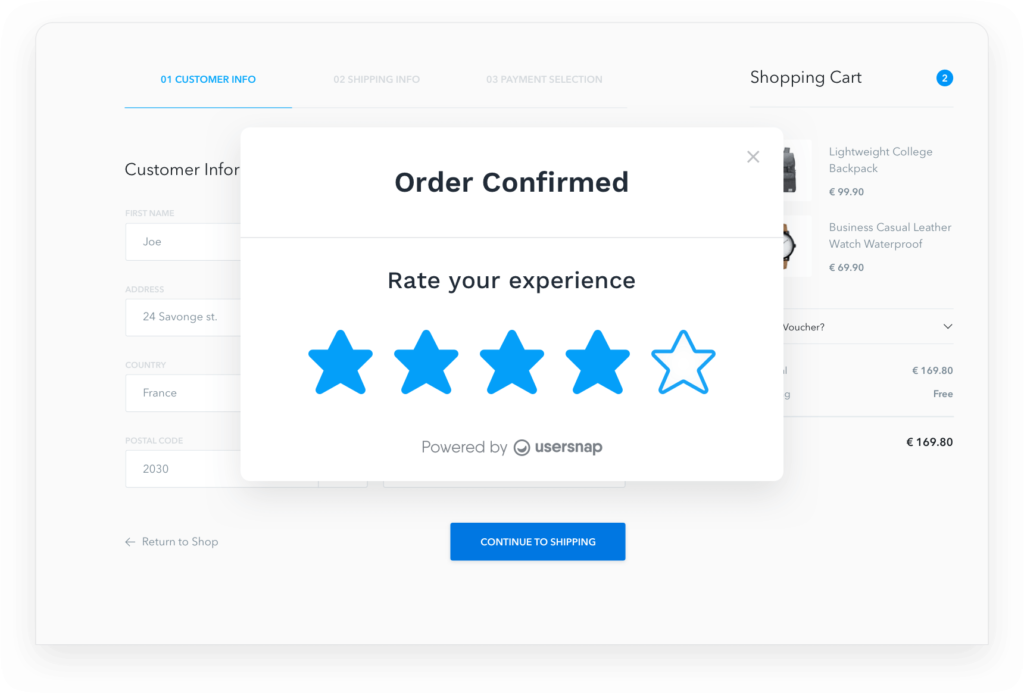 4. Ensure User-Friendliness of the Customer Feedback Software
The last thing you want to do is waste too much effort and time trying to understand how a single software works. User-friendly solutions are navigable for beginners, so you can jump right in and start managing reviews without enrolling in several time-sucking training sessions.
An easy-to-use interface and functions provide results faster and more efficiently. It will also reduce the chances of running into problems later. Finally, ease of use isn't just for you, but also for your end user as well. If they can't deliver you feedback in a simple way, then the software isn't really helping you in achieving your goal. Consider the ease and length of the installation process and setup.
5. Make Sure it's Customizable
Customization, personalization, and configurability of features in a customer feedback app allow you to adopt it into your business easily. Even better, consider how the software can act as a management platform that allows freedom to integrate with third-party applications to meet your needs.

Major benefits include features like sending the survey to other communication apps, collecting responses, and condensing them into reports or passing them into devops applications. This ability helps streamline your business workflow when handling customer feedback or requests, and enriches everyone's customer experience.
6. Check the Customer Support System
Just like you want to be there for your customers, the best software should be equally dependable. It's great when you have support from the software developer when things get a little rocky. Choose an application that offers multiple ways of contacting them.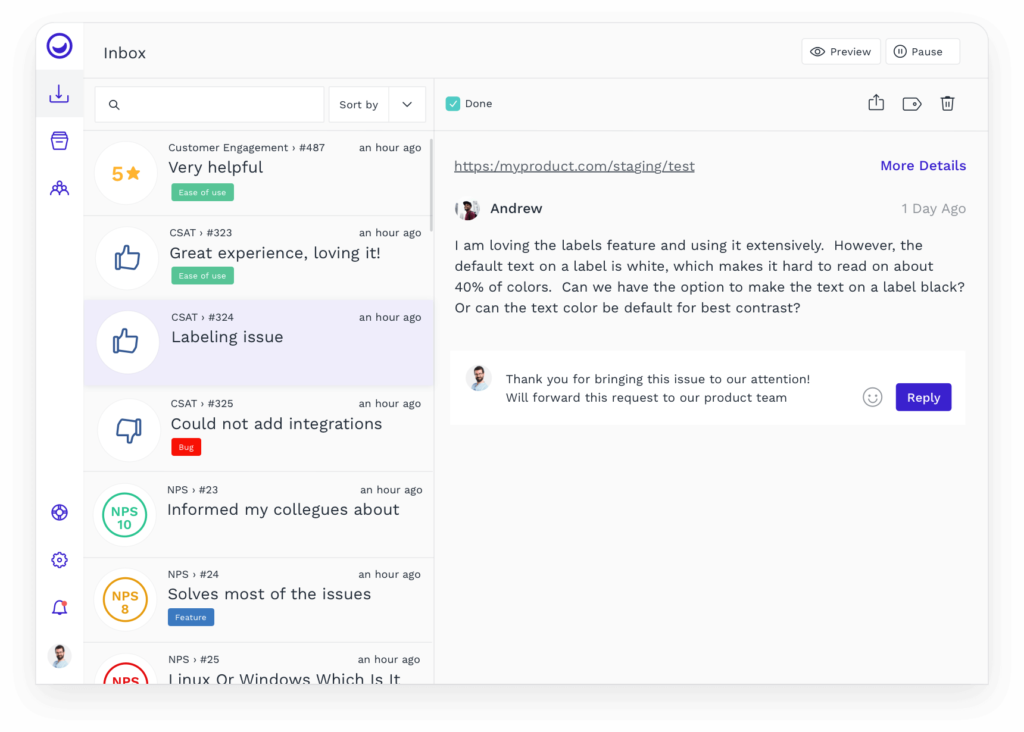 Some systems provide live online support or phone or both, while others have online training sessions or webinars. Reliable and responsive customer support ensures any issues you run into are resolved quickly.
Some Customer Feedback Software to Compare
A good customer feedback software for SaaS companies should help you build customer-centric products. Also, it should allow you to collect customer feedback from all sources easily.
When you understand customers' needs better, you can quickly prioritize tasks and ideas. Running mini-surveys with ratings and custom questions during specific customer journeys is crucial for such software.
With this information, teams take the insights attached with customer details and technical context to fix and discuss user stories. You can make evidence-based product decisions and grow your business with confidence.
Here are some tools in comparison (all of them are customizable and have customer service, to varying degrees:
(Bonus!) 5 Use Cases for Short Customer Feedback Surveys Across an Organization
Here are some scenarios for your product, development, customer experience, customer success, and marketing teams to leverage customer feedback surveys. 
Omni-channel NPS surveys
These surveys ask the simplest questions, and can let the user show you why. For example, "how likely are you to recommend us to a colleague?" The surveys provide a metric that cues into your customer's sentiment of your product, service, or brand. How do you let them show you why? Screen recordings and screenshots of their experience (which can be enabled across several widgets).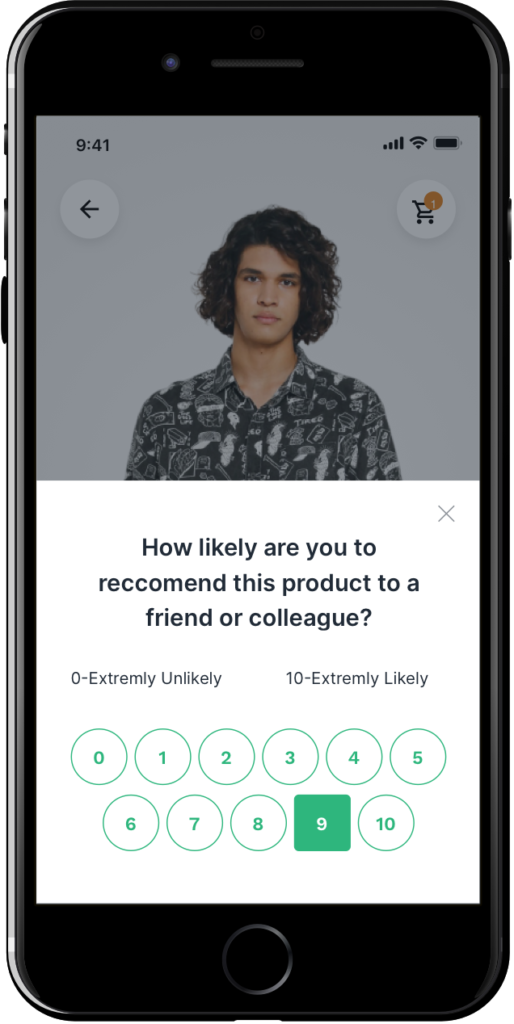 Website mini pop-up surveys
Service providers and SaaS companies need to measure the quality of their leads constantly. One way of validating visitor presence on your website is by using a quick survey. It can be as simple as asking what the visitor is looking for to understand whether you are bringing in the right audience.

Custom in-app questionnaires
The best place to gather feedback is when a customer is using your app. Custom in-app questionnaires help capture accurate emotions and experiences. You have the option of targeting specific URLs upon completing an action or after a specified time on the page.

Customer satisfaction review emails
One of the best ways to gather honest customer feedback is via email. You can use each interaction with your customer as an opportunity to gather feedback. A customer satisfaction review email works best when it's linked to a survey for collecting and recording feedback and reviews.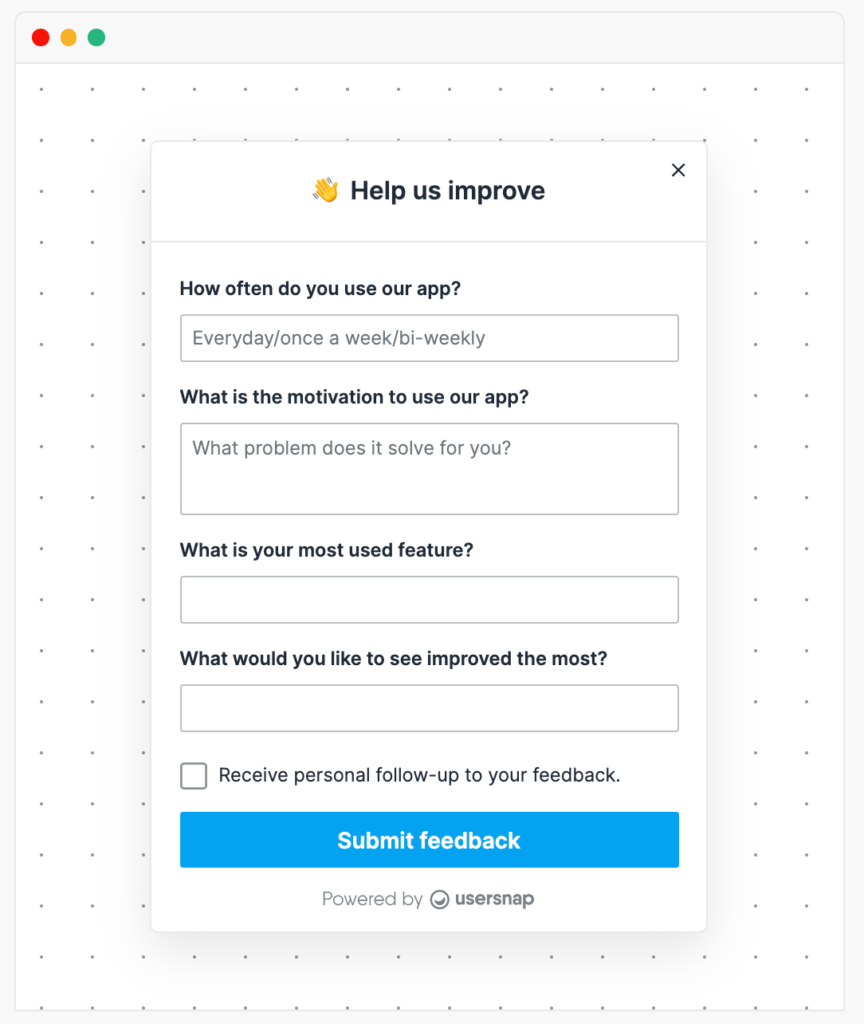 Social media feedback surveys
Social media is a fantastic way of collecting feedback. The free-spirited nature of social media makes it easy to create fun surveys that may include expressive emojis.
The best advice is to try Usersnap for yourself! Sign up now for an account and get full access to features!