Did you know that 73% of consumers state that customer experience is a crucial factor for determining whether to do business with a company or not? Additionally, 84% of companies that actively work on improving the customer experience using customer feedback tools see increased revenue as a result of their efforts.
This is where a customer feedback tool can help.
For every SaaS business, it is crucial to improve your existing product or service, as well as providing a better experience for your customers.
In other words, you need to know how customers feel about your product and the service you provide, while finding out what you could do to improve.
What is a customer feedback tool?
A customer feedback tool can be part of a software solution designed to help businesses collect, measure, and analyze customer feedback. By using such a tool, the business can make data-driven decisions based on that feedback.
📡 incoming message from the customer feedback Galactica: check out our ultimate customer feedback guide if you want to see more stars 🌟👽
A customer feedback tool allows you to engage with your customers directly and gives you a way of quantifying customer feedback and satisfaction. Furthermore, it enables you to find out what your customers really think about your product or service.
The importance of collecting customer feedback
Collecting customer feedback is crucial for businesses that want to identify unsatisfied customers, reduce customer churn, and improve their products or service. It allows you to:
Create a better customer experience
If you want to generate more customers and retain your existing ones, you need to work on creating a better customer experience and making your customers happy. For this reason alone, it makes sense to get one of the customer feedback tools we'll mention below.
To do this, first need to collect and measure customer feedback so that you can understand what you need to do to make your customers happier.
Measure customer satisfaction
Collecting customer feedback allows you to quantify customer satisfaction in a scientific way instead of trying to guess how your customers feel.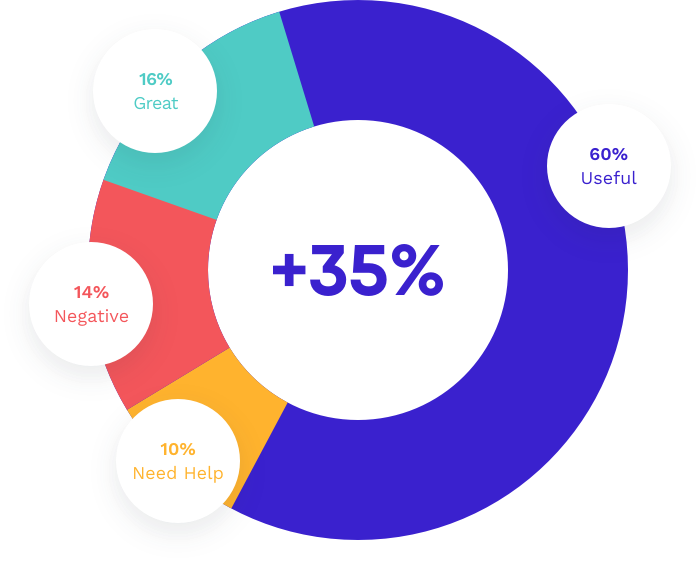 Collecting customer feedback allows you to quantify customer satisfaction in a scientific way instead of trying to guess how your customers feel.
Additionally, it enables you to set a benchmark for customer satisfaction, which you can then use to try and improve customer satisfaction by implementing data-driven changes.
Improve your product or service
By collecting customer feedback, you're able to find out what customers really think about your product, including its strong points and flaws.
After that, this information can help you improve your product or service, as well as the customer experience you provide.
Increase customer retention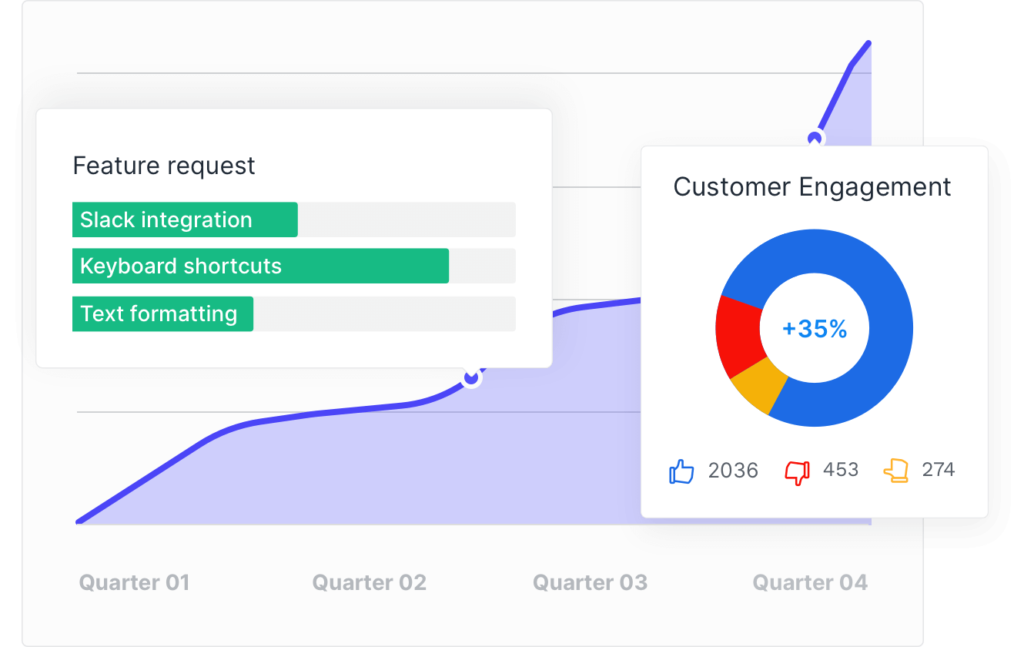 In the same vain, collecting customer feedback can also allow you to identify unhappy customers and fix their issues as soon as possible.
By addressing your customers' issues on time and acknowledging their concerns, problems, and opinions, you'll be able to have an easier time retaining customers and reducing churn.
Make data-driven decisions with customer feedback tools
Collecting customer feedback enables you to gain a better understanding of your customers, their needs, and their pain points.
Then, when armed with this information, you'll be able to make data-driven decisions to improve your product or the overall experience you provide to your customers.
What to look for in customer feedback tools
To be able to navigate through this vast sea of software solutions, you'll need to set some criteria to help you have an easier time choosing the right customer feedback tool for your business.
While your specific needs will ultimately dictate which tool you'll go for, there are a few things you should keep in mind when deciding on a customer feedback solution.
Ease of use
Technology should make your life easier, not harder. The same is true for your customer feedback tool.
Make sure that the tool you decide on is easy to use and understand, both for your employees and your customers.
Features and capabilities that fit your needs
Do you want to implement in-app or email surveys, customize surveys to fit your brand, or be able to view survey engagement data?
Make a list of all the features you want your new customer feedback tool to have and then use it to have an easier time making your decision.
Integration with your existing software stack
While a customer feedback solution can be very powerful on its own, it's best used in combination with your existing software stack.

Your new customer feedback tool should play nicely with all the other software solutions you currently use, such as your CRM, helpdesk, and customer support software.
Price
We will not pretend you don't have a budget. Although not all the tools have a public listing of their pricing, you can compare most of the options in this article.
Since you will most likely be using the customer feedback tool with other software, you should keep in mind the total cost of your stack to set up a complete feedback loop.
Customization
Of course, you'd like your feedback widget or form to look as cohesive as possible with your brand's design. During the research, you should check for their original appearance, it should be clean and subtle, as well as self-serving customization capabilities.
Almost all tools with an enterprise package will offer customization, but we will not put this method up for comparison here.
The top 8 customer feedback tools in 2021
Now that you understand what a customer feedback tool is, why you need it, and what you should look for when choosing one, let's look at the top customer feedback tools on the market.
#1 Usersnap
Usersnap is a multi-purpose customer feedback and bug reporting tool that enables you to collect satisfaction ratings, screenshots, and contextual feedback from your customers. It's very easy to install – just add a short piece of code to your website and you're good to go.
It offers plenty of customization options to help you design surveys that will fit your scenario and brand look. Usersnap also supports sentiment analysis and score-based follow-up questions.
There's also a reply-to-customer feature, as well as collaboration features such as internal notes, mentions, and assignees.
Usersnap integrates with a variety of popular software solutions, including Slack, Jira, Trello, and Zendesk.
Usersnap's pricing starts at $19/month. There's also a free 15-day trial you can use to test out the software and see if it's the right fit for your needs.
The tool is used by a number of successful tech companies, including Microsoft, Canva, and Runtastic.
#2 SatisMeter
SatisMeter is a customer survey tool that allows you to collect and measure customer loyalty with NPS.
It supports both in-app and email surveys, as well as automation workflows for customers that leave specific feedback scores.
SatisMeter integrates with software solutions such as Slack, Drift, Salesforce, and Mailchimp. Its pricing starts at $49/month.
You can also try out the software for free. Once you receive 100 customer responses, however, you'll need to switch to a paid plan.
#3 CustomerSure
CustomerSure is a customer feedback solution that enables you to send surveys to analyze NPS, CSAT, and CES.
Based in the UK, CustomerSure is GDPR-compliant and puts great effort into ensuring security and privacy for your data.
It supports email and mobile-friendly surveys, advanced data segmentation, text analysis, and automatic reports and notifications.
CustomerSure's pricing starts at $249/month. The software is designed to be an enterprise solution, and the price certainly reflects that.
CustomerSure is used by a number of local companies as well as international organizations.
#4 Qualtrics
Qualtrics is an experience management platform that you can use to collect feedback from customers at every stage of the customer journey.
With Qualtrics, you can start conversations and gather customer feedback through a variety of different channels, including your website, app, email, and SMS.
The collected feedback is analyzed with Qualtrics' AI in order to uncover patterns and trends, as well as help you predict customer behavior.
Qualtrics is for enterprises, their users include Hugo Boss, BMW, and Under Armour. The pricing also reflects its service, starting at $1,500 a year and go higher according to different contracts.
#5 Hotjar
Hotjar is a user behavior analytics software solution that helps businesses understand how their customers are using their website or app.
It allows you to generate heatmaps and user recordings, create and send feedback surveys and polls, as well as analyze how visitors are interacting with your website.
Hotjar is GDPR and CCPA-compliant and integrates with a number of popular tools, including WordPress and Shopify.
It offers a free plan that's limited to 2,000 page views per day. Paid plans start at $32 per month for personal plans and $89 for business plans.
Hotjar is used by over 350,000 organizations worldwide.
#6 Qualaroo
Qualaroo is a customer research and feedback software solution that allows you to collect and analyze customer insights.
With Qualaroo, you can target users based on identity, cookie value, geographic location, behavior, and other criteria. It also supports advanced sentiment analysis powered by IBM Watson.

The software integrated with Google's marketing tools, such as Google Analytics, Optimize, and Google Tag Manager can become even more powerful in getting deeper insights into customers' preferences.
Qualaroo's pricing starts at $199/month. Its customers include companies such as Udemy, Twilio, and Hootsuite.
#7 Bazaarvoice
Bazaarvoice is a software solution that enables businesses to collect feedback, reviews, and testimonials from their customers.
By publicly exhibiting customer reviews on your product pages, your customers will appreciate the transparency inspiring them to put more trust in your brand. Bazaarvoice can further push these testimonials to other retail channels, as well as for you to easily reply to all the feedback within the portal, allowing you to maximize the social proof and build confidence in customers.
Bazaarvoice doesn't list pricing on their website at the time of writing. It's used by brands such as Macy's and Pepsi.
#8 Shipright
Shipright is a software solution designed to help businesses collect, organize, and analyze product feedback.
It's used by companies such as DigitalOcean, Growbots, and Gooten.
Shipright integrates with a number of tools product managers use daily, including Intercom and Slack.
It has a free plan that's limited to 100 tracked users. Paid plans start at $49/month.
Which customer feedback tool is for you?
With so many customer feedback tools available on the market today, it can be overwhelming to choose the right one for your needs.
That's why we've created this list and the table below to help you compare all the tools at once.
| | | | | | |
| --- | --- | --- | --- | --- | --- |
| | Ease of Use | Features | Integrations | Price | Customization |
| Usersnap | ✅ | Many project types | 2,000 | $9 | ✅ |
| Satismeter | ⭕️ | NPS | 16+ | $49 | ⭕️ |
| CustomerSure | ⭕️ | Many project types | Unknown | $249 | ❌ |
| Qualtrics | ❌ | Many project types | 50+ | $1,500 | Enterprise only |
| Hotjar | ⭕️ | Heatmaps & feedback | 15+ | $89 | ⭕️ |
| Qualaroo | ✔️ | User surveys | 20+ | $199 | ⭕️ |
| Bazaarvoice | ✔️ | Reviews | E-commerce platforms | Unknown | ❌ |
| Shipright | ⭕️ | Product feedback | 4 | $49 | ❌ |
But the best advice is to try it yourself! You can enjoy full access to features with Usersnap's 15-day free trial. Sign up for your Usersnap account, the #1 customer feedback solution. No credit card is needed.