Have you ever heard of a SaaS company that can say they have personally interacted with up to 50% of their users? Well, we at Usersnap have been able to do that with a simple feedback widget!
More than half of our customers have sent us feedback through our feedback widget. Our power users even send 2-5 feedback without any prompt every quarter!
In this article, you will learn about the website widgets that can be easily added to your web or mobile applications, as well as the best practices for feedback button UX.
For a SaaS product to grow and stay relevant (or any company's growth, for that matter), you need to have a constant stream of customer feedback on the website and in-app. However, it's way easier said than done. We will share how you can set up interactive widgets on websites and how to increase engagement for feedback sections on websites. By the end of this read, you will be ready to create a feedback button with a template.
What is a Feedback Widget?
A feedback widget is sort of a website feedback app that allows your visitors to notify you when they face a problem. It can also be called a feedback plugin for website as it is integrated into the UI and becomes a major part of the website experience. Website widgets are widely used for a variety of tasks but most of the time they are used for collecting information regarding users' interests, opinions, concerns, and experiences. You can add a free feedback widget to your website to find out how your visitors respond.
What is a Product Feedback Widget?
A product feedback widget is a way to add a feedback section on website to ask your customers what they think about your product or service. This allows you to gather valuable and meaningful information right from the customers instead of relying on your internal data. You can leverage the feedback collected from many cool widgets for websites to improve your product, add new features, and fix issues.
Why Do You Need a Feedback Widget for Websites?
Collecting feedback on the website is crucial to deliver an exceptional customer experience. If you don't know what your visitors and potential customers are thinking about your website, it becomes far more challenging to address their issues and concerns. That's why it becomes important to rely on a tool like a web feedback widget to know and understand your customers better.
Feedback Widget for Website
A site feedback widget is a feature or component that you can add to your website to enable visitors as well as customers to provide feedback and reviews. When you want to collect feedback for a website, there are a number of ways to do so but the easiest method is to add a site feedback widget as it involves minimal effort and coding on your part. Gathering feedback on a website can be highly useful to businesses looking to improve their services across the board.
Customer Feedback Widget
A customer feedback widget is basically an embedded page or an application that's separate from the host page. It's usually a third-party application that facilitates feedback collection without the website's owner's interference. This method of getting feedback ensures enhanced transparency.
Feedback Plugin for Website
A feedback plugin is a small software that can be added to WordPress and other websites. It adds the functionality to include forms that enable you to collect feedback for the website.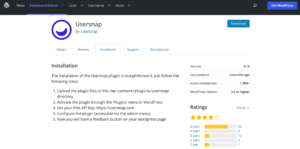 Survey Widget for Website
If you don't want a basic feedback web widget or plugin and are looking to collect detailed feedback, a survey widget is a better alternative. It works exactly like other web feedback widgets but you can gather detailed feedback through a separate web page or form.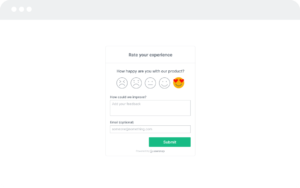 "Your most unhappy customers are your greatest source of learning." Bill Gates
Website Feedback Button
A feedback button is a relatively hidden tab on your website or web app that your visitors may access at any time. When your consumers run into an issue or come up with a suggestion, they may immediately provide you with feedback using a feedback button. It's possible to utilise feedback buttons to repair errors, find usability issues, and uncover growth prospects.
Feedback Button On Website
Adding a feedback button to your website demonstrates your willingness as a business to listen to your customers. It makes it quick and easy for your potential customers to leave their reviews and suggestions. Most importantly, a feedback button is usually a discreet component so it doesn't get in the way of user experience.
Feedback Button Examples
You can find a feedback button on many websites on either side or top or bottom of the page. When a user clicks on a feedback button on a website, a pop-up or slide-in feedback form displays on the screen or overlays the current page.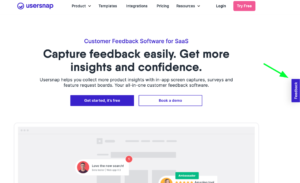 "Unless you have 100% customer satisfaction… you must improve." Horst Schulze
Check out some of Usersnap's features right away!
Data and information drive modern decision-making. The more you learn about your customers' preferences and opinions, the more you are closer to delivering the experience they desire. 8 out of 10 companies that rely on customer feedback witness consistent growth in their business. That's why a website feedback widget is a crucial tool that can enable you to identify issues, find gaps, address bottlenecks, and improve overall customer experience. Using website widgets for collecting feedback, you can learn about:
Who your customers are and what they like and dislike
Customers' journey and when they find you
Most frustrating issues and pain points your customers face
What your customers think about the latest interaction with your brand
Where can you do better and what areas need improvement
How likely your customers are to recommend your brand
Why Do You Need In-App Feedback Widgets?
Coders and development teams understand that even feedback button UX is important for user engagement. That's why a web development feedback form is often used to collect feedback during the product development process. However, it can become quite cumbersome and tedious to ensure feedback is acted upon. That's where the in-app feedback widget makes the process easier.
What is an In-App Feedback Widget?
The in-app feedback widget allows users to share their experiences about using the app right away. It is used by developers to cut down development and quality assurance time and get back to incorporating feedback right away. When you already have an in-app feedback button, your users are more likely to use it instead of voicing their frustration on social media platforms and other public forums which can cause reputational damage.
Why collect user feedback with a feedback widget?
User feedback is crucial across the whole customer journey – from the moment a visitor comes to your site up until they buy from you or use your product, and even after they leave.

The great thing about the tools available today is you can collect feedback at basically any point of the customer journey:
test a new product or feature with your users

get feedback at the moment to learn what your customers really need

collect the voice of customer data – and use it in your marketing copy

learn why people leave your app or website – and improve retention

get ratings of your products or services

streamline your customer service and shorten response times

evaluate customer satisfaction and loyalty

capture testimonials for your website.
A user feedback widget can link to anything from a very simple on-site poll, one-question survey, and star rating, to visual feedback and a complex feedback analysis platform.
Let's look at some examples.
Top website feedback widget for you right now
Usersnap is the most comprehensive and easy-to-use customer feedback tool for websites, as well as web and mobile apps. Apart from collecting quantitative feedback with a selection of ratings like NPS, stars, thumbs up/down, or emoji faces, you can also collect visual feedback through screenshots and screen recordings. Users can take screenshots and screen recordings within your web and mobile application. From there, they can annotate with comment boxes, arrows, and drawings.
The user feedback button is fully customizable to fit your website design and branding. The platform includes a comprehensive feedback analysis dashboard to review feedback items, sentiment analysis, and CSAT index/NPS performance.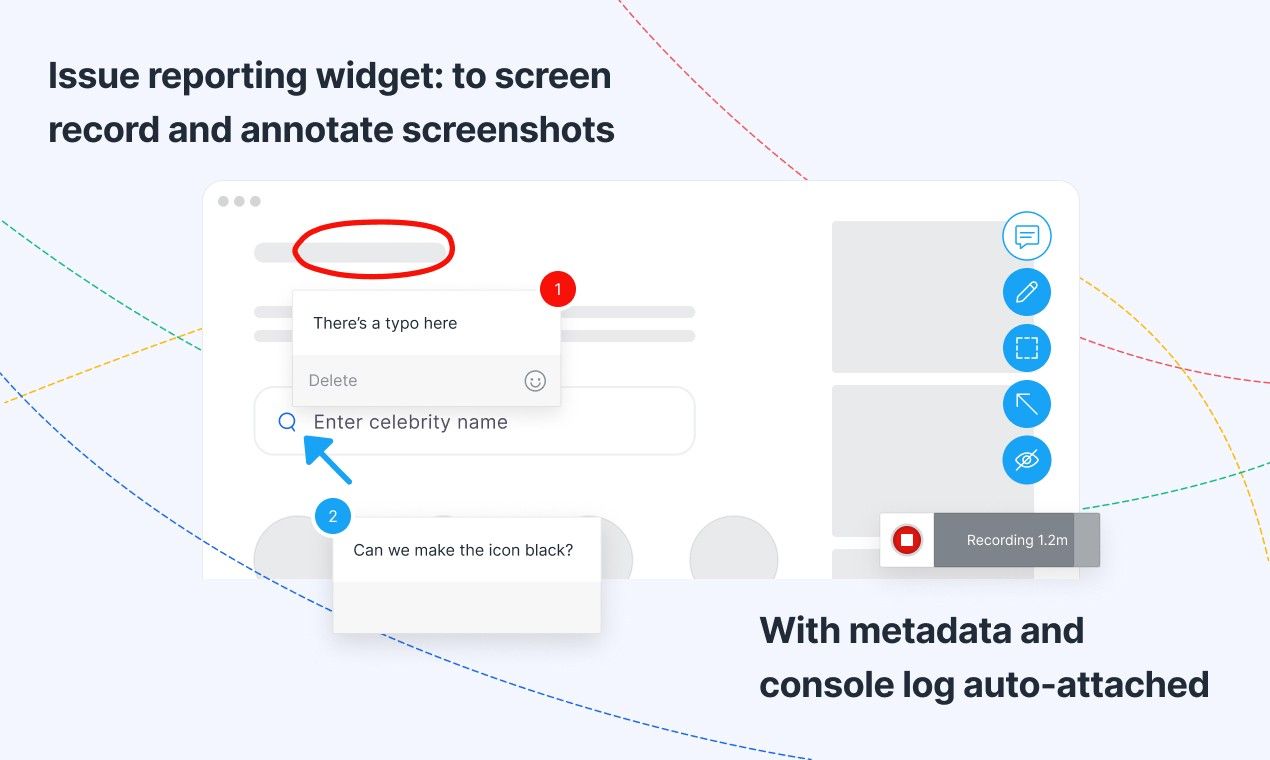 Connect Usersnap with customer care tools to follow up the feedback and make every interaction count. 20+ integrations are available.
15-days free trial sign-up here.
This tool lets you create customer feedback forms for your website, online and mobile app, also offering the option to survey your customers using email and SMS. Survey types include NPS (Net Promoter Score), CSAT (Customer Satisfaction Score), and CES (Customer Effort Score).
You can customize the look of the feedback forms to be consistent with your site's design. The tool also offers real-time analysis.

Feedbackify offers a simple drag-and-drop feedback form creator. It's a straightforward tool you can use to embed a user feedback widget on your website and ask your customers to provide a rating and submit comments and suggestions. The tool also provides a dashboard where you can view the feedback you get in real-time.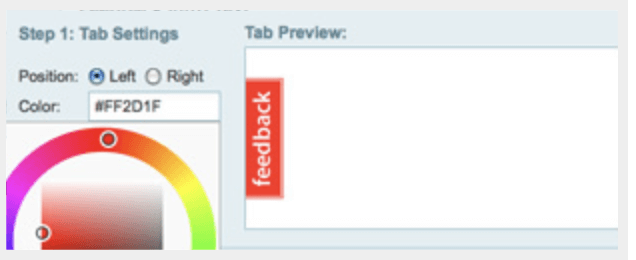 GetSatisfaction is a customer feedback tool that provides a more social user feedback experience to your customers. You can collect feedback using a widget all over your website and organize it onto a social forum you can embed anywhere (your website, app, or Facebook page) where others can evaluate it, comment on it, and ask their own questions or provide suggestions.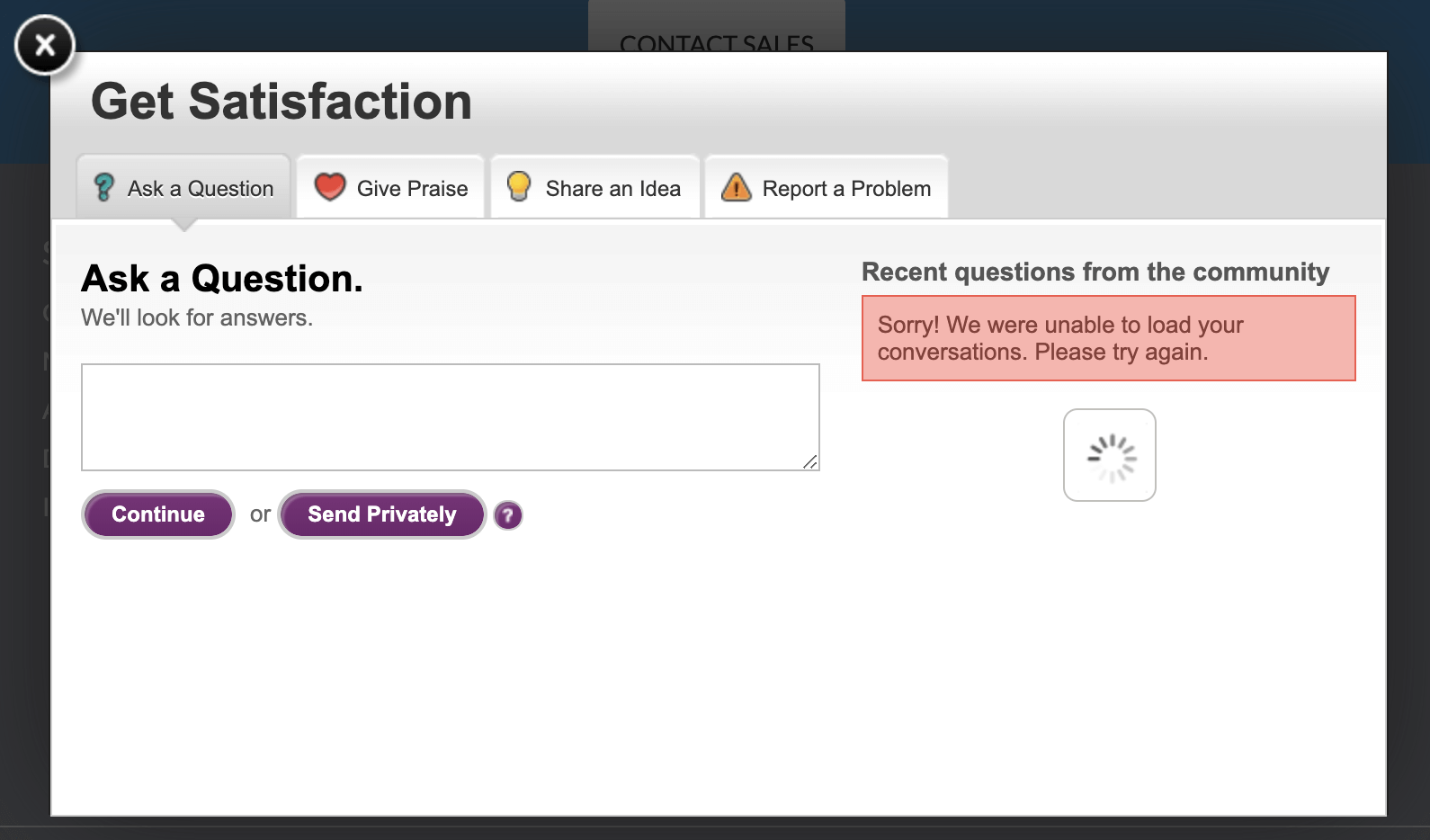 A simple, basic, mobile-optimized website feedback widget with 8 customizable tools including multichoice and open-ended questions, rankings and ratings, and subscription forms. You can customize the widgets and tabs to your preference and use advanced targeting, e.g., by device, browser, or IP.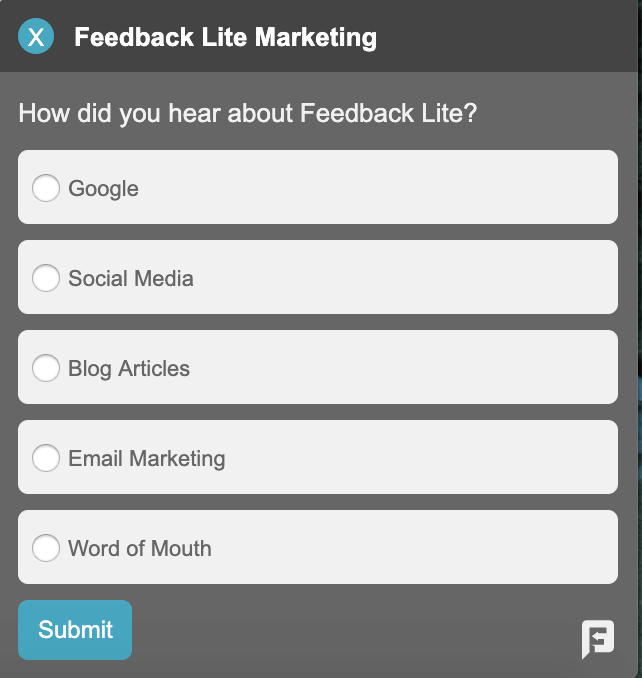 Medallia Experience Cloud (previously Kampyle) lets you create customer feedback buttons and branded forms and surveys for your apps, websites, emails, and SMS. The interactive feedback can be triggered to appear proactively or targeted at a certain segment of your visitors, e.g. those who want to exit your website.  
The platform is more complex including analytics, insights, and artificial intelligence, and is designed for large enterprises.
Apart from user feedback widgets, UserEcho also offers a knowledge base and forum where your customers can leave feedback, while others can comment and vote. The platform also includes a helpdesk and live chat, and comprehensive analytics.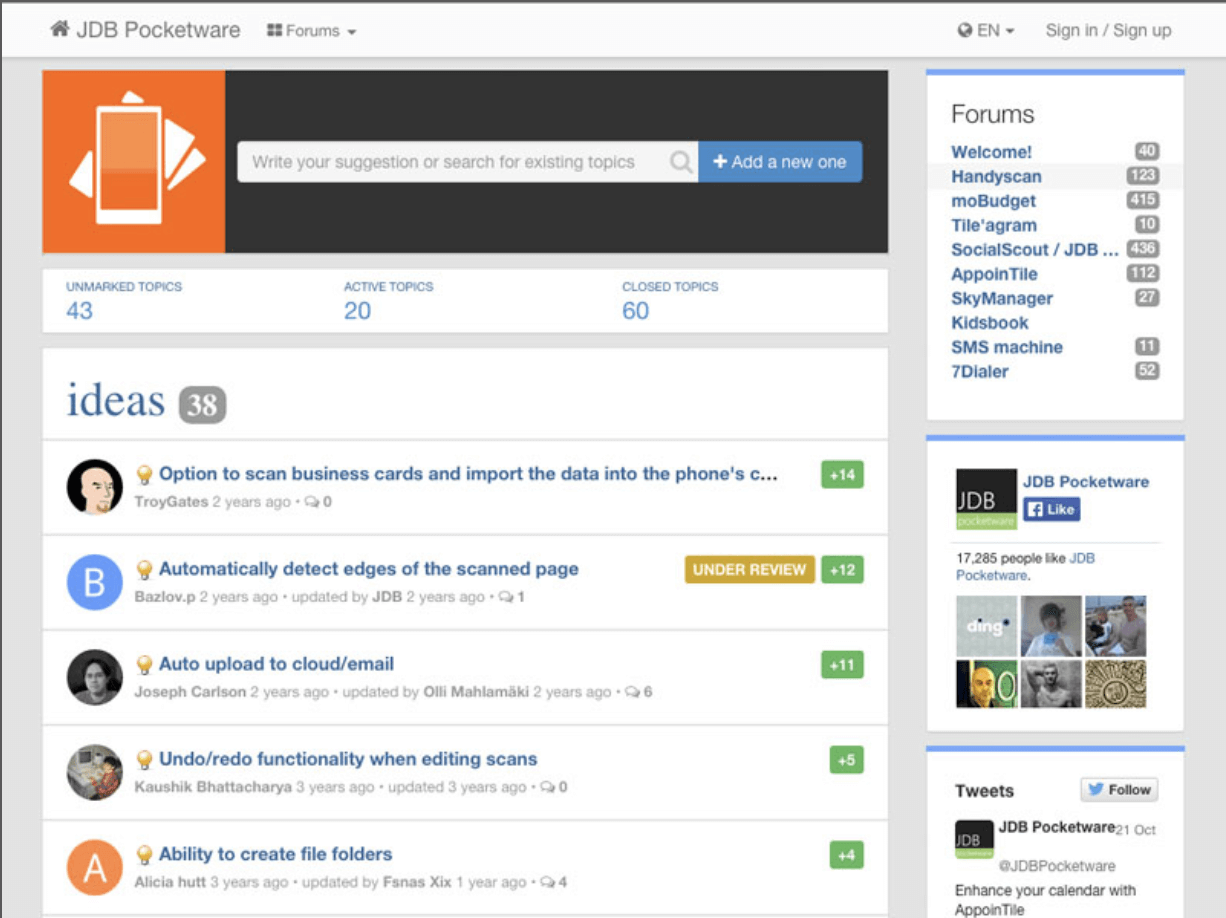 Appzi offers simple user feedback widgets with customized buttons and surveys for your website. You can customize the color, choose an icon or text, place your logo, or use your own button. The software is designed for product feedback, website feedback, and simple one-question feedback, with more developments to come.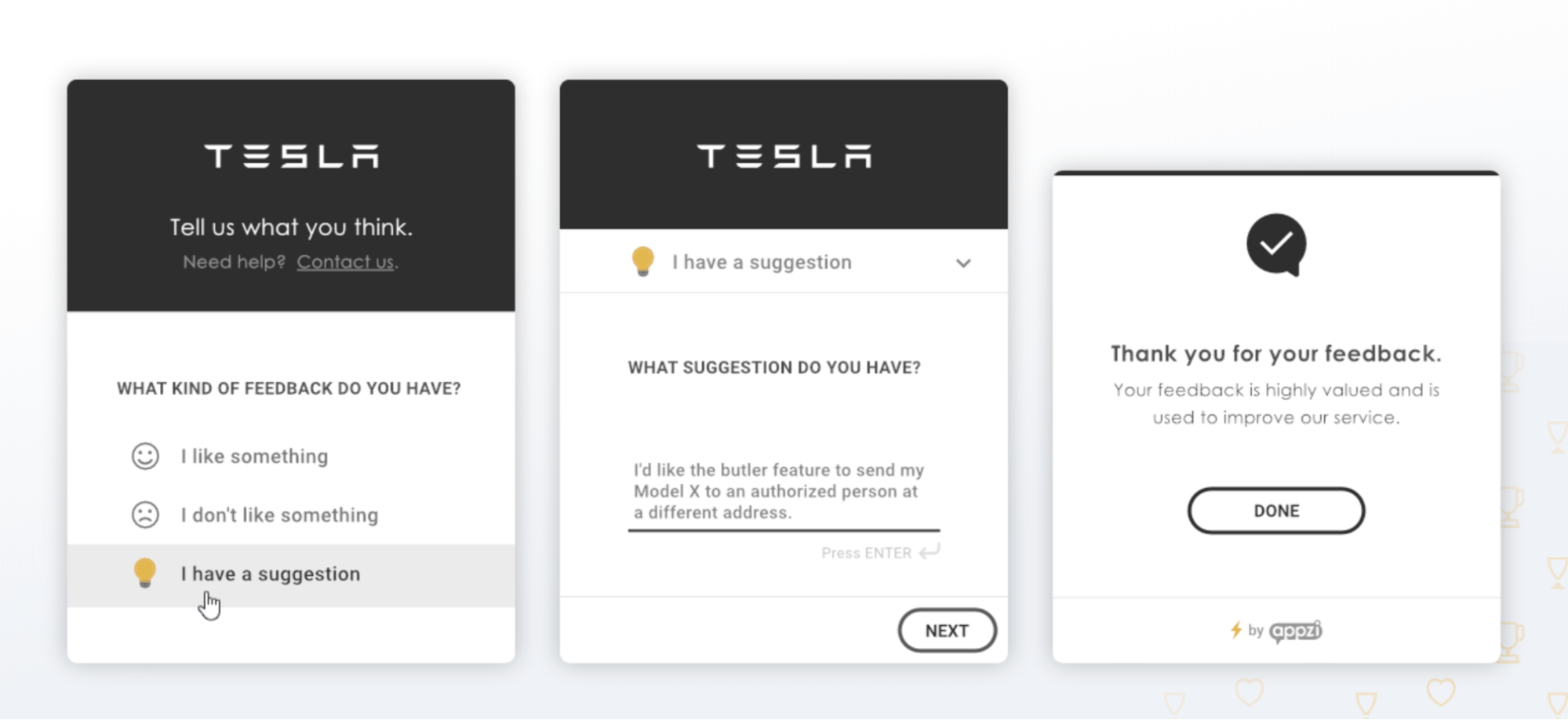 Emojics is based on what's becoming an increasingly popular way to express emotion – emoji. The service provides a multi-purpose reaction button tool you can use to get user feedback about your product, website, or content on your blog. You can also use it in emails.
Emojics lets you customize the user feedback widget with your own text, and CTA, and you can select from 300+ available emojis. After a user has clicked an emoji, they can leave their email address, or answer additional questions.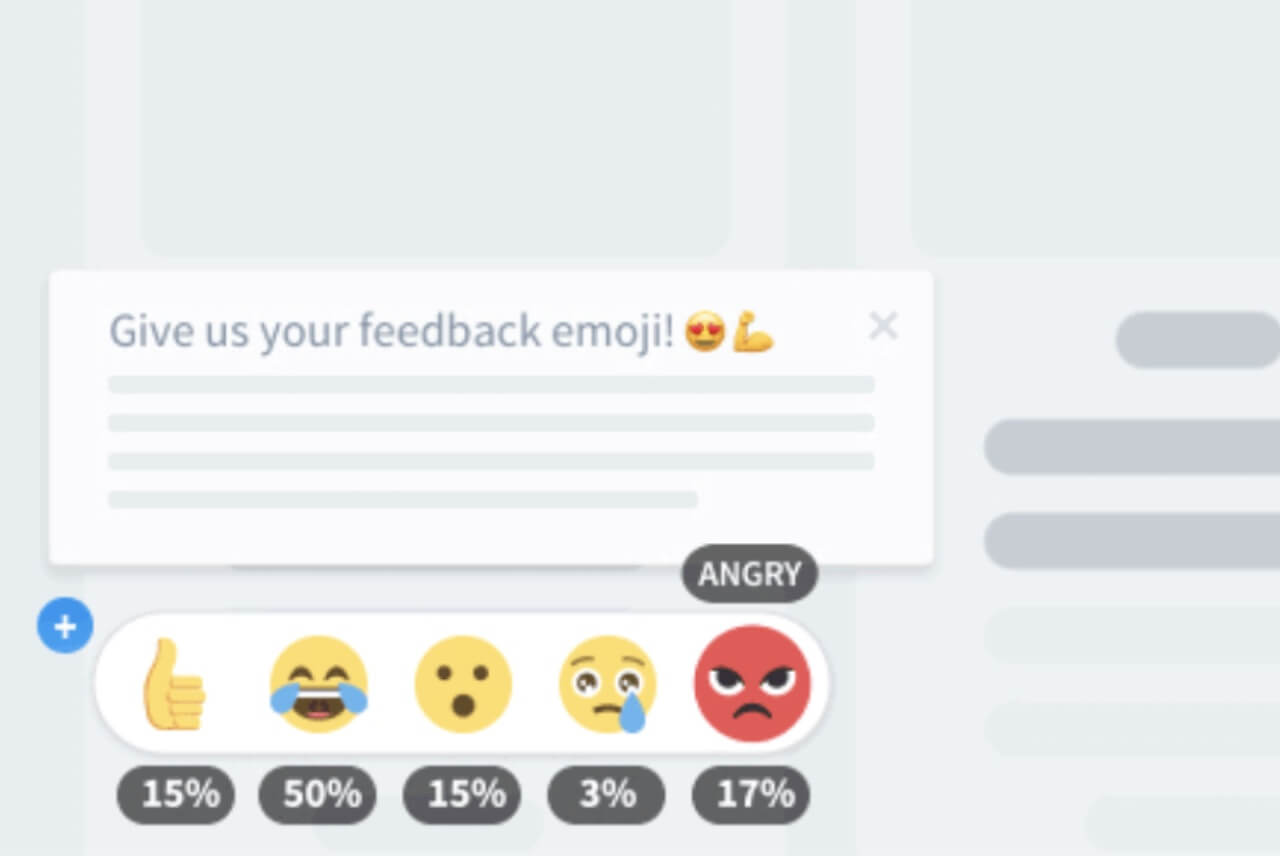 Emolytics is similar but more elaborate. It allows you to create quick feedback surveys and capture your visitors' emotions. The features include dropdown menus, sliders, lead generation forms, and ratings you can use in emails, at events, at the point of sale, on a blog post, a webpage or across a website, in an invoice, an ad, etc. It also has reporting and analysis capabilities.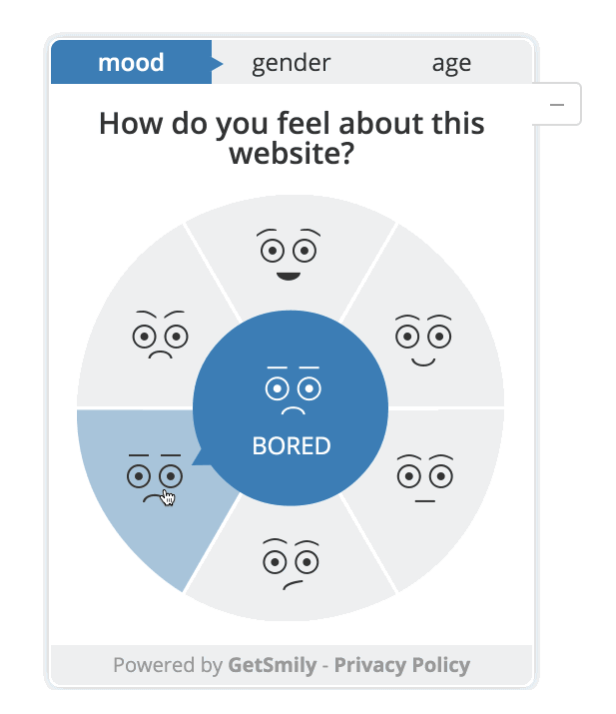 Rating Widget is a basic widget that works with WordPress and other online website creators like Wix and Blogger, and e-commerce platforms like Shopify. It's quick to set up, with customizable ratings and multiple themes of stars and thumbs. It's great for one-click, instant feedback for blogs, online stores, and websites.

Ask Nicely is a customer feedback tool specifically focused on NPS surveys that can be delivered by email or on your website and inside your app. You can integrate your CRM to trigger feedback requests related to specific events or at specific times. It includes useful analytics to drill down into the results and analyze the score.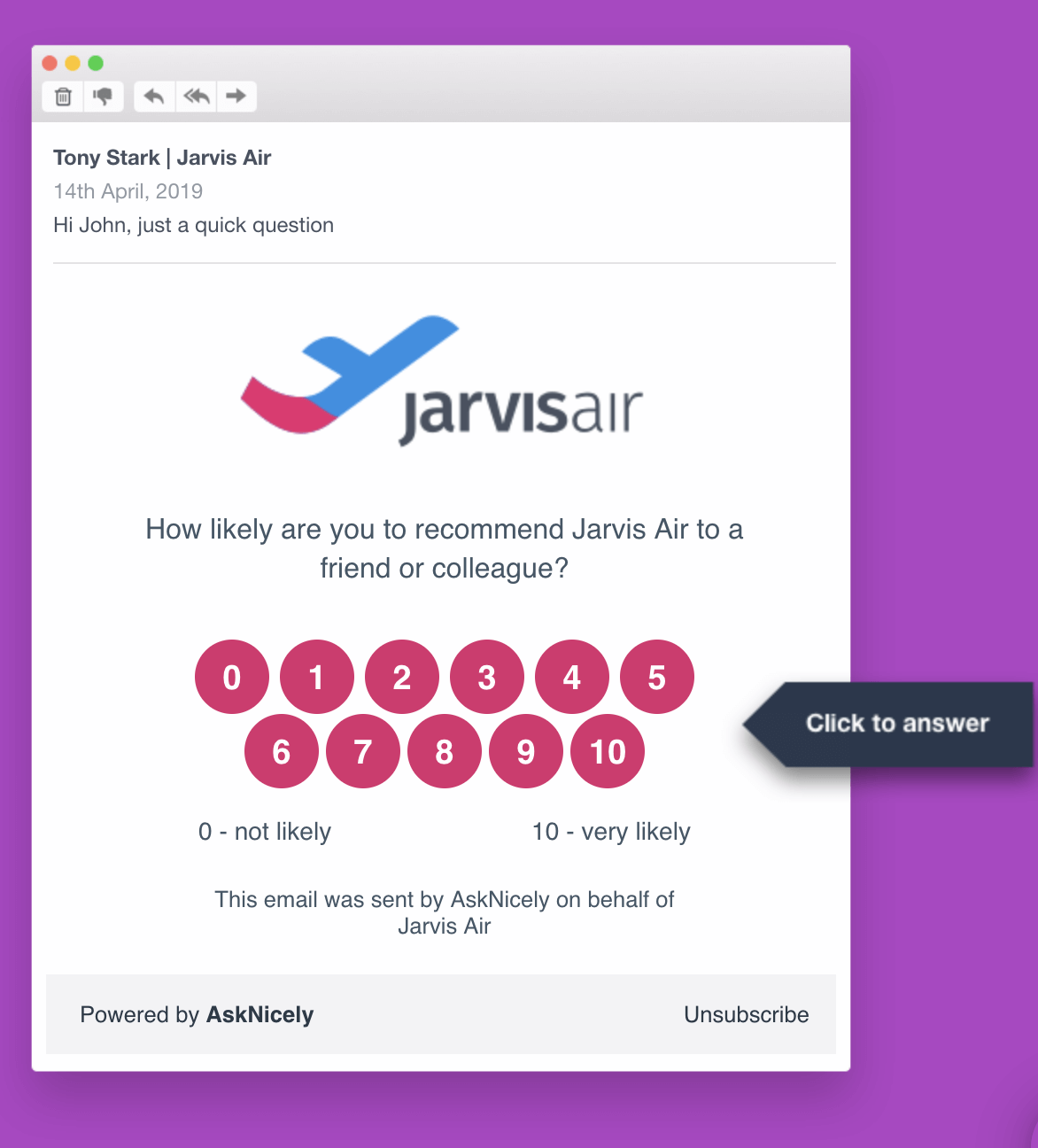 Informizely lets you collect feedback in the moment with targeted website surveys and slide-in and popup surveys triggered by exit intent, page scroll, idle time, and button click. You can display full page link surveys, embed a Net Promoter Score survey, rating or other single-choice question in an email or embed surveys in HTML apps like chat messages.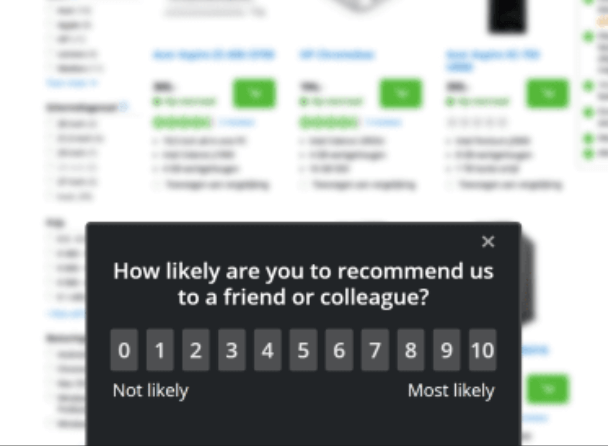 With Qualtrics, you can collect user feedback on your website and in your mobile app, embed surveys in emails, and collect social feedback.
Qualtrics is one of the more comprehensive experience management platforms for larger enterprise companies, including market research and employee insights, and role-based dashboards for multiple users within an organization.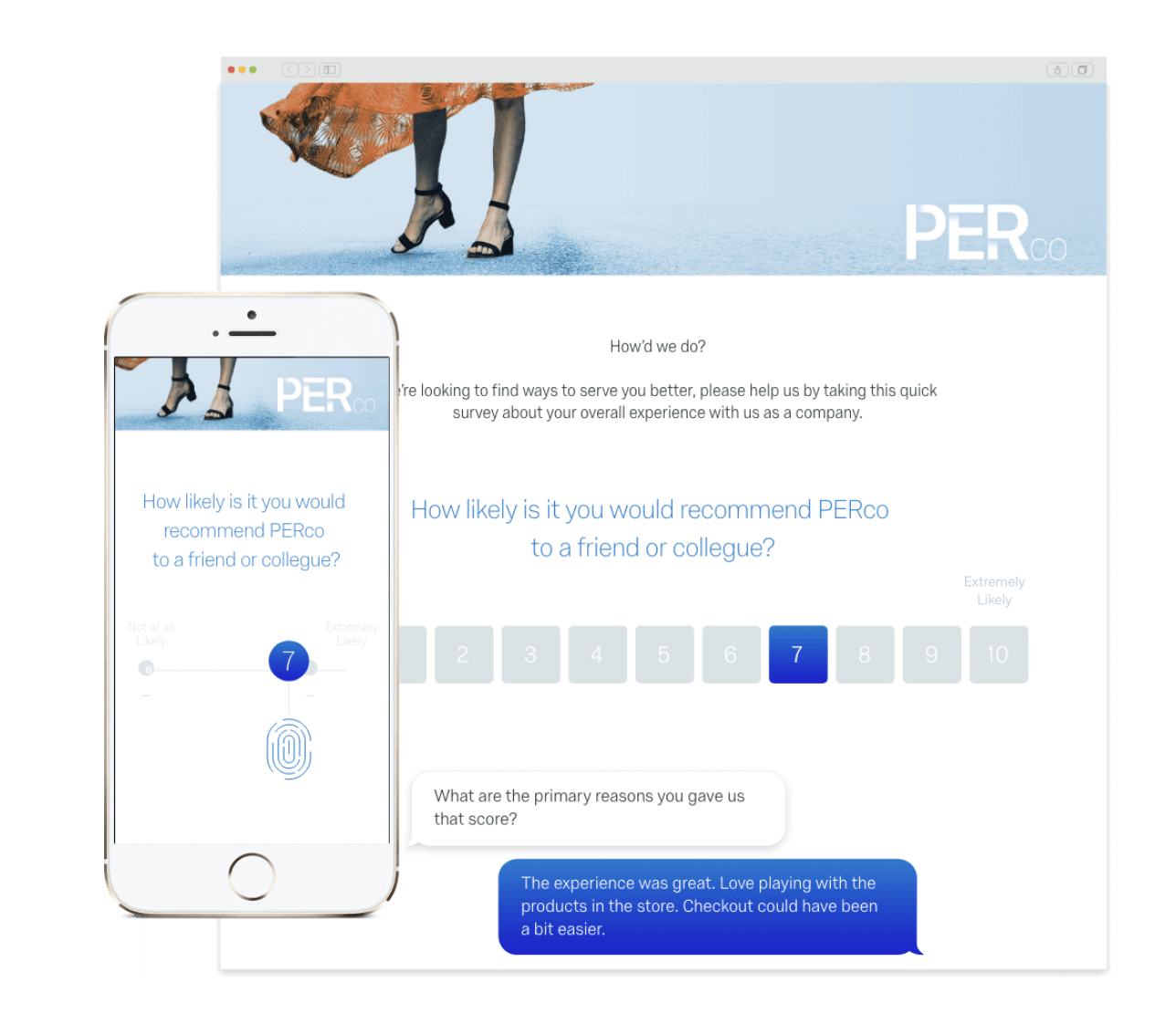 Apart from being a voice of customer platform and customer feedback tool, OpinionLab also lets you gather feedback from offline channels like physical stores and contact centers.
The tool lets you add customer-initiated Dynamic Comment Cards on websites and in mobile apps. The feedback forms can be triggered based on exit intent, search, or cart abandonment. The platform also provides analytics to help you turn feedback into action.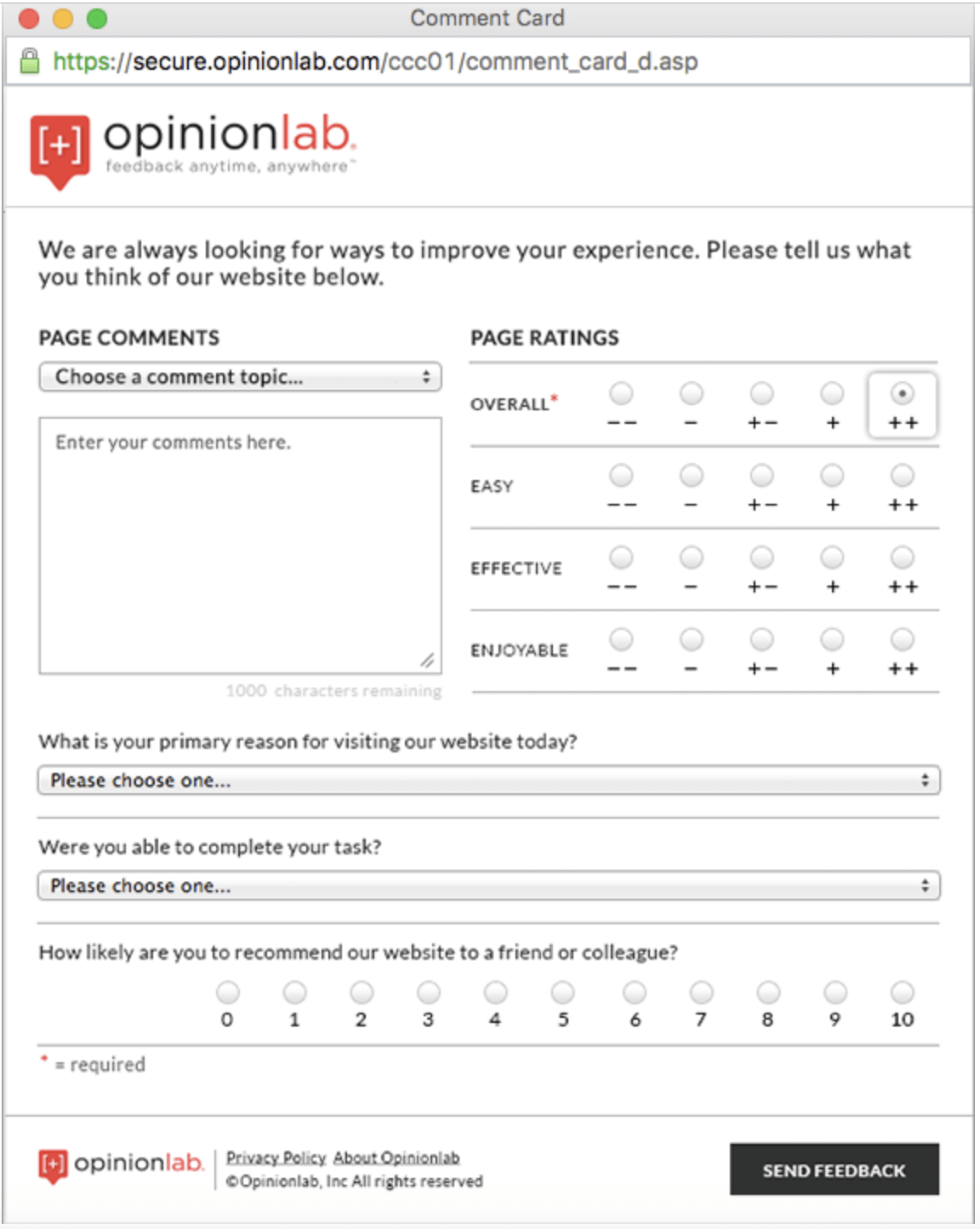 Usabilla offers customer feedback buttons you can customize to fit your website and apps for targeted in-app feedback. Using this customer feedback tool you can run conditional surveys, ratings, and NPS surveys. Your customers can also submit visual feedback using the screenshot function and rate their experience in emails.
You can then analyze the results to improve your app or service.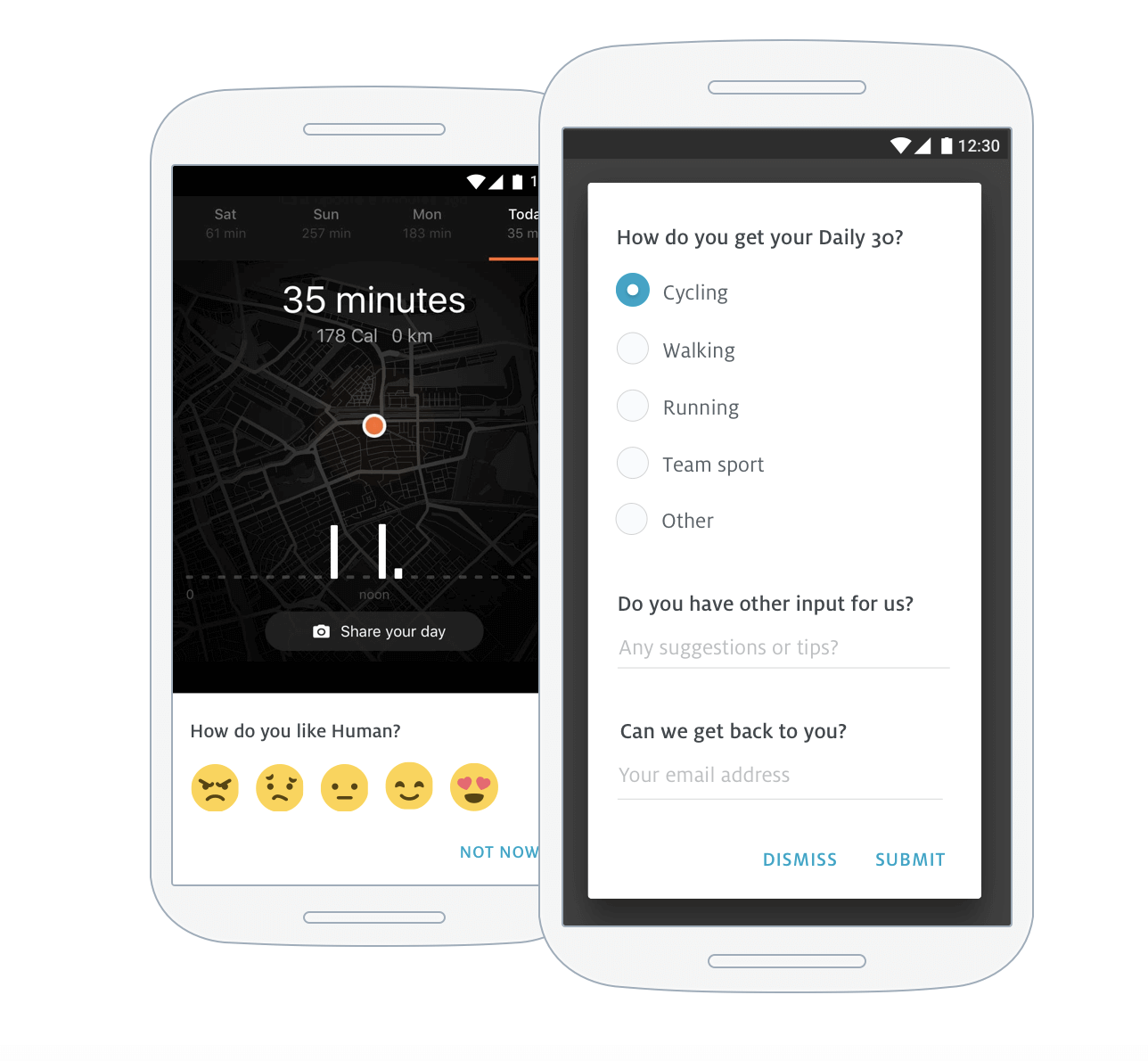 Saber is another visual feedback tool that allows your visitors to highlight issues on your website using screenshots and submit them by email. It also provides customizable user feedback buttons and forms you can edit to run NPS surveys or get ratings from your customers and add your own custom fields. It integrates with multiple project management apps.
A nice extra is that you can use the feedback button in 13 languages.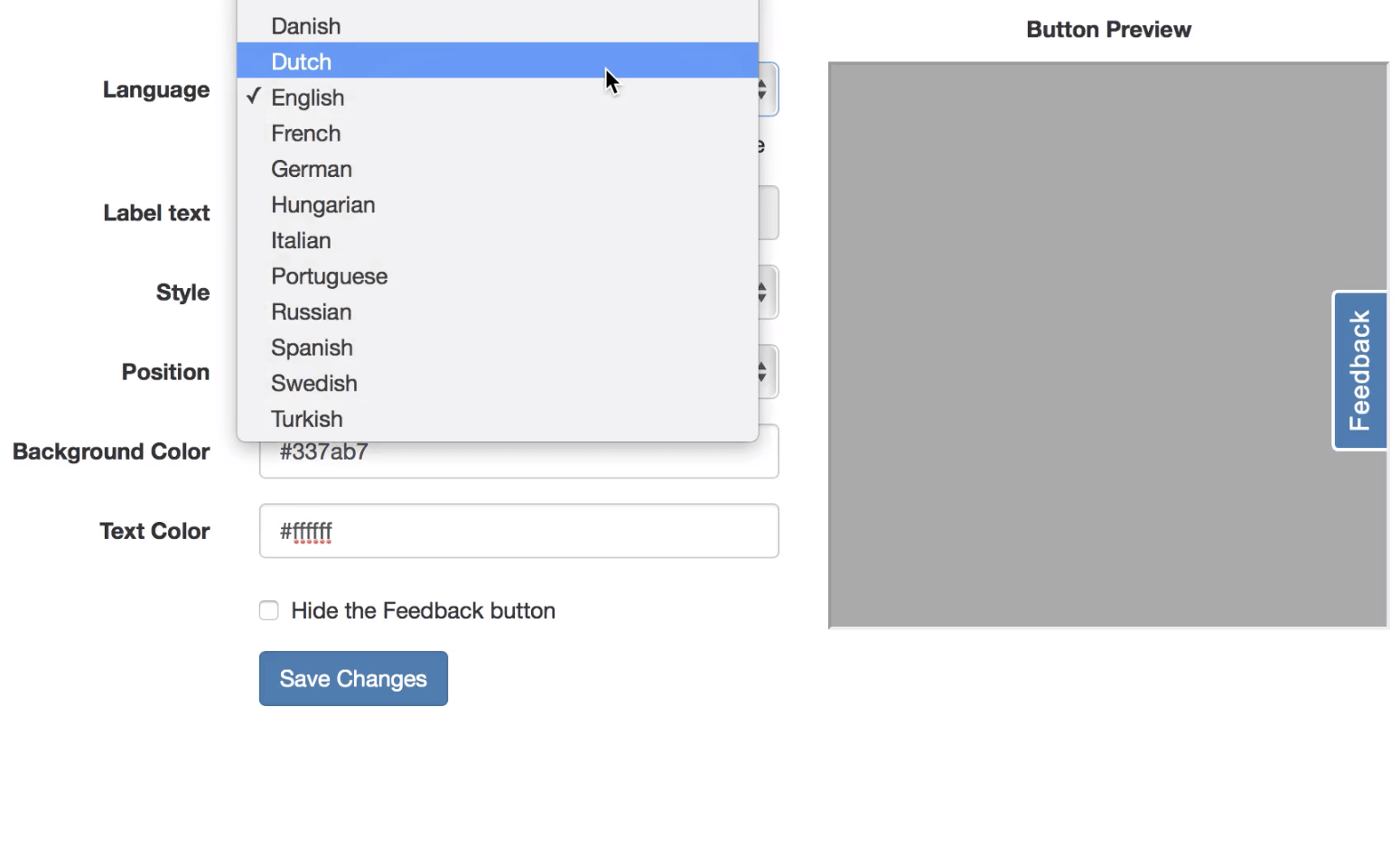 Mopinion is one of the more complex user feedback solutions. The software lets you place customized feedback buttons on any page of your website, using one of the available feedback modes: modals, slide-in forms, or embedded on your site or in your emails. The website feedback buttons can trigger NPS surveys, in-app surveys, and ratings.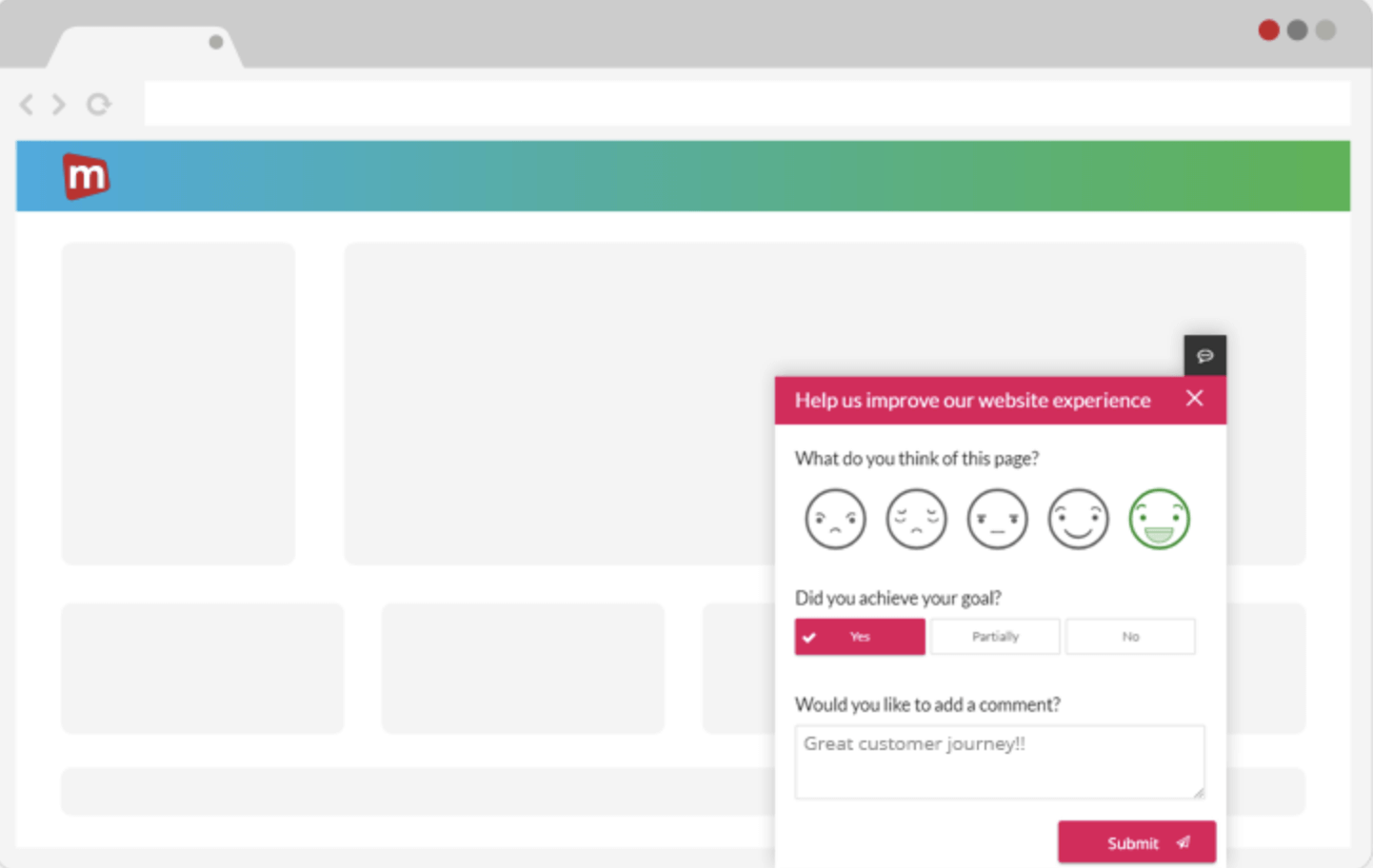 With GetFeedback you can create branded user feedback buttons and surveys for your website. You can customize the logic of your surveys, personalize survey greetings, and add your logos, fonts, colors, and custom URLs.
The surveys can be embedded on your website or in your app, sent in a text message or published via social media. You can send emails straight from the platform or integrate with the email service provider you use.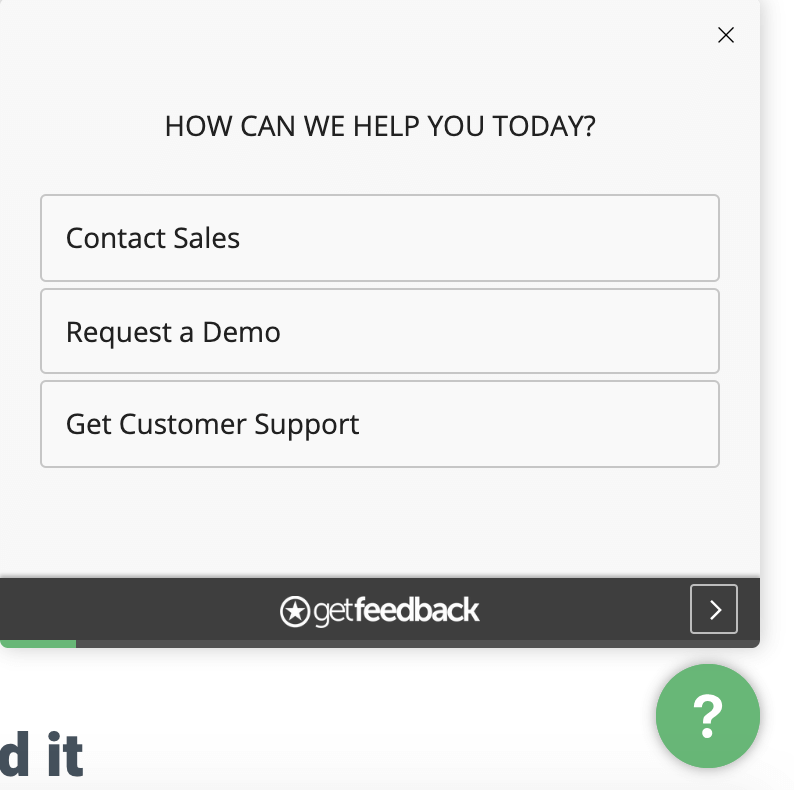 Survicate is a customer survey platform you can use to trigger targeted surveys on your website. The surveys are customizable, and the customer feedback widget for your website can be additionally designed using the platform's advanced CSS options.
You can run targeted website surveys, email surveys, mobile app surveys, add lead generation forms, and create questionnaires you can share through emails, messenger apps, and social media. The tool integrates with multiple email service providers.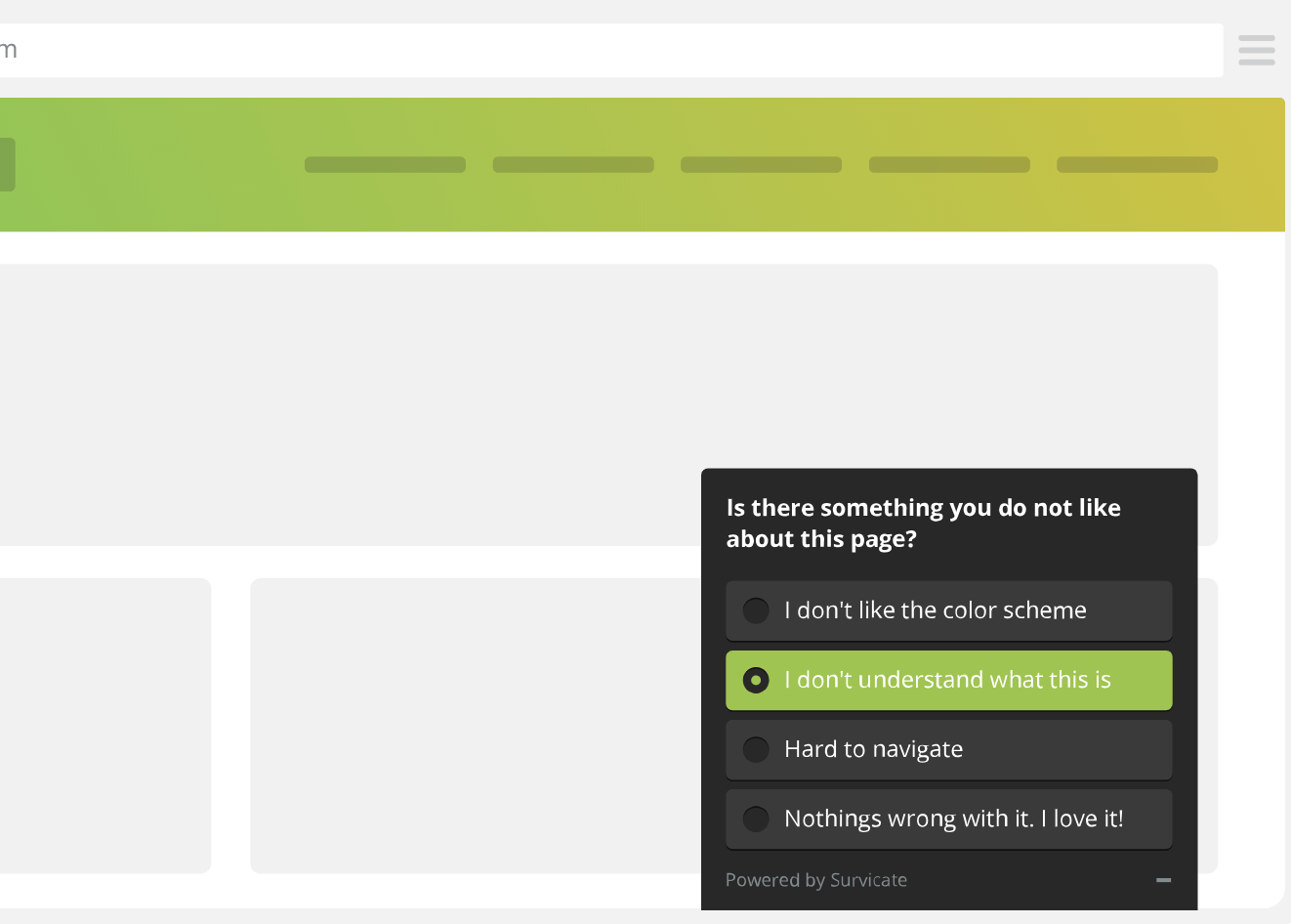 Typeform allows you to create simple and minimalistic surveys and embeddable contact forms. It stands out because of its clean design and simple, easy to use templates. The surveys ask one question at a time to follow the flow of a real conversation, and they work on any device. You can run feedback and satisfaction surveys, create lead generation forms, quizzes, on-site polls, and more. If you need a list of Typeform alternatives, we got you covered there as well.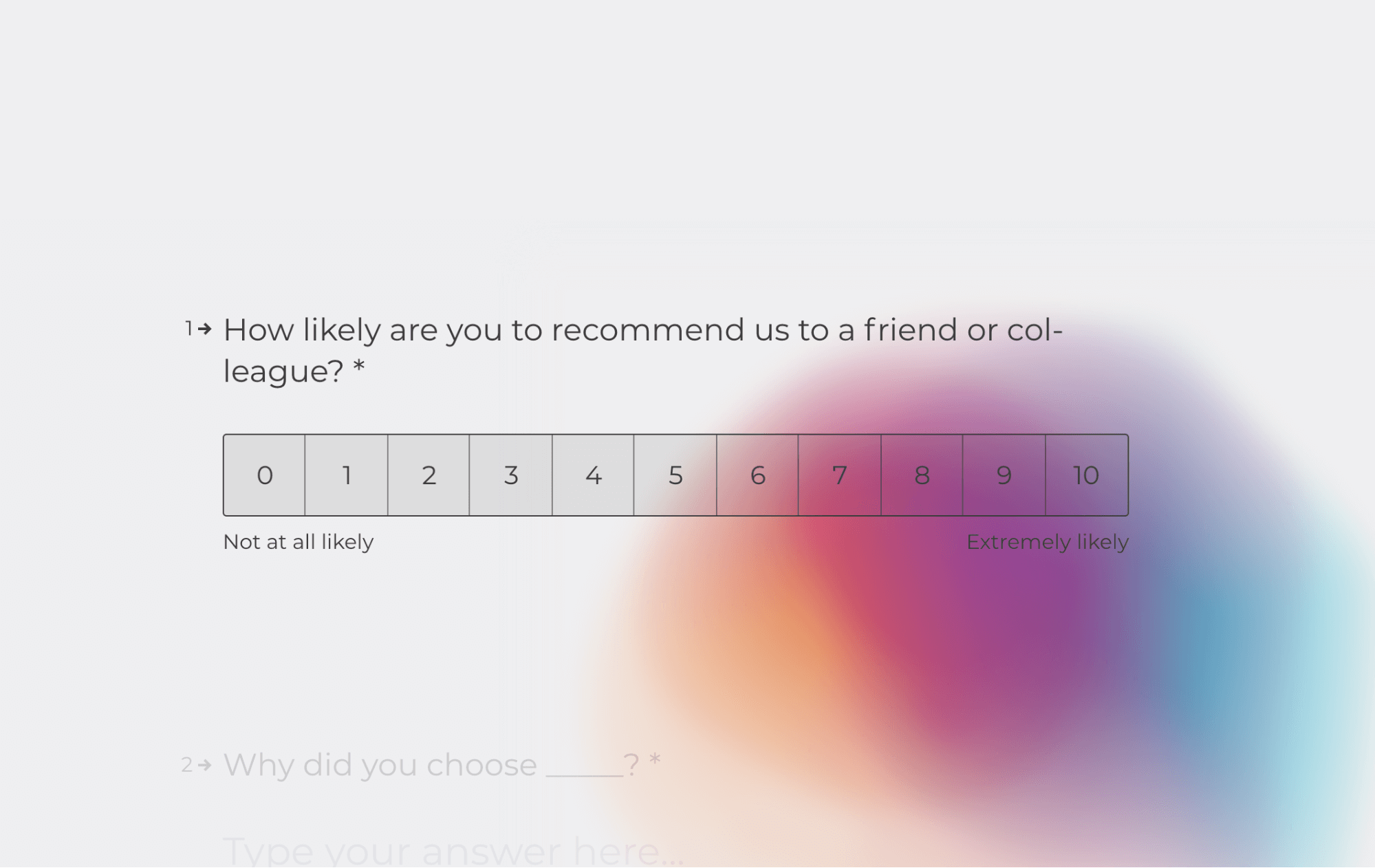 CrowdSignal (previously PollDaddy) is a WordPress plugin from the makers of WordPress itself for creating embedded polls and surveys on websites and in emails. You can connect it to other services like Facebook, Twitter, Weebly, and more. It's a great tool for short quizzes and on-site polls to ask visitors quick questions and get feedback in the moment. You can also create surveys with unlimited questions and ratings.
The software also offers an iOS app to collect answers anywhere, e.g. at a tradeshow, at a POS, or to conduct a street survey.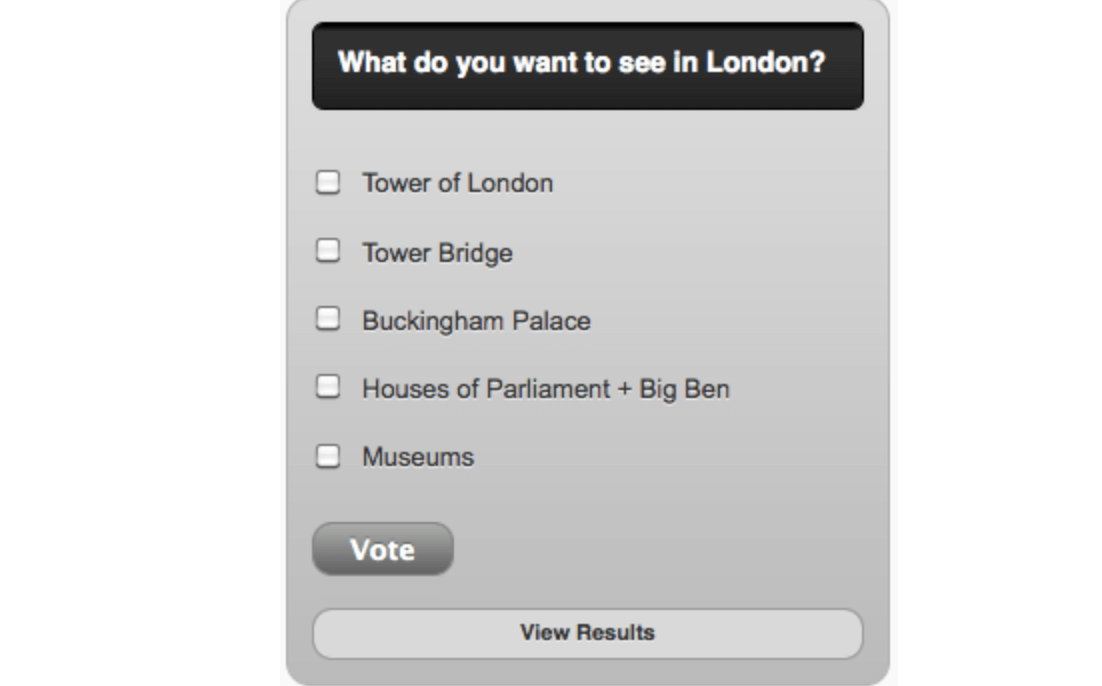 Bugrem is another user feedback tool that allows you to create user feedback buttons and forms, and lets users leave feedback, suggestions, and bug reports by taking screenshots straight from their browser.
The software offers ready-made user feedback buttons and forms that you can customize. The buttons can trigger forms for general feedback or users can drag them to a specific part of the page.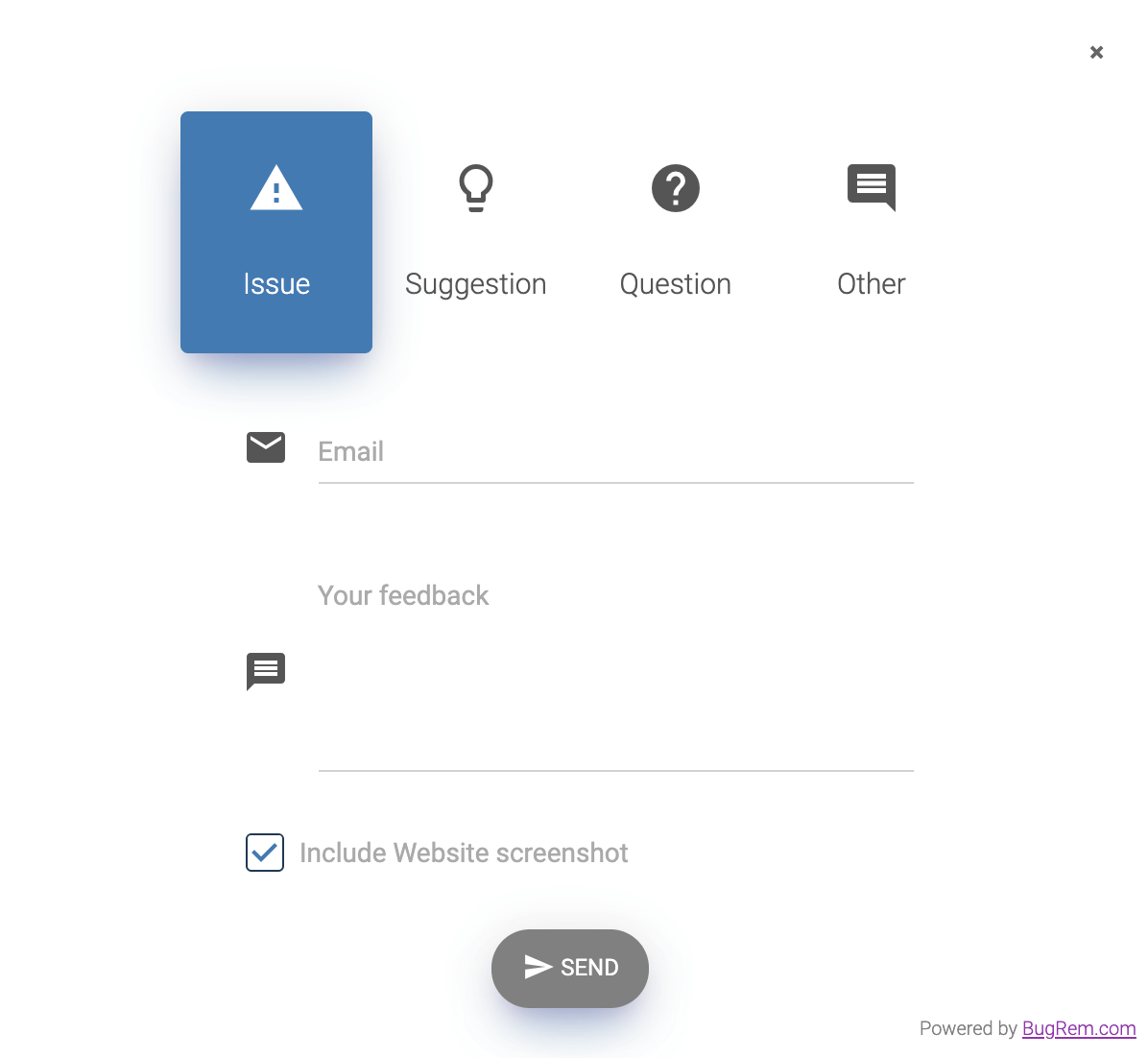 FeedbackRig is a feedback platform that provides customizable sticky user feedback widgets, web surveys, ratings, one-question surveys and more for websites and apps, and emails. It includes a wide range of targeting options and also allows to submit visual feedback by integrating the visual feedback button with your website or app.
The software includes reporting and analysis and integrates with other tools like Trello.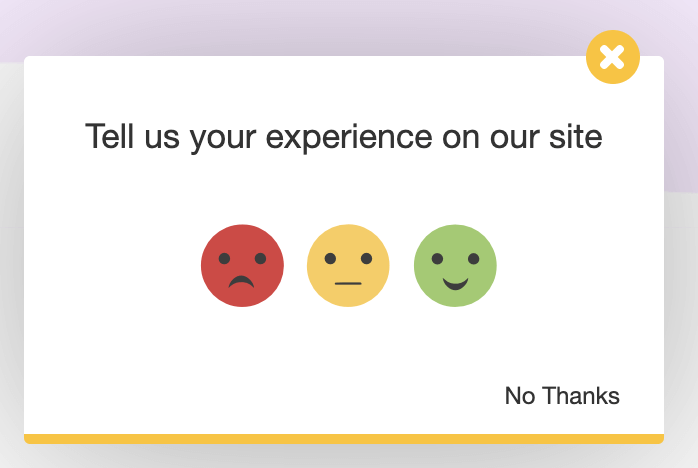 Freddy Feedback can be used to get feedback on anything that you communicate to your customers on your website: products, features, pricing, blog posts, FAQs, docs and more. It offers 3 and 5 scale emoji ratings, star ratings and a thumbs up/down rating with an optional follow-up question.
The design is minimalistic with multiple themes to choose from and it doesn't show a 'Powered by' label to your customers which is a nice touch.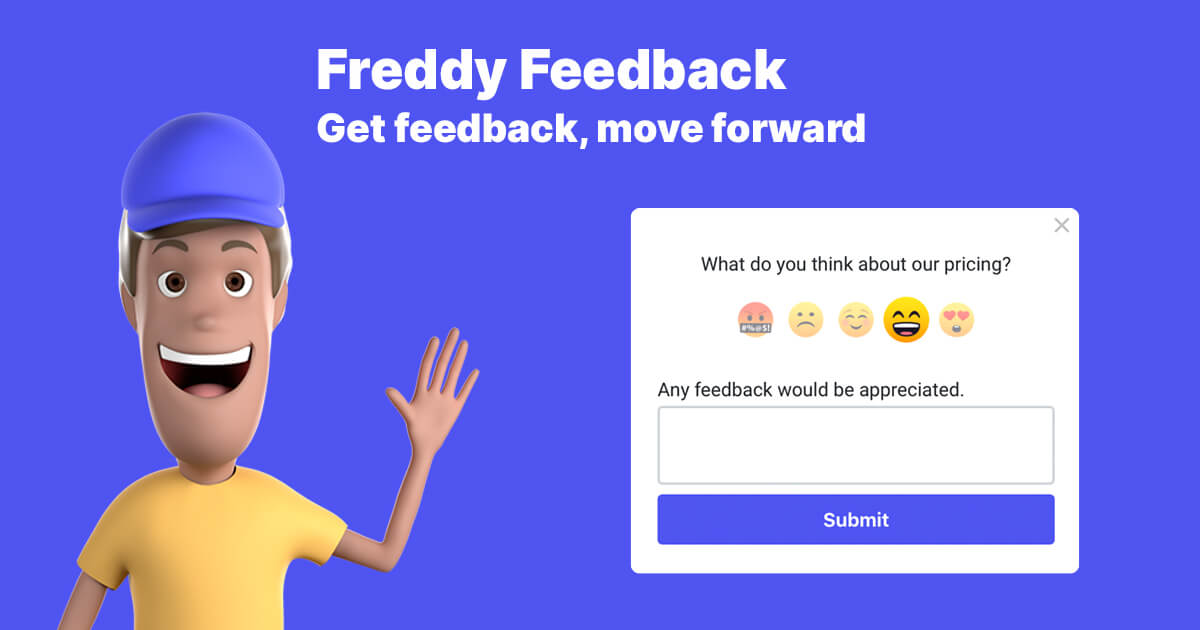 Top 5 customer feedback rating sites for feedback widget comparison
If you are looking to determine the credibility and quality of experience for different SaaS and software applications, customer feedback sites can help you out. These sites collect reviews, feedback, and comments from real-world users to provide a summarized overview of the service. Some of the top customer feedback sites for SaaS and software services include the following.
If you want one of the most popular SaaS product review websites to compare website feedback apps, G2 Crowd is a great option. It accumulates user reviews from credible sources so potential buyers can make informed decisions and find the tool most suitable.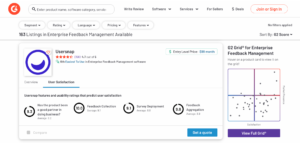 You can evaluate how actual users rate the features, usability, and service. G2 also shows you the average score of all the listings to provide you with a benchmark.
When you don't want to download anything, you can trust SaaSGenius to provide you with the software products that can be used as an online service. The feedback is divided into different categories including prices, comparisons, reviews, and alternatives.
As many review websites for SaaS products allow vendors and developers to sway the sentiment using paid ads, TrustRadius is where you can find objective reviews. The website doesn't run paid ads and you can use TrustMaps to filter products depending on review scores.
Capterra is one of the leading websites for finding high-quality reviews related to software and SaaS products. You can use the service to find the software application that best fits your business needs and requirements.
If you are searching for in-depth reviews and categorization of SaaS products, IT Central Station is the place to be. You can find reviews that are in the form of question and answer format providing high-quality information so you can make better decisions.
If you make customers unhappy in the physical world, they might each tell six friends. If you make customers unhappy on the Internet, they can each tell 6,000 friends.
Jeff Bezos – Founder, Amazon
Most of all, I discovered that in order to succeed with a product you must truly get to know your customers and build something for them.
Marc Benioff – Co-founder, Salesforce
Which customer feedback widget is best?
The most suitable tool is one that serves your company's needs best. Do you want to collect website ratings, written feedback or get visual screenshots and annotations? Or a combo of all? 
But even the best tool won't make a difference if you don't act on the feedback you collect. So make sure you know why you're collecting the feedback and that it doesn't just stay in the platform for no-one to see. Feedback should be used across the organization, by marketing, sales, UX, design, and product teams to achieve that one most important goal: make your customers happier with your products.
Not sure what type of feedback tool you need? Talk to our experts – sign up for a free demo now.
Capture feedback easily. Get more insights and confidence.
Getting feedback has never been easier and we hope you've realized that after reading this article. Let us know what you think, your feedback is important.
And if you're ready to try out a customer feedback software, Usersnap offers a free trial. Sign up today or book a demo with our feedback specialists.