If you're sending generic customer feedback surveys, then you are wasting your time. Sorry to be rude. Your company is solving a specific need and problem, and it requires tailored questions and answers to get useful info to improve your organization and operation.
And if you're trying to get customer feedback by sending looong customer surveys, then don't expect a ton of feedback responses. Customers want your product to help them save time, not produce more work!
That's why we are introducing mini-surveys. Customizable feedback forms that allow you to collect relevant and valuable product insights. You can send out the feedback survey via website pop-ups and emails to maximize the distribution.
TL;DR watch a video on setting up microsurvey pop-ups, or open the full-page feedback form example.
Why Usersnap's mini surveys are better than your regular customer survey tools
Usersnap has always made it possible for users to customize the design and questions of the feedback widget. We want your customers to enjoy an easy feedback experience and consistent branding.
This month's new release of our form builder makes it possible to add as many custom feedback questions after the initial rating scale. Build a survey tailored to your research needs with qualitative short or long-answers feedback, checkboxes and text paragraphs. Use the most suitable feedback in-put field for your customers to respond with ease.
You can also reorder the sections to your preferred flow and modify the placeholder text to make the feedback form more engaging.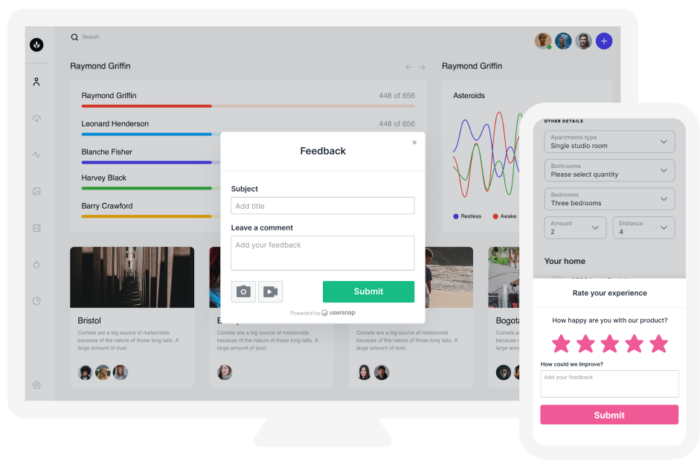 That's not all for this month's product update, we're stepping outside of the "customer feedback widget" comfort zone to offer full-page feedback forms.
You can grab the shareable page link once your project is live and use it in emails, social media and any type of medium. You might have seen the example already in our newsletter 😉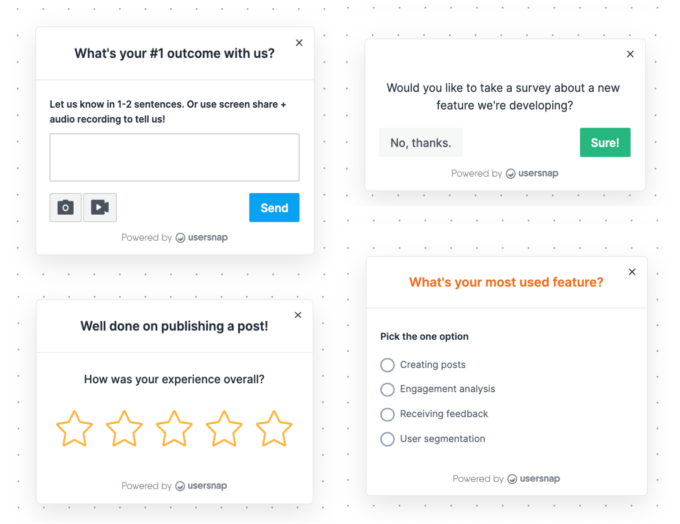 6 use cases for short customer feedback surveys
Here're some more scenarios for your product, UX, customer success and marketing teams to leverage customer feedback surveys.
1. Customer satisfaction review emails
Does this Amazon post-purchase review email look familiar? You can send these out with Usersnap's customer satisfaction projects as well.
First, select the type of feedback rating scale in the form builder, and put in your custom question. You can add additional questions using different types for answer fields.
When you are ready to share the survey, copy the link and head over to your email automation tool. Currently, we don't have integrations and iframes yet, but you can hyperlink the survey to start collecting feedback and reviews.
What we've done in our newsletter is insert an image of the first question and rating scale, and link it to the feedback form.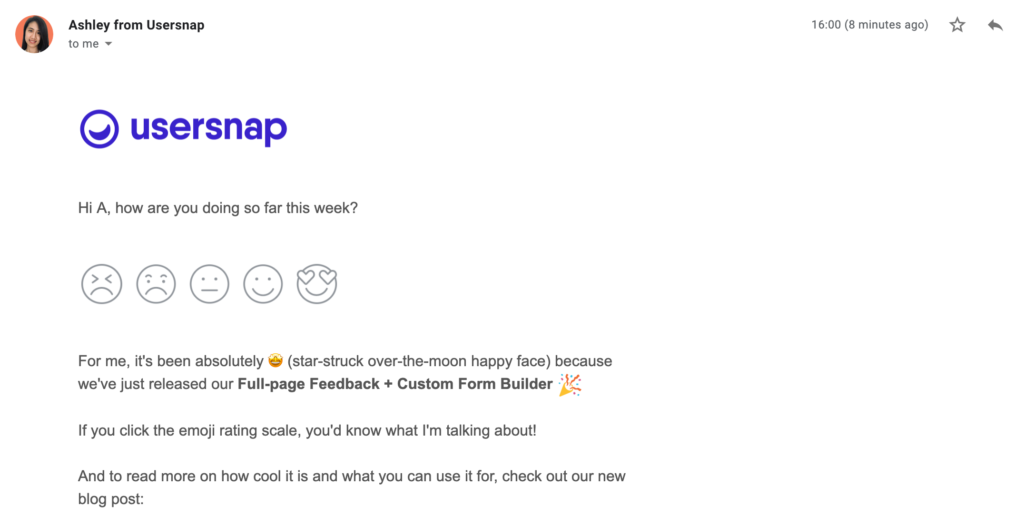 2. Omni-channel NPS surveys
Our users really enjoy launching NPS surveys within web applications for a higher feedback response rate. And we also know from our own experience of sending NPS pop-ups to our 30-days and 90-days users. But some users don't visit the dashboard as frequently, and it was hard to ask for feedback at the right timing from them.
Now you can reach customers both within your application dashboard and via email. Interacting with customers on the channel they prefer helps you obtain more feedback.
NPS surveys are a great way to start a conversation with your customers. The standard first question "Would you recommend us to your friends or colleagues?" with the 0-10 rating scale is really simple to answer and offers a segway into more feedback questions.
You can design the follow-up questions to match the niche pain point you wish to help with. This strategy has been adopted by many SaaS companies, such as Teamleader.eu, Mention and Microsoft.
3. Custom in-app questionnaires
There is no better time and place to collect user feedback than when they are using your app. You can capture the most accurate experience and emotions.
And with Usersnap's display rules, you can target customers at specific URLs, time on page or upon a certain action (triggered by an API event.)
The set of questions you ask should be written for the scenario. You can add as many question fields as you like, but try to keep it within 5 questions, if you don't want your users to spend over 5 minutes. And put a fun title for your feedback form to give it a cheerful start.
4. Website mini pop-up survey examples
Measuring the quality of your leads is an important task for SaaS and service providers. A common approach is to welcome the new website visitor with a customer support bot. You can use conversational relationship management apps like tawk, Hubspot and Intercom.
Another way to validate their purpose of visiting your website is a short survey. It can be as simple as just one question: what are you looking for?
This helps you understand if you are acquiring the right audience and can gather keywords information for your content strategy.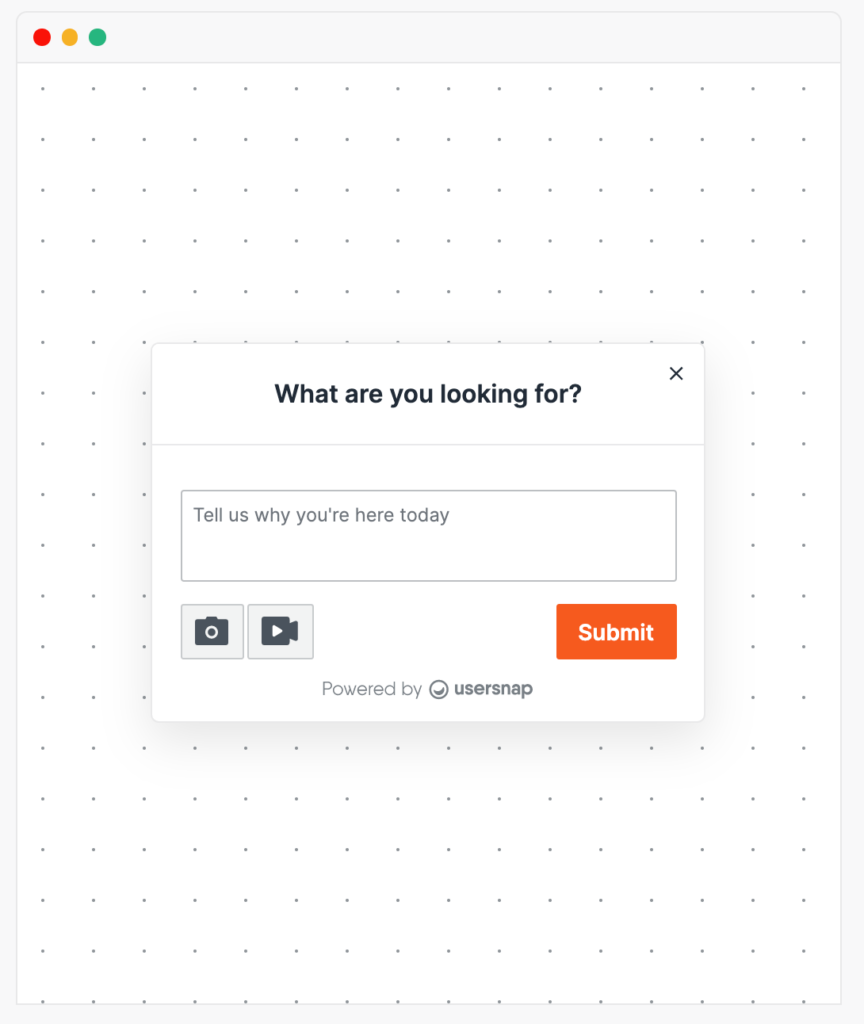 5. Social media feedback surveys
Customers tend to be the most free-spirited and opinionated on social media. Making it a fantastic source for feedback collection. Use that energy for your user research.
Share the link of Usersnap's full-page feedback form in your social media posts, along with some expressive emojis, to boost survey response rate!
6. Product update announcement and improvement feedback form
On the feedback form, you can also add text paragraphs and headlines as an introduction to your survey.
Some of our genius users write their product release notes and use it as an announcement pop-up banner. It saves them the money to use an additional tool, and it helps keep all product feedback, bug reports and feature requests streamlined to one place. On the announcement pop-up, you can have feedback fields to collect ratings and written comments to track the reaction of users.
Combining the new product feature post with the feedback tracking form enables you to accelerate user adoption and obtain more feedback insights for improvements.
Performance tracking of the customer feedback surveys
You can get a quick overview of the feedback activity, response rate and average rating score in Usersnap's statistics dashboard. Or export the survey results as a CSV file and carry out in-depth analysis in your preferred software.
We provide integrations that make forwarding and connecting the feedback info to third-party tools super easy and automated.
Cross-checking different feedback from one customer email is very easy. Just enter the email address to the search bar of your inbox page to pull up all the feedback items from that customer.
Get more product insights with feedback surveys now
Customizable surveys with flexible distribution options and a sleek design makes Usersnap your #1 tool for product user research and customer experience feedback. And don't just take our word for it!
"As a company with a wide range of apps & services we rely on tools like Usersnap to make our feedback workflow better."

– Franz Tretter, Runtastic
Ready to launch your survey the omnichannel way? Build your no-code customer feedback survey and start sending within your product, on your website and through emails.

Try Usersnap for free in the first 15 days. Or buy extra projects and user seats for just $19.
Capture feedback easily. Get more insights and confidence.
Getting feedback has never been easier and we hope you've realized that after reading this article. Let us know what you think, your feedback is important.
And if you're ready to try out a customer feedback software, Usersnap offers a free trial. Sign up today or book a demo with our feedback specialists.