User behavior analytics are part of the puzzle for a SaaS company's success. They unlock the insights, both said and unsaid, by customers, and create better product decisions for customers over time.
Ever so often, a morning for a SaaS product manager could look like this:
Grab a stimulating morning beverage (I like coffee myself)
Check the customer feedback received
Monitor customer support tickets
Look at the roadmap
Dig deeper into heatmaps and user behavior analytics
Align with colleagues on what to build next
All of this seems great on paper, but in practice, this gets tricky. Why? Did you ever find yourself in a "paralysis by analysis" situation? If so, there's too much information to make sense of it, and now you're blocked from moving forward.
We're going to discuss user behavior, and give some context to make it clear how and when to use it. There'll be some good examples as well along the way.
🦜
Land ho! If you need even more context, feel free to check out our ultimate guide to customer feedback. This can really anchor your learnings from this article even further! ⚓
User behavior analytics in SaaS: why bother anyway?
Imagine you're running a grocery store. From your counter, you can easily see the problems your customers might be facing while finding things in the shop. If they are unable to navigate through the aisles properly, you can make the adjustments based on their feedback. On top of this, when they come to the counter, you can start an informal conversation to improve their experience.
Your SaaS product, however, often works very differently. Thankfully, you don't get to watch your customers browsing through your products or landing page (privacy for the win). Your access to visitors is limited on the website. Due to this, understanding their behavior and knowing what they want becomes slightly challenging. Even if you have some decent quantitative or qualitative data points, attribution is tough.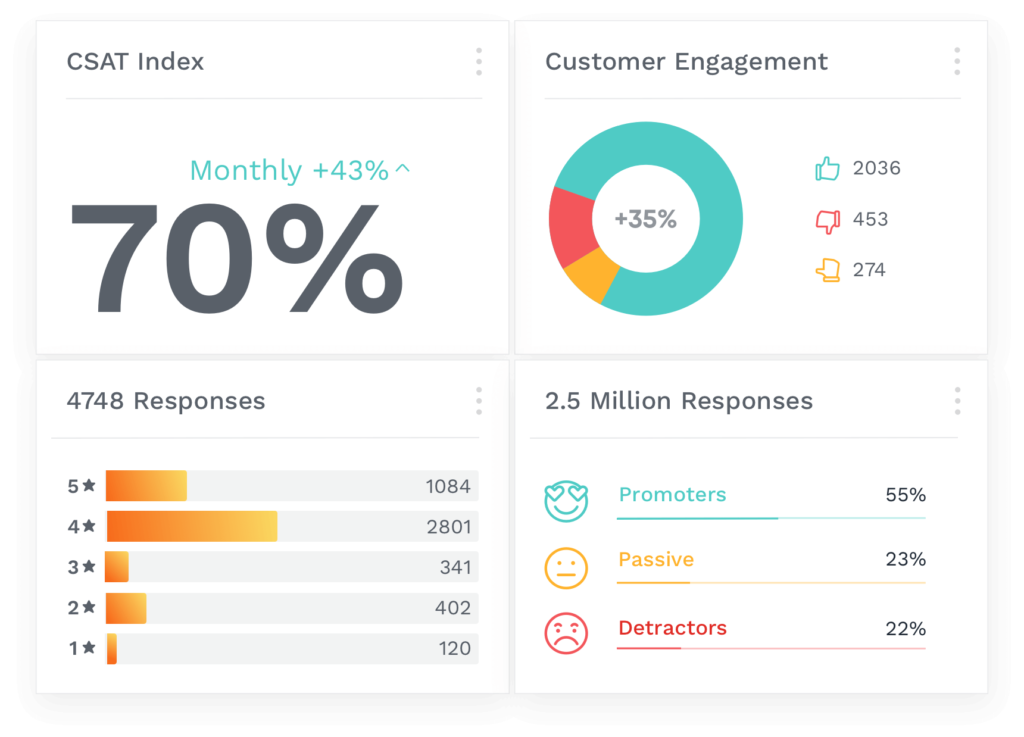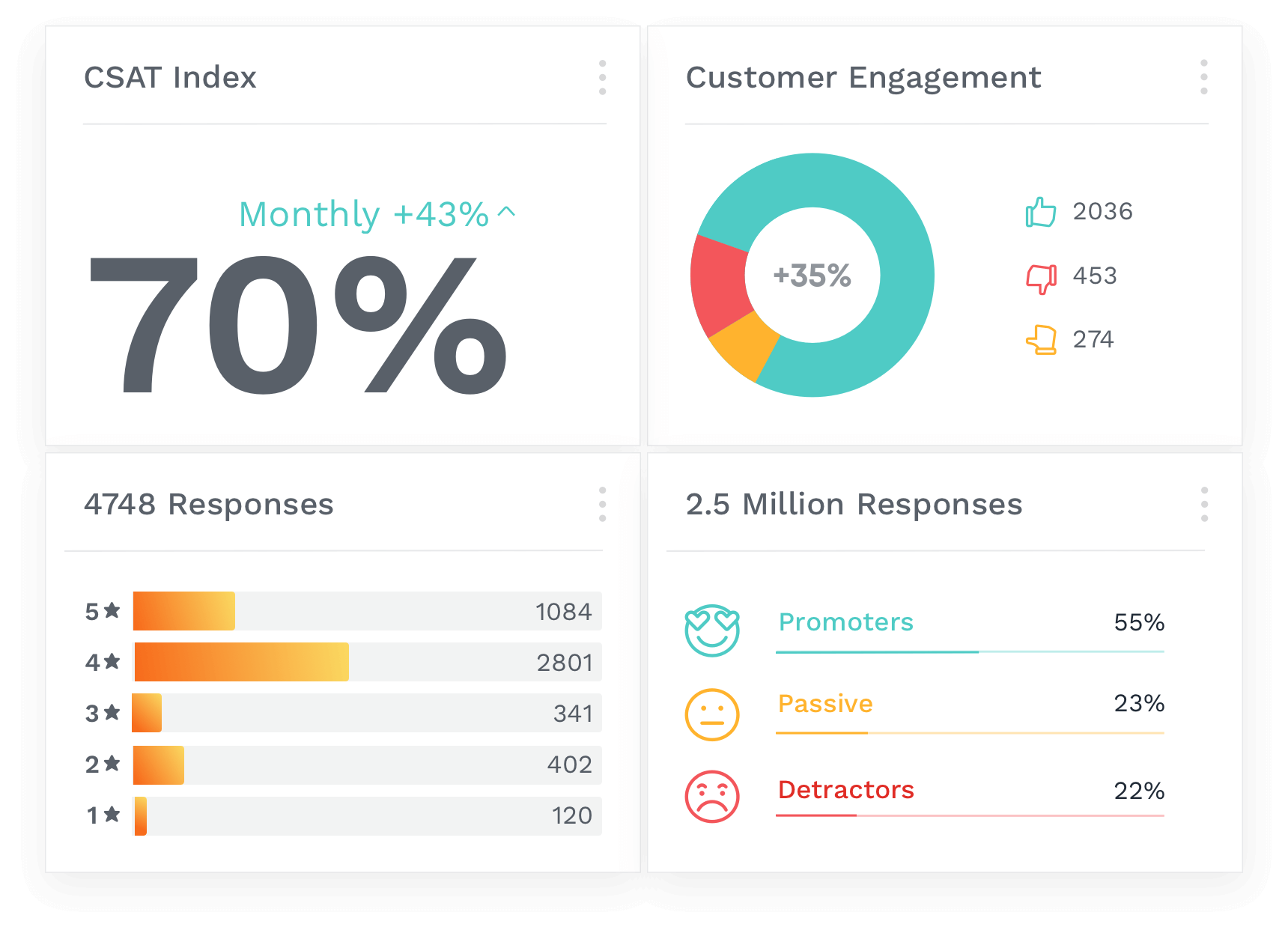 This is where understanding user behavior through analytics comes into the picture. It gives you an opportunity to peek through users' perspectives that you otherwise would not have. It's a bridge between what you might be hearing from customers, and what the data might tells you about them.
Benefits Of Understanding User Behavior
Knowing how customers are most likely to behave can be the driving factor for the growth of your SaaS business. Understanding of user behavior allows SaaS companies to make informed decisions that to improve:
general marketing campaigns
engagement
acquisition
conversion
product decisions, and
retention.
Here are a few of the many benefits:
Target the right type of users
If user behavior is bleak, i.e., users are not converting or engaging, then maybe you're targeting the wrong audience. User behavior tells you about the type of visitors that convert the most and the ones who convert the least, knowing this difference can give you a great idea about who you should market to.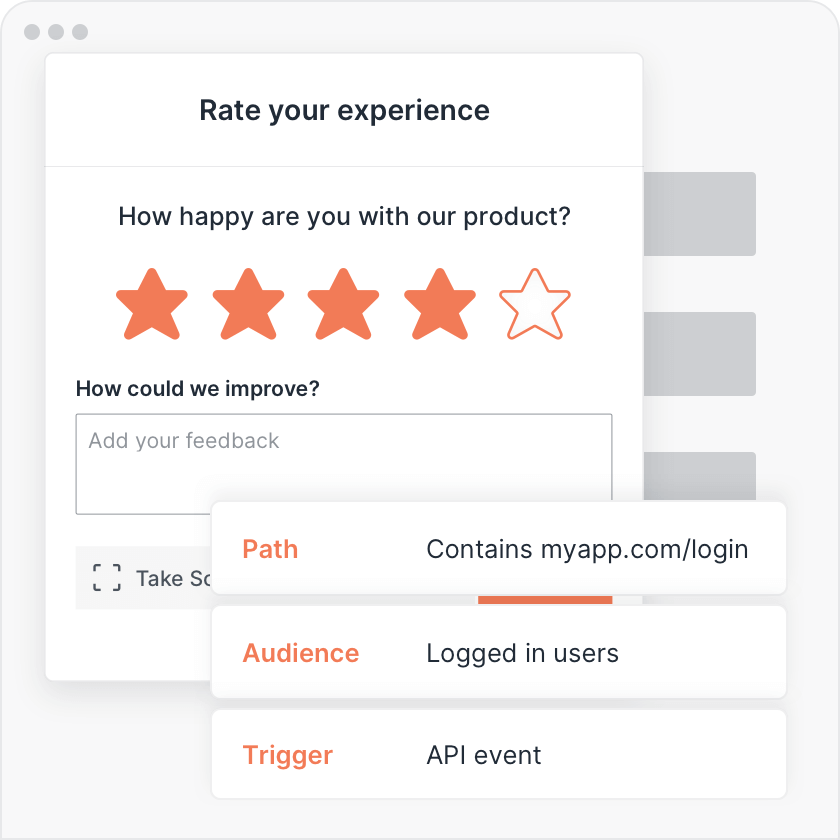 Save both time and R&D budget
When you have the user behavior data, your time does not get wasted in guessing what features on the website will attract and persuade visitors to convert. You get to know what users want through this well-researched and powerful data. User behavior can also suggest where you should conduct the A/B Tests.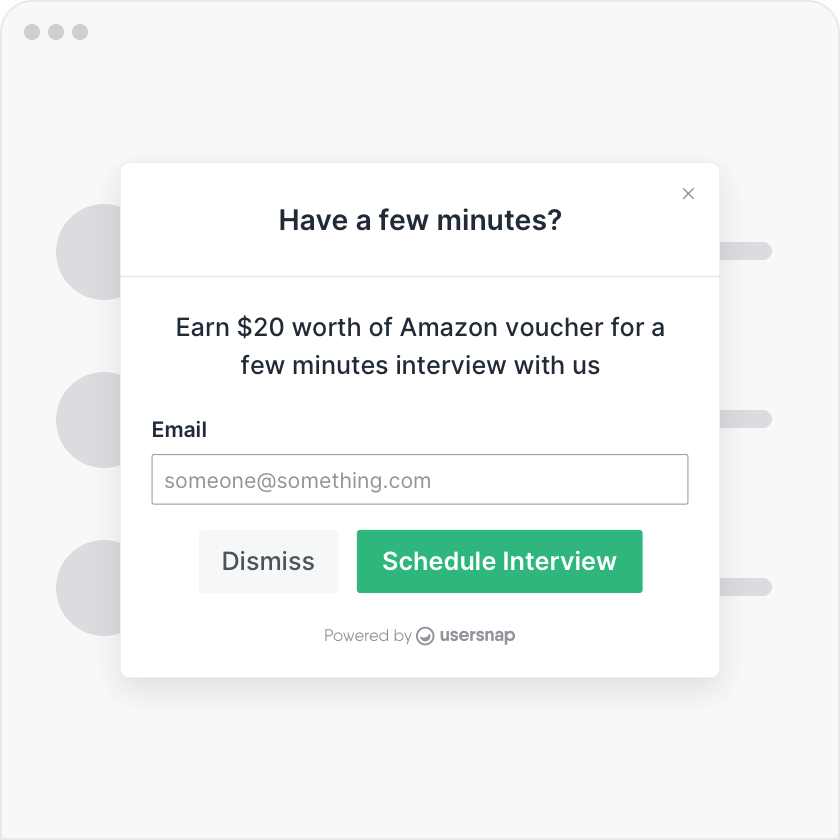 Also, you can contact users directly and understand their experiences through interviews, nailing down exactly what their challenges and issues are with your product. This way, you merge your A/B test insights with qualitative data to make better product decisions for your SaaS.
Influence future behavior
By knowing the behavior of your current users, you get the insights that help you create the right products, and influence more future users. You will be easily able to determine the roadblocks your users run into that keeps them from converting or coming back for your service. For example, if you see that people are dropping off after reaching the physical address field on the lead gen form, then it would be best to either make that field optional or remove it for future users.
In short, you'll be able to make better product decisions by identifying key challenges in design sprints, and speeding up the iterative process of creating something useful for your audience.
Know the origin of users
For improving marketing and conversion, it is crucial to know how users find your website. When you know the source from where most of your users land and actually convert, then you can give that source more priority to significantly increase the sales and revenue. On the flip side, you get to know the source from which the users never convert and the marketing done on this source can be spent elsewhere for better results.
User Behavior and Its Aspects
In the simplest of terms, user behavior on a website or within an app refers to all the actions taken by the visitors when they land and navigate. It encompasses everything like where they click, what they click, how they scroll through the pages, and more importantly, where they lose interest and drop off the page.
User behavior comes with many advantages, but ever since the General Data Protection Regulation (GDPR) is implemented, people are wondering if they would land themselves into some problem by analyzing user data from the website. But the good news is that analytics assigns some anonymous identification code which ensures that there's no personal information tied to the user behavior (once again, privacy for the win).
To analyse user behavior in a better way, it is crucial to understand all the three aspects of it. The three aspects are: analytics, usability testing, and customer support.
Analytics
This aspect provides you with insights on how visitors are scrolling the website. You can use these insights to identify trends and patterns to improve the user experience.
Usability Testing
Usability testing is mainly related to the UX. You can use this aspect to determine how easy it is for the users to achieve the goals on a particular page. Like if there is form to be filled, it should be clearly visible and catch their eyes quickly.
Customer Support
Offsite customer support can be very helpful in getting direct insights from the customers through emails, calls, or feedback forms. Understanding user behavior becomes easy with a good customer support channel.
Ways to Obtain Comprehensive User Behavior Analytics
To understand the user behavior and how they interact with the product, it is crucial to collect, combine and then analyse their qualitative and quantitative data. The method used to complete the process is called User Behavior Analytics (UBA).
When you, as a business owner, are searching for answers to pressing questions like why do people visit your website or why do they leave, traditional analysis is sometimes not enough to give you the answers to your questions. This is where user behavior analytics tools come in to help you get a clearer picture of the user behavior. Some features of these tools are:
Session Recordings
These recordings are rendered from real user engagement that takes place on your website. You can see the clicks, taps, and scrolling to understand how people interact with the different site pages during their journey.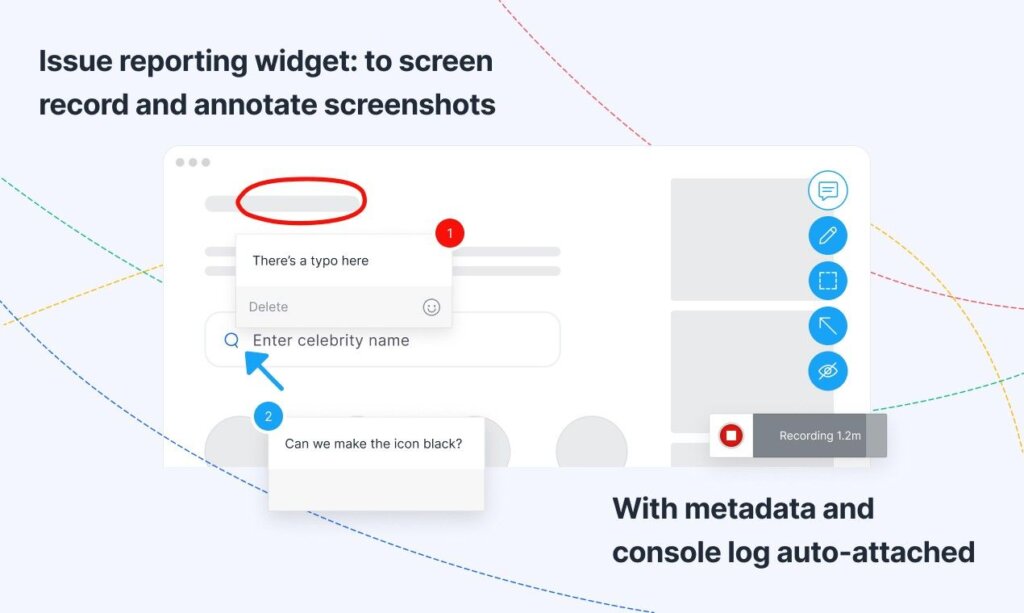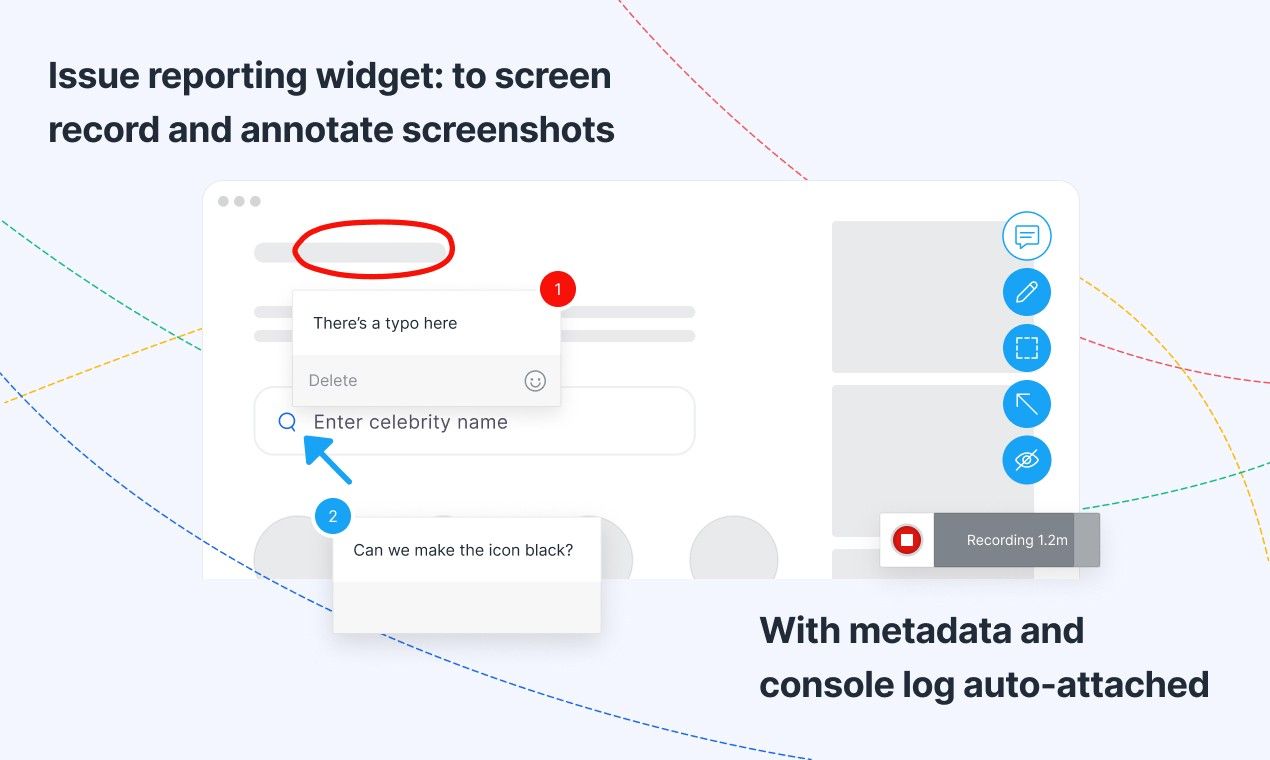 Heat Maps
With the help of heat maps, you can get an idea about the part of a page the visitors spend their most time. It also tells you which buttons, CTAs, or other clickable assets produce most or least interaction.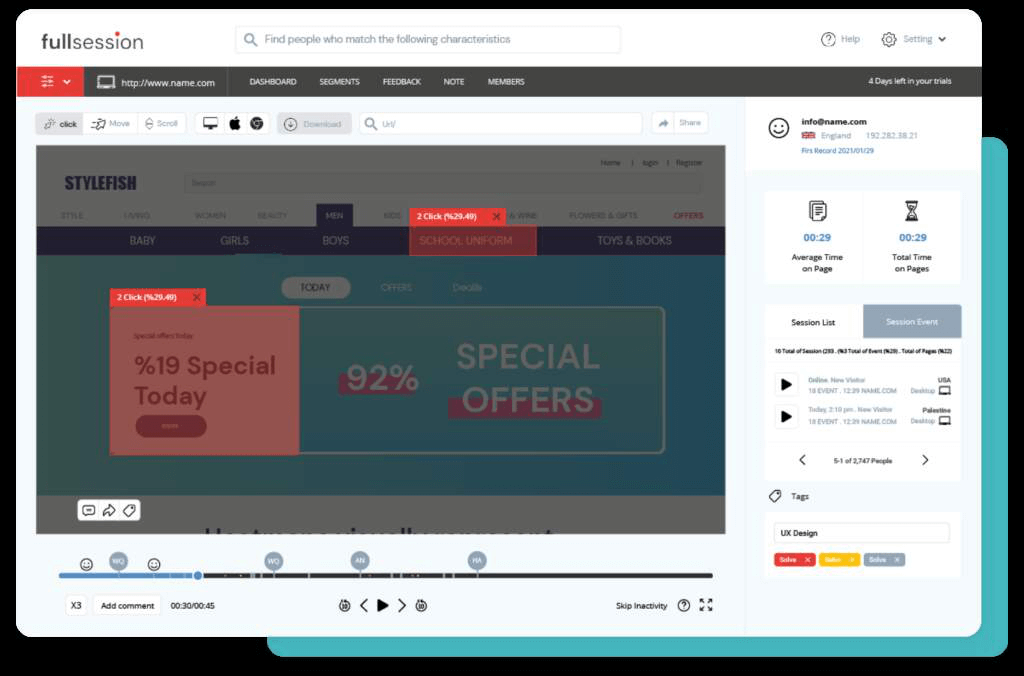 On-site Surveys
These on-site surveys can be applied on some specific pages to collect personal responses of the user about what is working on the site and what is not.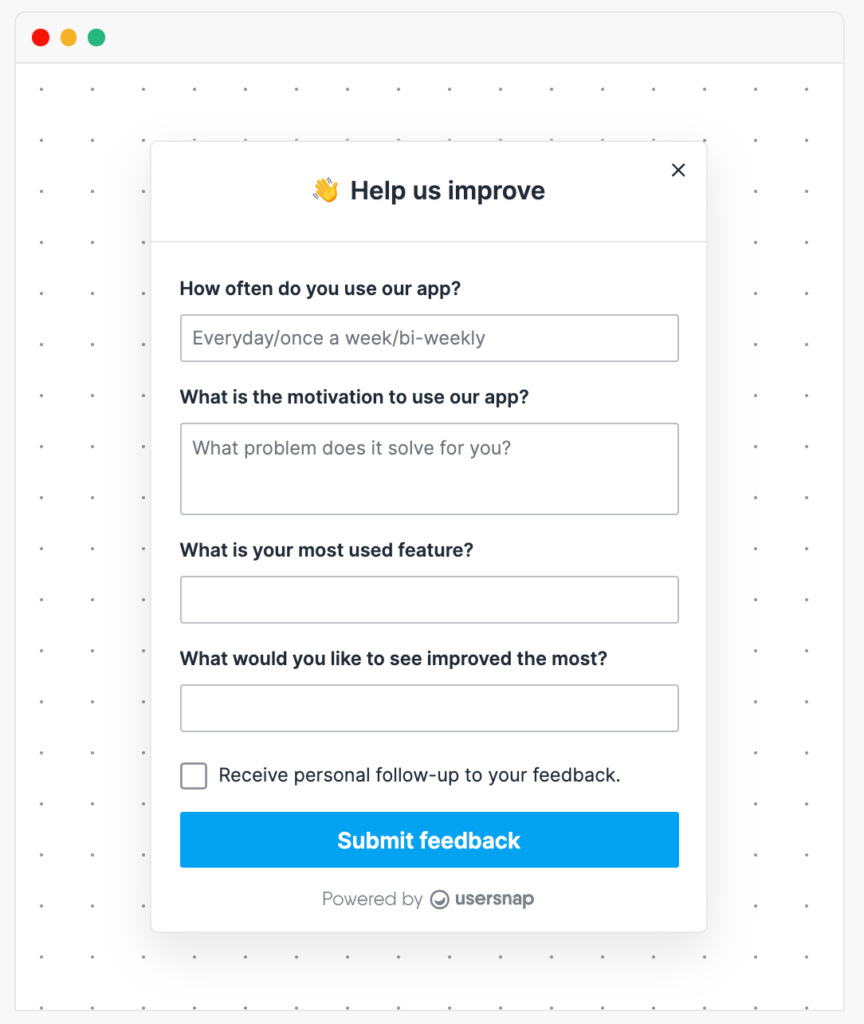 Feedback Widgets
By using this feature, you can actually remove the guesswork and ask users what they think about the website. The feedback feature allows you to get real-time feedback and lets you know about the net promoter score (NPS) or customer satisfaction score (CSAT) for each page by customer user segment.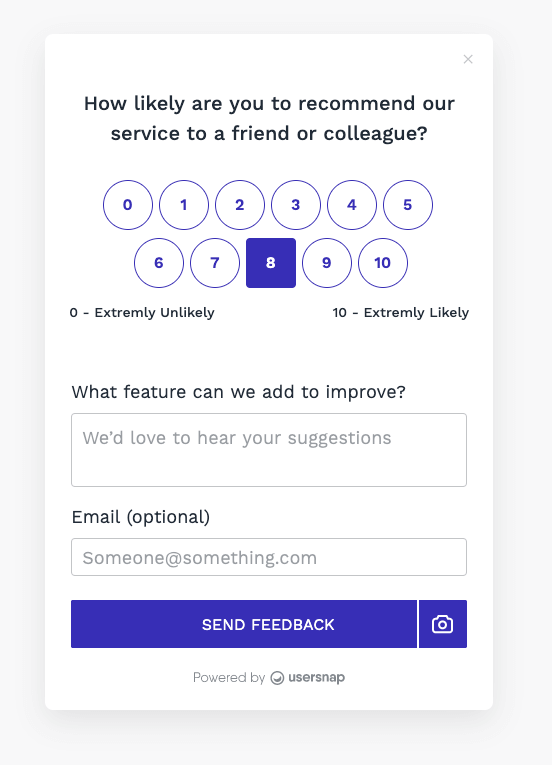 There are a plethora of user behavior analytics tools available in the market, but in terms of overall performance, few come close to FullSession when it comes to e-commerce. It allows you to build a seamless digital experience for visitors, users, and customers. Using this tool, you can optimize your website for long term growth. The primary features that come with this tool are session recording, interactive heatmap, and customer feedback. And when you're looking to focus on the qualitative aspects of user behavior analytics, Usersnap is a great choice as well. If you're looking to make better product decisions, Usersnap is great for customer feedback widgets, screen recordings, and upvoting mechanisms for current customers.
5 Tips to Understand User Behavior
Now that we know how beneficial understanding user behavior analytics can be, it's time we move to the tips that can help you understand it better.
1. Find out the popular user paths
What exactly do your visitors do after they land on your website? What action do they perform after coming to the landing page? How do such visitors behave in your app once they become customers? The answer to these questions can make you very familiar with your audience. Using the behavior flow report you can see how a user navigates through different pages of your website, and what actions they take. In most cases, the behavior flow report is a complex chart that provides this information. It can be overwhelming at times but knowing the path is essential to understand users' behavior.
2. Focus on the origin of users
The behavior flow helps you in identifying the most popular landing pages, but it is also important to identify from where the traffic arrives on those landing pages. The users can land on your website from anywhere, like search engines, social media, referrals, ads, blog posts, etc. In order to understand the behavior of your users, you need to understand these sources. Based on the source of a user, you can form cohorts that you can later track to predict the retention of users. Additionally, you can start clustering user behavior and journeys according to how they found out about your product in the first place.
3. Monitor likes, shares, and comments on popular content
Other than user path and their origin, reviews on the content posted on a website is a great way to see how your users react to different types of information. By placing a like, share, and comment feature on the site to get feedback from users, you can know what your users want to see.

If you post content in form of listicles, but your visitors like content in form of infographics then you should gravitate towards infographics for your future content. The more engaging your website is for the visitors, the more are the chances of them converting into customers.
4. Create a measurement plan
Every SaaS business should set up a measurement plan to guide the implementation of analytics. With measurement plans, you'll be able to focus more on the analytics data that is relevant to your SaaS business. Collecting a dataset of every user can make it too large to interpret and analyse the user behavior. 
Once the user groups have been defined, you can drill down into key KPIs that are important for your SaaS, such as:
Time on page
Feature adoption
Customer satisfaction levels
Churn rates
Monthly Recurring Revenue (MRR)
5. Create Well-Defined Goals
As with the last point, you need to have a goal in order to determine how effectively your website supports the objective of your SaaS business. Tangibly, ask yourself: "Which KPI am I going to influence with insights I currently have and the proposed set of actions on them?"
A goal can be anything that represents a completed activity, say conversion, that helps increase the revenue of SaaS. For example, an e-commerce website could include purchase transactions, and for lead gen, it should be the submission of a contact form.
The set of properly configured goals can give you insights to better understand if your users are completing the behaviors that you want them to complete.
Conclusion
Understanding user behavior is vital to improve the marketing and product performance. All of this can seem overwhelming, but it can be understood easily by taking one aspect at a time. In this article, we have mentioned five tips that you can use to understand user behavior on the website easily, as well as some ways to collect user behavior, on-site or in-app.
If ever in doubt, come check out Usersnap's customer feedback software, with a 15-day free trial and explore all you can do to collect customer feedback with the tool.
Author: Vibhu Dhariwal is Co-Founder & Director of Marketing at Digital Gratified, a Digital Marketing & Web Development company. He likes sharing his experience in outreach marketing, link building, content marketing, and SEO with readers. To know more about him, you can connect with him on LinkedIn.
Capture feedback easily. Get more insights and confidence.
Getting feedback has never been easier and we hope you've realized that after reading this article. Let us know what you think, your feedback is important.
And if you're ready to try out a customer feedback software, Usersnap offers a free trial. Sign up today or book a demo with our feedback specialists.