Any successful company of today knows that optimizing customer feedback questions are just as important as innovative product-related ideas or internal expert opinions.
Quick PSA 🚨🚨: if you need more information to boost your customer feedback game, check out our ultimate guide on customer feedback right away (it opens in another tab, and you can always come back).

– Usersnap
Ok, back to customer feedback questions. Happy reading! 🚀🚀🚀
The way big brands and small retailers interact with their customers can draw the line between business success and failure.
The voice of the customers must be heard if a company has any aspirations of growing its business. Questions and concerns of customers should be addressed in a timely manner. Mostly in a way that makes them feel as if they have made a tangible contribution to the brand.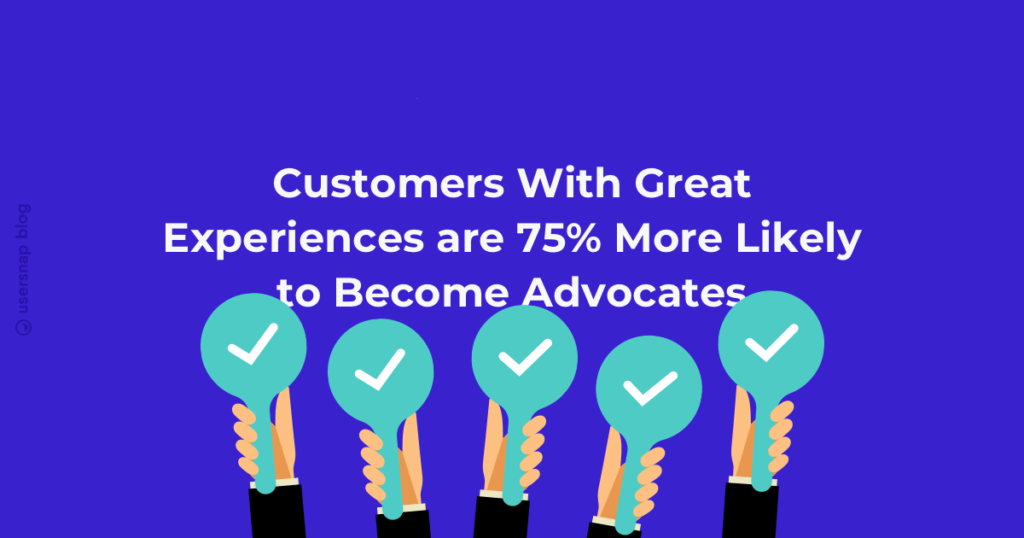 So here are 7 customer feedback questions that every customer-centric product or company should incorporate in their customer journey map.
Customer feedback question #1: Are you satisfied with our new feature?
Nike's recent push into women's sports apparel is a typical example of how companies listen to the needs of their shoppers.
Nike has heard the voice of the women who like to wear their sneakers. Now they are developing new lines of sportswear, thus entering a very competitive market. Back in the day, they have timidly introduce clothes into their shoe stores based on the customer feedback.
The logic behind this move is to be extra attentive to customers' feedback! Once a new product or a feature is launched. Asking the customers whether they like the features will help gets a clearer picture of the direction. In this sense, even negative customer feedback is more than useful.
Customer feedback question #2: Do you wish to report a bug?
Another way a product or a service can be improved is by encouraging customers to report bugs. This is most obvious in the gaming industry where players complain about official internet forums about bugs and glitches. Gaming companies then make new versions of the game, marking them as "v1.1" or similar extensions.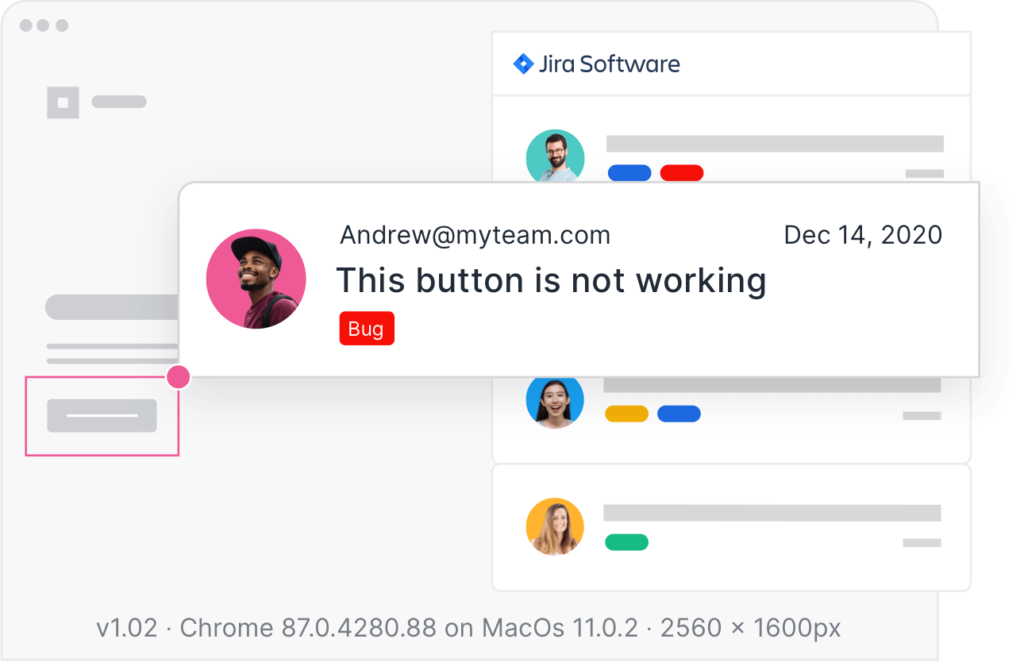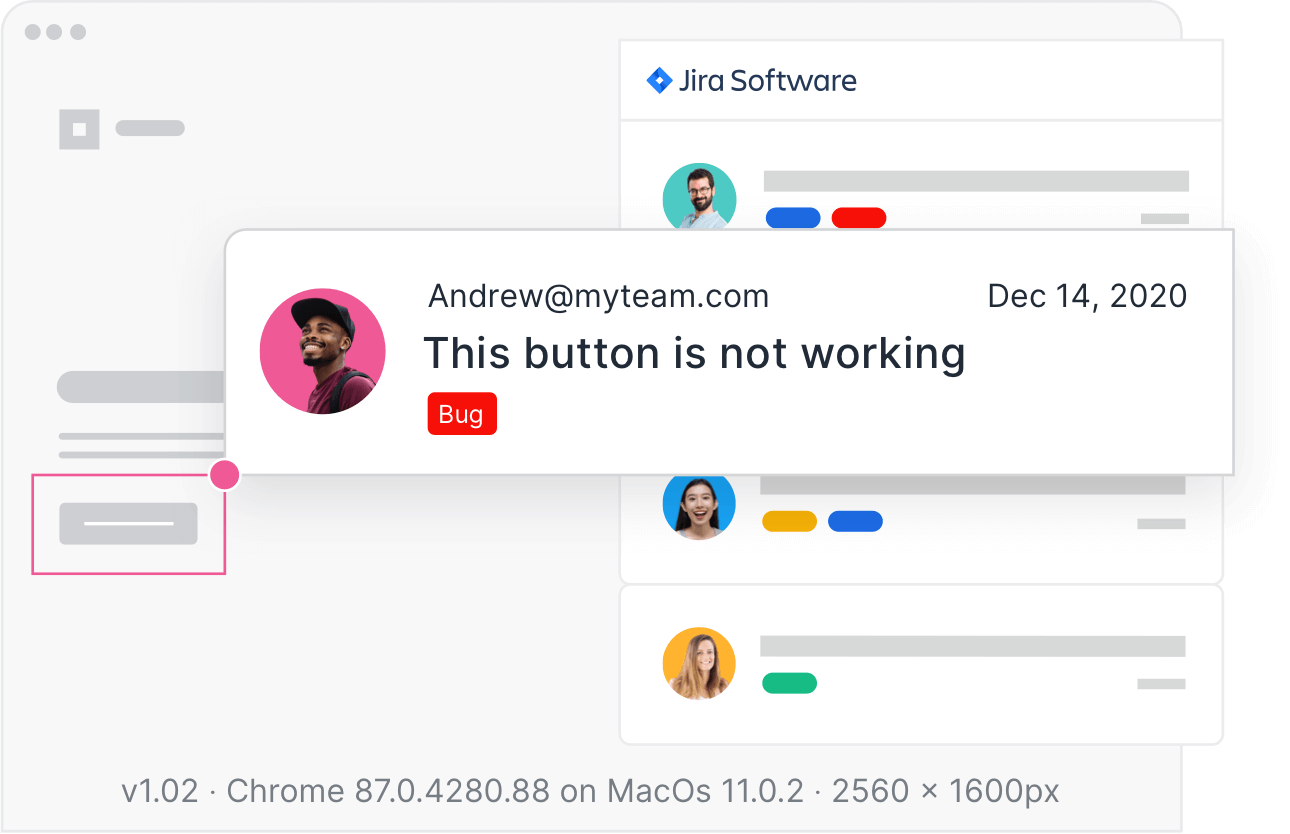 Furthermore, if users have any additional UX issues, they should have a channel of reporting those to the website owners. In general, the company doesn't have to directly ask this question. But create channels through which users can report back on possible issues.
Here's a list of 25 tools for Website Feedback Widgets and how to set it up. Alternatively, you can attain this info through a digital marketing service that can be outsourced.
CFQ #3: How satisfied are you overall?
One question that can be posed is: "Are you satisfied with our product?" This is a rather clear question that encourages the customers to hive thumbs up or down to a certain product. There are several factors that customers will take into account before answering. But a clear yes or no is huge indicator to the product manager.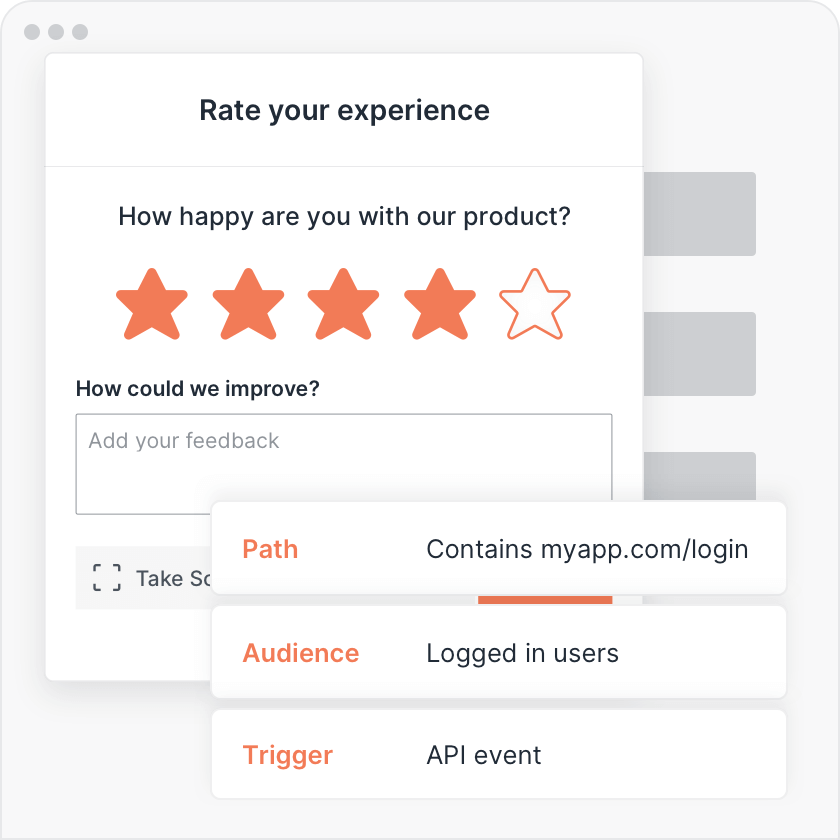 It will help them form user satisfaction statistics which will reveal which services area bust and should be discontinued. Also help to identify which designs were the most successful.
Here's an example from Usersnap's feedback tool using the 5-star rater.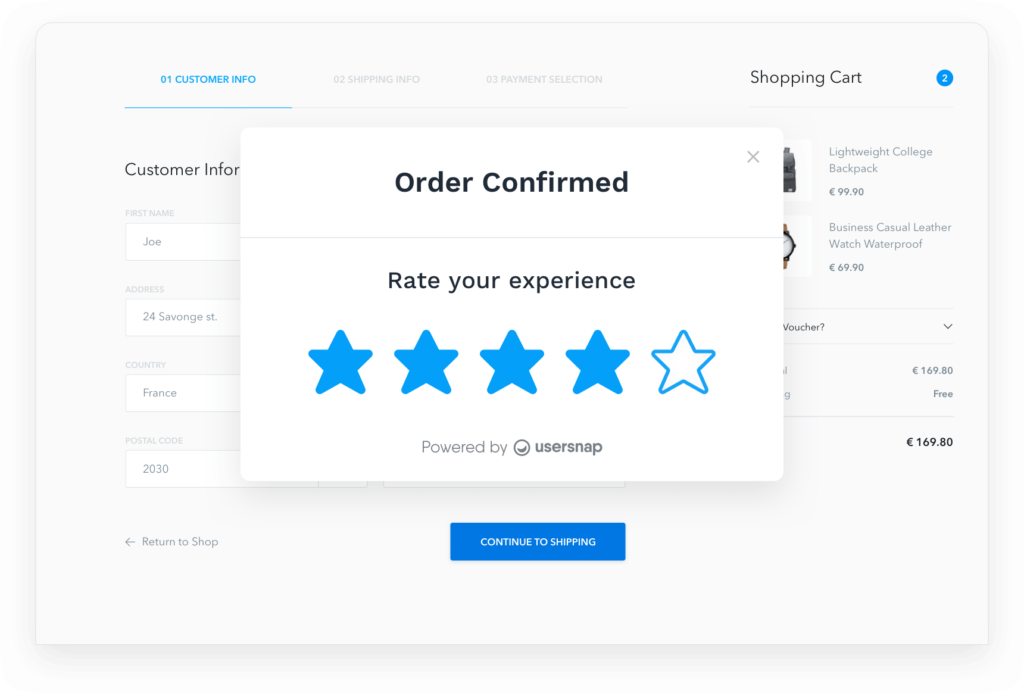 CFQ #4: How satisfied are you with our customer service?
Another important aspect to the satisfaction of the users is whether customer service satisfaction is adequate. A person buying your product has to feel as if they are not being left in the dry after the purchase. In fact, the money-for-product/service transaction is not the end of the business deal, as customer service should be readily available.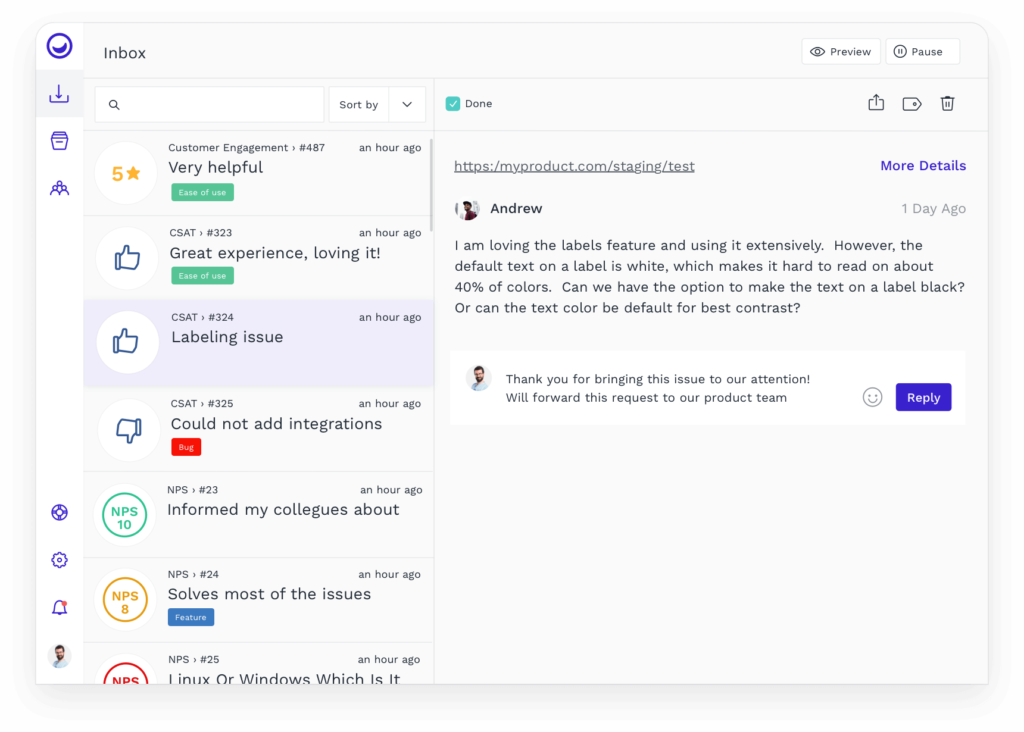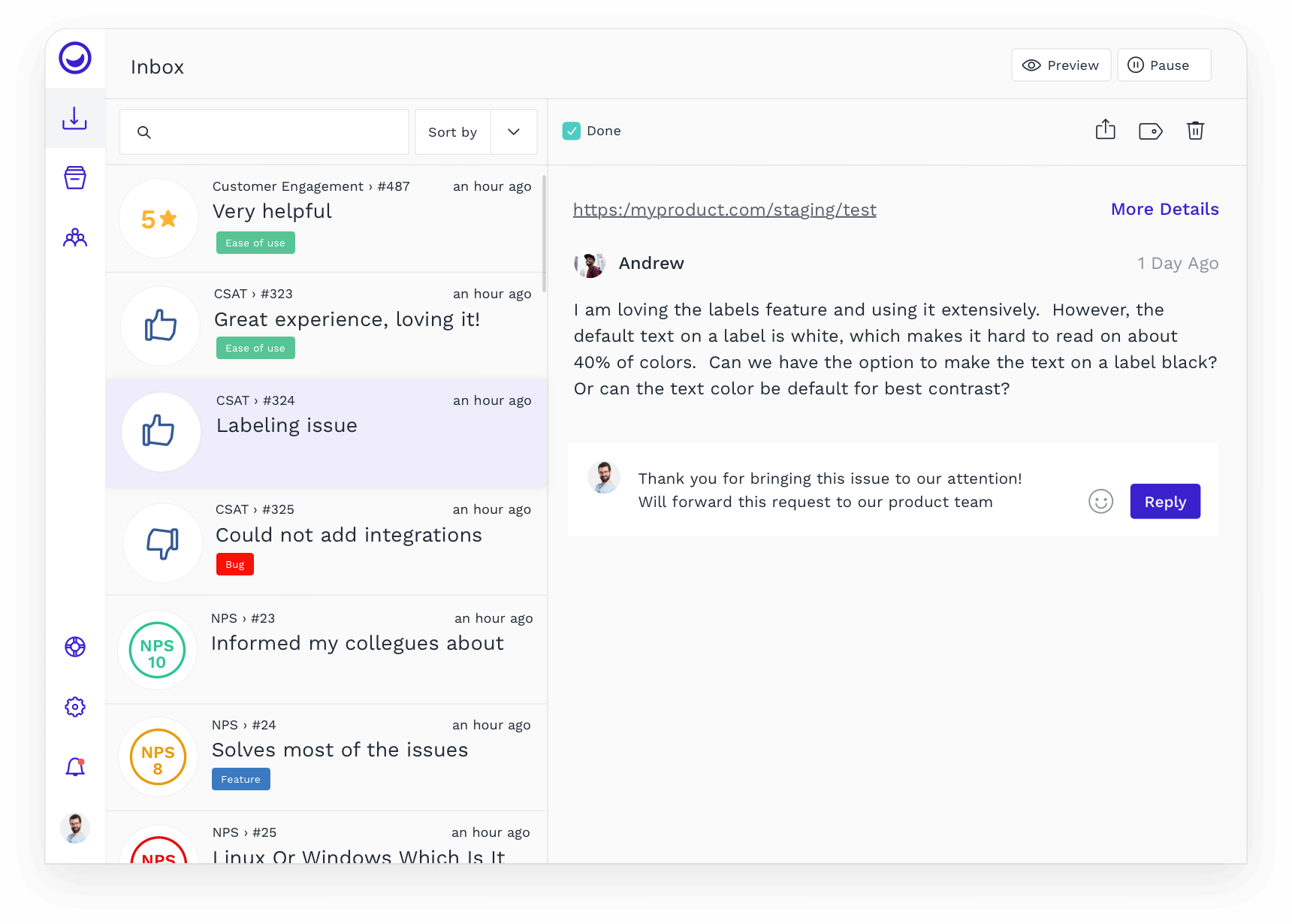 A customer feedback questions sample by the customer success agent about whether you were satisfied with the help you were provided with is not futile. It helps the company evaluate its customer service and its a never-ending quest to improve it. The questions to ask a customer to determine their needs will help them gain confident in your business.
Every time you ask a question or write feedback on the business' Facebook page, you are actually bringing them close to the perfect UX.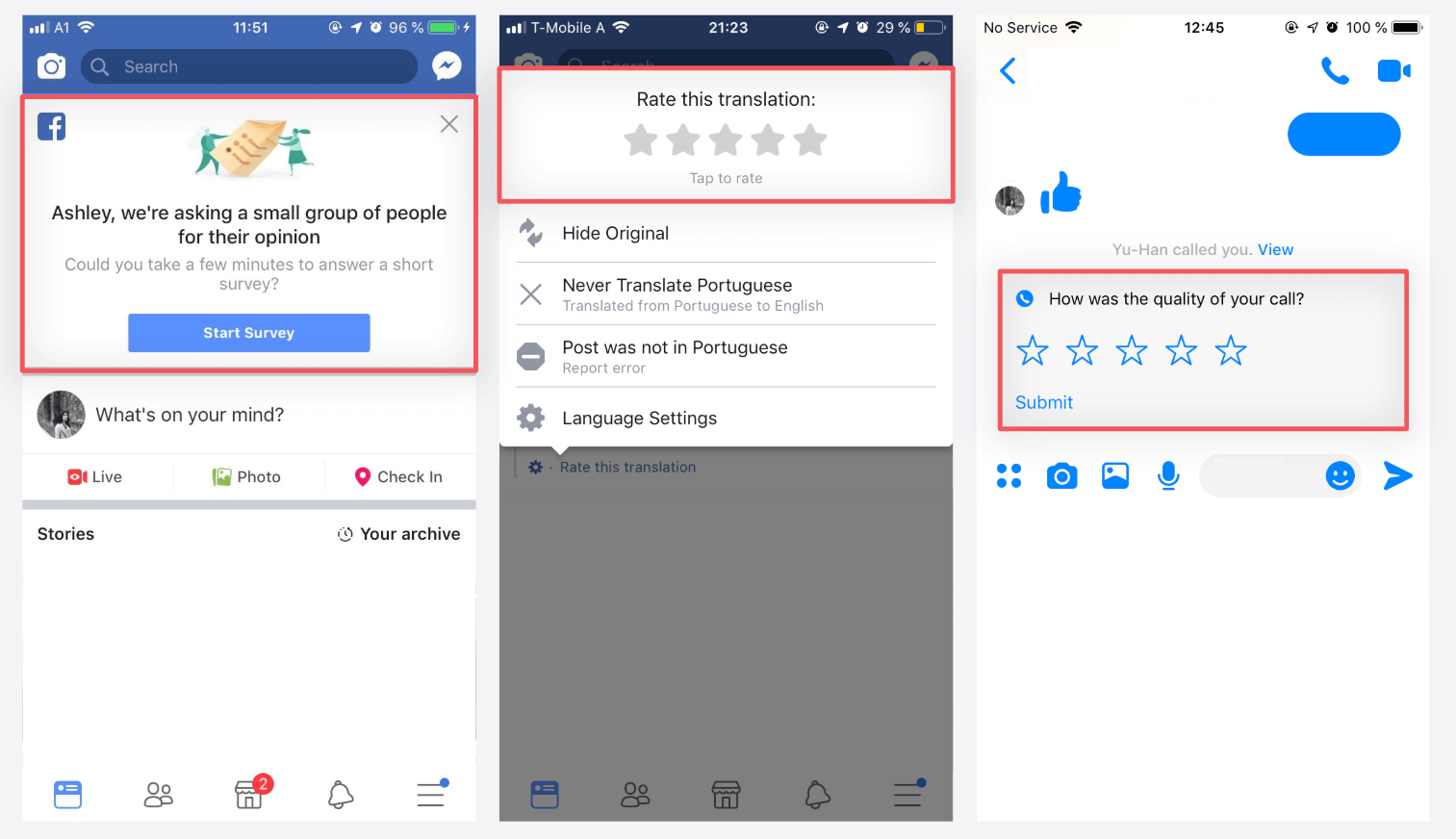 CFQ #5: Would you buy from us again?
Net Promoter Score is a management tool that has been adopted by two-thirds of Fortune 100 businesses. It helps gauge the loyalty of customers and it is an essential part of customer relations service.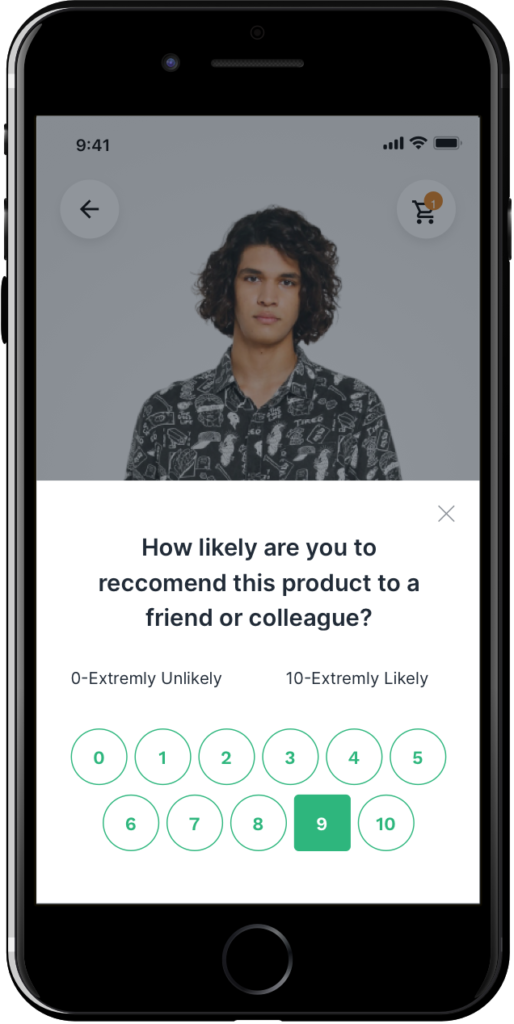 NPS measures the level of loyalty of existing customers and clientele. Its importance lies in the fact that a single-purchase customer is perhaps the worst indicator of a company's growth.
Once you establish a base of loyal shoppers, you can truly research the market and expect more reliable customer feedback.
CFQ #6: What would you like to see in the future?
Asking customers if they are satisfied with the existing deals is one thing; asking them about the services and products they would like to see in the future is totally different. If your development team comes up with a novel idea, an essential part of its testing procedures is sensing the pulse of the clientele. By asking them a simple question "What would you like to see in the future" you will get a pretty good idea if their expectations match your development plan.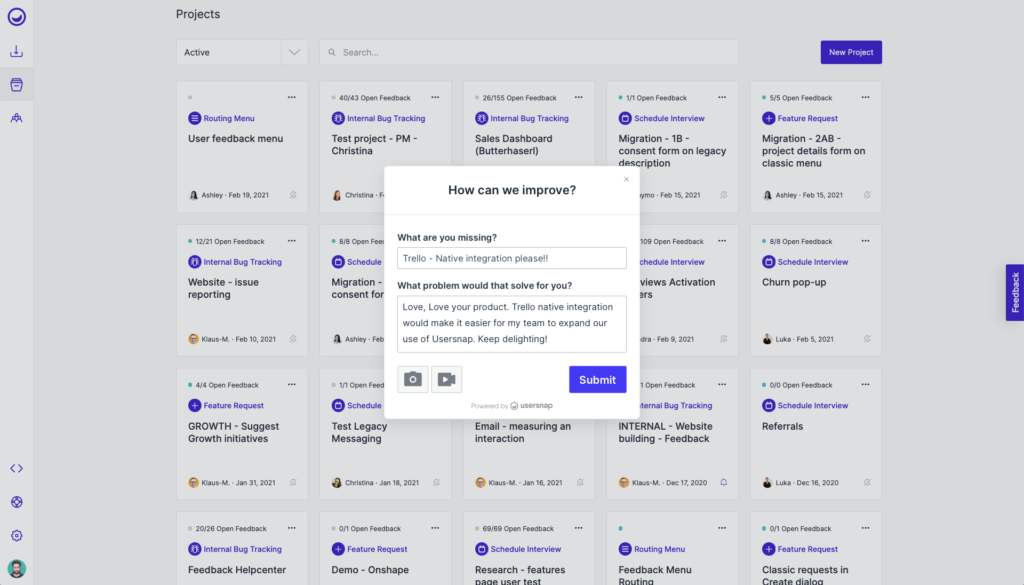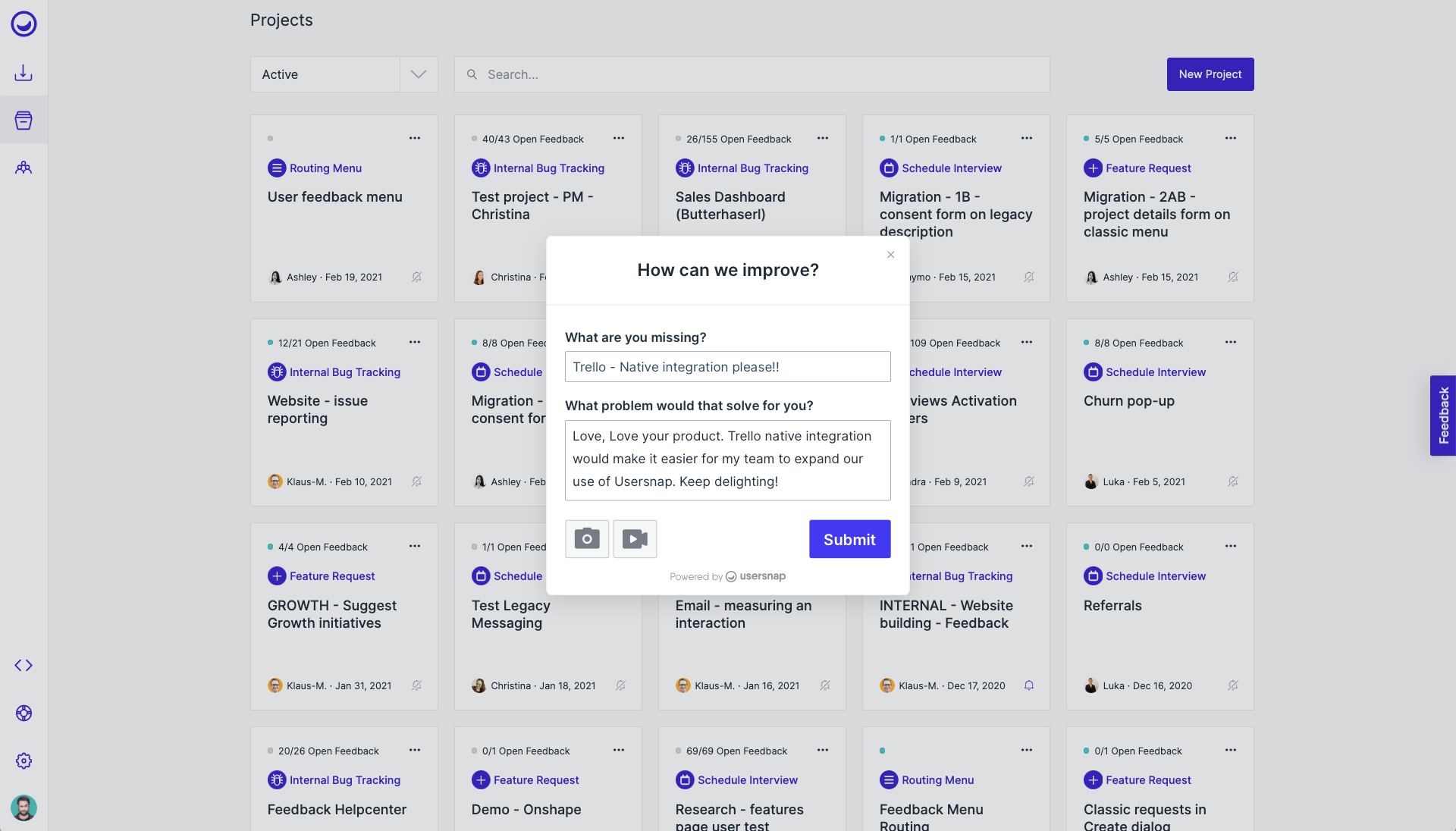 In addition, you can use this question to come up with original ideas. Based on the answers users give, you can design and project products and services you might not have been thinking about before the inquiry. Whether it's a poll or customers approach you on their own, their ideas about development can have a huge influence on the future lines of products.
CFQ #7: Would you be willing to help us test new ideas and join an interview?
Finally, asking the users themselves to test new ideas is the most reliable form of market research. Basically, you are going to answer two questions by implementing user testing: why and how your products and services are being used.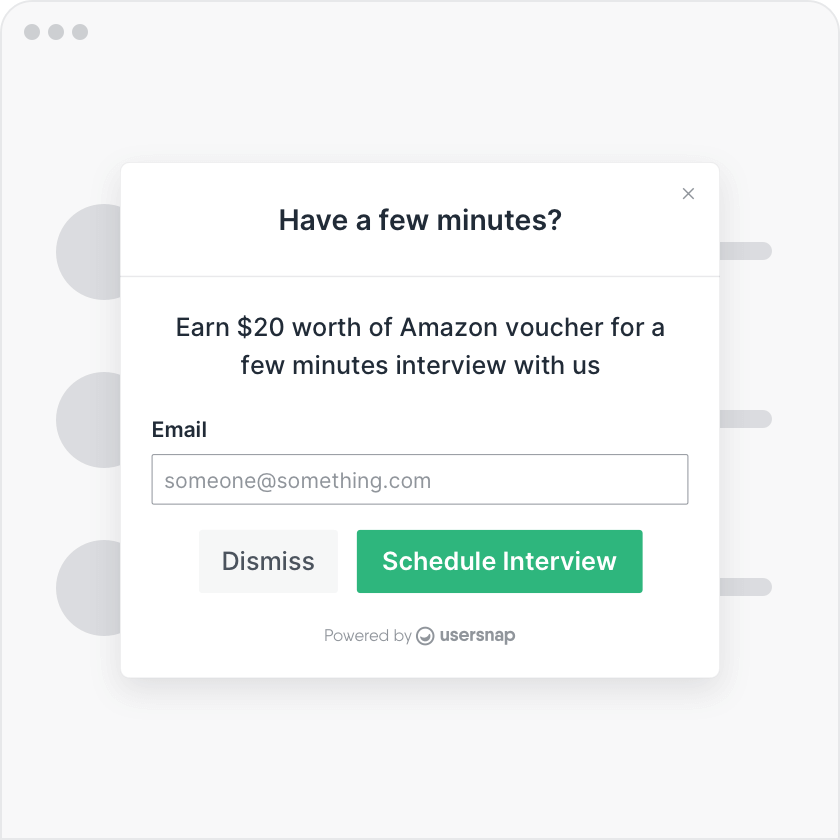 The answer to the question "why" provides you with an insight in whether the product can gain more ground in the market. The "how" will help you develop new features to ease things for existing users and add features that prospective users might find appealing.
Even while preparing and configuring the tests you will learn more about your products and in which ways they might be used. Furthermore, you will know which people are your target audience based on the likeliness of them purchasing it.
We, at Usersnap, are always looking for users to interview and get feedback. If you want to share your thoughts on the pains of user research, testing & satisfaction management, that's right we don't just talk with customers, we want to understand & solve problems. Choose a 20-mins slot with our Head of Product (there's a small gift involved!)
Asking the Right Customer Feedback Questions
Embracing the voice of the customers is important not just for the present moment but for the future development plans as well. The info you manage to get from your users by asking the right questions is immeasurable.
If these 7 important questions are formulated in a correct way, you will collect data that your competitors would kill for. That's why no business can afford to neglect customer experience as an integral part of its operations and procedures.


Want to start getting customer feedback in your web app or website today? Try Usersnap for free for 15 days now.
Capture feedback easily. Get more insights and confidence.
Getting feedback has never been easier and we hope you've realized that after reading this article. Let us know what you think, your feedback is important.
And if you're ready to try out a customer feedback software, Usersnap offers a free trial. Sign up today or book a demo with our feedback specialists.