Are you wondering whether or not you need a product feedback software to help you listen to your users, try answering this question: Can you recall three pieces of product feedback that helped you build a better solution?
If you can, great memory. OR… may it be that you don't receive enough feedback, and you don't have customer evidence for every new solution on your roadmap? So, you can still clearly count the instances when you do have feedback to back up your decision.
Relax, we're not here to judge, in fact, we've been there! Collecting customer feedback is time-consuming, and being a product-led growth company takes time. Especially if what users say contradicts your hypothesis and vision. (Oh boy, yes, these things happen…) Which is the reason why we wanted to write this article. 😉 We want to share our journey from spending weeks collecting a mere couple of user feedback to scaling up feedback touchpoints and eventually realizing our own software is an outstanding Product Feedback Software!
What did product feedback management look like for us in the beginning?
Writing emails (and begging) for 30-minutes to 1-hour user interviews was the way for us to understand what customers liked and disliked. But these interviews were hard to come by, just picture email reply rates are at 1%. Plus, we don't have a team dedicated to doing these interviews, so it can take up to one quarter to complete the feedback research calls. In other words, we had very little customer feedback to reference.
By the way, if you still need to convince your teammates about why customer feedback is the key to growth, we wrote an extensive guide, take it, use it. 🥰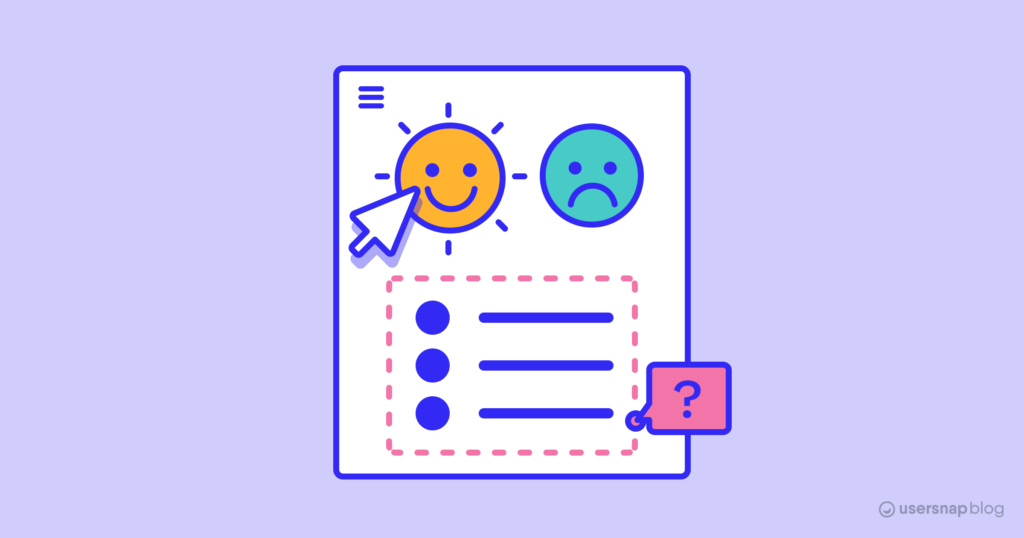 Our product management team was keen to gather more customer feedback to solve problems that matter and build a loyal customer base. So we kept trying. The breakthrough was when we adopted our website visual feedback widgets to get customers to share more insights… This is what we're going to pick apart in this article. Hope you're ready!
Product Feedback Software: a way to bond with your customers
No doubt, customer feedback is critical when growing your product and company. You need to understand customer pain points, but the issues can be as diverse as the customers themselves. Having customer feedback when you are about to introduce new product solutions can help you and your team make decisions with confidence. Whether it be customer phone surveys, in-person research, NPS emails, or focus groups, this can determine the product design, innovation, or features customers want.

Customer feedback management software helps you consolidate the voice of customers so that you can use the knowledge to create a customer-centric strategy that prioritizes the customer experience.
Collecting customer feedback is hard, here's what we learned in the past 3 years
"Your product is great." This is a nice customer feedback, however, it is not very helpful if we want to find out what to build next.
To avoid wasting time asking questions but only receiving vague and not actionable feedback, and also to avoid annoying our users with countless surveys, we implemented a website feedback widget. It worked wonders 🥳 And so our adventure began!
Step 1 of Product Feedback Management – Adding Feedback Widget
We used to collect feedback through conventional channels such as emails and personal phone calls. But customers have the most to say when they are in the product and using the features. The feedback widget that was added to our web application allowed users to send in feedback as they experience issues or have a creative moment and come up with a brilliant suggestion.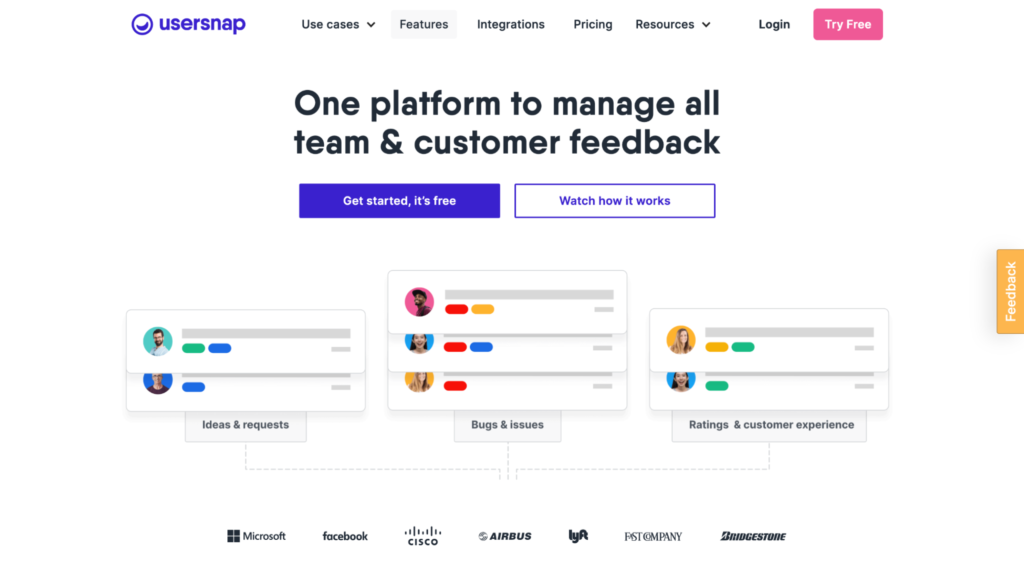 This feedback widget is not any ordinary feedback form, it is a visual feedback tool. What do we mean by this? (Disclaimer: the next few sentences is promotion of our widget's unique selling point""` 😬)
Customers can rate their experience, write a message, record their screen and voice to show us, tell us why they liked or disliked a particular product experience. This visual and instant feedback sharing is intuitive to customers and helps us to receive contextual, high-quality insights. 🤗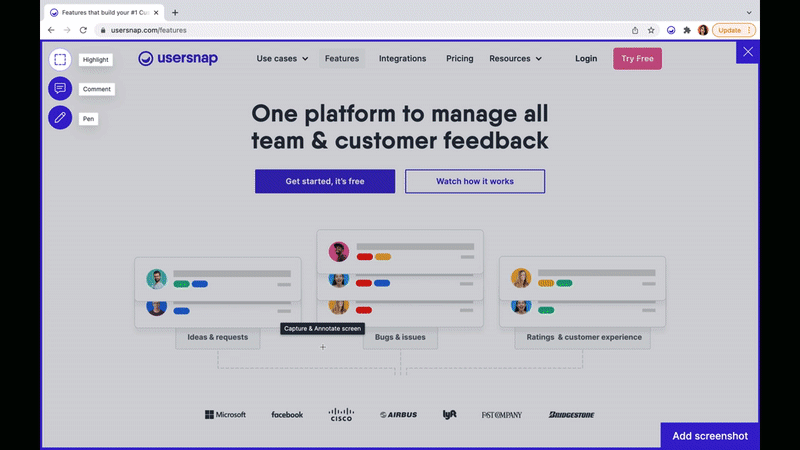 Step 2 – Updating to Feedback Menu Widget
In the next phase, we upgraded to the Feedback Menu Widget which displays up to four options of support and feedback. Customers can navigate to the feedback type and use the right tools and form to share their message.
One of the option on our feedback menu is feature suggestions. This encourages customers to share requests and ideas on how the product can improve and innovate. And our users are super creative!

Step 3 – Introducing Behavioral Rating Pop-Ups
Our next step was targeted at improving engagement and interaction. We found rating scale questions have higher response rates because they are easier to respond to.
Asking questions at the right time and right place also enhances the customer experience and likelihood to share their opinions. We implemented pop-ups that were triggered when users landed on our product dashboard and when a certain event is fulfilled. The overall experience was reported to be seamless and delightful.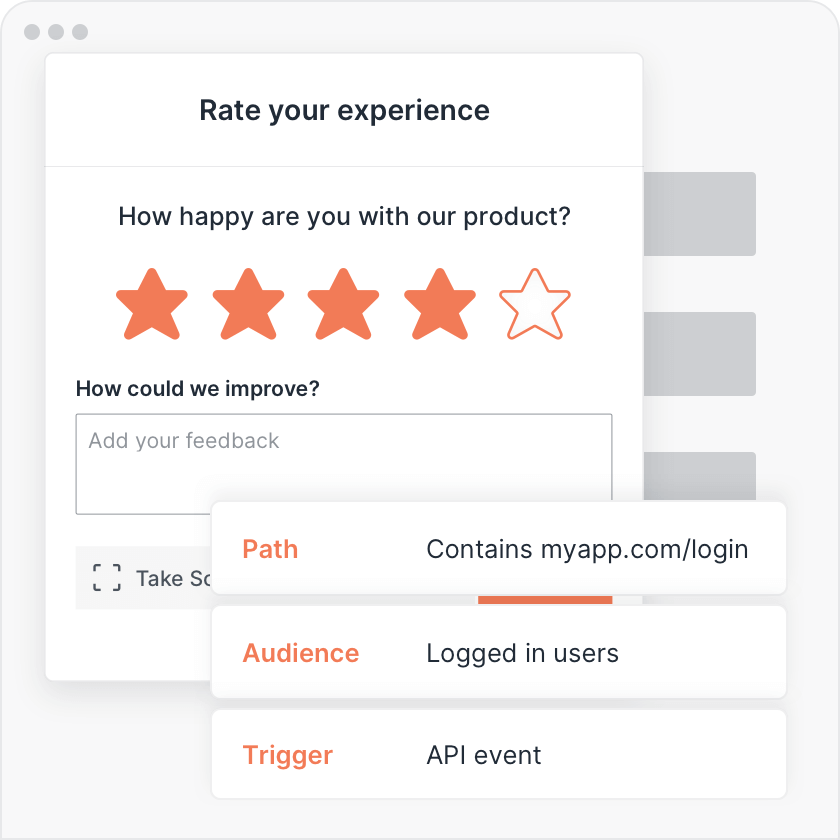 Product Feedback is Much More than Just Surveys
Now, to spill the tea, customers don't like answering surveys. They don't have unlimited time and kindness to spend on improving your product so you can make more money. Shocker?
Don't waste customers' time asking them questions unless you are prepared to act on what they say.

Bruce Temkin
Your customers need to know and see that you care and act on their feedback in order to keep on sharing their insights with you. Our involvement definitely acted as a motivating factor for our customers to become more willing to provide feedback when they witnessed us building new features and improving the existing ones.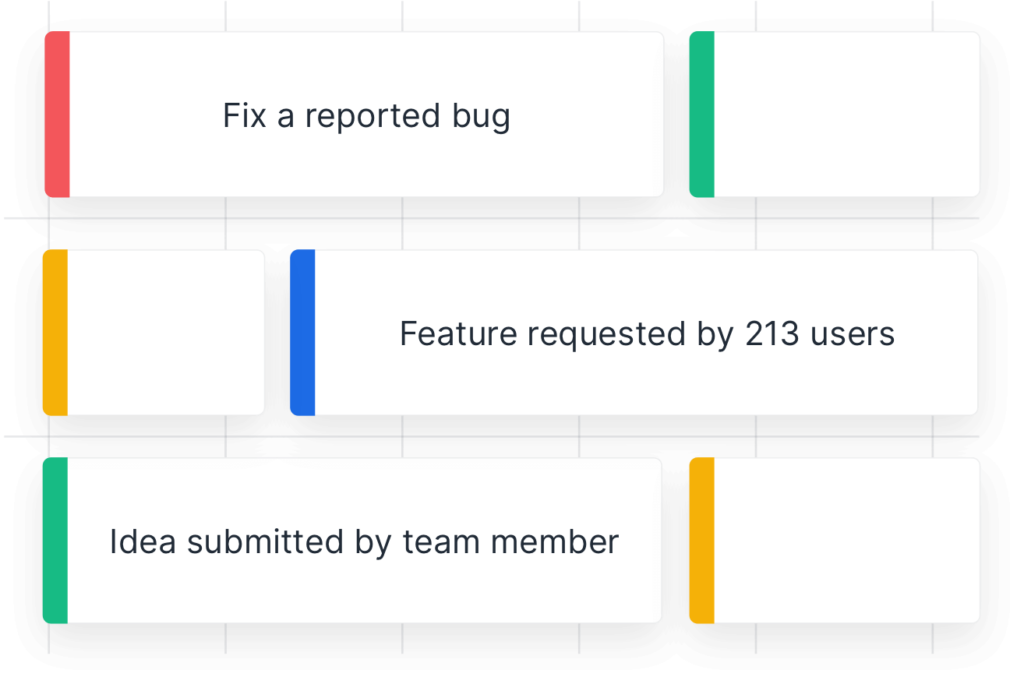 One of the key areas of product management is gathering accurate and honest product feedback. Many businesses understand this and design surveys, often too detailed, to encourage customers to share their opinion and insights about their products. While this may be effective to an extent, it is a relatively limited way to understand product feedback.
Instead of just introducing an additional UX component that your customers may or may not use, you need to create and nurture a culture of feedback and interaction within your product – an environment that invites users to tell their experience and story in the easiest manner possible. That's the only way to ensure that you engage your audience and get balanced feedback.
Below are 5 other considerations when it comes to product feedback management.
Customer Categorization & Segmentation
Feedback is critical in identifying customer groups or segments that are similar in terms of one or more characteristics or factors. This categorization is key to optimizing your marketing efforts to each group through the most relevant and appropriate communications. The difference is an emphasis on segmentation based on topic or cluster of feedback. This result maximizes the value of each business customer by handling a cluster of feedback at once when making product decisions.
Customer-Centric Strategy Formulation & Testing
Listening to customer feedback helps you and your team understand your customers' needs and how they are changing. Doing this helps create a customer-centric strategy that prioritizes the customer experience. The best strategy will also review the required steps before, during, and after the customer has purchased your product, so changes are permanent.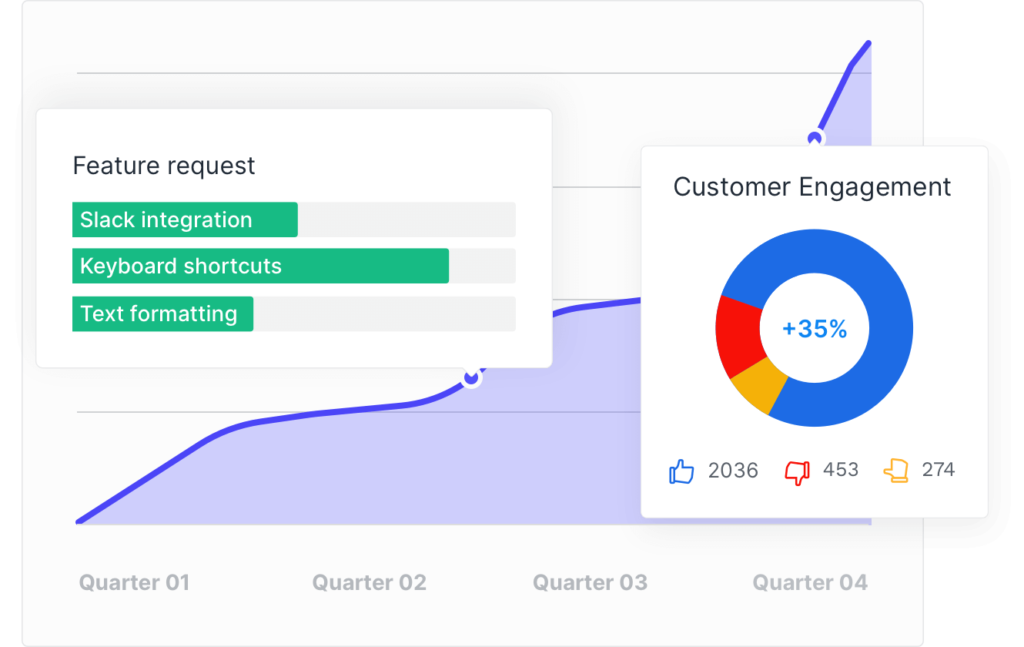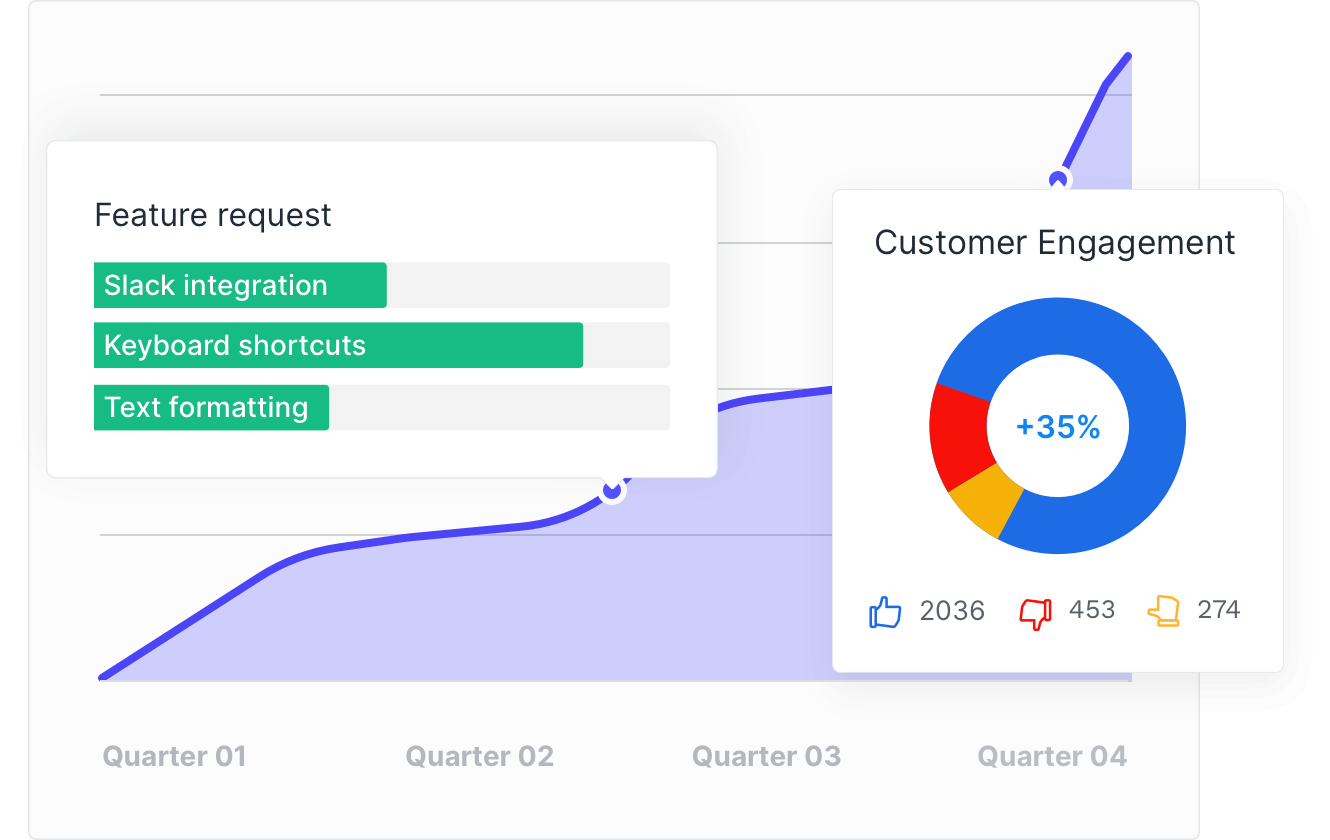 Understand Customer Needs
There's no better way to learn about your customer requirements than through the product feedback they opt-in to provide. Gathering positive and negative feed is a bonus you should never take lightly.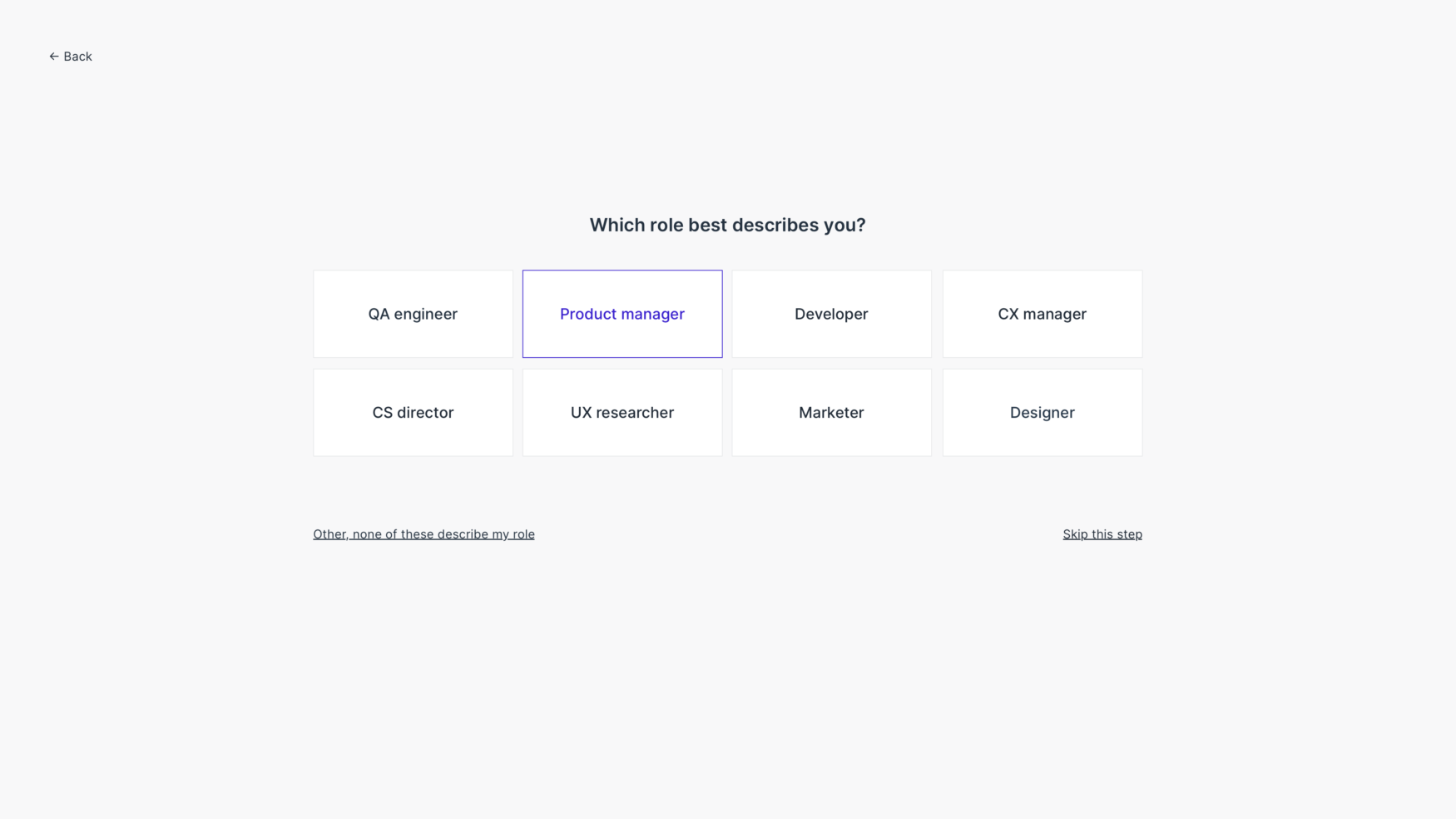 Meet Customers' Needs Appropriately
When customers leave feedback, it becomes easy to interrogate data and improve customer satisfaction. Facts don't lie: the data shows what is working and what doesn't. You can adjust your approach without fear that things will worsen. Plus, appropriately responding with excellent customer support translates to high customer satisfaction, which translates into repeat purchases for your business.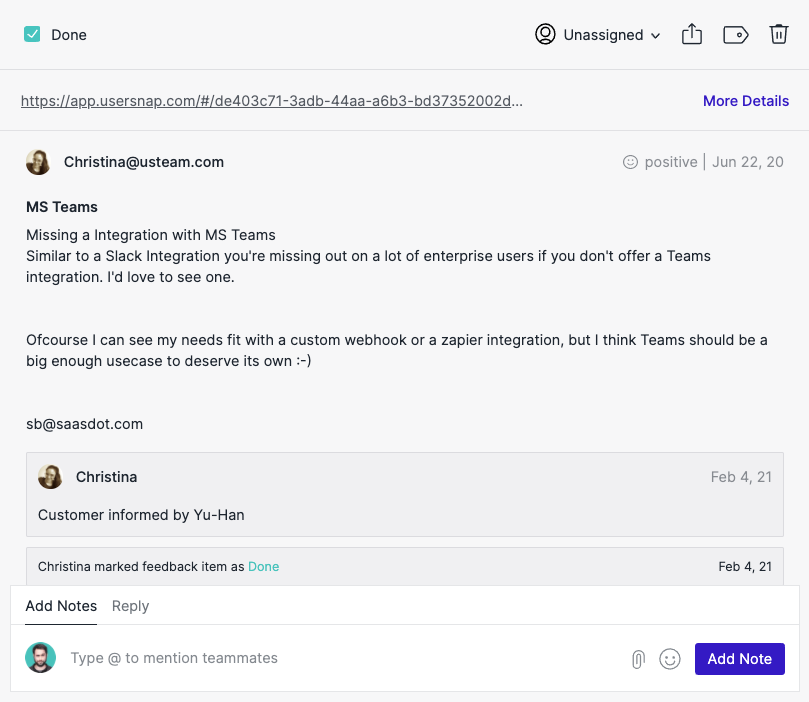 Ongoing Testing for Customer Satisfaction
Tracking customer satisfaction ensures you achieve a high level of quality. Customer feedback software captures feedback throughout the customer's lifecycle. Doing this helps identify what needs to be done and in what order to have the biggest impact on customer experience.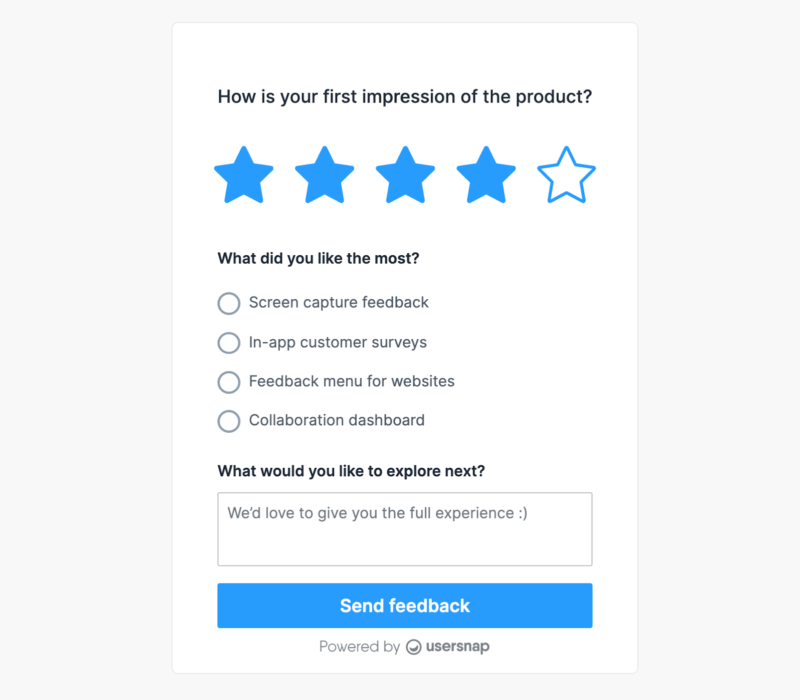 Why Do You Need a Product Feedback Software?
Customer feedback is a critical guide that informs your decision-making process and influences innovations and product or service changes. It's also essential for continuously measuring the success of your customer satisfaction strategy among current customers.
No matter what industry you're in, you need to decide fast and act in the business's best interests at all times. Using software helps you gather, manage, and interpret customer feedback that can help you make informed decisions. The information you gather makes it possible to adjust your product offerings quickly.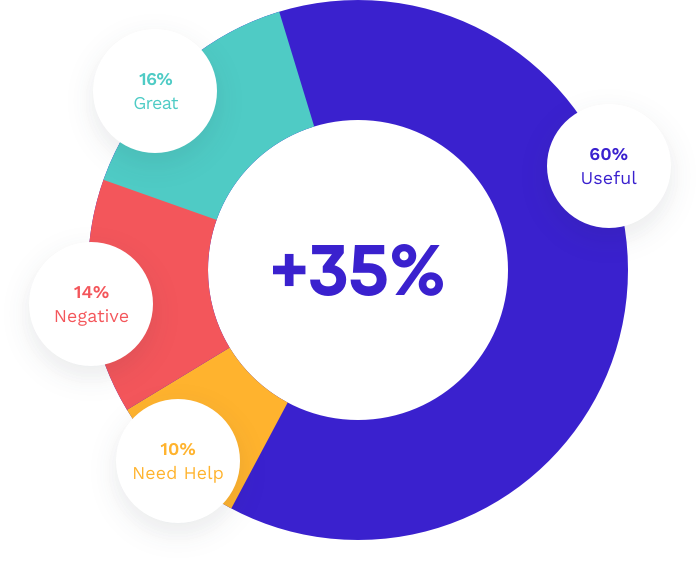 Check out Usersnap to find out how this can help your business when collecting customer feedback.
The software also helps identify long-term trends, so you're in a better position to solve new customer issues. Longer-term trends help find out if you have a genuine trend that must be addressed by changing your product or coming up with a new solution.
Why We Believe We Built the Best Product Feedback Software
We have tried and tested many ways and tools to collect product feedback, now we regularly receive hundreds of both quantitative and qualitative feedback. Including microsurvey responses, visual feedback, feature requests and customer reviews.
In addition, we worked with thousands of SaaS product managers and engineers on building the best customer feedback software for this market category. This puts us in a uniquely qualifying position where we learn about our customer's requirements through our own customer feedback software!
SaaS product teams need to be agile yet competitive. New features need to be shipped fast while superior, there's no room for disappointing users. That's exactly why a robust product feedback management system is essential. Having an effective product feedback software with the ability to collect user feedback ensures the product improvements you introduce or new features you build are impactful and add value.
How to Increase Feedback Submission
If you cannot pinpoint the specific needs and expectations of your customers, you will have a difficult time collecting honest feedback. That's why it is crucial to understand the problem you are attempting to solve with your feedback collection and how it has an impact on your target audience. Once you know what your customers are searching for, it will automatically enhance the customer feedback submission rate.
How Usersnap Improves Feedback Collection
For SaaS companies, it is imperative to ensure that experiences can be customized. They can rely on a wide range of features and functionalities offered by Usersnap including:
User-friendly experience across all platforms
Survey pop-up targeting to ask relevant questions at the right time
Customizable questions and answer fields
Screen recording for ease of feedback delivery
Interactive raters for a soft-start that prompt additional feedback
How to Get Qualitative Insights
Identifying what your customers need is only half the job done. It doesn't mean you should just introduce a new feature in whatever way you want and call it a day. You also have the responsibility to evaluate how your users or customers want you to solve that particular problem. This means that you will be required to acquire qualitative insights highlighting the nature of the solution your customers want.
Introducing Screenshots & Recordings
Regardless of how great and experienced your development team is, there will always be a few bugs and errors that seem to slip away from their grasp. In order to solve such issues, we enabled our users to provide quick and urgent feedback through screenshots and recordings. They were also effective for making UI and UX recommendations.
Targeted Follow Up & Call Scheduling
Although surveys like NPS and CSAT put us in a better position to evaluate customer sentiment, it is more effective to have a large sample size since almost 70% don't provide any qualitative response. However, when there is a comment or insight that should be explored, it's much easier to follow up with them by scheduling a personal phone call. This provides the foundation for developing and optimizing exceptional experiences for our users.
Targeted Problem Hunting
We decided that when around 1% of our customers are reporting a certain problem, we will look into it. This threshold can be different for different businesses and also depends on the nature of the issue. Don't forget that many customers choose to stay silent which needs to be balanced out with the vocal minority. That's why we created a benchmark and based on that spoke to 3-5 customers.
Purpose of Product Feedback
Prior to selecting a product feedback software for your business, it is essential to develop a thorough understanding of your underlying purpose for collecting feedback. This could be different for different businesses depending on the nature of the SaaS offering.
Usersnap has a number of features that allow SaaS businesses to acquire insightful feedback from their customers including screenshots, annotations, video, metadata, custom user data, feedback menu, reply-to-customer, and more.
Product Feedback Examples
Here are some scenarios for your product, development, customer experience, customer success, and marketing teams to leverage customer feedback surveys.
1. Omni-channel NPS surveys
These surveys ask the simplest questions, and can let the user show you why. For example, "how likely are you to recommend us to a colleague?" These NPS survey templates provide a metric that cues into your customer's sentiment of your product, service, or brand. How do you let them show you why? Screen recordings and screenshots of their experience (which can be enabled across several widgets).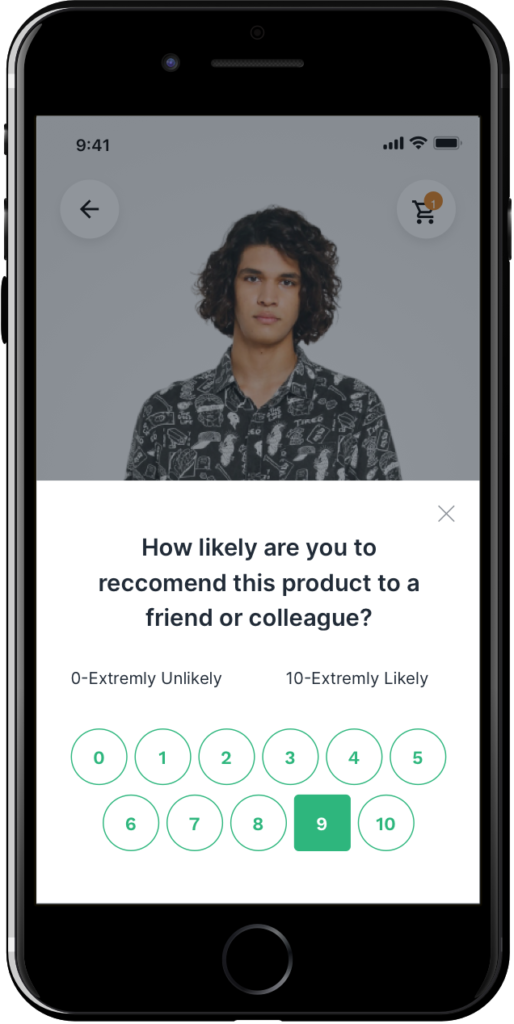 2. Website mini pop-up surveys
Service providers and SaaS companies need to measure the quality of their leads constantly. One way of validating visitor presence on your website is by using a quick survey. It can be as simple as asking what the visitor is looking for, why they're possibly churning, or how well they've liked their experience so far. Why? To understand whether you are bringing in the right audience, and if they're enjoying themselves while experiencing your product offering.


3. Custom in-app questionnaires
The best place to gather feedback is when a customer is using your app. Custom in-app questionnaires help capture accurate emotions and experiences via a user feedback form. You have the option of targeting specific URLs upon completing an action or after a specified time on the page.

4. Customer satisfaction review emails
One of the best ways to gather honest customer feedback is via email. You can use each interaction with your customer as an opportunity to gather feedback. A customer satisfaction review email works best when it's linked to a survey for collecting and recording feedback and reviews.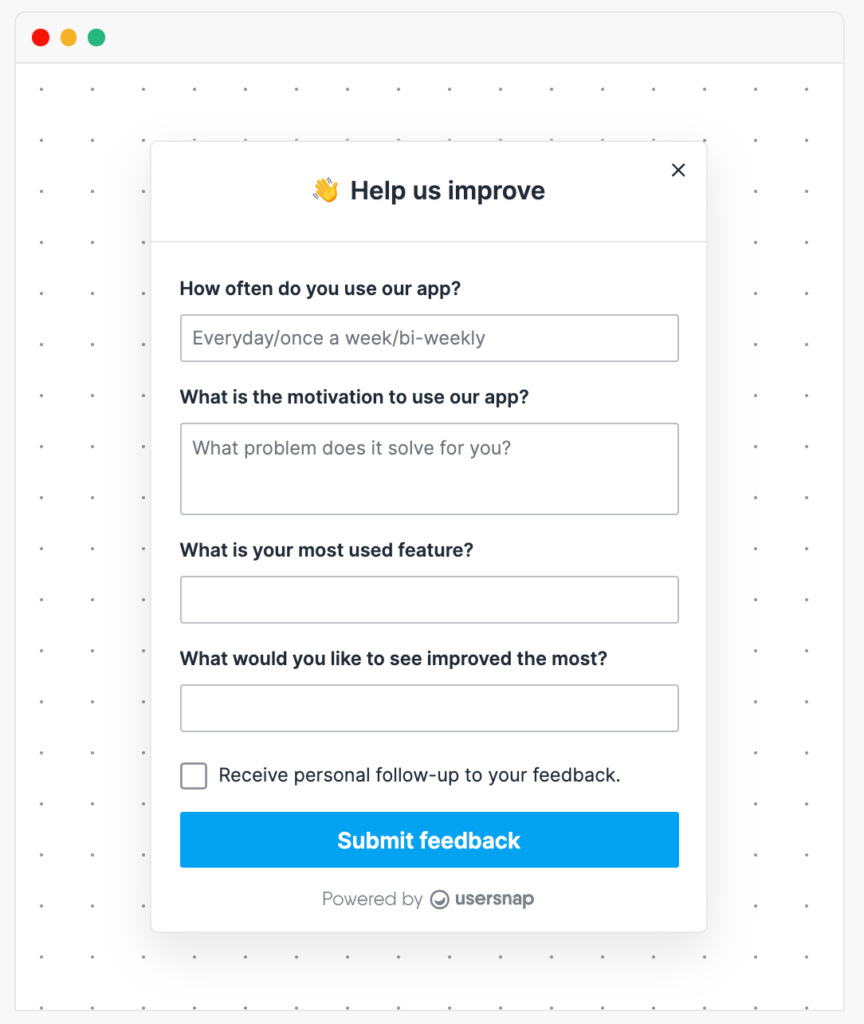 5. Social media feedback surveys
Social media is a fantastic way of collecting feedback. The free-spirited nature of social media makes it easy to create fun surveys that may include expressive emojis.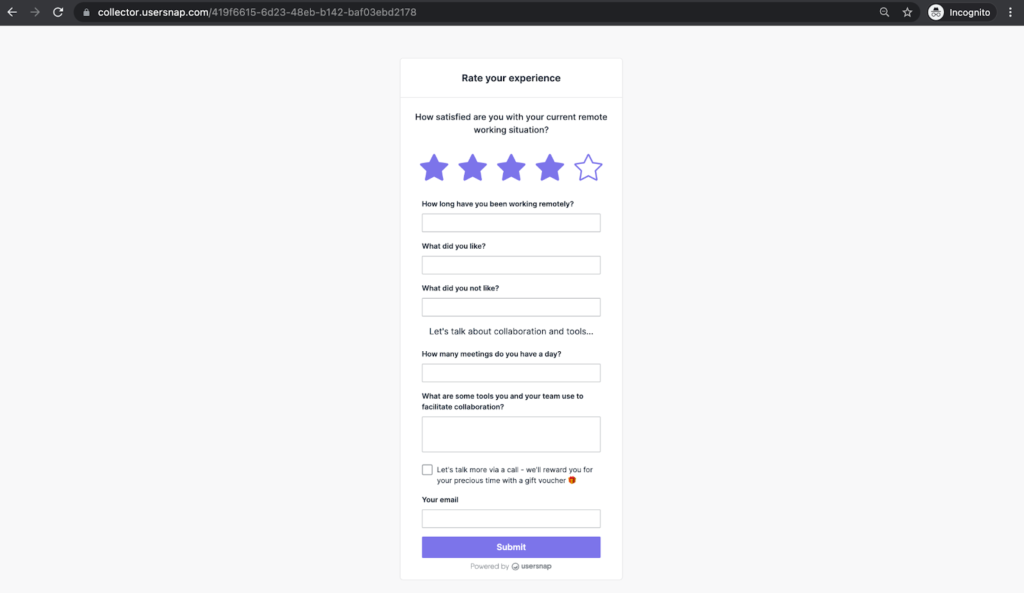 Ongoing Testing for Customer Satisfaction
The major challenge with running a SaaS business is that you constantly need to be on your toes. If you have developed a great product and introduced new features that your customers want, you still cannot sit on your laurels. That's why your business should come up with an ongoing testing and evaluation strategy to gauge customer satisfaction on a regular basis.
If you're competitor-focused, you have to wait until there is a competitor doing something. Being customer-focused allows you to be more pioneering.

Jeff Bezos
How to Choose the Right Software to Get Good Customer Feedback
Customer Feedback Software is an excellent way to follow up with your customer base. The software plays a critical role in identifying changing trends and demand while giving you a better way of overcoming issues in a way that helps keep and bring in new customers.
Effective productive feedback management cannot be accomplished without a feature-rich and user-friendly product feedback software. To realize the full benefits of a customer feedback tracker, here are ways to choose the right one.
1. Follow-up With Tool Reviews
Research is the easiest and first step in determining the best software for your business. Welcome to the information highway: let the internet guide you, so you can read and listen to what other businesses say about the software.
Tool reviews that relay first-hand experiences provide an idea of what to expect when you choose to install a tool. Check out review sites to find the best feedback and review management software. Weigh the pros and cons and think of the tools that are more compatible with your business requirements.
Here's an example from G2 about Usersnap: see how we stack up against tools in our industry when it comes to ease of use, quality of support, and ease of setup.
Enterprise Feedback Management Software
Because this is where Usersnap is placed in G2, it's a good opportunity to also mention that categories vary across platforms. Certainly, both G2 and Usersnap consider the tool to be placed in the Enterprise Feedback Management Software category. However, such a category may not even exist on other platforms. It could be just "feedback management software" or "user feedback management software". The point here: read carefully the category on the review site, and what it entails. This way, there's zero ambiguity about the tool you're considering, and whether it fits into the customer feedback software category (for you!).
2. How to Approach Customers for Feedback
How you reach out to your customers has a critical impact on a number of factors including feedback submission rate and quality of insights. Make sure that the product feedback software you are inclined towards offers operational compatibility across all of your platforms including web and mobile apps. This will ensure that you have an adequate sample size of customer feedback distributed across all channels on which to base your decisions.
A customer feedback platform must be accessible and flexible enough to reach out to your customers across various platforms and channels for communication. Consider investing in your online reputation and select an application that caters to that audience as well.
3. How to Learn from the Insights
Different software solutions come with unique customer feedback tools for different business needs. However, a larger number of tools doesn't mean the software is better. This can make using the application confusing, unintuitive, and can jack the price up for things you may never use. Think about your business requirements, industry, audience, size, and niche.
Some features you should look for include the ability to run surveys such as Customer Satisfaction (CSAT), Customer Effort Score (CES), and Net Promoter Score (NPS). These surveys help track customer experience and impressions of your business services. Qualitative data derived from the surveys helps drive better results that foster relationships.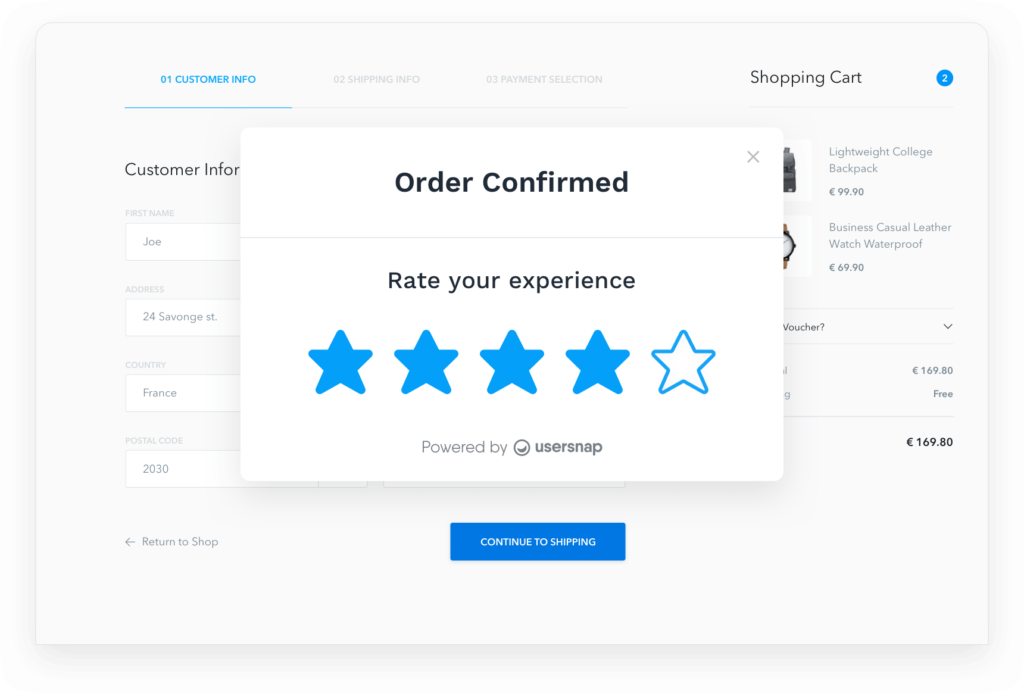 4. Ensure User-Friendliness of the Customer Feedback Software
The last thing you want to do is waste too much effort and time trying to understand how a single software works. User-friendly solutions are navigable for beginners, so you can jump right in and start managing reviews without enrolling in several time-sucking training sessions.
An easy-to-use interface and functions provide results faster and more efficiently. It will also reduce the chances of running into problems later. Finally, ease of use isn't just for you, but also for your end user as well. If they can't deliver you feedback in a simple way, then the software isn't really helping you in achieving your goal. Consider the ease and length of the installation process and setup.
5. Make Sure it's Customizable
Customization, personalization, and configurability of features in a customer feedback app allow you to adopt it into your business easily. Even better, consider how the software can act as a management platform that allows freedom to integrate with third-party applications to meet your needs.

Major benefits include features like sending the survey to other communication apps, collecting responses, and condensing them into reports or passing them into DevOps applications. This ability helps streamline your business workflow when handling customer feedback or requests and enriches everyone's customer experience.
How Erste Bank Leveraged Customizability of Usersnap
Usersnap was the product feedback software that helped Erste Bank to grow its user base to 7 million customers. Initially, the process of feedback collection started with a single channel of web app widget which later on transformed into a comprehensive product feedback management strategy.
The bank didn't know their customers were looking for a statement printing feature as the team was blind-sighted. Only with the implementation of feedback collection were they able to find out that customers wanted that through their questions and comments. The increased usage of mobile banking from banks like MOS or Erste Bank also inspired Usersnap to develop a mobile SDK for improved customer feedback collection.
6. How to Follow Up with Customers to Get Deep Insights for the Roadmap
Just like you want to be there for your customers, the best software should be equally dependable. It's great when you have support from the software developer when things get a little rocky. Choose an application that offers multiple ways of contacting them.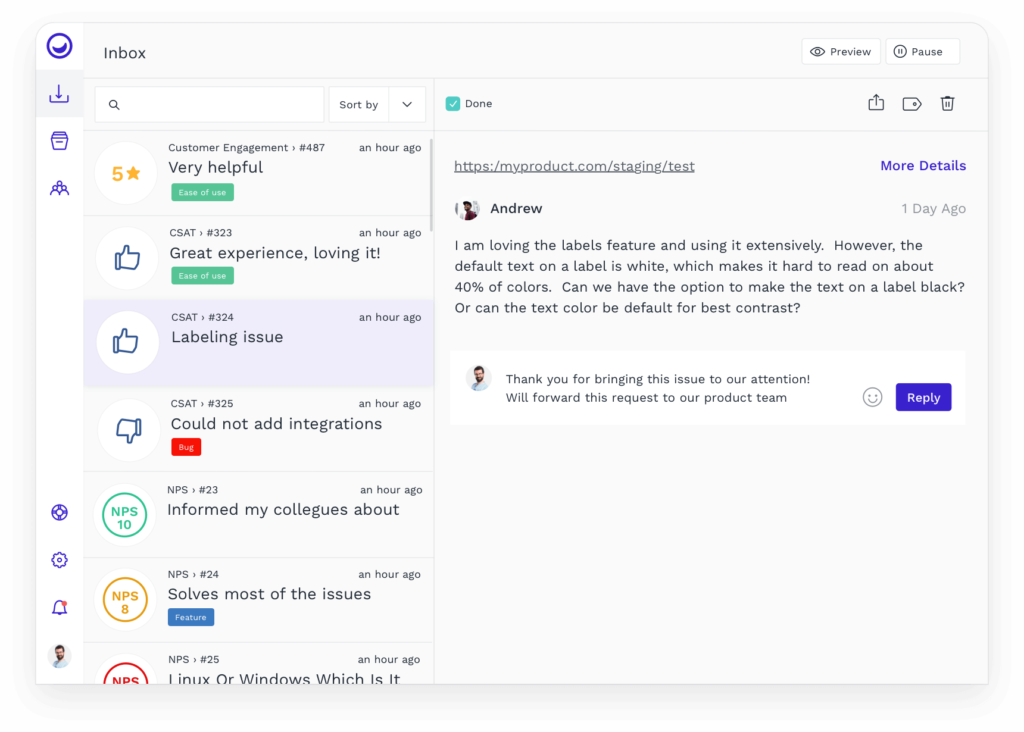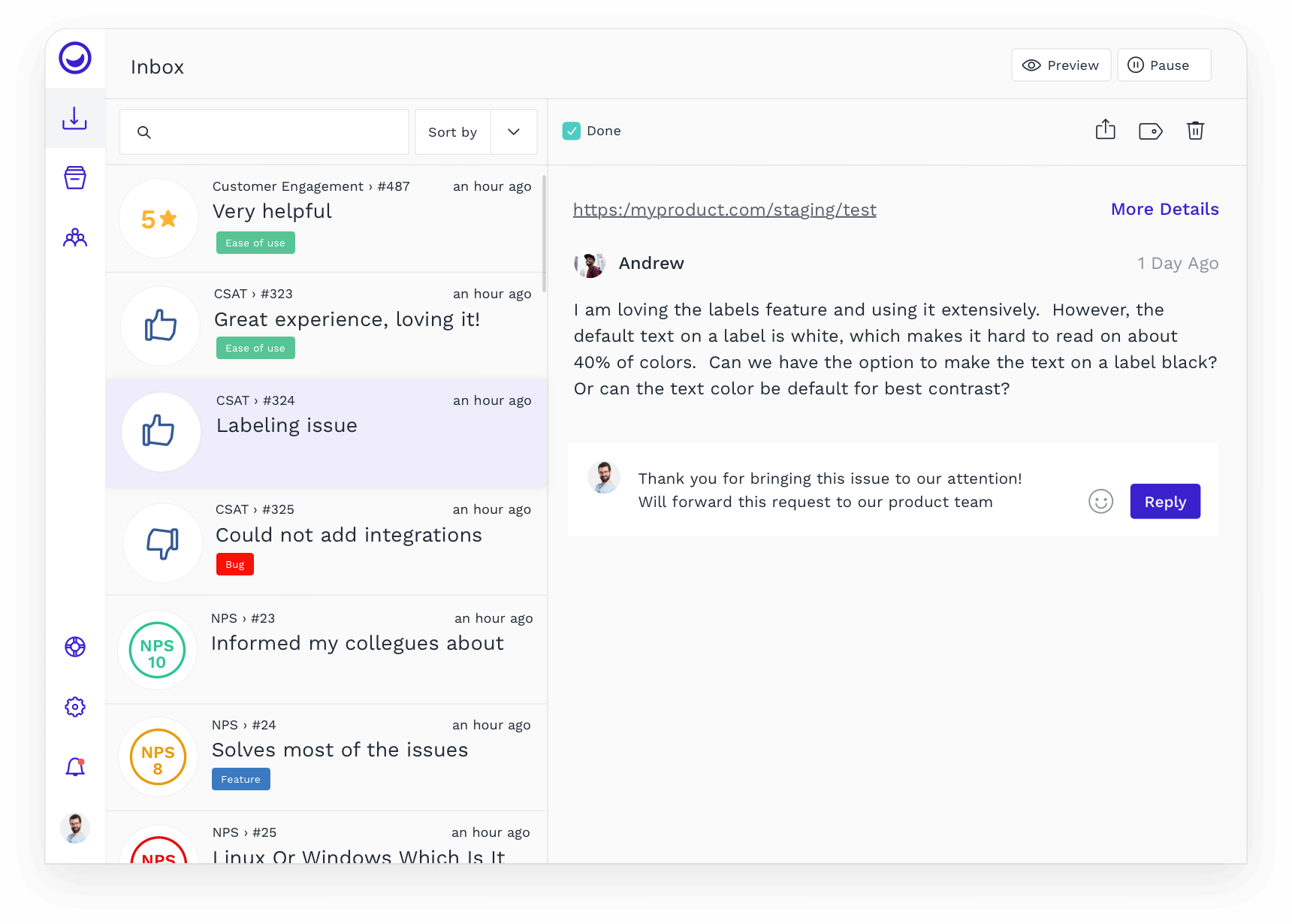 Some systems provide live online support or phone or both, while others have online training sessions or webinars. Reliable and responsive customer support ensures any issues you run into are resolved quickly.
Some Customer Feedback Software to Compare
A good customer feedback software for SaaS companies should help you build customer-centric products. Also, it should allow you to collect customer feedback from all sources easily.
When you understand customers' needs better, you can quickly prioritize tasks and ideas. Running mini-surveys with ratings and custom questions during specific customer journeys is crucial for such software.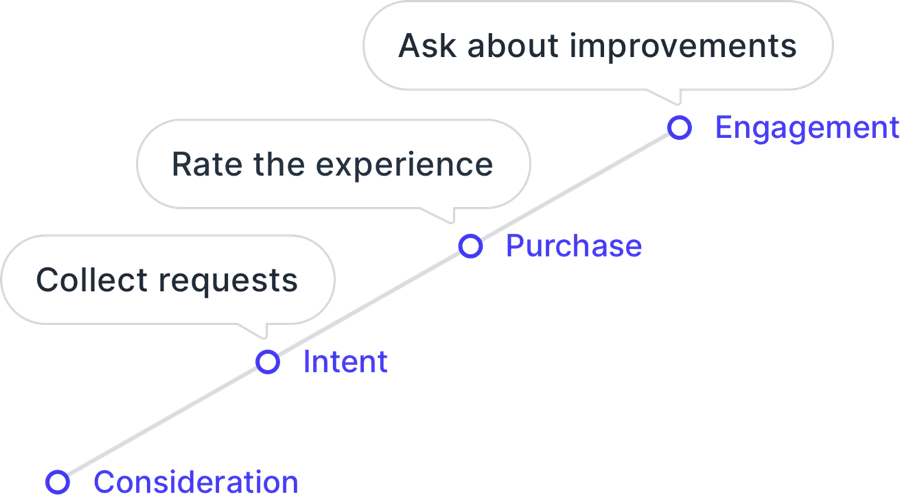 With this information, teams take the insights attached with customer details and technical context to fix and discuss user stories. You can make evidence-based product decisions and grow your business with confidence.
Here are some tools in comparison (all of them are customizable and have customer service, to varying degrees:
The best advice is to try Usersnap for yourself! Sign up now for an account and get full access to features!
Capture feedback easily. Get more insights and confidence.
Getting feedback has never been easier and we hope you've realized that after reading this article. Let us know what you think, your feedback is important.
And if you're ready to try out a customer feedback software, Usersnap offers a free trial. Sign up today or book a demo with our feedback specialists.