I wish I could just send a user screen recording video.
Please delete this sentence from your vocabulary. Because we've heard your wish loud and clear, and we're excited to announce Usersnap is your wholesome user screen recording feedback tool.
Are you also asking "How do I record a user session?"
You can now see the entire flow of your users' issues and save time in clarifying the steps of troubleshooting. Plus, your customers also save time in explaining what their screenshot means. Win-win.
Let us show you how user experience screen recording works.
Quick interruption: if you're really looking for all things customer feedback, check out our end-all, be-all guide on customer feedback now (don't worry, it opens in another tab 😉).
How to report bugs with screen recordings
The best user experience screen recording for sending a website or app feedback is directly within the platform. No hassles for a 3rd party tool or downloading and uploading files.
Simply click the video recorder button, select the window to share, and start recording!
How can I record website visitors?
While in the video recording mode, you can scroll up and down the page, move your cursor to circle elements or highlight texts, and click on links to open as new page tabs.
If you want to show different application windows then select the whole screen sharing option. Once you have captured the feedback, just end the recording by clicking on the stop button.
You will notice there's a progress bar while you are recording, that's the time count of the session. Each screen recording time is a maximum of 3 minutes.
How to activate screen recording
You can simply turn on the video screen recording feature in most of Usersnap platform's new widget templates. In the project under Configuration > Form, you can scroll down to find a checkbox to activate it.
This means your widget would support both the annotated screenshot and video recording options. Users can choose which one they prefer as their visual feedback tool.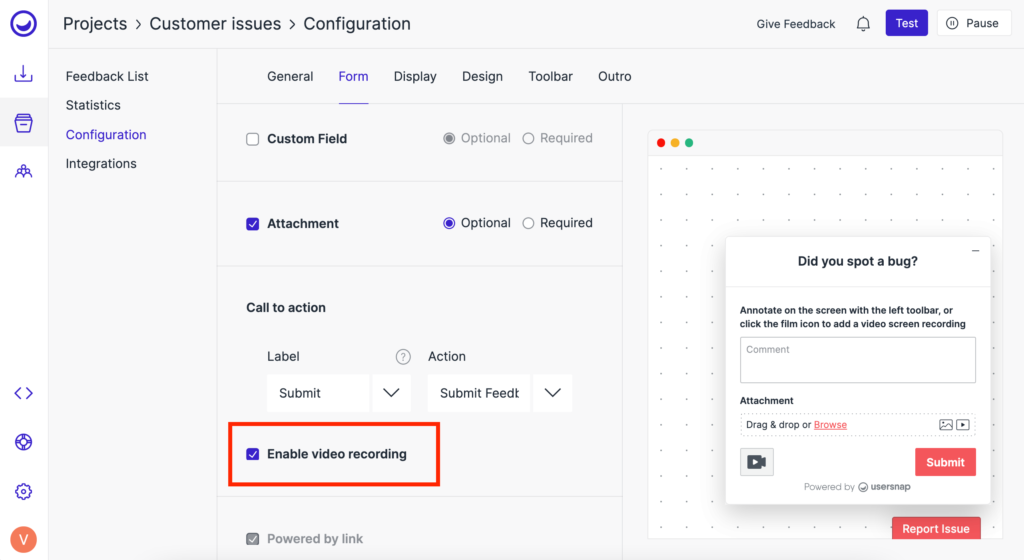 You may also want to show a screen recorder as a more obvious option by using the feedback menu.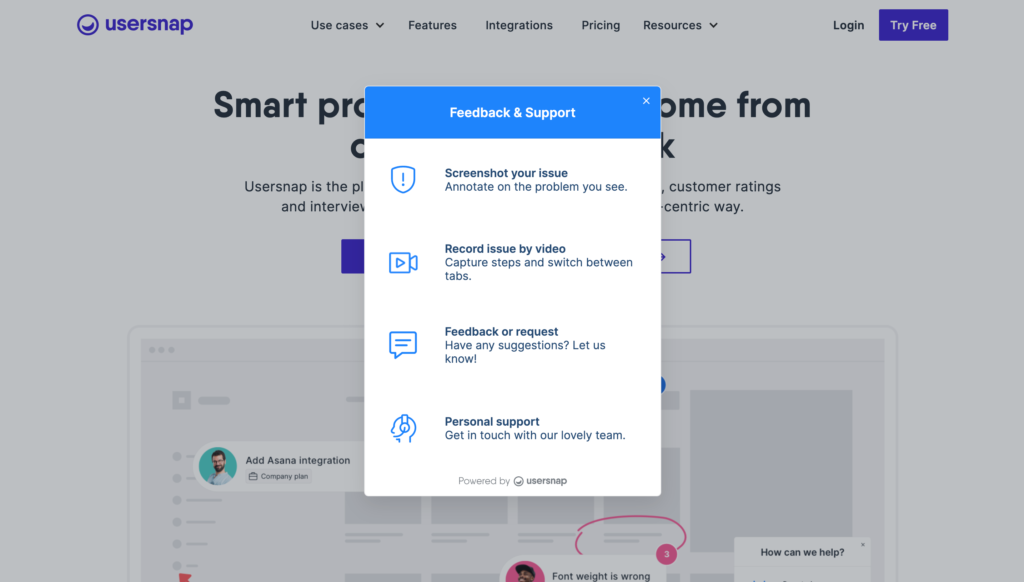 For this, you first create a new project with the "Bug Tracking" template, activate the video screen recording feature, and deactivate the screenshot annotation toolbar (optional).
Next, create a Routing Menu widget and link this project, along with the feedback project options you wish to offer to your customers. Make it easy for your customers to report issues and give suggestions!
Managing video feedback
The video screen capture feedback list can be collaborated on in the same way as all other types of feedback.
You can play the video directly in the feedback list split view, or open it up in another tab and even download it.
The technical data of the recording's environment can be found in the "More Details" card. You will see the URL of where the video recording feedback initiated as well as the browser info, screen size and device.
With all the info you and your team need from the end-user to start working on and resolving the matter at hand, you can start assigning feedback items and labeling away! Even before this feature, we heard a customer, Content Snare, claiming that they became 50% faster in deployment cycles… Just imagine how much easier and quicker the process will be now! 🤩
Plus, in the new projects, you can respond to the customer or feedback reporter with attachments of images and videos. Enriching your communication will improve the quality of your feedback loops.
When to use the video recording feedback tool
As video becomes the content king these days, any website with GIF images, animations, and embedded videos should have a video feedback tool.
For software design and development teams and the QA managers, screen recording can capture problem steps to reduce ambiguity. This helps to speed up your communication and troubleshooting workflows.
The video recording works across the browser and even across all your screen windows, you can eliminate the tedious act of capturing tons of screenshots or copying multiple URLs for sharing one feedback.
The non-technical people would also appreciate the option to use screencasting for submitting technical feedback. Web agencies and clients no longer have to double-check on the wild terminologies each party uses.
Or, some people are just lazy and hate writing and typing… we've got your back as well. Screen recording feedback offers convenience and accuracy for all sorts of customer feedback needs.
"Click here to learn how to get a better product with customer feedback "
Try video screen recording now
Hey you've read to the end of this post? How? Are you not over-excited to try the screen recorder yet? Just kidding, patience is a virtue 😉
Improving customer experience and understanding user behaviors are high priorities to building a competitive product.
Video screen recording is currently available for all plans on Usersnap. We hope you get great value out of it. Log in to the Usersnap platform.
Not yet a customer? Sign up for Usersnap, the #1 customer feedback solution for a 15-day free trial and enjoy the same benefits.