September 2021 was a spectacular month: Tango was voted #1 Product of the Week on Product Hunt (and later on got recognized as Product of the Year) and acquired more than 10,000 early adopters! It was also the month they started collecting customer feedback with Usersnap. That leads us to this story!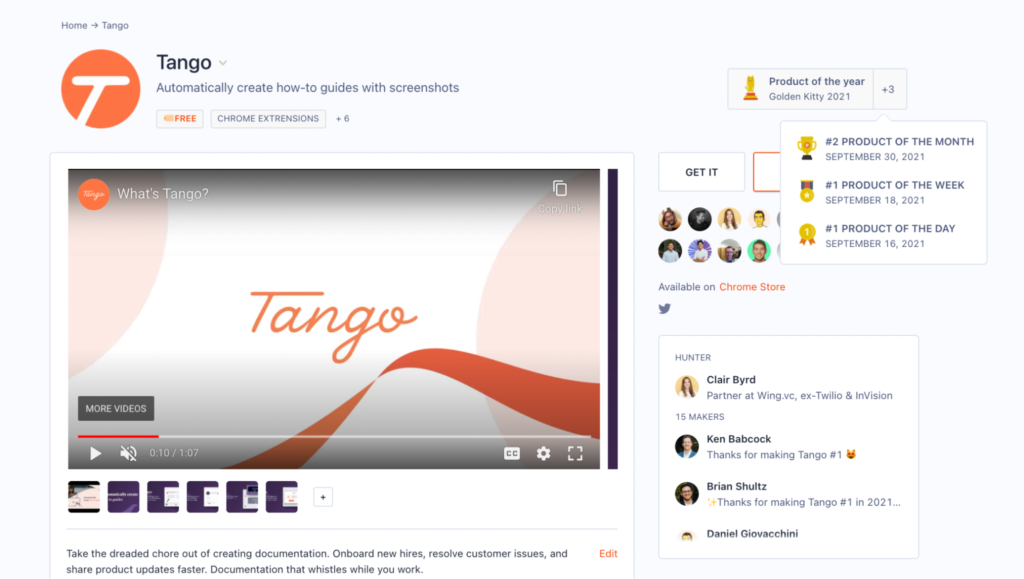 Now, as they say: shall we tango?
Rising-star Tango aces the game with early adopters
Have you ever taken step-by-step screenshots to show a team member how to perform a task? If you find dragging screenshots onto a document and editing the images slightly pesky… you'll be stoked to meet Tango.
It all started with a passion for work excellence
During the COVID-19 pandemic, workplace training became fully remote for many teams. This was a challenge for many new hires and training managers. Companies lacked smart ways to share workflows, and training often consisted of time-consuming video presentations or poorly communicated emails.
Tango's three founders, Ken Babcock, Dan Giovacchini, and Brian Shultz were frustrated by the absence of a solution to such a pervasive problem, so they built it! They dropped out of Harvard Business School to reinvent remote training and knowledge sharing. Today, Tango has secured $5.7 million in seed funding and has onboarded 15 team members that share the same mission and passion.
Finding early adopters on Product Hunt
Tango is a browser extension that helps you create beautiful step-by-step guides with automatic screenshots and seamless documentation. They quickly became popular when the freemium tool was launched on Chrome Web Store and gracefully took the spots for #1 Product of the Day, #1 Product of the Week, and #2 Product of the Month on Product Hunt in September 2021.
Thousands of teams have captured workflows and shared knowledge with Tango. While this is 100% celebration-worthy, Tango's team was humble and focused on listening to the feedback from early stage users to improve product-market fit.
"In our product's early adopter stage, we needed a way to easily communicate with users who would have questions, issues, or feedback. We believe these insights are fertilizers for our growth."

Annie Ng, Growth @ Tango
This is how Tango encountered Usersnap. To support product questions and understand additional customer needs, Tango added Usersnap's feedback widget to their website and web app. In the next chapter, you can see what the feedback menu offers and how to learn from customer feedback.
Providing customer support to early adopters with Usersnap
As we've seen with many early stage SaaS products, the questions and feedback from your users reveal what their motivations are, what features they expect and how UX can be improved.
And the easiest way to obtain these invaluable insights is a welcoming yet non-intrusive feedback button.
How to manage questions from early adopters?
Your website is the place your customers go to when they want to get to know you more. As they browse and questions occur, they can seek help immediately with Usersnap. Here is Tango's website with a custom-designed "Questions?" button, which offers the option to contact Tango's team or visit the FAQ page.
Usersnap and Tango are both platforms that advocate visual communication. In other words, you can capture screenshots along with the feedback form by Usersnap.
Questions and issues become much clearer when there's visual context!
Power up customer support with visual in-app feedback
When logging into Tango's web app, you'll notice a subtle "?" button that opens up to a 4-option support menu.
Allowing users to select what type of feedback or support they need not only amplifies customers' perception that you care but also helps you categorize and manage the feedback better.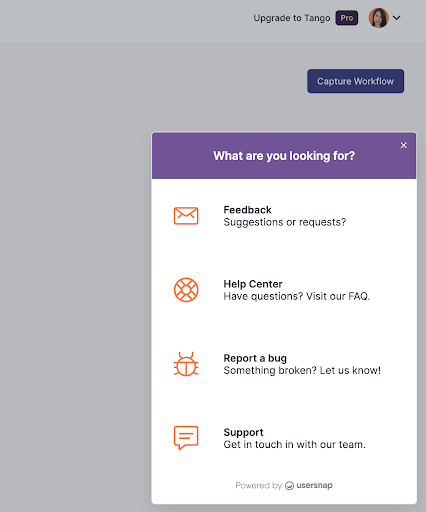 Tango's Growth team is the main owner of user feedback and support requests. They resolve customers' questions and disseminate suggestions, repeating issues and insights to the rest of the team.
Technical issues will be filed to "Report a bug" for the engineering team. User metadata are automatically captured with the screenshots by Usersnap for necessary context to help make troubleshooting easier and faster.
Here's a Tango Workflow the Growth team made to show other team members how to respond to feedback items in Usersnap, as well as add a label and mark a ticket as completed.
Don't underestimate closing feedback loops
Responding to customers to tell them how important their feedback is, particularly at the early adopter stage of your product lifecycle, can add great value and build trust in your customer relationships.
"As Tango is an early stage start-up, Usersnap has elevated customer support by providing a quick way to communicate with users outside of traditional methods like email."

Annie Ng, Growth @ Tango
Entering early majority with customer feedback and Usersnap
Since the success of Tango's Product Hunt launch, it is clear as day that Tango is tackling a huge pain point that many working professionals experience in their respective industries and roles. So what's next?
Building SaaS products with customer feedback
In the growth of Tango's user base, feedback poured in from Usersnap and other various channels. We've summarized Tango's approach on how they made feedback matter in 3 steps.
Digesting feedback
As mentioned above, feedback or even questions reveal what expectations were not met and why customers use your product.
Prioritizing the most important and impactful feedback
In less than half a year, Tango has acquired over 20,000 users in various industries and roles, so imagine the amount and diversity of feedback they've received! How to categorize feedback and prioritize the areas that add the most value is the real science and art.
Building a roadmap that reflects the voice of customers
Once Tango's team works through the new ideas and improvement contenders, they can start planning their roadmap. Finally, they're able to release new features with confidence that their users will be delighted.
"The challenge with early majority is to figure out the most important pieces of feedback so that our product reflects what users find most valuable."

Annie Ng, Growth @ Tango
Validating a new release: Tango Pro
As a product-led growth company, Tango leveraged the essential hook with initial power users and the user feedback collected to refine their market strategy. The large, varied user base gave Tango the opportunity to test the product, understand user adoption and engagement, and navigate product decisions. It also helped them see who Tango can best serve and how to evolve.
On November 17th, Tango Pro was introduced! It's their first paid version of the product and focuses on brand customization and team collaboration features while providing additional security!
Tango's team values and superpower
A core value that unites the Tango team is what they call "Team First." This core value reflects the team's approach to solving problems collaboratively while celebrating wins together.
Another core value "Bestow Superpowers" in which everyone is empowered to delight the customers and provide true value, corresponds a lot with one of Usersnap's values "Make Feedback Matter". We are incredibly honored to have in common this customer-centric value with Tango!

"Every team member works to provide value to our users, show up authentically, and keep things fun."

Annie Ng, Growth @ Tango
Tango's company culture to focus on customer values and act purposefully truly is a superpower.
The value of customer feedback ​​from early adopters to early majority
We cannot promise all companies product-market fit or hyper-growth like Tango, but listening to customer feedback can certainly help you understand what problems you need to solve. And with Usersnap, you have access to collect visual feedback, vote on feature requests, and measure NPS and CSAT, this all helps make feedback more actionable. Why not give it a try today?
"We value all of the feedback from our users, as it drives Tango's future product decisions."

Annie Ng, Growth @ Tango
Capture feedback easily. Get more insights and confidence.
Getting feedback has never been easier and we hope you've realized that after reading this article. Let us know what you think, your feedback is important.
And if you're ready to try out a customer feedback software, Usersnap offers a free trial. Sign up today or book a demo with our feedback specialists.