Five wild predictions, two true stories and some solid solutions for product leaders.
Building great products is a complex, challenging, and exhilarating job. Totally worth it 🙃. It requires product leaders to be strategic thinkers and forward-thinking by nature, as well as to see product opportunities when others are "lost" in ambiguity.
That's why I prefer the word "leaders" over "management" in the context of product development: true product leaders don't just manage a product; they envision great products, foresee what customers will want, how the industry is moving and what opportunities may appear. They transform their companies into product-led growth organizations from within.
How would you ever know if you are heading in the right direction?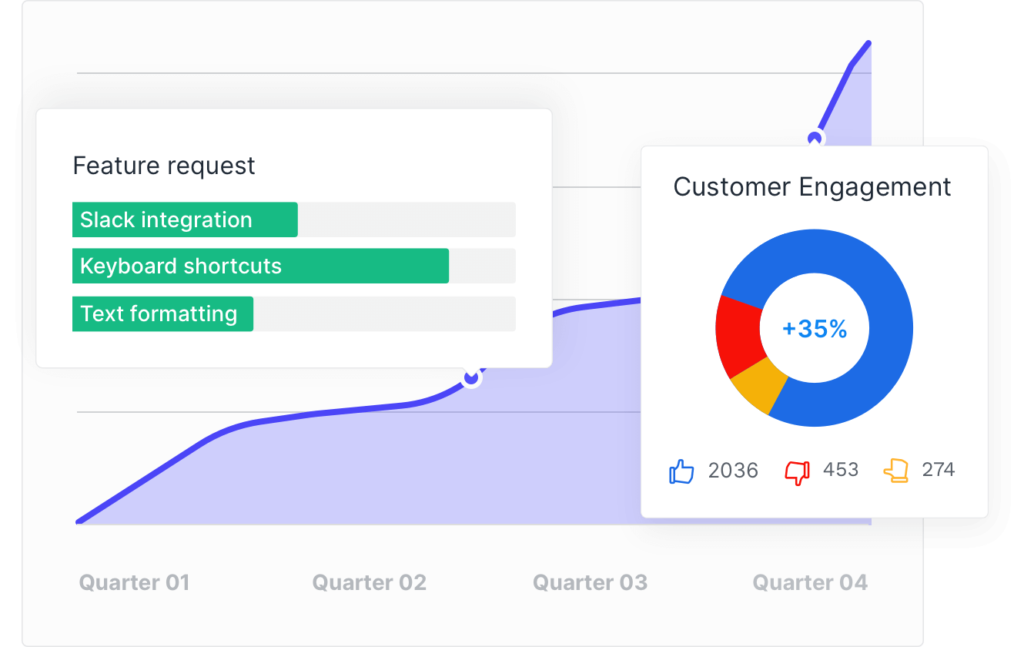 In the past years, two things were mandatory to build a robust product roadmap: having a product vision and communicating effectively to engage external (customers, partners, etc.) or internal stakeholders. But that's not enough anymore. Product leaders need to listen to their users, and also:
Invest more in user research.
Learn more about their challenges and the "Why" behind the "How".
Listen to what they say about the product and features.
You may ask: Why is it that important?! We know that Steve Jobs never asked his customers what they wanted. Henry Ford said: "If I had asked people what they wanted, they would have said faster horses." (even though we have no evidence that Ford ever said those words.)
On top of that, we may think that asking customers about features they want to see in their product is pointless. Plus, your customers don't really see the value or a particular need until they use the new product.
But then, your education and relationship with customers start when you actually put your product out in the world. And that's the time you should be asking customers questions and start listening to them. By listening to your customers, you keep the finger on the pulse of your business.
Nowadays, product leadership is becoming more collaborative, and product leaders work more and more with engineers, designers, sales, marketers. They also need to align with the customer success team to coordinate the actions across the customer journey to fuel growth.
They all work together, gathered in "product teams", to generate ideas and create successful products that go hand in hand with the product vision. And they all have one mission in mind: to find real problems from the customers that need to be solved.
Product leadership is also becoming more data-driven.
And we all know that that's a blessing and a curse. We track and collect, but we can get drowned in the details. When it comes to collecting feedback, things are even more entangled because it is usually stored in silos and not accessible to the team, or it's hard to get to talk to a customer and collect unbiased feedback.
One proven solution is systematically validating our hypothesis and our "gut feelings" with customer feedback. Obtaining user opinion provides qualitative aspects to our data.
We actually hold everyone at the company accountable for spending time with customers. We require everyone, even my co-founder and me, to spend an hour every month with customers in "chat duty".

Elias Torres from Drift
Do you wonder what the most effective methods to collect customer feedback are? We've got you covered as well. Ashley dove more deeply into getting, managing, and analyzing customer feedback, what's the right software and how to increase your product development ROI (by building the right things).
What challenges do product leaders need to overcome?
Product School revealed surprising insights about what product managers are most concerned about and the future of product management this year.
Get the report here
🙌
We selected five predictions and added more in-depth solutions on becoming a better product leader and making better, more informed decisions.
There's no going back: product leadership will become a central, strategic growth-driving function.
#1 Product leaders will act more like the "CEO of the product"
Gone are the days of "on-time feature delivery" to measure a product leader's success. You now have to back up your product investments with proof that they achieved (or didn't achieve) the desired objective.
Nowadays, the magic word is "easier" – "What's easier for the customer". Because the easier it gets for the user, the more likely it will convert.
We need to know how to blend empathy with technology to get this right.
Adoption, Customer Satisfaction (CSAT), and Customer Effort Score (CES) are good leading indicators for successful product investments.

The famous American author Ken Blanchard said: "Feedback is the breakfast of champions".
How can we maximise return on product investment? Measure – Learn – Iterate.
For example, you can create a dedicated process to turn insights into tangible results with shorter-development cycles (by increasing feature discoverability) and use contextual user feedback to learn how the users feel about core features.
A great product leader knows the data and the customer.
Passionate about the customer, love for data, and empathy are the magic ingredients that make a good product leader great.
A great product leader knows how to acquire data through user testing, to communicate this data to different people clearly and compellingly. And they know how to use this data to drive better decisions.
Slack CEO Stewart Butterfield describes his CEO role on LinkedIn as 'You know in cartoons when they run off a cliff, but they don't fall until they look down? I am trying not to look down!' How many of you relate to this "CEO life" in your role as a product manager?
What solutions do we have to back up product investment with proofs?
Have you ever made a costly mistake because your customer feedback wasn't on point?
No worries, you are not the only one.
Because feedback alone isn't fully actionable and usable, our colleague, Will, guides us step by step through the feedback analysis process and shows us how easily we can adjust the decision-making process based on learning directly from customers. With the only objective to build better products and measure the success of your efforts with your customers.
#2 Product leaders are doubling down on PLG.
In a galaxy far, far away…No, not really. Here on the Milky Way Galaxy, there was a time when adopting new software could take months, quarters, or even years. And the software was something you installed from an actual, physical box – massive, monolithic on-premise software programs.
Customer-centric companies are now prioritising the customer experience and leveraging their product as the primary source of growth.
While growth may be comparatively slow in the early days, product-led businesses grow faster at scale. And that's just one of the reasons why the product-led-growth (PLG) strategy has gained so much popularity.
An old saying, "Great products come from great product teams." In a great product team, everyone contributes equally to product discovery. And getting everyone aligned on the challenge to tackle is not an easy job.
Product-led growth companies strategise centralising the shared product discovery activities between product, marketing and customer success.
Conducting experiments and customer interviews, for instance, is cross-functional responsibility — it has implications across what to build, how to market it (product-market fit), how to sell it, etc.
When it comes to 'what to build', you are undoubtedly familiar with the purpose of Design sprints. But getting people to work for five days feels like a lot; even two days is a stretch for some. In our case, we decided to see if we could develop a way to get the same results in a fraction of the time.
Curious to see how it went? Haymo documented all the processes, with ups and downs. For example, instead of taking three days to complete most of the design sprint, we wanted to test if we could deliver similar results in 4 hours.
How can you back up your next product feature?
There's no doubt that releasing the next "game-changing" feature or product is a cornerstone for every SaaS company's business success. We've learned the hard way that the only thing missing from our product feature was product feedback.
Product feedback backs up everything. Thomas will show you how to handle product feedback questions and implement new product features.
#3 The rise of "Growth Product Managers."
There's a new product leader in town: the growth product manager. The growth product manager role is most immediately valuable within organisations that have embraced a product-led growth strategy.
People have made significant changes to the way they work, consume, and interact both with digital products and with one another.

There will be few moments as profound as this to shape the products that will lead categories for decades to come. Product managers are at the forefront of that.

Amir Movafaghi, CEO of Mixpanel
The growth PM focuses on improving a particular business metric or commercial goal by carrying a quota and short-term business outcomes.
For example, Growth PMs and their team will meet regularly to identify and decide on the highest impact initiatives. They rely on a series of short-term experiments to incrementally improve and increase efficiencies throughout the customer journey funnel. Then, they proceed with designing experiments, shipping improvements, and measuring results.
To inform future product development and optimisation, they conduct basic user research and gather customer feedback. 
Let the customers' needs come to you.
That's what we did. Christina shared her story about setting up a feature request workflow with a simple button in her product. Since then, that bashful little button facilitated 54% of everything built from the roadmap. By the end of the article, you'll also learn about the tangible impact this workflow could have on your company.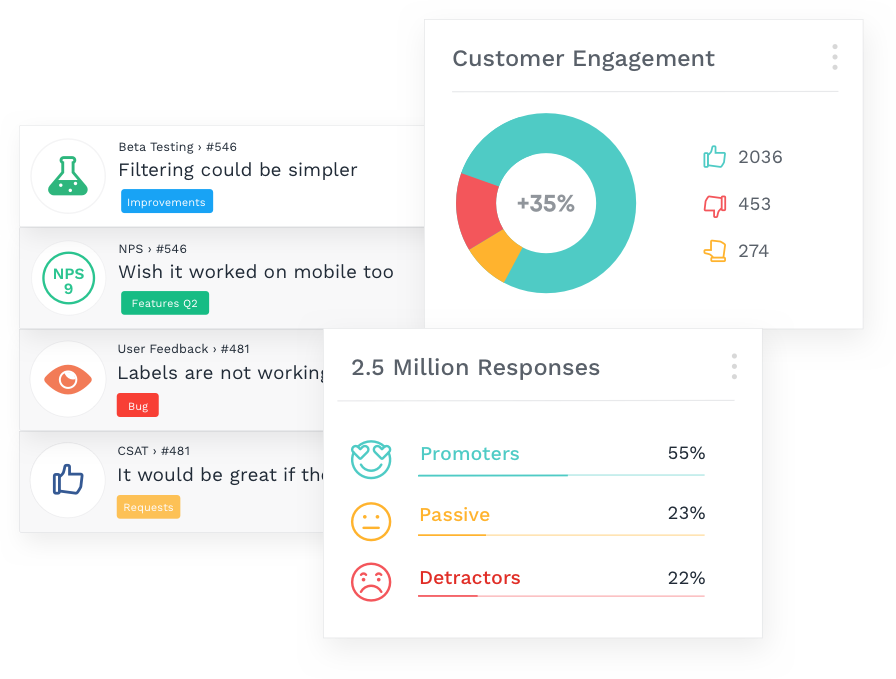 #4 Low-code/no-code, visual, and integrated – are the new magic words, non-negotiable for a great product leader.
The product leaders then use data to get to the truth. Good product leaders also require speed. One capability reigns supreme as the tool landscape multiples: low-code/no-code experiences. Tools must be visual, accessible, and minimise or eliminate the need to code.
49% of PMs cited "Minimal or no learning curve" as a critical factor in investing in tech and tools. This substantial percentage clarifies how visual tools that lessen the need for technical backgrounds emerge as the go-to for the PM tech stack.
Vendors don't delay: Gartner forecasts low-code/no-code will account for over 65% of application platforms by 2024, making it a non-negotiable factor when selling to PMs.
Check out our solution on video screen recording – because every customer feedback has a story.
Now you can forget about: "If I could just record the screen and send feedback…and no, not by using my camera."
#5 Product leaders to vendors: integrate or be passed over.
Decisions start and end with integration. No integration? No consideration.
Did you say integration?! Perfect. See how easy it is to → integrate Usersnap into your feedback process.
The good news is that product teams have substantial autonomy to set their decision factors for PM's tech stack. Loud and clear PMs signalled the importance of easily-integrated tools. They ranked it priority #1 and #2 regarding tech and tool investments.
The vendor implication is clear: product managers will not consider the tools that don't sync with the stack.
Collaboration is more important than ever as more companies are embracing remote work. Design thinking methodologies and no-code tools empower users to co-create solutions in a visual way. Ultimately, this helps entire organisations unlock innovation at scale.

Mariano Suarez-Battan, Co-founder and CEO of Mural
Growth product managers are all about removing friction. "How can I drive more value from our existing products?" is the daily obsession.
They need to be both obsessively quantitative and creatively qualitative at a high level. Product leaders need to focus on numbers, but they can't solely rely on data to make the magic happen.
After all, data only provides the "what" and not the "why", – and you need to know why users are stumbling when they try to use your product's functionality.
Conclusion: Product leadership will need to make better, more precise, and more confident decisions.
We'll say it again: it is not easy to build lovable products. But with a goal-first approach, deep customer connections, and a rigorous way to tie features to the business value will help product leaders accelerate innovation — and define the future of product leadership.
As a product leader, your goal is to constantly provide a better product to deepen engagement, grow your revenue, and delight your customers.
To do so, you need to listen—we mean really listen—to customer feedback.
It may feel a little overwhelming with more technology available for product leaders. But the good news is that these tools are becoming more visual, meaning we don't need technical expertise to use them – and will make our lives much more manageable.
There's no other way around: Listen to your customers' wants and needs, then build solutions to meet those desires.
Wrapping it up:
Make it easy for customers to talk to you
Use feedback to drive your product roadmap
Respond to and act on customer feedback
In the end, listening to customers is the only way to improve your customer experience and gain the confidence to make better and more precise decisions. Because feedback-driven companies provide the best product to people → try it, it's free, no credit card.
"Feedback is the breakfast of champions". – Ken Blanchard
We, Usersnap, make feedback matter.
Capture feedback easily. Get more insights and confidence.
Getting feedback has never been easier and we hope you've realized that after reading this article. Let us know what you think, your feedback is important.
And if you're ready to try out a customer feedback software, Usersnap offers a free trial. Sign up today or book a demo with our feedback specialists.