If you're new to bug tracking, issue management or web development in general, you might wonder what a bug report is.
In this blog post, we will be answering this question from different viewpoints. And trust me, it's not going to be boring.

We always talk about bug reports…
…but never explain what they are or why they're crucial for closing customer feedback loops.
I just noticed that we at Usersnap haven't answered this core and essential question.
We've more than 1.000 sites indexed by Google, we've published 283 blog posts on our blog to date, we have written multiple guest posts on other sites, and we gave some talks on the do's and don'ts of bug tracking.
However, we haven't answered this core question not even once.
We did cover a lot of topics in the area of bug reporting.
For example, I've shown you 6 easy bug reporting tricks, answered the 4 W's of bug reporting and gave you some insights on bad bug reports. I've even shown you how to set up a bug-free web development environment.
Nevertheless, I haven't answered the simple – yet important – question.
But today, we're finally tackling this issue.
Example of bug reports from Google and Apple
In the past, Google's and Apple's approach to bug reporting was almost non-existent. Eddy Cue and Craig Federighi admitted in The Talk Show by John Gruber (highly recommended podcast episode!) that their bug reporting workflow with external app developers is not really great. Often, the Apple bug reporting workflow was even critiqued by Apple developers. So, even Apple's management team admits that their workflow is not great. It's a bit funny that a company of that size had no proper bug reporting workflow in place.
This has since changed though. Take a look at how Android and iOS approach the issue.
Android bug report
What is a bug report on Android? Android offers quick, simple bug reporting directly from (test) user to developer. The purpose is to get information such as "device logs, stack traces, and other diagnostic information to help you find and fix bugs in your app." With this function, you can capture bugs directly from devices, emulators, or adb's. Their bug reporting mechanism offers inspection via ZIP file, while end users can use Google Play's and Firebase's crash reporting, available for at least 6 months from the moment the report is filed.
iOS bug report
What is a bug report on Apple? Apple offers a feedback assistant for developers so they can receive bug reports. Their app allows filing bugs across and for connect devices, and includes screenshots, profiles, and the logs required to resolve issues. Finally, the feedback can be shared across teams, so everyone is on the same page.
So… what's a bug report?
In order to answer this question, we need to understand the following concept of bugs, bug reports and bug reporting software.
What is a bug?
In the context of software development, engineering or web development, a bug is not despite its name a little animal, but to something else.
According to Wikipedia a software bug (or just a bug) can be defined as:
A software bug is an error, flaw, failure, or fault in a computer program or system that causes it to produce an incorrect or unexpected result or to behave in unintended ways.
So in short, this means:
A software bug is an error, flaw, failure, or fault that produces an incorrect or unexpected result.
Basically, a software bug is something which is not working as designed.
Why is called a bug then? The origin of a bug.
You might wonder, why a bug is called a bug? It's a great question, because the term bug, describing a software error or failure goes way back to 1945. In late 1945, at the University of Harvard, a technical team found something unusual between points in Relay70. They found a real dead bug (the animal) which caused an error.
As stated in the bug log, it's the "first actual case of bug being found".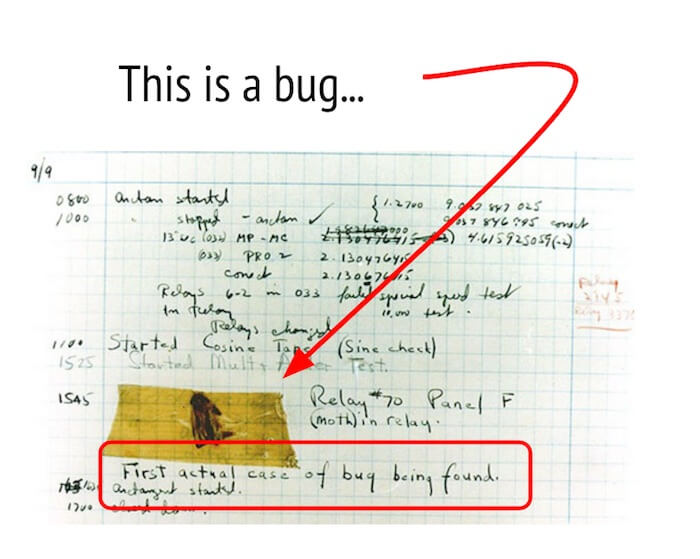 So, in theory, a bug is something not working as designed.
But what if something is not designed as it should be? Is it a bug then? As you can see, this question alone leaves a lot of room for interpretation.
No matter if you're a developer, designer or user of the software. Chances are high that you've stumbled upon a bug in the past, or maybe you even caused a bug yourself.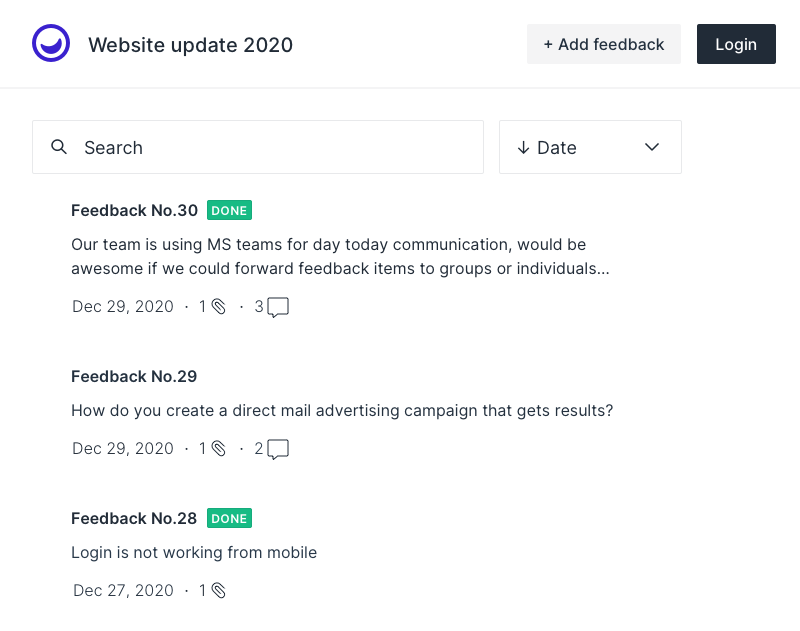 But we need a bug report definition!
So here's the core question: What is a bug report?
If bugs occur (which they certainly do), the person finding the bug should be able to report (document & send) the bug to people in charge of fixing that error or failure.
According to Yegor, a bug report "should explain how exactly the product is broken."
He continues that the report should follow this simple formula:
"This is what we have, this is what we should have instead, so fix it."
This sounds easy, right? In practice though, a bug report (and what documentation is included) isn't that clear.
Imagine you encountered a bug and wanted to send in a report. What information would you include? I guess everyone would answer that differently.
In the past, bug reports were lengthy forms including various fields and data requests. What's the priority of the error? What's the problem description? What are the components? Which browser version are you using? And so on…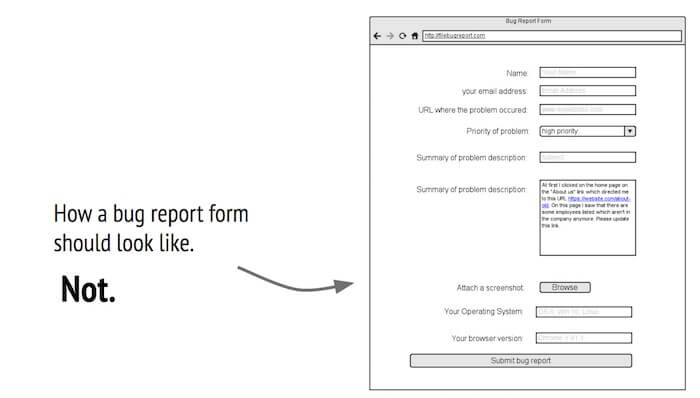 Why are bug reports important?
It is of utmost importance to report bugs. This is because the developers must be informed of the problem and how it appears to begin the testing procedure. If the development team is uninformed, the issue will be there for a longer period of time, and the repair process will be greatly slowed. It also has to be said that bugs do not eliminate themselves, which means not reporting it now would mean reporting it later, which just induces more delays.
If this is an application that is frequently utilized, the quality of the user experience will be reduced. In rare situations, however, if the error created is serious, the program may become completely useless to you. So, it is better to report any issue or bug that crops up during usage as soon as possible, as the earlier, the better. You will be able to enjoy the program for a longer period of time, and the program will be more stable and offer better service to users for a longer period of time.
Reporting bugs can also help to avoid some significant problems in the future. By informing the development team about a minor bug, you may be contributing to the avoidance of other related issues. Think of it this way: a leaking pipe in your home, if ignored for a long time, could get your home flooded.
What's The Best Way to Solve a Bug Report
–
Identify the problem clearly.
To begin with, your software bug reporting should clearly and properly state the issue you want to express to developers. Sounds simple, yeah? Well, a large number of people do not see it this way. Most people write bug reports that fail to talk about the bug in the first place.
It would be better to write exactly what the bug did, how it came to be, and what exactly you did that caused it to show up. Until you do that, its's just a report, and definitely not a bug report.
–
Prepare individual bug reports rather than conjoined bugs report
Addressing different bug issues in just one software bug report can induce confusion and misunderstanding with ease. Create individual bug reports for each issue. This way, you can provide more details in each report. This will be a plus for developers that are to handle the issues.
–
Establish how to reproduce the bug
Until the issue is repeatable, it is not a bg. It has to occur over and over again, and if it does not, then it might not be a bug. When you know how it came to be, you can report it better, and the developers can address it better.
–
Ensure availability after reporting
No matter how well-written a bug report is, if the person who submitted it is not available, it is probably useless. Developers frequently want extra information from the person who submitted the bug report, so ensure you are available to defend what has been written and submitted.
–
Record and provide corresponding codes
The code or error message is another important piece of information you need to supply concerning the bug. Software developers can use the error message or code to find and understand the issue.
With this, developers will know exactly what measures to take to quickly address the issue.
–
Collect visual evidence
While written details are useful, including visual information in defect reports can help during testing and repairing. You can screen record (or record with your smartphone camera) and send the output along with the report. Screenshots will also be of help.
Good vs. bad bug report
So you might wonder, what's the difference between a good bug report and a bad one. And why are there so many bad ones out there?
I collected some statements about this issue in order to distinguish between the two of them:
A good bug report:
contains the information needed to reproduce and fix problems
is an efficient form of communication for both bug reporter and bug receiver
can be and is resolved as fast as possible
is sent to the person in charge
is filed in a defined way
establishes a common ground for collaboration
A bad bug report:
does not contain the information needed to reproduce and fix problems
is a lengthy, inefficient form of communication for everyone involved
never gets resolved
contains no specific information
gets filed in any medium available, but not in the defined way (hint: Twitter isn't a good way to file a bug report ;-))
doesn't enable team or team/customer collaboration
So, how would I sum up my answer to the question: "What is a bug report?"
A bug report is something that stores all information needed to document, report and fix problems occurred in software or on a website. And in the best case scenario: This is done in the most efficient manner possible.
I've created this bug reporting checklist in order to get a feeling on what questions a bug report must answer.
But.. how to solve a bug report?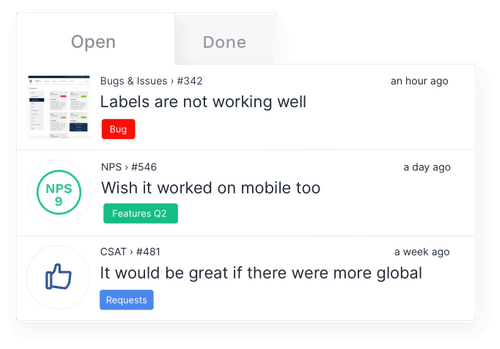 Once you've received your bug report, it's now time to inspect the bug, get the team involved, assign responsibilities for the bug, and resolve it. In particular, you can find some of the necessary skills to resolve bugs, but the key that is often missed is closing the feedback loop. Once the bug has been resolved, it's your company's job to get back to the customer and say "we heard you, here is our solution to your challenge!" It doesn't necessarily have to be with an additional NPS question, but at the very least a recognition of the customer's issue goes a long way to keeping them happy and engaged.
Creating a high-quality bug report
Creating a bug report means creating a report that talks about the characteristics and behavior of the said bug
While a good bug fix report enhances the chances of the problem being repaired, a bad bug report is a waste of time for everyone concerned and can cause confusion and frustration. After testing, the QA team should be able to answer the following questions
–         How is the bug affecting the program?
–         What causes the bug to manifest?
–         What stage of the app process brings up the bug?
All of these should be answered before the bug report is submitted.
What steps should be taken to improve a mediocre bug report?
When information is readily available in the documentation, web developers are able to work more quickly and effectively. The tester should always detail the necessary functionality and how to replicate the problem in the bug description.
We emphasize that all bug reports should be written in a standard format. There should be uniformity in bug report formats across different tracking systems.
What is a bug reporting system?
There are a lot of different expressions used to describe and name a bug reporting system. So here are just a few names:
Bug Reporting System
Bug Tracking Software
Issue Tracking Software
Issue Management Software
Defect Tracking System
No matter which name you prefer, a bug reporting system is an application "that keeps track of reported software bugs".
Therefore, a bug reporting software allows you to report, document, store, manage, assign, close & archive the reports. Here's an example of how a bug report would look like in a bug reporting software: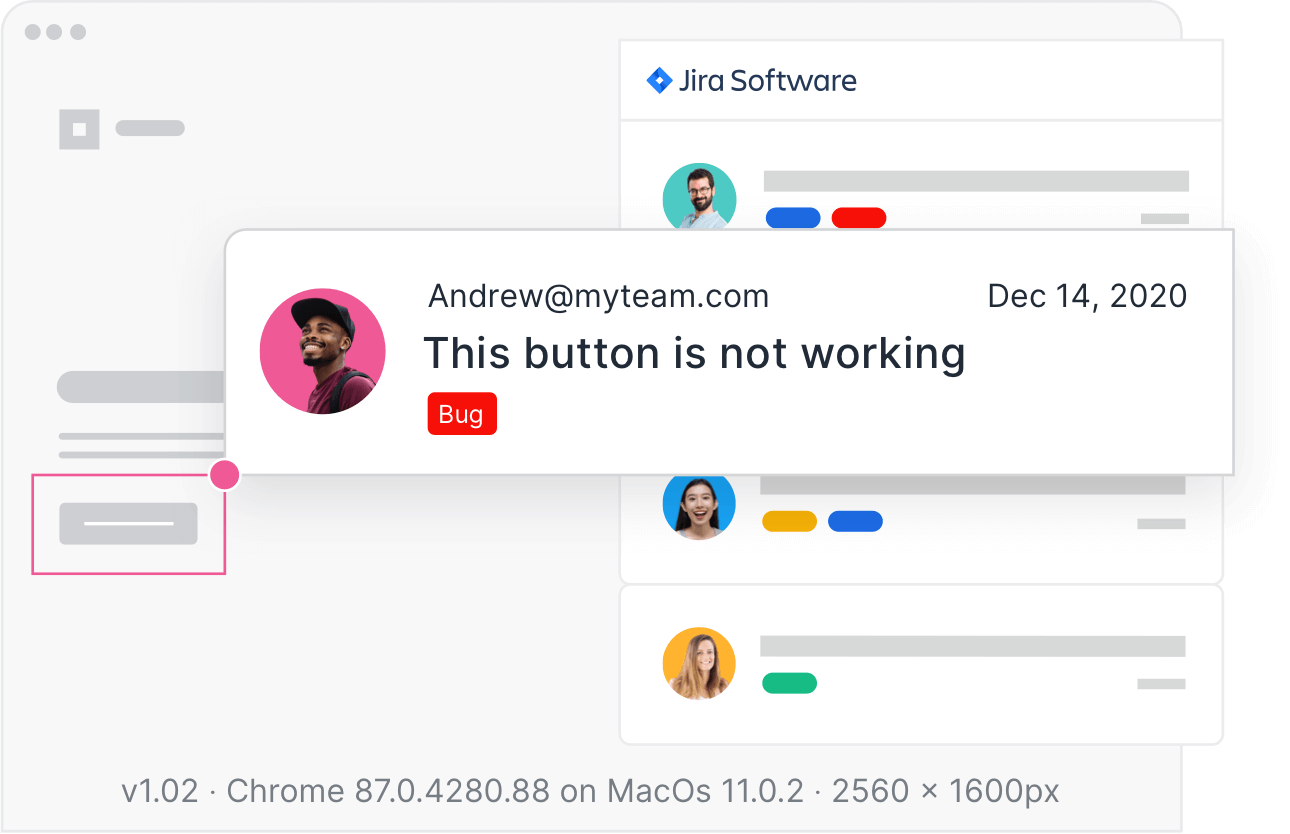 What are the  bug-reporting software available? 
There are a wide variety of bug-reporting tools and people. Many different terms are used to describe them such as Defect tracking software, Bug reporter, Testing tools, Bug tracker, Issue tracker, Bug tracking tool, Defect tracker, Bug tracking software, and many more.
Regardless of the name, they facilitate the bug reporting process. Bug tracking is the primary function of any bug reporting system.
Variables such as the number of stored records, level of complexity, and method of storing and tracking faults may vary amongst them.
Usersnap is one of the best bug reporting systems that can help you track bugs easily by taking screenshots of your browser. 
The Usersnap bug report tool automatically collects relevant data and guides you through the rest of the bug report process. Using usersnap's problem reporting methodology, your software team's efficiency will increase.
Some top bug reporting tools for you to check out:
Recap
All in all, I've shown you the basics of bugs, bug reports and bug reporting systems. There are a lot of further do's and don'ts when it comes to the bug reporting workflow, from bugs to no bugs.

Capture feedback easily. Get more insights and confidence.
Getting feedback has never been easier and we hope you've realized that after reading this article. Let us know what you think, your feedback is important.
And if you're ready to try out a customer feedback software, Usersnap offers a free trial. Sign up today or book a demo with our feedback specialists.