As a product owner, you love feedback. But you might not jump with excitement about having to triage these requests and issues for the preparation of your upcoming development sprints.
We get it, bugs and feedback can get messy, and there are a handful of tools you work with, making the process even more tedious.
There's great news: Usersnap's latest updates on the Jira Server and Cloud integrations allow you to easily triage all collected items to Jira's backlog for your upcoming to-do list.
Here's a step-by-step guide on how to create custom Jira integrations, neatly sending your Usersnap feedback items to save time and create process simplicity.
Setting up a workflow to triage issues
The first thing is to have a Usersnap project created. You can choose from a selection of QA use cases and customer experience projects depending on your needs, such as the beta testing and feature request project.
To install the project, simply copy the code and add it to your website or application. This only needs to be done once, and for the rest of your projects you can just click the "set it live" button on the dashboard.
Your team and customers will know what to do with the feedback widget when they see it. Usersnap is designed to be very intuitive to use.
"As a developer, I'm used to leading long training sessions on new tools. With Usersnap, we literally just added the tool and told users to click the Usersnap button if they wanted to provide feedback. Everyone has found the tool to be incredibly intuitive, yet inclusive of all the features we need."

Colin Ulin, Pocket Prep
When feedback starts to come in, head to Usersnap's Inbox or go to the project's List view to manage the tickets.
View the comment, screenshot, system data and other details to identify the problem.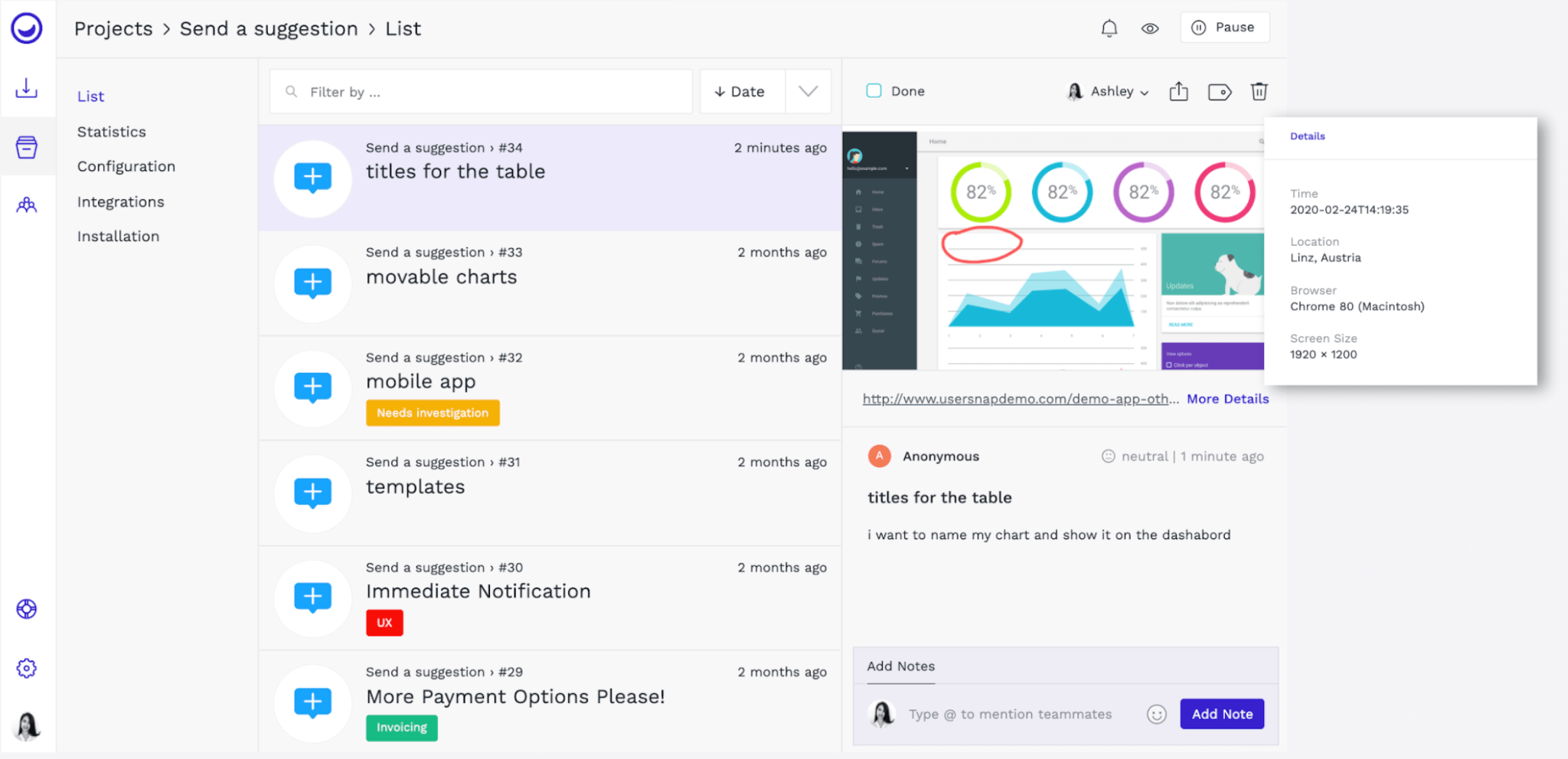 To forward a feedback item to Jira, click the "send to" button and choose from a drop-down of integrated tools and configurations.
Here you can see I have set up multiple Jira integrations:
Jira – story
Jira – task
Jira – bug
Jira – test project
Jira – ideas.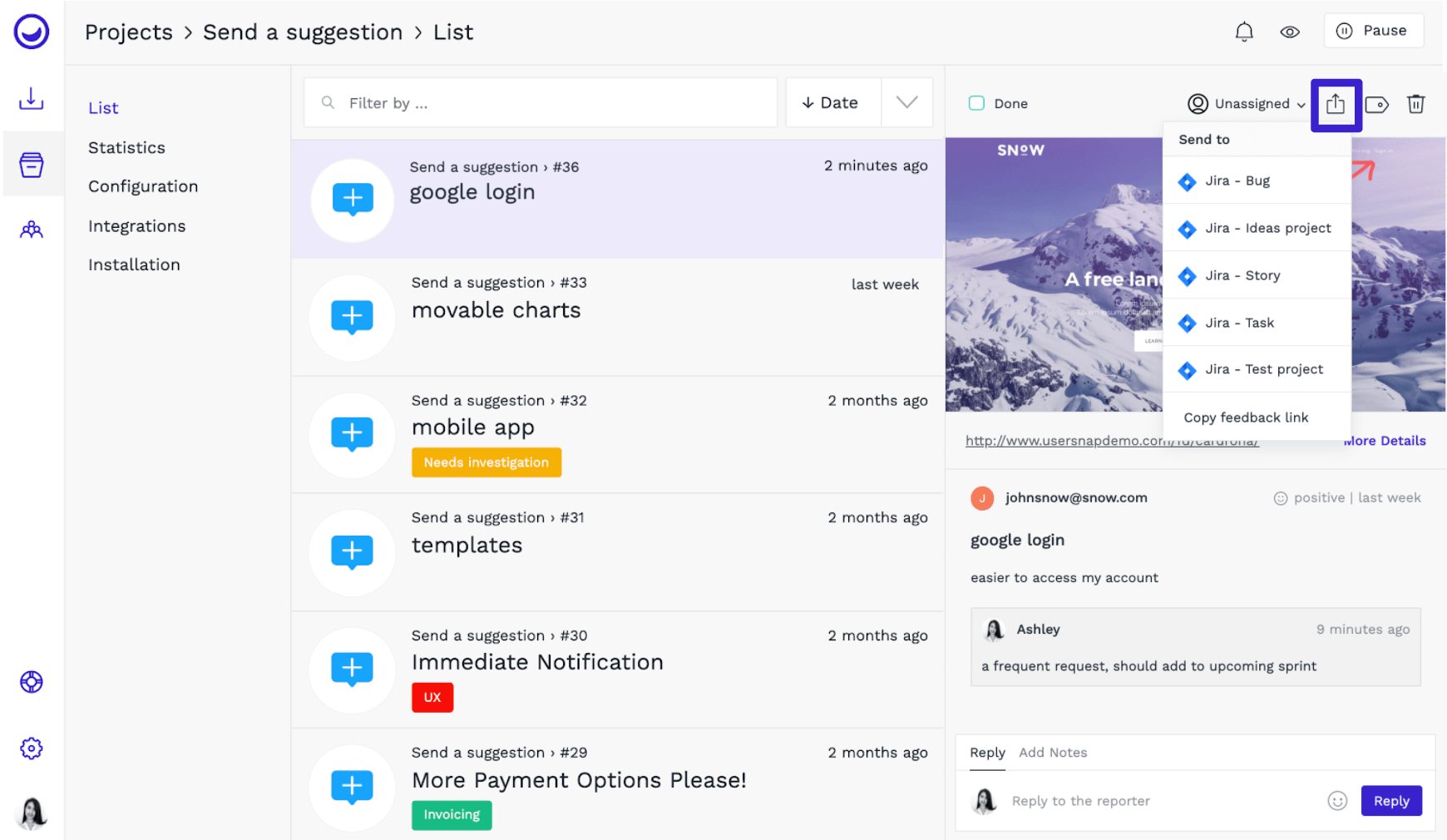 This allows you, whether you are the product manager, development team or the account manager taking care of a client's project, to directly triage within Usersnap. You no longer need to jump to Jira to change the fields.
How to set up the integration with Jira Cloud or Server?
This part is so straightforward, maybe you don't even have to read my instructions!
In your Usersnap project's Integrations page, you will see a list of tools. Select the Jira integration and then it's basically done!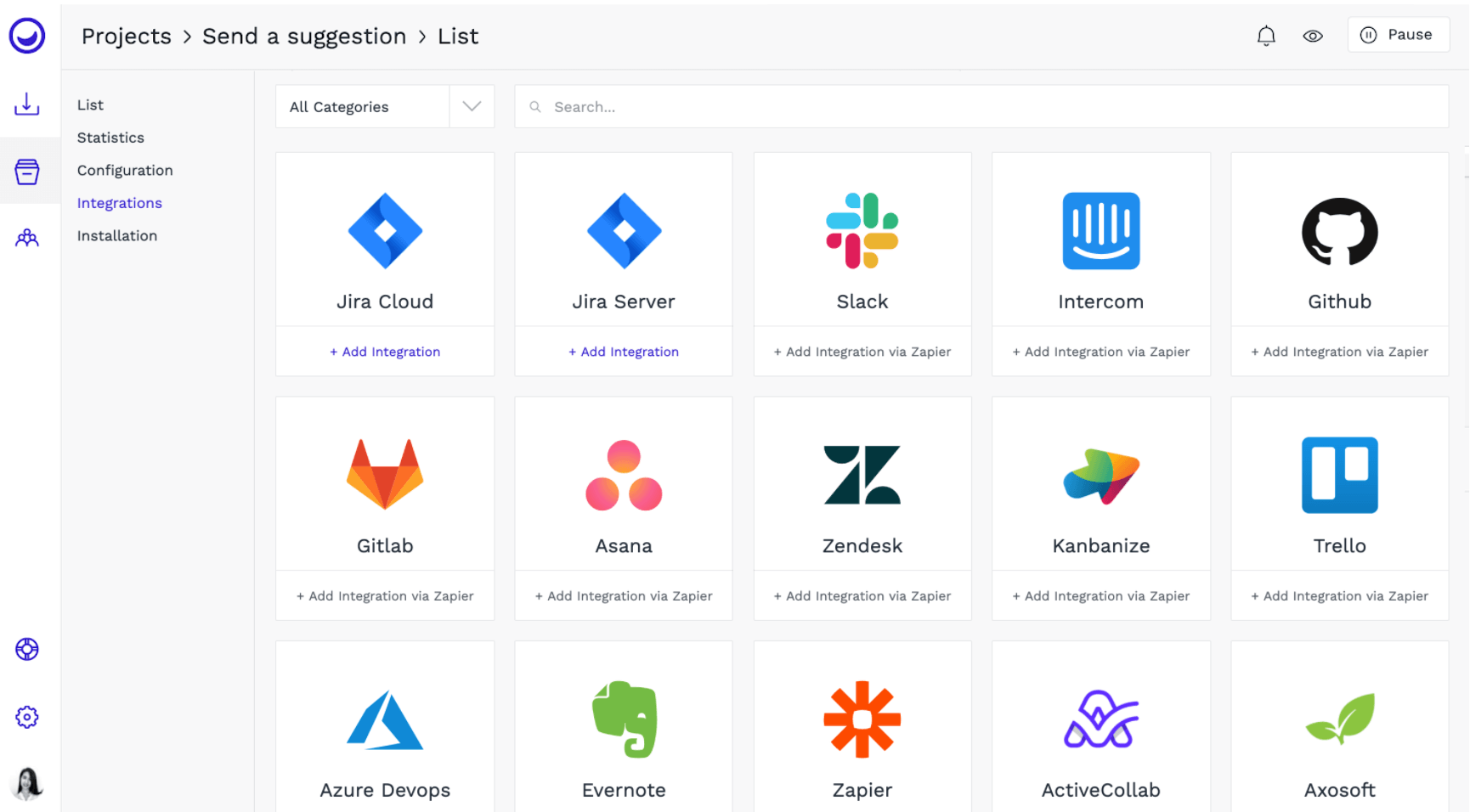 From there, maybe you want to create different configurations. If so, just adjust the fields according to how you want to manage feedback items for issue tracking and roadmap planning.
There are three configurations that are particularly helpful in making your triage process flexible: Project, Assignee and Issue Type.
Project means your Jira project. You may have a main project for your development, as well as a few additional projects for testing and collecting ideas. To avoid overloading the sprint estimation and planning, you may want to keep the extra innovative suggestions and requests under your wing first.
Or for QA teams, you can categorize tickets collected on the staging environment to those for production.
For Assignee configurations, you can pre-set the Default Assignee for Jira. Or do it by Usersnap's own assignee feature, as shown.

For Issue Type, you'll see Story, Task, Bug and Epic. Depending on how your team uses the terms, you can create an integration for each type or just set up a Story and Bug. The more synchronized your settings are with your Jira process, means the less you have to do to rework or manage the sprints and development workflows.
Additional benefits of triaging issues with the Jira integration
All the metadata information captured by Usersnap is attached to your Jira issues. This includes:
browser info
screen size
URL
Javascript errors
date and time of screenshot captured
your personal notes under the feedback item in Usersnap.
Developers can receive detailed reports in a timely fashion, get to troubleshooting directly, and resolve bugs quicker.
If you're managing various projects, set up different integrations to the respective projects and assignee, then allow your tickets to send automatically. Keep the triage and communication minimal and avoid switching between tools. Put the regained time into something that adds more value!
Triaging issues made easy with Usersnap
With the convenience of integrating Usersnap to Jira, you can embrace customer feedback and still keep your pace with triage and planning.
After you've got the Jira integration configured, remember to try out the other amiable integrations with Usersnap. An open exchange of feedback is the driver to move forward and empower the voice of your customers.
Head over to your projects and set up the new Jira integration now.
Not on Usersnap yet? Try it out for free.
Capture feedback easily. Get more insights and confidence.
Getting feedback has never been easier and we hope you've realized that after reading this article. Let us know what you think, your feedback is important.
And if you're ready to try out a customer feedback software, Usersnap offers a free trial. Sign up today or book a demo with our feedback specialists.