If you're reading this post, there's a decent chance you're distracted by users and customers giving you feedback; how are you prioritizing customer feedback today?
And if you're like most product managers, they're telling you all of that important feedback in different, hard-to-reach places. In this article, you will get to understand what is customer prioritization? and How do you effectively use customer feedback?
💡💡 Hey hey, having a good day? Let me just say if you need a complete guide on prioritizing customer feedback, click that way 💡💡 Ok, freestyle over 😂
The biggest pain of managing customer feedback is categorizing the feedback and getting an overview of the gathered insights.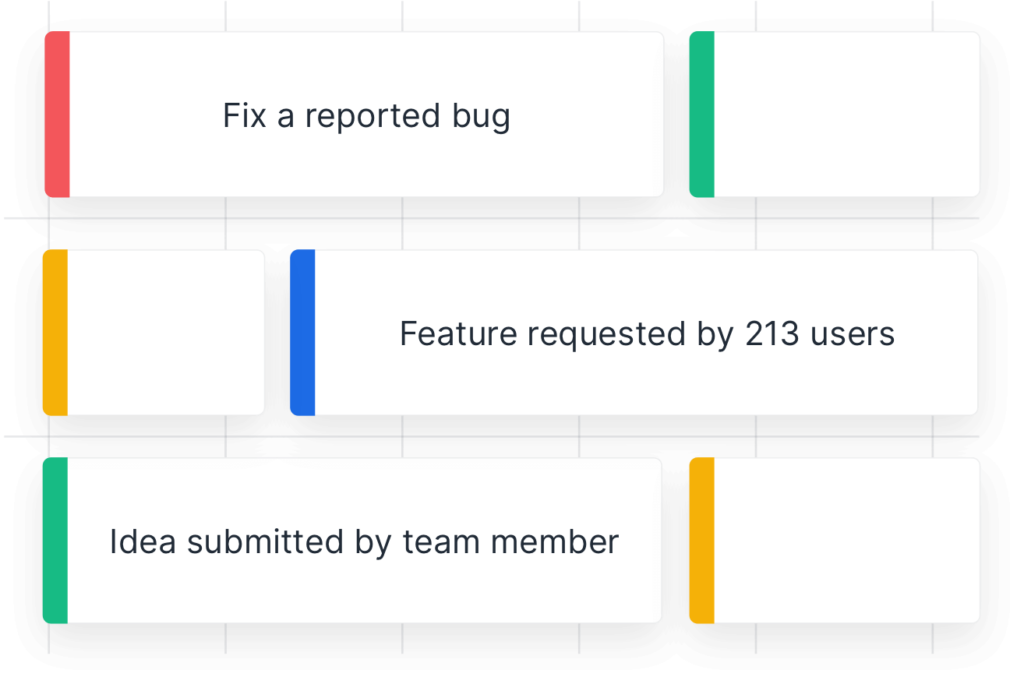 We know how valuable feedback is to your product development process.
And are you still in the mindset of convincing yourself why prioritizing customer feedback is important? You can learn more about this in our previous posts, such as:
Why 84% of Product Managers employ Customer Feedback in Development Process
and Customer-driven Product Development is the job-to-be-done approach.
But prioritizing customer feedback meaningfully: how?
HubSpot's recent survey shows that 58% of businesses collect customer feedback, 57% measure customer satisfaction, and 17% have implemented Net Promoter Score (NPS).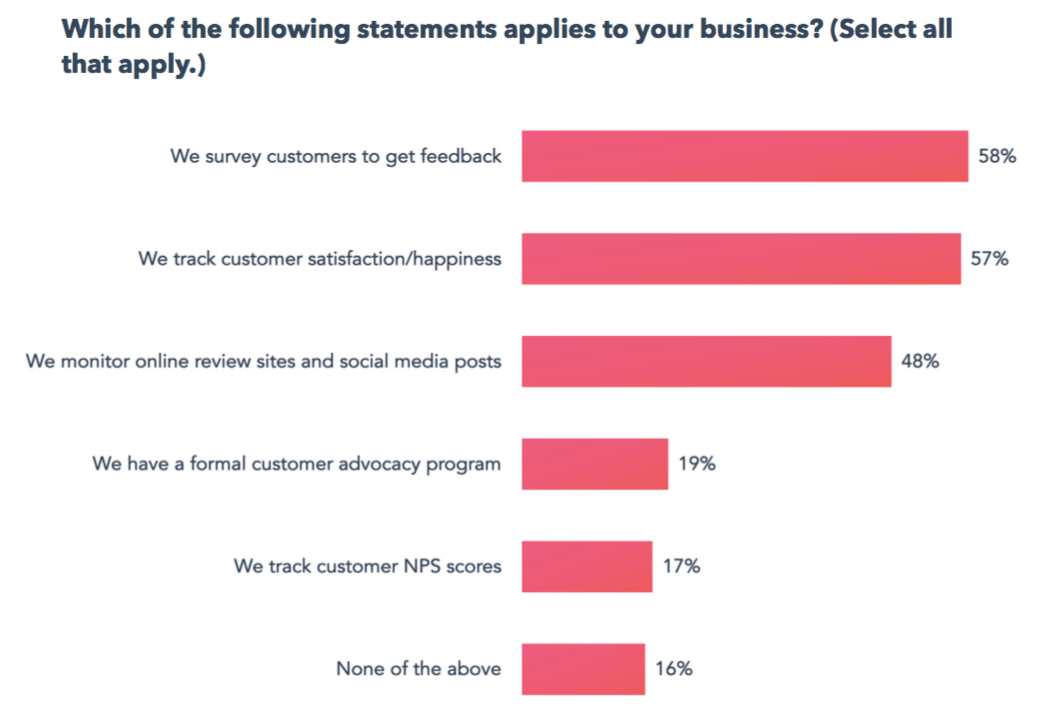 However, having customer feedback means nothing if you can't utilize it. As much as we hate to admit it, we see quite a few of our users neglect the feedback they gather or close tickets without taking any further action.
If you're guilty of letting customer feedback go unnoticed, we want to let you know that we understand.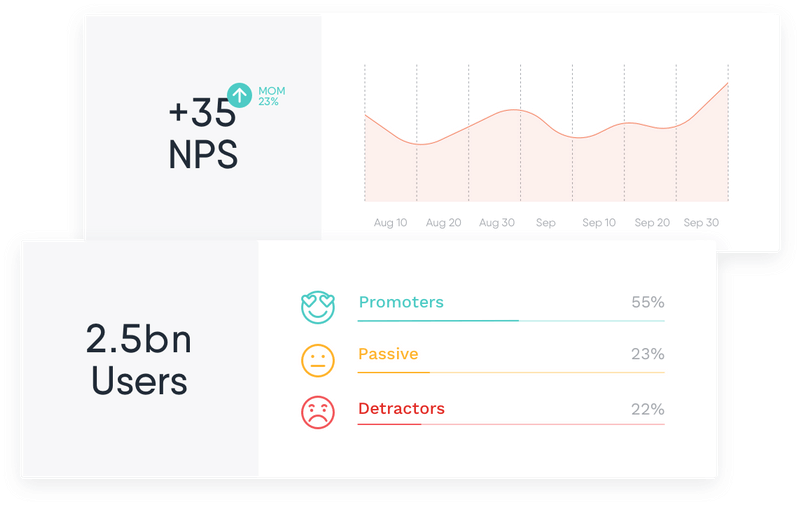 Reading and sorting through all the feedback you receive can be very time-consuming, and pivoting for trend reports is a vanity exercise. You need a better tool.
A product manager's best tool to manage customer feedback
Last quarter, we dedicated our time to building a solution that will help you manage feedback, close feedback loops, and make feedback-driven decisions more easily.
Welcome Inbox.
It's a spot to collect all your feedback and projects. You can organize and respond to everything in one place.
You're going to love it.
1. Inbox is like email, but better
Inbox with Split View probably looks a bit like the email inbox you use everyday. But instead of clogged pointless memos, spam newsletters and requests from your intern, this Customer Feedback Inbox is full to the brim with real feedback from your customers.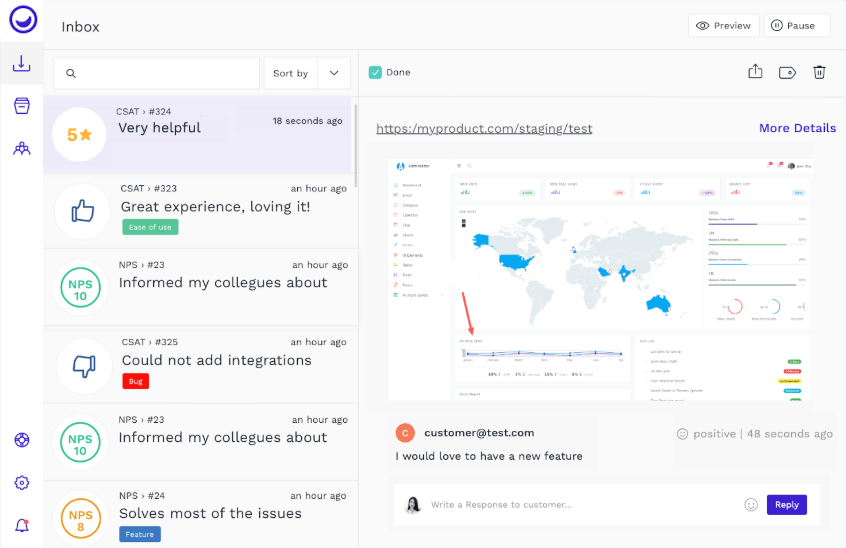 All your feedback tickets from all your projects are displayed in list format on the left. Clicking on each one displays more detail on that particular ticket on the right.
The key pain point we solved with Inbox was streamlining feedback so that product managers could view all the issues and comments at a glance, rather than having to jump from project to project to look into different tickets.
You can use Inbox to subscribe to your most important projects. Each feedback ticket will include its project name and URL, allowing you to understand the source of the ticket.
The Detail view allows you to see the context of the feedback without opening it, waiting for the page to load, and then returning to the List view, which saves you a lot of time in the long run.
2. Inbox is the easiest way to label and order customer feedback
Inbox makes labeling and ordering user feedback a breeze. So your entire team can easily access things.
You can name labels according to your needs (e.g., "Urgent bug" or "Pricing"), and use different colors to help you differentiate between labels more easily.
Then the Statistics page will show you patterns in your label usage so you can be on top of the trends that are shaping your interaction with users.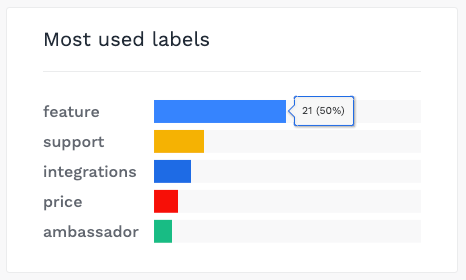 The data presented on this page identifies which issues are occurring most often, enabling you to prioritize. You can also see which features your users would most like to see with the feature request.
Well-sorted feedback empowers you to make impactful changes. With Inbox, you can manage feedback with less effort and leverage real stats more conveniently.
3. Filter and find relevant feedback
Our proprietary Customer Feedback Inbox has a search and filter function allowing you to find feedback that contains specific keywords or uses a particular label. You can also sort by customer ratings and dates, as well as filter by ticket status.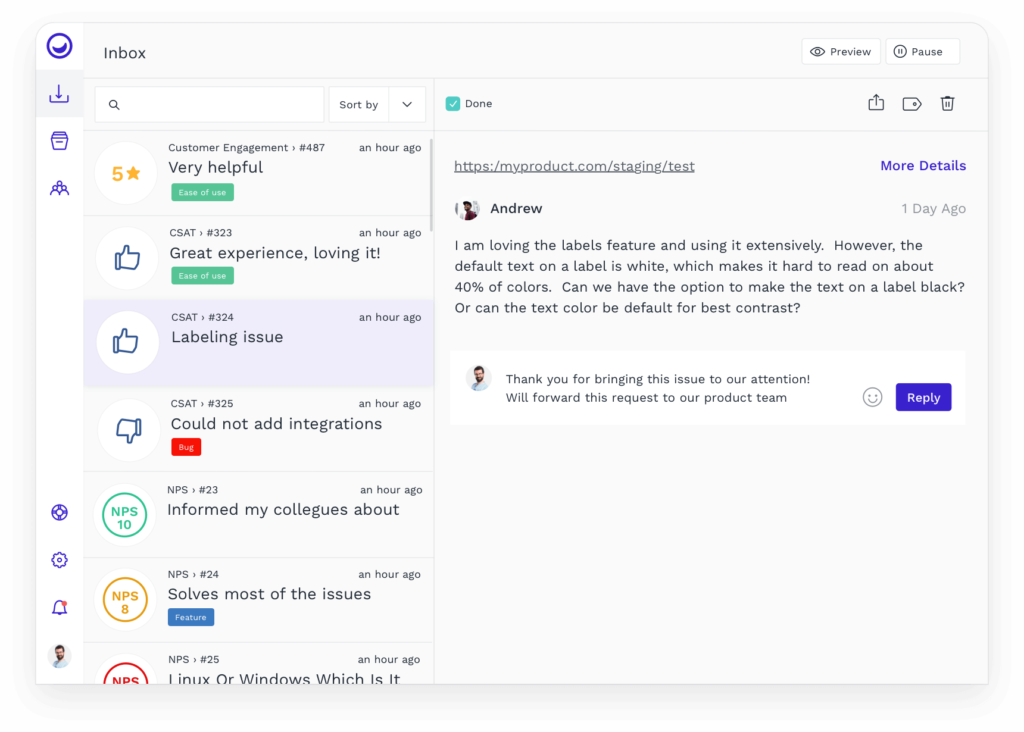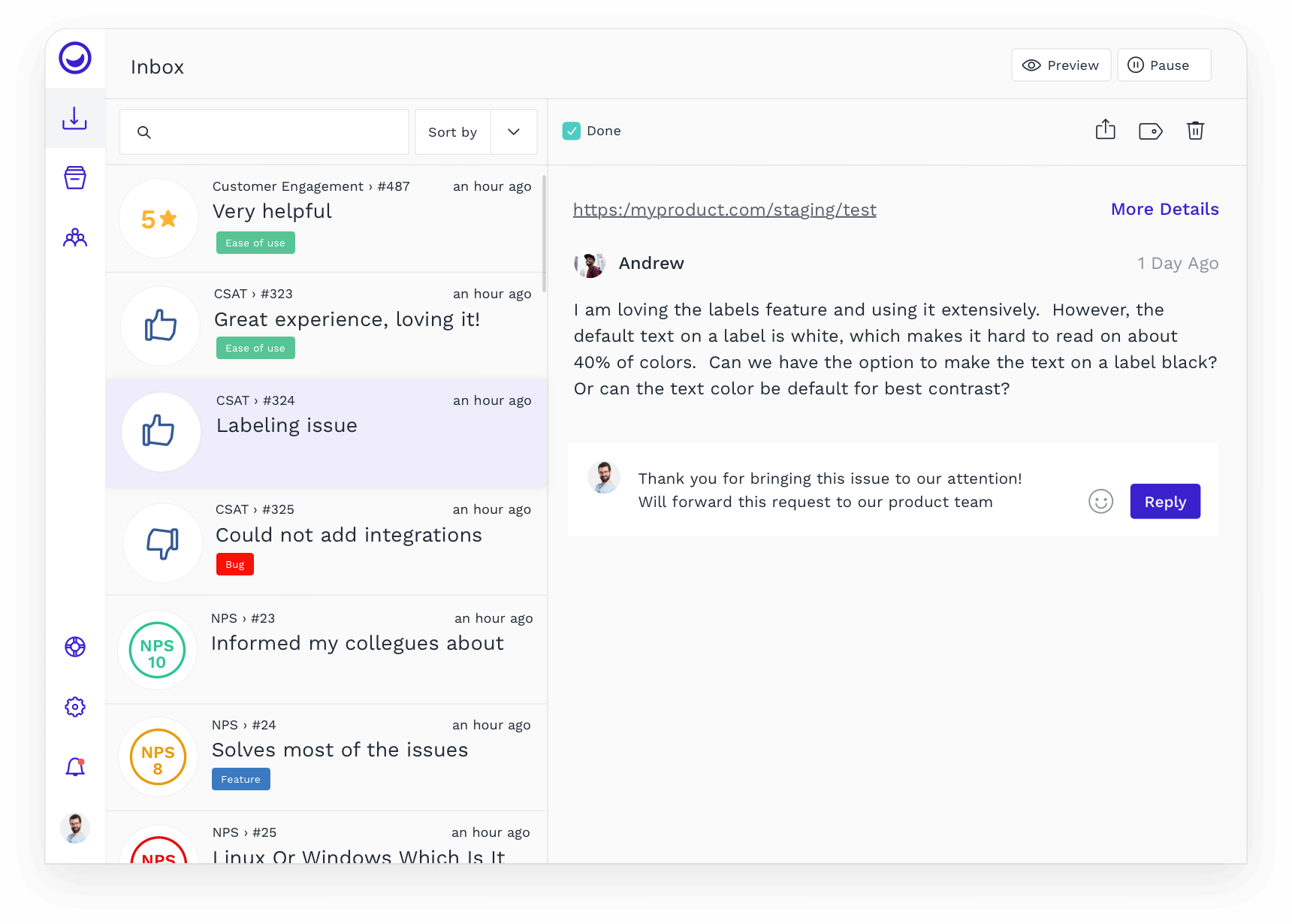 For example, let's say you wanted to read feedback from your superheroes. You could filter to see examples from customers with Net Promoter Scores of 9 and 10. You can use the Customer Feedback Inbox to filter for tickets from these customers and read their feedback with ease.
4. Inbox allows you to update feedback status and forward feedback to integrations
"Slack brings your team and tools together." One of Slack's biggest selling points is that it integrates with almost all your daily tools, allowing you and your teams to accelerate on productivity.
Usersnap integrates with more than 20 solutions natively and more than one hundred with the help of Zapier. Our most popular integrations include Jira, Asana, Zendesk, Intercom, and Slack.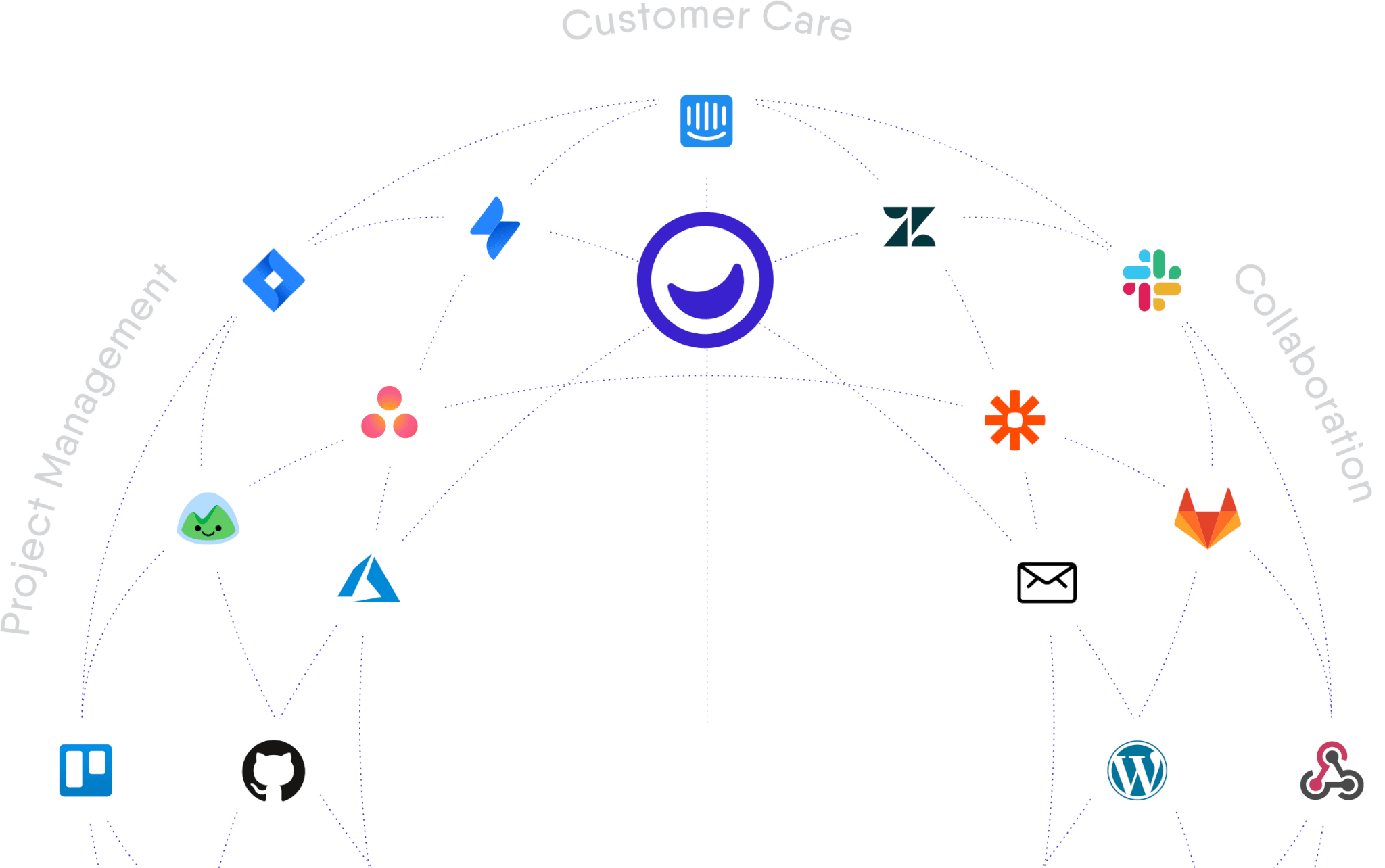 As a product manager, you're probably working with development, marketing, and many other teams. You want to share customer feedback with them frequently to help them understand the problems your users face in a way that suits their workflow.
Inbox enables you to do just that.
For example, when a customer reports a bug, you can send it to your developer team through Jira, a question about add-ons can be directed to your customer success team through Intercom, and an interesting marketing idea submitted through customer feedback can be used to automatically create a Trello card.
You can change the feedback status of any ticket by using the done checkbox or sending the feedback to Trash.
"Click here to use customer feedback to improve customer satisfaction"
5. Inbox makes replying and following up on customer feedback extremely easy
Customer feedback is one of the most essential components necessary for growth and development. When a customer is willing to give you feedback, you need to cherish it and thank them.
You can also use the opportunity to pursue a follow-up question, survey, or interview with your active customers.
You can get in touch with customers that have provided their email address directly through Inbox.
Type in your reply in the conversation section of the Detail view, and your message will be sent as an email to the customer, showing them that you genuinely value their feedback.
If you get another response from the same customer, the ticket will reappear on top of your Inbox so you won't miss it.
This feature gives you a very straightforward way to build relationships with customers, especially if you're a smaller company that wants to keep the number of software solutions used to a minimum.
Wrapping Up
Inbox was designed to be the most intuitive way for you to manage feedback. The many features mentioned above allow you to centralize all your actions and work more efficiently in one place.
In the words of a beta tester:
"What a revolutionary avenue to manage and utilize customer feedback."
Feedback makes more sense when you apply it to your workflow. And customer-centricity comes naturally when customers are heard.
Try out this new way of managing customer feedback with a free trial today. Then it's just $19 to start running your first project.
This article was brought to you by Usersnap – a customer feedback, screen recording, screenshot, and bug tracking tool for every SaaS company. Try it out for free with your team now, sign up for a 15-day free trial.
Capture feedback easily. Get more insights and confidence.
Getting feedback has never been easier and we hope you've realized that after reading this article. Let us know what you think, your feedback is important.
And if you're ready to try out a customer feedback software, Usersnap offers a free trial. Sign up today or book a demo with our feedback specialists.