72% of customers blame poor customer service as the reason for having to explain their issue multiple times.
But, as a customer service agent or the feedback receiver, you know customers are sometimes just as guilty. They are often the ones who do not describe their problems accurately and can waste your time.
So, how can you overcome miscommunication and improve efficiency? How do you shorten the tedious back-and-forth cycle in clarifying technical issues?
This article has got you covered.
Top 4 Struggles for Customer Service Teams
Let's talk about your pain points for a start.
#1. Customers are incapable of explaining their problems
Most of the time, the core question customers are asking is easy to answer. It's the message and the way they convey it that makes the matter confusing.
But, sometimes this can't be helped. Most people are not geared to identify specific technical issues. Or they are not familiar enough with your product.
Then, sometimes people just don't think before they ask.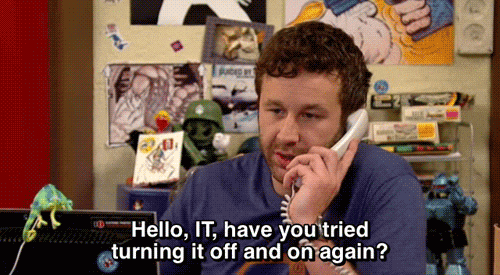 #2. Being the middle person
You are the middleman between customers and your company. You have to understand the customer's problem and forward it to the developers or marketing team. Then, close the loop by passing the explanation and solution back to the customer.
Being stuck in the middle feels awful. You are always waiting for other stakeholders to respond. Or, you don't have the decision power to solve the problem.
#3. When you run out of words
Sometimes words fail you. You may have ready-to-use scripts to answer most FAQs. But, when the customers still don't get it, you need to come up with another explanation.
Another typical situation is when "sorry" is not enough. You have to maintain high EQ and be extra creative when facing frustrated customers. Just apologizing may not be enough to put out the fire!
#4. No one appreciates you
Worst of all, no one appreciates how much energy is you need to do your job right. Harvard Business Review reported that 84% of customers say their last interaction with customer service had not exceeded their expectations.
But, pointing fingers at the customer service agents is no solution. If you want to enhance your customer support level and that of your customer support team, you need to empower them with the right tools.
A Story About The Transformation Of Customer Support
Canva is an online design tool aimed at less technical users to create stunning and professional graphics. They have over 15 million users globally as of 2019. Originally, when their users required additional support or had suggestions to share, they could only exchange text messages or use social media. Canva quickly realized that they needed a better solution.
Looking for a visual feedback tool, they discovered Usersnap. Now, Usersnap is embedded within Canva's help widget at the bottom corner of every page. It enables users to take a screenshot automatically and make annotations with drawings, arrows and text boxes to pinpoint the issue.
Customers can now enjoy a more intuitive way to communicate with the Canva support team.
Metadata such as screen resolution, browser version, and operating system are also attached to each ticket. The engineers appreciate this fast and easy way of getting user feedback.
"Visual feedback is extremely helpful. It removes ambiguity and allows developers to understand the feedback even if it's in Arabic or Korean. Additionally, it also eases the process of giving feedback for our users. It's a visual win-win."Joscha Feth, Engineer at Canva.
By integrating Usersnap's visual feedback tool, Canva encouraged 215% more customer feedback submissions globally in 6 months. Read the full story here >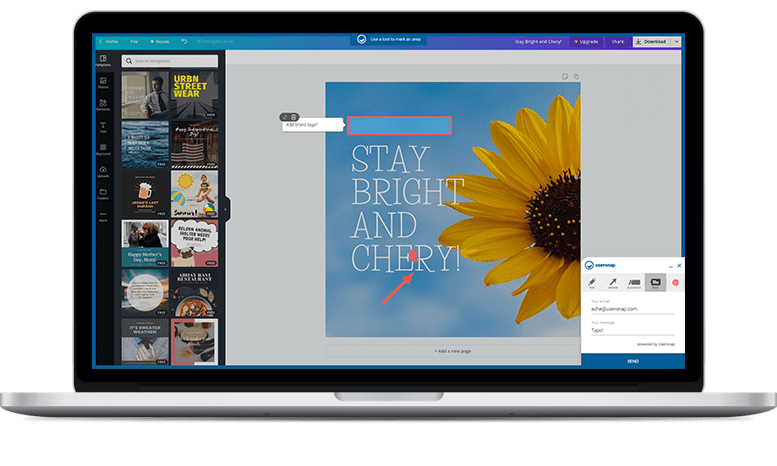 Key Advantages Of Using Visual Feedback Service
Visual feedback means using illustrations to show and tell the feedback/problem/idea on the screen of the subject.
What does visual feedback entail for customer service agents?
Higher accuracy in understanding issues

Faster turnaround time in answering customers

Reliable real-time feedback

Better internal communication
How will visual feedback improve customer experience?
Less time spent writing a feedback response

Easily show and report issues

A more modern and fun way to communicate
You can connect Usersnap with your existing customer help desk tools, such as Zendesk and Intercom. This allows you to expand your support functions without having to train agents in a new tool.
Turning Customer Service From Passive To Active
Customer service teams often take on the responsibility of measuring and improving customer satisfaction as well. You may already measure NPS or some CSAT scores. Whether your company collects this via email or in-app.
According to a ThinkJar study, 75% of brands report they are measuring customer engagement but cannot define what it is. You may echo this roadblock. You spend time reading each feedback and downloading the ratings from customers every month, without a use-case.
With Usersnap, you can collect many types of ratings on your website and for specific events. You can use this as a trigger to ask for written and/or visual feedback. With sufficient context, customer care teams can better address negative feedback and easily foster loyal customer relationships.
But, customer service should not carry the responsibility of customer happiness alone. Customer insights should be shared with all teams and used to drive all goals related to customers. You should use customer feedback for product development planning and creating marketing campaigns as well.
We believe feedback-driven companies provide the best products for people. To be feedback-driven and customer-centric, you need to increase the leadership of customer support.
Wrapping Up
Customer service actually has a huge impact on the bottom line. 70% of unhappy customers whose problems are resolved will shop with that business again. Customer retention is a major focus for any successful company.
Consumers also claim they are willing to spend 17% more to do business with companies that deliver excellent customer service. Excellent customer service means more than a nice attitude from agents. It includes utilizing platforms that allow for fluid customer communication.
Empowering your customer service team with the right tools is the best investment you can make.
Want to give Usersnap a try? Get a 15-day FREE trial for you and your team here.
Capture feedback easily. Get more insights and confidence.
Getting feedback has never been easier and we hope you've realized that after reading this article. Let us know what you think, your feedback is important.
And if you're ready to try out a customer feedback software, Usersnap offers a free trial. Sign up today or book a demo with our feedback specialists.