This article is brought to you by Usersnap, a visual bug tracking & user feedback tool. Usersnap is used by software companies like Google, Facebook, and Microsoft as a great Jira alternative. Sign up for a 15-day free trial!
Sometimes I feel a bit overwhelmed by the sheer amount of content in the field of project management. Especially when looking at the tool-side of project management. I see new tools popping up every other day.
With Jira and Trello – we looked at two major project management tools, their benefits and drawbacks and most importantly their main differences. Since Atlassian, the vendor of Jira acquired Trello, both project management tools are coming from the same company. But they are still competing over the same target group.
So if you're thinking about making the switch to Jira or Trello, this article is the right place for you.

Project management tools
Besides those two well-known project management solutions, there are a ton of great applications out there, which fight for your attention.
With every tool comes yet another distraction.
And if you're here to find the best project management tool available, I have some bad news for you. There's no objective answer to the question:
What is the perfect software?
Requirements differ from company to company, from team to team, and even from person to person.
Most modern project management solutions are split up into various sub-categories, such as task management, milestone planning, Kanban boards, time tracking, monitoring and more.
The basics of Jira
Jira is the best-selling software development tool from Atlassian. Used by a lot of tech teams it offers project planning and -tracking features.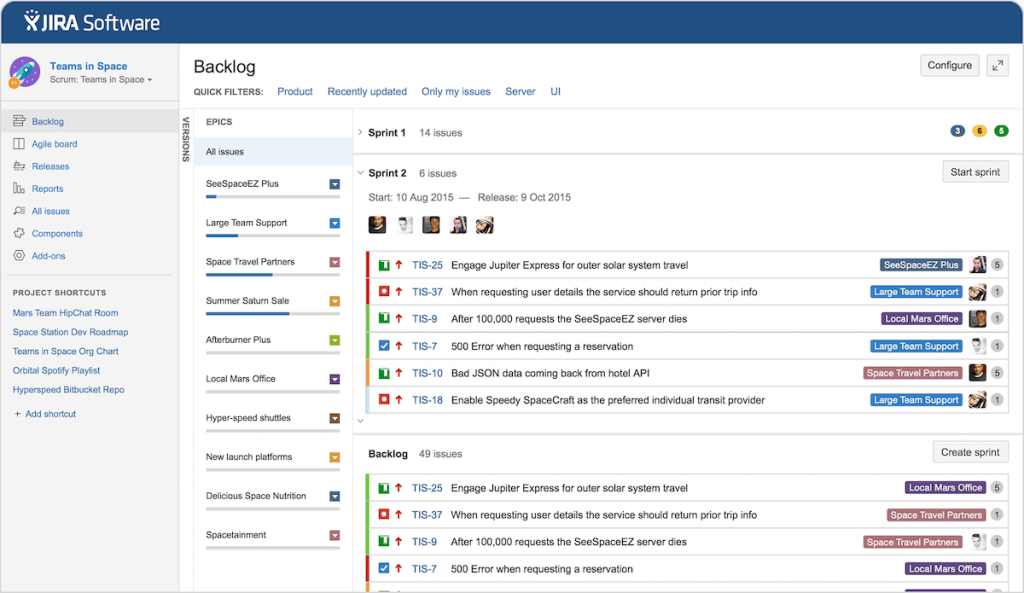 Designed for agile software development teams, Jira offers various dashboards and overviews for scrum and agile techniques.
With 1,000 add-ons and extensions, Jira enables you to integrate its software with other 3rd party tools you might already use.
If you want to learn more about the best Jira integrations make sure to check out this article about 7 Jira integrations, which help you to optimize your web development workflow.
The basics of Trello
Trello – on the other hand – is largely designed for more general usages. Trello is a lightweight project management tool, also owned by Atlassian. Designed as a Kanban board tool, you can visualize your task flow of anything from software development projects, to marketing campaigns, to holiday trips.
Trello for development and design teams?
No matter if you're working for clients or not. Software or website projects require a lot of collaboration and communication.
Trello is a great tool which solves that problem of managing and tracking your web development. It offers various integrations for enhancing your project experience. Make sure to check out this essential toolset for Trello.