How often are you as a potential customer looking for a tool to help get your job done better? What do you do to start comparing tools? Maybe you hit a quick search for that tool + search query "comparison". Then, you read a customer survey or two and some customer reviews about the product in question.
Now put your business hat on: don't you think your potential customers are doing the same thing for your SaaS? What can you do to get better customer feedback, and leverage that into amazing customer referrals that drive business leads and customer growth?
Customer referrals are an effective and seamless way to get new customers and boost business. 88% of people, for example, have the highest level of trust in a business when a family member or friend recommends it. On top of that, there's no denying the power that customer referral sites like G2 have when it comes to eyeballs and traffic.
However, for you in the SaaS space, the power of customer referrals is only evident when you nail the process. If you request referrals from the wrong customers, they will not recommend your product. Even worse, they could lambaste your product in front of your entire audience. It'll only result in a waste of marketing and brand resources.
So how do you identify the right or a wrong customer to ask for referrals? Customer surveys.
Customer surveys can help you know if a customer is willing to recommend your product or is dissatisfied. When you segment, you'll can direct your requests only to those customers that like what you're cooking' up. They can provide positive feedback in the survey, and ultimately give you a great referral.
A customer survey is an instrument that enables SaaS businesses to measure satisfaction levels with a product. Surveys are particularly useful for identifying dissatisfied both happy or unhappy customers. They can become brand advocates or useful research resources for improvement.
That said, there's a lot more involved and that's what we're going to cover in this article. Let's get started.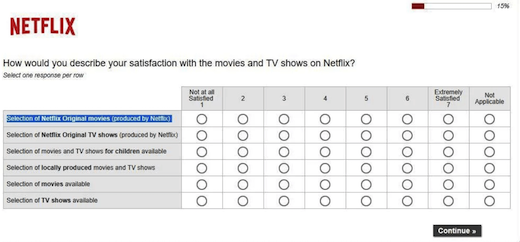 What Do You Ask in a Customer Survey?
What you say in a customer survey is primarily dependent on the goal of the survey. You could ask, for example, what your company can do to better serve your customers' needs or you could ask how satisfied they are with your services or products.
The question you ask determines the response you get. The latter matches a lot more with discovering and reaching out to suitable customers that you can bring on board as brand advocates. So, whatever feedback you're looking for, it must be in line with customer satisfaction.
What Does a Customer Survey Do?
The primary objective of a customer survey is to generate consistent and valid customer feedback to receive the opinion and voice of the customer. This can then be used for initiating strategies that will attract and retain customers, thus protecting a SaaS business' corporate and most valuable assets – loyal customers.
That said, here are additional things a customer survey does. When someone asks the question "What does a customer survey do?", here are some great responses:
1. It enables you to know how well your brand is satisfying these requirements and expectations individually (this is the objective of customer feedback for referrals).
2. Developing your product or service to align with your findings.
3. Helps establish standards and priorities to judge how well you attain the goal.
4. How Do You Create a Customer Survey?
In this section, we'll walk you through the process of creating a customer survey, with more details below. Here are the 2 easy steps to create a customer survey:
1. Define the Purpose of your Customer Survey
2. Ask the Right Questions


You can create a customer survey in a couple of steps:
Step 1: Define the Purpose of your Customer Survey
Before you start coming up with a list of questions you want your customers to answer, you need to ask yourself the following:
What am I trying to discover? (Satisfied customers willing to promote)
Why do I want to find that out? (To request that they recommend my brand or product)
What do I intend to do with the knowledge I received? (Know which customer is willing and satisfied enough to recommend your brand and request such from them.)
Without defining your goal, the survey may end up with generic answers that aren't helpful.
Step 2: Ask the Right Questions
After defining the purpose of your customer survey, you have to come up with the questions you want to ask them. At this point, you need to think deeply about what questions will generate the most information for the purpose defined in step 1.
Since the goal is discovering which customers will be willing to recommend your brand for referrals, your questions should point towards that.
What Are Some Examples of Customer Feedback Methods? And Which is the Best for Customer Referrals?
When it comes to customer referrals, 2 primary customer feedback methods provide the most relevant information from consumers:
Net Promoter Score (NPS)
Customers Satisfaction Survey (CSAT)
Net Promoter Score (NPS) Customer Feedback Method
The Net Promoter Score (NPS) is one of the most frequently used e-commerce KPIs and feedback methods globally and the survey is based on a single question like the below:
Considering your current purchase experience, on a scale of 0 to 10 how likely are you to recommend our brand to a colleague or friend? (0 is not at all, 10 is very likely).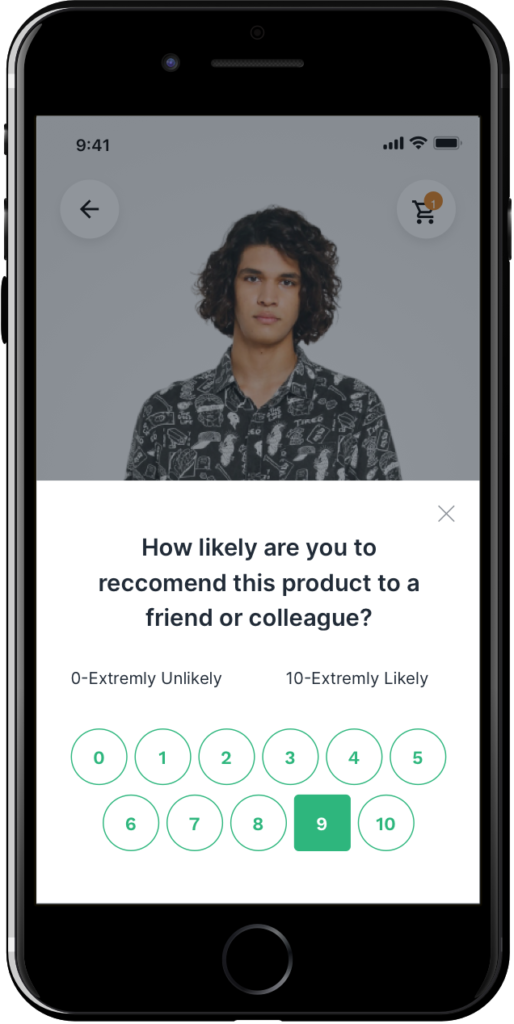 The position of each customer is then known by segmenting the respondents into 3 groups (detractors, neutrals, and promoters). The Promoters are those who opted for very likely (9 and 10) to recommend your brand. Neutrals are customers who choose "maybe" by picking numbers 6 to 8. And Detractors are those not willing to recommend your brand and may even be dissatisfied with it.
Customer Satisfaction Survey (CSAT)
The customer satisfaction method helps you in identifying your customers' satisfaction level with your product or service. This is crucial in choosing brand advocates as the NPS may simply just show you which customers are willing to recommend your brand but it doesn't show you which ones are satisfied. A satisfied customer is the best advocate because they know what they like about the product and can use that to convince other consumers.
Here's another example:
How much do you approve or disapprove of the following statements about our product/service?
It is exactly what I want.
The product/service doesn't do what I expected it to do.
I am pleased with my choice to buy it.
If I had the opportunity I'd choose another product/service.
I am not pleased with myself for buying this product/service.
How to Collect Feedback from Customer Surveys?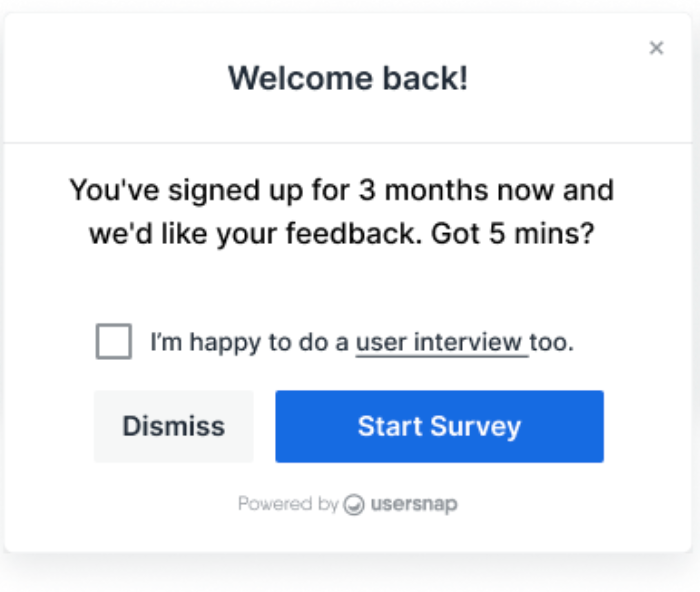 Collecting customer feedback for implementation from your surveys is simple. All you need to do is auto-send them a message like the above request after ensuring that they've had ample time to test out your product and are pleased by it.
For the NPS method, customers who choose 9 and 10 are the readiest to recommend your brand. Customers that pick numbers 6 downwards may do more damage than good, as they don't want to recommend your product. And customers that pick 7 and 8, might require an extra follow-up to convince them for recommendations.
CSAT, on the other hand, deals with their satisfaction level. The customers that choose answers that show they're happy or simply satisfied with the product have a high likelihood or willingness to refer friends and colleagues.
6 Steps to Use A Positive Customer Survey, NPS or CSAT, for More Referrals
The process of of getting positive customer surveys through NPS and/or CSAT in order to get more referrals roughly looks like this:
1. Identify the Right Customers Who are Willing to Refer You Using NPS
2. Segment and Target Customers Even Further
3. Be Mindful that Not Every Promoter will Promote
4. Request for Customer Referrals at the Right Time
5. Offer the Right Incentives
6. Maintain Continuous Analysis and Adaptation
So far we've seen the bits and pieces that make up a powerful customer survey for referrals, let's now have a look at a step-by-step guide on how to use surveys for referrals.
Step 1: Identify the Right Customers Who are Willing to Refer You Using NPS
The first step in using customer surveys for referrals is choosing the right people to make referral requests from. But how do you know which of your customers would be willing to recommend your product? NPS.
Using an NPS survey, which can be auto-sent to customers via email after a set period like 2 weeks after purchase or right after. This timeframe is important as it allows the customer to try out the product first or targets them when they're excited about their purchase.
After sending out the NPS (or even CSAT) survey, identify the customers willing to recommend your brand or product by the options they choose. From there, you can communicate with them directly along the way to facilitate the recommendation process.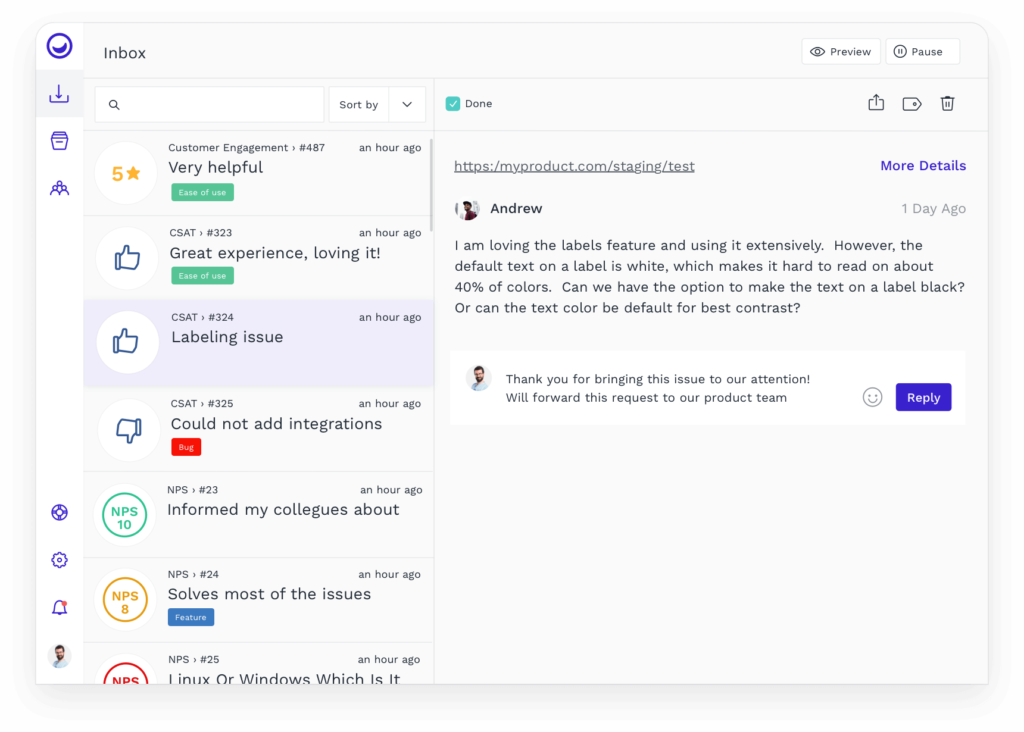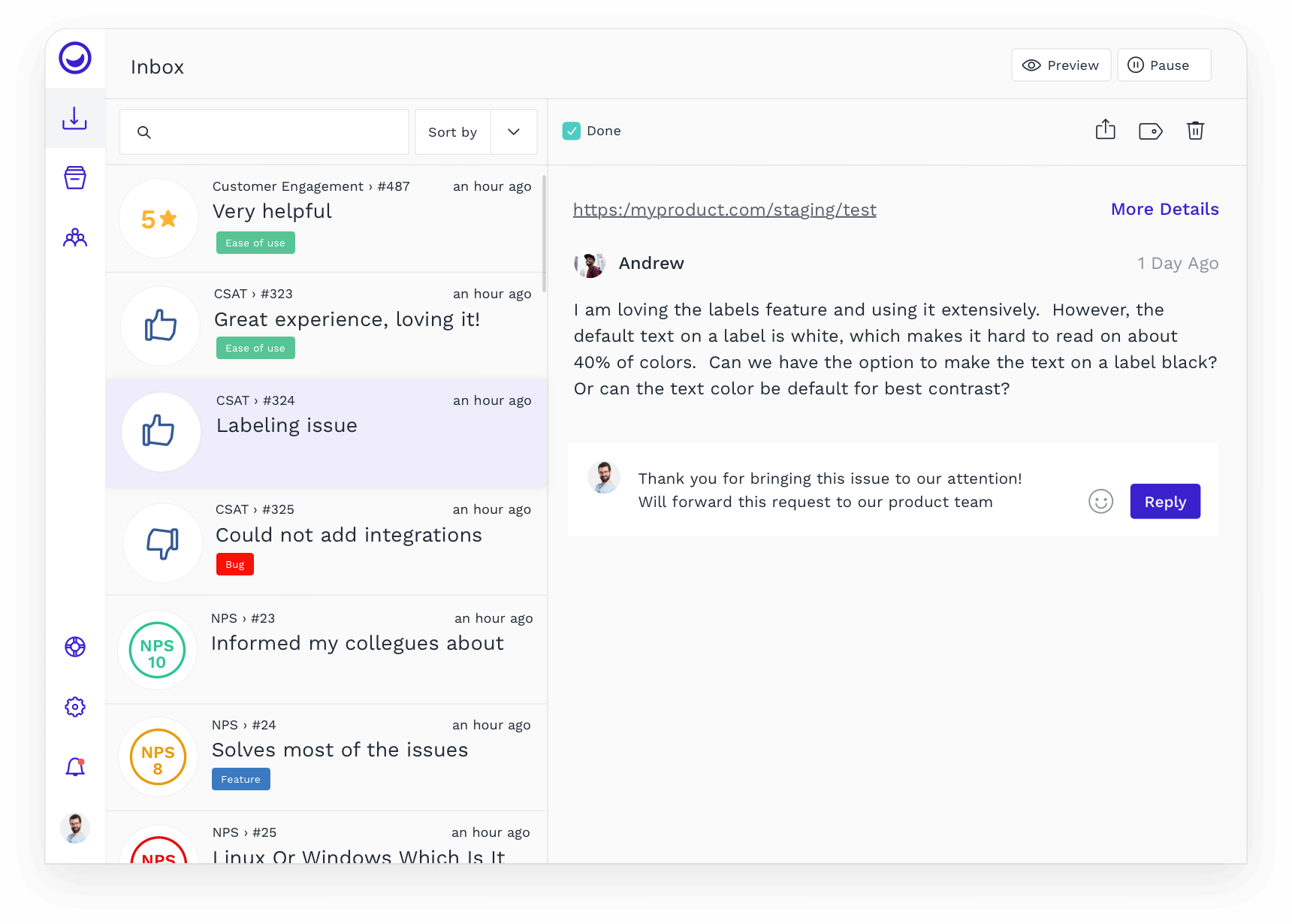 Alternatively, if you use VoIP software or VoIP number for business communication, you can ask contacts to complete the survey after the call by pressing numbers on their telephone keypad. If customers are ready to answer your questions over the phone, they are just the right customers to send surveys.
Step 2: Segment and Target Customers Even Further
After identification, the next step is segmentation. Separate these customers who have indicated willingness to promote your brand then send them a CSAT survey.
The CSAT survey will help you identify customers who aren't just willing to recommend your product for whatever reason but those who are satisfied with your offer. Segment these again from the others. Here's a CSAT example from Usersnap: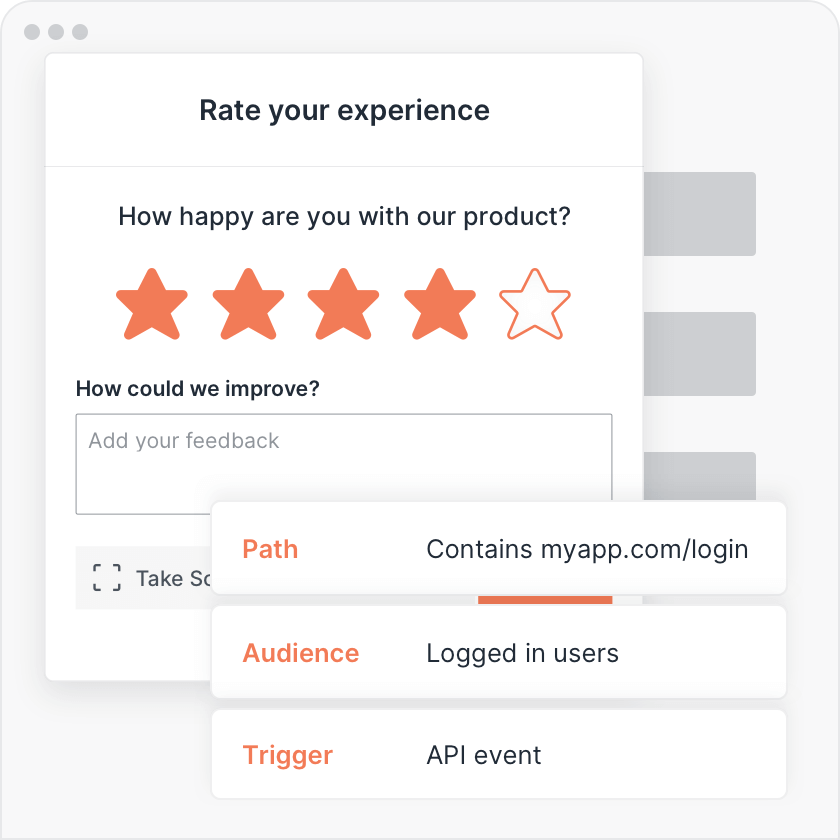 Step 3: Be Mindful that Not Every Promoter will Promote
It's important to note that just because a customer is satisfied or willing to recommend your product doesn't mean they will organically. Most times you have to induce the action despite their willingness to promote. Step 5 mentions how to be proactive about promotion.
Step 4: Request for Customer Referrals at the Right Time
There are zero absolutes when it comes to referral requests timing except for one thing: the customer must be satisfied with your product or service. No happy customers, no referrals. Requesting a referral from an unhappy customer won't just waste your time and resources but it may damage your reputation with both them and their connections.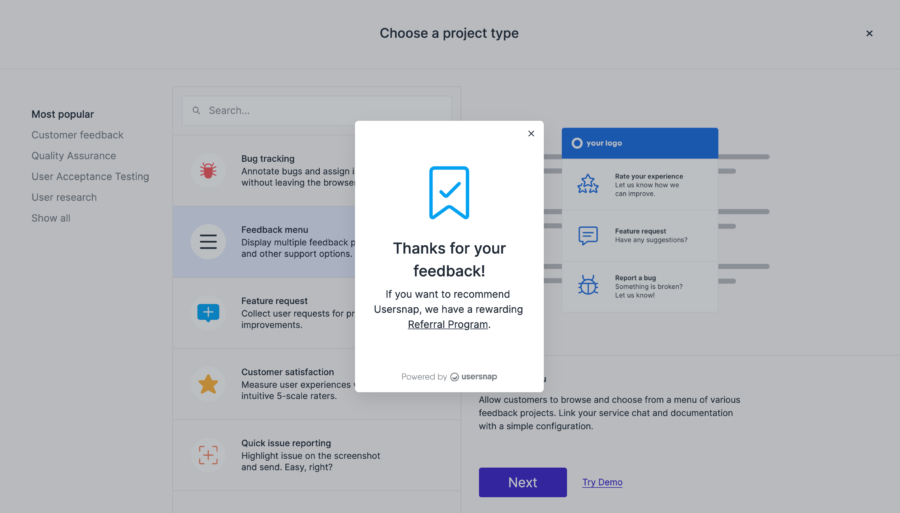 Step 5: Offer the Right Incentives
Remember how not every promoter promotes? For those that will not recommend your brand on their own, with the right incentives you can motivate them to do so. This is being proactive with the system.
If you offer your chosen advocates a relevant and valuable incentive, you'll push them to talk about your brand to their network. However, if they're incapable of going the distance with you and giving you a referral, you can at least do some customer research on why they left. Here's an example you can setup in Usersnap directly when a customer is about to churn: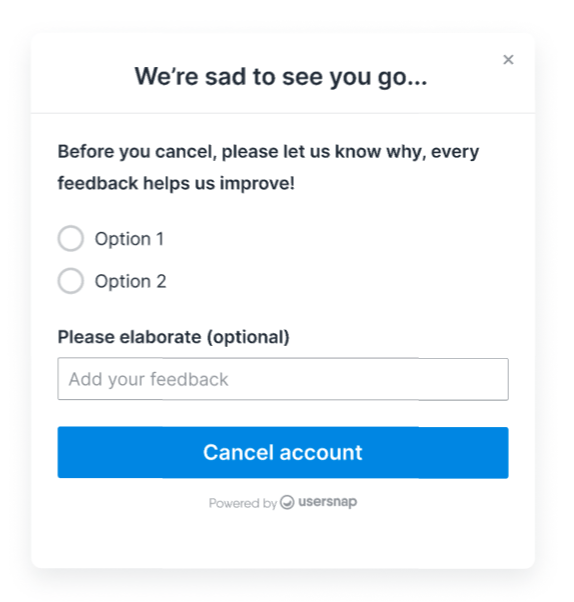 And keep in mind that your incentive doesn't have to be a physical product. For instance, if you have a SaaS, you may want to consider using an online course platform to build a free course you can offer that teaches your survey participants industry best practices or skills they may not otherwise have.
Step 6: Maintain Continuous Analysis and Adaptation
For any marketing strategy to work, analysis and adaptation are a must. And referral marketing via customer surveys is no different. Keep tabs on which request methods get the best responses and adapt your strategy to it. Analyze the characteristics of customers who become great advocates and use the knowledge to identify others like them.
Conclusion
Customer surveys are powerful, especially for getting referrals. You just need to use the right tools like NPS and CSAT to discover willing advocates and follow the steps listed in this article like segmenting your customers, requesting referrals at the right time, choosing relevant incentives, and maintaining continuous adaptation. And you're all set to churn out successful customer surveys for referrals. So why the wait? Get started with customer feedback surveys here!
Author bio: Raúl Galera is the Chief Advocate at ReferralCandy, an app that allows ecommerce brands to set up and run customer referral programs.
ReferralCandy is the leading platform in terms of referral marketing for ecommerce brands. Founded over 10 years ago, ReferralCandy has helped over 30,000 brands leverage the power of word-of-mouth and turn their customer base into their marketing team.
Raúl has been leading ReferralCandy's partnership efforts for the past five years, working alongside marketing agencies, media and tech companies.
Capture feedback easily. Get more insights and confidence.
Getting feedback has never been easier and we hope you've realized that after reading this article. Let us know what you think, your feedback is important.
And if you're ready to try out a customer feedback software, Usersnap offers a free trial. Sign up today or book a demo with our feedback specialists.