You've finished some design drafts for a new website. You've even shipped those new designs to your website. And now you wonder what people – your website visitors – think about those new changes. Simply put: you need feedback!
In this post, I'm going to show you 9 creative ways to ask your website visitors for feedback which will help you increase the quantity and quality of customer insights.
Quick sidetrack, feedback peeps: if you need an ultimate guide to customer feedback, check it out right away.
Strategy first: Gain more feedback by asking the right questions.
Before you start collecting feedback from your website visitors, make sure that you have clearly defined why you are seeking feedback.
Outlining the desired outcomes is an essential factor when it comes to gathering feedback from website visitors the smart way.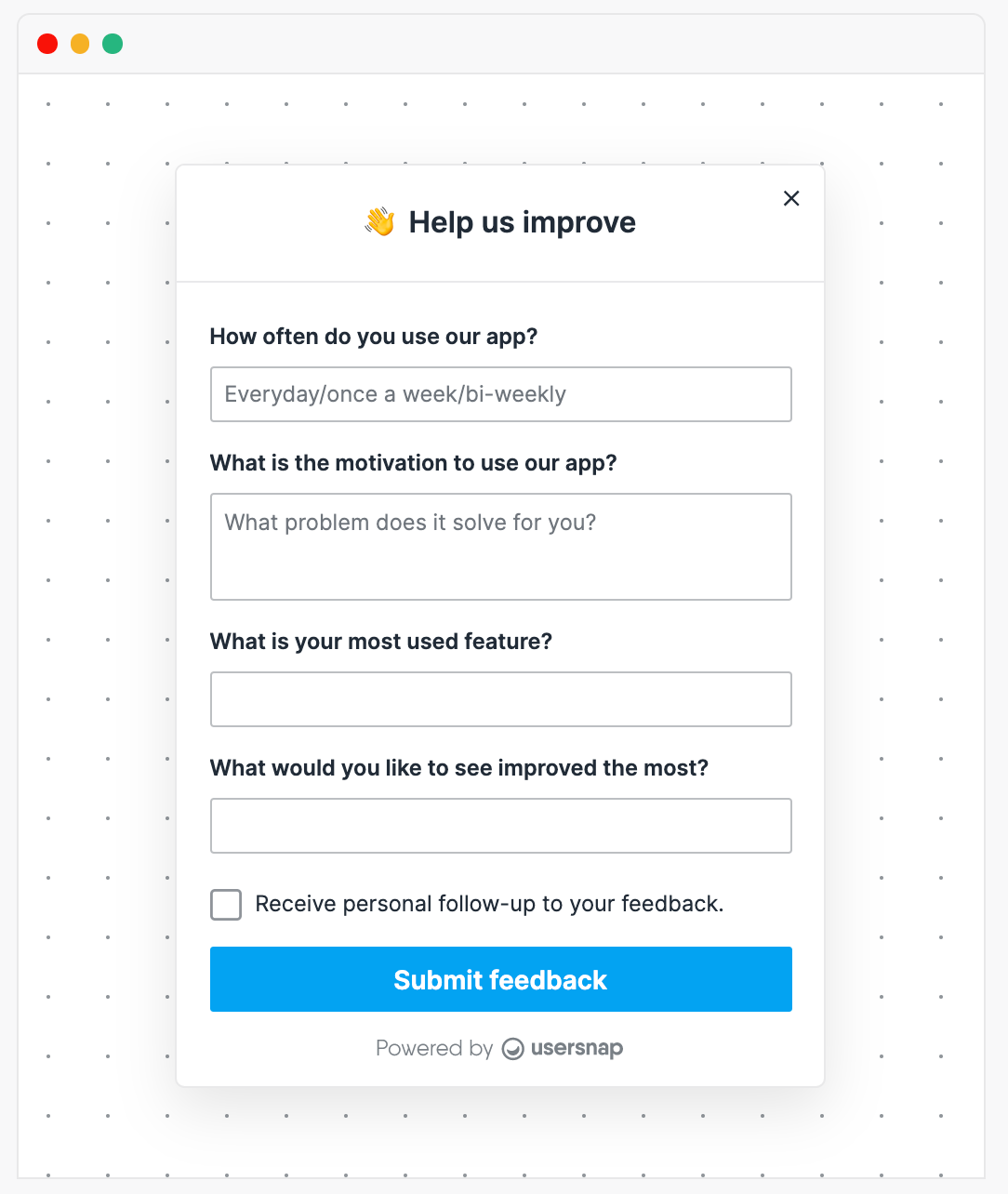 Consider the following aspects before you start:
What has changed on your website from a website visitor's perspective?
What's in it for your visitors?
What will you do with the data you collect?
Which channels have worked best for you in the past when asking website visitors for customer insights?
Creative feedback channels
When it comes to gathering feedback from website visitors, I'm quite impressed with the many different ways companies and website owners deal with the matter. We have to constantly come up with new ideas and ways on how to get in touch with our website visitors, especially since lengthy feedback forms do not drive conversions and qualitative feedback. This is why I'm going to show you some of the most creative ways to gather feedback from your website visitors.
1. Offer various touch points & have a contact page.
OK, this might be an obvious one, but it's a truly important one as well. Try to be as open as possible when it comes to feedback channels. There's not one right channel, but there are probably a couple of them.
If your website visitors prefer email, make sure to provide contact info on your website which can easily be found.
If your website visitors prefer Twitter. Great, be on twitter and make sure they can find you there.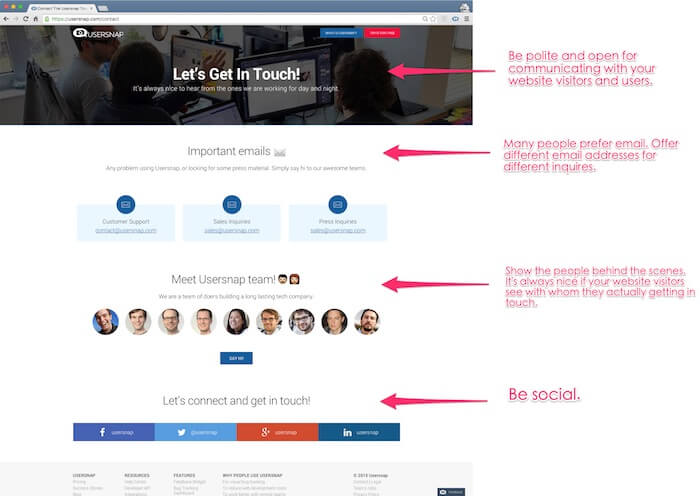 2. Funny forms
So you probably consider yourself a serious businessman or businesswoman, and you probably have never thought about making your feedback forms a bit funnier, right?
Well, why not? Funny feedback forms will definitely catch the eye of your website visitors. We've experimented quite a bit with different feedback forms and ways on how to interact with our website visitors.
A funny GIF and some great content make a great intro. So go ahead, show some humor.
3. Asking the right questions.
I know you probably heard this before. And it's certainly true. Although I mean something different here. It's not about asking the same standard questions we all have seen before on other websites.
No.
It's about asking your personal questions to your own website visitors.
So what do I mean? Do not copy/paste other people's questions, but think about creative ways to gather feedback.
Need some examples?
Instead of asking what his or her profession is, why not reframe the question to:
"What are you doing for a living?"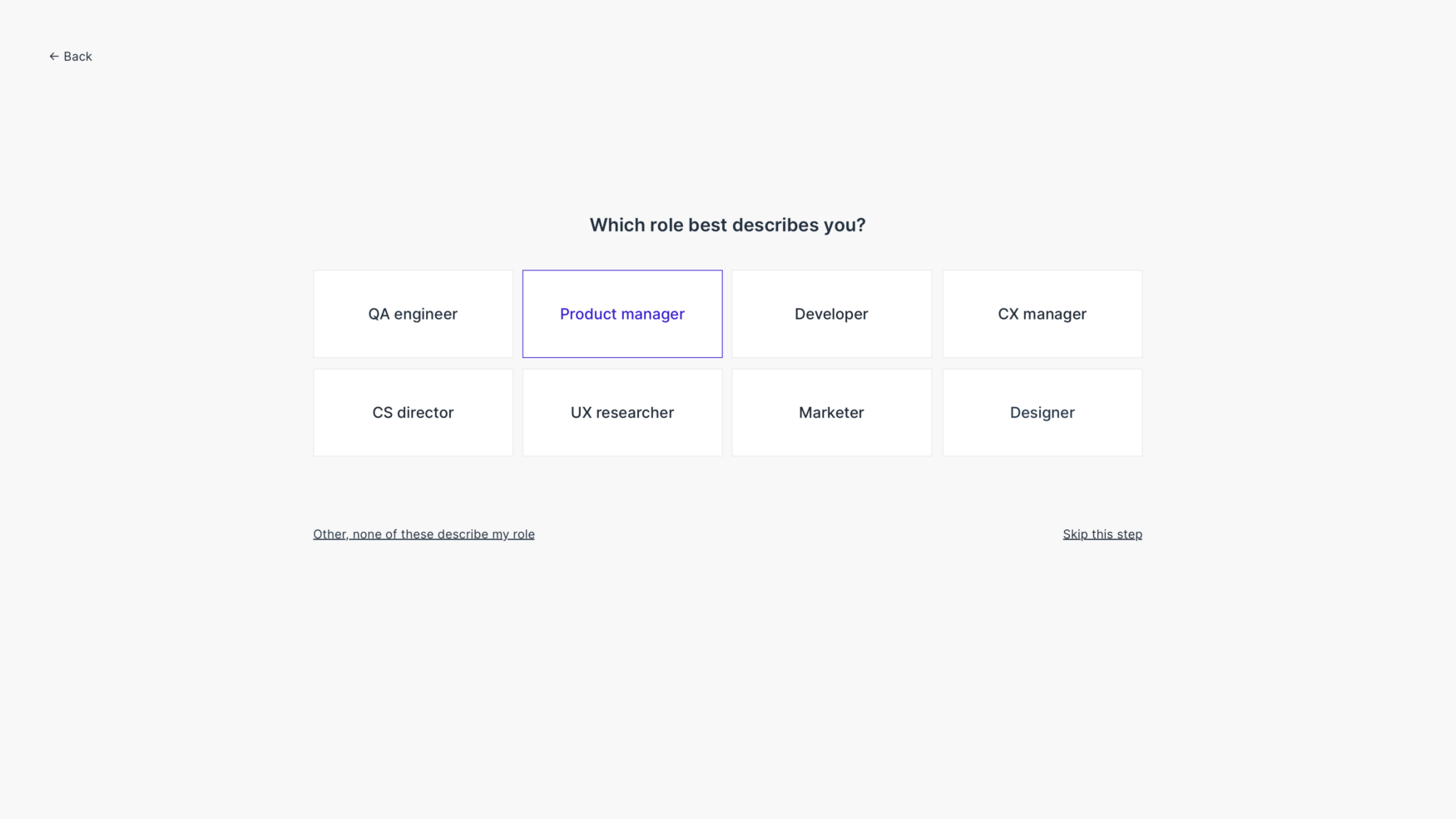 After re-phrasing this particular question in this way, we saw a great increase in the amount of feedback. I can really imagine how it brings smiles to our website visitors when they see the available options.
Here's a screenshot I took from the answers of our website visitors to that question.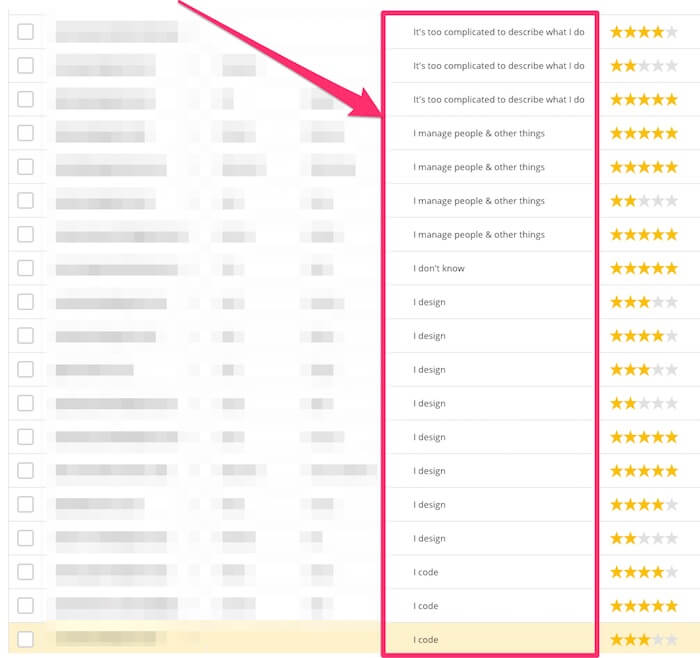 4. Social Media Feedback
Ok. I know Twitter, Facebook and Co. might not be the perfect place for every business when it comes to asking for feedback. But it can be the place where you can gather honest feedback from website visitors and potential customers in an informal way.
Here are a couple of examples:
Help us test prototype/beta http://t.co/OCPvnlXB4W. We use #usersnap for feedback. Great tool with realtime #prtsc pic.twitter.com/VWvvBQR7LG

— Filip Maximilian (@FilipFace) September 7, 2015
Another example from the Parliament of the United Kingdom (btw: it's great to see how transparent they are when it comes to feedback)
First bit of feedback for http://t.co/Okmd7A5oDJ received! We use @usersnap to capture your thoughts with screengrabs and comments, join in! — Digiminster (@digiminster) July 29, 2015
5. Exit intent feedback
Opinions on exit intents differ. No matter how annoying or inappropriate you'll find them. Exit intents are a good way in order to convince your website visitors to do one last thing before they leave your site.
So, why not ask them for feedback? For example, you can place an exit intent on your newly relaunched website or on certain new features on your site to get some fresh insights!
We've experimented quite a bit with different exit intents such as site overlays and side-bars.
I think there's no silver bullet and no perfect exit intent which fits every need.

PS: We're currently using AddThis and Hellobar for all of our exit intents. Definitely two great tools worth trying when it comes to collecting feedback via exit intents.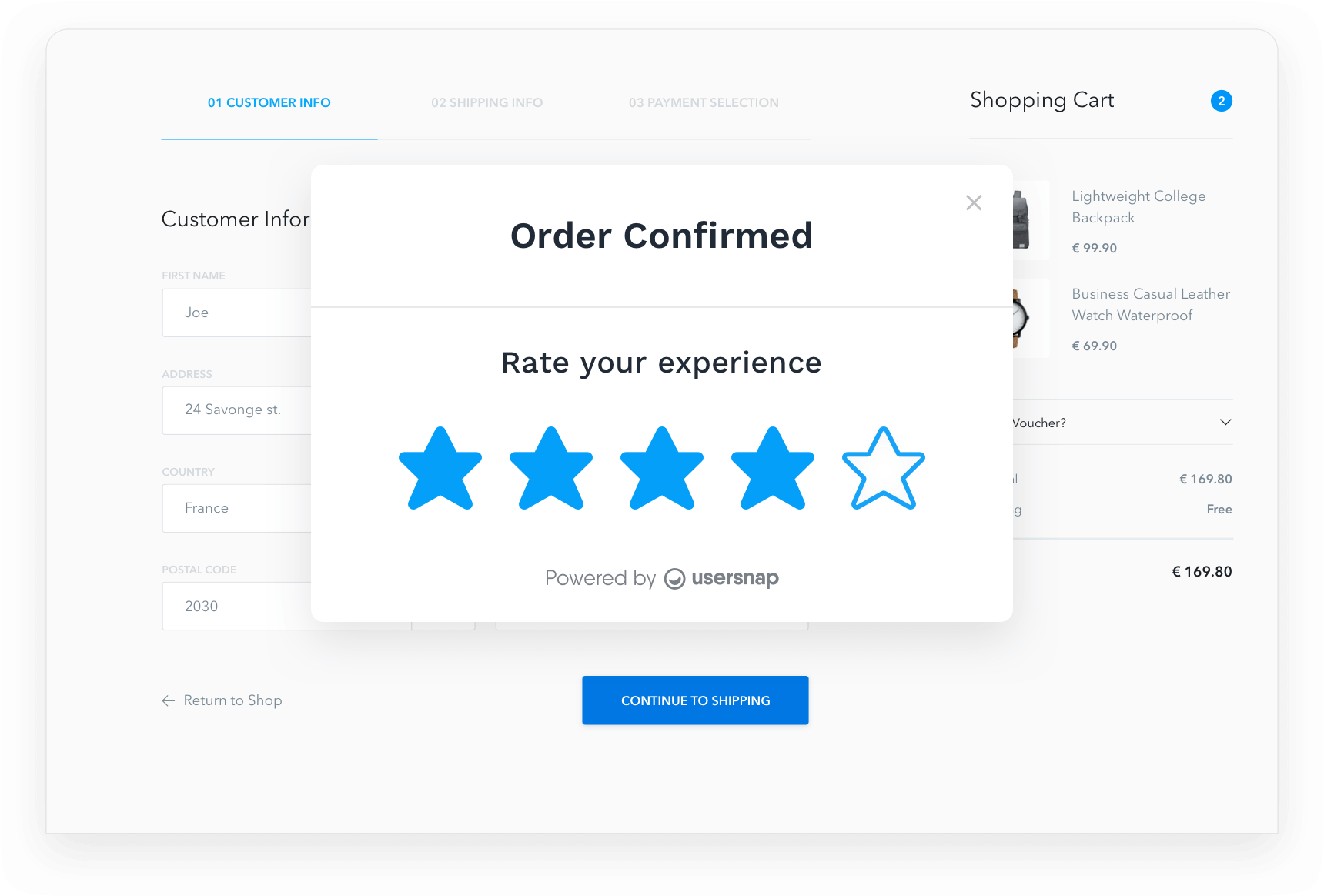 6. Be nice with hello bars
Hellobars are not only great for welcoming your website visitors, they are also useful for addressing certain topics, like gathering feedback.
When asking for feedback, I recommend making it as personal as possible such as a personalized Hello Bar including a special mention like…
"Hello Trello Lovers! Are you enjoying our integration? Let us know & get a free goodie bag"
7. Raise an easy-to-answer question via email
So you might have gathered the email addresses of your website visitors by giving away something for free (an ebook, a case study, etc.). That's great!
Now it's completely up to you to not mess things up.
Emailing those people is a great way for not only collecting feedback from active website visitors but also for building relationships with them.
But if you end your email with "Can you give me some feedback?", you won't be getting a ton of email responses.
Instead of such generic questions, you need to come up with some specific question which reflects the person's skills and strengths.
So if you know for example that the person you're emailing has experience in web design (see above mentioned point 3) on how to get that information) you can ask her/him about her feelings about the re-designed product tour?
Pro tip: Include a funny gif or image. In the end, it's all about making people smile.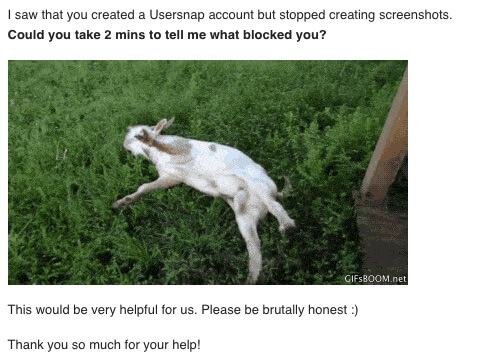 8. Retarget your website visitors.
Have you ever thought about asking for feedback with paid ads or with targeted URL paths? You haven't, have you?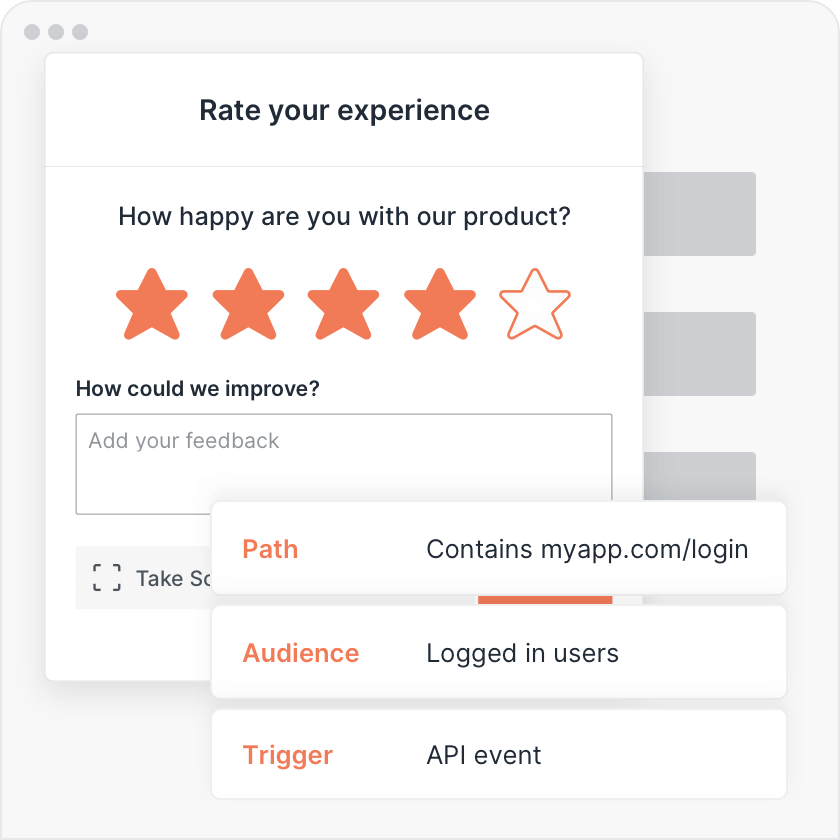 Well, I guess a lot of people aren't aware of the benefits of retargeting your website visitors.
Besides getting the chance to get in touch with already pre-branded people, it also enables you to communicate the additional value of your brand or product to people who already visited your website.
What to bear in mind when it comes to retargeting:
Use google tag manager for setting up retargeting ads on Google Adwords, Facebook and twitter.
Be as specific as possible. For example: Only ask people who visited your product tour about something product-related.
PS: If you want to learn more about remarketing, make sure to check out Moz's Whiteboard Friday on Remarketing.
9. Get the timing right.
Have ever been asked to leave a review for a new app immediately after installing it?
Well, this is definitely not how to do it. Aside from these creative ways to ask your website visitors for feedback, it's also about getting the timing right. Sending the right email at the right time is as important as asking the right question at the right place and time.
If you have some website tracking (like Google Analytics or Heap) installed, you can filter out users who have visited a certain amount of web pages or have done certain activities.
Knowing when to ask for feedback is a crucial part in getting more and better feedback.
Wrapping it up: It's all about being nice to humans.
After showing you these nine creative ways of asking for feedback, I'd like to conclude with one last key lesson:
"In the end, we need to stop treating customers like metrics and more like people. Treat them right and never ask for anything in return and then reap the benefits."
If you're interested in feedback workflows and tools that can help you get started collecting feedback, you should also check out the following post on a "new way to stress-free customer feedback".
And don't forget to avoid these mistakes when collecting feedback from your website visitors.
This article was brought to you by Usersnap – a visual bug tracking tool for every web project. Used by software companies like Facebook and Microsoft among others.