You have developed your product sparked by brilliant ideas and are ready to go-live. But have you caught all the bugs in your application? The customer finding it could damage your reputation.
Negative online feedback is just a finger's swipe away. We all know social media's viral nature. It can easily make or break brands. It's nice to have your customers testing the application. But, that's not feasible, right?
Do we have any smart solutions available? Crowdtesting is the answer.
Successful brands globally are increasingly using Crowdtesting for flawless products. It is a cost-effective and real-world multi-platform testing approach. Let's explore more.
What is crowdtesting?
Crowdtesting is simply user testing through broader groups of people. You widen the spectrum of testers to get effective results. The testers may be spread across different geographic locations. They may even span countries and continents. You can have a variety of devices for testing. Crowdtesting offers multiplatform, multi-version devices and environments for testing.
The chances of detecting bugs increase with more (crowd-)testers. Cost-effectiveness and better results are some of the key advantages.
How did crowdtesting come about?
Let's look at the primary "Crowdsourcing" concept first.
Industries are being disrupted by digital technologies today. We are witnessing rapid growth in the Cloud, SaaS and mobile space. Due to this disruption, traditional ways of innovation are insufficient. This has led to the process of inviting ideas from groups. The collation of inputs from large groups is called crowdsourcing.
You are participating in an increasingly interconnected world. Crowdsourcing happens online. You can engage with your employees as well as your customers. You can collaboratively have a problem-solving exercise.
According to the 2017-18 World Quality Report, 34% of organizations in the software industry have used crowdsourced solution as a way to increase testing bandwidth.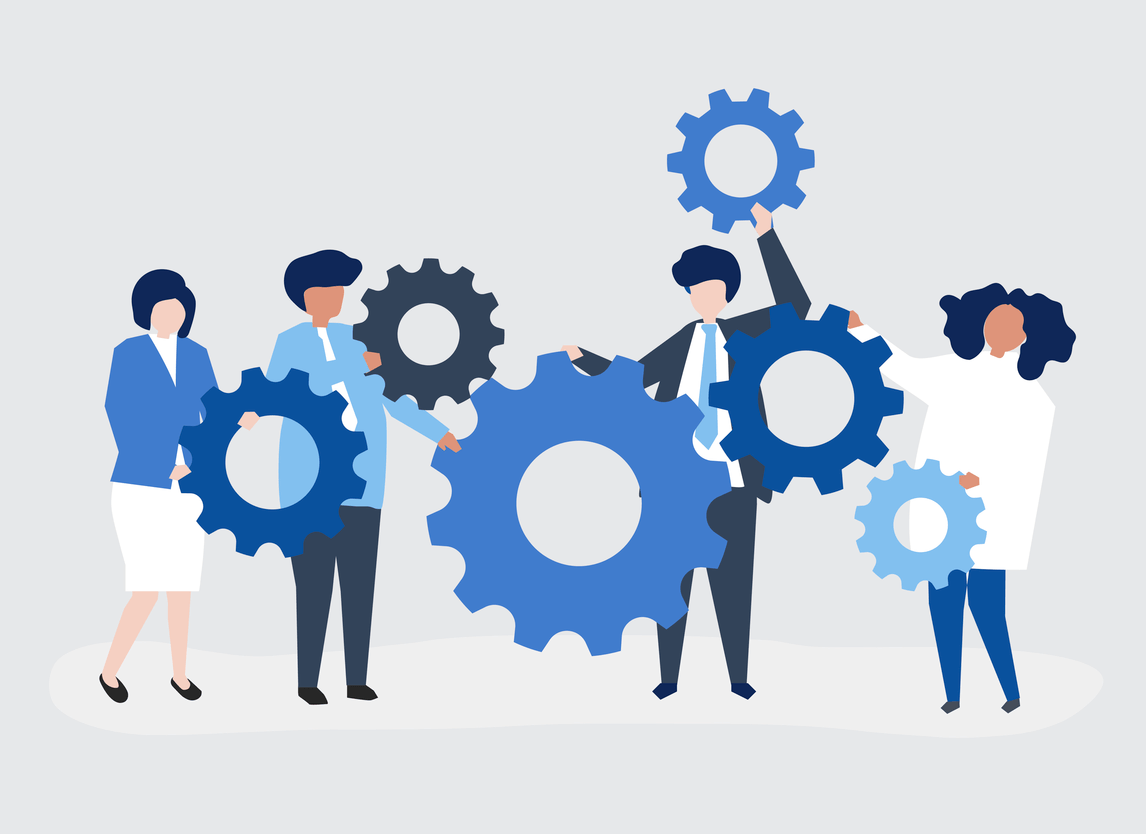 So what is different with crowdtesting?
Crowdtesting is solely for testing your applications. You have a broader set of people involved in testing. Testing is conducted in a diverse range of conditions. This is not possible with your in-house testing team. You gain the advantage in discovering problems prior to customers. It helps you in quick fixes, saving time, effort and valuable reputation.
Mobile apps, gaming software and new software product launches are front runners in crowdtesting.
Crowdtesting is mainly used for mobile and web applications. Common crowdtesting usage includes:
Functional testing
Localization testing
Usability tests
Are crowdtesting resources easily available?
Getting good testers and retaining them is a challenge. Here is why:
Today's millennial generation is interested in working on a diverse range of projects
Millennials believe organizations are not using them to their full potential
Tighter immigration rules have limited human capital flows across countries
Access to testing specialists has become limited due to these restrictions
Organizations are facing challenges in motivating and incentivizing employees. Organizations are having difficulty in retaining talent in this scenario.
You can overcome all these challenges through crowdtesting. It offers a global testing force at your service. You can hire crowdtesters directly or through a crowdtesting firm.
How to set up crowd testing for your product
Once we have our product ready, we can get it crowdtested. Crowdtesting also follows the normal testing lifecycle. However, there are a few minor variations in the process.
Crowdtesting service organizations provide crowdtesting groups in any geography. You can choose or mix and match as per requirements. Alternatively, you can source crowdtesters directly as well.
What is the Crowdtesting Process?
Crowdtesting follows a few sequential phases. Unlike internal testing, some extra details have to be taken care of as external testers are involved. Here are the four phases of implementing crowdtesting.
Phase I – Planning and preparation phase:
Identify testing scope: Crowdtesting can be done on a developed product, feature, partial module or prototype. You can specify 'in scope' and 'out of scope' areas.
Providing the background: Crowdtesting involves external testers most of the times. You must keep the business requirements and testing goals ready. Crowdtesters will be able to understand test activities and perform better.
Identifying tester skill set: You should specify the skill set required for crowdtesters. Example – if you need to test a bank application, you will naturally expect a tester with banking process knowledge. Specifying testing skills helps in selecting the right crowdtesters.
Making test plans: Crowdtests will have to be scheduled as per plans. You may be planning a product launch before Christmas shopping. Your plan will contain schedule and location details.
Specify budgets and deliverables: You have to prepare the budget for crowdtesting. Have your crowdtesting group ready. Make sure expectations and deliverables are clearly defined. Specify deliverables like test reports and other metrics. You can specify a system for bug reporting.
Point of contact: Set up a coordinator to supervise crowdtesting activity. This can be a test manager from your organization. In parallel, you can have a coordinator from the crowdtesting firm too.
Arranging crowdtesters: You can arrange crowdtesters through a crowdtesting firm. Alternatively, you can do it directly as well. After selection, you can set up a contract and payment terms.
Now, we move into the next phase.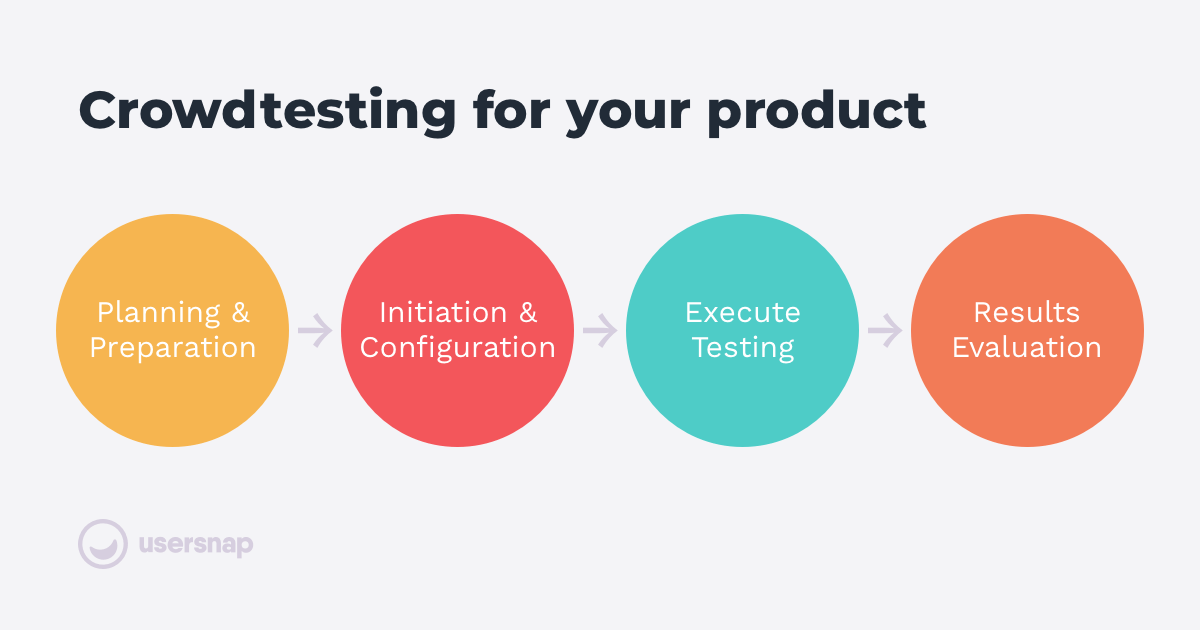 Phase II – Initiation & Configuration phase:
Test cases and configurations: In this phase, you will get all your test cases ready. Configure functional scenarios and requisite data for executing test cases. Technical configurations on application and test environment must be done.
Access: Access credentials for crowdtesters has to be set up securely. The test environment must be configured to monitor test activity.
Trial crowdtest round: You can set up a trial testing phase with crowdtesters. It will gauge readiness for testing with some sample results.
Phase III – Execution phase:
Once you are all set, the crowdtest execution can be initiated. You will have to supervise the crowdtest execution.
Phase IV – Results evaluation:
Post-execution, the test results can be validated to assess performance. Bugs can be classified as per severity and addressed.
Crowdtesting teams will be compensated as per agreement, which is based on the number of bugs reported. This output-based pricing module is another advantage of crowdtesting. We will discuss more in the paragraphs below.
You can also rate the crowdtesters based on their performance. This helps in hiring good resources for future crowdtesting.
Limitations of crowdtesting
Popularity of crowdtesting is on the rise, but you should still understand the pros and cons of it to use it correctly.
?  Advantages of crowdtesting:
Scalability: Do you need additional testing at short notice? Testing efforts can be scaled up quickly through crowdtesting. This is beneficial if time is short or an urgent feature release is required. Crowdtesters can be available on demand.
Save Cost: You can save on the cost front as there are no full-time testers hired. Testers around the world are available on assignment basis. It is economical as there are no major investments here.
Speed: You know our product confidence grows from multiple test cycles. Crowdtesting offers multiple test cycles at a point of time. This results in faster test insights and quicker time to market advantages.
Geographic coverage: Crowdtesting offers testers from all around the world. You can easily access testers from any country or region through crowdtesting.
Real world testing: Isn't it wonderful to test in the real world? Do you need to test your mobile app with a group of 20-25 year age youth? Targeted testing based on localization and specific demographics is available.
Output-based pricing: Crowdtesting is a result of driven exercise. You will be charged according to the number of bugs found by crowdtesters. Crowdtesters are motivated to find application bugs. You will get more value for money, unlike other pricing models.
Device Coverage: Stop worrying about procuring emulators and device farms for testing. With crowdtesting, you can get multiple browsers and devices easily without major investments.
Test experts availability: Testing talent is hard to find in traditional QA practice. Crowdtesting provides access to domain testers of your choice globally. Expert testing ensures quick and effective testing.
Fresh perspective: Crowdtesting helps in discovering new bugs and fresh product insights. You get a bias-free impartial testing unlike an internal QA team. Fresh new permutations and combinations increase chances of discovering issues.
? Disadvantages of crowdtesting:
Confidentiality: You want to maintain a competitive edge by launching new product features. Some of them may be confidential. In that case, it would not be wise to share it with external testers. Crowdtesting is not advisable in these situations.
Tracking testing effort: Crowdtesting companies can have challenges in managing testers in different geographies and time zones.
Number of bugs: The focus in crowdtesting is on finding maximum volume of bugs. Sometimes incentives are provided for detecting larger volume of bugs. Therefore, chances of critical functionality bugs getting skipped exist in such an exercise.
Some additional managerial effort may be required to ensure sufficient test coverage. It may become difficult in case of globally dispersed crowdtesters.
When not to use Crowd Testing
? Innovative features and strategies:
To be competitive, organizations release new features and innovations. Products having these cannot be crowdtested. There is a possibility of the competition taking advantage of the company strategies. Corporate espionage can be done easier when the product is crowdtested. Therefore it's better to have an in-house QA team test these innovative features.
? Confidential data:
Applications containing or accessing confidential data in any manner are not suitable for crowdtesting. Cyber security risks can be high in these scenarios if crowdtested.
? Fitment for crowdtesting:
All test cases are not good candidates for crowdtesting. A well defined QA program will have a multi-prong strategy for QA. It will include manual testing and automated testing. Crowdtesting is another method to ensure all features are tested before release. A QA manager with expertise can identify these test cases.
Avoid those crowdtesting mistakes
Crowdtesting is a great way to test digital products and is getting very popular. However, you must ensure that the following mistakes are avoided during crowdtesting.
Being unclear about testing requirements:
Testers should understand what is clearly required from their side. Otherwise, it could lead to testing delays and raising of invalid bugs.
Focus on number of bugs instead of quality of bugs:
Testers may be over-focused on raising the highest volume of bugs. Focus on quality of bugs must be on priority.
Unclear bug reports:
Testers must log bugs clearly with appropriate screenshots, descriptions and steps. Insufficient information will not help in bug validation.
Not having a detailed understanding:
Testers must understand the workflow and user experience to successfully crowdtest.
Not having required environment or tools:
Testers must check that they have the required tools. It is needed for logging bugs, taking screenshots, capturing information etc.
Not planning or knowing other tester activities:
Testers must plan well on activities to be done. They should be aware of events and announcements on test areas to focus on. Blindly testing just to complete must be avoided
The main agenda of crowdtesting is to detect bugs. And crowdtesting by global testers is great. But have the crowdtesters captured application bugs clearly? You have to analyze bugs reported globally, plus crowdtesters report bugs with different devices or environments.
How should the testers capture bug reports? Would it be detailed enough with steps? Can I get clear mobile app bug screenshots? Do crowdtesters need to be trained? All this sounds challenging, isn't it?
The best bug reporting tool for crowdtesting is Usersnap. Used by global leaders like Microsoft, Cisco, and Facebook among others.
Absolutely no training required. You don't pay for testers in licenses for crowdtesting. Bugs can be captured with easy screenshots and annotation. It captures location details automatically. Just start using it right away, here's a sneak peak of what it looks like – Learn More.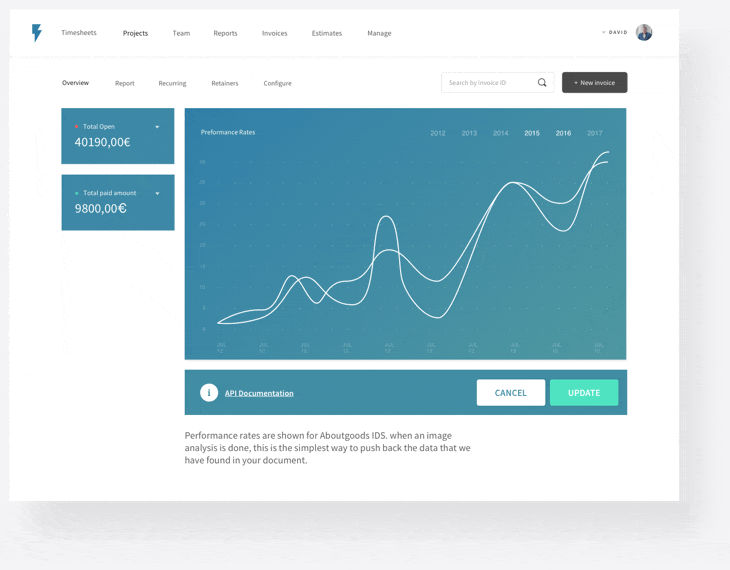 How you decide on a crowd testing platform
Crowd testing platforms are plenty. You need to choose the right crowdtesting platform for best results.
Select based on experience in similar projects. You have to select platforms as per your crowdtest requirement.
Crowdtest platform compatibility with various software has to be determined. You will require visual bug reports to be captured. The crowdtesters are in different locations. You need an able tool that can capture results efficiently.
There are a few guidelines you can use for selection listed as below.
What to look for in a crowdtesting platform
✔️ Experienced crowdtesting companies: Experience counts while making a choice in crowdtesting platforms. Crowdtesting has its challenges in managing distributed teams and operations. You must ensure high-quality results by selecting an experienced company.
✔️ Nature of your project: You can seek out companies that can service your requirement. You may require testing to be done across multiple countries. Choose companies that have expertise in delivering global crowdtesting projects. Some firms may be more experienced in mobile apps. Other companies may be experienced in enterprise applications. You need to choose an appropriately experienced crowdtesting company.
✔️ Financially stable firms: It is advisable to partner with financially stable companies. It will bring confidence in cross geography and global test execution capabilities.
✔️ Ethics: One must engage with a responsible crowdtesting firm. They should stand by their decisions and they should own the execution with their teams.
✔️ Broker companies: Avoid crowdtesting companies that only provide a connection with testers. Companies that act like middlemen will not ensure quality or operational efficiencies.
✔️ Quality factors: Ensure quality service with firms that provide reliable service. Here are some more factors for you to consider.
Security – Ensuring crowdtesting is conducted securely.
Confidentiality is maintained
Safety without any breaches
Quality in execution and reporting
Capabilities in arranging skilled resources
Delivery methodologies
Compensation structure
Risk management
List of crowdtesting platforms
Some popular crowd testing platforms are:
Conclusion
Crowdtesting is a proven and reliable methodology to test products. It is efficient, cost-effective and provides a real-world test experience. However, it is not a replacement for internal testing. Crowdtesting complements other manual and automated test practices. Use crowdtesting to reduce the risks of bugs in your product and your chances of a bug-free product success increases.
"Don't fix bugs later; fix them now."

Steve Maguire
Get your free 15-Day Usersnap trial today.
Capture feedback easily. Get more insights and confidence.
Getting feedback has never been easier and we hope you've realized that after reading this article. Let us know what you think, your feedback is important.
And if you're ready to try out a customer feedback software, Usersnap offers a free trial. Sign up today or book a demo with our feedback specialists.