WordPress is a great tool. In fact, about 50% of all websites out there use WordPress. So, it's no wonder that when you're thinking of starting a blog for your company or simply develop a new website, WordPress is one of the first things that comes to mind.
But it isn't all sunshine and rainbows and sometimes, you're better off looking elsewhere. At least you should consider other alternatives to WordPress before getting starting without losing even a thought.

[otw_is sidebar=otw-sidebar-1]
What are you looking for?
But, it's difficult to find the right direction in, especially if you're just starting out with picking a decent CMS to use, if at all.
So how about I highlight the major drawbacks and benefits of WordPress? I'm also going to take a look at some the best alternatives to WordPress when it comes to setting up your own blog.
Major drawbacks of WordPress
In the following section, I'll discuss some drawbacks of WordPress which you should know when choosing WordPress or looking for alternatives.
Security
One of the major drawbacks for web developers is that WordPress is susceptible to attacks.
Not only because of WordPress itself, but also because of the various third party plugins and themes that are often required to get your site to look and feel attractive.
As one of the top major players for websites, blogging platforms and general CMS systems, WordPress.com itself – a service that provides a ready-made WordPress environment to its users – has often been hit with botnets which threaten the server's resources and reduces the performance of sites running on it significantly.
Updates and Maintenance
To make sure attacks have a lower chance of actually doing harm, WordPress requires frequent updates.
This is another major concern for developers and bloggers who basically need to constantly run updates and risk the potential of installing an update that is not compatible with some plugins their website uses.
Updates can sometimes even affect the look and feel of your site. As you can imagine, this can be very frustrating to the average blogger and it makes maintenance for the developer extra tedious.
Especially if the developer had to customize some plugins to make the site work, seeing that "update ready" comment on top can be nightmare inducing.
Plugins
One of WordPress' core benefits or features also turns out to be one of its drawbacks. For your site to work well and have the right look and feel, you'll need to install several WordPress plugins. That means that you have to know the right plugins to install.
They have to integrate well with the theme that you're using or the templates that are currently being used on your site.
Moving beyond the basics can be tedious
If you're not a developer, nor a web designer, this also means that doing things outside of the basics will make your life impossibly difficult.
In-depth customization is time-consuming even for an experienced developer. As a result, the learning curve can be a bit steep for novice bloggers and newbie developers. With limited knowledge and resources to use, you may end up in a very frustrating situation.
Drawbacks of NOT using WordPress
OK, so there are a couple of drawbacks when using WordPress. As a WordPress user myself, I appreciate WordPress and its features and like to state a couple of drawbacks when not using WordPress.
Beginner friendly for small companies and novice bloggers
WordPress is simple and easy to use especially for the avid blogger. It is especially useful when you need to have a site up and running in no time. You can take advantage of the back-end interface, which allows you to easily customize your site to your liking.
Built for low budget
When you have a low budget and want to use a CMS, you may want to consider using WordPress. WordPress has a wide range of features, themes, and plugins that can be used to build your website.
Easily accessible with multiple user management
WordPress offers you the ability to work from any location, as it is browser based. It provides you with the ability to configure and manage your users and assign them different access rights and privileges. This is powerful since you'll be able to let a blogger write their blogs and nothing more, while your developer can go nuts on the back-end.
Built for performance
WordPress is maintained by a huge open-source community which is a huge advantage when it comes to performance. WordPress is your performance friend and comes with a lot of built-in SEO requirements and enable you to add further WordPress performance plugins (such as WPCache) to make your website faster.
[otw_is sidebar=otw-sidebar-2]
When not to use WordPress
So, let's get into it. There might be situations when you're better off not using WordPress.
Expansions
Complex and wide intranet expansion, user registration workflows, or other enterprise-y features will require complex customization; WordPress may not be your best solution.
Also, when you need to build a web application rather than a website, you better look elsewhere as well. WordPress is simply not capable of doing this.
Brochureware sites
On the other end of the complexity spectrum, implementing WordPress can be overkill for Brochure-ware sites.
These are sites that simply display a company's information and have little to no dynamic content. For small and simple sites like this, most of the functionalities of WordPress won't be needed at all. And static HTML sites will do the case as well.
Strict privacy and level of security
Sites requiring strict and tight privacy or level of security due to confidential information stored in the WordPress database itself.
Alternatives to WordPress for blogging
Looking back to the time that WordPress just got started, it was nothing more than a basic blogging platform.
However, over time, we have seen it evolve into a multipurpose CMS. And a pretty powerful one at that. But, it's certainly not the only one of its kind. Here we give our top six alternatives to WordPress we can find for blogging.
Squarespace for blog beginners
Advertised as an all in one platform with the tools to make your website look world-class in an instant.
With its clean and simple style, it's a good place for minimalist, everyday bloggers to share their thoughts with the world.
It is easy to use, very intuitive, and allows you to arrange your content just the way you want it. Unlike WordPress, which is an open source platform, Squarespace has its own development team that ensures that the tools are properly tested before taking it live on the complete network.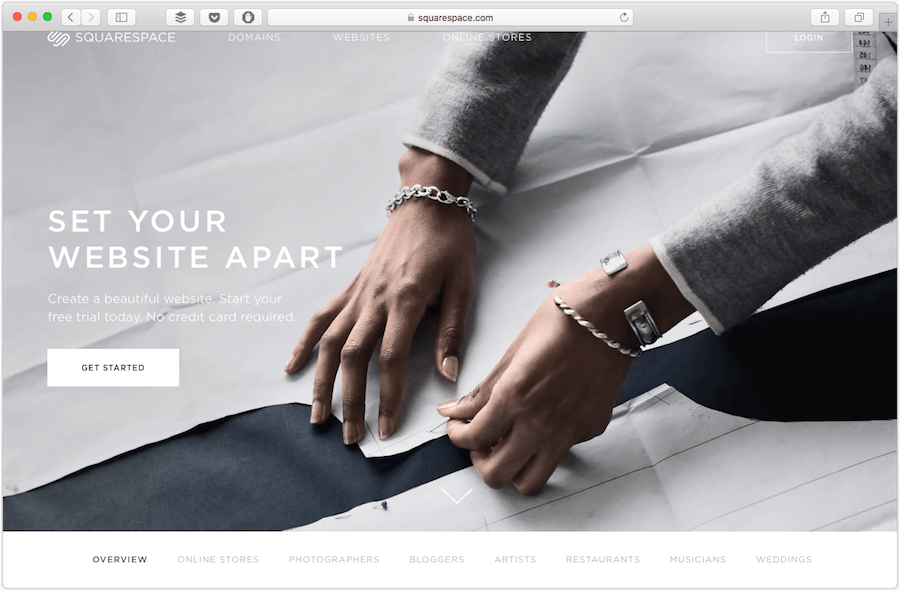 Great for:
Beginners with no development knowledge
Static sites
Tumblr for microblogging
Owned by Yahoo, Tumblr is a micro-blogging site that comes with interesting and fun features such as re-blogging. The blogger has the ability to publish short blog posts, quotes, and articles.
WordPress and Tumblr are by far not alike, however with its ease of use and customization, Tumblr is ideal for someone who loves writing quotes and poems, interested in photography, music and who wishes to post short content or ideas.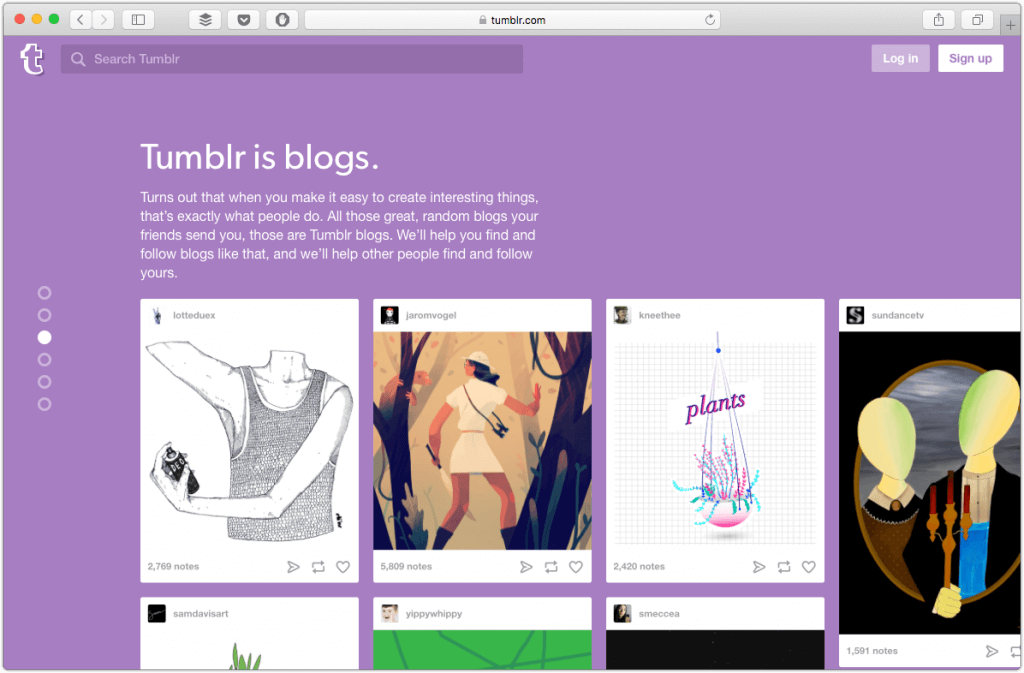 Great for:
Microblogging
Bloggers with no requirements on design and structure
Drupal for enterprise bloggers
Drupal is very comparable to WordPress, but as many will confirm, feels far more customizable.
It's a complete CMS with all the features you'd desire and lots of potential for customization. The most important advantage Drupal has over WordPress is enterprise-level security. On the flip side, many people do find Drupal far more difficult to work with.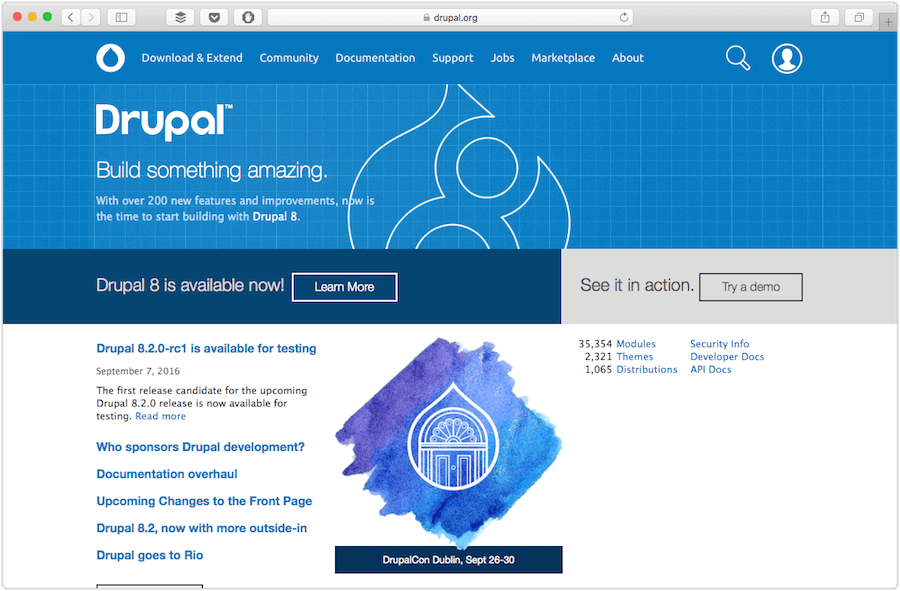 Great for:
li>Enterprise blogger
Complex websites
Highly customizable requirements
Developers
[otw_is sidebar=otw-sidebar-3]
Medium.com for writers
Medium.com is one of the latest networks for writers. It's more than a blogging alternative to WordPress. It's free and offers a basic design for someone who just wants to write. With With a great user-friendly interface, you have the ability to post your images and videos just like on WordPress.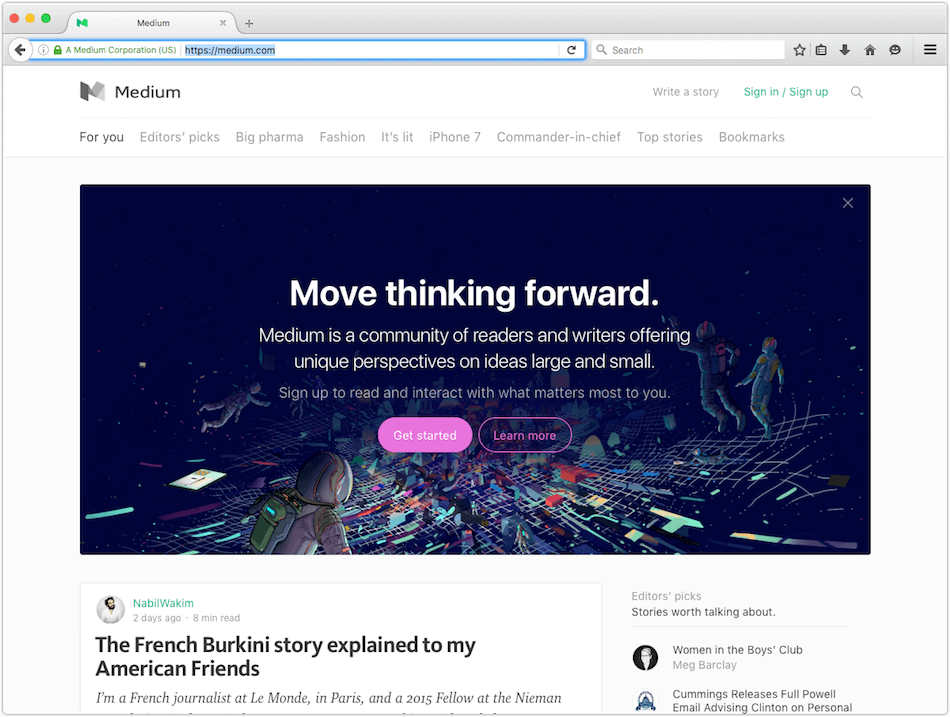 Great for:
Writers with no requirements on design and structure
Startup blogs
Ghost for markdown aficionados
Lean blogging open source software tailored for professional bloggers. The user interface is easy on the eyes, very intuitive and great for the avid blogger to create their content with Markdown syntax.
This is a good place for web developers who want to be in the loop and everyday bloggers who want to build attractive sites for their visitors. Ghost is a simple alternative to WordPress with an easy to use drag and drop feature and live preview. It is also optimized for mobile devices.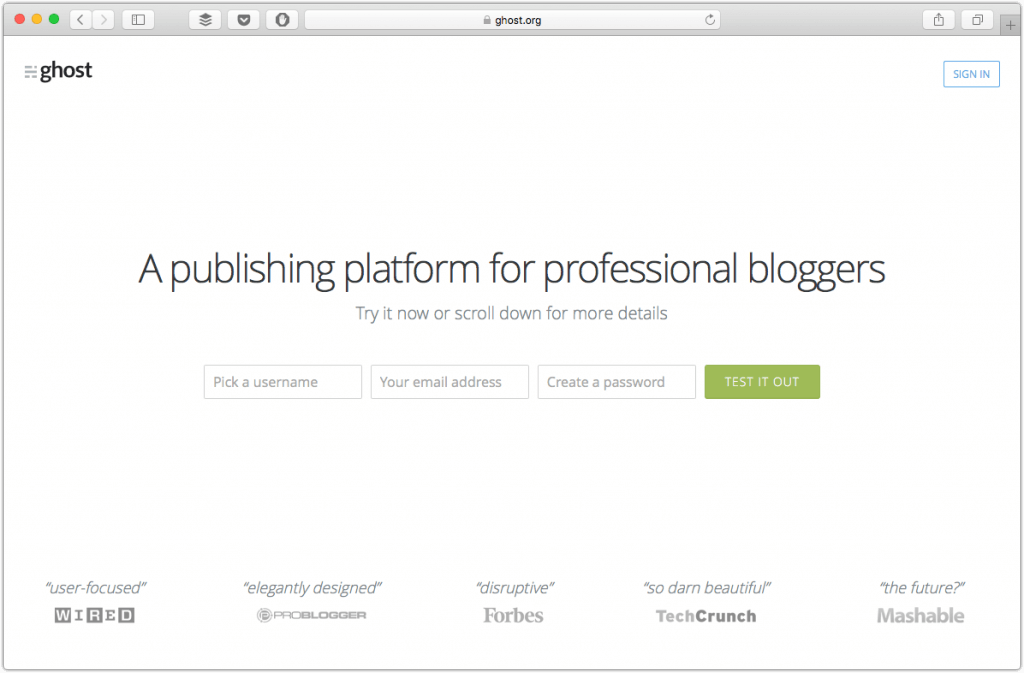 Jekyll for developers
There are other static site generators that can be useful for blogging (like Hugo).
One of the most popular being Jekyll, a static site generator that parses your content into plain text to generate static HTML pages using Ruby and NodeJS.
File-based CMS uses the same concept as the static site generator except that they aren't static. Examples of these are Pico, Grav, Kirby, Pulse and Statamic.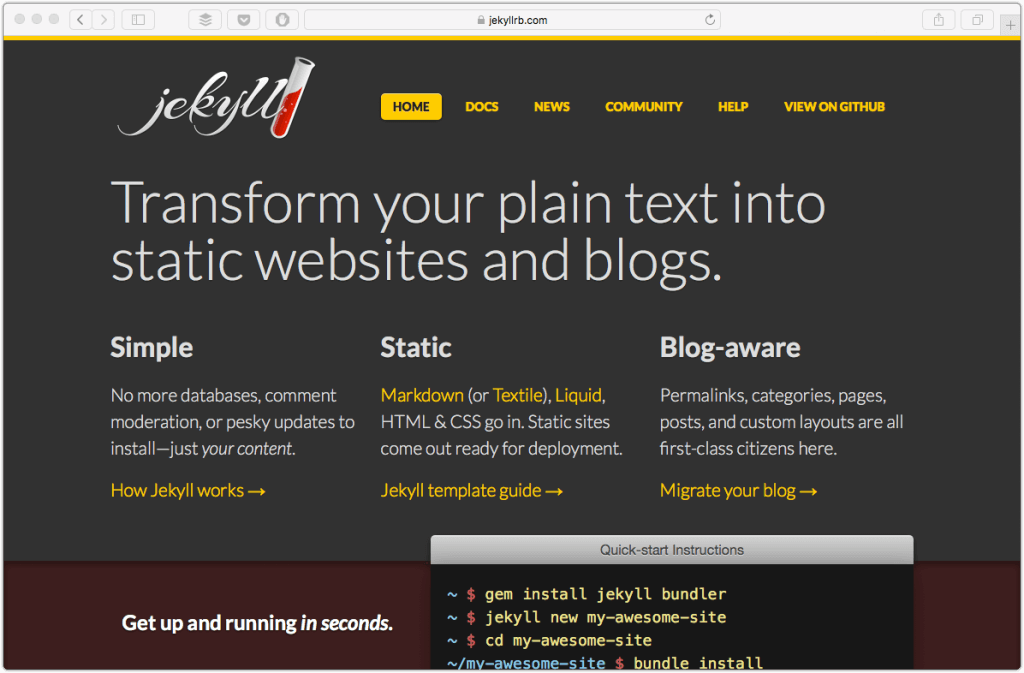 Wrapping it up.
Don't just follow the herd. If you're thinking about creating a new website, consider the alternatives. We've only named a few here and there are a lot more like the ones we've listed here. Making the most of that choice is now in your hands, knowledge is power!
[otw_is sidebar=otw-sidebar-4]
Capture feedback easily. Get more insights and confidence.
Getting feedback has never been easier and we hope you've realized that after reading this article. Let us know what you think, your feedback is important.
And if you're ready to try out a customer feedback software, Usersnap offers a free trial. Sign up today or book a demo with our feedback specialists.