Since there are many resources out there for getting started in web development, having some truly inspiring web development podcasts in your bookmarks is a great way to learn.
It's the most portable way to consume content and to learn something new in web development. In this post, we've collected a list of the most informative and inspiring web development podcasts you can listen to which will help you getting started in web development.
Let's take a look.
Let's Make Mistakes
Let's Make Mistakes is a podcast which I truly recommend to everyone working in the web design or web development industry. The podcast is hosted by Jessie Char and Mike Monteiro who are a great speakers I recommend listening to.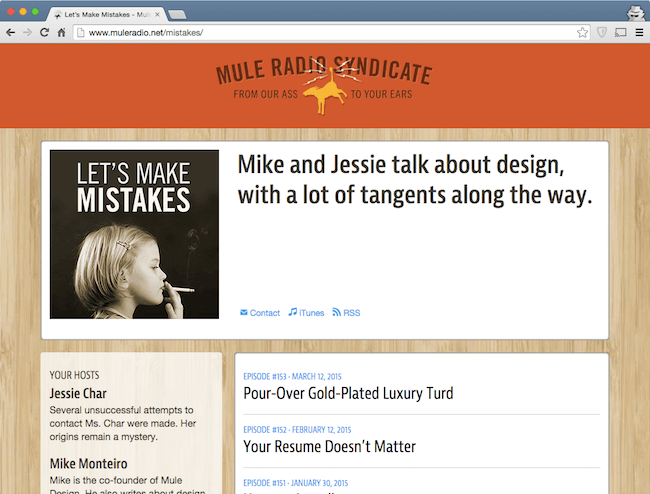 The Web Ahead
This weekly podcast is hosted by Jen Simmons, talking about new technologies and the future of web. Besides that there are really informative episodes about HTML5, responsive design, and mobile development.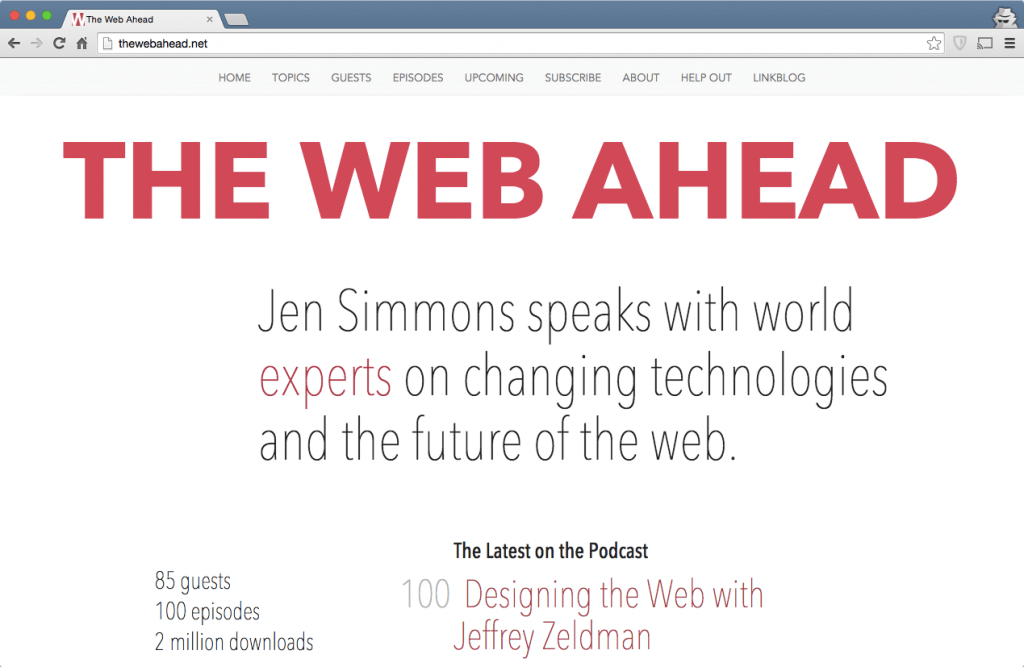 Sitepoint Podcast
SitePoint is well-known for its platform, publishing great articles about web development topics. SitePoint also provides great audio-content on its podcast page.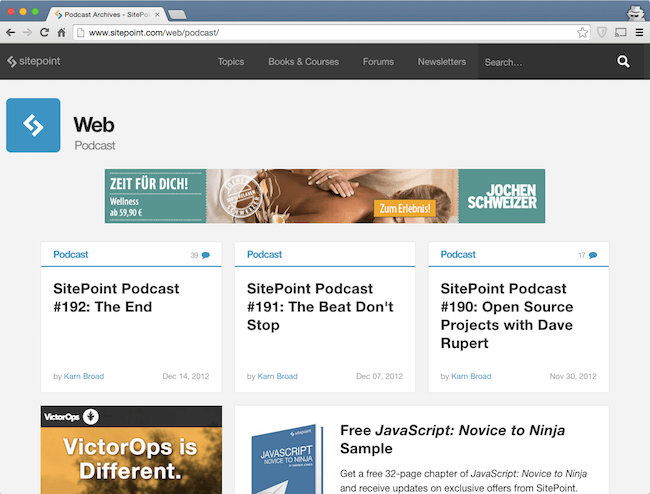 http://www.sitepoint.com/web/podcast/
99% invisible
With 15-20 minutes per episode, this podcast is perfect of a short ride or walk. 99% invisible describes itself as a design podcast and it covers general design topics. However, I'd recommend listen to this podcast if you're looking for new content or just some new inspirations.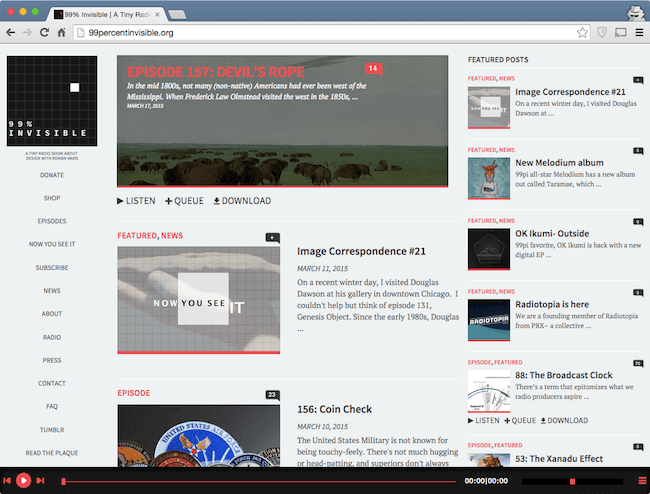 http://99percentinvisible.org/
Developing Perspective
Developing Perspective is a podcast discussing news mainly in iOS development. David Smith also provides insights on general web development topics and other stuff he's interested. Most podcasts last about 15 minutes.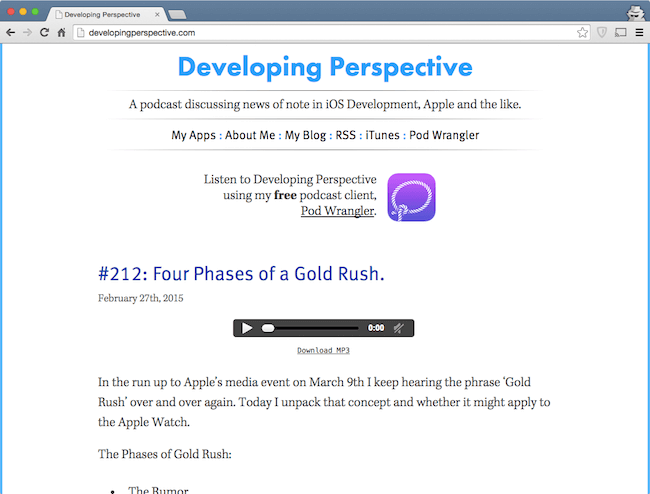 http://developingperspective.com/
Breaking Development podcast
This is quite an "old" podcasts and there hasn't been any new podcast since 2013. However, the archive of the Breaking Development podcast offers some great content on web development.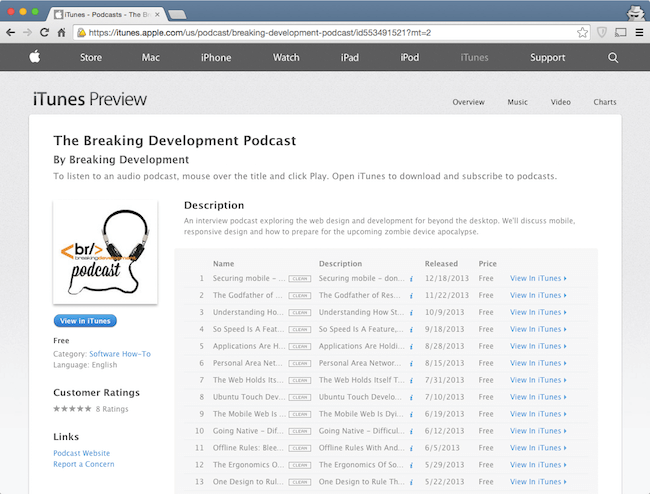 https://itunes.apple.com/us/podcast/breaking-development-podcast/id553491521?mt=2
Creative Coding
The Creative Coding podcast covers insights and learning of programming. Hosted by Seb Lee-Delisle and game developer Iain Lobb, this podcast is a great source for new inspiration.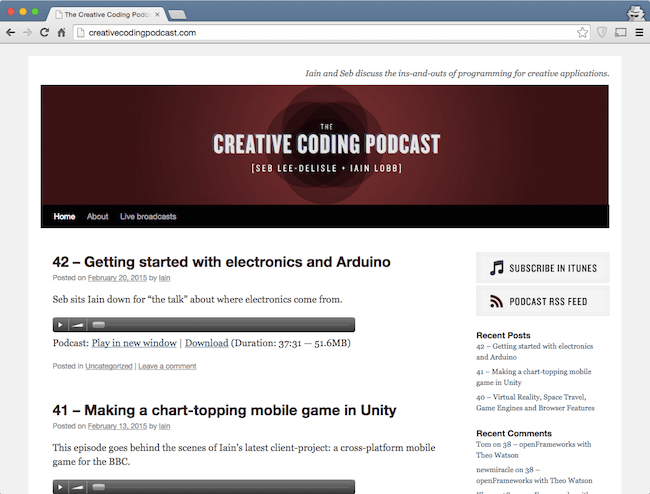 http://creativecodingpodcast.com/
This Developer's Life
This podcast provides great insights in the life of developers. If you're thinking about getting into web development or if you'd call yourself a developer, this podcast will definitely give you some great insights.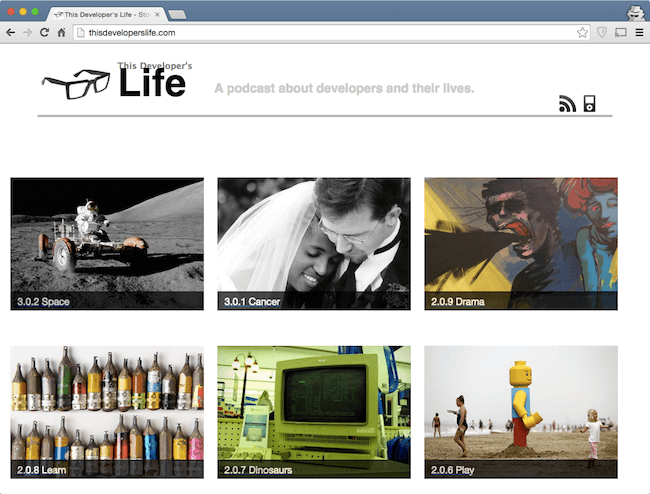 http://thisdeveloperslife.com/
Happy Monday
The Happy Monday podcast by Sarah Parmeter covers some great stories and inspiration for everyone working on web projects. Every Monday a new interview with someone working in web development is published.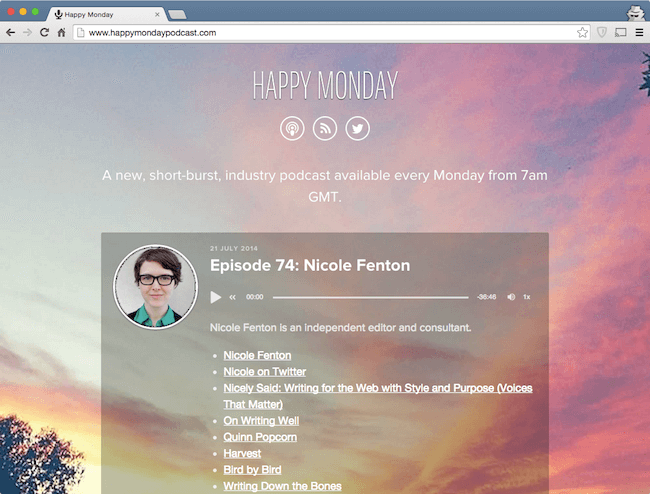 http://www.happymondaypodcast.com/
the changelog
the changelog podcast covers mainly open source related topics and provides some great insights on various topics in software development. Every Friday a new podcast is published.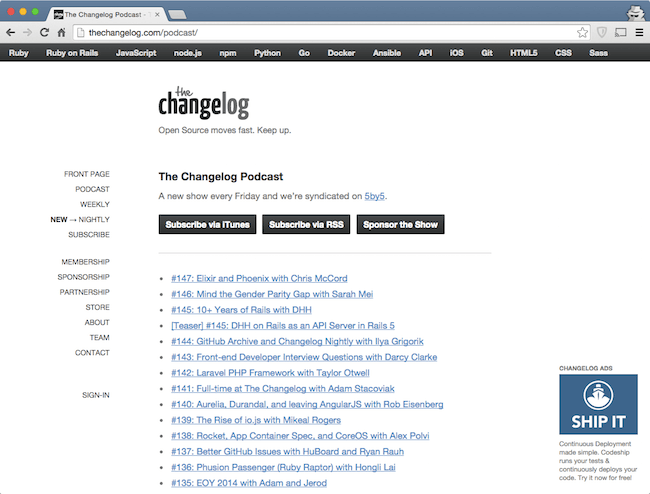 http://thechangelog.com/podcast/
A Life Well Wasted
The podcast A Life Well Wasted describes itself as an internet radio show about video games and people who love them. The podcast covers some interesting interviews with developers working on video games.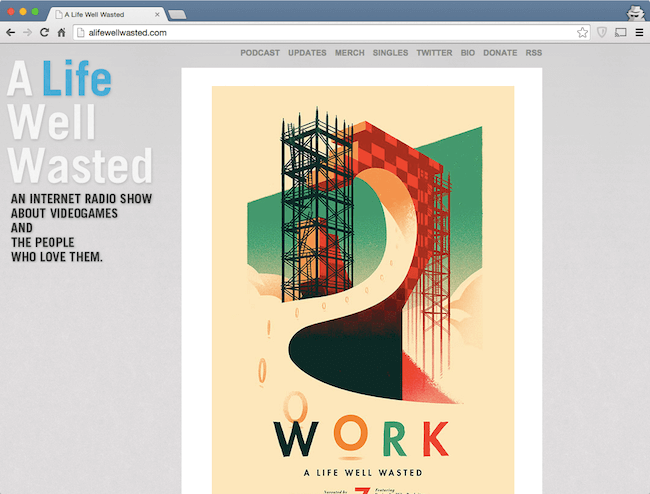 Shop Talk Show
The Shop Talk Show is hosted by Dave Rupert and Chris Coyler and calls itself an internet radio show about the internet. Featuring some great interviews with people working in web development it offers some informative content on the various web development topics.
Insert Content Here & The Creative Process
Although both podcasts are more content and design orientated, I definitely can recommend both podcasts from lullabot.com. Both cover some geeky conversations about web projects and how to get more out of them. Definitely worth listening to.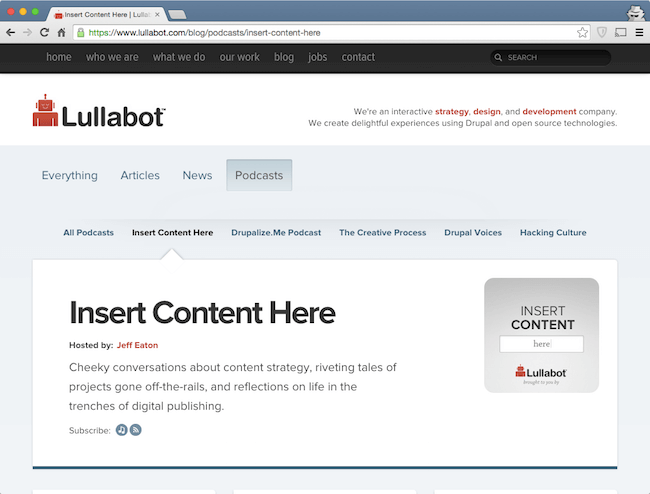 Insert Content Here: https://www.lullabot.com/blog/podcasts/insert-content-here
The Creative Process: https://www.lullabot.com/blog/podcasts/the-creative-process
This Week In Startups
Since many people in web development are starting out there own business or working in tech startups, I'd definitely recommend the podcast This Week in Startups. This podcast covers weekly interviews with successful startups in tech.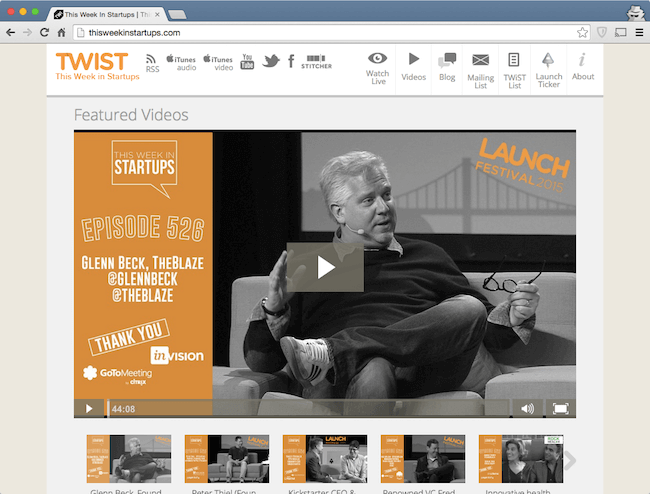 http://thisweekinstartups.com/
the freelance web
This podcast is definitely worth to listen to if you're a freelancer working on web projects. Hosted by Sean Johnson and Liz Elcoate, this podcast not only covers web dev related topics, but also web industry news as well as some great interviews.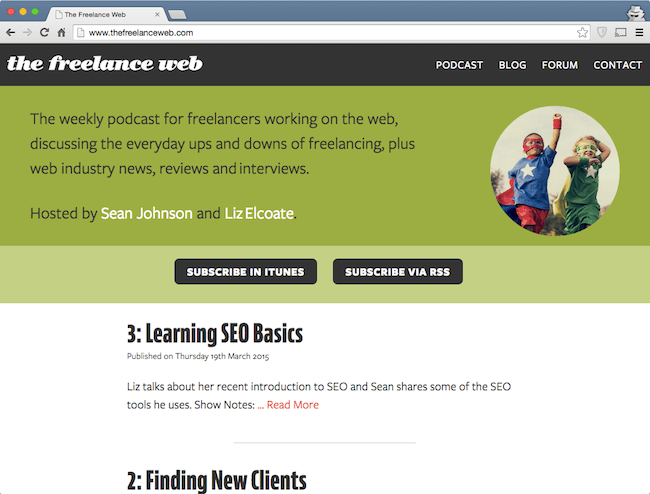 http://www.thefreelanceweb.com/
Further podcasts for developers & designers
Besides the mentioned 15 design & development related podcasts, I have asked other developers & designers about their favourite podcasts. Here's they are. Give them a try as well.
If you prefer blogs, articles or newsletter, I'd also recommend you to check out our articles on the best web development blogs and newsletters too.
What podcasts are you listening to? 
This article was brought to you by Usersnap – a feedback solution to improve your bug reporting & QA for your development process. Used by thousands of software companies.
Capture feedback easily. Get more insights and confidence.
Getting feedback has never been easier and we hope you've realized that after reading this article. Let us know what you think, your feedback is important.
And if you're ready to try out a customer feedback software, Usersnap offers a free trial. Sign up today or book a demo with our feedback specialists.