Firstly, I have to admit: I'm a huge fan of to-do apps. As someone who's working on web projects for quite some time now, I know all about to-do lists, tasks apps and finding the perfect match for your web projects. Lately I got stuck with Wunderlist.
Wunderlist is probably the prettiest to-do app with a range of functionalities. From adding sub tasks, assigning tasks to co-workers, adding notes and setting events. Wunderlist takes it all.
This is why I thought of integrating Wunderlist deeper in my web worker's workflow. And because I'm doing a lot of bug tracking recently for smaller websites I've been thinking about using Wunderlist as my prior bug tracking tool. Together with the bug tracker from Usersnap it provides a great workflow which let you manage all your tasks – and now bugs too.
And here's how it works.
Create a Wunderlist account
Firstly, open wunderlist.com in your browser and sign up for a new account. If you have one, enter your email address and login.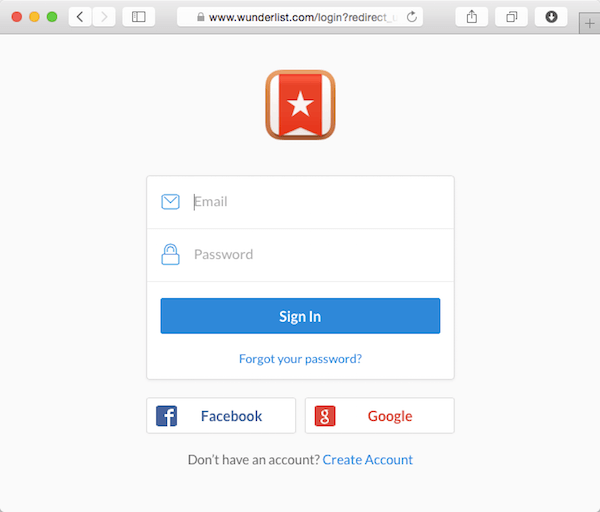 Continue by adding your first do-do list in Wunderlist. I've called mine "Website Feedback". The to-do list is still empty, but will be filled up pretty soon with the Usersnap integration.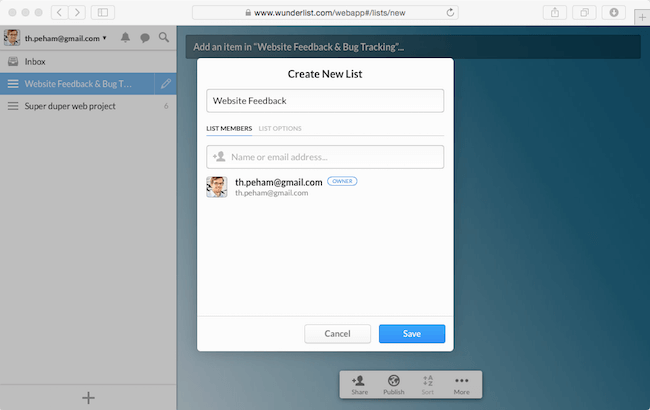 Create an Usersnap account
Now it's time to sign up for Usersnap (or login if you already have an account). After signing up, I created a project named "Website Feedback".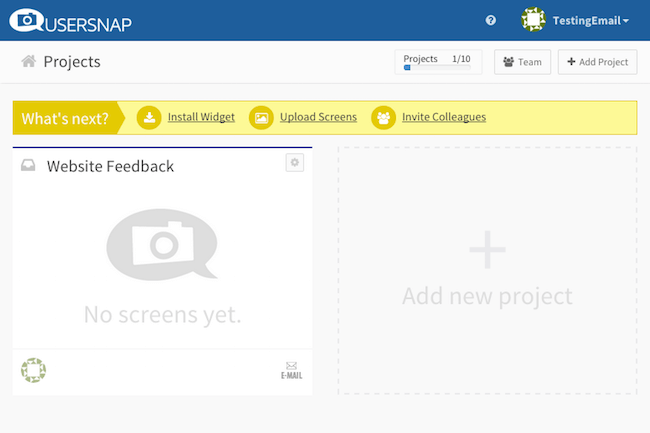 Add the feedback widget to your website
As a next step I'll add the Usersnap widget to my website for which I'd like to get feedback on. I'll simple add the URL of my website to the feedback widget configuration and embed the snippet to my website. Tip: If you're using WordPress or any other content management system check out the available plugins.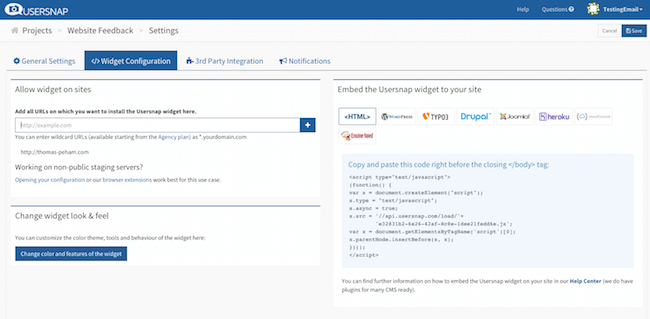 Connect Wunderlist with Usersnap and start tracking bugs
And now, here we go. It's time for connecting Wunderlist with Usersnap.
By making use of the 3rd party integrations from Usersnap, you can forward your emails, bug reports and created screenshots to Wunderlist. Here's how it works:
Select Email as a 3rd party in the Usersnap 3rd Party Settings
Enter the email address: "me@wunderlist.com" as the email address which receives the bug reports. (And yes: it's really "me@wunderlist.com")
Enter an expressive subject. The subject name will be name of the tasks in Wunderlist. For example enter [Bugs]
Enter the sender's email address. It's important that the you enter the same email address with which you've sign up for Wunderlist!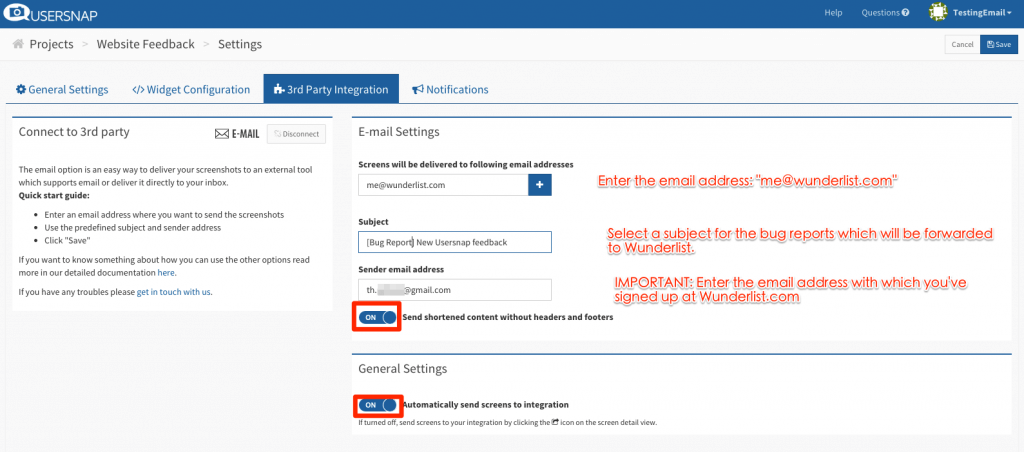 Some further tips:
only send shortened content without header + footer information to Wunderlist. You can simply activate/deactivate that setting in the 3rd party settings of Usersnap.
decide whether all bug reports should be automatically sent to your Wunderlist or if you'd like to choose manually.
time for bug tracking with Wunderlist
And that's all. You're colleagues, users and clients can now start testing your website and reporting bugs.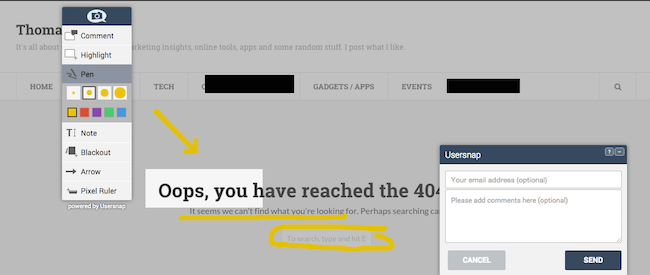 With the embedded feedback widget from Usersnap and the connection with Wunderlist, all your bug reports will be in stored in Wunderlist – your home base.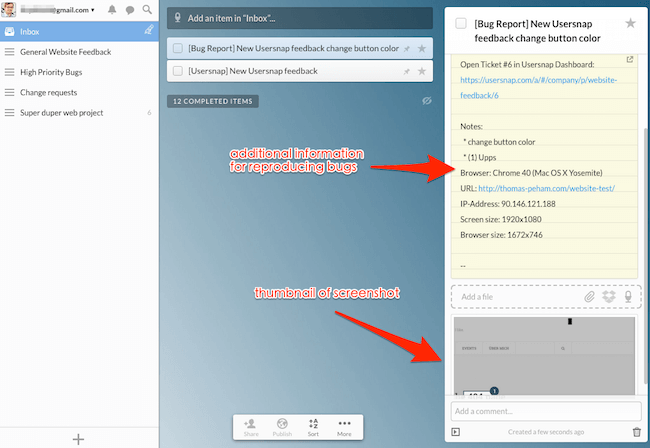 All screenshots and bug reports will automatically be sent to your Wunderlist inbox. I recommend creating different lists for the created bug reports – e.g.: "High priority bugs", "bugs", "change requests" and "general feedback".
We're done!
Collecting website feedback and getting testers for your new site isn't that easy, especially if budget and time are your enemies. Working as a freelancer on small projects, it absolutely makes sense for tracking website bugs and collecting website feedback within your task and to-do app Wunderlist. All your to-dos and tasks will be saved in one place, which helps you to be even more productive.
Are you using Wunderlist or any other to-do list for keeping track of your website tasks?
This article was brought to you by Usersnap – a visual bug tracking and screenshot tool for every web project.