I love to write. For me, writing is a special place where I feel good and happy.
Writing is so much more for me than just the process of writing. It motivates me, it educates me, it inspires me, it connects me with like-minded people.
Just recently, I discovered something pretty awesome. In the last 18 months, I have written 200+ articles. That's 11 articles per month or 2,75 articles per week. It might not sound a lot for some people, but for me it definitely is.
These are the top 7 things I've learned about writing design articles, development tutorials, and reviews on tools and frameworks. I'm grateful for each lesson, and I'm excited to learn more as I continue my journey.

200 articles and still counting…
To be exact, we've published 227 articles on our web development blog. Besides writing for our own blog, I have published dozens of guest posts which have been published on other news sites, magazines, and blogs.
Each post is special to me in its own way. Traveling 18 months back, I had not written a single article in the development and design area. Even worse, as a German native speaker, I had not published a single design or development article in English.
Looking back at that time, I have some vivid memories of how I felt. I was anxious, doubtful and a bit excited about how my future journey as a blogger at Usersnap would look like.
1) Technology changes, and so do you
When I look back on the first articles I've published on our blog, I cringe. I was a newbie to SaaS, had some background in web development and managing digital projects. I had yet to learn a lot about writing styles, grammar, and formatting.
I've once written about how code and people change. And so did my writing.
It's always easy to look back at someone's articles and forget that every one of us evolves and so do our knowledge and abilities.
Looking back helped me to see the progress I've made personally and we made as a whole company. And to be honest, I feel very proud seeing this journey.
2) Writing is about education
There's a lot of content out there on how writing helps you to become better at something. To me, this is absolutely true. Writing helped me to learn many things. No matter if I these are some new JavaScript libraries, Docker or any other development trend.
You never really learn something until you teach it.
(source: https://dzone.com/articles/you-never-really-learn)
For me, this can be applied to writing too.
When you try to write about something new, you have to go through the process of learning in your own mind. You have to understand the information available, you need to sort it out, and organize it in a way that someone else can understand.
I'm a deep diver. And writing helped me to educate myself about a certain topic. Normally the process looks like this: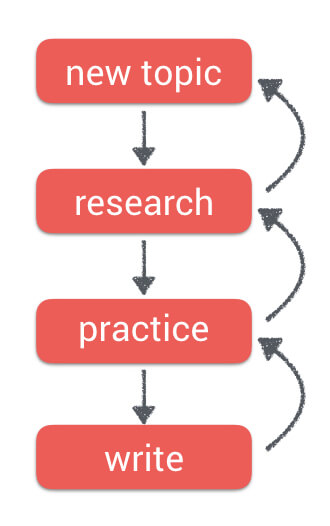 3) Drawing motivation from industry experts
One of the reasons I love to write can be found in the networking part of it. Writing requires you to do your research, meet with new people on a regular basis and exchange thoughts about certain topics.

Meeting industry experts in person and via Skype
Meeting all those industry experts has been such a joy. And it motivated me. It motivated me to write and become a better person in my space.
I'm glad for every single person I've met along this journey so far, and I'm looking forward to all these new people in the future.
PS: If you're interested in web development or SaaS, feel free to contact me for a skype or coffee chat. I'd love to meet you.
4) The web development community is such an inspiring place
Being a developer in 2016 is great. Not only is there so much great content out there on how to become better at what you do. There's also such an inspiring community out there to help you along the way.
No matter if you're looking for great web development newsletters, podcasts, or blogs, I highly recommend connecting with like-minded people.
Public Slack groups (like these ones) give you access to so many incredible people.
5) Release early, release often.
When I started out at Usersnap, my biggest fear was to be criticized for something I published. And that thought hindered me in my writing as I was afraid of the first bad comment on my post.
Over time, the agile approach of releasing early and often started to fascinate me. I forced myself to "ship" everything I wrote earlier and earlier.
Don't get me wrong, there were some failures. And there will always be failures. However, I learned a massive amount about web development and it gives me much more inspiration.
Simply be pushing myself out of the comfort zone and publishing articles as early as possible.
6) All in for feedback
Feedback is super important for my writing. If I don't spend enough time on a draft, I overlook typos or other issues. Having someone read over my writing helps me to clean up my words.
We at Usersnap follow the rule that nothing gets published without the check of someone else who is not the author of a piece.
But feedback doesn't stop at the release. Feedback from our readers, the community, and other people is as valuable as internal feedback.

PS: If you ever have any feedback on one of my posts, feel free to reach out to me. I'll reply to every single message.
7) No question is dumb.
We've all been there. Situations where I felt insecure or uncomfortable and therefore kept my mouth shut. I should have known better.
When you look back, you'll regret the things you didn't do. More than the ones you did.
It's the same with questions. Only asking a lot of question will help you to learn. And when I learn about new technologies, frameworks or methodologies I try to ask a lot of questions. Also asking various people in certain industries helped me gain deep insights on the new topic I was researching about.
BONUS tip: A best of 200+ articles
The time has come for a roundup of the best development and design content that our blog has to offer. So, here comes a collection of the best and most popular articles.
23 amazing lessons learned from interviewing the world's top developers
It's been super fun and interesting to interview all those creative minds and personalities. In this blog post, I summarized some of my top takeaways.
12 web development trends for 2016
Being already halfway through 2016 it's funny and interesting to look at this article including some interesting predictions and trends for 2016.
Lessons learned from relaunching our website
Relaunching your website is quite a challenge. The process of bringing our website live has been a crazy ride with so many lessons learned.
User Acceptance Testing – How to do it right!
Looking at the statistics on our blog, this has been the most popular article. I never expected that the topic of UAT will be so interesting for such a broad audience.
Thank you!
Before I'm closing this article. I'd like to thank you for reading our blog posts. I've had lots of fun sharing this with you. Thank so much for being such a great reader!
Last but not least: This would not be possible without Usersnap. Usersnap is the company I work for. Did you know we build amazing products here at Usersnap? For example or bug tracking and testing solution Usersnap. Make sure to check it out. It's totally free for 15 days.
Capture feedback easily. Get more insights and confidence.
Getting feedback has never been easier and we hope you've realized that after reading this article. Let us know what you think, your feedback is important.
And if you're ready to try out a customer feedback software, Usersnap offers a free trial. Sign up today or book a demo with our feedback specialists.