As developers and designers we are directly or indirectly involved in the marketing side of our business.
Marketing is an essential part for us as digital workers.
So we invited our friends at Brand24 to give us and our audience some how-to examples on how we can boost our marketing efforts in order to gain more customers or build better relationships.
What Is Social listening?
Social listening is the process of monitoring the Web for mentions of a brand, product, name or any subject specified by the keywords. Data is collected from a number of sources, including social media, popular websites, news sites, forums, and blogs.
The beauty of social listening lies in the fact that it can be used by businesses of all sizes and across all sectors, and possible applications of social listening tools vary depending on the size of your business and your area of expertise. In fact, regardless of whether you're a digital agency professional, freelance web developer, or a startup, there's a lot in store for you.
At Brand24, we provide instant access to mentions across the Web, and there's so much you can do with that kind of data. Let me give you a few industry-specific applications of social listening based on real projects of our customers.
Digital Agencies
Adding social listening to a list of services offer allows digital agencies to provide a more comprehensive (and data-driven!) customer experience. In fact, digital agencies account for a large part of our customers. While some monitor only a few keywords, others monitor hundreds of keywords for clients they work with.
SOCIAL MEDIA MANAGEMENT & CRISIS MANAGEMENT
You can start from monitoring your customer's brand, official twitter handle etc. – this is super useful as you can use monitoring to spot a problematic issue the moment it arises to prevent social media crisis. Social listening tools can send you storm notifications in the case of suspicious activity, and remember that the faster you reach out to make a comment, help, or apologize, the less likely you are to experience a full-on social media outrage.
BUILDING RELATIONSHIPS
Timely reactions to customer questions, comments, and user generated content (i.e. images of your client's product in its natural habitat) help you build rapport with your customers. Here's a cool example of what you can do if you're an agency working with a client like Zortrax: all you need to do is find user generated content you could comment on (and Zortrax are great when it comes to their social media strategy – here's a case study if you would like to find out more):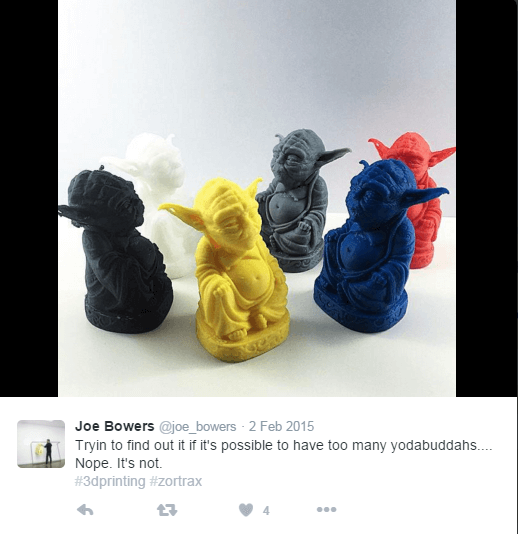 ANALYTICS & MARKET RESEARCH
With social listening, you can measure the effectiveness of your campaigns and make your future activities more data-driven. As an example, you can monitor campaign specific hashtags to verify how your ideas are performing in real life, and more importantly, who they get a reaction from.
Thanks to social listening tools, you can find out who exactly is talking about your client's brand, and discover key demographics such as age, gender, or location. With this knowledge, you can reinvent the communication strategy of your client so that it is in agreement with buyer personas.
SALES
You can also use your data to leverage sales, e.g. in onboarding new clients. One of the ways to do that would be to show them the potential they are missing out on – e.g. by presenting real-life tweets or Instagram pictures featuring their product which go without any comment from them.
SELLING YOUR IDEAS
Having access to such detailed, quantitative and qualitative analytics makes it much easier to persuade your customers to trust your ideas in the long run. If something works out (or not), you have analytics to prove your point.
COMPETITOR ANALYSIS
Another way to look at it would be to monitor your client's competitors to see what they are up to (and possibly follow suit whenever profitable). I am not saying you should imitate the competition all the time, but thanks to your mention statistics, you can see which campaigns worked for them and which didn't without having to try everything first-hand.
Web Developers
PERSONAL BRANDING
Monitoring industry-specific keywords allows you to establish yourself as an expert, and you can do that in a number of ways. Look for places where people say they have a problem related to your area of expertise. Offer to help by providing to-the-point, solid advice, or tell them where to look for a solution to their problem (e.g. suggest reading resources). Make sure that you are as far off from pushy sales talk as possible when you join a conversation.
Setting up a project monitoring your keywords of interest allows you to save time on looking for places where you can share your expertise (which you'd otherwise have to do manually) and prioritize where you want to take action.
Here's an example from Reddit: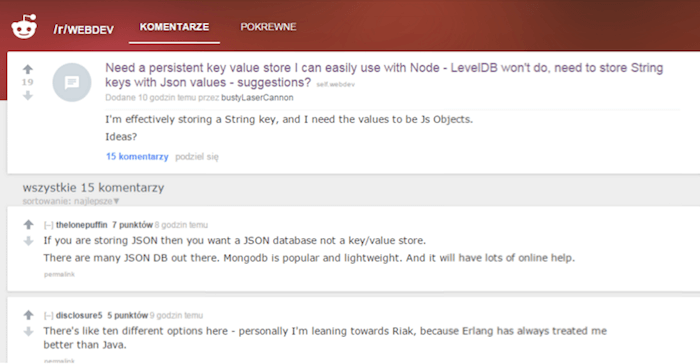 Another thing you can do is engage discussion on updates and industry news – make sure your name pops up in this kind of places. Be the first one to answer questions and comments of less experienced professionals to position yourself as a tech-savvy professional.
SALES
You can also monitor industry-specific keywords to look for work directly:

DESIGNER RESOURCES
Social listening allows you to stay on top of your game – as a web dev, you're probably constantly on the lookout for ways to improve your skills and get inspired. You're also most likely trying to find valuable designer resources such as mockup psds.
Here's a sample project which can help you keep an eye on new resources.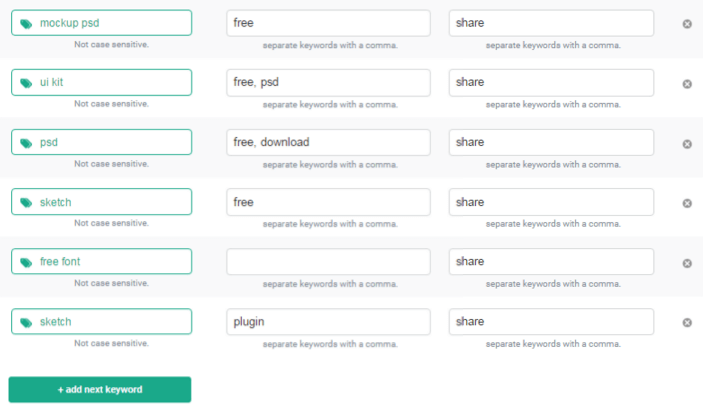 Start-ups
BRAND AWARENESS
Social listening tools should be used to increase brand awareness and reach companies need to take off. This holds true especially for companies offering products and solutions to niche problems. For them, identifying all places where the community likes to hang out is a must.
SALES
Find out where your potential customers typically hang out, and get in touch with them. Although we're already past our startup times, we're still doing that to get more customers. Here's a couple of examples from our Community Managers:
Gloria Ziencina-Kawula, our Quora Queen,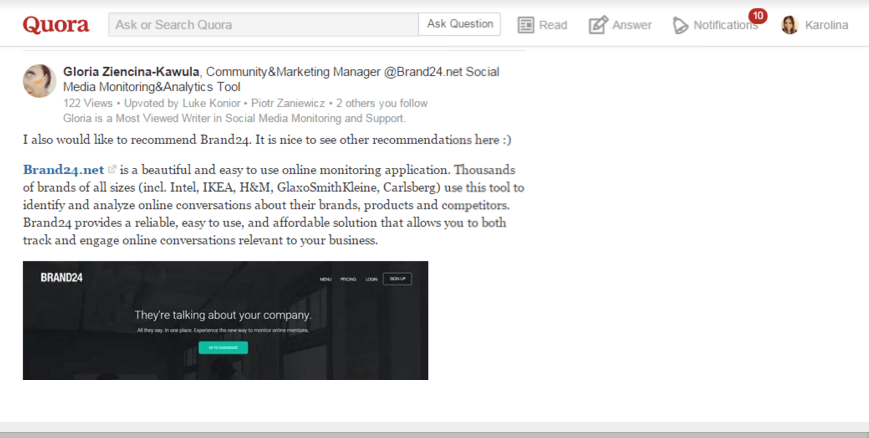 and Jakub Rogalski, who lives and breathes Twitter: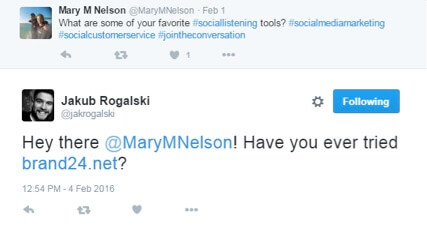 MARKET RESEARCH
If you're a software startup, you're likely hoping your tool solves an existing problem your customers are facing. Do you know the scope of the problem you are trying to remedy? Social listening puts a qualitative face on quantitative data, so you can really get to know your prospects and their problems.
FEEDBACK
Social listening is probably one of the best tools for getting feedback. Questions steer answers, and in most cases, impartial conversations are already taking place on social media. In other words, people are already sharing stories, all you need to do is be willing to listen to them and use these insights to figure out what your users need.
IDENTIFY PROBLEMS
Once you launch, it's likely your customers will come across problems. When you find mentions of bugs or other problems, assign the issue to your development team ASAP. Take the time to respond in a friendly, informative manner.
Here's a great example from the SaaS sector:

Conclusion
Social listening tools come with a wide range of options, including social media management, competitor analysis, getting feedback, and leveraging sales, to name a few. Due to their versatility, the can be used across departments of a company, and from our experience, one tool can be used in completely different ways by two people from the same company.
Has your company ever tried social listening? If you want to try it out first-hand, visit our website and sign up for 14-day trial account for free! Then if you like it, go ahead and redeem a special offer just for Usersnap blog readers to get 50% off any subscription plan for 3 month!
Looking forward to hearing your thoughts in the comments section below!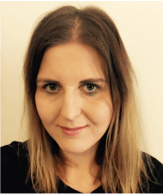 About the Author:
Karolina Piwiec is the Head of Content @ Brand24. Passionate about blogging, content marketing, and social listening. Avid reader & peanut butter fanatic.