Keeping the marketing website flawless while agilely renewing the content is not a one-man job! But when many stakeholders are involved, it's difficult to streamline the suggestions and issues. That's why Dynatrace added a website feedback widget to make it easy to send in feedback and triage tasks.
Meet Dynatrace's website team
Dynatrace is the leader in modernizing and automating enterprise cloud monitoring using an all-in-one AI-powered platform. Dynatrace provides answers, not just complex data, about the performance of applications, the underlying infrastructure, and the experience of users. Over 1400+ enterprise customers trust Dynatrace to streamline their cloud operations and deliver unrivaled digital experiences.

The website team of Dynatrace works closely with the marketing team to offer the most valuable information and solutions to website visitors. While the documentation team works closely with platform end-users to provide comprehensive documentation and help pages.
In a global organization with over 2000 employees, an easy to use and streamlined feedback process, such as Usersnap's tool, is essential to scale up internal feedback exchange.

Gerald Haydtner, Web & Online Marketing Manager
How their website feedback widget works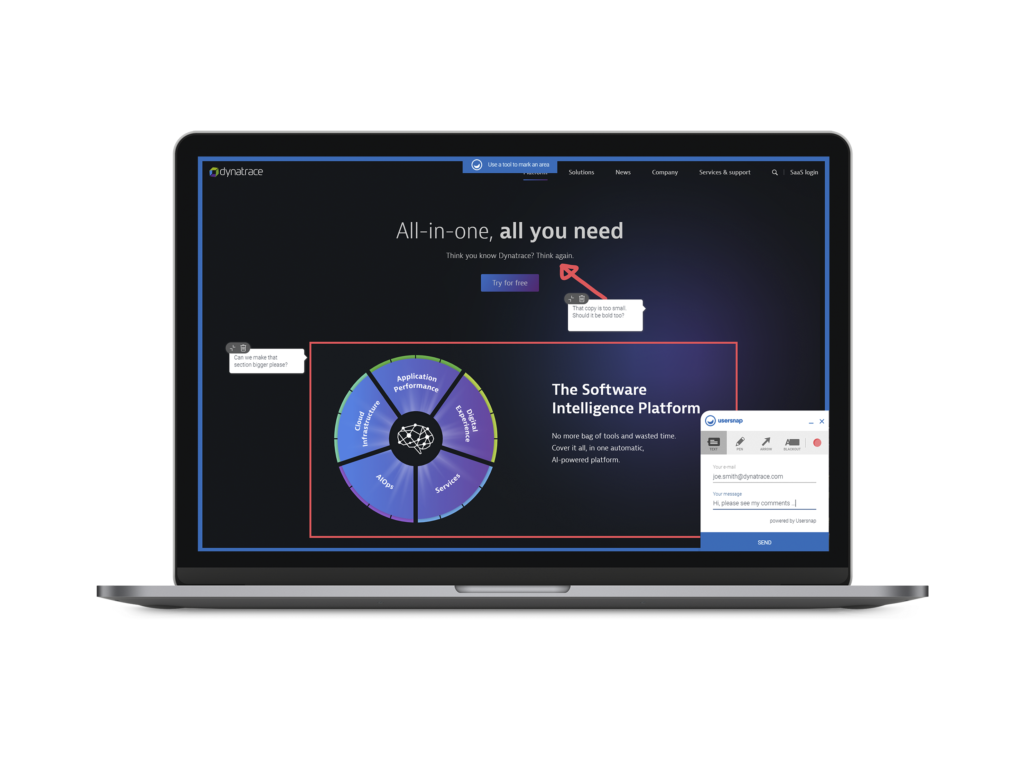 Usersnap's website feedback tool is built directly into the Dynatrace website with a simple script. Now there is no need to go through third-party email or messaging applications to send and receive suggestions, requests, bug reports and other feedback.
Intuitive visual elements, instead of wordy feedback
All of Dynatrace's website relevant stakeholders can quickly submit website feedback by clicking the onsite feedback button.
‍
The website widget allows for screen recording, screenshots and making annotations with the cursor. You can draw and pin comments on the exact area that you want to share feedback. Visuall feedback is an advantage to ensure clear communication in the communication and troubleshooting process.

Feedback attached with accurate metadata (URL, browser info, javascript errors)
Each feedback item will have the metadata of the user environment automatically attached. The console log errors are also recorded. Further custom data, such as user ID and system version, can also be configured in the project settings easily to automate transferring the needed info. Now the website marketing team can better understand bug reports and recreate the environment to conduct testing.
It also relieves the less technical stakeholders in filling out a long form of data points. Usersnap uncomplicates standardizing tickets and allows website developers and designers to access necessary data easily.
Project management and internal communication made easier
Usersnap's dashboard allows the website team to track feedback items as tasks. The marketing manager assigns each feedback to the appropriate team member and labels it for easier search and filter needs.
Within the dashboard, the live conversation and activity log also makes communication and status tracking streamlined and fast. Collaborating on the Usersnap dashboard has helped the website team resolve tickets in a more timely manner.
Usersnap makes managing website feedback a breeze. The set up is really easy.

Gerald Haydtner, Web & Online Marketing Manager
After fixing an issue, closing the feedback loop with internal employees and colleagues who submitted the feedback was another time-consuming task that the team found challenging. Usersnap's conversation function offers more than on-dashboard communication but also replying outside of the team. Just switch from "notes" to "reply" to send an email to the feedback reporter.
Next step: survey customer feedback
With a modern and elegant design to the Usersnap widget that fits perfectly with Dynatrace's new website and product design, as well as so much success utilizing the feedback platform internally, Dynatrace is looking to get more customer feedback from its product end-users very soon.
The team is looking forward to being able to quickly and easily collect user feedback such as NPS and use micro-surveys to understand user experience through a feedback widget.
It's your turn to streamline website feedback
Usersnap provided a streamlined solution that works perfectly for Dynatrace internally to collect feedback on its website. By implementing our visual feedback tool, the Dynatrace team has been able to ensure they are presenting the best and most valuable information to their target customers – those looking for comprehensive cloud monitoring.
Now it's your turn to transform your website marketing team's communication! Try out Usersnap's visual website feedback widget for free.
Capture feedback easily. Get more insights and confidence.
Getting feedback has never been easier and we hope you've realized that after reading this article. Let us know what you think, your feedback is important.
And if you're ready to try out a customer feedback software, Usersnap offers a free trial. Sign up today or book a demo with our feedback specialists.