A while ago, we published a collection of great web development blogs for developers. Since then, some web designers have approached us and suggested further blogs, specifically, web design blogs worth following.
So this time, it's all about web design.
We've collected some of the best web design blogs around for you. Now go grab a cup of coffee and enjoy reading.

Get started with web design
It's not easy to stay up-to-date on the latest web design trends, news, and tools. Therefore we put together our heads and curated this collection of 24 amazing web design blogs you should be following right now.
Besides those web design blogs, we also collected some web design resources which you should check out too:
Now, let's take a closer look at the best web design blogs to follow.
1. Smashing Magazine
I already mentioned Smashing Magazine in our collection of web development blogs. But it's also a site which cannot be overlooked when it comes to web design blogs. If you're working on web projects and looking for further useful resources, Smashing Magazine is your go-to site.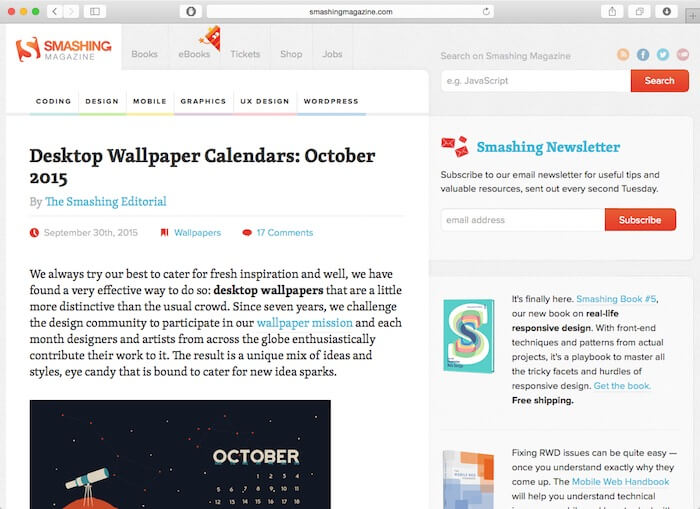 2. Designrfix
If you're a web designer, Designrfix should be in your bookmark list. With its daily dose of inspiration and useful articles, you will not only discover new ways on how to be more productive, but you will also learn a lot new frameworks and methodologies.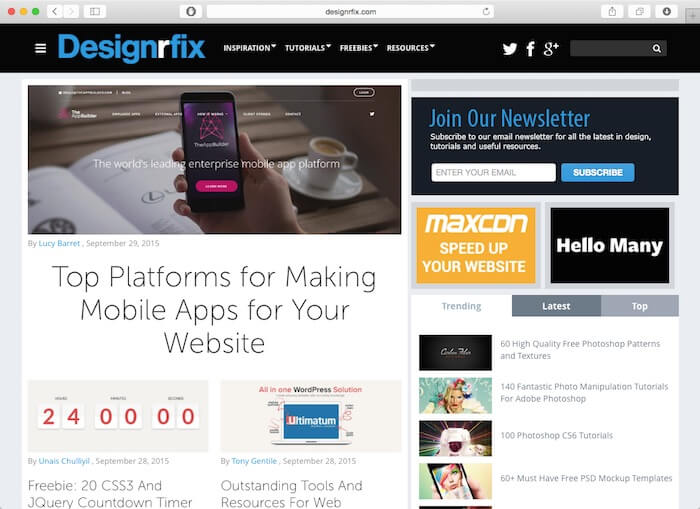 3. web design ledger
Although I'm not that familiar with this web design blog, it's a blog to which web designers often refer to. Besides blog posts on web design and graphics, you'll also find interviews as well as book recommendations there.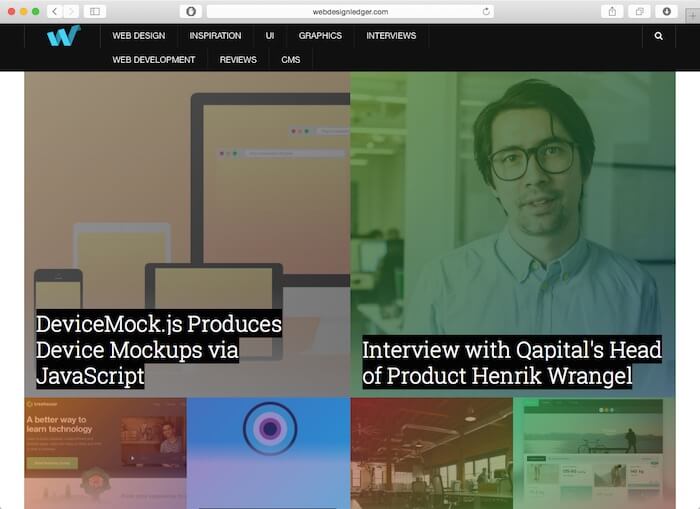 4. InspiredM
Inspired by Smashing Magazine & Wired Magazine, InspiredM was started by Catalin Zorzini in 2014. It's a great resource for web designers looking for inspiration & creativity input.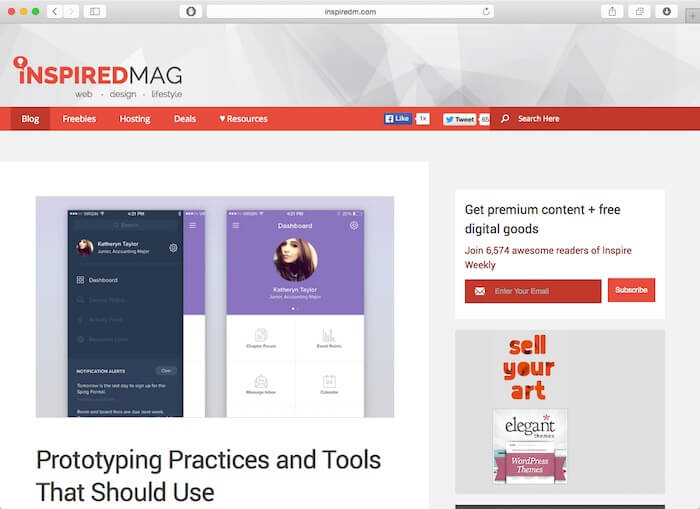 5. Webdesignerdepot
WebdesignerDepot was founded in 2010 by web designer Walter Apai. Since then, WebdesignerDepot has been read all over the world. It contains some high-quality content in web design.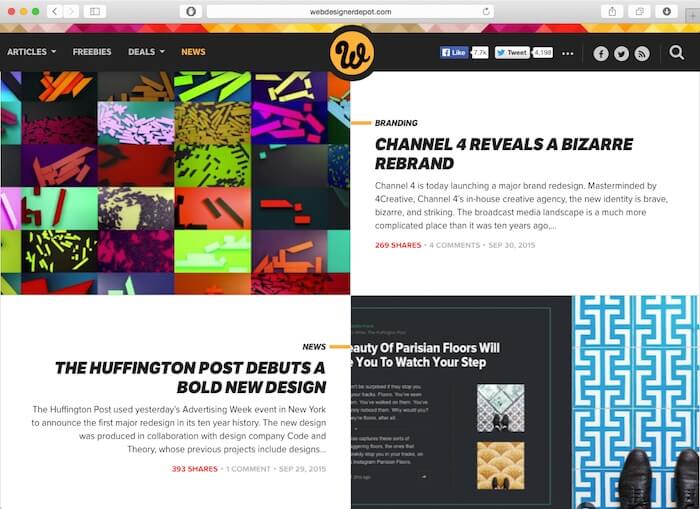 http://www.webdesignerdepot.com
6. A List Apart
A List Apart is a web design blog focusing on various topics in the area of design, web standards and best practices in web design.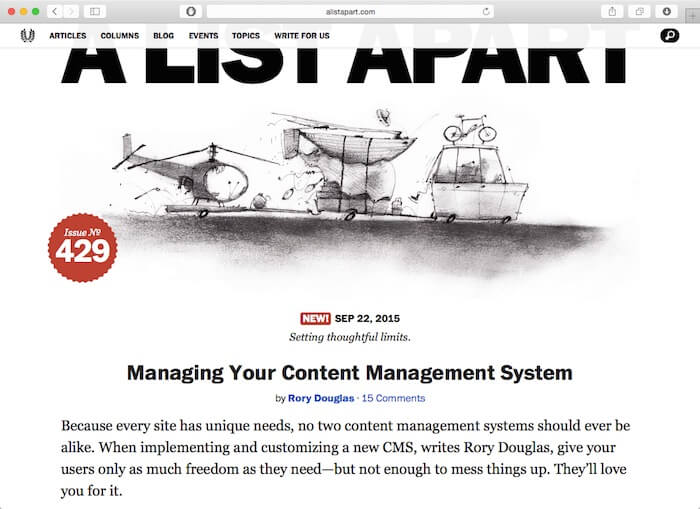 7. noupe
noupe aims to deliver "stylish and dynamic news" for web designers and developers. The subjects range from CSS, JavaScript, web design, to typography & advertising.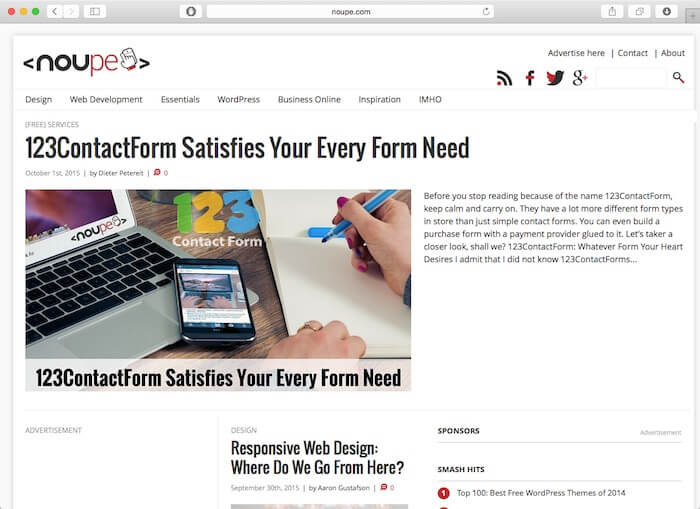 8. 1stWebdesigner
Want to keep your finger on the pulse of the design industry? 1stWebdesigner might be your choice. It consists of a highly active community of web designers and entrepreneurs.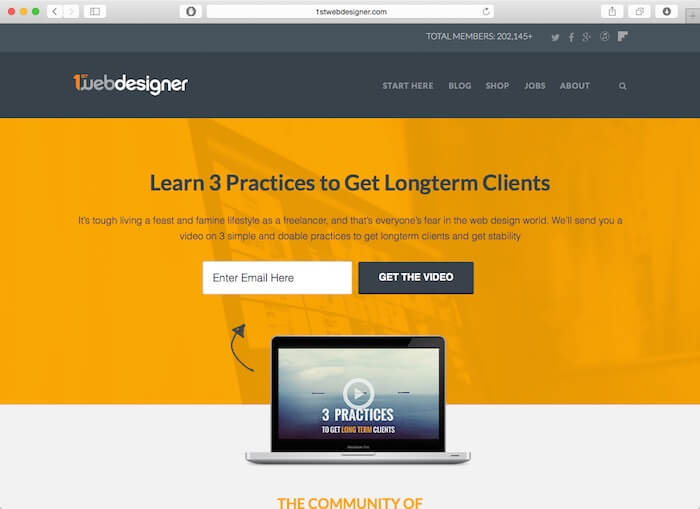 9. Abduzeedo
If you're looking for your daily dose of inspiration, you should definitely give Abduzeedo a try. Though I wouldn't call it a web design blog, it's a great resource for designers of every kind. In addition to its "inspiration section", you'll find Photoshop tutorials and quick tips on the site.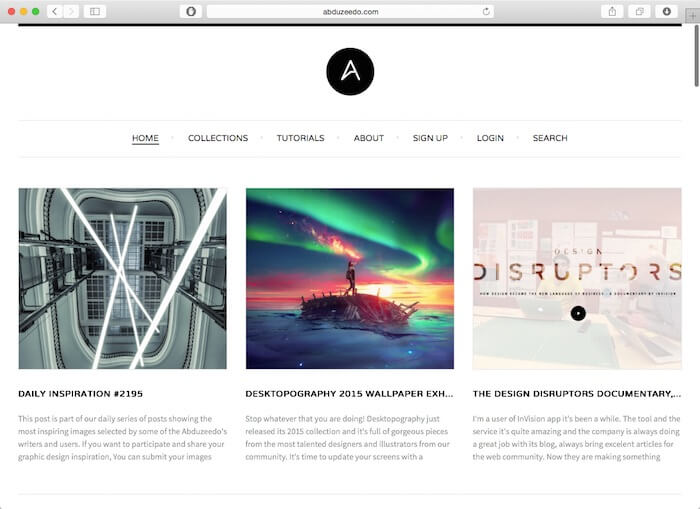 10. codrops
If you are a front-end developer or web designer, you'll find a lot of useful tutorials and code snippets on codrops. Furthermore, codrops also discusses more general topics of web design and how the role of a web designer has evolved over the years.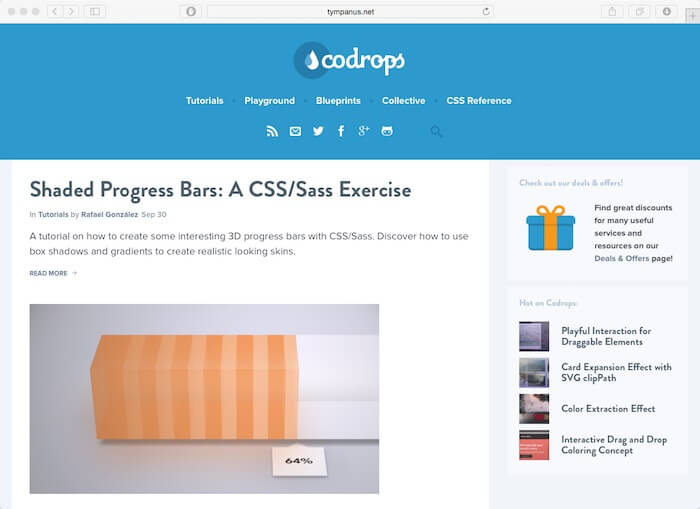 11. Hello Sandwich
This is a blog you'll definitely fall in love with. Hello Sandwich is a personal blog by an Australian designer living in Japan.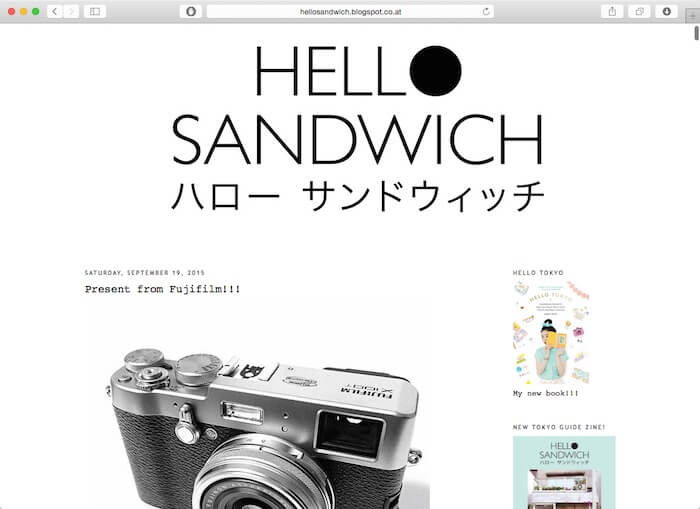 http://hellosandwich.blogspot.com
12. Creative Bloq
If you are working on web projects, you've probably heard about Creative Bloq before. Using a fresh and unconventional style, it addresses topics in the fields of graphic design, web design, 3D and digital art.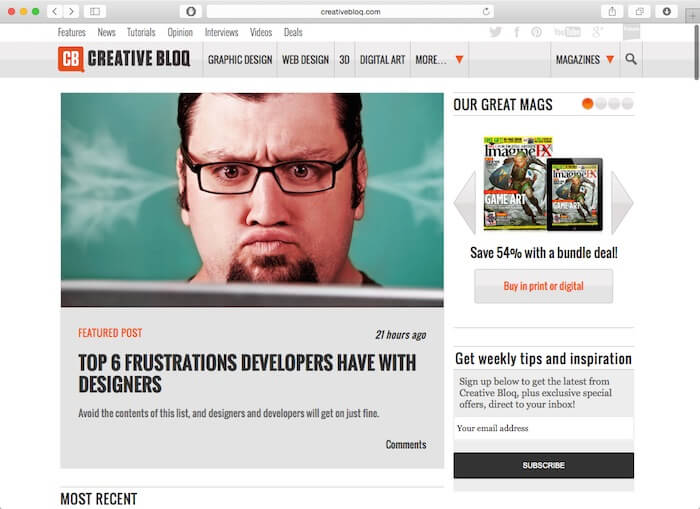 13. design shack
If you are looking for business-related articles as well as design-orientated content, you will probably like design shack. It covers everything from freelancing tips to CSS hacks which will help you to craft better web designs.
14. Design Instruct
Design Instruct is a classical web design blog. It addresses various topics in the web design area. From typography, to templating, to illustrations.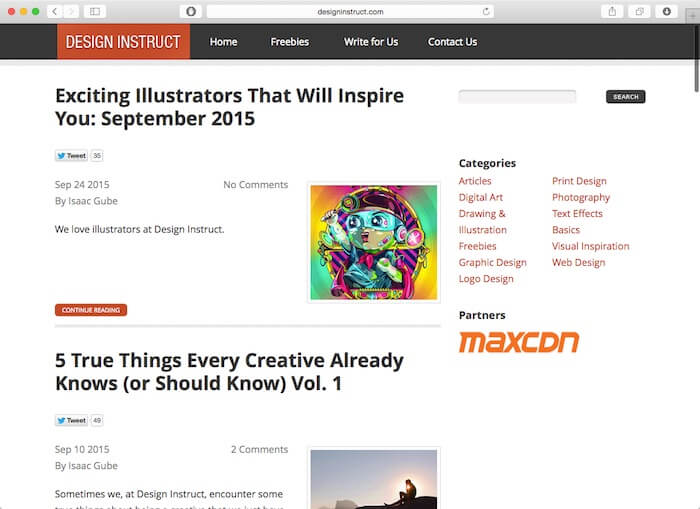 15. DesignM.ag
DesignM.ag is a popular blog for web designers and developers. The site includes a blog, a community-based news section and a web design job board.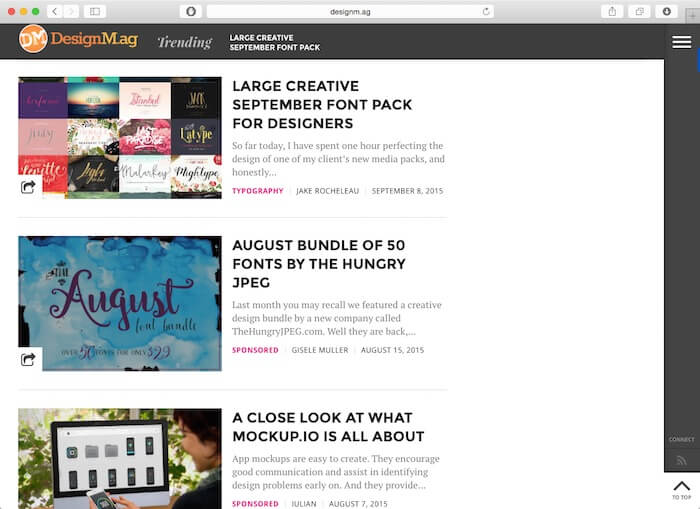 16. designmodo
designmodo is another – yet interesting – web design related blog, covering everything you need to know when it comes to responsive web design, app design or simple UX related topics.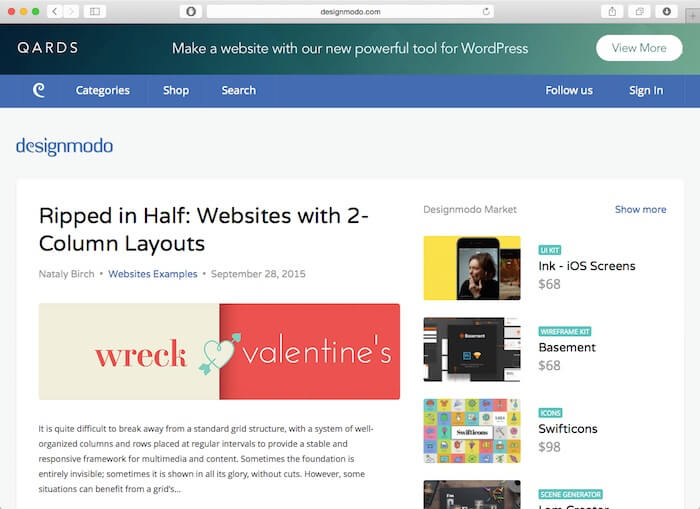 17. FastCo Design
FastCoDesign is a sub-blog by the well-known media site FastCompany. If you are looking for some inspiration or some variety, you'll definitely stumble upon some interesting articles here.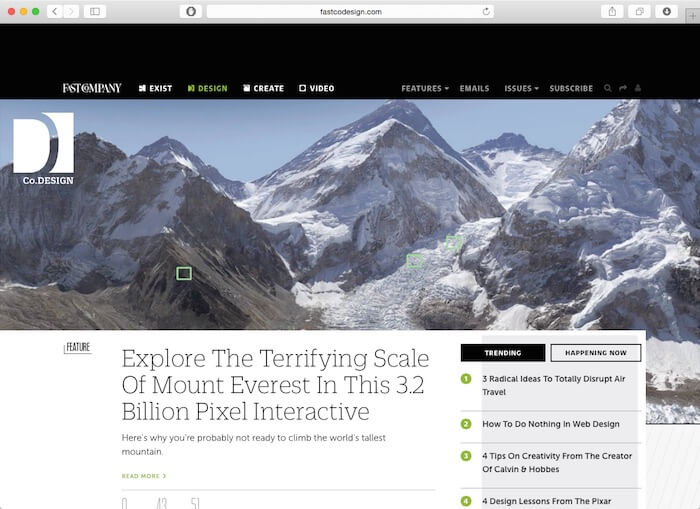 18. Onextrapixel
Although OXP is not a pure design blog, we had to include it in our collection (our web designers insisted 😉 ). Onextrapixel calls itself a web magazine "sharing useful resources and latest news on web design, development and more for every web professional".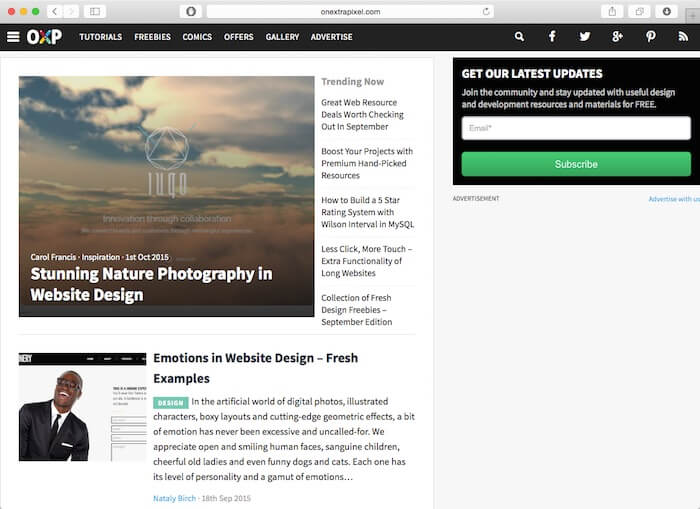 19. CSS-Tricks
CSS-Tricks is a web design & development blog by Chris Coyier. Besides interesting design articles and videos, you'll also find code snippets, an almanac and a web design forum there. It's definitely a great resource for web designers and front-end developers.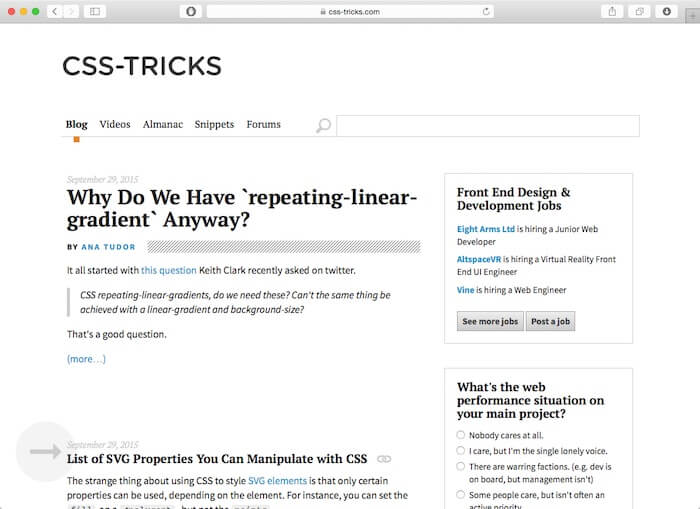 20. Webdesign tuts+
You probably heard about tuts+ before. With it's own web design section, tuts+ is a great place for web designers as well as web developers. You can find interviews and reviews as well as How-to's and getting started articles on the blog.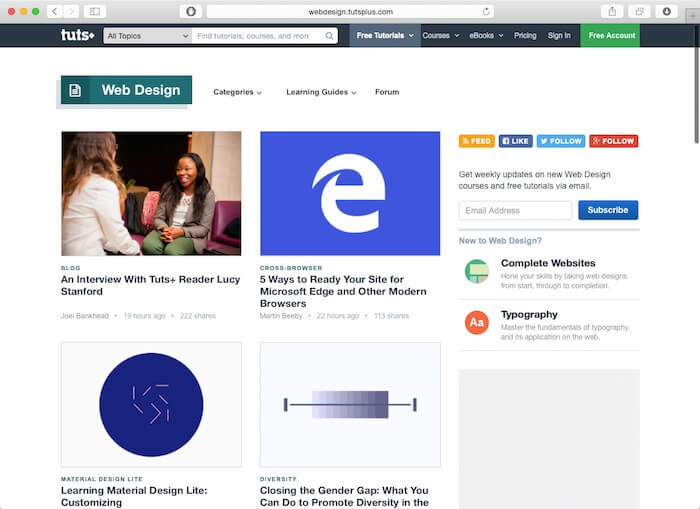 21. Hacking UI
Hacking UI is an interaction design and front-end development magazine. It was founded by Sagi Shrieber (designer) and David Tintner (developer). Therefore, you'll find a good mixture of design- & development-related articles here.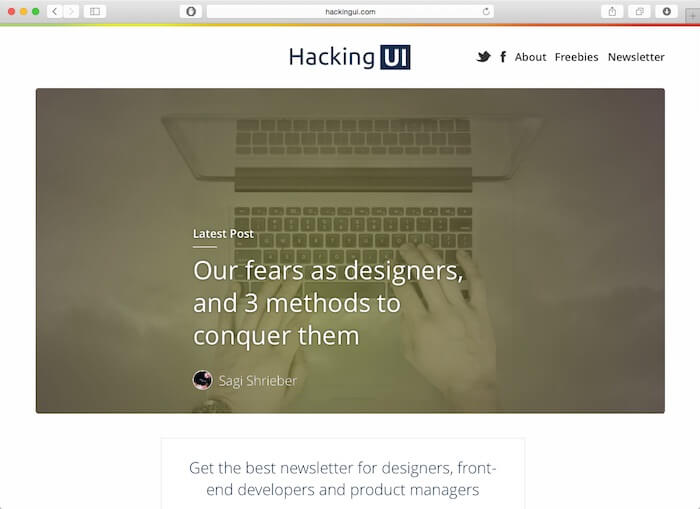 22. Create Top-Notch Websites
Just recently I stumbled upon this web design blog. Basically, you can everything you need for creating great websites in this blog. Practical tips, guides and latest news about current web design trends will help you to build better websites.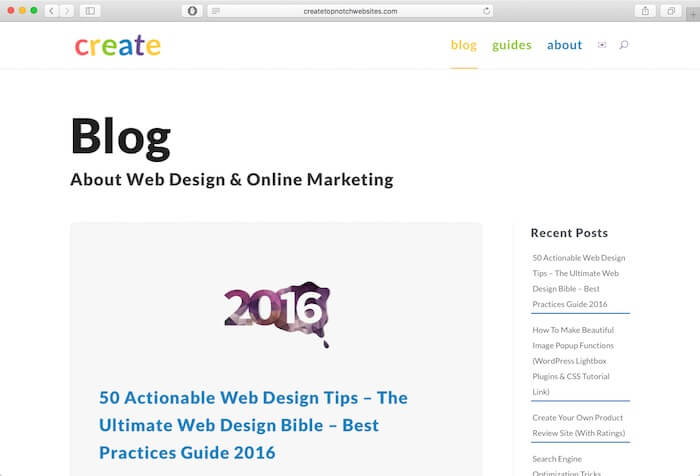 http://createtopnotchwebsites.com
23. Swiss Miss
Swissmiss is a design blog run by Tina Roth Eisenberg. If you are looking for some design inspiration or simply need a 5-minute break from work, Swiss Miss offers some inspiring + interesting content for you.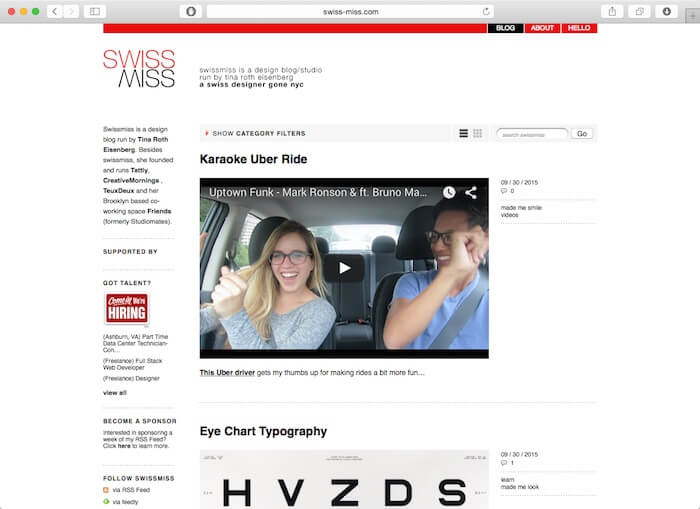 24. Material Design Blog
The MDB is all about material design, whether it's about apps, templates or websites. Every day, you can find new design inspiration & best practices on the blog.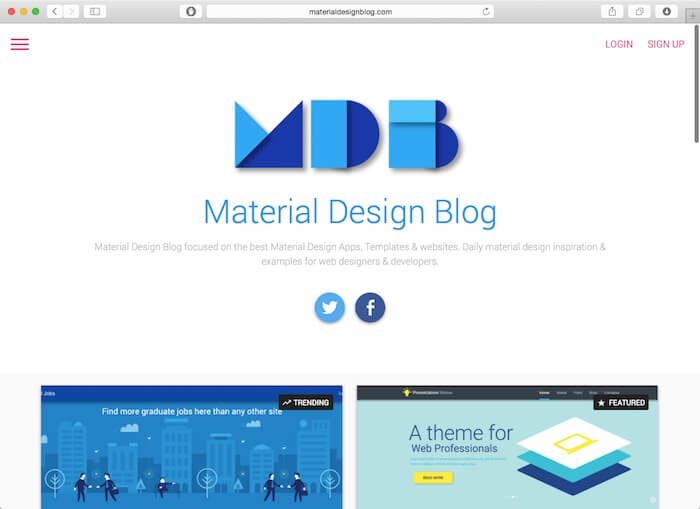 Wrapping it up.
I know this was quite a lot and probably way too much to consume in one day. But I really recommend to browse the mentioned web design blogs and take a look for yourself. I am pretty sure one or two will make their way to your bookmarking list.
I know, I just talked about the best web design blogs. Last but not least, I just wanted to give you a heads-up on Usersnap, which is our very own user feedback tool, used by SaaS companies like Canva, Instacart and some others. Feel free to give it a try. It's free for 15 days.

If user testing isn't part of your business. No worries. That's fine. However, you might enjoy our email list full of design tips, development tricks, and tech news.
Capture feedback easily. Get more insights and confidence.
Getting feedback has never been easier and we hope you've realized that after reading this article. Let us know what you think, your feedback is important.
And if you're ready to try out a customer feedback software, Usersnap offers a free trial. Sign up today or book a demo with our feedback specialists.