Trello is a fast, easy way to organize anything, from your day-to-day work, to a favorite side project. Because of Trello integrations, it's everywhere – on Android, iPhone, iPad, Windows 8 Tablet, and your web browser, making collaboration easier.
Usersnap integrates well with Trello, assisting you in collecting and discussing feedback between developers, customers and quality assurance engineers. Let's see how.
🔥🔥🔥 need the full skinny on customer feedback? you're in luck: come check out our ultimate guide to customer feedback now 🔥🔥🔥
Working on a web project?
Getting annotated screenshots and screen recordings, attached to bug reports will raise a smile on every developer's face. Usersnap allows your testers to provide a visual description of what might be a bug in form of screenshots or screen recordings.

Additionally you will get important information such as the previous browser, the operating system and the URL where the bug has occurred. Your testers can choose between a drawing pen, a highlighting tool and sticky notes to illustrate and annotate the bug report. To enable Usersnap on your web project, then you should include a snippet of code, which is as simple as installing Google Analytics (TM). After that, a feedback-button appears and one can collect bug reports directly into the Trello integrations.
Connect Usersnap via Trello Integrations
First you need to find your incoming email address for your Trello Board. You can find it under "Settings" | "Email settings" of your current board.
Copy the email address and set up the List and Position of incoming Usersnap screenshots in your Trello board: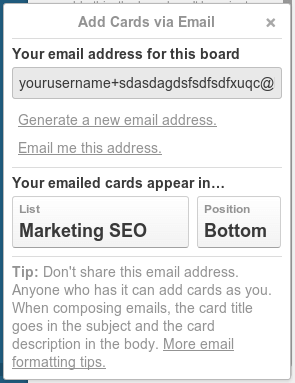 Back in the Usersnap API key configuration, enter your Trello incoming email address in the API configuration. You can set a subject prefix (like "Usersnap feedback") to find Usersnap tickets easier. If your users enter email addresses the ticket is automatically connected to them and you can reply easily within Trello.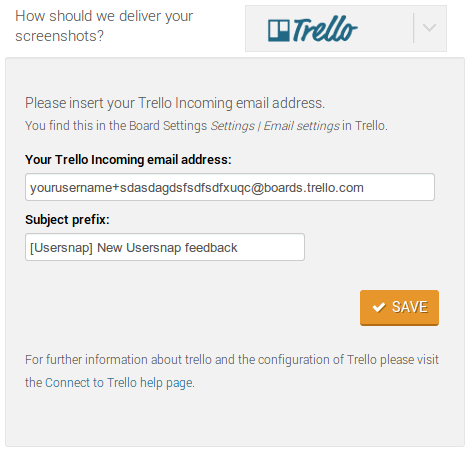 Hit Save to create the new API key for Trello and your design feedbacks and screenshots are now added automatically as Trello cards.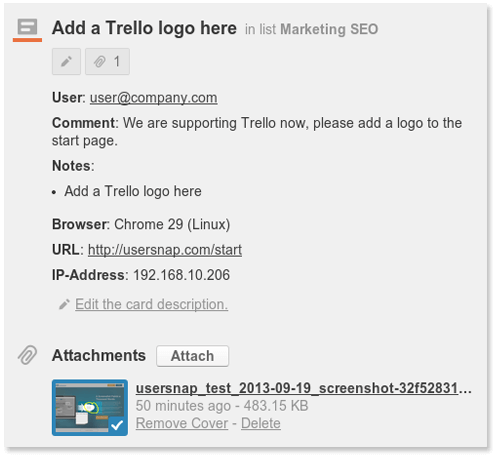 Give it a try
Point-and-click issue-reporting on web projects is always more effective than describing feedback textually. It is also an easy way to collect feedback from people outside of your project team as it's easy to use. Feel free to try out Usersnap in combination with Trello – a 15-day free trial is available!
Please do not hesitate to get in touch if you have any questions. We are happy to help!
This article was brought to you by Usersnap – a customer feedback, screen recording, screenshot, and bug tracking tool for every SaaS company. Try it out for free with your team now, sign up for a 15-day free trial.
Capture feedback easily. Get more insights and confidence.
Getting feedback has never been easier and we hope you've realized that after reading this article. Let us know what you think, your feedback is important.
And if you're ready to try out a customer feedback software, Usersnap offers a free trial. Sign up today or book a demo with our feedback specialists.