Wow. This is some big news.
A couple of hours ago, Slack announced its all new Slack Platform, making it easy to install and connect other apps with Slack.
Here's everything you need to know about Slack's new app directory and why we are a part of it.

Slack: enhance your workflow.
I guess there's no more need to explain what Slack is. Slack is the most trending business messenger right now. Started about 2 years ago, Slack is a prominent member of the unicorn club with a valuation north of 2.8 billion dollars.
There are a lot of things, besides chatting and communicating, that you can do inside Slack: A while ago, I wrote about the how we use Slack here at Usersnap and which integrations are making our life better.
Slack is more than a messenger. The Slack Platform.
On December 15th, Slack made a big announcement. It launched its all new Slack Platform.
With this new platform, Slack enables users to integrate and run apps inside Slack and therefore enable people to integrate Slack deeper within their business workflows. Slack is more than just a standalone chat messenger.
On the day of its launching, the Slack app directory had more than 160 third party apps.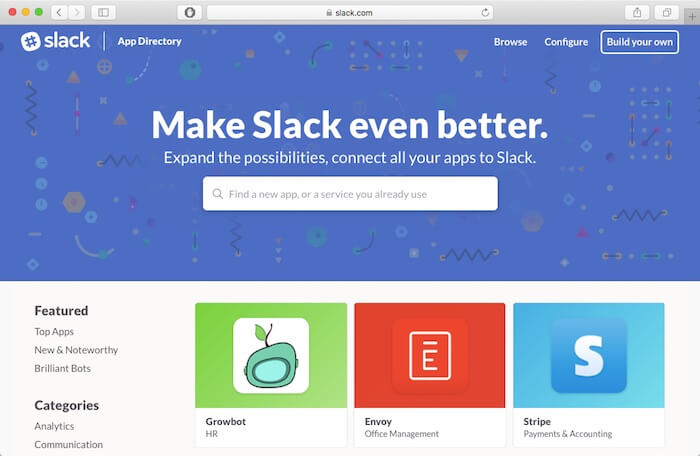 These 3rd party apps can easily be added to your existing Slack groups.
Search for apps inside Slack
Did you know that you can also search for external apps inside Slack? There is actually no need to go to slack.com/apps to find the app you want.
With the command /apps you can search for your favourite apps inside Slack.
The Slack fund: Launching apps on Slack first
With the new app directory, Slack has made a big step towards becoming more than just a chat messenger. Slack wants to become a platform provider.
In line with this, Slack announced a new $80 million fund for developers launching 3rd party apps on Slack.
According to Slack, the fund addresses both, "Slack-first" and B2B and enterprise apps having a slack integration as core of the offered features.
Building an ecosystem around Slack is not only something a lot of developers and product builders favor. It also enables Slack users to connect the tools they are already using.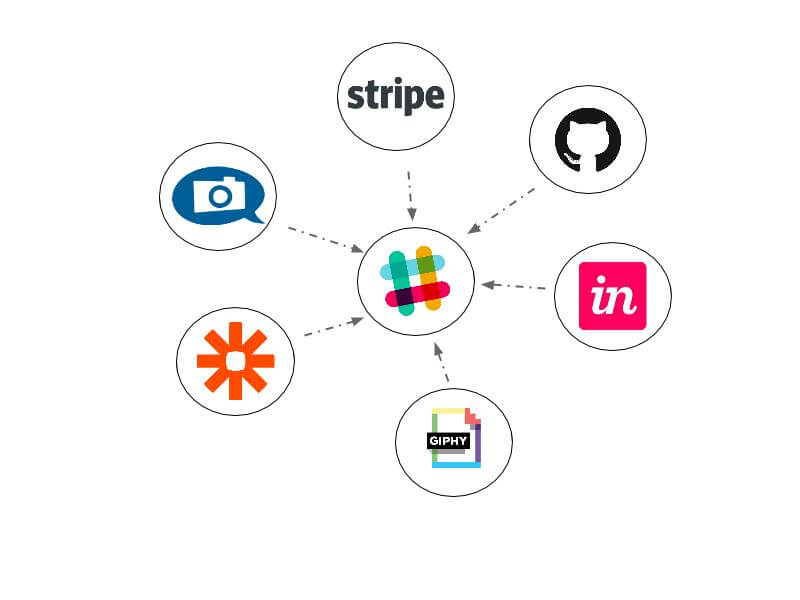 The Slack framework: BotKit
In addition to all the great news, Slack updated various APIs and announced a new framework, called BotKit. In cooperation with the makers of Howdy, Slack wants to simplify the process of creating 3rd party apps.
With BotKit, developers get their hands on a framework which lets them make use of basic features (such as sending and receiving messages).
It remains to be seen how developers will make use of BotKit and what creative use cases will appear on our screens.
Create custom Slack bots
With the release of the app directory, Slack also did a lot of developers a great favor.
Adding a Slack bot to your 3rd party app just became way simpler. Adding a custom bot to your Slack channel was quite a challenge in the past. From now on, users can add bots with just one click.
Learn more in this blog post on how to set up your personal bot.
Why we are part of the new app directory
We've been looking forward to this day for quite some time now. And today, Usersnap is officially a part of the official Slack directory.
This means that you can now easily connect your Usersnap projects with Slack.
You may wonder, why you should do that?
Usersnap is trusted and used by some of the greatest companies in the world. We've seen all kinds of use cases on how people use Usersnap as their feedback and bug tracking tool.
Usersnap is also deeply integrated into a lot of different design- and development-related workflows. These different workflows pushes us to continuously think of ways to get even more out of the existing tool chain you have in place. By integrating Usersnap with Slack, you can improve your feedback cycles while keeping everyone in the loop.
Basically, every time something happens inside Usersnap, you can push that information inside your Slack channels.
When a new bug report is created (super useful to be notified on glitches in your system or on your website)
When someone (eg. your customer) leaves a comment on any ticket
When your developers change the status of any ticket
Sounds great, right? Now go and check out our Slack integration in the app directory.
Great Slack integrations
The big benefit of 3rd party integrations can be found in the connection of software.
The biggest benefit of having 3rd party integrations is the possibility of connecting different software and tools for a more interactive workflow. Connecting Slack with your apps is the perfect example of using systems and tools to improve your productivity.
So I asked some people what their favorite Slack integrations are. And here are the answers I got which include some apps that just launched with the new Slack app directory.
What's your favorite Slack integration?
Wrapping it up.
All in all, Slack made a big move. With its $80 million fund for 3rd party developers, its new app directory, and some other improvements, Slack has really opened up their doors for developers to build great things on and for Slack.
We are really excited to see if and how developers will make use of all these new possibilities.
This article was brought to you by Usersnap, a visual bug tracking tool for every web project. Say hi!
Capture feedback easily. Get more insights and confidence.
Getting feedback has never been easier and we hope you've realized that after reading this article. Let us know what you think, your feedback is important.
And if you're ready to try out a customer feedback software, Usersnap offers a free trial. Sign up today or book a demo with our feedback specialists.