When Instagram started out it was a medium for the youngsters to share images and show what a good time they were having.
It has moved beyond its early adopters to a consumer-driven social media platform and now emerged as a professional's visually driven network.
As a result, a growing number of designers are now taking to this medium to showcase their works.
So whether you're a designer seeking for inspiration or a person looking to share your work, here is a compilation of the best boards to get inspired.
[otw_is sidebar=otw-sidebar-1]
The American graphic designer, art director, illustrator and partner at the Sagmeister & Walsh agency, Jessica Walsh is a name to watch out for on Instagram as well.
With plenty of inspiration as she goes about building brands and campaigns for the web, film industry and more, this is a good place to get inspired with a fresh bout of ideas.
It's no wonder that her follower's list is huge and growing by the day at 192k followers.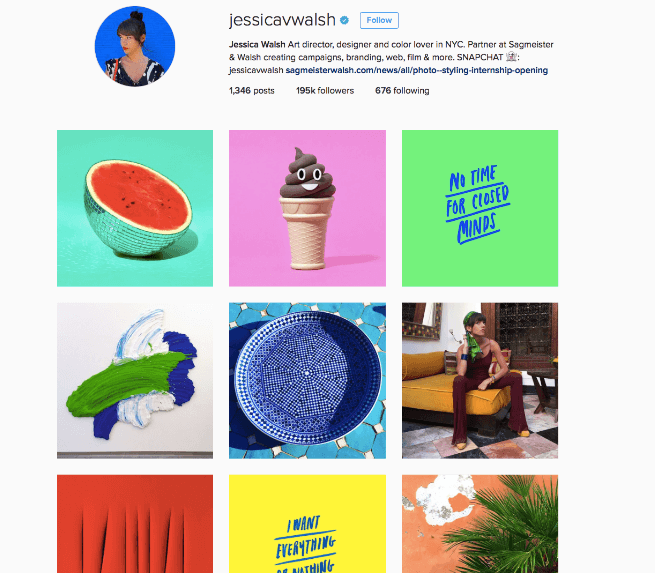 Follow Jessica Walsh on Instagram.
A well-known CSS and HTML expert, Chris Coyier is a designer at CodePen and has a podcast called ShopTalk.
He also has a relatively unknown Instagram account.
If you are looking for a web designer to follow, then you'd want to check out his extremely most popular CSS blogs on the web, called css-tricks.com. With many tutorials and websites to his credit, Chris is constantly out there trying to help designers improve their skills.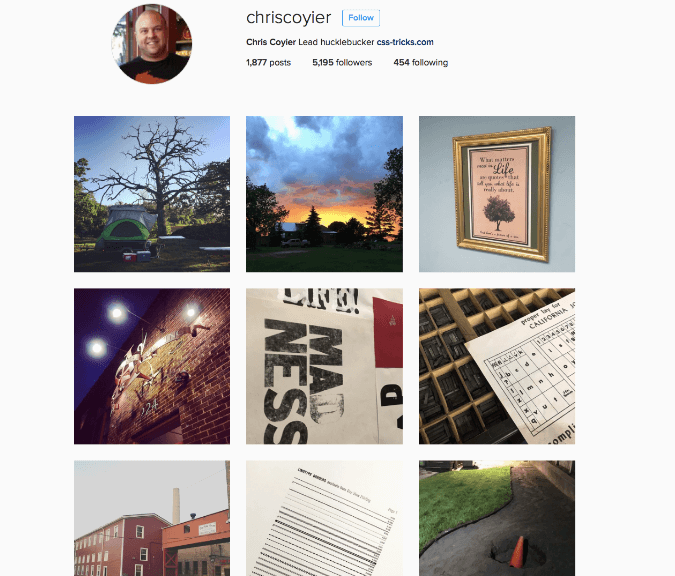 Follow Chris Coyier on Instagram.
When you're looking for color, brilliant animation, and awe-inspiring material, Mike Perry's Instagram feed is the place to stop at.
Calling himself an art entrepreneur, Mike makes paintings, sculpture, animation and other drawings for varied media.
With plenty of vibrancy visible in his work, you might actually recognize some of it at various places. With 59k followers, his posts reflect his working style and eye-catching designs.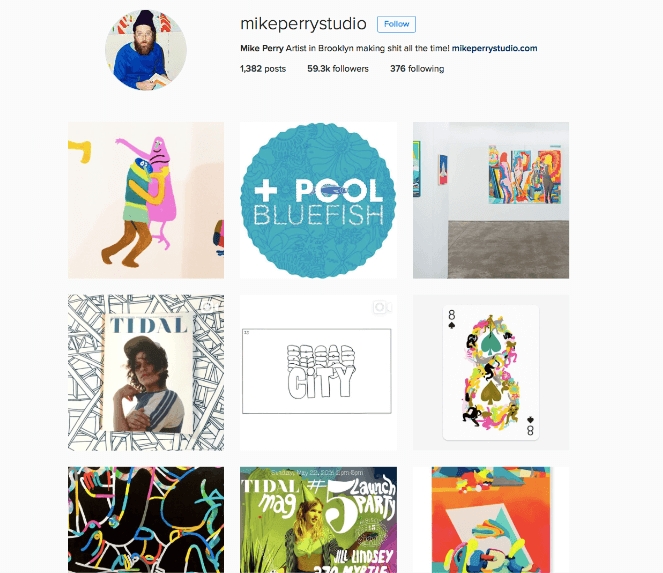 4. @ZELDMAN – Jeffry Zeldman
An extremely well-known web personality, Jeffrey Zeldman is also the author of 'Designing with Web Standards', a must-have for web designers.
He is also the founder of Happy Cog studios' which has to its credit a happy list of growing customers such as MTV and Stanford University too!
His account on the social media site is followed by over 7000 design enthusiasts.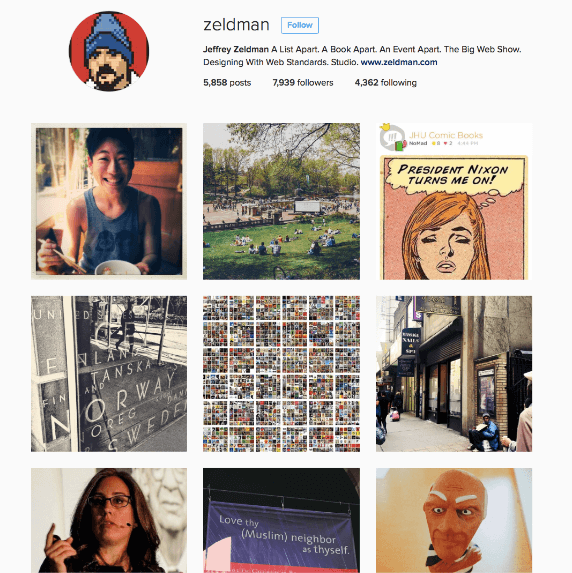 A multidisciplinary designer and typographer, Andrea is based in Copenhagen, Denmark. He is a much sought after web designer, art director, calligraphy expert and brand identity-maker.
Having lived and worked around the world, he is a much sought-after name on his Instagram account as well.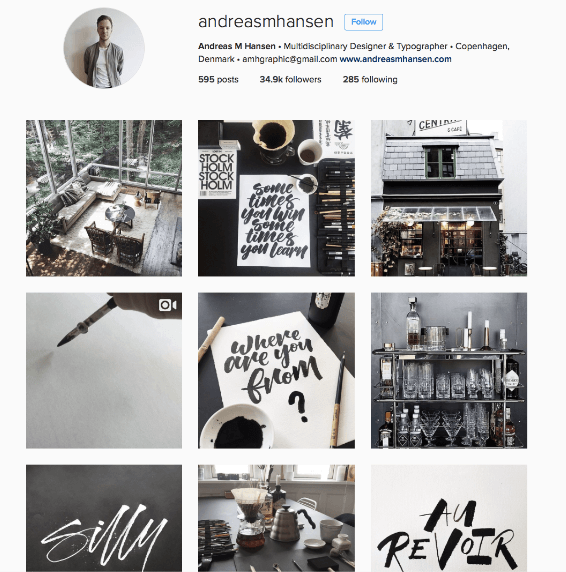 [otw_is sidebar=otw-sidebar-2]
The well-known web-design blog 'Smashing magazine' and its editor-in-chief Vitaly Friedman deserve special mention on this list.
He is a renowned figure in the web design world, and the smashing magazine has grown in terms of resources for web designers. It is available in print and online with some of the world's best web-gurus sharing their views on this platform.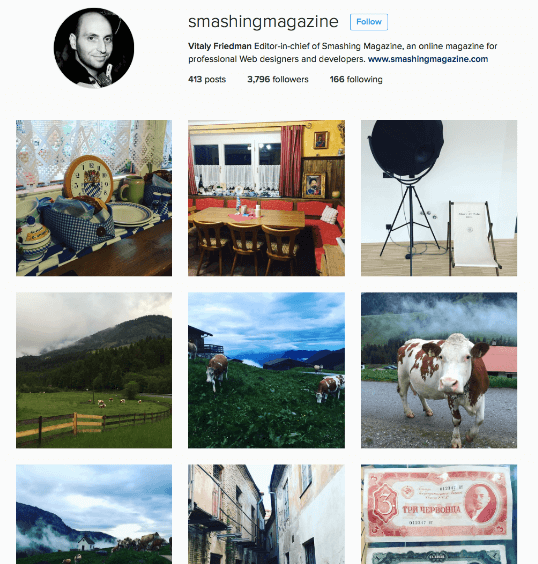 Follow Smashing Magazine on Instagram.
7. @SAZZY – Sarah Parmenter
Sarah Parmenter is another web-designer that you should know of. Known best as a designer of things and founder of many things, Sarah is a user interface designer who designs for the web, iPhone, and iPad.
She is also the owner of the design studio 'You know who' and can be found co-hosting the 'Happy Monday' podcast. Her Instagram is a happening place to be too with 11.1k followers.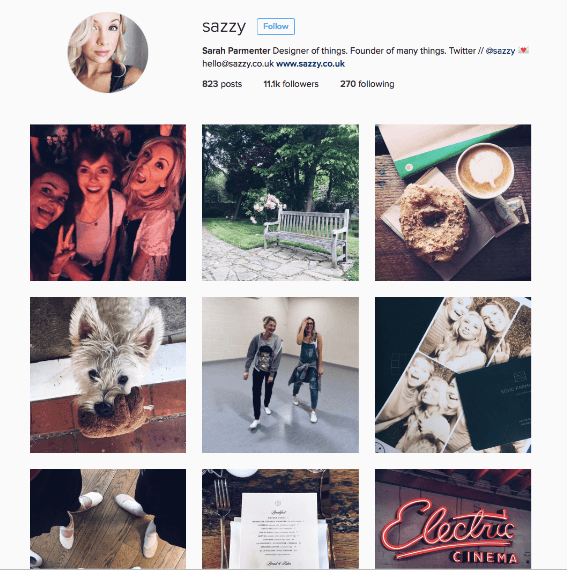 A wonderful graphic designer from Belgium, she is well known for her blog at veerle.duoh.com that is a great informative resource for web designers. She is also known for her work through the agency Duoh! which she co-founded.
On her Instagram account, she shares her bicycle adventures in her beautiful country.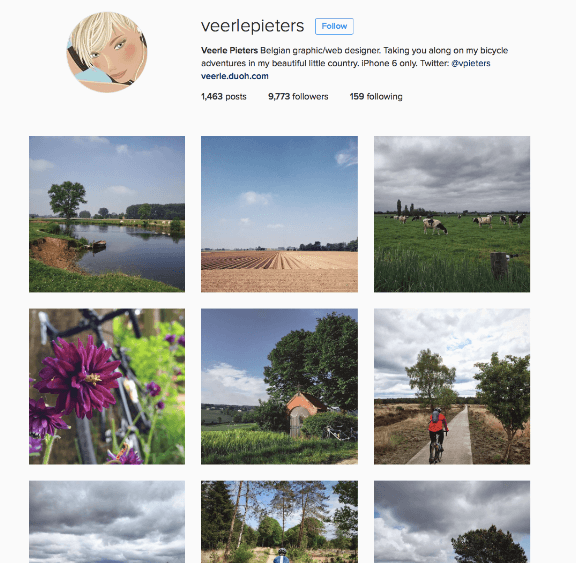 Though he may call himself an amateur Instagrammer, Cameron Moll is a name to watch out for in the web design industry.
A regular at global web design conferences, Cameron is also a speaker and an author too. He is also known for creating a series of typographical poster styles.
A New Yorker, Timothy Goodman is a graphic designer, art director, and illustrator- not necessarily in the same order. With many talents up his sleeve, you can get to see some of his best works on his Instagram feed. He has also received many awards and works for various prestigious clients.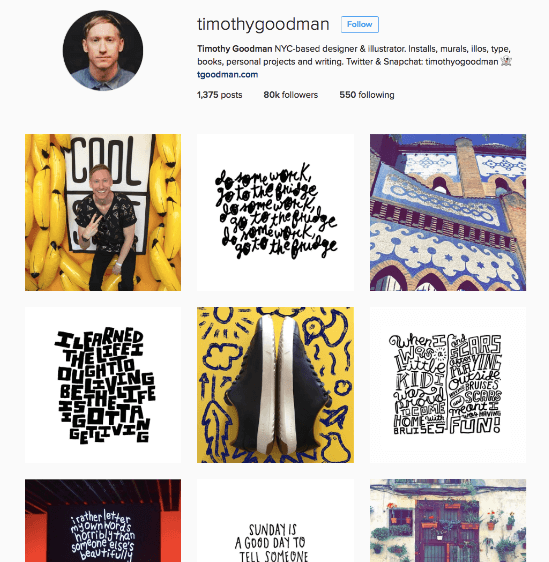 [otw_is sidebar=otw-sidebar-3]
Hey, Studio is a graphic design studio based in Spain. Specializing in brand identity and illustrations, it also has a great Instagram account with a huge following. With plenty of work showcasing the geometric shapes they work on to the latest action, they have plenty to keep you engaged and inspired.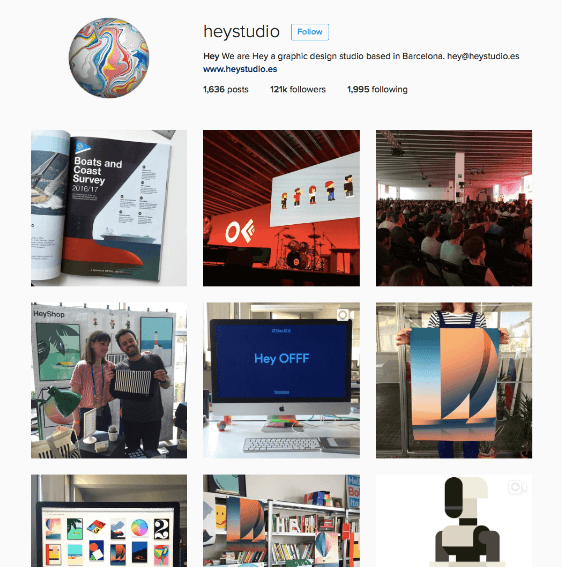 12. @VANSCHNEIDER – Tobias van Schneider
Tobias van Schneider's work is simply impressive.
He is a former lead product designer at Spotify and worked with brands such as Red Bull, BMW and Google. He is also the founder of my beloved weather app, called Authentic Weather. Besides all that he publishes inspiring articles every week.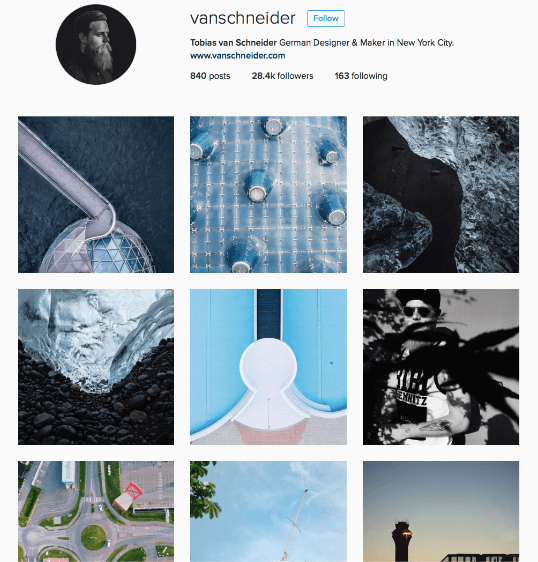 Follow Tobias van Schneider on Instagram!
Luke Choice is an Australian designer based in New York City. He works on 3D, illustration and animation among other things has a prestigious client list he works for.
Going by the name of Velvet Spectrum, his work portfolio, and the Instagram account has a great following thanks to the range of fantastic work he keeps showcasing on the platform.
A dynamic graphic and web design studio, Jen Clark Design specializes in branding and providing design solutions for its many clients. Based in Australia they also have studios in Indonesia. Besides local and national accounts, the team works with international clients as well and has wonderful examples of its work and a vivid assortment of inspiration on its Instagram account to see.
Besides local and national accounts, the team works with international clients as well and has wonderful examples of its work and a vivid assortment of inspiration on its Instagram account to see.
Based in New York, Jon Contino calls himself an 'Alphastructaesthetitologist', a term of his creation, that aptly sums up all that he does. He is thus a great artist, designer, branding consultant and illustrator for different media.
Winner of various awards, his Instagram is a good source for creative inspiration and he works alone and also in collaboration with different brands.
Follow Jon Contino on Instagram.
We are Branch is a boutique design studio that helps small businesses with wonderful creatives.
With a strong graphic designer Shauna Haider at the helm of affairs at this studio, one can look forth to plenty of great designs in her signature bold and bright style. Their Instagram account undoubtedly reflects this persona on the social media as well, making it a well-favoured brand.
With 96.4 thousand followers,
Cyril is a Swiss artist based in Berlin. With a background in typography, design, and mural painting; he likes to work with words and hand-drawn art. He has also worked with various local and international companies on design. His growing list of followers is a testimony to his wonderful work online.
With a relatively unpopular Instagram account, Dave Shea makes up at his extremely popular for his CSS zen garden project.
His website www.csszengarden.com helped him showcase the world what design can achieve with CSS alone and has encouraged many web designers across the world. The Instagram is a vivid collection of images that this expert has compiled.
Working in Cape Town, South Africa, Jordan is a designer, illustrator, and artist. From book design to animated commercials, he has done them all and everything in between.
Named the ADC Young Gun in 2013, Jordan has over 21k followers on Instagram, where he shares a little bit of everything he does.
The founder and Creative Director of HORT Berlin, Eike Konig is also a professor at the Koenigsklasse, Hog Offenbach, University of arts.
With over 31k followers on Instagram, Eike is a name to watch out for on the forum.
Any great web designer missing? Let us know in the comment section below! I'd love to hear your suggestions on your favorite designers on Instagram!
[otw_is sidebar=otw-sidebar-4]
Capture feedback easily. Get more insights and confidence.
Getting feedback has never been easier and we hope you've realized that after reading this article. Let us know what you think, your feedback is important.
And if you're ready to try out a customer feedback software, Usersnap offers a free trial. Sign up today or book a demo with our feedback specialists.