I'm excited to introduce you to our newly launched Basecamp 3 integration for Usersnap.
If you're not using Basecamp, and happen to read this blog post: No worries – we integrate with 20+ other project management tools as well.
Check out all of our integrations.
[otw_is sidebar=otw-sidebar-1]
What is Basecamp 3?
Basecamp is a web-based project management tool. With more than 2.5 million accounts, it is one of the most successful project management tools out there.
That's why I'm excited to introduce you to our new Basecamp 3 integration from Usersnap.
Collecting bug reports & user feedback with Basecamp 3 and Usersnap is the perfect solution for your digital business.
So let's get started.
Part 1: Usersnap for user feedback & bug tracking
Usersnap is your solution for collecting user feedback & bug reports. No matter if you're creating a new website, or just need a user testing tool for your latest web app.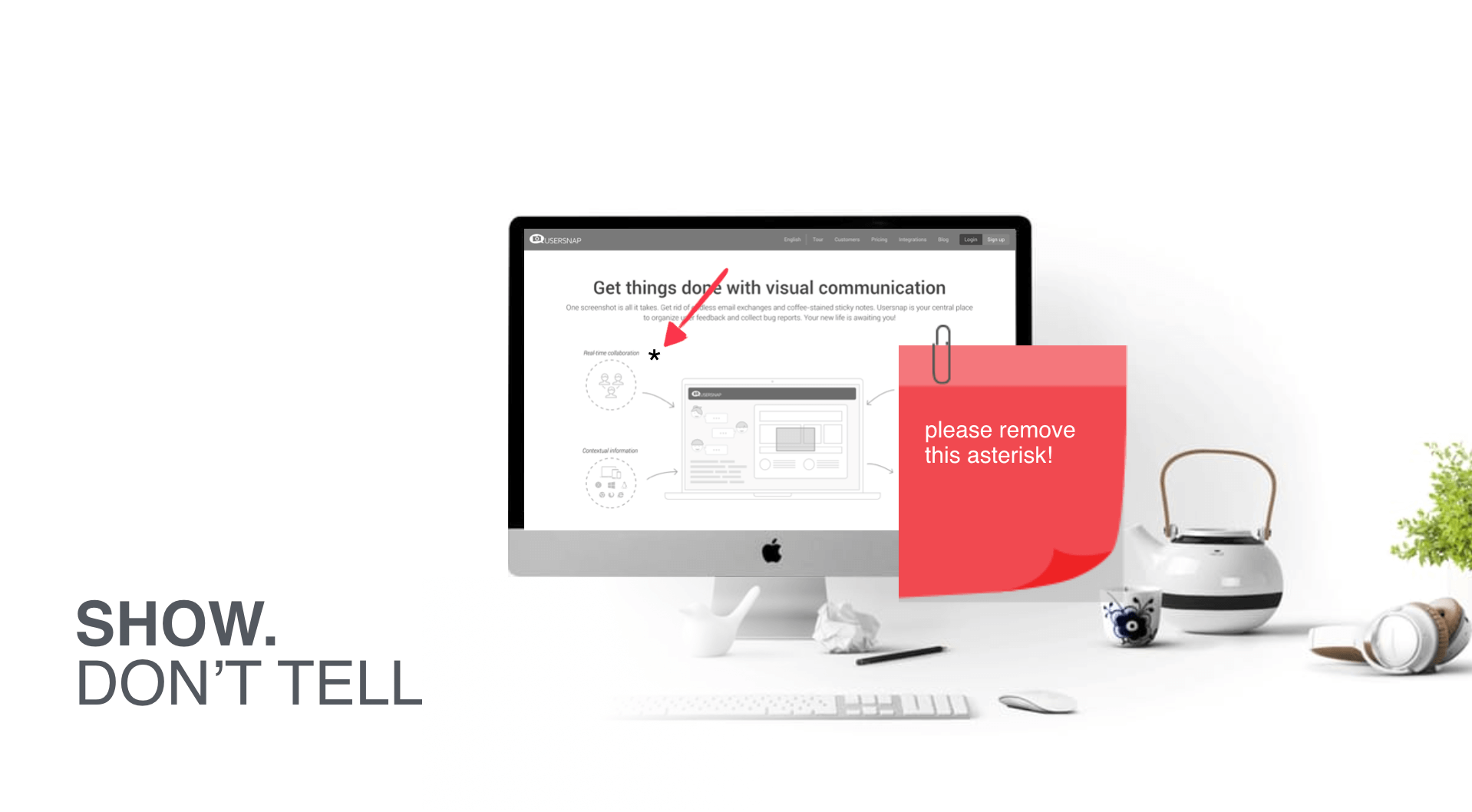 With the Usersnap widget, your website visitors, testers, and users can leave feedback easily by annotated screenshots with virtual pens and sticky notes directly in the browser.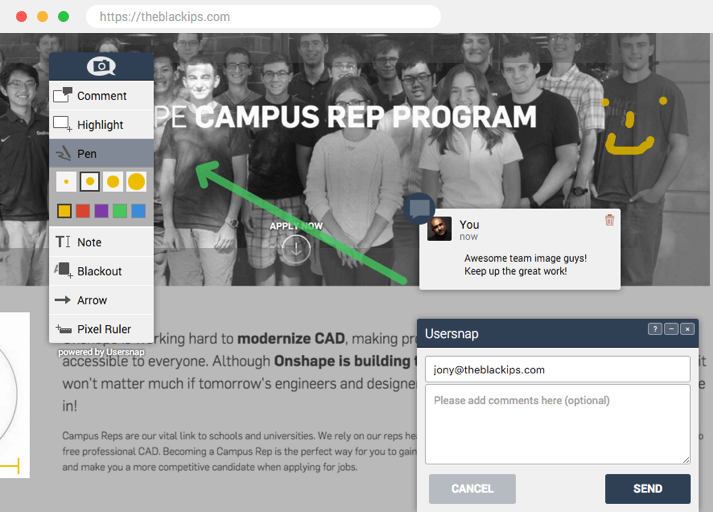 If you continue with the setup of Basecamp 3 & Usersnap, all screenshots are sent to your Basecamp projects.
What you need to do:
Create a new Usersnap account or log in to your existing account.
Embed the Usersnap widget on your website, prototype, or web app. Here's an installation guide.
Part 2: Basecamp 3 for project management
If you already have a Basecamp 3 account, you can skip this point and continue with part 3.
Working on a digital project, like a new client website, or a web app means going through various project stages. From idea generation to designing the first mockup, to releasing a new web app. Basecamp is your ideal tool for managing all relevant tasks and collaborating with the people involved in a given project.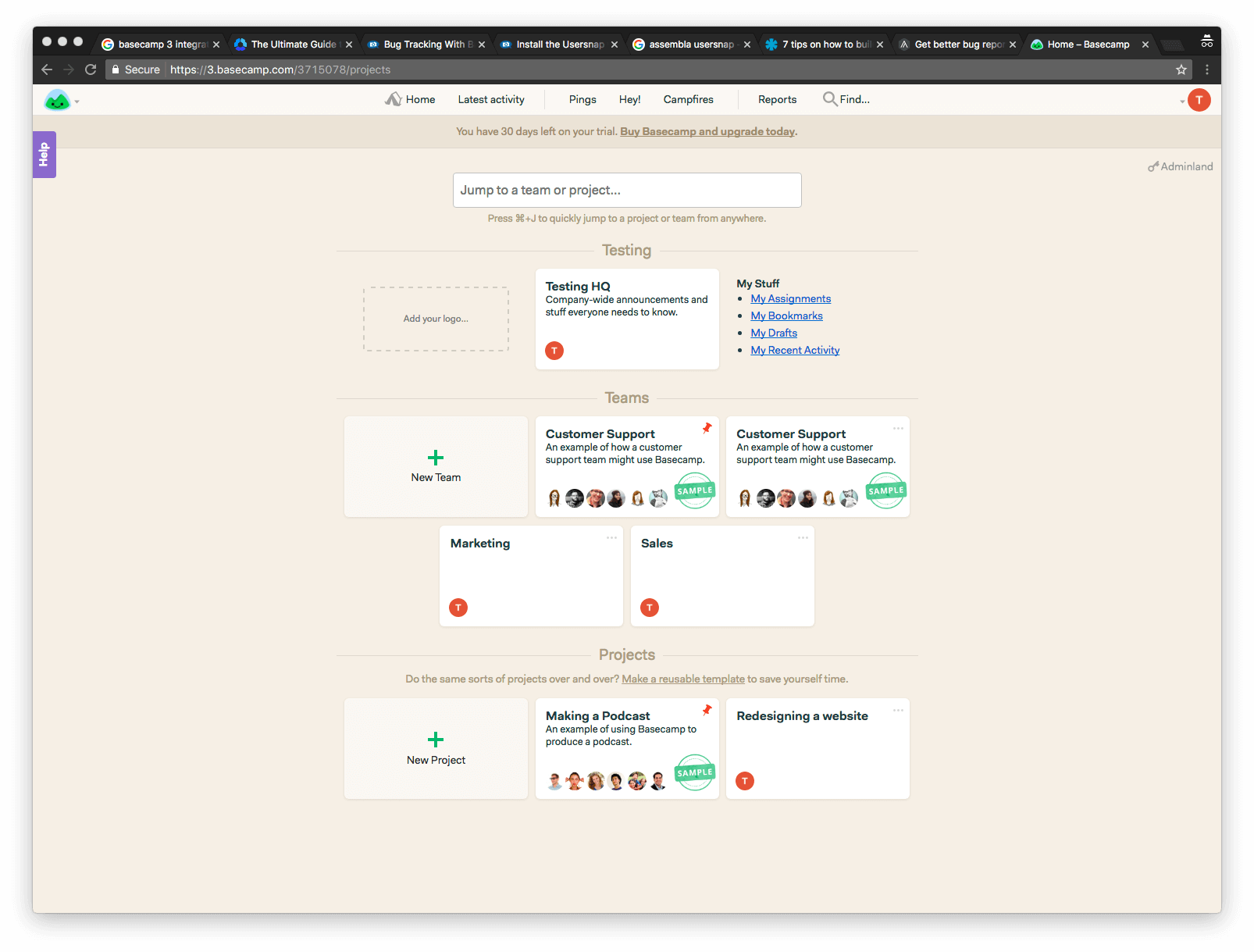 What you need to do:
Sign up for Basecamp 3 and boost your project managing skills.
Part 3: Connecting Usersnap & Basecamp 3
So now, it's all about connecting the two systems in order to have an easy & automated bug tracking/user testing workflow in your company.
[otw_is sidebar=otw-sidebar-2]
Here's how it works.
1) Open up your Usersnap project, and go to your project settings: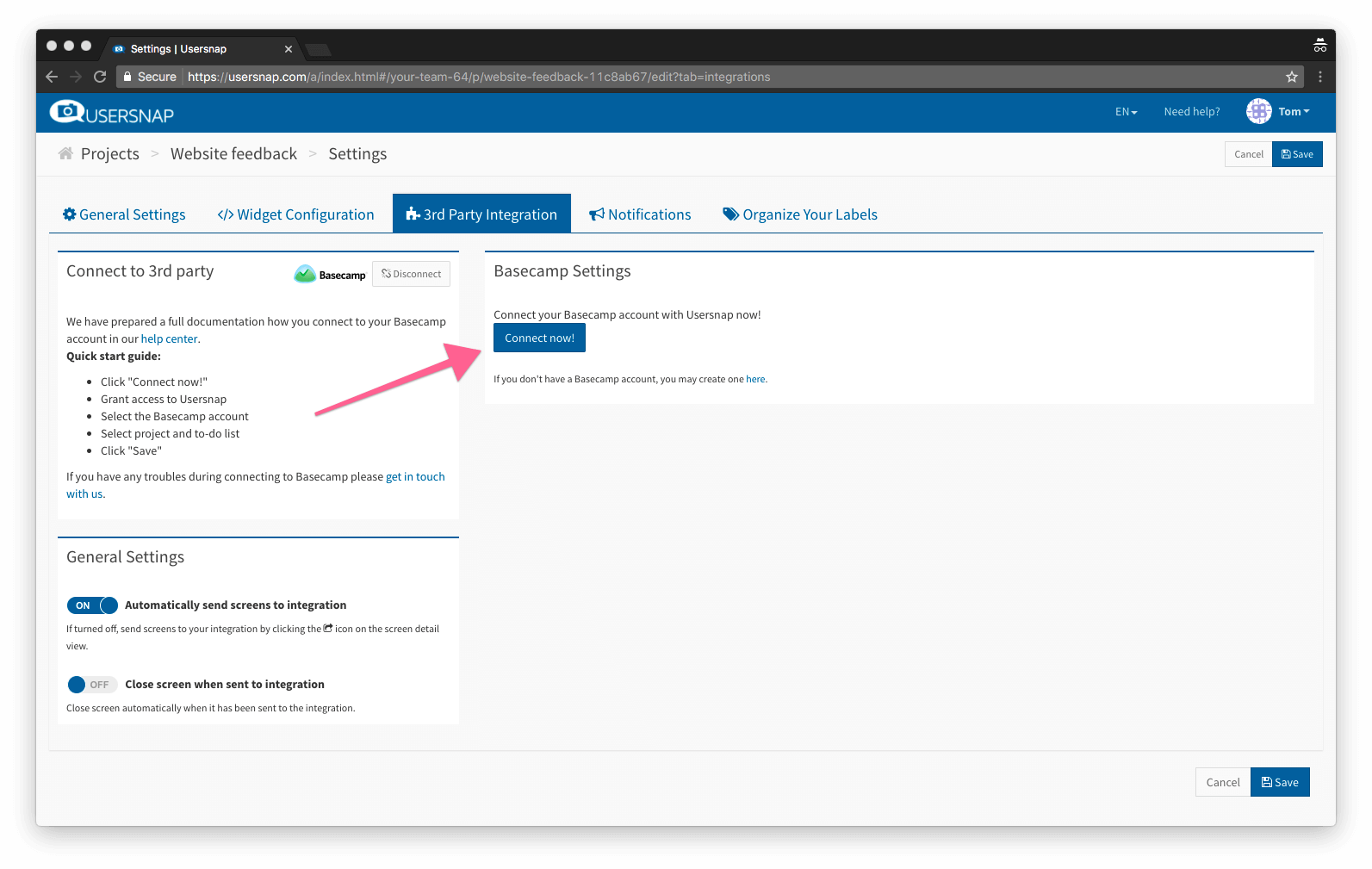 2) Click the "Connect Now" button and allow access to your Basecamp account.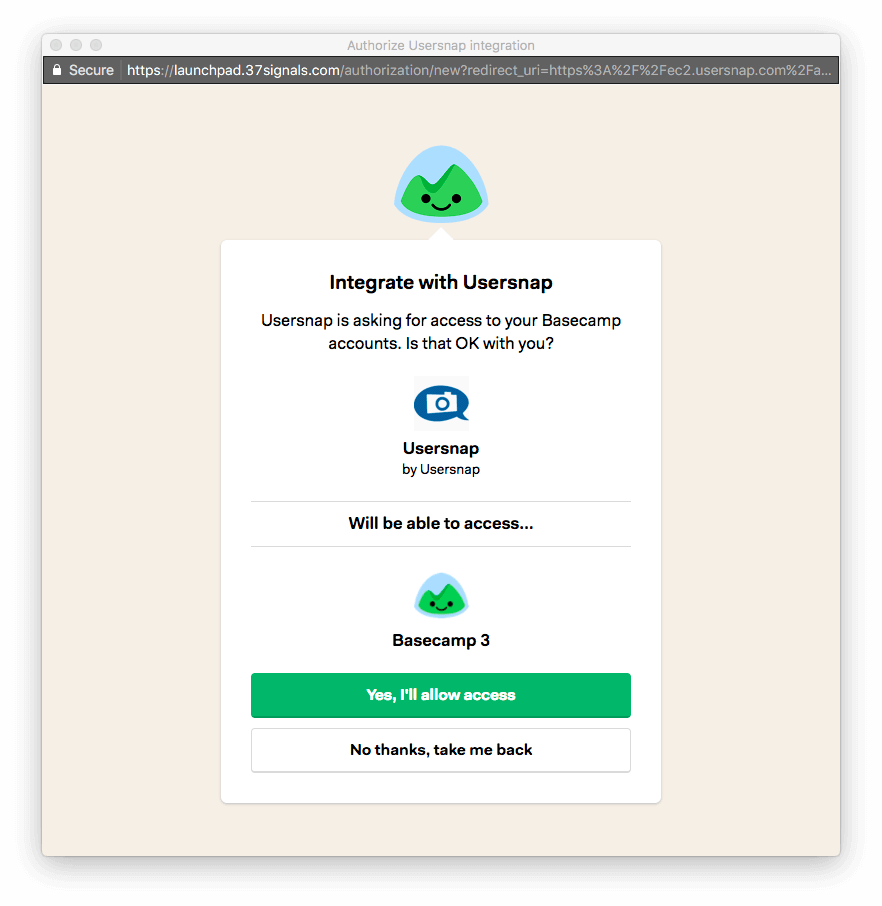 3) Specify the connection details, such as project, to-do lists, and more within Usersnap: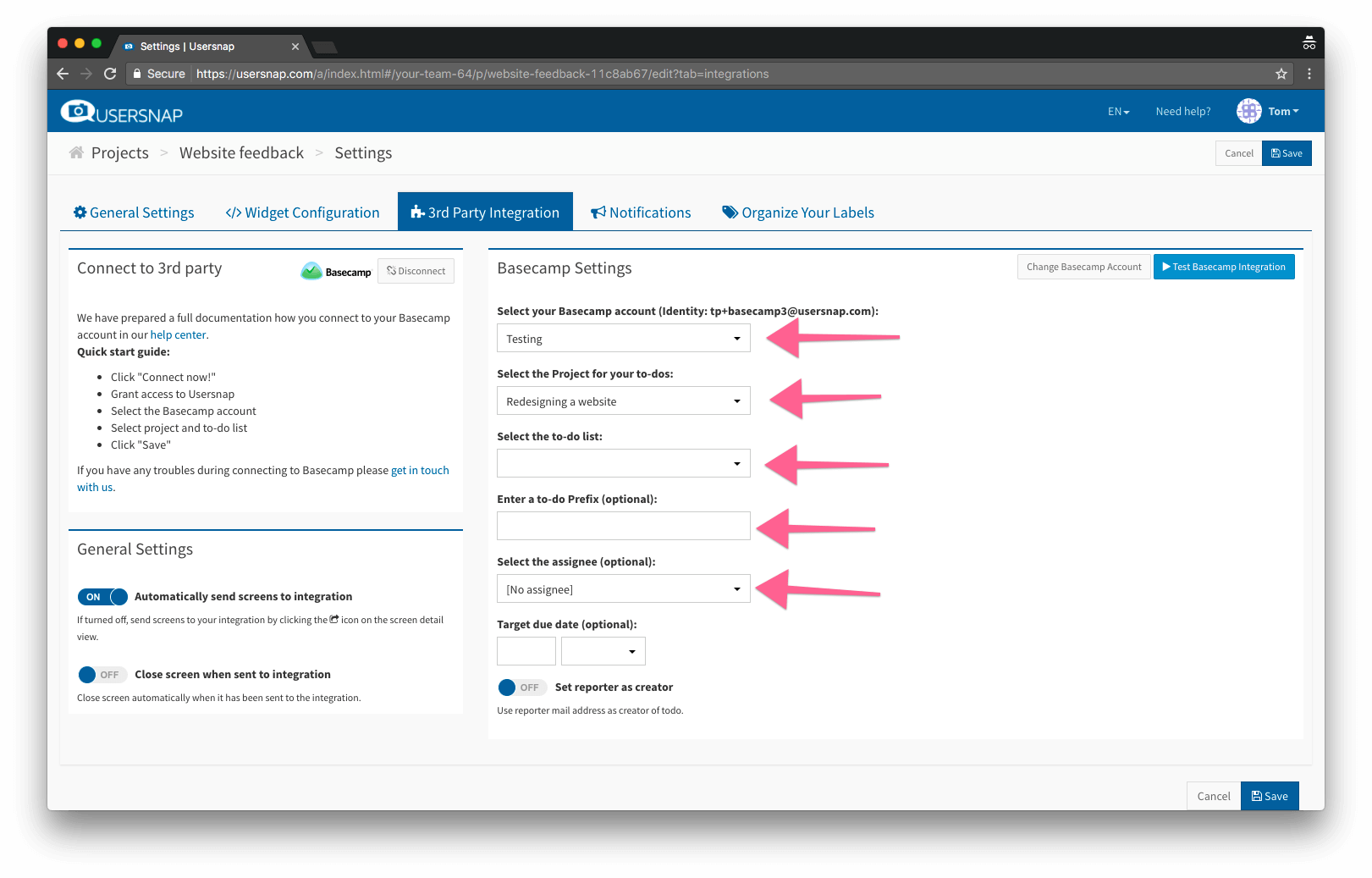 Basically, that's it. After saving your settings, you're good to go. You're set to receive new bug reports and user feedback from website visitors and users directly inside your Basecamp 3 project.
Get started now.
If you're already using Basecamp 3, you should definitely give the Usersnap integration a try. It works great for website feedback, user testing, and bug reporting.
The next time your customers or website visitors want to send you some design feedback or bug reports, you can let them use the Usersnap widget on your site. And you'll actually see what your users saw 🙂
And the best part: Everything's sent to your project tools and task lists which you already have. Directly stored inside Basecamp 3.
[otw_is sidebar=otw-sidebar-4]
Capture feedback easily. Get more insights and confidence.
Getting feedback has never been easier and we hope you've realized that after reading this article. Let us know what you think, your feedback is important.
And if you're ready to try out a customer feedback software, Usersnap offers a free trial. Sign up today or book a demo with our feedback specialists.