Trac is a bug tracking system for software development projects. Tracs mission is to help developers writing great software while staying out of the way and should as such impose as little as possible on a team's established development process. Its timeline shows all current and past project events in order, creating an overview of projects and their progress, and a roadmap lists the upcoming milestones. Identifying bugs and enriching tickets with annotated screenshots with crucial meta-information, that is where the Usersnap integration comes in!
Sign up for your 15-days free trial, or log in to your Usersnap account, and edit the settings for your website. To use the Trac integration, you need to enable the xmlrpc-plugin. Download it from XML RPC-Plugin, copy the egg inside your plugins-directory or install it system wide. You need to enable it by adding tracrpc.*
Next step is to create an user account for delivering the screenshots into your Trac instance. You can pick an arbitrary username, but it's important that the user has the following permissions: XML_RPC, TICKET_CREATE, TICKET_MODIFY, TICKET_VIEW**:
After creating the Trac user, you can connect Usersnap to your Trac instance. Enter the username of the newly created user and the password in your Usersnap dashboard: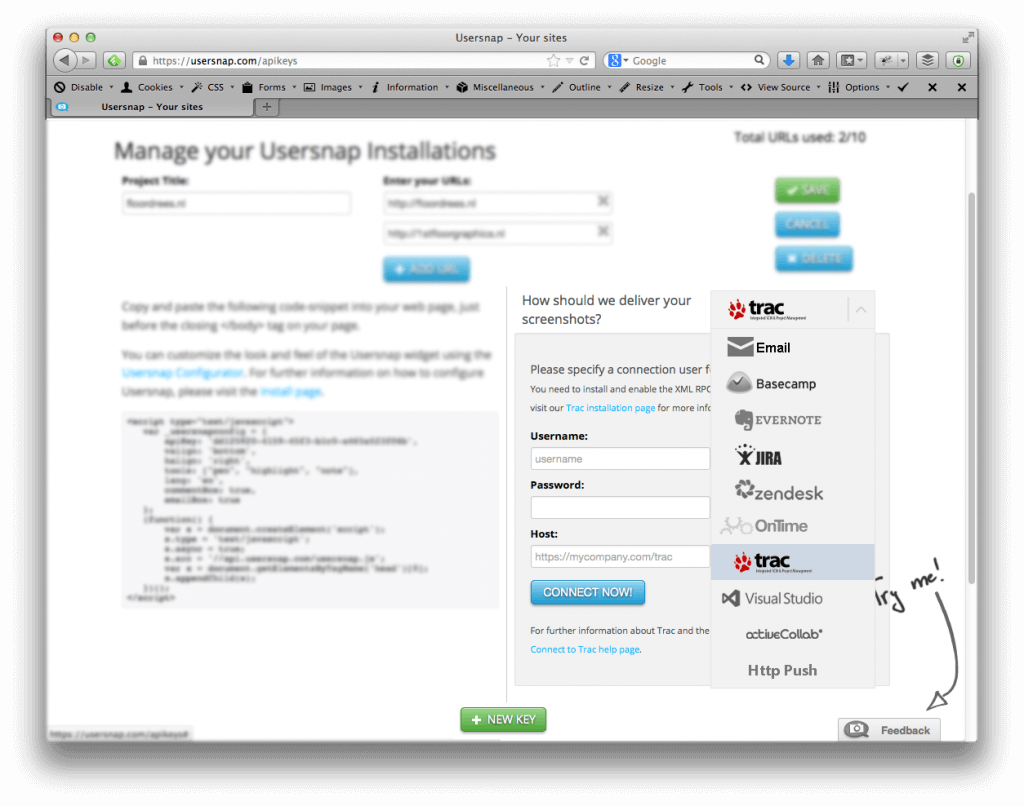 You can set up the properties of how your tickets should be created, including Component, Issue Type, Priority, Version, Severity, Milestone, CC and Owner. But you can leave any of the fields empty and Trac will fill in your instance's default value. It's always a good idea to create a special Component or Issue Type for Usersnap reports. That way it's super easy to create ticket reports inside Trac.
All connected and ready to go? Give the Usersnap feedback button a try and send a screenshot to your Trac instance. You'll see that the screenshot is automatically attached to the ticket and displayed inline:
Try our integration with Trac today and start collecting feedback on projects and bug reports in a non text-heavy way, with annotated screenshots!
* Enabled to your [components]-section of trac.ini.
** If you are using HtDigest-based auth together with Trac (skip this if you are using Apache Auth or Trac Basic Auth), you need to switch to Basic Auth, because XML-RPC does not work very well together with HtDigest-Auth. You should use SSL anyways, so there is no change of your security level if you switch to Basic Auth.