Asana is a shared task list for your team, keeping everyone on the same page. Asana's mission is to empower humanity to do great things. Dustin Moskovitz and Justin Rosenstein, both Facebook alumni, created the project management tool to help take that step; to improve the productivity of individuals and groups. Implementing it at Facebook, the results were promising: fewer meetings, the volume of emails went down and the teams got more done with less effort.
Now we are all-in for less emails, especially the ones that come with a subject along the lines of "It does not work, FIX IT". To help your visitors, customers and team members describe what they (don't) see on a page you need a visual feedback tool. Working with Asana already? That's great, then we only have to connect your Usersnap account to your Asana dashboard!
Update: Asana & Usersnap
You can find a full documentation on how to connect Asana and Usersnap in this getting started guide.
Connecting Usersnap and Asana
Sign up for our 15-days free trial, or log in to your Usersnap account.

To connect Usersnap and Asana you need to set up an "from email" routing in your Asana account settings as shown below.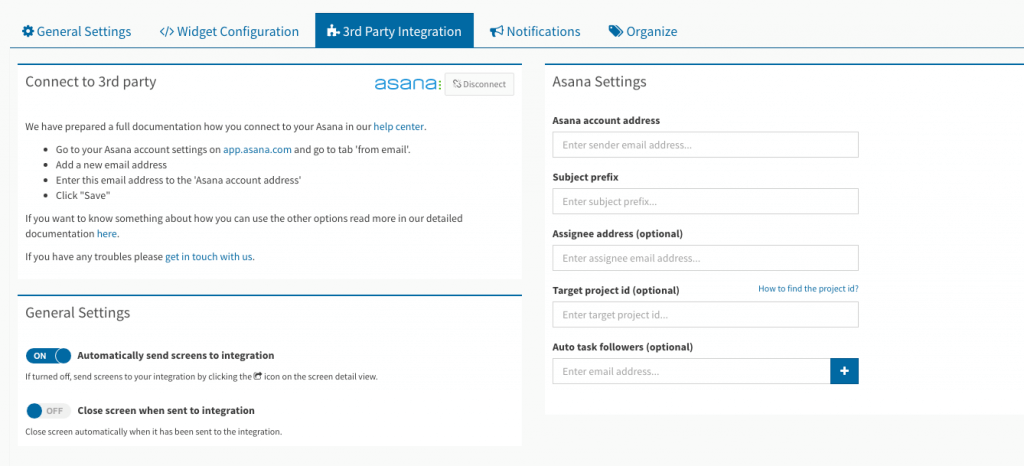 How does it look on a real project?
You can now test your connection by clicking on the Usersnap button on your website and sending feedback to your Asana inbox. This can be anything, so feel free to be creative! After hitting 'send' you'll find your screenshot with all the vital meta-information (like what browser or operating system you were using) in your Asana inbox: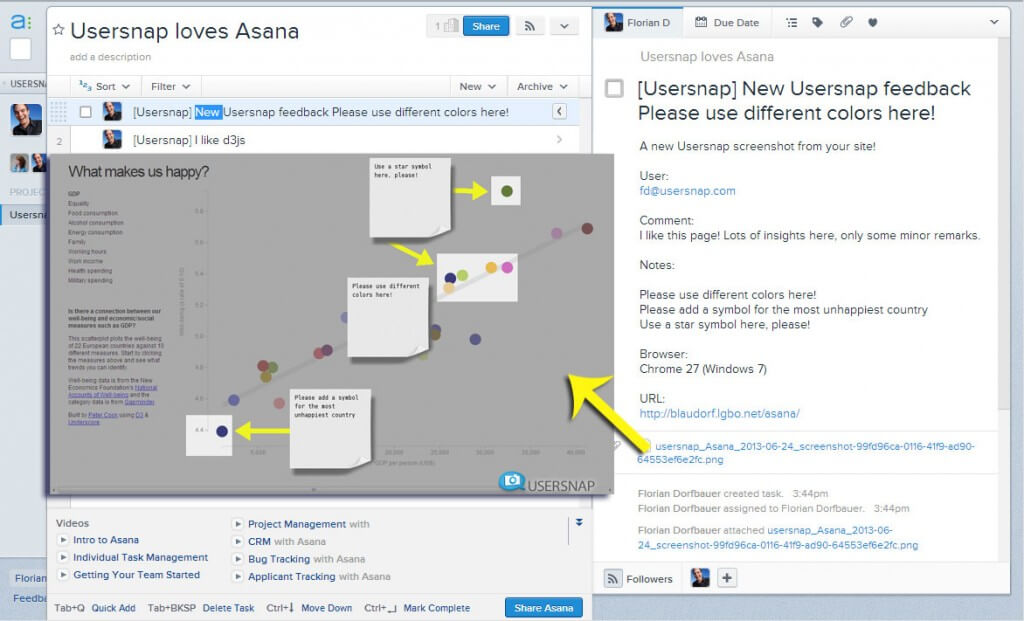 Give it a try
Point-and-click issue-reporting on web projects is always more effective than describing feedback textually. It is also an easy way to collect feedback from people outside of your project team as it's easy to use. Feel free to try out Usersnap in combination with Asana – a 15-day free trial is available!