Yes – we are developers. At least we're pretty techy at Usersnap. And if a developer conference is taking place in your hometown, you know where to find us.
Yesterday I joined the We Are Developer Conference in Vienna, and today I'm going to share the best learnings and insights what the developer scene in Vienna (and Europe) looks like.

We Are Developers conference
As the conference title suggests, it's all about development. No matter if you're a front-end or back-end developer, the WeAreDevelopers conference (or short: WAD) is the place to be. The conference was hosted for the second time, and the organizers did a great job in hosting a  couple of hundreds of developers from Austria & Europe.
And the conference kicked off with an awesome keynote…
GitHub at work.
We at Usersnap love GitHub. We use GitHub for our website and for various side projects.
Therefore, it was great to see that the We Are Developer conference was kicked off by Marko Berkovich, who showed us how people at GitHub work and collaborate.
Little hint: They use GitHub quite extensively 😉
For example, the people at GitHub use GitHub instead of internal emails.
Using @github instead of email. At @github. #wad16 pic.twitter.com/UzP4z89Eq6

— Mario F. Rader (@r8r) April 13, 2016
Best takeaways from Marko's keynote?
GitHub seems to be (still) a leisure thing.
Asking the audience on how they use GitHub, 99% raised their hands when being asked about their private GitHub usage. Hands dropped when being asked about GitHub at work life. It seems that just a minority of developers uses GitHub (with a private repo) at work. Besides GitHub, Slack is also a well-known communication tool at GitHub. However, I wonder how the people can keep up with so many Slack channels 😉
Oh wow. @github has 341 @SlackHQ channels ? #wad16 pic.twitter.com/VSxRhbJahT

— Thomas Peham (@tompeham) April 13, 2016
Is Mob Programming a thing?
Andreas de Pretis, a scrum master, showed us the in's and out's of mob programming and why it is a thing.
What is mob programming?
Mob programming is somehow similar to pair programming. The main difference? The amount of people working on the same code at the same time.
According to Andreas, a mob starts at 3+ people, and can go up to 20+ people.
So, what is mob programming?
According to Wikipedia, it is…
…a software development approach where the whole team works on the same thing, at the same time, in the same space, and at the same computer.
The idea behind mob programming is to raise awareness for collaborative code contributions. It's not about blaming a single person for a bad code. Instead, the whole team is responsible for the code it produces.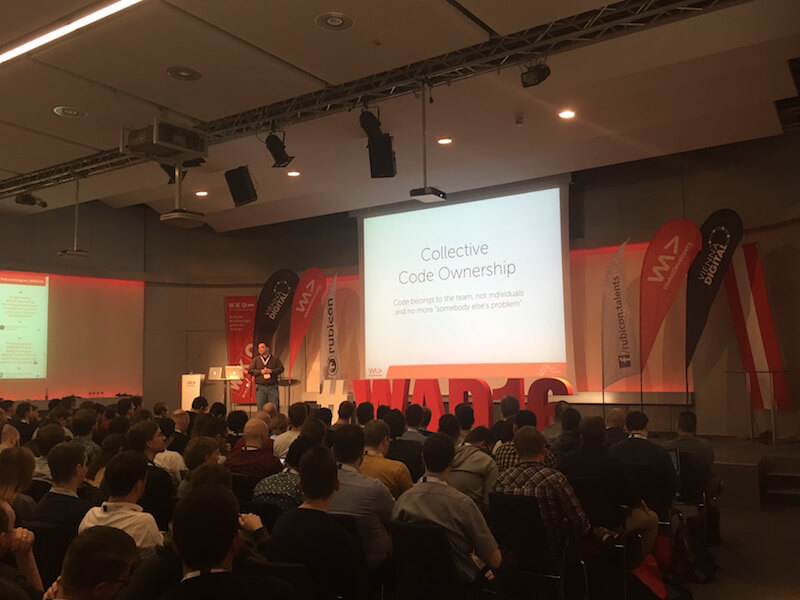 If you want to learn more make sure to check out mobprogramming.org.
Inheritance vs Composition
Till Vollmer, CTO at MeisterLabs – a company building and maintaining a web-based mind mapping & task tracking tool used by millions of people – gave us some insights on building web applications. And why it is so hard to write reusable web components.
And he showed us some advantages of functional programming over object-oriented programming in web development. Definitely worth listening too. And they have an awesome web application too 😉
A loosely coupled front-end
There was a lot of fun going on at the We Are Developers conference, especially with the social wall. And this has been definitely one of the most fun sessions at the #WAD16.
Klemens Schreiber, Front-end lead developer at karriere.at, Austria's largest job platform, gave us some insights on frameworks, concepts, and technologies used at karriere.at
"more people more saustall" by @thisisgordon #wad16 pic.twitter.com/Kktbxt6mbS

— Martin Prebio (@bountin) April 13, 2016
Last before lunch @thisisgordon #loosly #coupled #frontend #wad16 pic.twitter.com/NrU95RoP69

— Christoph Rumpel (@christophrumpel) April 13, 2016
User-centered design FTW
Benedikt Salzbrunn talked about a topic which has been around for a couple of years. Nevertheless, it's an important one, and therefore I was happy to see the focus on UX and why user-centered design is important.
It's always the user… #UCD #wad16 pic.twitter.com/CWXbLlDaAp

— Jürgen Wagner (@JuergenHown) April 13, 2016
If you know us or if you have read some of our previous blog posts, you know that we care about our users. We really do.  So, listen to your users, let them show you and start engaging with them in a meaningful conversation.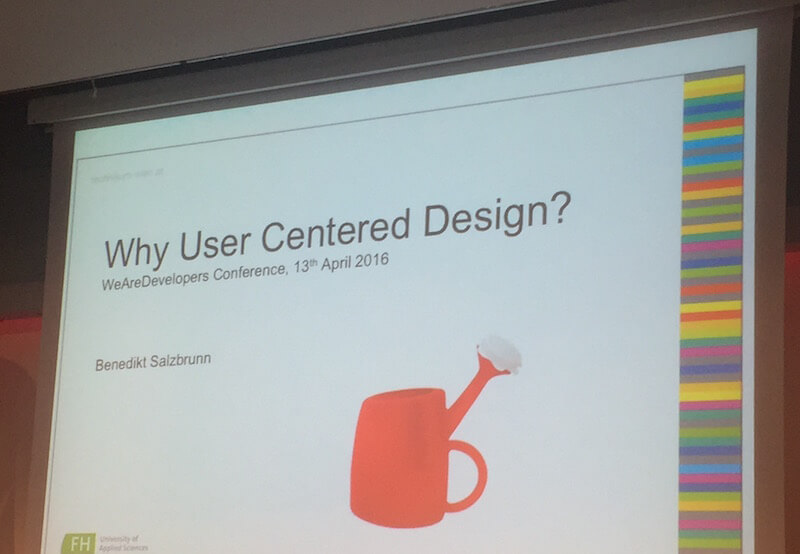 Lightning talks
In the late afternoon expert roundtables gave visitors a chance to talk to all speakers and ask them any questions they had.
In the followed session, lightning talks on various topics took place. Thomas Schranz, CEO of Blossom kicked off the sessions by showing us how to run a fully distributed team. Daniel Albertini then showed us how Anyline developed (or as he said boxed) text recognition into a cross-platform SDK. Pretty awesome!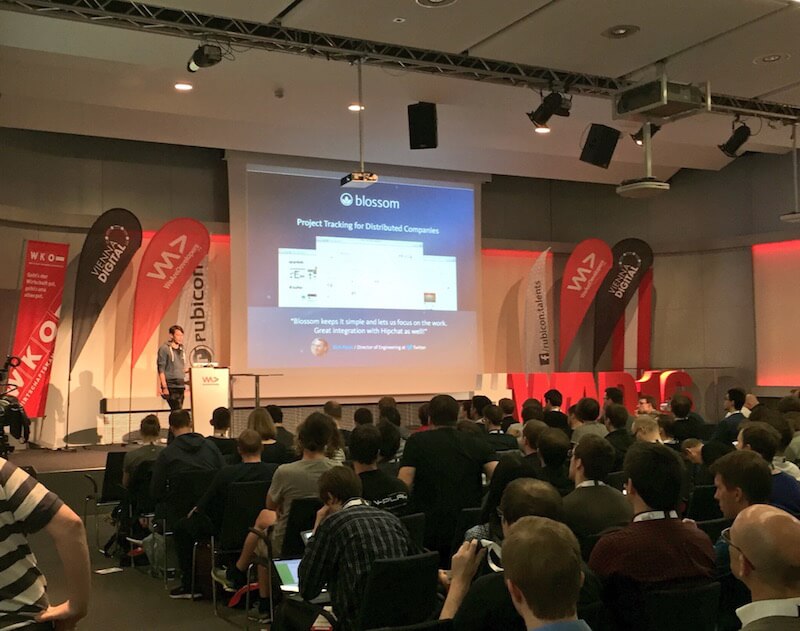 Marketing love & cross-platform strategy for mobile
In the last session of this extensive conference day, we saw three super-interesting talks. At first Peter Sunde, co-founder of Pirate Bay and Flattr, talked about the issues of The Pirate Bay and Flattr. Or why he's not allowed to leave the US 🙂
"yes i'm allowed to travel to the US, but not back" lots of great talks today, but this guy made my day ? #thepiratebay #WAD16

— Carina Wetzlhütter (@trackingcarina) April 13, 2016
Jakob Reiter, continued the session by showing us the untold love story between developers and marketing people. At the end of this day, Peter Steinberger, co-founder of PSPDFKIT, showed us his incredible story of building a mobile SDK for Android and iOS. It was pretty amazing to see how he started PSPDFKIT as a side project, whereas he now employs about 30 people.
Wrapping it up.
It's great to see how the Austrian & European developer scene has evolved over the past few years. Connecting with like-minded people is not only fun but also enables us to learn from each other and build better products. If you missed the WAD16, you better had a good excuse for not being around 😉
And as far as the We Are Developer conference goes. We can't wait for next years event.
PS: If you're based in Vienna and are a developer, I recommend you to check out this Facebook group too.
This article was brought to you by Usersnap – best known for its visual Bug Tracking and Feedback Tool, which is employed by web developers, web designers, and customer care managers worldwide.
Usersnap serves 10,000 customers globally, including companies such as Microsoft, Facebook, IBM, Hawaiian Airlines, and Runtastic.