It all started again with a tweet:
Anybody know of any good primers on bug reporting for less technical users who occasionally become QA?

— Michael Bailey (@roguewhaler) June 25, 2014
We have a person that knows something about the Internet and what is a website and this person should follow a test plan or just to do random testing.
Like this article? Give it some sharing ❤️
As we know the QA person is part of a bigger workflow which includes designers, programmers and other specialists.  This person must be able to report a problem in the way the others expect.
 Yeah, the main problem in every web project. We know!
In most cases this will result in the words "you are not doing it as you suppose to do", we all have been there, right.
What does a designer need?
To know where exactly on the page the problem appears
To know on what element or area
To be able to see the problem, through the other people's eyes. Pixel by pixel.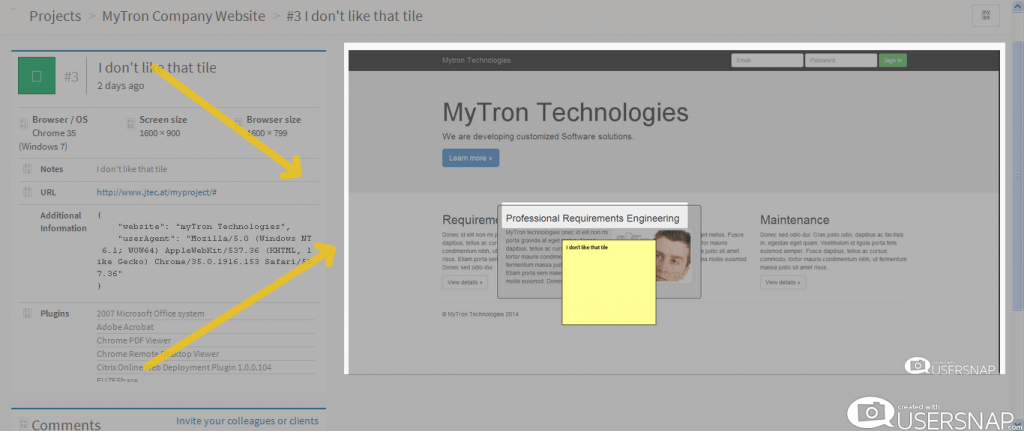 What does a programmer need?
To know the browser version, OS, resolution.
To be able to see what plugins are in the user's browser.
To be able to get information about java script and other errors.
To be able to see the problem, through the other people's eyes.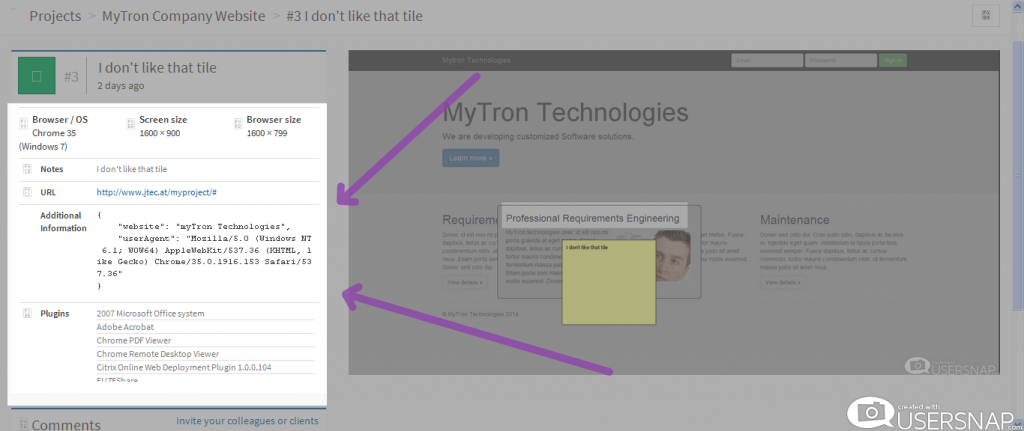 What is different with Usersnap?
We can "translate"  the way of thinking of not-so-tech-savvy persons to a programmer or a designer. For him/her reporting all this info could be a problem. Usersnap does that automatically. Just find the problem, annotate it, add a comment using your own words and click the button.
We will send the information needed to fixing the problem, without asking additional and difficult questions.
Try it!
Why don't you give it a try (no cc required of course) and see if we are right to claim that you can build better products with Usersnap.
We are proud of the fact that we are developing a product that can be used by everybody, including people that don't know anything about the technology, because we give them tools and techniques that they are familiar with.
What do you think?
This article was brought to you by Usersnap – a visual bug tracking and screenshot tool for every web project.
Get started in web development today. With these 9 basic tips everyone should know.

I have recently published a piece on "what no one tells you about working in web development" in which I shared some insights on how working on web development projects, well, works. Starting out in web development can be quite difficult, but it is a worthwhile adventure if well prepared. Here's my web development tutorial…

11 productivity boosts for remote web development teams

This article is brought to you by Usersnap – a visual feedback & bug tracking tool, used by software companies like Facebook, Google, and Microsoft. Working in a remote web development team can be a lot of fun. Besides the fact of working in your pajamas in your home office, there are some greater benefits for employees and enterprises as well. On…
Building a software product?
Solve your customers' pain and create a great product.
Get feedback easily within the browser.
Fix bugs in minutes with screenshot & metadata.
Trusted by 1000+ customers worldwide.