Usersnap is a great tool to help you give your clients the web design of their dreams. But you gotta get those clients first. We ran into Quote Roller at the Pioneers Conference in Vienna last month and we just knew we each had tools to help each other's customers with their feedback.
We share a growing base of rockstar web designers, graphic designers, SEO saviors and other small creative businesses just looking for fast and easy ways to show off their work and close more deals.
Quote Roller is a business proposal software that allows you to create, send, track and get legally, electronically signed sales quotes in minutes. Instead of simply writing boring, boilerplate content, why not use your proposal as a way to both address your clients' needs and to show off your work? We say, instead of spending pages writing what you can do, show them!
Quote Roller is a multimedia app that allows you to integrate hyperlinks, HTML, photos, photo galleries, PowerPoint slides, SlideShare, Vimeo and YouTube videos and more, right into your sales proposal. You can create a compelling, irresistible proposal in just a matter of minutes.
In a PDF or Microsoft Word sales quote, you can't really offer your clients options. Many of us like to offer hourly, project and other sorts of rates, as well as different website design packages and functionalities. This sort of dynamic pricing doesn't fit on an 8-by-11 piece of printer paper. With Quote Roller, you can create pricing options, giving different types of pricing packages, offering your clients choices and alerting them to extra services you may provide.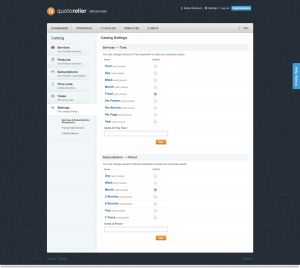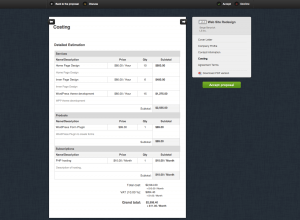 And we all know the most frustrating part of trying to grow your business is that it kills your patience. You never know if a client opened your proposal, what they were looking at, and if and when they are ready to sign, etc. It's just a frustrating mess. With Quote Roller, you not only are cutting the time it takes to create more breathtaking proposals, but you also know right away if a client opens it, how long they were looking at which part, and if they've left any comments or signed anything.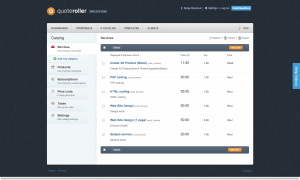 Knowledge is a powerful tool to have on your side, especially before you go in and try to negotiate with a client. The in-proposal analytics gives you a real insider's knowledge as to what a client's true priorities are and if they've really watched your videos or gone through your portfolio.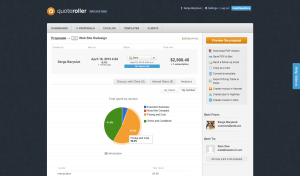 Plus, these analytics allow you to know what works and what doesn't. Then, once you've used these tools to figure out what works and what doesn't, you can save it all in a Content Library, to make creating winning proposals a snap.
Bonus, to get started, you can use one of their free and open proposal templates. Now, these are just 35 or so examples of different sector-specific templates, but we also know you'll eventually want to jazz it up to make your work shine.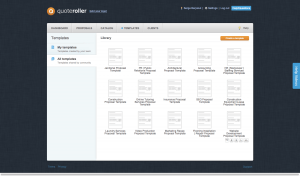 Finally, it offers you a great deal of flexibility, integrating with about 25 of your favorite SaaS.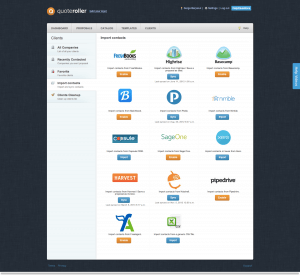 So, if you want to give QuoteRoller a try, our Usersnap users may use the special LOVETHYDESIGNER coupon code for a whole month free (no credit cards or strings attached.) We're fans, but we'd love for you to tell us what you think!
Capture feedback easily. Get more insights and confidence.
Getting feedback has never been easier and we hope you've realized that after reading this article. Let us know what you think, your feedback is important.
And if you're ready to try out a customer feedback software, Usersnap offers a free trial. Sign up today or book a demo with our feedback specialists.