Website feedback is the most important data point to focus on when you're not sure why your product frustrates users, website bounce rates increase, or conversions are stagnant.
At some point along the way, all successful businesses come to understand that customer feedback becomes the momentum to more leads and (hopefully) revenue.
You probably created your product with outstanding ideas about how to solve a specific problem. Or, you used website copy that describes your business in the best way you know how.
Hold your horses though, because that's only the start of your journey. Paying attention to website and customer feedback is the next phase to provide precise information that translates into improved customer experience and increased sales conversions.
What is a Website Feedback Survey?
Website feedback is the information you gain by going directly to understand what they think about your landing pages and website. A website, user, or customer feedback tool certainly helps with the process. Using a website feedback widget, for instance, allows you to add questions into a customer survey and get meaningful responses with actionable user feedback.
Why Should Someone Use Website Surveys to Collect Feedback?
A website survey is a single question or group of questions that you ask visitors to fill out. You might use full-page overlays or pop-up variations to get it in front of your audience.


The answers give you the qualitative and quantitative data that helps you better understand:
Why visitors enter your website
What they expect to find on your site
If you're delivering the best experience to visitors
Whether website visitors trust your site or not
What visual elements don't appeal to users
Why visitors don't feel comfortable returning to the website
You might have hypotheses about what visitors want. If you collect feedback on your website, you can validate them. This user feedback allows you to get direct answers from the people who matter most: your website visitors.
The 7 Best User Feedback Survey Questions to Ask Website Visitors
It's very important to think about what questions will most effectively give you the answers required to improve your website and product, and ultimately improve conversion rates. Since no one wants to make the mistake of asking generic questions that bore users and give unnecessary (or unusable customer feedback), we've put together a list of seven of the most effective questions to ask when setting up a website feedback survey so that you can collect feedback efficiently.
Have your questions ready to go before deciding which website feedback tool to use. This helps you to quickly understand if, for example, a customer feedback tool offers the user experience solution that you need for website or visual feedback too.
How can we make this page better?
Let the users be heard! Open-ended questions like this help you uncover user problems you never knew existed. Don't be afraid to let users expand here, and give you actionable user feedback. You'll learn valuable information that you never thought to ask about.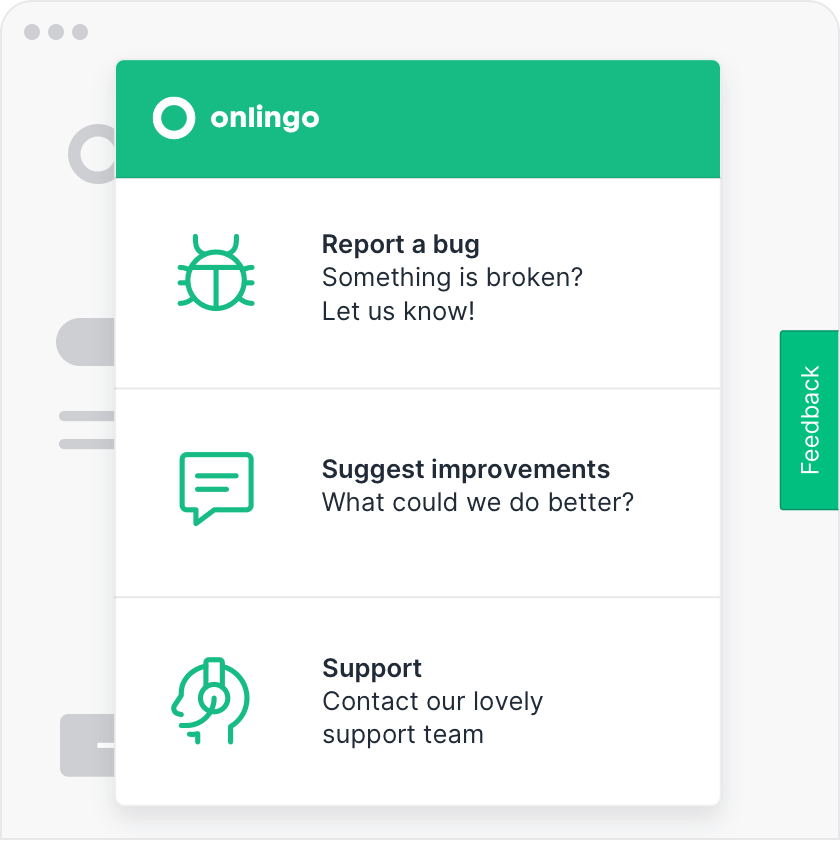 From there, take steps to figure out how to include or remove anything causing user frustrations. For instance, you may think the page's layout works perfectly. If you find that it's confusing too many visitors, then you can step in to re-organize the content in a way that better helps users.
Are you having trouble finding anything?
This type of user feedback tells you if your visitors get stuck navigating for specific pieces of information or data. It's one of the most effective survey questions because discovering what makes visitors leave the page helps you rethink your website's structure. They can give you visual feedback, and let you clearly see where the bottlenecks are.
Where did you first hear about us?
Wouldn't you like to understand which marketing strategies or social media channels bring your best-fit customers? Asking where they found you uncovers this type of vital qualitative data. Look for the trends in these responses, so you know which marketing methods equate to your best ROI.
Why are you looking for [product or service] today?
You'll become more competitive in your industry if you continuously improve your understanding of your target audience's needs. Many business owners make assumptions about the problems their audience wants to be solved. However, asking this question keeps your finger on the pulse when it comes to customer problems, and their jobs-to-be-done.
Your market changes over time. It's easy to lose touch with current issues that make your product or service relevant to a new sub-niche. Uncovering that new sub-set of customers can help open up new marketing channels to target.
What, if anything, is stopping you from [taking action] today?
This question uncovers objections to conversions. You most likely know by intuition many of the objections or fears that stop people from taking action. However, never assume you know it all. The answers to this question will help you improve FAQ sections, headlines, and other types of website copy.
What are your main concerns or questions about [product or service]?
Website navigation is one thing. Specific issues that stop visitors from completing product sales are another thing altogether. You'll uncover problems with features and benefits by asking a question like this. Use the data to make product adjustments and then communicate those items clearly on the website. This is especially valuable for collecting customer feedback.
What persuaded you to [take action] today?
You'll uncover some of the most powerful product features and benefits that cause visitors to convert to customers here. Watch for trends in this area, so you know which conversion rates should inform your messaging based on this user feedback..
Examples of How to Streamline User Feedback in SaaS and E-commerce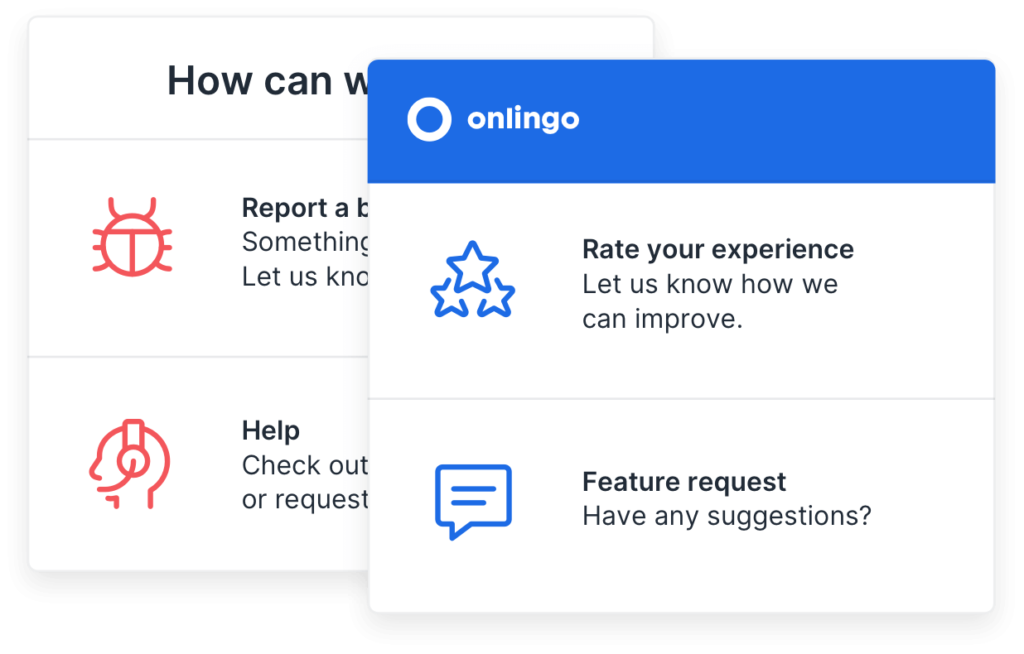 Ask yourself: how many times have you come away with unanswered questions after researching products or services on a website? Frustrating, isn't it? You most likely left the website without making a purchase or contacting the company.
Improved conversions are an example of how using user feedback helps your SaaS or e-commerce business grow. SaaS companies use customer feedback to improve the onboarding process. Asking for customer feedback helps you determine where customers become confused while learning how to use the product.
Both e-commerce and Saas companies should use customer feedback to:
Improve user journeys and product development 
Build better relationships with customers for repeat sales or decreased churn
Measure and increase customer loyalty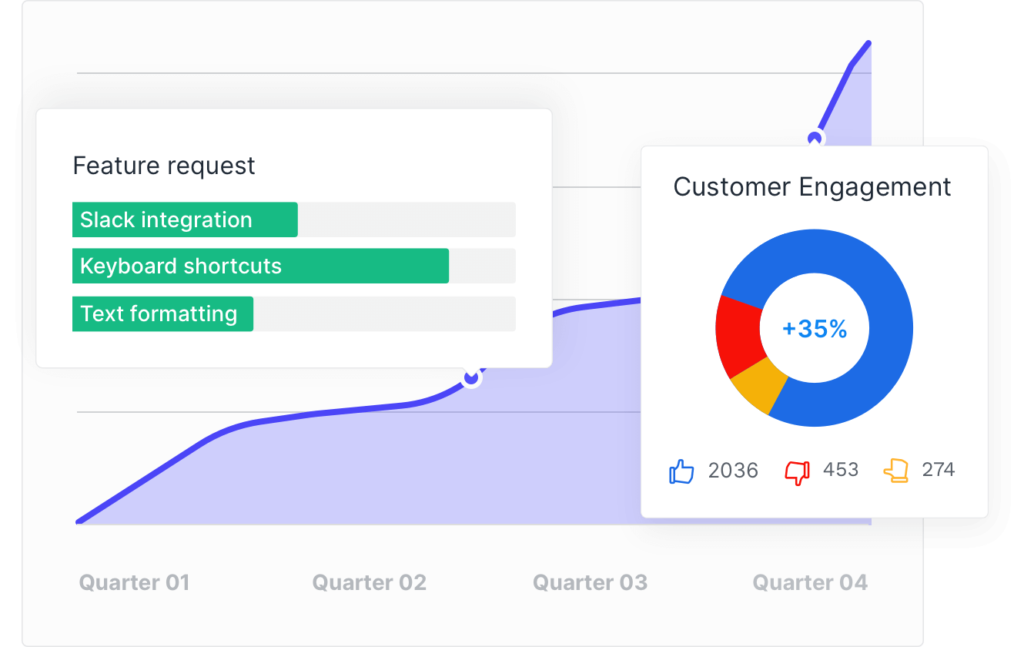 Uncovering these types of issues will place you in a more advantageous position over competitors who fail to stay up to date with what creates or destroys sales opportunities.
Types of Website Feedback and Customer Feedback
Various types of data collection exist to help you gather customer information that translates into improved conversions. You can also find feedback tools that help make the job easier to perform.
Below, you'll discover these feedback methods and a collection of feedback tools, so you don't need to wonder which resources to choose.
Website pop-up surveys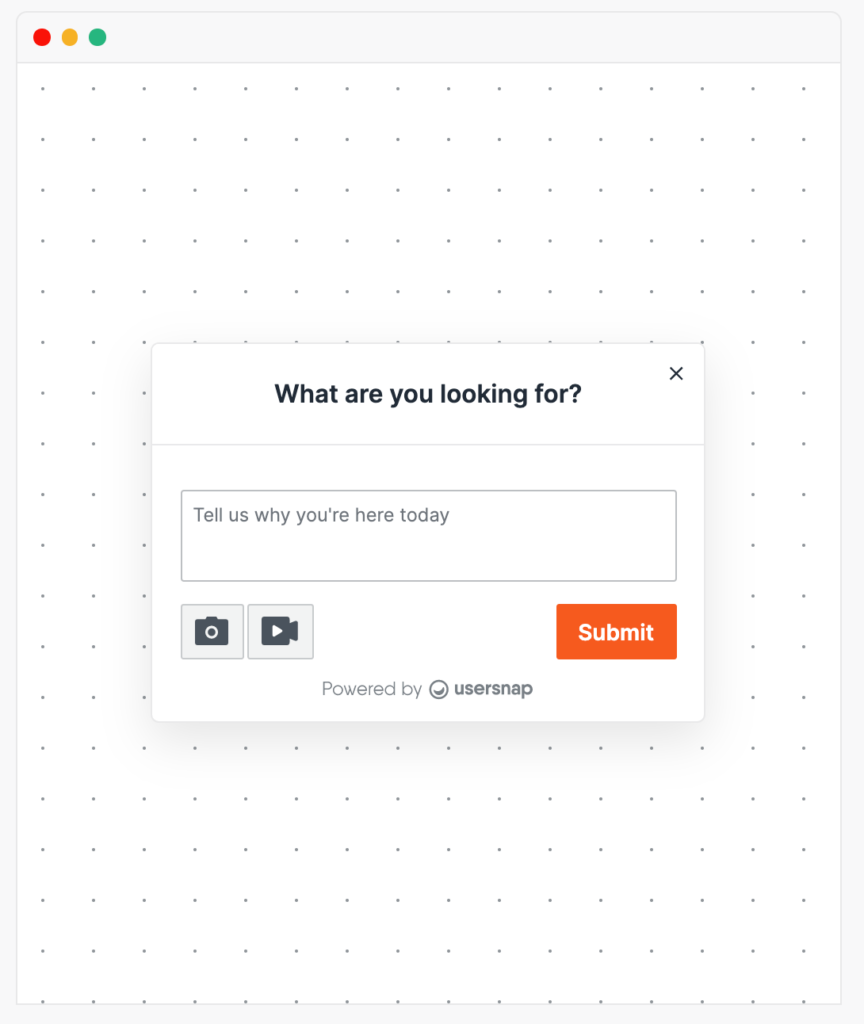 A website pop-up survey reveals itself at the center of the screen. Using this feedback tool, you can ask website visitors to make one of two decisions before continuing with their website viewing: either close the window or participate in the survey.
You can use a website pop-up survey to ask visitors why they didn't make a purchase or whether they're having trouble finding what they're looking for.
Use this type of feedback tool sparingly. If people see too many pop-ups on your website, then their experience can turn into a frustrating one.
Another way to limit frustration when using website pop-up surveys is to keep them relatively short. Don't ask an abundance of questions and cause people to abandon the process.
A quality use case for a pop-up survey is when a user leaves your website. Provide them an exit-intent pop-up to find out why they're leaving without taking action with you.
Here's a feedback tool (or three) that will help you create this type of pop-up survey, including Sleeknote, Wisepops, or Get Site Control.
Website on-page surveys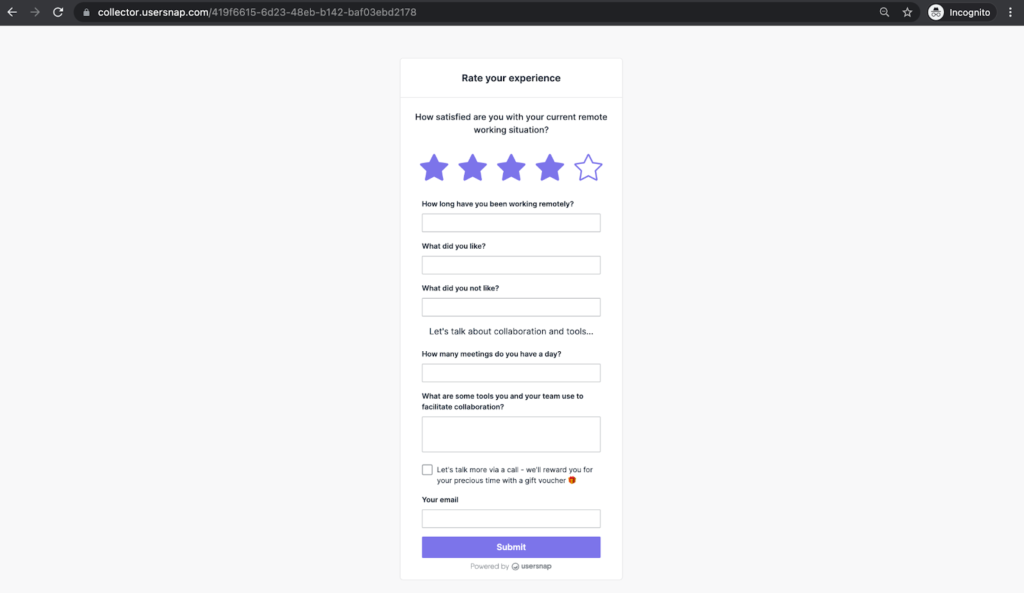 On-page website surveys appear on a user's screen by sliding up or down from the lower or upper area of their window. It won't take up as much space as a website pop-up survey, making it an unobtrusive option that won't negatively affect user experience.
You can use both close-ended questions ("What's your customer satisfaction so far?") or open-ended questions ("How can we make this page better?").
Multiple-choice questions also work well with on-page surveys.
Use a timer so that these surveys appear on the page after a visitor has time to comprehend some of the page's copy first.
Another good way to use an on-page survey is to ask visitors to rate their experience when using the website. Give them a scale of 1 to 5 or 1 to 10 and ask them to rate experiences like usability, how easy it was to find items, and other such factors.
Three tools that can help you implement this user feedback strategy include Typeform, Informizely, and SurveyMonkey.
Website feedback widgets
Using a website feedback widget, you have the opportunity to use a visual feedback button that sits at the edge of your site's pages. The widget encourages visitors to click the button to rate their experience on the page.
Using open-ended questions works well here so you can get users to provide personalized feedback about what needs to work more effectively on your website's pages.
Website on-page surveys work well for getting users to expand upon important issues that you already know about. A website feedback widget can help you uncover factors that you haven't uncovered yet.
An example of how a feedback widget can help you uncover unknown problems is if you thought users weren't buying because your product images weren't effective enough. You could install a feedback widget and discover that they're abandoning the cart because you don't offer free shipping.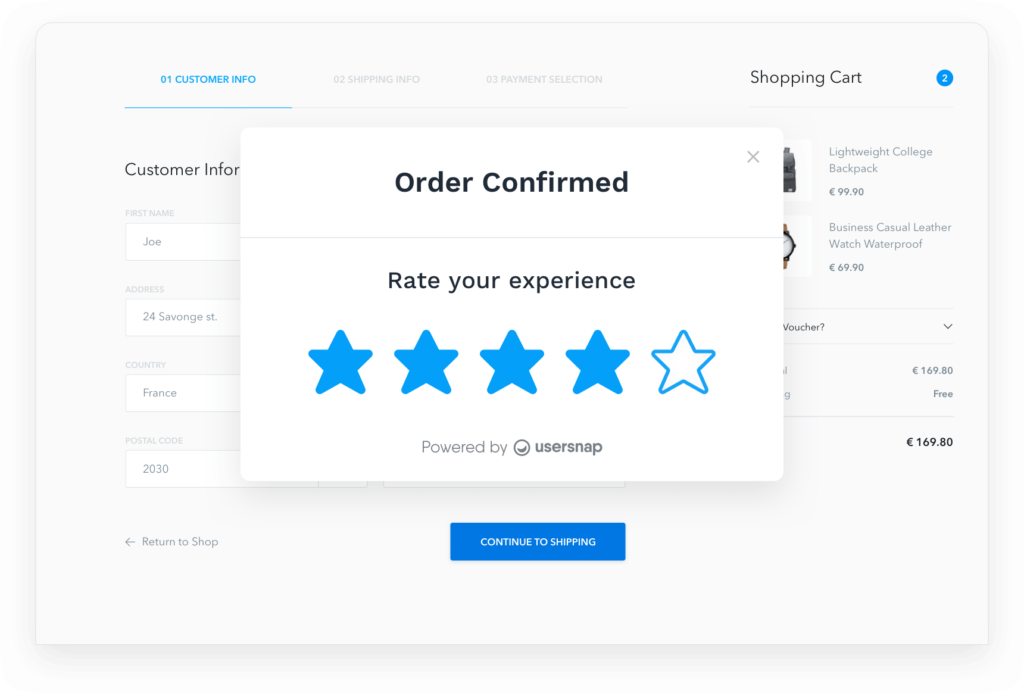 We encourage you to look at the following website and visual feedback widget tools: Usersnap (surprise surprise!)
Wrapping Up
Using a feedback form at strategic places throughout your sales funnel will help you make continuous conversion improvements.
Use website feedback surveys on product pages, information pages, sales pages, thank you pages, and anywhere else user data will help make website improvements.
Your next step is simple. You need to get started turning your site into a feedback-driven website! As you know from our above examples, several tools exist to help you put these strategies in place. We encourage you to look at our website feedback tool. It gives you a simple, automated solution for collecting customer feedback on your website.
Capture feedback easily. Get more insights and confidence.
Getting feedback has never been easier and we hope you've realized that after reading this article. Let us know what you think, your feedback is important.
And if you're ready to try out a customer feedback software, Usersnap offers a free trial. Sign up today or book a demo with our feedback specialists.