"Wherever smart people work, doors are unlocked." – Steve Wozniak
The WeAreDevelopers conference that is taking place in Vienna right now is a world congress for developers. It's lovingly called the "Woodstock for Developers" and this year, 8000 techies from 70 countries are roaming the conference (and the city) from May 16th to 18th.
We're excited to tell you what has happened so far  ?
People Code Future: The Experience
For the last two years, we at Usersnap have attended WeAreDevelopers (see our previous reviews from 2017 and 2016 here) and even since last year, the conference has grown enormously. WeAreDevelopers 2018 is bigger, bolder, and showcases some great speakers like Steve Wozniak, Angie Jones, Joel Spolsky and so on.
The motto of this year's conference, "People code future", is a clean-cut mission statement. Three words signify what the conference is about. People, who make it all happen, technology, and ideas on how to construct the future.
The Keynote: Wozniak on Facebook, AI, Privacy, and Blockchain
This year's keynote speech was delivered by Steve Wozniak, "The Woz". Moderator and cheerful host Madeline McQueen, looking into the young faces of the audience, introduced the Apple co-founder as an innovator, "who stepped away from Apple's operations in 1985, which was before some of you were born."
Wozniak talked about topics ranging from privacy to AI, the blockchain, his own Woz academy and why he is abandoning Facebook ("I have 5000 Facebook friends I don't know"; "I think likes should be private, this interaction should not be sold to advertisers").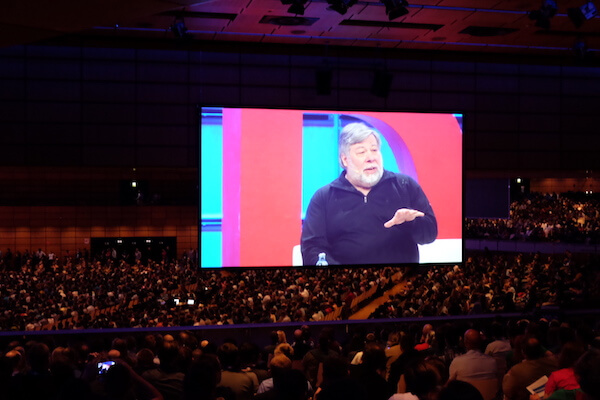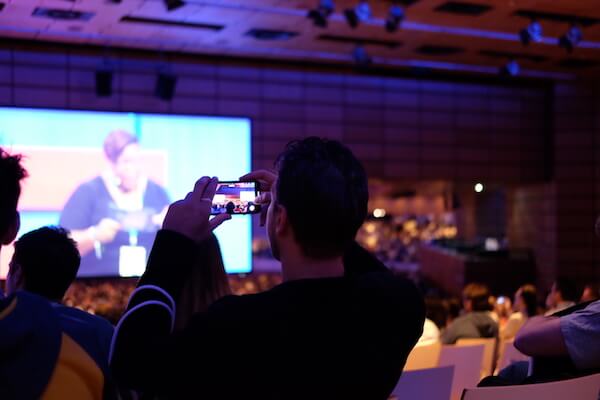 Summary of Steve Wozniak's session at #WeAreDevs:

Do something you like. Money is secondary.

Woz dropped/doesn't like facebook.
He also doesn't like icloud sync.
He's back using Apple products due to privacy.
Blockchain is a bubble similar to the dot-com bubble.

— Thomas Peham (@tompeham) May 16, 2018

Here are some snippets from the conversation:
Q: Steve, why do you have a metal business card?
A: I had a couple of options (paper, plastic, metal) and I liked metal. Also – you can use it when you are flying on a plane and you get these plastic knives, you can use your metal card to cut the steak with.
"Why pour the water into a glass when you can drink it out of a bottle. I apply this to my whole life."
"Don't get impressed by other people's values."
The Future of the Web
The conference has some excellent programming in store and sessions range from "IoT in the Dark Ages" to "The bright future of the web" to "Ethics & humanity in the new world of media". Privacy and personalization were topics discussed in the later session along with the leading question:
"What are values?" Are they beliefs? Are they decisions? What do they mean for your work and life?
In "The (bright) future of the web", Ilya Grigorik a web performance engineer at Google and co-chair of the W3C Web Performance Working group, talked about characteristics of the future of the web, which has to be:
1) Secure
2) Linkable
3) Indexable
4) Composable
5) Ephemeral
Part of his talk was attributed to mobile evolution in the last years. Grigorik explained that smartphones are for some lower-income Americans the only source of accessing the web and if services are web-based only, these people are excluded.
Ilya Grigorik also shared Google's plans to make the web more secure by showing a notification indicating when a website is not secure.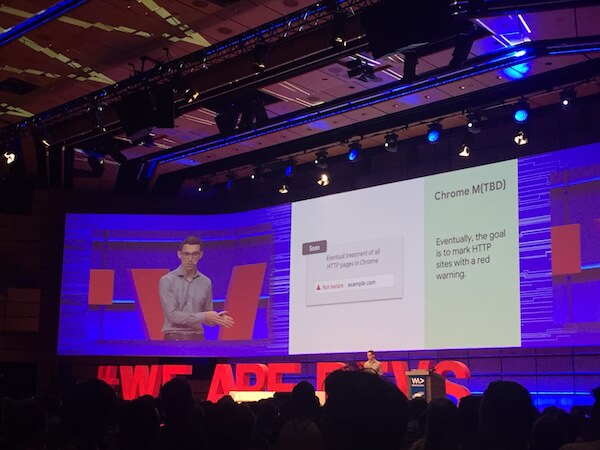 At last, Grigorik gave some insights into PWA's, progressive web apps that were announced earlier this year and are already available for Windows. In the future, Progressive Web Apps can be added on all mobile and Desktop platforms, allowing users to add their favorite sites and tools as PWAs to their home screens.
Looking into the future: The era of Quantum computing and blockchain
Next to some practical and hands-on sessions and workshops, visitors could also get inspired on how the future might look like by sessions on quantum computing and blockchain.
In "The Era of Quantum Computing is here", Florian Neukart gave the audience some theoretical and practical insights on the current state of Quantum computing and how some important problems (transportation or AI) that cannot be solved with computers we use today, might be solved with quantum computers.
Another topic, that's already omnipresent in today's world, is the topic of Blockchains.
Jan Mendling, Professor of the Institute for Information Business at Wirtschaftsuniversität Wien showed us how businesses could execute business processes on the blockchain. While there are still questions that needed to be taken into consideration, the general answer is: yes – businesses can execute processes on the blockchain, and some already do.
The next days
We're excited for the next days with Hermann Hauser talking about "Intelligent Machines" and Jennifer Wadella about getting girls involved in coding.
If you want to meet the people behind Usersnap at WeAreDevelopers just send us a tweet. We're happy to talk!
If this is your first time on our blog, make sure to check out our latest articles! ??
Have a great conference and have fun!!
Thomas & Rebecca