Most of us work all day in front of a computer. Some rely on desktop computers, others use portable laptops. In any case, we're sitting in front of our devices all day (and sometimes night) long.
I thought it would be fun to give you some insights into how the Desktop home screens of our Usersnappies look like.
So here they are. With a glimpse of our most favourite apps.

Florian, CEO & co-founder
Florian is always on the run and relies on the most portable laptop with the greatest power he could find. Whether he is working on the plane, train, in a co-working space or in our office, Florian always finds ways to increase his productivity.
PS: There are rumors in the office that Florian has a bad – what we call – computer karma.
Florian, how does your desktop look like?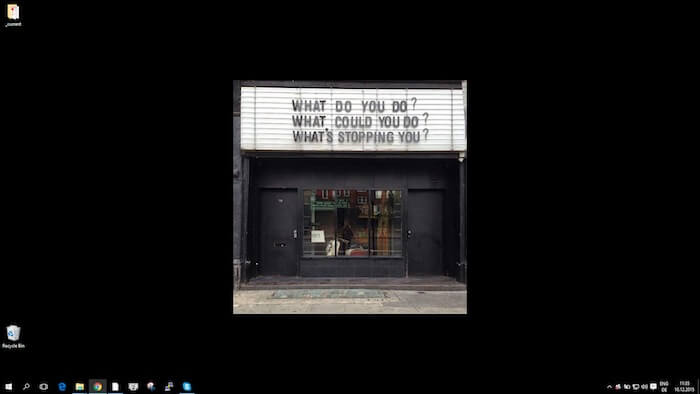 The luxury of emptiness.

What are your most used apps?
Usersnap of course 😉
Chrome (Gmail, Google Docs)
Slack
Excel
Skype
1Password
Josef, CPO & co-founder
A couple of months ago, Josef made a bold move. Having been a loyal Microsoft user his entire business life, Josef finally made the switch to the world of OS X. Eager to get more out of every OS, Josef is still learning about new OS X features every other day.
PS: It remains to be seen if he sticks to OS X in the long run 😉
Josef, how does your desktop look like?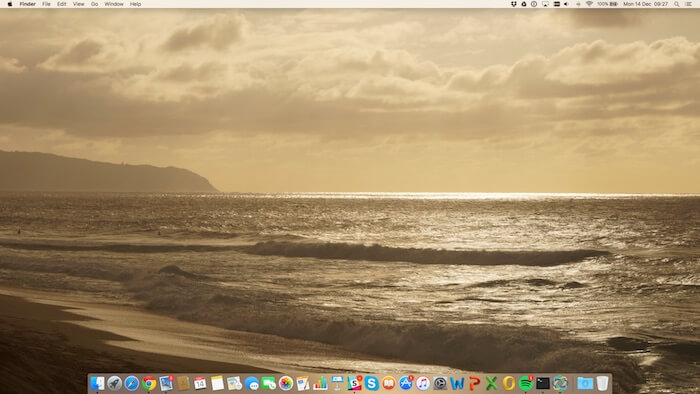 I love to have a clean desktop and everything is structured into folders.
What are your most used apps?
Chrome
Slack
Gmail
Gdrive (gdocs)
Skype (only for calling)
1password
Close.io
Excel
Spotify
Robert, Developer
Just recently, Robert dropped his old Linux desktop and joined the Microsoft universe of Windows 10. Having lived in the Linux universe before, he can be a bit opinionated about Windows 10 and is still always looking for some workarounds to get his work done on Windows 10.
Let's see if he sticks with Windows or if he goes back to using Linux soon (I'd bet on the second option ;)).
Robert, how does your desktop look like?
Usually, I don't use my desktop at all so I was surprised at which programs and files I found on my desktop after being asked by Thomas to make a screenshot 🙂
What I miss most on my new Windows environment is my good old tilda (a tabbed bash in a dropdown window which usually pops down using a hotkey like F12). It's really the swiss army knife of Linux.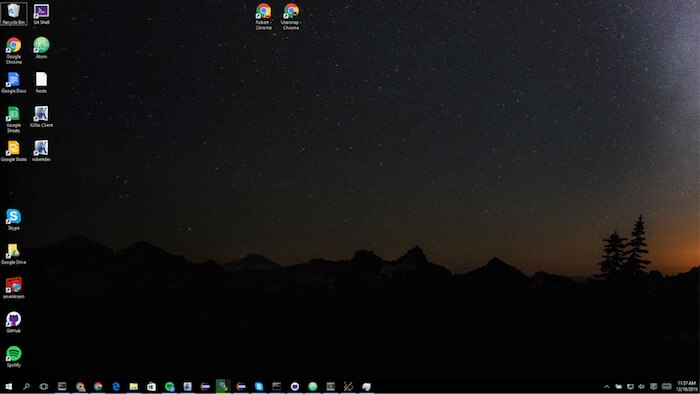 What are your most used apps?
Spotify (No music – no code!)
Chrome including Dev Tools (What would one do without them?)
Slack
Usersnap
Google Apps
SuperPUTTY (I want my bash back!)
Eclipse (Is anyone else still using this?)
Atom (fancy but I'm not really getting used to it)
Cygwin (I cannot get rid of Linux on my machine)
X2Go (Client to connect to Linux machines)
GitHub client (Why doesn't sth. like this exist on Linux)
Haydee, Customer Success
Haydee, the latest to join the company, is working from our headquarters in Perg, Austria. As the customer success manager, she makes sure that customers are happy with Usersnap anytime and all the time.
I guess her positivity is not only reflected in the great relationship we have with our customers, but it also shows in her computer karma. As far as I know, despite never ever having used a Mac in her life before joining Usersnap, she's been the person with the least amount of computer troubles 😉
Haydee, how does your desktop look like?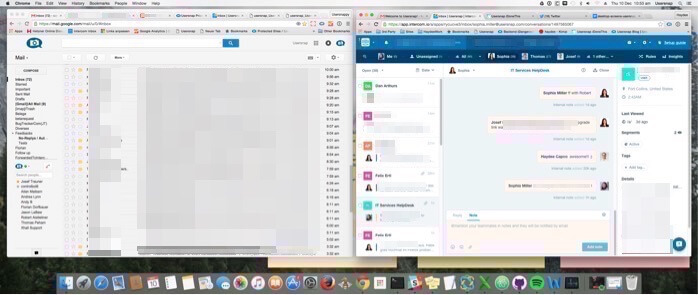 I need my two browser windows open all the time or I'd have a messier desktop than what I actually have. I usually save not-so-important files on my desktop (not a good habit, I know) so it needs cleaning up regularly. Every now and then, I still get lost and confused with OS X. Because, well, things like shift-ctrl-cmd-4 do take some getting used to. And now that I look at it, I should really remove these unused apps on my dock.
What are your most used apps?
Usersnap
Chrome
Gmail
Intercom
Close.io
Excel
1Password
Slack
Twitter
Spotify
Stickies (digital and real ones)
Pavel, UI / UX
When it comes to great designs and user experiences, Pavel is the person to talk to.
He's not only responsible for our website designs, but also for most of our visual elements that you can find on the web. Besides his great UI & UX skills, I'm always impressed by his speed of delivering design drafts. Just wow.
Pavel, how does your desktop look like?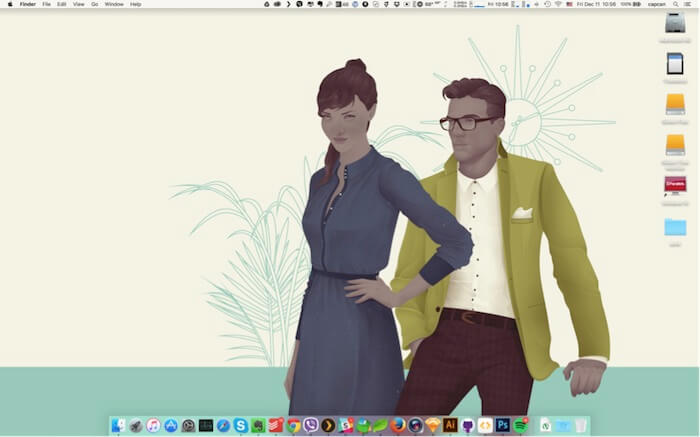 I'm always trying to keep my desktop as clean as possible. It helps me to focus on current tasks.
What are your most used apps?
Notepad
Google Apps (Chrome, Mail, etc)
Slack
Sketch
Adobe Creative Cloud (Photoshop, Illustrator, After Effects, Bridge)
Invision
Coda Editor with CodeKit
Github
Monosnap
ACDsee
Spotify (can't work without music 😉 )
Todoist
Evernote
Thomas, Marketing
Thomas is running marketing at Usersnap. Working on all kinds of blog posts (like this one ;)) or interviewing people for bugtrackers.io, Thomas' day is pretty diverse. When he's working from our headquarters, he has fallen in love with his large 34-inch curved screen (yes, 34 inch is large!).
Thomas, what's on your desktop?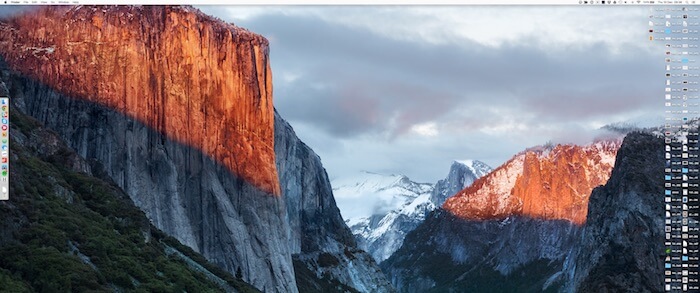 Well, I try to keep my dock as clean as possible. I try to hide apps from my dock and only keep the most-used ones there.
Other than that, my desktop also contains some temporary files I'm currently working on. I would love to say that my desktop home screen is simple and clean. But I guess that isn't the case…
What are your most used apps?
Finder (helps me to survive)
Chrome (I guess most of my favourite apps – like Gmail, Google Docs, Tweetdeck, Usersnap – are browser-based and running inside Chrome)
Slack
Skype
Skitch
Pixelmator (for some basic image editing)
Atom (yes – even as a Marketer I use Atom ;))
iA Writer (awesome text editor!)
Todoist
Tweetbot
Spotify
1Password
Hemingway (keeping my writing plain & clear)
So, what's on your desktop screen?
This article was brought to you by Usersnap – a visual bug tracking and feedback tool for every web project. Say hi to our team!