Before Christmas we let the biggest feature since launching Usersnap – the new dashboard Search – fly free. And now there's more to come! Have a look at the latest improvements with 4 awesome new product updates.
We hope you had an amazing holiday season and you're ready to rock 2015! The entire Usersnap team was working hard on shipping some awesome new updates. Be more productive with these 4 awesome updates from Usersnap.
The Dashboard Search
As mentioned in this blogpost, the new dashboard search is one of the biggest feature since launching Usersnap.
Website testing and bug reporting can become quite messy if a lot of people with different backgrounds are working on a web project. And of course your bug tracker gets filled up pretty soon. Accessing certain information (such as "Who created that bug report with that change request for?") end up being a real challenge.
With the new Usersnap search you'll be able to master your bug reports and website feedback, again. Since the release of the new search a lot of our users already enjoyed this new way of finding their bug reports.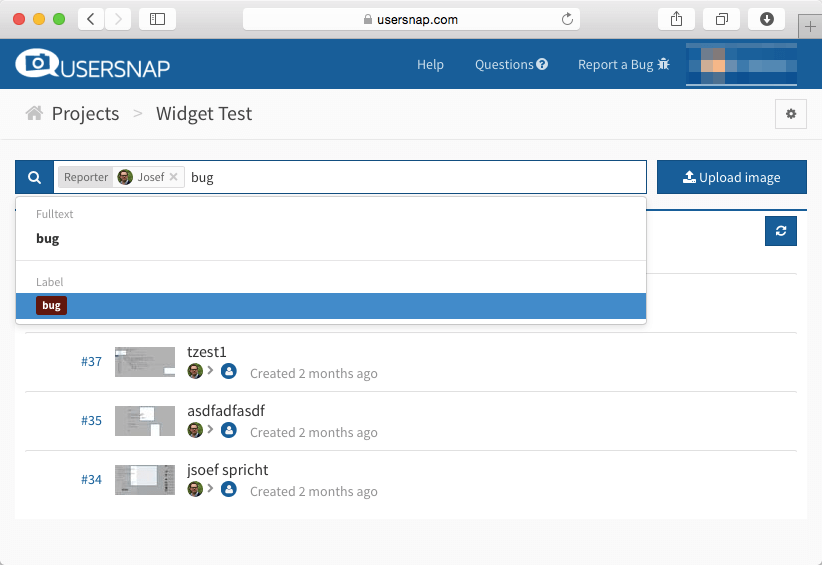 If you want to learn more about the dashboard search and its great features, check out our last blogpost or take the Usersnap dashboard tour.
2. Design update & new sidebar
Besides the new dashboard search, we also added some minor UI changes and improvements. Since we noticed that people are using Usersnap for all different use cases, it can be pretty hard accessing the information you need for your own workflow and use case.
Because of that you can now find a new top bar after signing up for Usersnap which allows you to access the information you need more easily. You can now simply access the following information (just by clicking on the top bar)
Install widget: add the Usersnap widget to your website by implementing the snippet code to your website or adding the Usersnap plugin for the most common content management systems.
Upload screenshots: you can upload mockups, design drafts or any screenshot as a JPEG or PNG to your Usersnap projects.#
Invite colleagues: Invite your bug tracking and web development team to Usersnap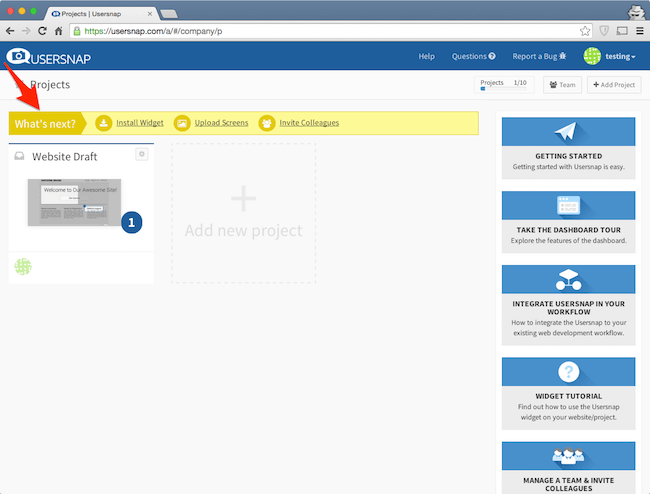 New sidebar
Besides the new top bar we also updated our sidebar with useful links. Depending on the page you're currently at, we display customized information and tips about Usersnap and how to get even more productive with different tricks.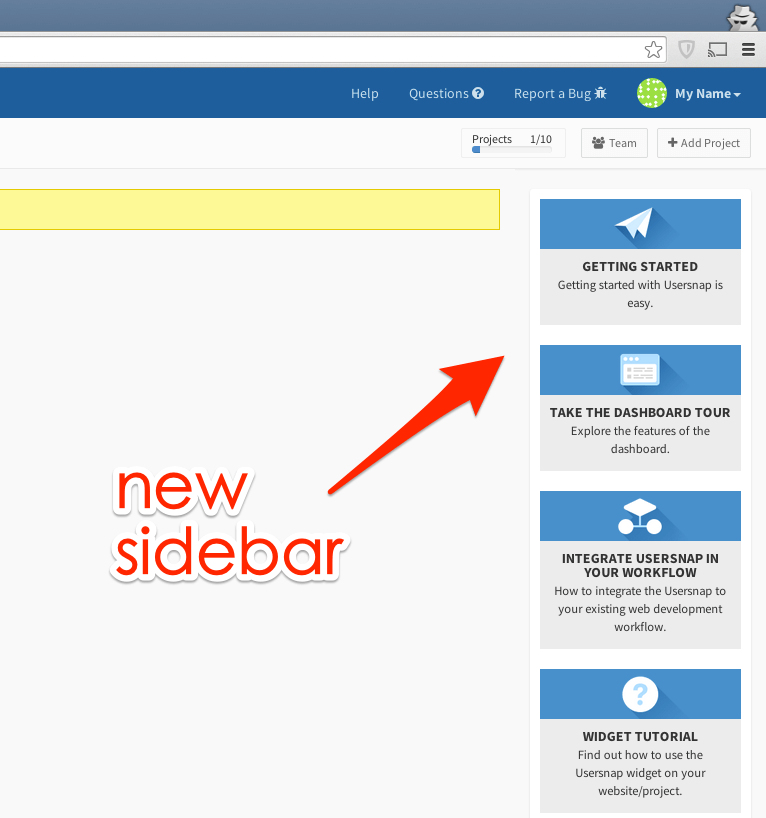 Feel free to check them out and let us know if any information you need is missing.
3. Screenshot zooming & RAW mode
Today I'm also really proud to show you another feature which a lot of our users requested: The screenshot zooming & RAW mode.
With our new zooming feature, you're able to zoom in and out on every created browser screenshot or uploaded image (e.g. design draft or mockup).
Zooming!
You are now able to zoom in and out on any created screenshot or uploaded image! It works for any screenshot or bug report – whether they are uploaded to the Usersnap dashboard or created with the Usersnap widget. Just open one of your browser screenshots or bug reports in the Viewer: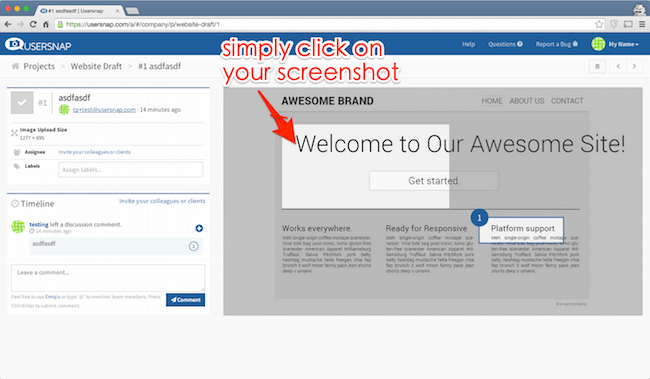 After clicking on your browser screenshot or uploaded file in the Viewer you can access the Zooming mode: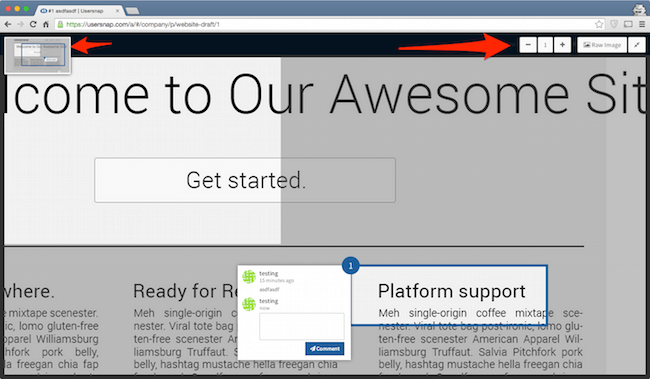 By using the Zooming feature or your mouse you can zoom in and out on any screen. With the thumbnail on the top left corner you still see the entire screenshot.
Updated Viewer: The raw image
If your bug reporters create a lot of annotations on the browser screenshot, it can become quite confusing what was meant and what's behind these annotations. Within the screen viewer you are now able to show & hide the drawing layer!
With the annotation layer your bug report probably looks something like that: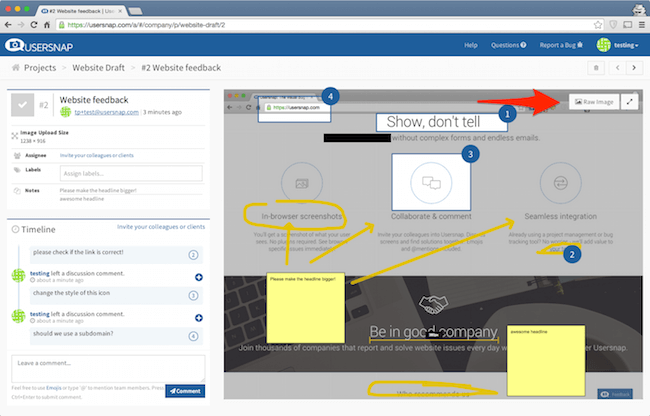 By clicking on the "raw image" button you can hide that layer in order to see the browser screenshot: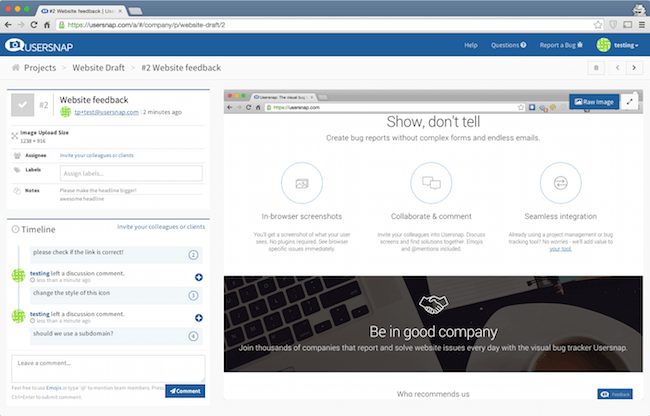 4. Chat messenger integrations
Besides our 20+ integrations with leading project management & issue tracking tools, we also added support for these awesome chat messengers – Hall, HipChat and Slack!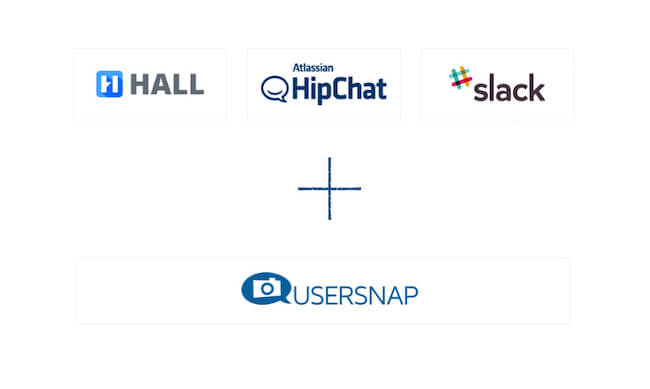 You are now able to integrate the Usersnap bug tracking- and feedback tool with your chat messenger. With our Usersnap integration for Hall, HipChat and Slack you're now able to get notifications about new bug reports and created browser screenshots directly in your chat messenger. You don't have to leave your chat messenger again. Having connected the bug tracker with your chat tool you're able to react faster and improve your website testing process.
If you are interesting in connecting your chat tool with the Usersnap bug tracker, please get in touch with us.
Need even more productivity tips?
With the new dashboard Search, the updated Viewer mode and the new zooming & raw features, you can make your bug reporting process even more efficient. If you need further tips how to bring your web projects on the next level we'd like to provide you with a collection of recent productivity tips from the Usersnap Blog:
You are missing something? Please get in touch with us or leave a comment. We love to hear your ideas!
This article was brought to you by Usersnap – a visual bug tracking and screenshot tool for every web project.